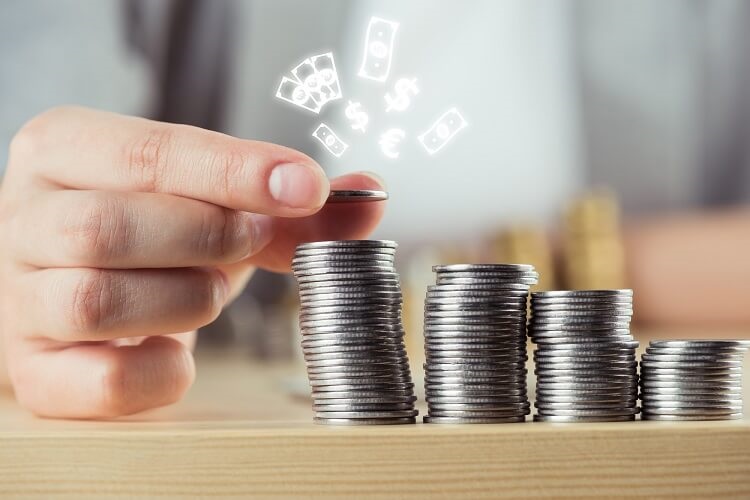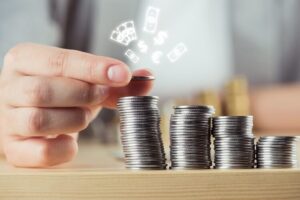 Here's our latest interview with a millionaire as we seek to learn from those who have grown their wealth to high heights.
If you'd like to be considered for an interview, drop me a note and we can chat about specifics.
My questions are in bold italics and his responses follow in black.
Let's get started…
OVERVIEW
How old are you (and spouse if applicable, plus how long you've been married)?
I am 53 years old and my wife is 52 years old.
We have been married for 22 years.
Do you have kids/family (if so, how old are they)?
We have a 17 year old son who is on the autism spectrum, very high functioning, and a typical 13 year old daughter (as typical as a 13 year old daughter can be.) We have definitely noticed a change in her attitude in the last year or so.
My son attends a special needs high school just finishing up the 11th grade, paid for by the local public school district, and my daughter attends a Catholic school for the first time this last year for the 7th grade. Prior to this she attended the local public school.
I'm proud that my son has a paid 7 week summer internship this summer. [Editor's note: This interview was conducted in June 2019.]
What area of the country do you live in (and urban or rural)?
We currently live with 39.9 million people in California and the 25 million people in Southern California.
We were fortunate to have purchased a home in 1997, just a few years after the earthquakes, fires, riots and the defense contractors leaving the state. Or, it was about the last time that housing was semi affordable in Southern California.
It was just supposed to be a starter home, but like most people in California, once you have a home, you can't afford to move.
What is your current net worth?
$2.5 million
What are the main assets that make up your net worth (stocks, real estate, business, home, retirement accounts, etc.) and any debt that offsets part of these?
House: $1.4 million
$1.5 million value per Zillow and prices of similar homes in the neighborhood going from $1 million to $2.5 million.
Paid $330K in 1997 for the house, but have put about $200K in improvements over the last 22 years with entire inside and outside with a new driveway, kitchen, bathrooms, all rooms refurbished, new roof, new front siding, and new fully landscaped front and backyard.
Now we have a living room backyard with TV, grill, pergola, dining room table, fire pit and Jacuzzi that we can enjoy about nine months out of the year.
Mortgage is $64K to be paid off in two years if we keep the same payment schedule.
Cash:
$42,000: cash
$5,000: company stock purchase with 5% discount
$2,500: brokerage account
$12,500: cash value of spouse life insurance policy her father purchased when she was younger
Retirement accounts:
$690,000: 401(k) from last job
$175,000: Wife 403(b) from before she quit to stay at home
$57,000: 401(k) current job
$60,000: Two IRA and one Roth accounts with Oakmark, T. Rowe Price & American Century
Other:
$30,000: 529 for son
$24,000: 529 for daughter
$40,000: two used cars, MB (2012) and Volvo (2015), fully paid (my wife calls them "new to me" cars). The retail on these cars when new was $150K total, so I feel I got a good value and plenty of useful life left in them.
$10,000: Westin timeshare
Total: $2,546,000 as of June 2019.
Of the investments, my asset class is as follows: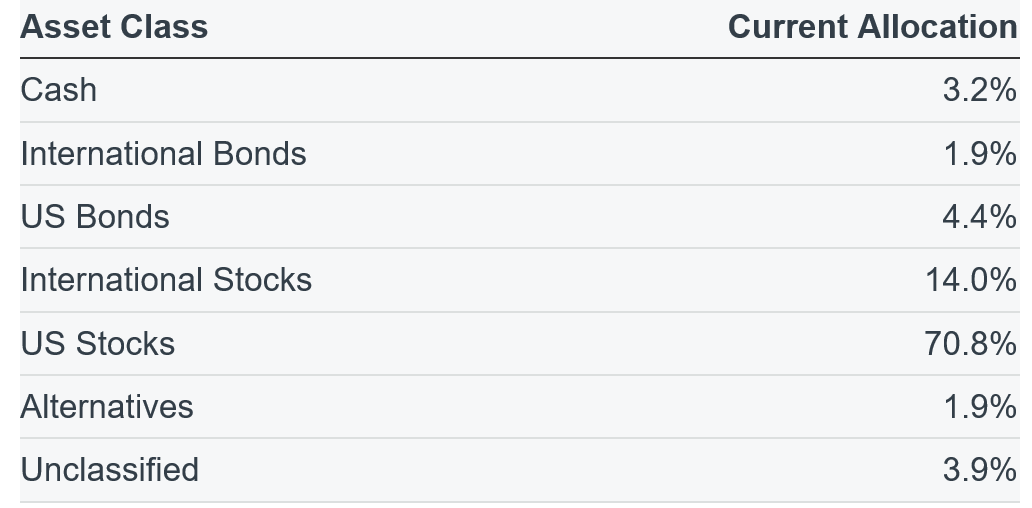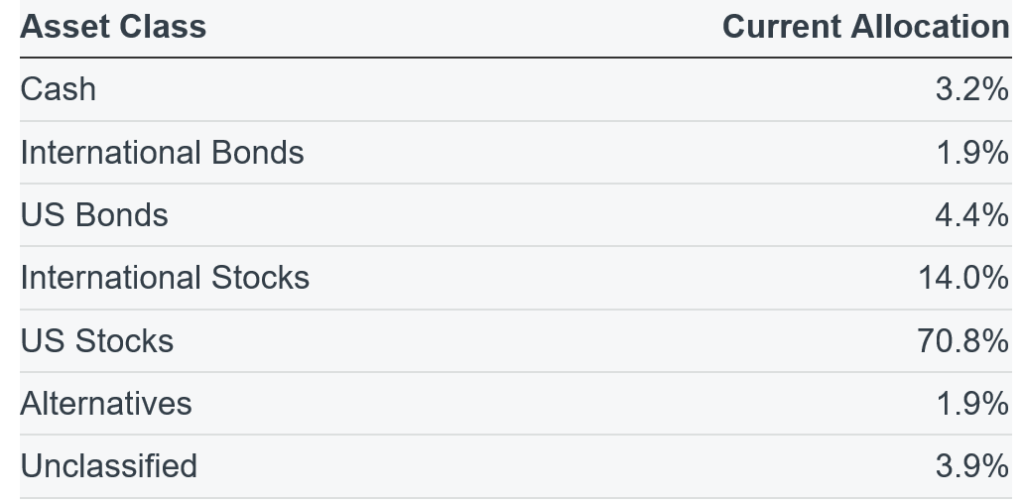 Other future income — Social Security per the Social Security site:
If I take Social Security at age 62 I will earn $2,080/month.
If I wait until age 70, I will earn $3,784/month.
My wife has similar numbers, but will not earn as much due to her 12 year going part-time.
I plan on waiting until age 70 to claim my Social Security which is $45k/year, and my wife will be about $35K/year for a total of $80K/year.
My wife also has a defined pension of $500/month or $6K/year.
Total guaranteed social security and pension payments of $86K/year in 2036.
EARN
What is your job?
Senior Vice President at an insurance broker.
The prior 25 years I worked for an insurance company but was unexpectedly laid off. I found a second career on the brokerage side of the business.
What is your annual income?
Last year, our combined salaries, we made $275,000 (I made $168,000 last year, and my wife made $107,000).
However, as you can see below, my Medicare Earnings and Social Security earnings are different due to maxing out my 401(k) at work as well as health insurance and a Healthcare Spending Account (HSA).
I have always tried to reduce my gross adjusted income as my wife was only working part time and I maxed out my 401K.
I feel that I have had steady income growth over the last 30 years, with a marathon slow and steady rise of increasing my wages (see below chart). However, I plateaued a few years ago while I was the only wage earner.
I am astonished at how much money people earn each year who write into this blog, and I always felt when I was the sole wage earner that I was just getting by at two paychecks a month, with one to pay the mortgage and the second to pay for cars, food, entertainment and everything else. However, without savings in my 401(k) there was not a lot of money left over for side projects or side hustles.
I guess the side projects were updating and keeping our house up to date as it was built in the 1940s.
Until 2 years ago, we were a one income household with my wife earning $10K per year part time. We had a lot more flexibility in managing just one work schedule and the kid's school schedules. Now we have to coordinate 4 people schedules.
I would not recommend an HSA if you have to go to the doctor with a high deductible for a family. This year I switched back to Flexible Spending Account and a low deductible health HMO plan with small co-pays.
The key of a HSA is that you don't spend the money in the plan for healthcare. With two kids and our own heath, we felt we were paying arbitrary stratospheric prices for basic health care with several surprise bills for routine office visits, tests and labs.
Last year, we were just getting back on our feet after a seven month job search, and we did not have an extra $10K for routine medical expenses for your high deductible plan. When you also add the $10K in salary reductions for co-premiums, then I would not recommend an HSA. If you have the extra cash, more power to you. With kids, I sleep much better knowing I can go to the doctor without the surprise bill that I had to pay last year with the high deductible plan.
Tell us about your income performance over time. What was the starting salary of your first job, how did it grow from there (and what you did to make it grow), and where are you now?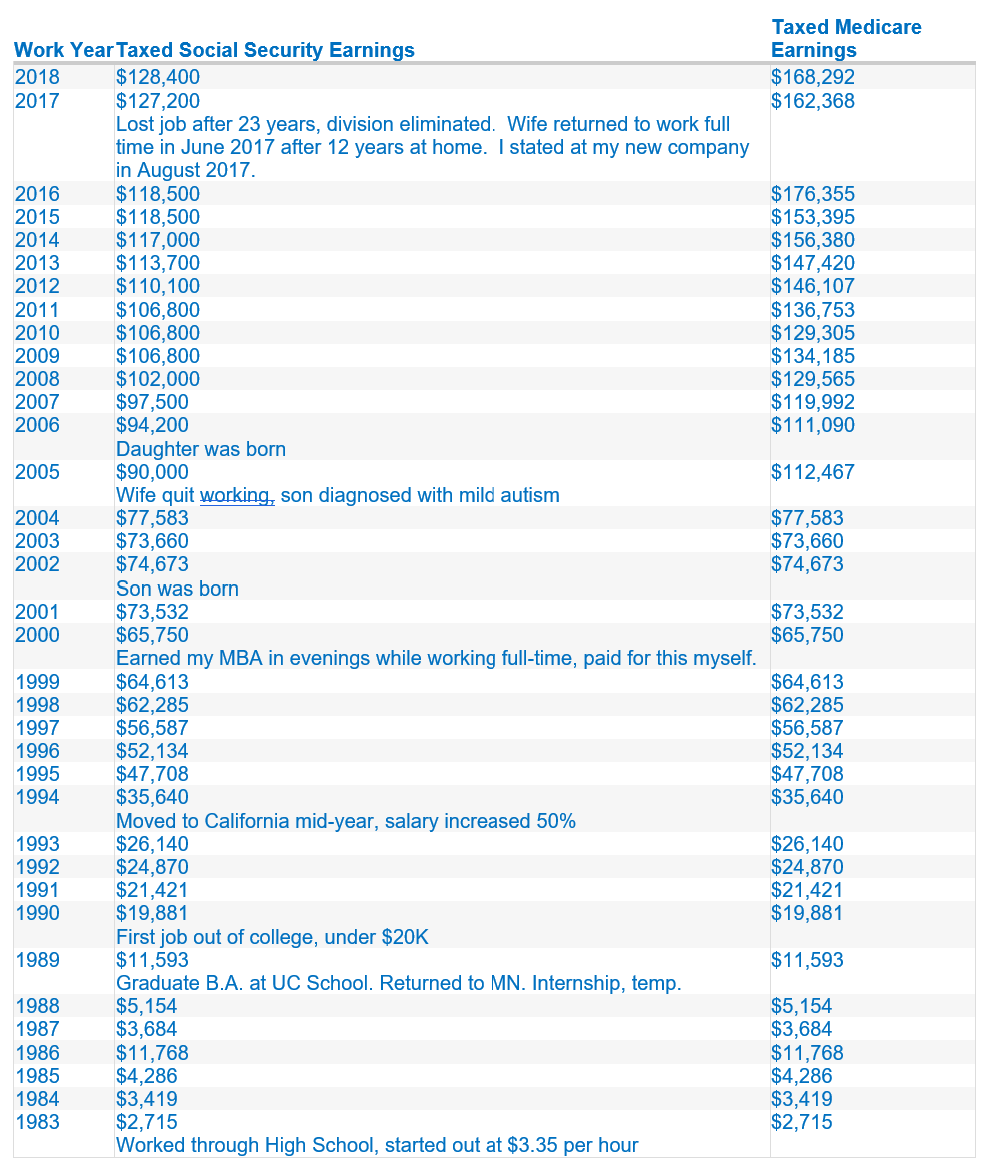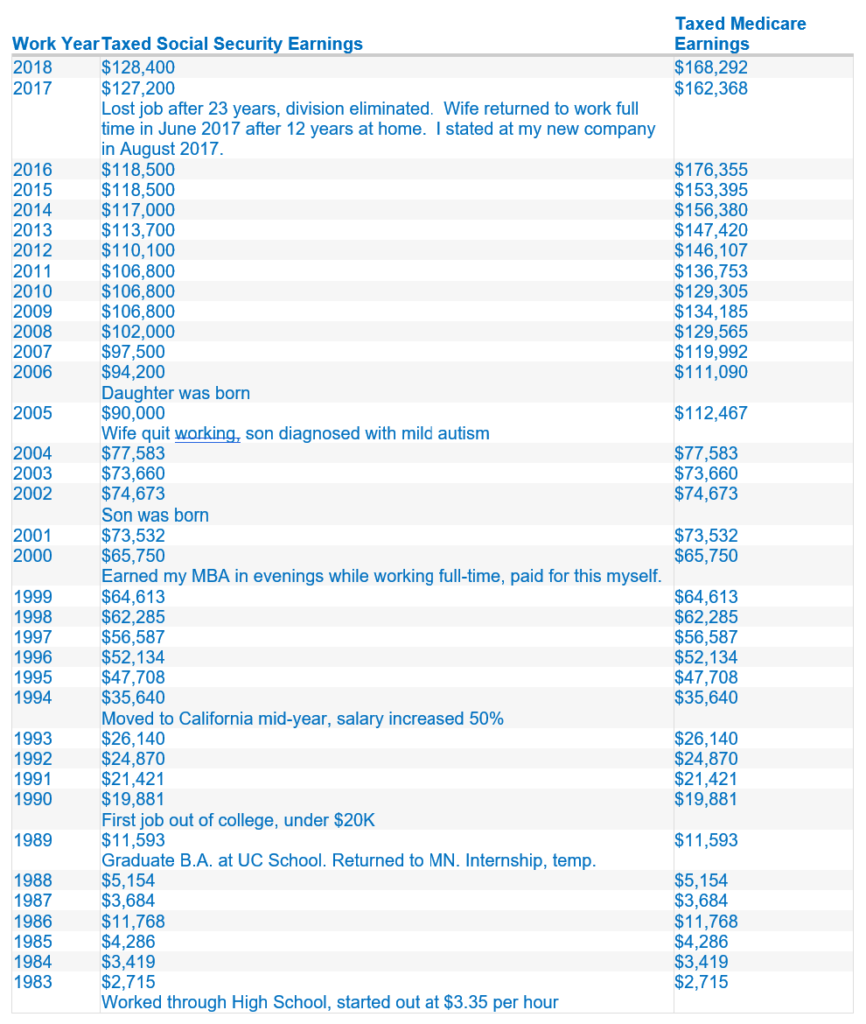 I started off working at age 15 at Ben Franklin, a five and dime store in Minnesota in the 1980's.
What I remember the most was that I only was paid $3.35 per hour, the minimum wage back then. (Today in Southern California, my son's minimum wage job pays $13.25/hour).
However, I saved everything from 1983 to 1988 for my college debt free in 4.5 years. Tuition, including room and board, I paid about $30K for my undergraduate degree. It was humbling returning to MN after college and only being paid $7.50/hour at an internship for six months.
What tips do you have for others who want to grow their career-related income?
I used to think it was the ones who performed the hardest and put in the most hours were the ones who got ahead. However, after 30 years, it is the ones who work smartest and make the best connections; at least within the corporate structure.
The intangibles matter more in a corporate environment, such as being well liked, smart on their feet, network well and also do their job well.
Notice that doing their job well is the last one listed, as sitting in your corner and doing your job without anyone noticing will not get you ahead. Your boss will be happy, but she/he just won't have to work that hard.
Further, you have to ask for promotions and assignments in order to be rewarded with additional pay increases. Companies generally have not provided any raises for the last ten years.
I have been at my new job for two years and have not received a raise, but I did get one year-end bonus for my performance.
What's your work-life balance look like?
It is better now as I am working from home 3 or 4 days a week. A little over a year ago, my company converted 6 floors of offices and cubicles in downtown to 3 floors in an "open office" environment. There are some advantages to the open office with more interactions with people who are not in the next cube or office, but the lack of a desk, space for your stuff, and noise is very distracting. They now allow us to work from home, and this is what most of my colleagues do in my division.
I was able to retain my 4 plus weeks of vacation from my old job to my new job as I was hired as an executive. My wife only has 2 weeks of vacation a year, and after a one week summer trip, along with several days throughout the year, we no longer are able to take a couple family trips and maybe a vacation.
However, I value the security of having two paychecks as being unemployed for 7 months which were the longest 7 months of my life. I cherish being fully employed, and not underemployed as that happens to over 50% of workers were are laid off after age 50, as I was.
I'm making less now than I did in 2016, but still within 5% of my maximum.
Do you have any sources of income besides your career? If so, can you list them, give us a feel for how much you earn with each, and offer some insight into how you developed them?
Unfortunately as I found out in December 2016 when I was laid off after 22.5 years, my only source of liquid income was my by monthly paychecks.
As I used to work for an insurance company in a consolidating and declining marketplace, there were not a lot of comparable jobs at an Assistant Vice President level available anywhere in the United States, let alone Southern California.
My wife kept her medical technologist license by working one weekend a month for the last 12 years while staying home with the kids. I'm so glad I encouraged her to keep up her license, as without it, she would not have been able to quickly find a full time job, which is only two miles from our house, with a six figure salary. Just goes to show who much her stay at home compensation could have been, or our lost opportunity.
However, money and saving are not everything in life, and having her stay home for those 12 years were priceless.
She now works for a small employer with less than 20 employees that does not provide any retirement benefits and only medical benefits for her individually.
It feels like now we make so much money, it is like getting a bonus every single month (she receives one paycheck a month), as it all goes to the shoring up our finances and savings. With her going back to work enabled us to send our daughter to Catholic School, the private schooling system she attended.
SAVE
What is your annual spending?
Annual spending is about $75K per year with about half of that for mortgage, insurance and property taxes.
Prior to my wife returning to work in 2017, we always were living pay check to pay check. The first take home check of $3K was to pay the mortgage, and the second $3K take home check was to pay for everything else including food, entertainment, clothes, utilities, travel, home improvements, etc.
However, I had all of the family insurance and a full 15% of my salary plus 6% company match for over 20 years into my 401K.
When I met my wife, we had a net worth of $30,000 in 1996 in investments. I signed her up for her 403(b) in 1996 until she went part-time in 2005. Today that is worth $175K.
What are the main categories (expenses) this spending breaks into?
$36K/ year house mortgage, taxes, insurance
$36K/ year utilities, food, energy, auto, entertainment, restaurants, etc.
$10k/year middle school tuition
$5K/year vacations/timeshare/flights
$25K/year savings in 401(K)
$5K/year company stock at 5% discount
$37K/year federal taxes
$25K/year state taxes
One time purchases in the last two years:
$40K for two used cars. Prior to this we leased inexpensive cars as we don't put on a lot of miles per year.
$60K for new back yard and front yard. The house refurbish is now complete for another ten years.
Do you have a budget? If so, how do you implement it?
For the last 30 years, I never purchased anything that I was not able to pay off when the credit card bill was due. Never had a late payment and we have very high credit score.
I have leveraged credit card points for air travel for the last 15 years, and I estimate has been at least $1,000 per year in credit card points.
As to a budget, we always spend within our means.
What percentage of your gross income do you save and how has that changed over time?
I have always saved at least 10% of my salary since I started working in 1989, plus the 5-6% company match.
About 15 years ago I increased my 401(k) savings to 15% plus the 6% company match.
As this blog has demonstrated, it is my house appreciation, compound interest and a variable stock market in my 401(k)s that has created my wealth.
In the last 30 years, I have lived through three recessions: I looked for a job in the recession of 1989, the dot.com crash in 1999, and the great recession 10 years ago. I had a very slow start in salary accumulation due to starting work after college in a recession. However, this doubled in 5 years to $30K/year, and doubles again five years later in CA, that also doubled five years later until 120K/year in 2007.
What is your favorite thing to spend money on/your secret splurge?
The timeshare.
You might find this hard to believe, but the best memories over the last 18 years are going on vacations with the kids, along with grandparents, uncles, aunts and cousins. I figure that over the last years we spent about $50k for the timeshare purchase and maintenance fees. However, that was two weeks of vacations in 2 two-bedroom units a year. It comes to about $3K/year and we always stay in a Westin or Marriott timeshare resorts.
We have been to Hawaii half a dozen times, Cancun, Tahoe, Palm Springs, CA and/or Scottsdale, AZ (at least 20 times, and they are cheap as we can drive them – our kids and cousins don't care if it is Hawaii or AZ, they have the same amount of fun), as well as several other places.
What I cherish the most are the memories that I have, but also the memories that I hope my kids will cherish. I never went on vacation in Minnesota when I was a kid, except for a long weekends at a very rustic summer cabin. I only stayed in a motel (not a hotel) once before I turned 18, and that was a trip to Mount Rushmore when I was 10.
INVEST
What is your investment philosophy/plan?
The last ten years, it has been slow and steady.
Invest in the S&P 500 mutual funds with low fees in my 401(k).
What has been your best investment?
Purchasing my house in 1997, which ended up being a market low. Sometimes you get lucky in life.
The house is now worth about five times what we paid for it, and about three times what we paid for it plus improvements.
I added up all of my monthly mortgage and home improvements payments over the last 22 years, and we have paid about $800K in monthly payments. Best of all, the house is almost paid for now.
What has been your worst investment?
I purchased some Compaq stock during the dot-com boom. I came to the dot.com game too late, and did not get out soon enough, with a five-figure loss.
What's been your overall return?
The last several years about at a 6% return.
How often do you monitor/review your portfolio?
I monitor it weekly with Mint and Personal Capital.
The first time I set up a Mint account over 7 years ago, I thought it was magic in how well it monitored the spending, bills, and investments.
NET WORTH
How did you accumulate your net worth?
Persistence, grit, always living within our means, always saving 10-15% of my salary for the last 30 years.
Like most things in life, there is a little luck. We purchased our house that has appreciated five times the purchase price in 22 years. However, I feel we made our luck by always saving and a marathon of a work life gradually improving and moving slowly up the corporate ladder.
Improving my education in getting an MBA and it did not help me at the time, but I was just building my foundation. It would have been harder to get the MBA two years later as my son was born.
What would you say is your greatest strength in the ESI wealth-building model (Earn, Save or Invest) and why would you say it's tops?
This is a hard question, as it has changed over time.
When I had my first real job at age 24, I was only making $20K per year and saving like $2K per year. However, it was the foundation of paying myself first and saving, even if it was a little bit.
By the time I was 30, I had a net worth of $30K. It was when I turned 30 that my earning started increasing, but I kept the foundation of always saving 10% of my salary in the 401(k).
Then two years ago, my wife returned to full time work, and for the first time ever we have more money is coming in every month than is going out, even with saving 20% now, our investments investment have taken off. However, any fool with money in the market has made a killing the last 10 years bull market with investment returns.
What road bumps did you face along the way to becoming a millionaire and how did you handle them?
I remember that feeling when I had over $500K in the 401(k) in 2009, and by 2012 it was about $250K even while still saving 15% each of those years. One step up and two steps back.
Persistence in saving and keeping with it is the key for long term results. However, you also have to grow your career, income and assets.
What are you currently doing to maintain/grow your net worth?
Paying off the mortgage in a year or two is going to be liberating.
I remember my first mortgage in 1997 was a no cash down, $5K down payment with the offer, with a 80/20 second mortgage concurrent with interests rates at $7.75% for the 80% and 10.5% for the 20% second. Those first two years we had no money as it was all into paying for the mortgage until I finally grew my income.
After several refi's in the late 1990's and early 2000s, I made the conscious effort to switch to a 15 year mortgage (3.5%), so that the house would be paid for by the time my son entered college. It should be paid off by the end of his first year and we have the education fund for the first year.
During the last 10 years, my income grew and I was able to improve the house with the extra income. The house has been our best performing asset.
Do you have a target net worth you are trying to attain?
I remember when I was in grade school in the 1970's with runaway inflation, that we said we would all be millionaires in the future due to inflation. That has not played out for most people as wages and investments for the bottom 90% of the income distribution has not seen any appreciable increase after low inflation for the last 30 years and some are worse off. I feel fortunate.
My new goal now is to have $4M in total assets in the next 9 years, which I believe is an attainable goal. That is when my daughter will graduate college. However, I fear there is going to be a recession in the next year that will decrease the value of my portfolio 10-20% at least, and I hope it is not the 50% reduction we had in 2012.
How old were you when you made your first million and have you had any significant behavior shifts since then?
I was 40, it was just after the big housing buildup as well as the stock build up in 2006. That was before the crash. We have $500k in the 401(k) and the house had over $500-600K in equity.
What money mistakes have you made along the way that others can learn from?
I did pull some of the money out of my 401(k) for a year in about 2010 and left it in cash as its value had decreased about 50%. I felt good initially, as the market continued to go down another 20-30% after I had done this. The problem, was not having a plan to putting it all back in the market.
I ended up putting it back into the market a little too late in retrospect and probably would have at least another 10% in my 401(k) now if I did nothing during the market crash.
I also purchased some Compaq stock in the dot.com boom that crashed where I lost about $10K. I have not dabbled in stocks since and have been in S&P 500 low cost (fees) mutual funds since.
What advice do you have for ESI Money readers on how to become wealthy?
Live within your means. Don't buy something unless you are able to pay for it before the next credit card bill.
In 1996, when I met my wife, we had a net worth of $30,000 combined. I told her that if you took her apartment rent, plus my apartment rent, and deduct the tax deductions for a home loan, the monthly payment would be about the same a two rent payments. Best financial decision was buying our home, along with always saving 15% of my salary in a 401(k).
FUTURE
What are your plans for the future regarding lifestyle?
I have been debating leaving Southern California and purchasing a summer lake home in MN and a winter home in Tucson, AZ. I still have not decided if it would be best to just sell the Southern California home, or to rent it out for $5,000 per month (current rental prices now in our neighborhood) to make payments on two homes in MN and CA.
I have never had "other people's money" pay my mortgage, and that would be an ideal set-up. Then again, putting $1.5M in an investment would probably earn more money on investment returns over time than the appreciation of either the MN or the AZ home. However, I don't want to have a mortgage again after this house is paid for.
Then again, you need to be flexible with your career and where you live. I made 50% wage increase by moving to CA, and I'm sure it would have been 25 years of less salary in MN if I stayed or moved back. I was only supposed to return to CA for 2 to 5 years, and that was 25 years ago. Life happens.
What are your retirement plans?
My retirement plans are hopefully to be able to retire in 9 years. My daughter should be graduating from college by then and I will have a net worth of about $4M.
Ideally, I would want to sell the California house and purchase a summer house on a lake in northern MN from May until Oct, and then in Tucson, AZ or another lower cost area from Oct to May. To be a "snowbird" is something to aspire to, as there is no way my Southern California wife will live in a cold snowy MN winter. She has not ever lived more than 10 miles from where she has been born in Southern California.
The other option would be to keep the CA house, and rent it out that should be enough to cover the rent or mortgage of two homes.
Are there any issues in retirement that concern you? If so, how are you planning to address them?
After being without insurance for 7 months in 2017, I know how financially draining as it was over $20K per year for a family of four.
The other issue is my health. After seeing my parents' health fail in their early 60's, I understand that no matter how much money is in the bank, if you don't have your health, the money does not matter. I have been diligent in cancer screening and everything is good.
I also know that not having a job will be difficult psychologically, as the lack of a job for 7 months was difficult. However, once I retire, I believe I will be financially set so I don't have to work to survive.
I would like to travel more as my wife says she will retire herself in 5 years, after our daughter is finished with high school.
MISCELLANEOUS
How did you learn about finances and at what age did it 'click'?
I learned about finances when I was 15. My Dad said to me that he would like me to go to college, but with three other kids and other expenses, there was no way they would be able to pay for college. As such, I knew that if I wanted to attend college, I would have to work all of the time when I was not in school. I have been pretty much on my own financially since I was 18 and off to college.
In 1984, it was much more affordable to attend college. I went to a MN State college for two years, and then transferred to a UC college in California. If you add up my earnings though 1988, it was about $30,000 and I was able to afford to pay for college and room and board. MN was less expensive than CA, but it was about $6K/year and then CA was about $9K per year.
Ever since then, I have always been frugal, as I did not have any savings as it all went into my education. I was able to graduate in 4 years without any student loans. In today's dollars, I figure it would be about $90,000.
My dad also taught me a lot about money, as in 1982 or 1983, I took out a CD with about 18% interest. I also used some of the tax savings in the early 1990's to add money to an IRA that were dollar for dollar tax credits on my taxes. Those accounts are now worth about $60K just to avoid paying taxes.
Who inspired you to excel in life? Who are your heroes?
My father and mother. They did not have much financially, but they were always there for us emotionally and shared what little they did have.
My dad never made over $40K/year. Even now, they give most or part of their RMDs to us kids instead of "letting the government get it" if they have to enter a nursing home.
Do you have any favorite money books you like/recommend? If so, can you share with us your top three and why you like them?
I have four memorable books:
The Road Less Traveled is not a personal finance book per se, but a book about confronting and solving problems, and I feel that in essence what personal finance is all about. Confronting the unknown and giving yourself a roadmap to getting there.
Grit also is not a personal finance book, but about the power of passion and perseverance and having the ability and allowing for delayed gratification. I was never the smartest person in school, but I found way. I was never the most well paid employee, but I worked with what I had to improve my salary over the years.
I also have to give a plug to Marketplace with Kai Ryssdal on NPR stations by American Public Media. This a great overall business news podcast five days a week that I have been listening to for over 25 years. Well worth a listen.
Do you give to charity? Why or why not? If you do, what percent of time/money do you give?
We have always given to our local church and more so now with my daughter's education.
However, I have always paid myself first and will share with charity. In the future I hope to be able to increase my giving with our increased income.
Do you plan to leave an inheritance for your heirs (how do you plan to distribute your wealth at your death)? What are your reasons behind this plan?
Yes, we plan to have an inheritance for my children.
We all worry about our children, but my son's disability is concerning about his lifetime of earning. He is a smart boy, but has difficult with social cues.
We still need to set up family trust for our assets.