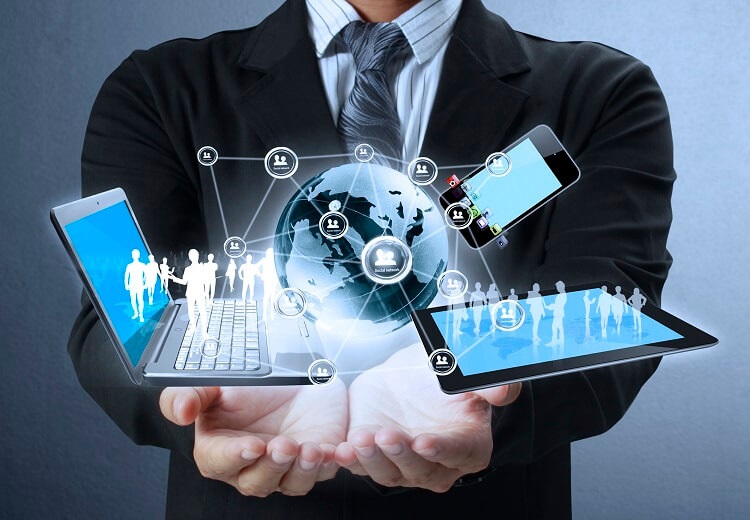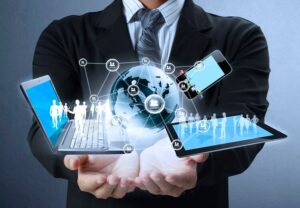 Here's our latest interview with a millionaire as we seek to learn from those who have grown their wealth to high heights.
If you'd like to be considered for an interview, drop me a note and we can chat about specifics.
My questions are in bold italics and his responses follow in black.
Let's get started…
OVERVIEW
How old are you (and spouse if applicable, plus how long you've been married)?
Both my wife and I are 43.
We've been happily married 20 years.
Do you have kids/family (if so, how old are they)?
We have two boys, ages 13 and 11.
What area of the country do you live in (and urban or rural)?
Midwest, urban. I attribute some of our success in choosing to live and stay in a city with a fair cost of living and a vibrant economy.
What is your current net worth?
$1.72 million at the end of 2019.
What are the main assets that make up your net worth (stocks, real estate, business, home, retirement accounts, etc.) and any debt that offsets part of these?
$745k – Real Estate ($320k primary home, $375k vacation home, $50k land) (-$283k mortgages) – $122k primary home, $161k vacation home
$1.14M – retirement accounts – 401ks, Roth IRAs, rollover IRA
$74k working cash (6 months emergency savings, checking, etc)
$13k stocks outside of retirement
$30k HSA savings and $7k in insurance cash value
EARN
What is your job?
I'm a software executive (small company, really hate the term, but have risen up over time).
My wife works in customer insights for a bank.
What is your annual income?
I'm at a base of $150k, she's at a base of $85k.
My bonus can vary from $0-50k. Hers is typically around $10k.
~$250k gross is what I plan for.
Tell us about your income performance over time. What was the starting salary of your first job, how did it grow from there (and what you did to make it grow), and where are you now?
I started out of college at $34,500. I'm a geek and actually tracked it, so here are the details, and color commentary below.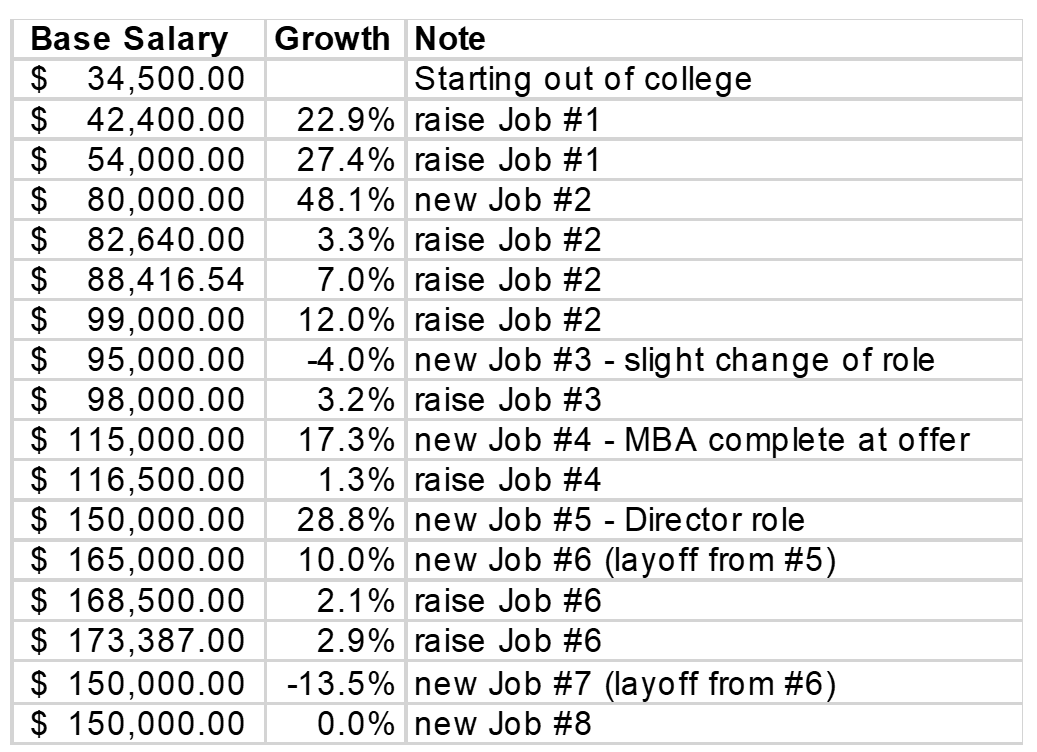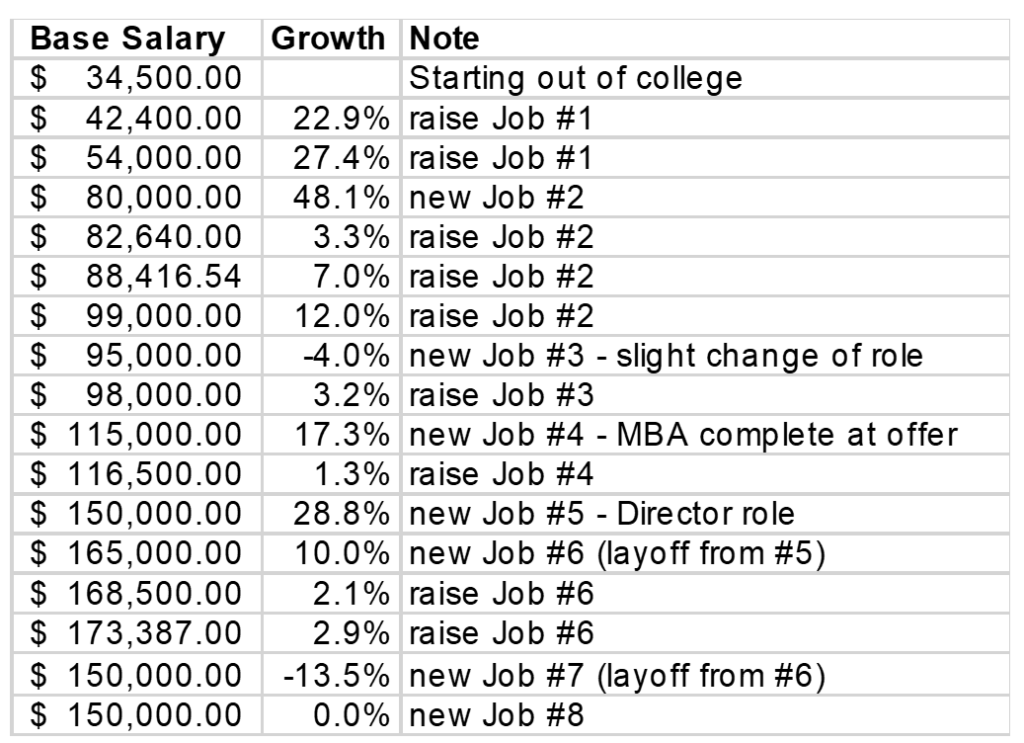 I few things that I think helped it grow:
I learned a hard skill out of college (computer programming), then progressively moved up and over into the business application of that hard skill (architecture, project management, and then product management for the latter half of my career).
I got an MBA, which I was very frustrated with the cost to value of upon completion, but has definitely paid off in opened up opportunities over time.
I haven't been afraid to change employers (although that is a double edge sword and may have resulted in being affected by a couple of RIF (reduction in force)/layoffs because I didn't have deep relationships built up).
I've also always done my best to make commitments and deliver on them – that's a critical core skill in business.
What tips do you have for others who want to grow their career-related income?
Be collaborative and likeable (jerks are often bumped out, unless you are the owner).
I think being a consultant and being willing to travel also contributed to a few spikes in here and definitely brought in some different experience that paid dividends over time.
What's your work-life balance look like?
I think it's fairly balanced. I get a ton of work done in a ~40h week and have very little travel for my current job, so I can make ~90% of kids sports/activities.
I can get away for vacations.
As an employee, even though I'm not punching a timeclock, I'm still stuck on an 8-5ish schedule, which is the next limit I'm looking to free myself from.
Do you have any sources of income besides your career? If so, can you list them, give us a feel for how much you earn with each, and offer some insight into how you developed them?
Not enough. I was on a kick from maybe 2013-2016 on dividend investing outside of retirement starting to get this going, until I realized it wasn't very tax efficient.
This is my main focus on the next thing: either a side gig, or investing, or something that doesn't tie us completely to our career income.
We did inherit some farm land that provides a couple grand a year, and that's another thing I've considered diversifying more into.
We are also bumping into the unfortunate (or maybe fortunate) problem of rising salary income and constantly increasing taxes with few tools to check the taxes, which is going to force me on to the next plan.
We don't need any more in 401k, but that's the main relief valve besides HSA contributions available to us. And we probably don't need any more in HSA either – we have over 3 years of out of pocket max built up, and it's now invested in the market to grow.
SAVE
What is your annual spending?
The average without "breaking a sweat" is about $10k/month (or $120k/yr).
If we go really lean, like we did during layoffs, it's about $8k/month (or $96k/yr).
What are the main categories (expenses) this spending breaks into?
$2600 is for fixed expenses on our home – mortgage, utilities, etc with some discretionary items like the gym.
$2300 is for fixed expenses related to our second home.
$1700 is for food, gas, dining out, subscriptions (Netflix, Spotify, etc)
$500 as of this year is for 529 contributions.
We save the rest, which averages to about $2500/mo.
Do you have a budget? If so, how do you implement it?
We have had a written budget since coming out of college using an Excel spreadsheet. We've never been hard core on it, just used it as a guideline.
We review it together periodically (might be every couple years now, since it has been working).
We implement it in a couple of ways. Probably the most important is we also have maintained a cash flow document since a couple years out of college. It's basically a spreadsheet set up like a check register with +/- (debit/credit) over time. It's been awesome to forecast into the future and keep our discretionary spending in check. Here's how:
You know your planned income, well into the future – so we put paydays in, and bonuses or other income sources as we know about them. You also see very clearly when money will come in with different pay timing/structures (24 paychecks/year vs. 26, etc).
You know your planned expenses – mortgages, utility bills, credit card bills, etc – I update them as soon as they lock so I can see around a month out. And as you get it going, you have a historical pattern if utilities go up or down seasonally.
And then we effectively plan the excess – either watching discretionary spend (which is all through 1-2 credit cards, so just manage that number and communicate on it – "hey, the credit card is getting up there this month due to X, Y, or Z – let's watch extra spending" – note: we also have a monthly number for the credit card we try to keep it to, so it's easy to gauge when it's high or low). The other major excess is savings, so we can plan for that.
I've also used Mint for a long time, but I just haven't found it to really change behavior, and I don't want to nickel and dime every expense. Just not worth it.
For a while, I considered doing Dave Ramsey's envelope method (this was after we were already millionaires!), and I know it would really up our savings rate. Neither of us have any desire to walk around with envelopes of cash, which keeps breaking the deal. Too much hassle.
The last thing that really taught us discipline in budget was me being laid off twice. We landed on our feet both times with no major impact, but we had padding (and really upped the emergency buffer after them), and we really tightened up the belt to make it through successfully.
What percentage of your gross income do you save and how has that changed over time?
I have been tracking this formally since 2015, and it has gotten more detailed year over year.
2015: 18.2% – 401k and cash savings (doesn't include HSA savings) (includes paying off a few loans) (I was laid off for a couple months this year)
2016: 21.4% – 401k and cash savings (doesn't include HSA savings)
2017: 17.9% – 401k and cash savings (doesn't include HSA savings) (I was laid off for a couple months this year)
2018: 23.2% – 401k and cash savings (doesn't include HSA savings) (layoff included January)
2019: 26.5% – 401k, cash, and HSA savings
We have always at least done enough 401k savings to get the match (typically 6%), and for a few years I hit the IRS max contribution on my 401k. So I would speculate we've always saved 10% at minimum every year since college graduation.
In the past few years, we've gotten really lean and been Dave Ramsey focused – debt free except the mortgages.
What is your favorite thing to spend money on/your secret splurge?
A few different things:
Technology
Outdoor fun (either lake toys or downhill ski stuff or trips)
Vacations – although we are probably cheap compared to the rest of America on them. We love a good road trip.
INVEST
What is your investment philosophy/plan?
Since starting our jobs, we have always invested at least enough in 401k to get the employer match, and we've been dual income since graduation.
We've had some years where I hit the IRS max on 401k contribution (2007-2010, which also meant we generally bought low during the recession).
Overall, we've averaged about $17.5k per year into 401k since 1999, which is why the largest portion of our net worth is retirement savings.
Inside those funds, we are invested in growth and international growth ETFs/low fee funds where possible, then mutual funds where not. We have a few individual stocks, and also some REITs in the big rollover fund.
I do it all myself – have never had a financial advisor. But with a business undergrad, an MBA, and reading many books on investing, I am very comfortable with the investing I do, and I prefer to DIY it and save the fees.
What has been your best investment?
We bought 45 shares of AAPL on 2/15/2005 for $3,898.09. In January 2020, that investment is 723.595 shares (it has split 14 times and we reinvest dividends). It was worth ~$224,500 at the time of this writing.
Some of this was luck, some of it was identifying the platform Apple was building starting with the iPod/music/Mac and leading into the iPhone and much more. Some of this was also good teamwork and discussion.
I have wanted to sell to take profits a few times, and my wife has wanted to hold. Holding a solid investment for the long term is a great way to do well.
What has been your worst investment?
I lost about $10k on a subprime mortgage fund that went bankrupt. I had invested less with it (maybe 2-3k?) and got a nice ~10% return, so I started chasing returns without doing the research and invested more money into it.
This was in our 20s, so that $10k was a noticeable amount to us and a sharp lesson.
What's been your overall return?
I've been asking myself this a lot lately. Partly to tighten up future forecasting.
One of my spreadsheets is a retirement plan, and I used to use an 8% forecast in it, but every year the number would come in higher, so a 10% forecasted return over time seems more accurate for forecasting.
Other angles on this:
The AAPL investment I mentioned above averaged a 37.3% return from 2003-2019 (I reinvest the dividends). You can calculate growth in different ways, and this is an average of each year's annual growth. Some years were negative (down 56% in 2008), and other years were insanely positive (144% growth in 2009, 78% growth in 2019 – both rebound years after a recession or correction).
A 401k of my wife's from a previous company has averaged about 13.8% from 2012-2019, which aligns pretty closely with the S&P 500 average of ~11% over the long term.
I have a consolidated IRA that has averaged 8.2% from 2012-2019. This is more diversified, and I've made some mistakes in here with overdiversifying into things like foreign currency (bust) and more international funds, which are currently down more.
How often do you monitor/review your portfolio?
Almost daily using Personal Capital or phone apps.
I review/reallocate around every 6-12 months as needed.
I like to watch daily when it's growing, and less often when it's shrinking.
NET WORTH
How did you accumulate your net worth?
We are both blessed with good careers. We have done OK investing, but nothing special other than the AAPL blessing. We spend less than we make and have done so since we started our careers.
We have never carried credit card debt. We started investing right out of college. We are essentially the core profile out of The Millionaire Next Door
or Everyday Millionaires
.
One thing that really made a difference on Net Worth was specifically tracking it. You improve on what you watch closely, and I started tracking Net Worth monthly in a spreadsheet (from reading Your Money or Your Life
) in 2012. When you look at it through that lens regularly, it changes your perspective.
When I started, we had student loans, car loans, 30 year mortgages, and more. We were at $466k in liabilities and $927k in assets for a $461k net worth – not bad. We crushed all the consumer debt and refinanced to 15 year mortgages, and at the end of 2019, we are at $283k in liabilities, $2M assets, and a $1.7M net worth.
What would you say is your greatest strength in the ESI wealth-building model (Earn, Save or Invest) and why would you say it's tops?
It's probably Earn for the past 20 years. For the next 20 years, I'm hoping to flip that to Invest.
We are really pretty balanced across ESI, but Earn has been the foundation for us.
We actively choose not to save 50%, although we could, but we want to enjoy some of our money now too.
And Invest is good, but could be better.
What road bumps did you face along the way to becoming a millionaire and how did you handle them?
It has definitely been a journey and a maturity process.
When I got my first big raise, we went out and bought a new car (dumb at the time). And out of college we leased a car (even dumber).
We finally realized buying a few years used and paying cash is the path to real wealth.
We've made mistakes – bankrupt investments, bad investment choices, and more – but we have learned from each mistake and here we are.
One of the main reasons I chose to do this article was hopefully to help someone else to learn from my mistakes (or all the other great interviews on this site).
What are you currently doing to maintain/grow your net worth?
We have the pattern pretty well established – ESI – and planning to keep doing it into our 50s, then see where we go from there.
Do you have a target net worth you are trying to attain?
Not formally. I think it would be cool to be a decamillionaire, but I know that the trajectory we are already on will have us comfortable at any time in life.
It's just balancing what we want to do and how much we are enjoying our jobs.
How old were you when you made your first million and have you had any significant behavior shifts since then?
We hit a million in Net Worth at age 40, and as mentioned above – the pattern is pretty well established.
What money mistakes have you made along the way that others can learn from?
If I could influence me at age 23, I would crush all debt ASAP and avoid it in the first place.
I would buy used cars in my budget, and I would max out my 401k in a traditional job or dig into something entrepreneurial earlier before I got attached to a standard of living.
As Dave Ramsey says "live like no one else (today) so you can live like no one else (tomorrow)".
What advice do you have for ESI Money readers on how to become wealthy?
Always spend significantly less than you earn.
Read. Learn. Listen to others.
Work hard. Pay cash.
And let your money start working for you.
FUTURE
What are your plans for the future regarding lifestyle?
We are starting to think about "Phase II" when the kids are out of the house in our 50s.
We would both get bored with the traditional definition of retirement, but definitely intend to find something more flexible than a traditional 40+ hours/week career.
I'm starting to explore options for Phase II and want to have something started in advance.
What are your retirement plans?
Depending on where the nest egg sits when we start to draw from it, one plan is to live off dividends.
$2.5M at 4% dividends is $100k/year, and I'm forecasting having double that ($5M or so at 59 ½) – so could invest the other half more conservatively (or aggressively). Or a 4% draw down is similar math, but why not keep the golden goose?
We want both homes paid off – ideally in our 50s, which makes $100k easy to live off, assuming we retain our current lifestyle.
For activities, we want to spend a lot of time with our kids (and hopefully their families someday) whenever and wherever they may be.
Also spend lots of time at the lake, downhill skiing, and exploring and traveling – both on a plane and in nature.
Time with friends and time for hobbies would be great too.
Are there any issues in retirement that concern you? If so, how are you planning to address them?
Health. We both lost our mothers when they were in their late 50s or early 60s. So part of our balance is trying to enjoy the present while also planning for an amazing future.
We are addressing it by both planning for the unexpected (enjoying the present, insurance, etc) and trying to maintain our health – both physically and mentally.
I believe stress can be as much of a cause as physical issues like weight, diabetes, etc. in long term disease.
MISCELLANEOUS
How did you learn about finances and at what age did it click?
My father gave me the book The Richest Man in Babylon
sometime around college or right after, and I recall being a student of finance and personal finance starting around college.
I took finance classes and learned about time value of money. And I recall the example coming out of college of a person who saves $2k for 10 years from age 20-30 having more in the end than someone who starts at age 30 and saves to age 60. Compounding interest is powerful.
So it clicked fairly early, but then I kept reading and learning.
It clicked again in 2012 when I learned about Net Worth as mentioned above.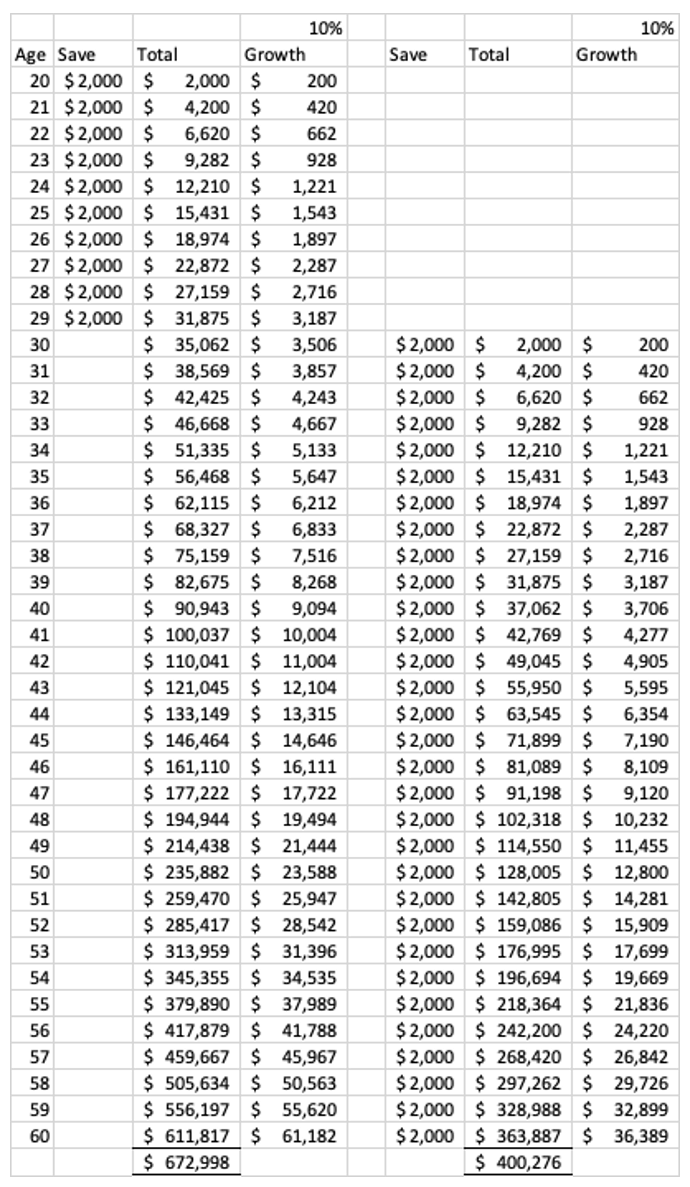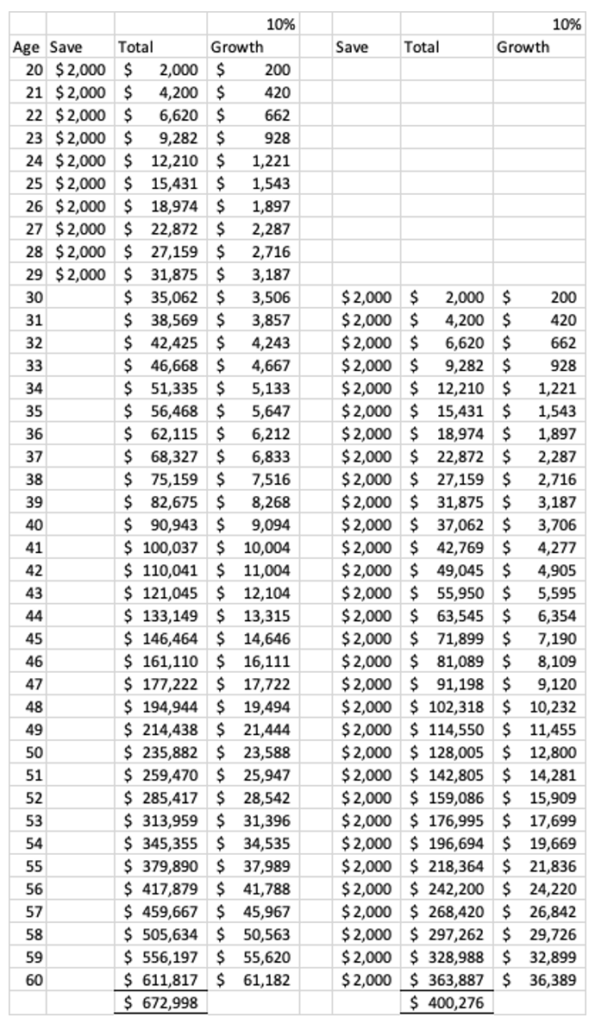 Who inspired you to excel in life? Who are your heroes?
My parents and my in-laws are both amazing role models and huge supporters. They have inspired us both and we are lucky to have that foundation.
Do you have any favorite money books you like/recommend? If so, can you share with us your top three and why you like them?
I mentioned some above, and you should read voraciously and find your own path. Here are the three that really changed my thinking materially and that I re-read periodically:
The Richest Man in Babylon by George S Clason – as I mention, my father gave this to me as I was wrapping up college, and it mentally set the foundation for saving and putting your money to work for you.
Your Money or Your Life by Vicki Robin and Joe Dominguez – this one really flipped the switch on my thinking about Net Worth and how to weigh your spending.
The Total Money Makeover by Dave Ramsey – this is the simplest pattern for the masses to follow to become wealthy. This book was critical to shoring up risks in my foundation, and I credit Dave's methodology for helping us weather two corporate layoffs without stress while we continued to gain Net Worth.
Two bonus books that also really reinforced my pattern are The Millionaire Next Door
by Thomas J Stanley and William D Danko and Everyday Millionaires
by Chris Hogan. These are especially important in thinking about (not) buying a bigger house or moving to "the best" school district or private school.
Do you give to charity? Why or why not? If you do, what percent of time/money do you give?
Yes – we give to our church and many of the activities our kids are involved in. Also our undergraduate college and organizations periodically.
It's mostly financial, also we do volunteer work as well and I would love to do more of that in Phase II.
I don't track this as much – it's probably 1% of money (or less?) and an insignificant percent of time. Although we also volunteer for a lot of our kids activities where we can, and that adds up on time spent.
Do you plan to leave an inheritance for your heirs (how do you plan to distribute your wealth at your death)? What are your reasons behind this plan?
Right now, the assumption is yes. And if we stick to the plan throughout this interview, each of our two kids could inherit millions.
That said, I know that much money in one fell swoop is probably more of a curse than a blessing, so figuring this plan out in more detail is a big part of the next 5 years or so.
The really hard and complex question is: What kind of a legacy do we want to leave?