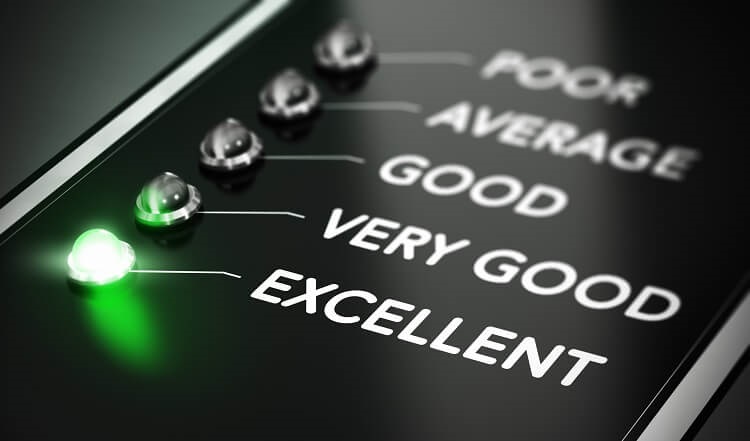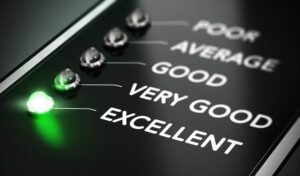 Here's our latest interview with a millionaire as we seek to learn from those who have grown their wealth to high heights.
If you'd like to be considered for an interview, drop me a note and we can chat about specifics.
My questions are in bold italics and his responses follow in black.
Let's get started…
OVERVIEW
How old are you (and spouse if applicable, plus how long you've been married)?
I'm 60 years-old, my wife of 32 years is 58.
Do you have kids/family (if so, how old are they)?
We have three adult children all employed and off on their own!
We have 5 grandchildren.
All live relatively close to us.
What area of the country do you live in (and urban or rural)?
We live in a suburban town outside of a small Northeastern USA city.
What is your current net worth?
~$13.5M with conservative valuation of businesses.
It's likely more like $20M if I were to value the businesses based on a reasonable multiple of EBITA.
What are the main assets that make up your net worth (stocks, real estate, business, home, retirement accounts, etc.) and any debt that offsets part of these?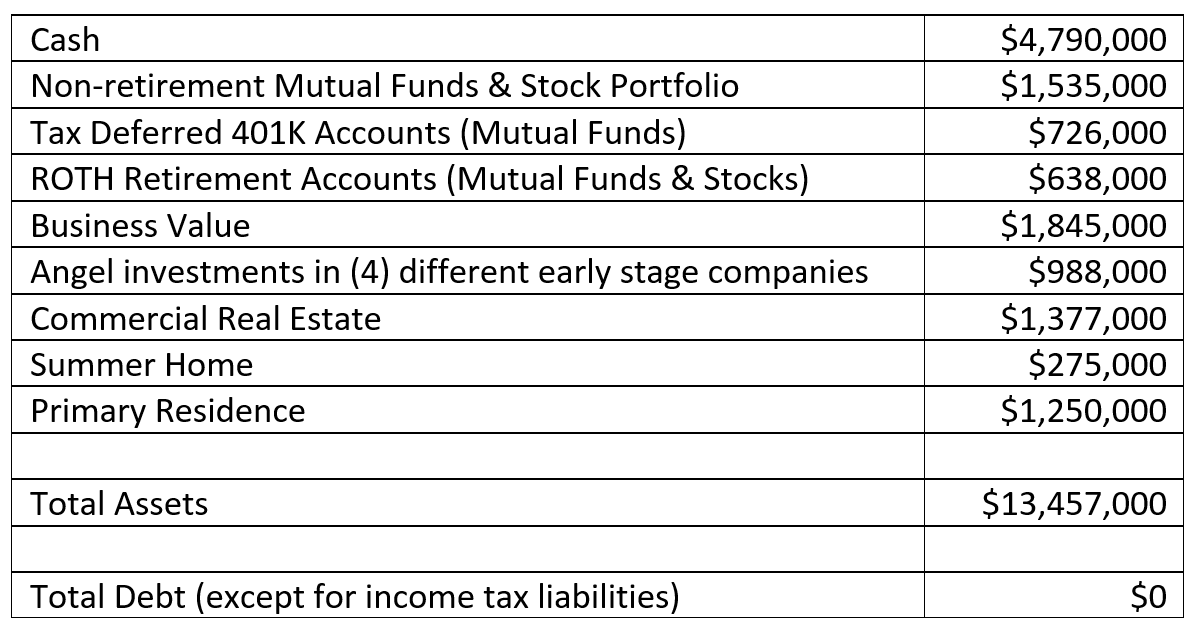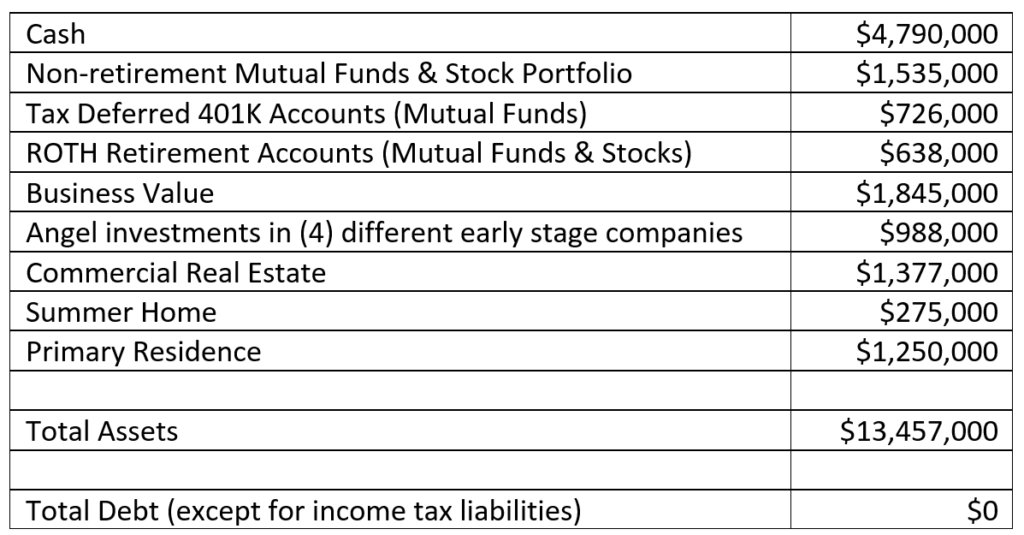 Notes:
The high cash position is to cover an estimated income tax liability of $2.1M, which should have been due April 15, but now due July 15th. I may be able to take all/most of this out of the business come July, but want to hold onto at least $2.5M cash until July in case business is down and we have to pay all of it personally.
The remainder of the cash I have built up to use to purchase another piece of commercial real estate, plus another $500K which we like to keep as emergency fund.
We have $91K in 529 Plan for our grandchildren (not included in above number).
We have $236K in a Donor Advised Fund (DAF) (not included in above number).
We have excluded cars, boats, personal property from our net worth above.
EARN
What is your job?
Me: Own and operate a small manufacturing/service business.
Wife: Private practice, mental healthcare.
What is your annual income?
Varies widely year to year based on business income.
2015 – 2019 average taxable income: $1.965M.
2019 was our highest income year: $7.2M due to a large increase in 2019 business income.
Tell us about your income performance over time. What was the starting salary of your first job, how did it grow from there (and what you did to make it grow), and where are you now?
Taxable income:
Started in 1982 with first full time job at $17,786
1990 made $51,300
2000 made: $145,000
2010 made $681K
2011 thru 2015 made average of $1.1M
2016 thru 2018 made and average of $1.39M
2019: $7.2M
What tips do you have for others who want to grow their career-related income?
I can only speak from my own experiences having gone from an employee to a business owner.
As a business owner you are not limited by the value of your time and how many hours you can work. The business allows you to make money on the labor content of others which changes the equation. This is assuming that you have a profitable business model and can grow the business.
Other factors:
Get a good education in a field that the marketplace is willing to pay for
Work hard
Be honest
Under promise/over deliver
What's your work-life balance look like?
At this point in my life, it's quite good. I almost never work more than 40 hrs./week unless I'm traveling on business and most weeks, work far less than 40 hrs.
I have a strong management team in place for the business, so I'm no longer involved in most of the day to day details. There was a point when I first purchased and was growing the business that I spent 50-60 hrs./week regularly, but thankfully these days are behind me.
Do you have any sources of income besides your career? If so, can you list them, give us a feel for how much you earn with each, and offer some insight into how you developed them?
We own some of the commercial real estate where the business operates, so we collect approx. ~$150K in rental income.
SAVE
What is your annual spending?
We spend approx. $122,185/yr.
What are the main categories (expenses) this spending breaks into?
Housing (primary residence, including property taxes, insurance, etc): $32,900. Property taxes are quite high in our area.
Utilities (primary residence, includes cell phones): $8,380
Housing (seasonal summer residence, including property taxes, insurance, etc): $6,185
Utilities (seasonal summer residence): $2,850
Food, including restaurants and entertainment: $18,000. We host a lot of parties with family and friends.
Transportation (incl gas & oil, insurance, repairs, registration and property taxes): $6,450. One car only, other car is company owned.
Clothing: $5,800
Medical Healthcare: $1,620. Health insurance is 100% company paid, this is only co-pays and misc. We are both very healthy.
Personal (wife term life insurance, haircare, misc. gifts, etc): $10,000
Boat (includes insurance, registration, gas, maintenance and winter storage): $6,000
Entertainment: $6,000
Vacations (varies year to year, but on average last few years): $18,000
Total Spending: $122,185
We also spend $4,800/yr funding 529 plans for our grandchildren.
Notes:
Above is not including income taxes
Above is not including any gifting to children
Do you have a budget? If so, how do you implement it?
We don't keep a detailed budget, but do monitor spending monthly using Mint.
What percentage of your gross income do you save and how has that changed over time?
We save about 30-45% now (note that almost 50% goes to federal and state income and payroll taxes).
This has increased significantly over the last five years as business income has increased.
What is your favorite thing to spend money on/your secret splurge?
Vacations with family and entertaining family & friends.
INVEST
What is your investment philosophy/plan?
Our investment philosophy has been to max out all retirement accounts.
We max out my ROTH 401K, do two back door ROTH IRAs and fully fund a SEP IRA for my wife's business and then convert to a ROTH annually.
My 401K is invested in low cost index funds (50% in total stock market index, 25% in S & P 500 index and 25% in an international index.)
We use a combination of a full-service broker/financial advisor (about $2.5M invested here and pay 1% of assets under management), low cost index funds in 401K plan, a Vanguard brokerage account for cash and additional low-cost index fund investing.
I use the advisor who is a personal friend as a sounding board. We are also invested in four startup/early stage companies, three of them along-side our advisor, but no fees are paid to the advisor on the startup investments.
My wife doesn't have an interest in investing or finances, so the advisor gives me comfort that if something were to happen to me, my wife has someone she knows and trusts who can help her navigate the financial affairs.
What has been your best investment?
Purchasing the business.
I paid approx. $450K for the business in 2006 and have grown it to where we can make that much in two good months.
I'm just starting the process of developing a business exit strategy. If the business continues to be successful at the current level, the exit could yield $10-15M.
What has been your worst investment?
Early on in my career (30 years ago), I invested in single family rental real estate in a partnership with some friends.
Timing is everything in real estate and debt is not your friend especially in a market downturn. We lost about 27% of our investment, plus a whole lot of time over 4-5 years.
What's been your overall return?
Approximately 9.7% in mutual fund and stock market investments over the past 10-years.
Approx. 4% appreciation in commercial real estate (although the business paid off the mortgage that would have been rent to a landlord, so overall I look at this as a good investment as I own the building outright now).
The return on the business will be determined over the next few years as I develop and execute am exist strategy. The return could me quite high (+10X what I paid for it) if the continues to grow and I find the right exit strategy.
How often do you monitor/review your portfolio?
Use Personal Capital and look at it at least once/week.
NET WORTH
How did you accumulate your net worth?
I made good money in the last 10+ years.
We haven't inherited anything.
Starting from an early age, I invested in my 401K and IRAs and then as my income increased, taxable brokerage accounts.
Also was debt averse since my early 30s. I figured out that making payments to a bank on assets that depreciate (cars, boats, etc.) was a losing game.
I paid off all consumer debt by 35 years-old and then paid only cash for cars, etc.
I got really aggressive in my 40s with paying of the mortgage on our house.
Then in my 50s starting paying down the mortgage on our commercial property, paying it off completely at 58 years-old.
What would you say is your greatest strength in the ESI wealth-building model (Earn, Save or Invest) and why would you say it's tops?
Has to be Earn.
Although my income wasn't all that high until the last approx. 10 years it has really helped grow my net worth.
What road bumps did you face along the way to becoming a millionaire and how did you handle them?
Had some serious business challenges in the recession of 2008/09 where we lost 40% of our revenue. Had to make some tough decisions like layoffs, pay cuts, etc to reduce overhead and survive.
As the economy recovered, we were able to get the business growing again and is now much larger than pre-recession. This experience really drove home my thinking that debt is not your friend in real estate or business.
What are you currently doing to maintain/grow your net worth?
We continuing to grow and operate a profitable business and we are investing a lot more than we spend.
Do you have a target net worth you are trying to attain?
We originally had a target of $5M as we thought that would be enough to retire comfortably with no debt and maintain our lifestyle.
After we crossed the $5M threshold, we though $10M would be nice with at least $5M in liquid assets (401K, IRA, brokerage & cash).
Now it's more about figuring out a business's exit strategy, how we want to spend our time in retirement and what kind of legacy we want to leave.
How old were you when you made your first million and have you had any significant behavior shifts since then?
We hit $1M net worth when I was 46 years old, $5M at 55 years old and $10M at 59 years old.
What money mistakes have you made along the way that others can learn from?
Early on in my career, we took on debt for things like cars, boats, student loans, etc. This was a definite a barrier to building wealth.
I'm really not sure what caused us to become so debt averse. There was definitely some Dave Ramsey influence in the later years, but we learned earlier that debt was not our friend and started paying our debt down aggressively.
What advice do you have for ESI Money readers on how to become wealthy?
Develop a strong work ethic (this will make up for a lot of other shortfalls)
Avoid debt like the plague
Live on less than you make
Always be saving/investing (even if it's a small amount, time is your friend)
FUTURE
What are your plans for the future regarding lifestyle?
We think our current lifestyle (homes, cars, boats, vacations, etc) is likely at its peak and not something we want to increase.
We've learned, especially over the last 10 years or so, that more stuff means more maintenance and more hassle.
As we get into our 70s and 80s, I could see us cutting back on our lifestyle, not for financial reasons, but to reduce the hassle factor and maintenance.
What are your retirement plans?
We will probably travel more, relax more and give more.
We hope to have the business sold and "retired" in the next 3-4 years, although this likely doesn't mean not working at all. We will probably have some ongoing active investment, or consulting work that continues for at least another 10 years.
Are there any issues in retirement that concern you? If so, how are you planning to address them?
Financially, not really.
Healthcare costs are always a concern, but I'm sure as part of a business exit strategy, I can figure out a way to continue health insurance through to the age we can qualify for Medicare.
The other concern is staying healthy. We hope to continue to exercise (although more in retirement), eat well and stay mentally engaged in new activities.
MISCELLANEOUS
How did you learn about finances and at what age did it "click"?
My parents weren't great with money and didn't make a lot of money, so most of my money /finance knowledge is self-taught.
I did have a couple of business mentors that I picked up some good knowledge from and my father in law was a great example to follow.
Who inspired you to excel in life? Who are your heroes?
My wife, my parents and my father in law.
My wife has been a huge part of my success. While my income has always been higher than hers, she always believed in me, supported my business ventures and has been my rock when times were tough. There is no way we would have achieved the financial success we have without working together and having a strong marriage.
My parents while not successful financially, always provided for our family, were very hard-working, honest and ethical people. My work ethic has been one of the biggest strengths and I think a big reason for my financial success. I greatly appreciate what my parents gave me.
My father-in-law was a small business owner, doesn't have even a high school education, started with nothing and became a millionaire along the way through hard work and integrity.
Do you have any favorite money books you like/recommend? If so, can you share with us your top three and why you like them?
The Millionaire Next Door
by Thomas J. Stanley & William D. Danko.
The Total Money Makeover: Classic Edition: A Proven Plan for Financial Fitness
by Dave Ramsey.
The Simple Path to Wealth
by J.L. Collins.
Do you give to charity? Why or why not? If you do, what percent of time/money do you give?
We have given on average approximately $10K/yr to various local charities over the last few years.
In addition, we have funded approx. $250K (it's down a bit now with the market drop) over the last five years into a Fidelity Donor Advisor Fund (DAF).
Our plan is to fund this every year out of our income.
In retirement when we have more time to research charities, we plan in giving and distributing this money (and probably other non-DAF money) over the remainder of our lives.
Do you plan to leave an inheritance for your heirs (how do you plan to distribute your wealth at your death)? What are your reasons behind this plan?
We've helped all three of our children, with a combination of down-payments for home purchases, funding retirement accounts, etc. We've tried to do this starting with small gifts and increased them as we watch their capacity to manage money grow as they mature.
I'd say we are pleased with their progress, but there is still a long way from where they are today to them being ready to properly manage what's likely to be a multi-million-dollar inheritance.
We currently have an elaborate estate plan involving wills, trusts, life insurance trusts, etc. This is mainly focused on business continuation and reducing estate taxes. We anticipate at the time of death, our net worth will be over the current federal estate tax exemption and well over our state's estate tax exemption. I believe the estate tax exemption is likely to be lowered in the coming years, so we plan on revisiting and updating our estate plan as part of developing a business exit strategy.
So, yes, we plan on leaving the majority of our wealth to our children, but frankly are struggling with how much is too much and defining the best mechanism to leave assets to our children.
We will also leave some money to some charities we'd like to support.
We want the money we leave to our children to be a blessing to them and their children, not something that will cause harm or problems. This is another area we plan on spending time figuring out in over the next few year…