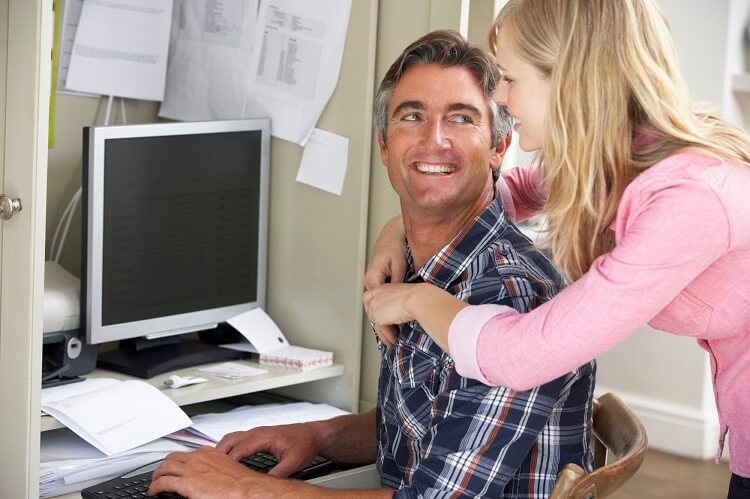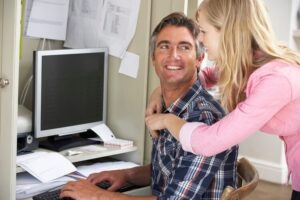 Today I have an update for you from a previous millionaire interview.
I'm letting three years pass from the initial interviews to the updates, so if you've been interviewed, I'll be in touch. 😉
This update was submitted in March.
As usual, my questions are in bold italics and their responses follow…
OVERVIEW
How old are you?
I am age 50, Spouse 52.
Both of us are in good health and going strong thankfully.
I have been married to my first wife for 20 years now. This is the one and only marriage for both of us, and we plan to keep it that way.
Do you have kids?
We have two high school aged boys, a 9th grader and an 11th grader.
Our life revolves more around the boys and their activities than anything else. Both are in public school both and play HS baseball. Older one also plays HS football. Younger one is big into mountain bikes (which has become an expensive past time that he picked up over Covid chaos). They are much more focused on fitness and athletics than on academics compared to myself as a young person. This is odd for me as I was a non-athlete in HS and more of a studious nerd type. Like Forest Gump said, "You just never know what you are going to get." This F.G. wisdom applies to your offspring.
We love watching them play and already wonder what we will do when baseball and football is all done and they move on to other things. Being involved in our kids' sports lives both as volunteers and as spectators along with trying to keep them on track in school academically is our biggest job right now.
As they are so different than me it is a little challenging as a parent to give them great guidance on what to do next as adults. Being so different than I am (and my wife) encouraging them to follow my career would probably not be the best choice for them. I can give them lots of advice on being a good human, how to open doors and how to handle money but I am finding it challenge on how to direct them into what will someday the best career path for each of these unique young men.
The older one wants to play college ball, which he may be able to do at a D2 or D3 level, younger one is an equally good ball player, but does not have college aspirations and currently thinks military may be his path. What their eventual jobs/professions will be I have no idea!
It is funny, as a kid I would have quickly traded in my academic abilities if magically that was an option (great 1980's movie premise). However, watching how their young lives revolve around sports I realize the end of my baseball career in little league may have been a good thing. With no sports I had time and spare energy to focus on tinkering in the garage on technology stuff, academics, and work without distraction which probably led to my current career. Their reduced focus they have on academics I do wonder what impacts it may have later in life.
Overall, both good kids and I have my fingers crossed they launch into successful financial independent and happy adults eventually.
What area of the country do you live in (and urban or rural)?
Southern California, suburb outside of LA.
LA County was one of the most restrictive areas with respect to covid. Our workplaces and schools were closed for what seemed like forever. I share this information as it is relevant to a few of my responses below on what we did over the last 3 years.
For those living in LA, you all know. For those in other parts of the country it may be hard to relate to how much things changed here, especially for kids in school.
What was your original Millionaire Interview on ESI Money?
I was Millionaire Interview #94 (3.5 years ago as I write this update) published on ESI in October 2018, I wrote it in August 2018 if memory serves.
Is there anything else we should know about you?
I frequently read the update interviews here on ESI and I realize my update may be one with the least life changes other than net worth numbers and the age of my family. Despite the lack of exciting changes, I will do my best to make this update an interesting read.
I do have some observations and perspective on what is like to continue to work after hitting your "magic number". Yes, the numbers say we could theoretically be done with work at any time we choose but we keep going. If anything, my story here will be another data point showing that slow, steady, boring and sticking to a simple plan of index funds works over the long haul.
I continue to work for the same engineering firm I did when I did the interview in 2018. My wife also works at the same company she did back then (after a very close brush with a layoff over covid).
I had a very exciting emergency appendectomy in 2019 that technically could have killed me, but I lived and was fine (yay). It was crazy. Felt fine Monday, upset stomach Tuesday, scheduled for emergency surgery late night on Wednesday, appendix out on Thursday. What a week!
Before I went under the knife, I had some time laying on a hospital bed waiting for the surgeon to arrive to reflect on the possibility I might not live through the surgery. Slim chance, but not zero. I actually had a close relative die unexpectedly on the operating table during a very routine surgery in their late 30's. As this was in the back of my mind, I pondered if I had any unfinished business, loose ends, regrets or things I needed to tell others I needed to get out there just in case I didn't wake up from this.
Turns out the answer was – Nope! All is good and I had nothing that really bothered me – other than the agonizing pain where my appendix was getting ready to burst. Apparently, I can die and feel ok about it. That was a comforting realization. It is nice to know everything worked out ok for the most part, even when faced with the possibility of an early exit from the planet.
Having a living trust, a will and a well-organized file of all our financial stuff for my wife already done was also a nice thing to know was squared away while l laid there faced with a possible permanent dirt nap. Although I had my iPhone with me in the hospital helping me kill time, I waited to Google it AFTER the surgery…apparently at my age odds of death was around 1 in 50. I am proud to brag that the surgeon said the appendix was the largest she had ever seen, I made an impression on her! I asked if I could keep it, but they said no. (See…. I said I would make an effort to make this an interesting read).
NET WORTH
What is your current net worth and how is that different than your original interview?
Total net worth (NW) continued to climb since the 2018 interview. Overall, our total NW is up from $3.5M in 2018 to $6M as of March 2022. Just a few months ago when markets were really hot at record highs we touched $6.3M but we are back down with the recent market uncertainty. It is funny how when the net worth gets up there, market swings can translate into hundreds of thousands of dollar changes in our balances, sometimes on a single day. You do get used to this, sort of.
As anyone who read my Millionaire Interview #94 or posts on Millionaire Money Mentors (MMM) knows I am into excel and tracking data, it's the engineer in me. With that disclaimer said, below are some charts and tables on this topic.
Below is a summary of updates on NW from August 2018 to March 2022. For fun I threw in a comparison of total gross income from salaries for my wife and I also a comparison of how the market indices performed over those same periods further below.
Chart 1 – Net Worth Growth

Chart 2 – Comparison market indices

For years I was sandbagging the value of our one and only house in the NW calc.
I finally bumped that up to around 80% of the Zillow value after seeing so many houses near me sell for what seemed like insane prices that I still have a hard time believing (I like to be conservative).
Chart 3 – Residence Value Growth

By my choice the house value I had plugged into my NW calculator increased which also contributes to the NW increase. Zillow has our small very basic house at $1.4M which has been proven possible by recent sales nearby.
To me this is totally bananas. If I paid that much for this dump we live in I would feel totally ripped off. Still keeping a more conservative number for the house value in my NW calculations. As the value of my house has nothing to do with my 4% rule calculation I really don't care that much about this number.
Looking at the above numbers, I am actually surprised how well my net worth numbers have kept up with market indices. Another point in favor of basic index fund investing. I made very few investing decisions during this time yet we are keeping up with the market. Only decision I made as when to roll cash into more index funds and which index funds to buy.
What happened along the way to make these changes?
Markets across the board went up, real estate went up, NW going up was a result of just staying the course and making no major changes.
Our salaries, our investments and our single residence is all we have. It is a pretty simple financial picture. No rental properties, businesses, or other income streams. We continue to spend less than we make and invest the difference in index funds.
As we are now both over 50 we max out the 401k even higher using the catch up contributions provision. (for 2022, 401k contribution limit for those over 50 is $20,500)
My work continues just as it did before, a bit bigger role and a bit bigger salary and bonus structure. Although I was not seeking a promotion or a bigger role, they came asking me if I would do it. This is a good thing. Hitting my magic number about 3 years ago actually made work more enjoyable and far less stressful. The work didn't change, but my attitude/response to it did.
Something about knowing you can walk away at any time makes work almost enjoyable. Troubles/challenges seem less like trouble, you get less stressed out and as a result you are actually more effective, and you move forward with more clarity and less emotional baggage weighing you down. It is a nice spot to be in.
I also find I am much more effective in a mentor role as I can focus on the folks below me and give them guidance without any worries about myself or how I am perceived. Technically I have "made it" and really like passing on knowledge to others who I sincerely hope someday do the same or even better than me. I often wonder if I could have achieved this level of peace with work younger in life with just an attitude shift. I feel a bit like Peter Gibbons at Initech after the hypnotist gets him to stop worrying about work and magically the Bobs recognize Peter as a real go-getter as he is such a straight shooter with management potential.
To those in management above me, I was always a very honest no nonsense straight shooter but now even more so. I have no motivation or desire to put on appearances, or to resist telling folks (even my bosses) what they do not want to hear – I can be very honest. This recently got me added onto a few steering committees for new initiatives the company was worried were going off the rails and some were concerned may have been boondoggles. On these committees I am the "brutal honesty/skeptic guy" and was installed there for exactly that reason by those that know me.
I find my relationships with others at work are warmer and better in recent years. Not that they were ever bad, but I feel more connected to folks now than I was in the past on a personal level. I think this is a function of zero fakeness. I am 100% myself with no need for any phony work persona or politics.
As I am essentially done growing my own career intentionally, I spend far more energy on growing, supporting and encouraging others which I think folks respond to positively. That has been a really nice upside to getting to the magic number. Many years ago a wise friend of mine told me that the universe is like a mirror, it reflects back what you give out. He was likely correct. I have a feeling I probably give off more positive energy and actively spend more time supporting of others than I used to. Good things are coming back to me as a result. This was not intentional, but a nice unexpected side effect.
Working remote for nearly 2 years in the same 350 square foot home office as my wife with both of us on MS teams calls all day long was a challenge but we coped and learned we are likely not getting divorced. If we can live through that and still get along I think we can do anything. I joked with our friends that "Covid has been tough – my soul-mate has become my cell-mate" — we are trapped in a tiny room all day together for nearly 2 years.
When people in awe of our working arrangement asked how we could possibly be on calls all day simultaneously, my joking response was always "I have been practicing tuning her out and ignoring what she says for 18 years now – All the practice is really paying off now, I barely hear her!" All untrue, but a funny joke that always got a laugh. My wife is tired of me telling it.
Likewise, during the covid lockdown we had the kids home in the same house doing remote school for 1.5 of these years. The house is small, so 4 of us there full time made it feel even smaller. That was a mixed blessing/curse. Honestly all the time at home away from a separate office away from home trapped with the family which was previously a fantasy made me realize I likely do a need a job or something purposeful to go to. Actually obtaining too much of exactly what you used to wish for can be a bad thing (for me it was years of wishing for no commute, no office and more time at home).
I learned that I am not good at being at home full-time, I need a thing to do/place to go to. The Covid lockdowns honestly probably extended my working years a bit longer. Had we not been locked up at home for so long to give me a taste of life at home full time I may have pulled the trigger on quitting sooner, and I might have found I did not like it.
My wife's company had some troubles over Covid that put her precariously close to a layoff in mid-2020. Due to her value and past track record and partly due to pure luck of the draw she was not among the many folks that were cut. She dodged a bullet and kept her job and things improved.
At the time, when it appeared more like impending doom was coming, she was pretty upset at the thought of her job being taken away from her. A reminder for us that maybe she needed the job more than we previously realized. Being with a giant firm, for years she has lived with the prospect of being just one re-org away from her job being eliminated.
I was surprised how much it bothered her. In recent years she has talked about if she ever did get cut she would gladly take an exit package and would be ready to move into retirement mode. Apparently, her attitude was a bit different when confronted with this as a reality. Fortunately, that all turned around and she is still going and engaged in a job that she likes with some job security.
Kids of course have grown and become more independent than ever. The older one can drive so they are both often out and about on their own adventures together and with their pals. This is both good, and a little sad for the parents. As many parents can probably relate to, they are gone a lot now and we have much less time together now. I really miss the little versions of our boys and our old life with them. A bit of an early taste of what the empty nest might be like. Very quiet and occasionally boring apparently! Our goal was to raise independent kids that weren't too reliant on us, we succeeded…but now we see them so much less!
They actually did pretty good over Covid making the most of not being at school physically. They did lots of new stuff they had not in the past (surfing, golfing, fishing, projects, road trips, mountain biking, weightlifting, beach trips, hiking etc.) with a group of similar free spirited and active friends here in town and even met some new kids that were similarly roaming the neighborhood looking for positive outlets to replace sports and in person school.
They got their online school done and then the rest of the time were sort of free-range kids. That is something I am very thankful for. I feel awful for kids that were not as lucky to have positive outlets and friends to share life with over covid or for health reasons actually did need to stay locked down that whole time. 1.5 years away from school could have been much, much worse for sure.
Charitable giving has gone up significantly. Partly inspired by discussions here on ESI and on MMM. We have more cash than we really "need" I realized we were in a spot to help others. As a result we have been doing some giving where we felt the cause was a good one, most of it is anonymously. It is a nice feeling to be able to do it. Hope to do more of this as time goes on and we have confirmed kids have been launched. Last year over Christmas we championed a big neighborhood fund raising effort for a local family in need last year that was a big success. This was both very humbling and gratifying.
Getting our kids through college and/or started on a career and launched as independent adults is really the only big financial hurdle we need to get over. I budgeted for college expenses so we should be ok, but you never know! This my one remaining big worry/concern I still think about a lot.
What are you currently doing to maintain/grow your net worth?
Just staying the course.
Everything I wrote about in the interview we are still doing. Spend less than we make, invest the difference into index funds and don't respond to any market turmoil.
While others may be hares, I am a turtle. Slow and steady has worked for us. Below is my official strategy per my excel file:
Earn as much money as we can
Spend less than we earn
Spend wisely when we do spend
Spend on what we need, avoid spending on frivolous wants
Invest wisely
Be patient
Delay gratification
No Debt – If you have to borrow for it, you can't afford it
My plan to eventually fund a retirement is a simple one – just use the 4% rule. That results in the math below based on current net worth. The numbers say we currently have enough and a bit more.
At this point we are just working on adding padding by choice, and party because we don't really know what we would do if we totally stopped working at this point. The padding we are adding I hope will allow some cool adventures later in life, or perhaps spoiling some grandkids or otherwise being very generous in the future.
Below is my simple math on the 4% rule for us:
Tax Rate for Planning : 20%
Desired Income, after taxes: $135,000
Income needed before taxes: $168,750
Withdrawal Rate: 4.0%
Total pile required to kick off required pre-tax money: $4,218,750
Current pile size: $4,801,406
Cushion (Shortfall): $582,656
% of goal: 114%
Theoretically Possible Income/year, after taxes: $153,645/yr
Cushion per year (Shortfall): $18,645/yr
When I did this in 2018 I said we needed $100k per year and assumed a lower tax rate. I have moved that up to $135k/yr and bumped up the tax rate. Partly because I hit our goal and felt like a needed a new higher goal to aim for and more recently because costs have crept up. After I moved up the goal, we hit that again.
Below in Chart 4 is a chart of history on the investment pile growth over time compared to a few goal lines I set. What I really want to achieve is to have my investment pile large enough that when our worst past year is again repeated (-21% in 2009) the total pile will still be at or above the size needed to provide our desired income using the 4% rule even after the big drop. That would give me some comfort knowing that when our worst year is again repeated, no need to change our spending or worry. You can see in the chart a drop in our investments value from the start of 2022 to mid March – it was a pretty big one, however we all know this was also after an unprecedented run up. The market does this – sometimes gets crazy high, sometimes it drops – over the long haul it all works out.
Chart 4 – Investment Pile Growth Over Time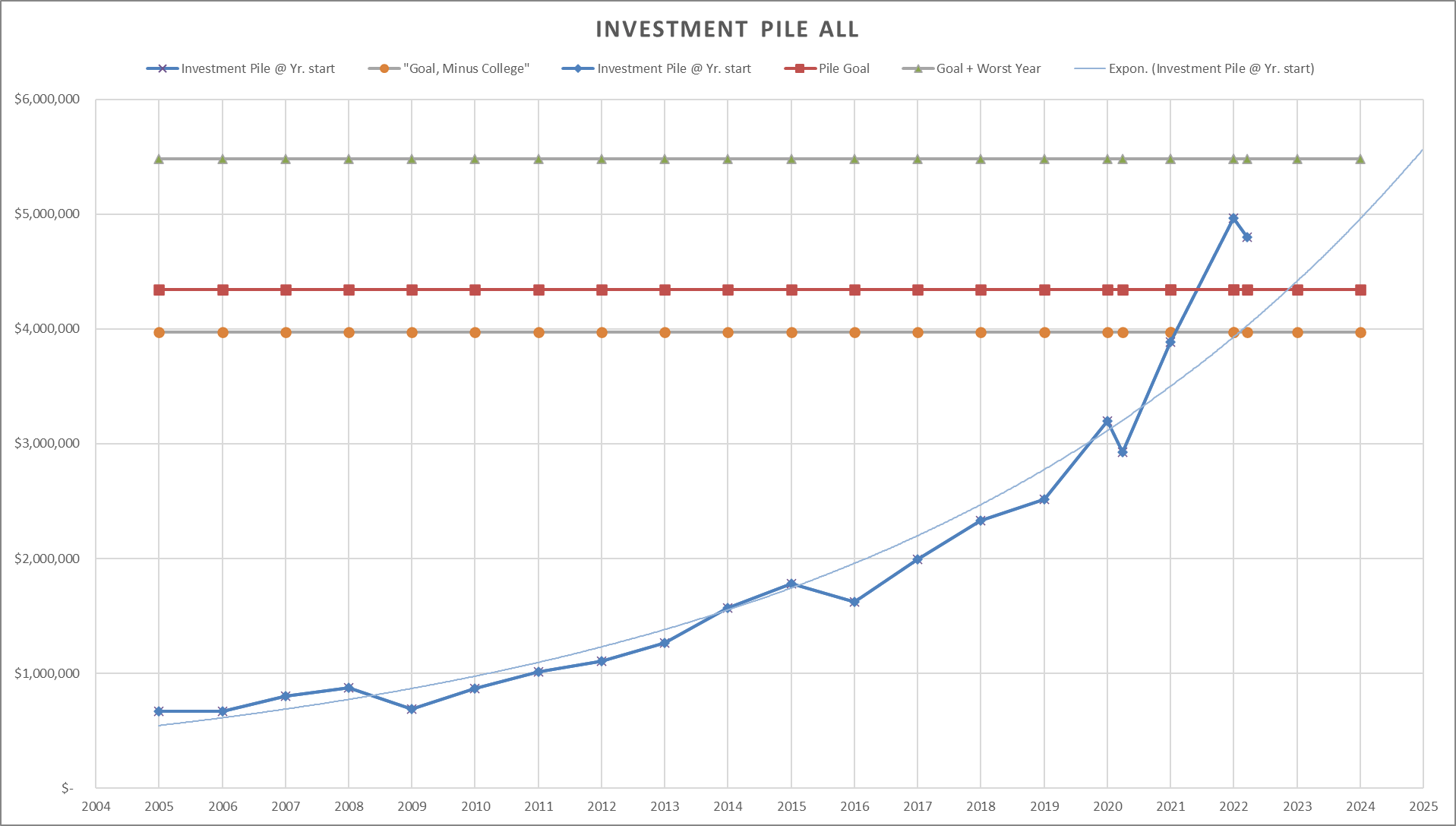 EARN
What is your job?
I am an engineer, but do most of my work in management of other engineers now. I run a pretty large group of engineers (total of about 100 folks) and am responsible for the financial performance of my part of the business. The size of the group I run grew significantly as I took on another region to run. Pay and bonus structure went up a bit as a result.
I never ever planned or desired to be a leader of a group this large. It happened by accident and as the result of others pulling me into doing it, rather than my pushing into this role. My idea number of direct reports would be zero if I had a choice in the matter.
My wife has a senior position with a large medical device manufacturer doing business planning and marketing work. No big changes from the interview in 2018. They had some business disruptions and a re-org driven by covid, but she survived.
What is your annual income?
Our only source of income is our salaries. Other than the occasional garage sale that might net a few hundred bucks, our paychecks are it. Below is a comparison of income over time. This is the sum of both my salary and my wife's
Chart 5 – Salary and Take Home Pay

W2 total includes base salary, bonuses and some stock grants prior to deductions. Take home pay is our net pay after all the typical deductions, 401k contributions, insurance, FSA and of course all the dreaded taxes collected by the state and federal government. I am amazed at the size of my tax bill these days. It incredible to me that we pay what we do.
Further below I provide a summary of take-home pay, expenses and the remaining savings that results.
How has this changed since your last interview?
Income has gone up a bit as you can see in the chart above. This has been a function of normal raises and some increases due to promotion and increased job responsibilities for both my wife and for me.
In my line of work there has been a lot of upward salary pressure industry wide. Remote working that resulted from Covid have made folks even more mobile and more prone to change jobs. This is combined with a shortage of talent and excess of project work to be done. Our company and our competitors have been aggressively increasing pay in attempt to proactively retain talent, more so for those they consider key to the business.
Luckily (as the Bobs like my style) I am on the list of folks they want to keep around. My employer does have a general idea of my financial situation which I think they actually fear makes me more likely to leave unless they really make it worth my while to stay. As I type this, I realize this sounds a bit goofy, the guy that doesn't need money needs to be paid more money to stay around – funny how that works.
Have you added, grown, or lost any additional sources of income besides your career?
No. As I mentioned in my interview this is a big shortcoming of our financial life. We are not at all diversified. Our only sources of income are our salaries and investment returns. No changes here. The investment returns are all reinvested at this time.
Rental properties in our area seem overpriced and unattractive to me. The ROI numbers just don't pencil out to my liking. Adding in the headaches and risks of being a landlord, especially considering recent changes in the laws here in LA I am just not interested in rentals.
SAVE
What is your annual spending and how has it changed since your interview?
Below is a summary of total combined take-home pay, spending, and the remaining savings that results. Pay is my wife and I combined.
Chart 6 – Net Take-Home Pay, Expenses and Savings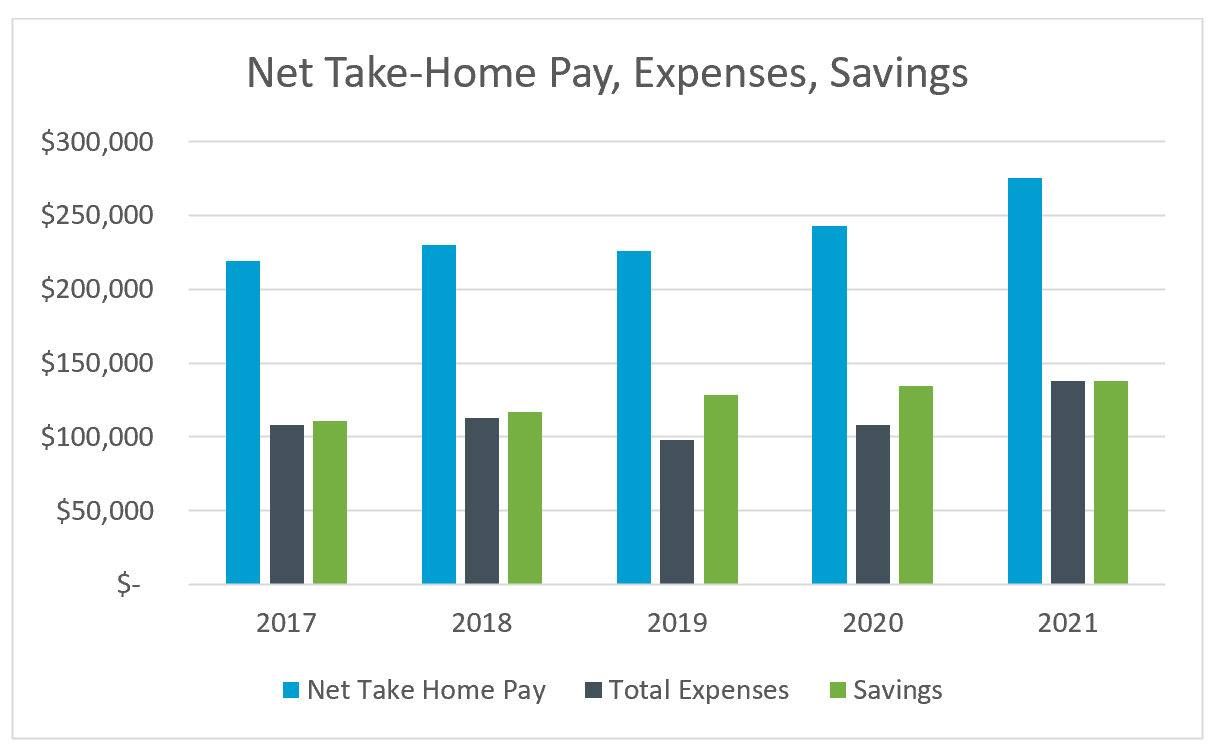 Same data in tabular form. Interesting that savings rate has remained fairly steady.
Chart 7 – Figure Net Take-Home Pay, Expenses and Savings
In reality our savings rate is actually a bit higher than the percentages above. Take home pay numbers above already has 401k and HSA deducted out. We are also putting $41k per year into 401ks not picked up in the saving number above. This is again just more conservatism and sand bagging by me in my planning.
It gives me conform knowing that just about any metric I am banking on has a little bit of conservatism built in. If things get worse on any front, we have some cushion to deal with it.
What happened along the way to make these changes?
Expenses have crept up. I attribute that to a few items:
Adding a teen driver in 2021
A few free spending catch-up vacations after covid
A big tax bill for some company stock granted to us
Adding mountain biking hobby (and new bike purchases…they are not cheap!)
Some unusual home and pool repair expenses
General inflation of the of the costs all things we spend on.
Things have certainly got more expensive across the board. Really noticing it at the pump, grocery store and restaurants. I am sure everyone is feeling this.
I am seeing expenses go up in Quicken for our regular bills with no changes in consumption by us. Although this is frustrating, this is an area I feel really thankful for that we have the means to absorb this. I remember what life was like when I was just barely getting by and all of the paycheck was consumed by expenses. I am glad we have such a large cushion that we can absorb this. This humbling fact is also a driver to increase charitable giving. I know others do not have it as good as we do and I am in a position to help.
Another factor is that as the kids are gone from home much more, we are semi empty-nesters on occasion. My wife and I have been doing more eating out and adult beverages with just us and also with friends with the newfound free time.
For my 4% rule calculator I was assuming we will spend $135k per year forever. This used to be what I thought was a very conservative assumption when we averaged around $110k per year. Now what used to be a conservative number has become our actual spending number. I am hoping this is a very conservative high estimate. Expenses for kids should drop and I think last year's spending, other than the inflation driven part, is hopefully a bit of an anomaly. This is a good reminder to have some conservatism in your planning as things can change sometimes for the worse.
INVEST
What are your current investments and how have they changed over the years?
We remain almost entirely invested in index funds. Very little change here, other than adding more holdings via 401k and buying more funds using leftover savings. Further below is a listing of our biggest holdings.
Suggest reading The Three-Fund Portfolio on ESI. Although not exactly what I am doing, it is pretty close.
A bit off strategy I did buy some Tesla stock on a whim which is outside of my normal approach of avoiding individual stocks. Related note: I did finally buy a used, low miles Tesla to replace my cheapo Honda with 175k miles on it. A purchase I specifically mentioned resisting in my MI-94 interview as I had categorized it as a want, not a need. My Tesla purchase experience actually turned into a posting on ESI a few years back How to Save Big on Buying a Tesla.
Loved the car and felt like I wanted to own some of the stock of the company that made it. Yes, I know the stock is wildly overvalued and has a crazy PE ratio but I just love the car and the company and wanted to own a bit. When it dipped to below $400/share I took an old Roth IRA with $30k of mutual funds in it and turned it all into Tesla stock. My thinking was if it goes nuts, I would love to not pay taxes on the gains in the Roth. That purchase has more than doubled which was nice. It has been as high as $1,200/share since I bought and is currently trading around $900/share. I try not to think about what if had just bought Tesla stock in in December 2018 rather than buying the Model S.
Below are my top 10 holdings, as you can see all are super low expense ratio index funds. After years of comparing the returns and expense ratios on these below to managed funds I owned I finally just dumped all the more expensive managed funds. These work great and keep me pretty diversified with no effort on my part.
I have firmly stuck to my rule of not investing in anything I don't understand or can't explain. As a result, no crypto, no bitcoin, no options, no short selling or other newfangled stuff in my portfolio despite lots of adds on TV trying to talk me into doing otherwise. Maybe I am missing out, but I am ok with that. My results without these items has been adequate, as is the level of risk I feel I am exposed to.
Chart 8 – Top Securities Held

What happened along the way to make these changes?
As we mostly just stayed the course on our past plan, not a lot to report on here.
Market tanked in early months of Covid. When this happened, I took some spare cash and bought more index funds when the DJIA was around 20k. Still have never sold anything.
When markets were way up reaching new highs, I looked at balances more frequently. When markets drop (like they did in February & March 2022) I try to look less. When there is market chaos I try to look not at all or less and try to not get emotional about it.
Market has been up, and it has been down many times over my 30 years of investing, I plan to just stay the course. Someday I will be cashing out 4% per year (or less) and hopefully the plan just works.
MISCELLANEOUS
What other financial challenges or opportunities have you faced since your last interview?
Very fortunately, few major challenges worth writing about.
We did have an opportunity to upsize to what might have been a dream home, but we opted not to. I just could not bring myself to pull the trigger. As we recognized the kids will be out from under our roof soon, why do it now? We are too late to really get the most of a bigger, nicer home.
Another consideration is that after we are done working, we may bug out of California, or at least prefer a lower overhead lifestyle. A bigger nicer house with a soon to be empty nest just didn't make sense. The house we have, which is more walkable distance to kids friends and stuff in town to do was actually probably better for the kids and their pals over covid than the one we looked at buying. Occasionally I drive by that house and think "what if". No major regrets though.
Seeing the costs of everything creep up has been a little troubling. My hope is that our equities holdings will rise with inflation and at least keep up. Kids have gotten more expensive, trying to teach them good money habits remains a parenting goal. We will not know for a while if we succeeded here.
Overall, what's better and what's worse since your last interview?
Better:
Portfolio values, feeling of financial security has increased. Padding above my goal numbers has increased.
Work life balance has improved. Working remote has eliminated 2 hours a day of commuting I used to do. That has been a nice side effect of covid changes.
Work in general is better, as noted above my job has gotten easier but my pay has gone up and I like it more.
Found Millionaire Money Mentors (MMM), which I spend a bit of free time on and enjoy interacting there. If you are going to be on a screen, far better scrolling and learning there as opposed to toxic social media and doom and gloom news feeds.
Worse:
Relationship with kids is a bit more distant/infrequent. It is not really correct to say our relationship is "worse", but I put this in the worse category as it is something on my mind. In 2018 and prior we were having much more fun and quality time with my kids. Our kids are growing up, they are really independent and not home a lot. We spend much less time together when compared to past years and I do miss it. I realize this is totally normal and expected for teens – They would be really weird kids if they still wanted to hang around with their old parents all the time. I will admit I miss having little ones around that needed me more. It gave you a lot of purpose and fun in life. That was a really fun and purpose filled time in life that I can feel fading away. I don't have any regrets though, I think we did a good job milking as much as we could out of the golden years of little kids. As they move on, I can understand more and more the attraction to having grandkids. Closest thing you can get to a "do-over".
Also, in the "worse" column is our overall quality of life in California. The bad news reports you may have seen about CA and LA on TV or online are true. I am hoping we soon hit bottom here and turn it around. No need to get political or preachy, but all the benefits of being here seem to diminish each year that passes yet the costs and the downsides of remaining keep growing. We are seeing many of our neighbors flee to other, better managed states. Sad to see it and live through California's decline. I am still holding out hope it gets better even in the current absence of any reasons to be hopeful.
More concerns about future market performance and inflation have probably something I could put into the "worse" column.
What are your plans for the future?
For now, keep working for the next few years and padding the investment pile.
We still need to put two kids through college. At the rate the costs of things are going up we may actually need the padding just to keep up. We don't have anything really calling us to do outside of work. Getting a plan together on what do after work is done and after kids are gone is something we need to develop. I have mentioned this before as a weakness of ours. There has been lots of good advice on MMM on how to improve in this area.
This weekend I will probably clean my garage…again! A never ending battle.
Given that you have a bit more wisdom and experience, what advice do you have these days for ESI Money readers?
I am not an investing guru. I used a very basic approach to grow our net worth which is easily copied. I won't write about investing advice beyond just stating what I did in my interview as I honestly still don't consider myself qualified.
I can however provide some over age 50 old guy observations that I wish were shared with me when I was younger.
As I noted above, now that I don't really need work (for immediate financial reasons) I find I am much better at it and actually enjoy it more. The power of the attitude and approach you bring to work should not be underestimated. I think we have more ability to control this than we realize. I should have learned this earlier in life. If you can find a way to get to that point earlier in life with some attitude adjustment, counseling, coaching, self-help, reading, meditation, exercise or whatever it takes – it could pay dividends.
Every year I live, this quote below which is one of my favorites becomes more and more true for me. I read it frequently and it gives me some peace:
The reason people find it so hard to be happy is that they always see the past better than it was, the present worse than it is, and the future less resolved than it will be. – Marcel Pagnol
I wish I had been given this view of the world earlier in life and been convinced by someone the truth of this statement. I can confirm it is true. Although I have enjoyed all of my life, there were some rough times I think I was overly stressed/worried in my younger years when in reality I probably did not need to be. I probably could have been more effective earlier as I am now if I had focused less on worrying about all the ways things could go wrong and more on working things out and just enjoying the ride along the way.
I find myself frequently counseling younger staff at work with this theme above. On difficult, challenging assignments they are feeling despair I often find myself trying to convince them – "This right now is the good old days we are going to look back on fondly! Yes, this is really hard and challenging today, but we are going to get through this. Stick to it and believe me when this is all done, we are going to look back on this time in the trenches together and be proud of what we did and we are going to be better for it." Sometimes they believe the old man, sometimes not. I think have helped a few in this area in recent years.
If it does not occur to you naturally, plan for something to do after you are done working a career. The sooner you start on that I suppose the easier it might be to make a decision to move away from work and into something else you find more fun. I really have not done this and probably should. I am sort of giving advice I have not followed myself here.
Work is not bad for me right now nor do I see it getting bad anytime soon so I am not that motivated to leave or come up with a Plan B. Part of my lack of motivation to leave work is that there is nothing more appealing or more fun or dreams of retirement drawing me away. I don't have hobby or thing outside of work I am passionate about that I would spend time doing if only I had more free time away from work. I am 50 and honestly don't have any great ideas on how to fill all my time without work. Sounds worse than it is. This really does not bother me much, but it might be something to start thinking about younger – develop some hobbies or practice being retired so you can test out some options and have a better idea of what you want to do when done working.
Most of all – Enjoy your kids when they are young. The time goes faster than you can imagine. There is an old saying on this on years with small kids "The days are long, but the years are short". So true. As I noted above my kids are not even out of the house yet, but I miss them already. Maximize your time with your kids while you can, a day will come when there are no more opportunities and it will not be your choice when it happens. More work can always wait until later. Your kids are only they age they are today once.
I realize this advice may not be for everyone, but if you don't have kids and it is feasible for you, consider having them with a well selected mate. It is by far the best and most fulfilling thing I ever did in life. Having kids and the life that results from raising them exceeded expectations for me. Far better than any job or money made.
As noted above in my appendectomy story, pondering your own mortality is not a bad idea. This will sound a bit fatalistic but pondering what you might change or what would be unfinished if you knew were you dying soon is healthy thing to do. Whatever is on that list – start working on those things TODAY. It is a great way to get you focused on what is most important.
The ancient stoics talked about this. Do a search on "memento mori" for more eloquent words than I can write on this topic. A heavy thought, but worth considering earlier in life rather than later when you have less power and less time to change things for the better. Death is 100% guaranteed. We are all marked for death. None of us get out of here alive (at least not so far). Best to make peace with this and find a way to live a better life as a result of this fact of life. Marcus Aurelius wrote "You could leave life right now. Let that determine what you do and say and think."
As I like quotes, I will end my update with another favorite, this one from famed physicist Richard Feynman:
"Life is too short to worry about stupid things. Have fun. Fall in love. Regret nothing, and don't let people bring you down. Study, think, create, and grow. Teach yourself and teach others."