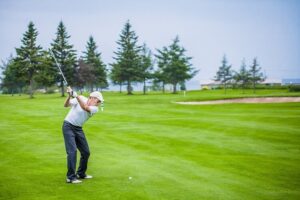 Here's our latest interview with a retiree as we seek to learn from those who have actually taken the retirement plunge.
If you'd like to be considered for an interview, drop me a note and we can chat about specifics.
My questions are in bold italics and his responses follow in black.
Let's get started…
GENERAL OVERVIEW
How old are you and your spouse? How long have you been married?
We are both 71.
I have been married 50 years and it was all to one woman, not a collection of women.
Do you have kids/family?
We have a daughter, 43, who is married with two children, 12 and 10, and they live in Lake Tahoe, NV. She is an entrepreneur in the wedding industry.
Our son, is 38, married with two children, 4 and 2 and they live in Nashville, TN. He started his own manufacturing company in the golf industry.
What area of the country do you live in?
We live in a top-rated country club community in west central Florida.
As a golfer, I wanted some day to look out over our pool and lanai, see all of that green grass and know that I didn't have to mow any of it.
We moved here 15 years before I retired, as soon as our youngest went off to college. We were tired of living in Northern New Jersey with the high state and real estate taxes, bitter winters, traffic congestion, crime and road rage.
It is nice to be able to play golf 12 months a year in the Sunshine State and have the added security of living in a gated community. The only crime I have ever experienced inside the gates is me, not having a Rolls Royce to drive to the clubhouse.
Is there anything else we should know about you?
Before I retired, I was a financial advisor for 31 years specializing in advising wealthy clients who were in the Red Zone, the five years before retirement and the five years after retirement. Therefore, I know more than a little about retiring successfully.
RETIREMENT OVERVIEW
How do you define retirement?
It is a time of life where I have the freedom to do what I want to do, not what I am required to do by my clients and/or boss.
I feel a huge weight lifted off of my shoulders as I was responsible for the financial well-being of my clients. Instead of managing investment portfolios for my clients, I now only have one investment portfolio to manage – ours.
How long have you been retired?
I have been retired five years.
Is your spouse also retired?
My wife retired some 40 years ago. She only taught school for a few years before the children came along.
What was your career and income before retirement?
I was a financial advisor. My AGI at retirement was $290,000.
Why did you retire?
Just as I advised my clients, I retired when I was convinced that I had more than enough dough to get us past our life expectancies and have some left over for our children and charities and of course, Black Swan events.
I would often ask my wealthy clients "what is the point of working when you don't have to?" I would often tell the story of too many hard workers found dead at their desks.
PREPARATION FOR RETIREMENT
When did you first start thinking seriously about retirement and when did that turn into a decision to do it?
When the 401(k) was offered to me, around age 35, I signed up and I maxed out every year thereafter, including the after-50 catchup provision.
I started thinking then about what I needed to do to retire before I was too old or infirmed to enjoy it. I decided around age 56 that we would have more than enough dough to retire at age 66.
What were the major steps you took from deciding to retire to developing a plan to do so?
Fortunately, I had access to great financial planning tools through my employer, plus, "pretty good" outside financial planning tools.
I would update my data at least annually to see if I continued to be on target to retire at age 66. Not totally trusting computer software, I also used a great "back of the envelope" formula to determine if I had more than enough dough to retire.
It goes like this: For 30 years of retirement security, one needs 25 times annual expenses less Social Security and pension.
Our expenses, as per Quicken software, says I averaged $135,000 annually over the previous 10 years, and that is after fully funding two college educations, two weddings, two luxury cars, country club living, and nice vacations. Our gross SS and pension totaled $100,000. Our total assets totaled $3,500,000. Therefore, $135,000 less $100,000 = $35,000 X 25 = $875,000. Since $3,500,000 is far greater than $875,000, we were good to go.
Since we elected to not buy Long Term Care Insurance, we decided that we would self-fund possibly many years of Assisted Living Center/Nursing Home care. Just to make sure I didn't overlook anything, I asked my Certified Financial Planner friend to review our financial plans. She blessed them and that is when I went ahead and locked in my retirement age of 66.
What did your pre-retirement financials look like?
Our AGI was $290,000. We had financial assets of $3,500,000 with an asset allocation of 5% in cash, 35% in fixed income (laddered zero coupon municipals, corporates, gold coins, fixed rate preferreds and an income for life annuity), and 60% in equities (mostly common stocks with a long record of growing dividends every year. (The Aristocrats.)
Our home was worth $350,000, mortgage free.
What was your overall financial plan for retirement?
It was to continue the lifestyle we grew accustomed to of spending an average of now $140,000 per year. With net after tax income of $300,000 and only spending an average of $140,000, we were very comfortable with our plan, knowing someday we will have to self-fund LTC expenses, plus future "Black Swan" uncertainties.
Did you make any specific moves to prepare your finances for retirement?
Yes. I sold some long-term municipal bonds at a nice profit and paid off the remaining mortgage of $150,000, about three years prior to retirement.
I knew it didn't make financial sense as the mortgage interest rate was so low, and tax deductible, but it was worth it anyway for the psychological benefit of being absolutely debt free entering retirement.
Who helped you develop this plan?
That would be me, with the help of our company's Retirement Planning Software.
What plans did you make in advance to leave your job?
Five years prior to retirement, I contracted for the monetization of my book of business. I entered into our company provided contract with a younger financial advisor friend to take over the management of my client's accounts. His payment to me consisted of monthly checks for five years after retirement.
I used the five years prior to retirement to introduce my clients to my partner which made them feel comfortable with my retirement and him. I assured my clients that they would be in good hands with their new, younger financial advisor.
What were your pre-retirement concerns (financial or non-financial)?
First, I thought that I would not have enough to do in retirement and I might just sit at home and get bored. In my first five years of retirement, that has never occurred and I do not expect it to happen in the future.
Then I thought that with my knowledge of successful financial consulting for 31 years, I might want to coach younger financial advisors. I looked at becoming a certified coach, but working as a coach ultimately sounded too much like work, and since I didn't need the money, I abandoned that idea.
How did you handle deciding on and paying for healthcare?
Since I retired at age 66, it was an easy transition to go from my company provided healthcare plan to Medicare for the both of us.
We use an insurance consultant to analyze our prescriptions, etc. every year and he advises us about our supplemental plans.
How did you tell your family and friends of your plans?
Since most knew I was near retirement age, I simply told them of my retirement date.
THE ACT OF RETIRING
How did you ultimately retire?
Since my boss knew exactly when I was retiring, I simply gave him my letter of intention to retire with the exact retirement date.
He was pleased with my plan and supported my entering into a contract to transition my clients to my partner. My partner and the boys in the office game me a great retirement party.
What went well?
Everything went well as almost all financial advisors used the same company provided five-year payout plan with the new younger partner.
What didn't go so well?
Fortunately, there were only a few clients who were concerned about me retiring and they did not connect well enough with my partner. We were pleased that there were only of handful that moved their accounts to another advisor.
How did you ultimately find the courage to do it?
It did not take any amount of courage. I was fully prepared financially and I was confident that I would have plenty to do to keep busy and happy in retirement.
RETIREMENT LIFE
How was the adjustment, especially the first few months after retirement?
The adjustment was easy. I had thought long and hard about retirement and I knew what to expect and knew what I wanted to do in retirement.
How is retirement life now? What do you like about it and what do you dislike?
Retirement life is great. I knew I would enjoy it, but not to this extent. I am happy that I retired when I could, and in good health to enjoy it fully.
I like engaging in all of my activities, traveling, clubs, and volunteer activities. I enjoy the freedom to do what I want and when I want with no guilt of neglecting my clients.
I am even more confident that I made the right decision on when to retire. I can't think of one thing about retirement that I dislike.
What do you do with your time? What does an average day look like?
Mondays: I still get up every morning of the week between 5-6 am.
I catch up on my reading of various newsletters, magazines and three newspapers; a national paper, a local paper and my 53-year subscription to the Wall Street Journal. It is nice to read all three newspapers without rushing through so I would not be late for work.
I review email, monitor the bills that are automatically paid from our joint checking account or credit cards. I review all of the checking and credit card charges that got posted on Quicken to make sure those charges are authorized.
Mondays are good for various medical appointments, and weekly massage therapy appointments.
Later in the afternoon I walk for 45 minutes, relax in our spa and swim laps. Every other Monday, I participate in our local Toastmasters Club meeting by either giving a speech, evaluating someone else's speech, or handling any of the other functions of the club meetings.
Every Tuesday, I get up, read, practice golf and then spend four hours playing duplicate bridge with my favorite partner at our local bridge club.
Wednesdays I drive my golf car to the club to play golf with a group of 12-16 fellow members of our country club, and have a leisurely lunch afterwards to discuss a whole range of topics.
Wednesday night I play duplicate bridge with a different group of players at the country club.
Thursday, I relax, read, practice golf at the several practice facilities. While I am waiting for dinner, I improve my bridge playing skills on the computer using Professor Jack software.
Thursday night, we eat at the club and then play on a 10-person team at our Trivia Challenge game with between 50 and 200 players.
Friday, I read, walk for 45 minutes, relax in the spa, swim laps and play duplicate bridge in the afternoon with a different group friends at the club.
On Saturday, I again play golf with the same 12-16 fellow members at the club and then have a leisurely lunch afterwards.
On Sunday, I like to read the Sunday papers and watch the talk show programs on TV.
In the afternoon, I drive my golf car to the golf practice area to work on my game and then I walk for 45 minutes, relax in the spa and swim laps. We usually go out to dinner afterwards.
Looking back, what would you have done differently?
Since we are more than financially secure, maybe I would have retired one or two years earlier.
But I wanted to error on the side of retiring a little too late rather than retiring too early and regretting it.
Was there any emotional impact from leaving the workforce?
No. Because I am in contact with my partner fairly often, and have lunch with the boys from the office periodically, I don't feel that I am cut off completely from my career and friends at the office.
I invite the boys and their friends for golf and lunch at our club and they appreciate getting on a highly rated golf course and catching up with how I am handling retirement, among other things.
What surprises (financial or non-financial, good or bad) have you had since retiring and how have you handled them?
I am pleasantly surprised that I am happier that I thought I would be in retirement. I am able to handle retirement happiness very well.
What are your future plans?
[Editor's note: This interview was conducted in July.]
In September, we are looking forward to celebrating our 50th wedding anniversary by taking our two children, their spouses and our four grandchildren on a Disney cruise. We will have a great time watching our grandchildren have the time of their lives on their first cruise ship and Disney's private island in the Caribbean.
Immediately thereafter, we head to Universal Studios in Orlando for more fun with the same crew.
In addition to the Disney Cruise, we take one or two cruises per year, for free. I am an Enrichment Speaker aboard cruise lines. In exchange for giving 45-minute presentations on the days we are at sea, we cruise for free.
I am qualified for two areas of expertise; Retirement Planning for cruises originating in the U.S. and Identity Theft for cruises originating internationally. I just completed my 14th speaking cruise and we have traveled to six of the seven continents. I will continue to take these speaking assignments in the future.
RETIREMENT FINANCES
How has your financial plan performed compared to what you had estimated before retirement?
My plan has performed exactly as estimated by our financial planning software.
Can you give us some insights into your post-retirement spending and income? How much do you spend annually and on what? And where does the income to pay for your spending come from?
Quicken Personal Software says our 10-year spending now averages $140,000 per year. During these early years of retirement, we are traveling extensively, worldwide and across the country to visit the children and grandchildren and friends we have met on our cruises. Our expenses vary widely, depending on the year, for auto purchases, international travel, gifts, etc.
Our monthly net after-tax income between taxable and tax deferred account is as follows: Wife's SS: $1128, my SS: $3092, Pension: $2044, Annuity $11,400, and investment income $7400. (Both our SS deposits are also net of Medicare and Plan D deductions.)
How are you handling Social Security, required minimum distributions, tax issues and the like?
When I turned 66, my wife started taking her spousal benefit, which was one-half of my benefit.
Then, when we turned 70, we both started taking our own benefit. We have SS deduct 20% federal tax. We take our RMD's and we have 20% federal taxes withheld. (Florida, thankfully, has no state income tax.) My pension also has 20% federal tax withheld.
We have our CPA review our taxes towards the end of the year in case we need to make any adjustments.
On when to take SS, I always preached to my clients to wait, if at all possible, like we did, to age 70 to max out.
Of course, that depends on a longer life expectancy (see yours by logging in at www.livingto100.com) and not needing to live on the SS income prior to age 70.
Do you want to return to paid work? Why or why not?
I have no desire to work as it would interfere with the fun we are having.
Do you find it hard going from being a saver to a spender?
It has been said that opposites attract. I have always been the saver. My wife is the spender, although she said if it wasn't for me, we would be not be in good shape to ever retire.
Her philosophy on money has always been "Why save the money, let's spend it now! That's what it's for."
I don't know how I will feel going from being a saver to a spender. That is because, over the first five years of retirement, we haven't even gotten close to spending all of our income in any year. We are, in effect, still in the savings mode at the rate of around $160,000 per year. Maybe when we have to pay for both of us at a premier Assisted Living Center or Nursing Home, I may have difficulty seeing our assets start to go down each year instead of up. But I'll get over it.
Looking back, what do you wish you knew in advance?
I have been in the retirement planning industry for so long, and advising clients on planning, I've seen it all. So, there is nothing I wished that I knew in advance.
What advice do you have for those wanting to retire?
This is my favorite section of the interview and I have some very important advice.
First, is the subject of asset allocation of retirement assets.
All humans are creatures of habit. Since most of us have always invested in common stocks, we continue to do so in retirement, albeit to a lesser extent. I had all of my clients answer the following question: "Do you need to get rich or do you need to STAY rich?"
If they truly needed to still get rich, then they need to stay invested to a large extent in common stocks and hope there will not be an extended huge decline in the stock market just when they start withdrawing their recommended 4% annually.
However, if they need to STAY rich, then they need to greatly reduce or eliminate their exposure to common stocks.
Then I quote William Bernstein: "When you've won the game, stop playing." The game is defined as building your assets and income to such a level that you are confident that you have more than enough dough to get you both through your life expectancies, and some money left over to leave to your children and/or charities, plus some money for unexpected Black Swan events.
But how does anyone know how long they will live? No one knows for sure, but you can get a pretty good idea. Go to www.livingto100.com and the result of you answering about 30 questions will be your life expectancy. Mine is 93 and my wife's is 103.
If you have won the game, but you persist in your habit of being exposed to common stocks when the market is at a new all-time high and the economic expansion is in uncharted territory, then you run the unnecessary risk of a prolonged downturn in both the economy and the stock market. What is the point of taking unnecessary risks and blowing up your retirement? Do you want to risk having to go back to work and/or greatly reducing your lifestyle? If you won the game, get out of stocks and into principal preservation of fixed income.
If you have not won the game yet and still need to take the risk and uncertainty of common stocks, stick with index ETFs. Log onto www.bogleheads.org. Also look at the two Aristocrats ETFs with ticker symbols of KNG and NOBL.
Then there is the study done by the Federal Reserve Bank of Philadelphia that concluded, on average, we peak at age 55 for good financial decision making. We decline, on average, every year thereafter until age 70 when we really start to go downhill.
When we get older, we just make more dumb decisions plus we are more vulnerable to fraud and identity theft. Just leave investing to the index funds at extremely low costs.
The next piece of advice is on the non-financial aspects of retirement. You must anticipate well in advance of what you want to do in retirement. You can't just play golf every day of the week. You must find other activities and volunteer opportunities that will get you out of the house.
Gentlemen: I had a wife of a new retiree tell me what she said to her husband: "Honey, I married you for better or for worse, but not for lunch." You must cultivate things that interest you outside of the house. Your wife is not liking you being underfoot.
Another piece of advice is the importance of maintaining marital harmony. Don't be a divorce statistic like more and more baby boomers. It used to be that the biggest cause for marital discord is arguing over money. It has now been replaced with fighting over the remote control of the TV.
My wife and I have completely opposite viewing preferences. She is a self-described bleeding-heart liberal and loves to watch the most liberal news channels and political commentary shows she can find. A friend once asked her "Just how liberal are you?" She answered "I am so liberal, TREES hug me."
I am the opposite. We would both be miserable, and annoying, watching TV together, so we have our own TVs to watch in separate rooms. It works. We also have a marital agreement to never discuss politics. What is the point? Neither of us will convince the other to change. To this day, neither of us have even uttered the names of Trump or Clinton within earshot of each other.
My last piece of advice is to take good care of your health, because if you do not have your health, nothing else matters.
Enjoy your retirement in good health!