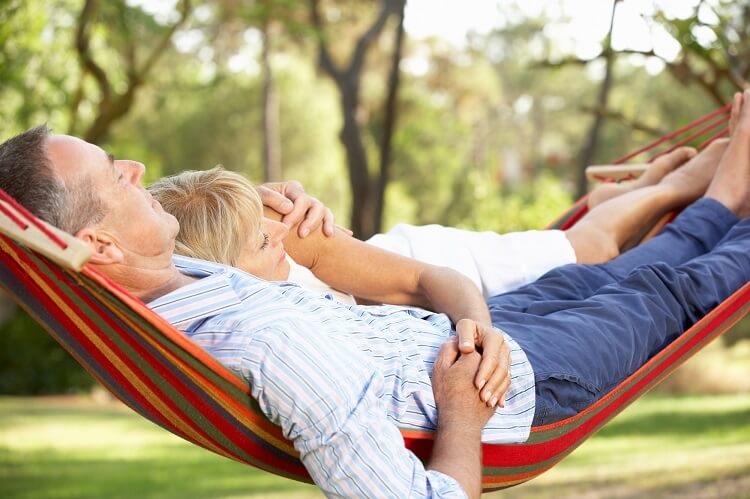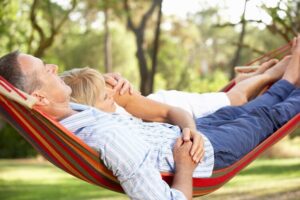 Here's our latest interview with a retiree as we seek to learn from those who have actually taken the retirement plunge.
If you'd like to be considered for an interview, drop me a note and we can chat about specifics.
This interview was conducted in April. It's a bit long for one post, so I'm breaking it into two parts.
This post is a bit different as it includes thoughts from both a husband and a wife (separately).
My questions are in bold italics and their responses follow in black.
Let's get started…
GENERAL OVERVIEW
How old are you (and spouse if applicable, plus how long you've been married)?
Husband: 54
Wife: 51
We've been married for 30 years.
Do you have kids/family (if so, how old are they)?
We have 3 children.
Two are in college and one recently graduated and is self-sufficient (has a job and lives outside the home).
What area of the country do you live in (and urban or rural)?
We are in San Francisco, California.
Is there anything else we should know about you?
We had at least two retirement plans.
One was to stash as much money away as possible every year so that we could retire one day.
The second plan happened (in our 40's) when we had the luck of stock options doing well. This changed things from retirement at a traditional age, to clearly comfortable retirement or retirement early.
We thought it was important to note that early in this interview, because our basic premise of how to plan for retirement didn't change too much from our 20's, when we made a combined $28,000-$70,000 per year. What changed was the amount of disposable income we could set aside each year and maintain a reasonable standard of living.
RETIREMENT OVERVIEW
How do you define retirement?
Husband: I define retirement as having more control of my life, in terms of how I spend my time and who I spend time with.
Wife: I agree.
How long have you been retired?
Husband: Retired just before my 50th birthday, so almost 5 years.
Wife: Retired at 51, so about 9 months.
Is your spouse also retired?
Husband: I retired 4 years before my wife did.
Many people asked if I was looking for a new job and I just said I was taking time off to think about my options. I was still wondering at that point if I should keep working, even though financially I didn't have to.
When I said I was not looking, people started throwing job and consulting offers at me. During that time, I received several offers to be CEO of startups and established companies. I spent a lot of time thinking about whether being a CEO was important to me or not. I decided it wasn't.
I took a job as chief operating officer at a health care start-up where I liked the technology and the people. That lasted about 9 months because the company ran into technical difficulties that required significantly more resources and our investors weren't willing to make the additional investment. However, that was long enough for me to realize I didn't want to have a full-time job again, or a commute.
Then, I became a homemaker. We didn't have an empty nest yet. I took over all the cooking and grocery shopping, which my wife had done most of for the last 25 years. I also did more of the household cleaning. I volunteered a lot at my youngest child's school. I started a regular exercise routine. I experimented with telling people I was "retired" or "homemaker" and I got somewhat better reactions to homemaker.
About three months into this new pattern, my wife asked me where something was in the refrigerator and, without looking, I said, "it's on the second shelf down on the left." She still loves to tell people that story, because apparently she and her other mom friends assumed this phenomenon – wife/mom can find stuff in the fridge and child/spouse can not – was a male/female difference, and this proved it wasn't. She was thrilled that she didn't know what was in the fridge!
People still wanted to talk to me about my expertise and so I started consulting to some startups. That would take a few hours a week. I enjoyed having something on the schedule, and feeling like the knowledge I had built in my career was still useful.
What was your career and income before retirement?
Husband: I was a senior executive at a healthcare company before retiring.
I started as a researcher after graduate school making $28,000/year. After several years of that, I attended business school (full-time and on our own dime, with loans).
After business school, my first-year salary was $120,000 at a strategy consulting firm. I left strategy consulting after a year and joined an early-stage healthcare company as its full-time first business development person.
I stayed at that company for over 15 years, rising through the ranks and moving through a variety of roles. In my final year of work at that company, my income was $330,000 with a 40% bonus, and a mix of restricted stock and stock options with a theoretical value of $800,000.
Wife: School teacher. I started when I was 22, took a 10-year break to be home when the kids were young, and went back to teaching after that.
My final year of income was $65,000.
Why did you retire?
Husband: It was voluntary. I mostly enjoyed the work but was starting to enjoy it less and less, and I didn't want to leave out of misery. I also wanted to spend more time with our two kids who were still in high school.
Wife: It was voluntary. I was burned out by the grading. I never tired of seeing the students each day, and I was in a good district as far as administration and parent interactions, so all of that was still fun. (During COVID it wasn't, but I knew that would end eventually.)
PREPARATION FOR RETIREMENT
When did you first start thinking seriously about retirement and when did that turn into a decision to do it?
Husband: We had talked for many years about not working full-time until the traditional age. We saved every bonus and froze our spending (except for inflation) when I got promoted to Vice President (about 8 years before retiring).
We determined at that time that we were quite happy with everything we could do with the pre-VP salary, so we started saving everything above that amount at that time.
Wife: I think the freezing of spending is a really important point because while we were saving every bonus or pay raise, we watched colleagues use theirs to buy boats, second homes, and lots of cars.
It was not uncommon for people to comment on the age and boring nature of our cars (and phones and computers). We just don't care about having those kinds of material goods to show, and really didn't want the upkeep some required.
We update our computers and phones only when the operating systems can't be upgraded anymore. We wanted fewer financial and emotional requirements, not more.
We are big believers in "you can have anything you want but not everything you want." We had decided what things we did want to spend on (generally vacations and food, but also some home remodels) and these continued to make us happy. Otherwise, watching our savings grow exponentially made us happy.
What were the major steps you took from deciding to retire to developing a plan to do so?
We have looked toward securing our retirement since our 20's before we knew we'd retire early. But these early savings helped make early retirement possible/easier.
We maxed out our IRAs from the time we had our first jobs out of college. (And we have helped our children start Roth IRAs with their first jobs in high school).
Every job either of us had we maximized the employer contribution and our own contributions.
We started saving for college in a 529 with Nebraska (lowest fees/decent return at the time we opened them) when our kids were born. We decided not to put all college savings into these accounts because we wanted more flexibility with the money being saved in that bucket. By the time each child started college, we had about one year's tuition for each child in their 529.
We bought our second house, the one we live in now, by pulling the equity out of our first house. Then we rented the first house, which covered our mortgage on it.
As house prices increased, we thought the rental home, if sold, could cover one child's college tuition. We considered buying 2 more rental properties to cover the other 2 tuitions but realized we hated being landlords.
So we sold the house and put all the money in an income fund, 60 bond/40 stock. We wanted something relatively conservative, but also something that could grow and pay for more college by the time we needed it.
We added to this fund, as well as the 529s, and still maximized our Roth IRAs and other retirement.
The fund did well and we continued to put a lot of money into that (even at the expense of saving more for retirement which I know is antithetical thinking) and we had enough money to cover all 3 kids' college costs before the first one started.
So, all the bonuses and pay raises after we "froze" our spending were going to one of these buckets: college, retirement funds, and non-retirement funds. At peak saving, we saved about 60-70% of our net earnings (after taxes).
With college savings out of the way, that left more for us to invest in our after-tax retirement savings. Our portfolio is described in the next section.
What did your pre-retirement financials look like?
The numbers below are year-end.
Liabilities: Mortgage was about 500K in 2016 and is about 400K in 2022. In 2020, we refinanced into a 30-year fixed mortgage at 2.5%.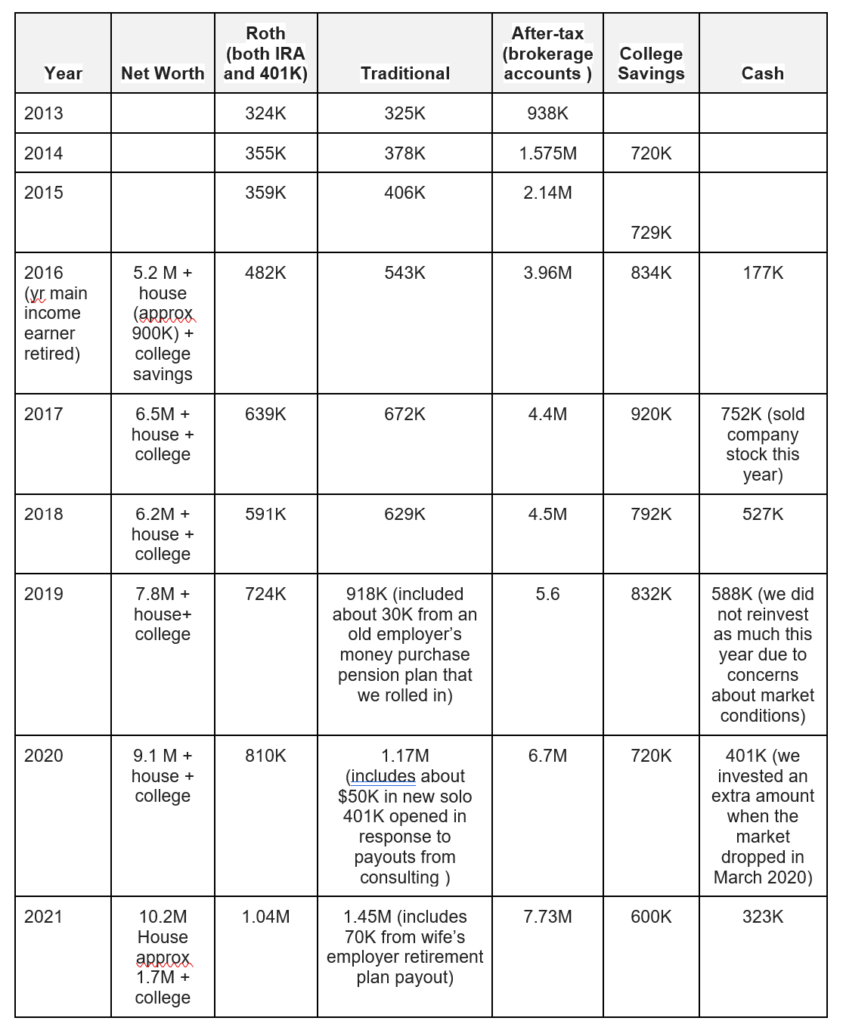 What was your overall financial plan for retirement?
We knew about the William Bengen system/Trinity Study. The 4%–if you spend only 4% of your money per year then it should last at least 30 years, based on historical data.
We looked at a lot of other studies, including newer research looking at 40 and 50-year retirement time frames (Thanks, Karsten!), and decided 3% would be better given our expected long time frame and our conservative financial natures.
We have read Bill Bengen's response to that (that 4% is really a worst-case scenario and should still be an appropriate withdrawal rate even in a low-return, high inflation environment). Also, as mentioned elsewhere, we will probably buy property wherever our kids end up, so we want to have some buffer on our spending.
There's obviously a lot of psychology involved in all this; it's not just a spreadsheet exercise. What we focus on is that the outcomes are asymmetrical. That is, if we spend too little, we will have some left over for our children and charities, which isn't a bad outcome. But if we run out of money, there is no do-over or backup plan, and we are really screwed.
I know it's not that simple – we can and will adjust our spending as our assets rise and fall. We just don't want to adjust down!
To maintain our current standard of living (actually a higher standard of living in some respects), we figured at 3% we needed about $5 million. So that was the magic number for retirement.
When we made it to $5M, that was a great feeling. We knew a comfortable and early retirement was possible. That happened in 2016, and that was the year that our retirement started.
In terms of asset allocation (almost entirely Vanguard funds/ETFs):
10% bonds/cash:
5% cash
2.5% US bond (VBTLX/VWETX)
2.5% foreign bond (VTABX)
90% equity — of that equity, we are:
25% Large cap (S&P 500 index fund-VFIAX)
25% Mid-cap (CRSP US Mid Cap Index fund-VIMAX)
25% Small cap (CRSP US Small Cap Index fund-VSMAX)
25% Foreign (FTSE All-World ex US Index-VTIAX/VEU)
Fortunately, both my 401(k) and my wife's 403(b) have similar Vanguard funds available, so we can actually asset allocate with the same fund/ETF across all our accounts.
Did you make any specific moves to prepare your finances for retirement?
Not really, but we did avoid making some new purchases. For example, we considered moving to a new primary residence about 8 years before retirement, but when we considered how much our mortgage would increase it turned us off.
The other thing we did was to open a home equity line of credit. We wanted to make sure we had access to a lot of cash, mostly for sequence of returns risk reasons – that is, we wanted to make sure our assets didn't decrease due to a bear market for the first few years after the larger income-earner retired. As it turned out, the opposite happened! That was just pure luck.
Who helped you develop this plan?
Husband: My wife and I mostly developed this plan. There isn't really a specific book I can point to that became our blueprint.
To be honest, I'm not sure I would call it a plan as opposed to 'keep your head down and keep saving/investing'. We only defined our desired target liquid investment amount perhaps 8-10 years ago. (About the time I became VP and we froze our spending at my previous salary level. We could see then that $5M in liquid assets would allow us to maintain that standard of living.)
Our budget changed over time, both numerically and by category, so I don't think I could have predicted our actual retirement budget needs when I was in my 20s.
Wife: I agree, except I would call it a plan. We are planners. We like to revisit a plan each year.
For example, at one time we had a plan to use 3 rental houses to pay for 3 kids' college tuitions. Then we had a plan to put more money in one bucket or another of savings, or to fund a remodel. We talked about retirement and overall financial health every year at tax time.
So yes, the basic was keep our heads down and save/invest as much as possible, but we were thoughtful and methodical about what we saved and spent.
What plans did you make in advance to leave your job?
Husband: I knew about 1.5 years in advance of leaving that my time was winding down. Activities I normally didn't mind started to really bother me. Then I learned that there were some management changes coming that would probably adversely affect me.
At that point, my goal was to ensure my team continued to be high-performing. I had already been preparing several team members for potential promotions, so I continued to do that, giving them more exposure to senior management, more responsibilities, etc.
In particular, and something I really started enjoying, I stopped going to as many meetings and would send one of my team instead. I told everyone that whatever the team member said or did would have my support. It wasn't hard to say that as I had a great team.
Wife: In my head, I had a 3-year plan to retire. I was enjoying my job but had the feeling that I'd be burned out in about three years. I was right!
As a teacher, telling folks my plan for retirement in advance would have negatively affected my position and power at work, so none of my colleagues knew until 4 months before the end.
What were your pre-retirement concerns (financial or non-financial)?
Mostly they were non-financial: what hobbies would we have, how would we organize our days, would we get tired of being together 24/7 if we traveled a lot, what would medical insurance look like?
How did you handle deciding on and paying for healthcare?
This was one of the biggest questions that was not answered before we actually retired, and we are each more than a decade away from Medicare eligibility. When we talk to others who wonder if they can retire early, often they list healthcare as the thing that is keeping them from seriously considering it. Our society just doesn't have a lot of conversation or examples about how this is done, and our system is expensive and confusing.
We looked at our state plans (Covered California) and could see that we could afford the premiums, though we were not thrilled with the particulars, like we wanted certain doctors and hospitals, and they were not in the plan. We also looked at Health Ministries, but we didn't like the limitations of the plans and they seemed less secure than more traditional insurance company set-ups.
So we used COBRA for 5 months after (wife's) retirement, which was really expensive, and researched other options during the first few months so we could have our change-over on Jan 1 to maximize our annual deductibles and coverage.
We have a family member who lives overseas and when they visited the US for several months they got a supplemental health insurance plan. Apparently, this is common in the EU when traveling out of the EU. That introduced us to the idea of these overseas plans.
What we ended up with is GeoBlue. The major players in the field of overseas health insurance plans are GeoBlue, IMG, Allianz, Cigna, and Aetna. The essential decision piece was how long the primary insurance member must promise to be outside of the US.
Most of them have a 6-month requirement to be out of the US. That seemed like a big life change to commit to, and especially considering we were still in heavy COVID restrictions on flights and travel entries. It was much more affordable though!
You may wonder why the month requirements. It's because any health care outside of the US is cheaper for the insurance company than anything inside the US, so the longer you are outside of the US the more likely your health care will be outside of the US and, thus, cheaper.
GeoBlue was one that had a 3-month option, it was about 15% less than a comparable Covered California plan and we thought that 3 months abroad was possible and even a great way to ensure we got exploring as we wanted to in retirement.
As previously stated, it was also important to us that our current doctors be part of the plan. GeoBlue coverage included our doctors, specialists and hospitals. They have different levels of deductibles and prescription coverage, which I think affects copays as well. But the bottom line is anything inside the US is covered at 80% and everything outside of the US is covered at 100%.
So far it's been pretty good. In the US, we've had no issues with using the plan with any doctors. The GeoBlue app, which we must use for certain reimbursements, is terrible but we are figuring it out. We pay out-of-pocket for prescriptions and submit receipts for reimbursement.
When outside of the US, if we need a doctor, they have telehealth and you put in the country you are located in and the time you want the appointment. This didn't work for same-day help, but we got an appointment for the next day. We were satisfied with the doctor's help for a minor medical issue. They sent us a QR code to show to any pharmacist to fill our prescription.
The app also has a doctor finder by country. If you use one of those live doctors, they bill directly to GeoBlue. If you find your own person, you pay out-of-pocket and get reimbursed. (We have not had to get live medical help in a foreign country yet.)
As mentioned above, the cost of the plan we got was less than a comparable Covered California plan (which didn't have our doctors). Our college-aged kids are also on our plan. It is cheaper to have them on it than for us to use the medical plans offered by each college.
How did you tell your family and friends of your plans?
Our kids knew well in advance.
They were curious about how that was possible financially, so we shared some details with them.
Husband: We told our parents when I actually left my job.
Our parents were a little concerned. They wondered, I think, if I was ok and if we'd have enough to support our family, and they'd ask once in a while if I was looking for work. By the time my wife retired they were used to it though and the reaction to her retirement from them was more like "congratulations to you both and have fun".
We also told our friends when I left my job. Most of the conversations were pretty low-key and followed the same pattern – surprise, happiness for me, some mild expression of jealousy.
Wife: Four months before retirement I told my school administrators and my department colleagues I was going to retire. Then I told my students, extended family and friends.
Some of that was in person but a lot was also by bulk email. Most of them assumed it was COVID-related because things were so extra hard that year.
——————————–
If you want to read the rest of the story, visit part 2 of this interview.