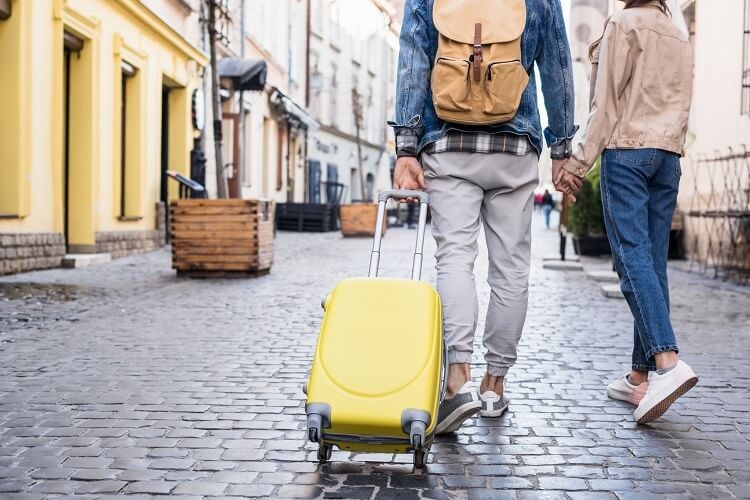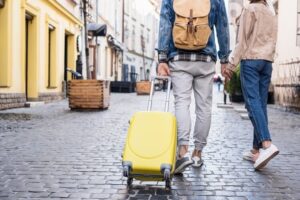 Here's our latest interview with a retiree as we seek to learn from those who have actually taken the retirement plunge.
If you'd like to be considered for an interview, drop me a note and we can chat about specifics.
This interview was conducted in September.
My questions are in bold italics and their responses follow in black.
Let's get started…
GENERAL OVERVIEW
How old are you (and spouse if applicable, plus how long you've been married)?
I am 39 years old; my wife is 41.
We have been married for 11 happy years.
Do you have kids/family (if so, how old are they)?
We have two kids, ages 5 and 3.
What area of the country do you live in (and urban or rural)?
We are blessed to live in a city of about 150,000 people in the great state of Idaho.
Is there anything else we should know about you?
I am also Millionaire Interview 352.
RETIREMENT OVERVIEW
How do you define retirement?
I view retirement as not being reliant on an employer for income, and financial independence as 1) When passive income from investments supports your desired lifestyle, and 2) the freedom to use your time how you choose.
My wife and I continue to "work" for ourselves, but only on projects that interest us and don't interfere with other fun things we're doing.
Viewing the goal of retirement as passive income rather than an amount of savings or 401k balance makes retirement more of an incremental process or evolution rather than a discrete, one-time event. I'll try to describe the process I went through to get to retirement and eventually financial independence.
How long have you been retired?
By my definitions I have been retired for 8 years, and financially independent for 3.
Is your spouse also retired?
My wife retired in 2019.
Her income was crucial to building our passive income as it supported us while we built the portfolio that provides our passive income.
What was your career and income before retirement?
I worked as a mid-level Nuclear Engineer, my final year I earned roughly $90k.
I left that career to become a full-time real estate investor, and since that time my work income has been $0, but the assets that I acquired have earned plenty!
Why did you retire?
The company I was working for was a small manufacturer of nuclear components, and it took on several projects that were outside it's weight class, both in size and expertise. While not atypical for the field because of the complexity involved in nuclear work, after several years of struggling with these projects there was a change of leadership in the company, leading to a new direction, tension everywhere in the company, and rounds of layoffs.
Thankfully I already had a side hustle in owning rental real estate and a supportive wife, so I decided to leave rather than stay in a difficult environment and wait for a pink slip. This allowed me to focus on real estate full time, become self-employed, and with time gain financial independence and retire early (FI/RE).
PREPARATION FOR RETIREMENT
When did you first start thinking seriously about retirement and when did that turn into a decision to do it?
Retirement has been a goal of mine since I was introduced to Robert Kiyosaki's book Rich Dad, Poor Dad in college. His idea of passive income as a definition of wealth and means of retirement was very appealing to me, as the only other model of retirement I knew was to invest in the stock market during my working years and hope the market didn't crash when it was my time to retire.
Watching the Dot-com crash in 2000/2001 and then the Great Financial Crisis in 2008 further reinforced my desire to buy income-producing assets. My grandparents lost 35%+ of their life savings by selling all their stocks in 2009, almost at the very bottom of the market. I don't know the precise amount as they rarely talked about money, but I did witness the pain and stress, and decided I had to try to find another way.
All that said, the time-honored approach of having a full-time career, contributing regularly to a retirement account, and allowing time and appreciating markets to compound money (as a math guy, I LOOOOVE me some compound interest charts!) is not only a totally valid, low-stress, hands-off approach but also the one I'd recommend for the average person. It's just not the path I took!
What were the major steps you took from deciding to retire to developing a plan to do so?
Once I began thinking of retirement as a monthly passive income goal instead of a nest egg, it was obvious that I needed to learn about investments that produced income. Real estate is what Kiyosaki recommended so I spent a lot of time in college learning about real estate, auditing business classes (my major was Mechanical Engineering), and preparing for the day when I would have a career and income that would allow me to put into practice what I was learning.
During this time (mid 2000s) there was a lot of excitement around real estate because of the run up in home values, so it was easy to find information about investing strategies. House flipping was popular at the time but didn't appeal to me because it looked like a job to me: if they stopped flipping houses, their income stopped also.
Through an investment club at college I was introduced to Kiyosaki's board game, called Cashflow. It is a Monopoly-type board game that allows players to make and manage money, build passive income, and try different financial strategies, all with the goal of creating wealth and retiring. I learned more (and more deeply) from playing that game than any other source, and I still play whenever I can. The lessons of that game are profound and to this day I use its principles in managing my investments.
Following the Great Financial Crisis (and my graduation) home values tanked, and cash-flowing properties were on every street. While I had knowledge, I didn't have experience or much money so I didn't recognize the abundance of opportunities that the market presented. I overcame my doubts and fears to buy my first small multifamily and the first time that my first tenant brought me rent, the theories I'd been learning for years became real-life money and I was changed forever. That day passive income became real, and the sole focus of my financial plan has been to acquire more assets that produce passive income.
Shortly after graduation I came across Dave Ramsey's philosophy of personal finance, which is to be deliberate in spending, live within your means, use a budget, and avoid debt. While I haven't followed the last point exactly (I believe conservative debt for income-producing real estate is "good" debt, he says there's no such thing), his ideas on money management have been crucial to my success primarily because I would never have been able to invest if I spent every dollar I earned. I still regularly listen to his radio show, which helps keeps my personal finances grounded and conservative.
What did your pre-retirement financials look like?
Very similar to my post-retirement numbers, by design!
What was your overall financial plan for retirement?
The Retirement Ratio for me has always been:
(Passive Income) / (Total Expenses)
When I began that number was zero, and the goal of every investment was to increase the top line until the ratio was greater than 1.
Here's the history of that journey: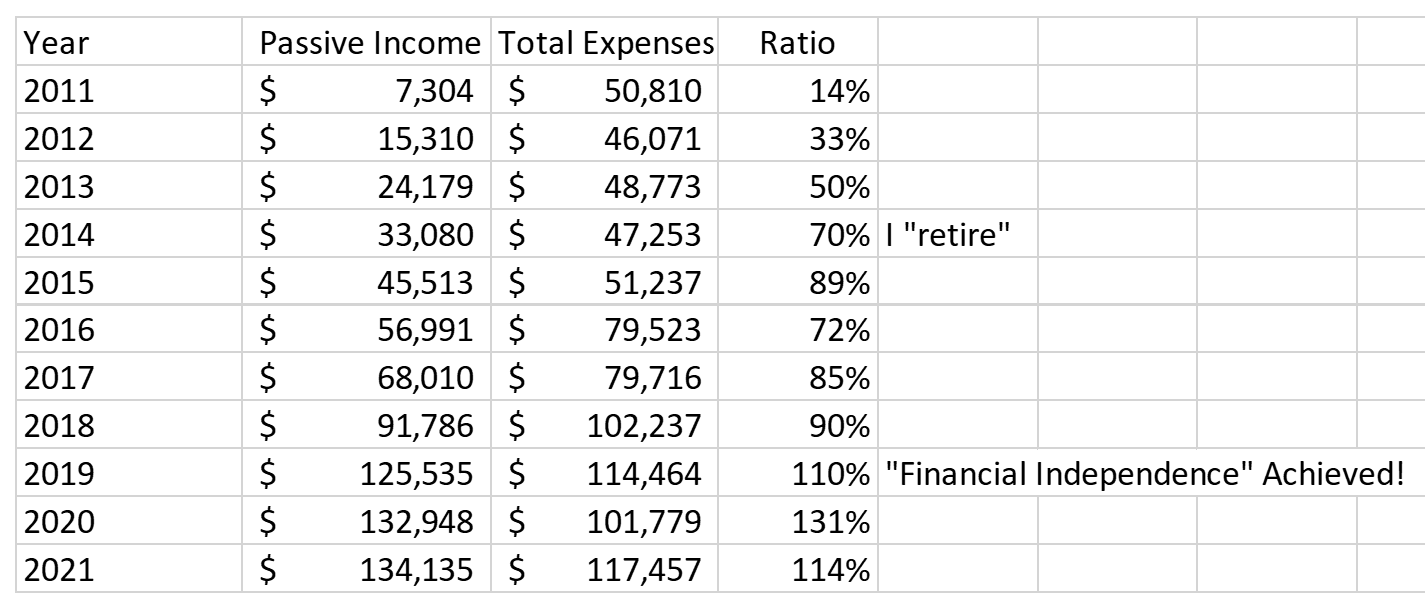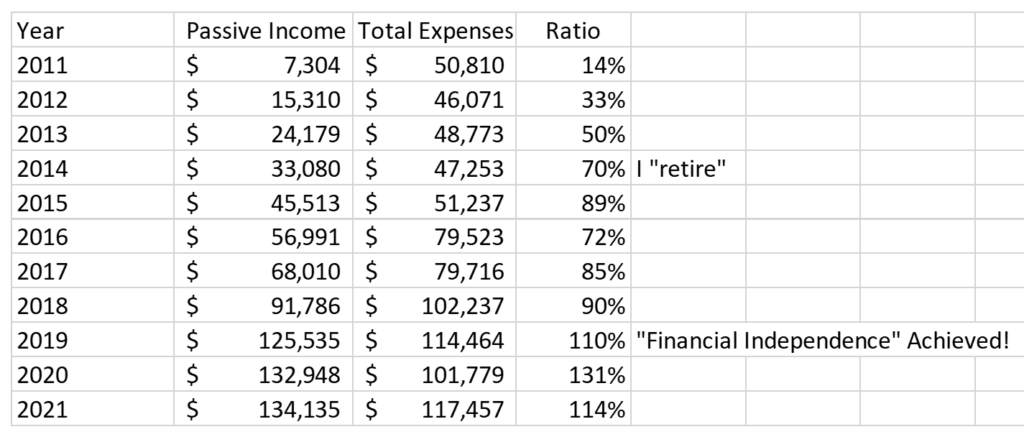 Net worth has always been a side effect of the quest for passive income, but we crossed the millionaire threshold in 2019. We never intend to sell as that would create a huge taxable event and transaction costs are huge, and besides, what would we buy that would create a better income than what we have? As someone smart once said "When you've won the game, stop playing!"
Our plan was (and is) to improve the Retirement Ratio, mainly (as I described in my Millionaire Interview) by purchasing rental properties. We do work on both sides of the ratio, maximizing passive income by investing when it makes sense and minimizing expenses by paying down mortgages and spending less on things that don't matter. It also helps that we are both natural savers.
The long term plan is to monitor the ratio both yearly and monthly and make sure it stays higher than 1.0 which shouldn't be hard, since our rents increased about 20% this year! I imagine the gap between income and expenditure will continue to grow.
Did you make any specific moves to prepare your finances for retirement?
We just keep on keepin' on!
The good news about building our income streams is that retirement was predictable and didn't require any change in lifestyle.
Who helped you develop this plan?
My financial philosophy is a mix of countless things I've learned and experienced over the years, but Robert Kiyosaki's early books (Rich Dad Poor Dad, Cashflow Quadrant, Guide to Investing, and Retire Young Retire Rich) formed the basis of my plan. Retire Young, Retire Rich is especially inspiring and one I re-read a couple of times a year.
His more recent books are less inspiring and more conspiratorial, and I accept and acknowledge that some criticisms of him are well-founded. Intelligent people may have dissenting opinions about him and his philosophy, and I'm fine with that too!
What plans did you make in advance to leave your job?
I knew my time with the company wouldn't last forever, so my advance planning was to sit down with my wife and see if we could afford for me to become self-employed.
Thanks to the income provided by her job we knew we could survive without my income for a while, so I had as good a start to launching my full-time investing career as one could hope for.
If investing didn't work out I could have found another job as an engineer fairly easily (we think – thankfully that's the road not taken).
What were your pre-retirement concerns (financial or non-financial)?
By the time "full" retirement came around, it was really just time for my wife to quit her job and us to rely completely on our rentals for income.
That was a little concerning to me since it was great to have her income for cushion, but changes in her workplace left her completely out of gas to continue working. Our numbers looked like they'd work, and after having made the jump we're really happy they did!
How did you handle deciding on and paying for healthcare?
One of the benefits of my wife's job was the insurance it provided, but we've found insurance on the Marketplace exchange to be surprisingly affordable.
Since we are young and rarely have medical needs we feel comfortable buying catastrophic-level insurance and have been impressed with it's coverage on the rare occasion we've used it.
How did you tell your family and friends of your plans?
My coworkers were happy for me but also saw it coming, I had a good group of people I really enjoyed working with and frequently talked about investment, real estate, and personal finance ideas with them.
The big announcement was actually a little bit anticlimactic since my wife and I had both quit our jobs the previous year to travel the world, so most people in our lives figuratively rolled their eyes and said "Again…?".
My wife's experience was similar, the important people in our lives knew we owned a bunch of rental properties, had been doing real estate for years, and figured it was just a matter of time.
Thanks to a lenient vacation policy at her job and the leverage she had by being amazing at her job, the last few years she was working she usually fully used her paid time off by March with many unpaid days off after that. In her last year of work, she was proudly out of the office for 37 days! Her quitting was not a surprise to anyone.
THE ACT OF RETIRING
How did you ultimately retire?
I retired from traditional work on April 4th, 2014, and we reached financial freedom sometime in mid-2019.
What went well?
I really enjoyed being self-employed since I reaped 100% of the rewards of my efforts, and having extra time to devote to real estate projects meant I was able to learn quickly and accelerate the income from our assets.
It was a lot of work for the first few years, but the return on the time and money spent back then continues to compound. The rents on many units have doubled in the intervening years, but the mortgage payment has mostly stayed the same. Awesome!
Financial Freedom has been even better than advertised, and we haven't ever considered a return to the 9-to-5 lifestyle. Not only has our income increased but our net worth has ballooned in recent years.
What didn't go so well?
So far there are been no downsides.
RETIREMENT LIFE
How was the adjustment, especially the first few months after retirement?
Strangely even retiring as young as I did required an adjustment, and I only worked in a traditional career for less than 4 years! I'd been accustomed to waking up early and still do, despite not having anywhere I need to be. I can count on one hand the number of times in a year that I wake up after eight o'clock.
One of the biggest surprises for my wife was how much latent stress she carried from work that she only discovered when it went away.
One difference that I noticed after retirement is that I loved the feeling of freedom and using my time how I choose.
How is retirement life now? What do you like about it and what do you dislike?
Retirement life is awesome, especially the way that we have it set up and the age that we achieved it at. It is really great to be able to be present for family members, and we're able to create memories with people we love, no matter the occasion or time. As a result, I'm many of my niece's and nephew's favorite uncle, and who can put a price on that?
One of the perks is that we're able to experience things and places in a way that few people do. We love to do outdoor activities and previously we had to cram those things into nights and weekends, regardless of anything else, which created stress and pressure.
Now if we want to go on a hike or camp, we go on a random Thursday and have the trail to ourselves and choose the best campsite. We can ski every powder day at the local ski resort if we choose instead of crappy conditions with long lines on the weekend. We have seen Top Gun 4 times (wow, is that a good movie!), and twice had the whole theater to ourselves, just us and Tom Cruise.
One favorite memory (pre-children) is taking a vacation to LA, and spending several days at the beach. We then went to Knotts Berry Farm (an amusement park) and when we pulled up, our Uber driver asked "Are you sure it's open today?" because we didn't see anyone at the entrance. They were open, and because it was Tuesday we were able to walk onto every ride with no waiting. I didn't know that having a private ride on a roller coaster was a bucket list item for me, but it's sure something I'll never forget!
There are minor drawbacks, sometimes I miss the comradery and social aspects of working with a team on a project. We've had to adjust our social life to accommodate friend's working schedules from time to time, but we've also made new friends who are self-employed and a lot of fun to share freedom with!
What do you do with your time? What does an average day look like?
We like to keep busy, I love to read (especially business, personal finance, and sci-fi/fantasy – any reader recommendations?) and tend to read a book a week. I'm also training for a marathon next summer, and like racquetball, disc golf, and could see myself getting into pickleball but I haven't played much yet. We like to play tennis, and do many outdoor activities as a family.
Most of the time we tend to be homebodies, and the average day is a combination of reading, video games (especially co-op, reader recommendations for Wii or Xbox 360?), YouTube, exercise, and some real estate-related work.
What are the major activities that fill up your time in retirement? Are there any new ones you're planning to try?
We love to travel and (pre-COVID) spent several months every year traveling to Europe and the Caribbean. Every winter we snowbird to the Caribbean and may eventually buy a house there, but it'll have to be an awesome deal that makes sense as a rental.
Professionally we are in the early stages of developing a large (for us) multifamily development deal that a business partner brought to us, it's exciting and a bit scary to leave the small residential arena and play with the big boys, but I'm eager for a new challenge! If successful, this deal has the potential to take us to heights I've only dreamed about and it's fun to see the path to get there.
What is your social life like?
No complaints, we have time and adventurous spirits, and people know that if they invite us to things we'll almost always be available and say yes. This leads to a lot of invitations, which generally fills our time doing things we like with people we enjoy. We are also quite happy just being by ourselves, so it's win-win!
We also have a lot of family that lives within driving distance, and it's great to be able to maintain those relationships.
Looking back, what would you have done differently?
If I had been more aggressive buying real estate our net worth could easily be multiples of what it is, but as anyone who remembers the Great Financial Crisis knows, I could easily have gone bankrupt also!
The conservative path has worked pretty well for me since we all have to live life looking forward. It would be great to have a higher net worth, but I don't know that it would necessarily make me happier or change my life.
Was there any emotional impact from leaving the workforce?
It's all been positive, but neither my wife nor I ever tied our identities to our jobs or careers so I can understand how it could be difficult for some.
I think the younger generation, in general, tends to view employment as more of a means to an ends, which is pragmatic in the current employment environment.
What surprises (financial or non-financial, good or bad) have you had since retiring and how have you handled them?
Our life has generally gone according to plan, which is nice.
In the last few years we've been surprised at how quickly real estate has appreciated, and as a result haven't purchased property in a while, but we think our new development project is a way to take advantage of the market conditions.
What are your future plans?
No major changes in our lifestyle are planned, but we try to stay humble and recognize the old Yiddish saying: "Man makes a plan, and God laughs."
RETIREMENT FINANCES
How has your financial plan performed compared to what you had estimated before retirement?
Thankfully, the previous quote notwithstanding, our plan has worked even better than we thought it would.
I had forecasted purchasing one rental property a year, with rental and price growth of 5%; which we anticipated would let us retire after about 10 years. But it turned out to be very conservative for the market I was in and retirement came sooner than originally expected.
Can you give us some insights into your post-retirement spending and income? How much do you spend annually and on what? And where does the income to pay for your spending come from?
Here's the details from last year (rounded and simplified a little):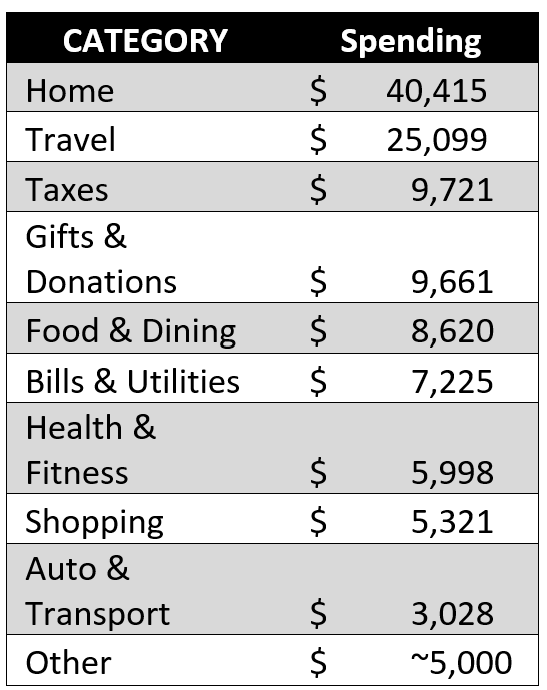 Spending has increased over the years, but generally in line with our income. We do experience lifestyle creep that tends to show up in the "Travel" category (last year was a little high because of a sweet but unusually pricey anniversary trip to Hawaii), but generally try to run a tight ship, spending-wise.
Reader Question: When we travel we love to get value for our dollars (Thailand, Turkey, Mexico, Greece are some of our favorites, Hawaii was awesome but felt overpriced), anywhere you've loved that also felt like a great value? We're always looking for our next favorite spot!
How are you handling Social Security, required minimum distributions, tax issues and the like?
Not a problem for us, another benefit of the cashflow approach.
Did you return to paid work? Why or why not?
We have never contemplated returning to work, but it's nice to have marketable skills should some terrible series of events make employment necessary.
Did you find it hard going from being a saver to a spender?
I'm not sure I'll ever be able to classify myself as a spender, but in looking at our finances I've learned that the "Wealth Effect" is a real phenomenon even for me, so that helps offset my natural "saver" disposition.
I'll probably always monitor our finances monthly and feel a bit anxious on months where our spending approaches our income, but I'm OK with that.
Looking back, what do you wish you knew in advance?
Taking the leap to quit my job and then have my wife quit hers did require courage, but like so many times in life the anxiety and worries proved to be unfounded, unnecessary, and unhelpful. Most negative situations we imagined might happen never occurred. On the flip side, there were many positive events we could never have anticipated.
I think confidence is an underrated attribute, when you have a good plan you should trust that you'll be able to pull it off and can handle any obstacles along the way. We can all do a lot more than we currently realize!
What advice do you have for those wanting to retire?
For those beginning their financial journey, there are two key elements that you need to get started: knowledge (or education) and courage to act.
I have seen very smart people fail to act, and without action they just drift through life, eternally reading blogs and books and dreaming of what will likely never be.
On the other hand we all know people whose primary financial setting is "GO!!!", who chase shiny objects in circles, faster and faster until either exhaustion or a fiery crash.
There are many formulas that lead to wealth (ESI is an excellent start!) and it takes work and thought to find the one that is right for you, but once you've got a good plan and see opportunity, it's up to you to take advantage of it. Success can happen much faster than you think it will, it sure did for me!
On the other end of the spectrum, once you have found a plan, followed it, and achieved success, you should recognize that your plan has worked and go ahead and live the dream you've been chasing. For some reason people think that they can develop a plan, work on it for years, and then when it tells them they've succeeded they don't believe it, which is completely illogical! If your GPS tells you you've arrived at your destination you don't argue with it, and when your financial plan tells you you've won the game you should believe it!