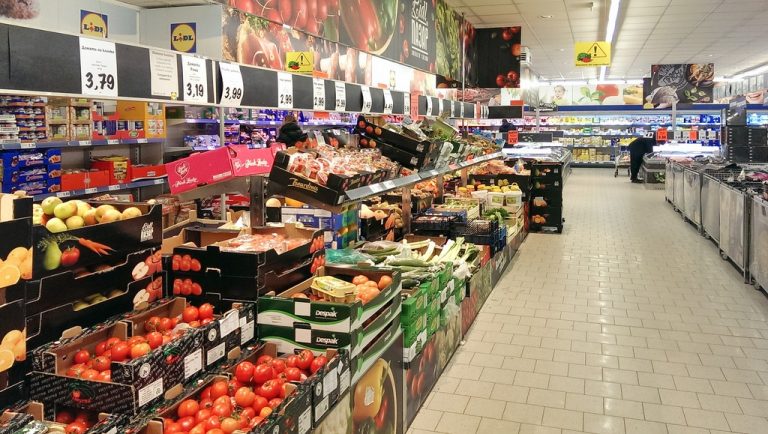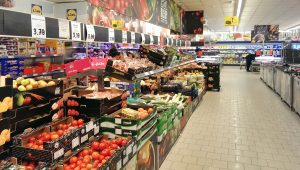 Today's post is written by Mrs. ESI Money, an expert on saving money. 🙂
There are certainties in life we all experience: death, taxes, and shopping for food. One of these doesn't have to be painful.
In the decades that I've been the family food provider, I've learned a few things that have eased the burden of the experience and actually made food shopping fun.
Well, maybe not fun like a Caribbean Cruise, but perhaps saving enough money to afford one!
Here are my tips for getting the most out of your food dollars:
Shop around. You may be limited where you live, but there are several stores close to our house. (FYI, the places we shop from highest dollar amount spent to least in 2016 are: Costco, King Soopers (Kroger family of stores), Walmart, Sprouts, and Albertsons.) I've determined which stores usually have the best prices in various item categories. Like me, you may have a different place for meat, produce, dairy and the like.
Create your weekly menu based on what each store has on sale. Often the front page of a store's ad will highlight the best values and that will determine what will be on our table that week. I will also stock up on favorite items when the price is right. If I know I can buy chicken for $1.99 a pound, I'm going to wait for that price to buy it. My freezer is my friend.
Combine shopping trips with other errands. It's not worth the gas or time to drive across town to save a dollar. Likewise, it's not most efficient to go out simply to buy food. So I try to bundle my errands so I can be the most efficient with my time and miles. We often stop at Costco after a movie since the store is on our way home from the theater. Sprouts is near where my daughter works, so I drop her off and do grocery shopping afterwards. Walmart is near many other stores so I go there when I have multiple stops to make in one general location.
Learn prices. If you don't know what a good value is, you'll never get the best price. For example, on some items, not even the grocery store's sale prices can match the value at Costco. But at other times a sale (plus even a coupon) can beat buying in bulk from Costco. And regarding bulk purchases, if you can't actually use all the product before it expires, you've just lost your savings.
Get the ads, apps, and loyalty cards from your selected stores. This is a huge step. I used to get the Sunday paper just for the coupons and it would take me over an hour to clip, sort, etc. Now, I just select the coupons on my store app and they load onto my card. Thank you technology! Many times you can stack multiple discounts — like a sale price on top of a coupon — which is quite common. Sometimes you even find an extra discount on top of this with a store-wide coupon (save $10 on a $50 purchase) to hit the trifecta.
Take full advantage of each store's loyalty program. In addition to the sales prices and coupons, King Soopers' loyalty program offers a 10 cents off per gallon of gas for every $100 spent at the store each month (at their gas station, which is reasonably priced even without the discount). We have some months where we get 30 cents off a full tank of gas! In addition, the store gives away one free item every week through their app. We've received everything from a box of organic mac and cheese, to a bag of candy, to a can of cat food (we don't have cats, but we get it anyway for our neighbors). Finally, they send us free and high-value offers now and then by email and mailed coupons for being "loyal customers". They know us enough that the offers are on things we actually like — which is awesome!
Make a list. Using the app and ads as a guide, determine what you will be buying and try to stick to the list. If I think ahead, I will even arrange my list into categories (produce, meat, dairy) to save steps and time. In addition, if you make your list comprehensive enough, it will limit the number of trips you make to shop which alone will save you a ton of money.
Try the store brand. Often, they are the exact same product as the national brand and stores will usually refund or exchange these items if you don't like them. They can often be cheaper than a name brand with a coupon.
Check the unit prices. Certain stores will actually post the cost per unit on the shelf. We tend to think that the bigger container will be the best value, but that's not always the case.
Take advantage of special offers. Many stores will offer special promotions just for their store. I mentioned the save $10 off $50 in purchases which is a common Albertson's promotion. King Soopers will offer deals on gift cards, especially around the holidays. For instance, we bought $40 of iTunes gift cards to give away as Christmas presents and received $5 off our grocery purchase that day. We did the same with Nike gift cards too. Costco even has coupons (they call them "instant rebates") that makes their low prices even lower.
Shop the clearance areas. King Soopers has clearance areas for meat, bakery items, and dairy products. Sometimes I can find better deals at other stores than even their clearance prices (this is where it pays off to know your prices), but oftentimes it's a great deal, especially on the baked and dairy products.
Pay attention when checking out. At the register, watch the prices and check the receipt. I have found errors on specials or mis-marked items. In addition, many stores will list the percentage saved on the receipt which can be quite rewarding.
Pay with a cash back credit card. You should get a minimum of 2% cash back on every purchase but many cards will offer grocery purchases at the 5% level for one or two quarters each year. It's a no-brainer to buy your food this way as the rewards can really add up. FYI, you can buy gift cards at the grocery store and get 5% cash back on them as well. Our store also offers 2X gas points on gift cards every day and some weekends offers 4X. So we'll get $100 in gift cards (earning 5% cash back on them) plus bag 400 gas points or 40 cents off a gallon! (I've had as high as 80 cents off a gallon and filled up 17 gallons on it!)
Watch the register for coupons. King Soopers has coupons that print out at the register as you make your purchases. About 2/3 of the time they are worthless (not great deals), but sometimes they are for free or drastically reduced products — a complete windfall. Many shoppers don't even look for these coupons and leave theirs behind. Quite often I've come up to a self-service register to find previous customers have left a treasure trove of awesome coupons behind — just for me!
Walk to the store. I know this is not for everyone, but one store is close enough that we can get there in a 15-minute walk. We'll often walk down, buy what we need (knowing we have to carry it back is a great incentive to focus on limited items at the best prices), and walk back. In a bit more than 30 minutes we've improved our health, had the chance to visit, gotten a shopping task off the list, and saved some money!
Over the years these methods have saved us thousands of dollars. These days our food costs are near the lower end of the national scale even with four adults in the house.
As another point of reference, we have a receipt from King Soopers near the end of 2016. The bottom says that we had saved $1,209.65 up to that point through 2016. Quicken shows our total spending there during that time to have been $2,488.99. That means the retail prices for those items were $3,698.64 and we saved 32.7% off those prices. And this does not count the gas savings we received through the year. Not bad at all.
I hope these tips will help you save a bundle on your food costs.
Are there any great ideas I may have forgotten?
P.S. For those who prefer a video version of this post, see the ESI Money YouTube channel.
photo credit: Victor Semionov Shopping Vegetables via photopin (license)