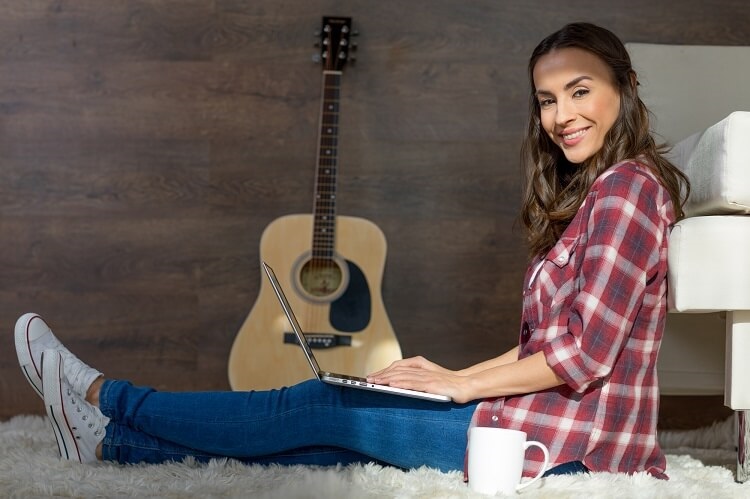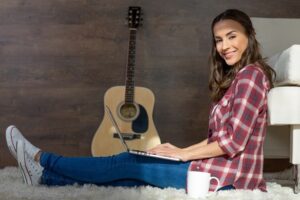 Here's our latest interview with a side hustler!
As you know, I love creating a side hustle as part of a fast-track path to financial independence because it can make a huge difference (see this financial calculator), enough to actually get you to FI in 10 years.
If you have a side hustle and would like to be interviewed, shoot me an email and we can talk over specifics.
As usual, my questions are in bold italics and her responses follow in black.
Here we go…
GENERAL OVERVIEW
How old are you (and spouse if applicable, plus how long you've been married)?
Hey, I'm Daniella and I am 30 years old. My wife Alexandra is 43.
We eloped in June 2016 and just had our 3rd wedding anniversary.
Do you have kids/family (if so, how old are they)?
We have no kids and no plans to have kids.
We do have 5 cats, 2 dogs and a couple of tarantulas. Those probably don't count in the "kids" category but they are our "fur family". Their ages range from 2 years old up to 13 years old.
What area of the country do you live in (and urban or rural)?
We live in a municipality north of metro St. Louis called St. Ann (near the airport) in Missouri.
What is your side hustle?
We have a couple of side hustles (we like to dabble).
I run a blog and am freelancer in many different areas including writing, designing and web development (but mostly concentrated on the writing lately).
My wife flips guitars on eBay and I attempt to help.
We also resell other items online such as designer items and collectibles.
Is there anything else we should know about you?
I am a full-time software engineer and Alexandra also works in tech as a systems engineer.
We both met at work which is ironic as we plan this future life together around moving away from a full-time job. However, I feel like my full-time job is the real side hustle that I keep for the benefits and insurance so I can continue to work on our passion projects.
Oh, and the real big bucks that pay the bills and allow us to save more this year than any year in the past.
CREATION STAGE
Is this your first side hustle? If not, could you give us a bit of background on past efforts — both successes and failures?
No, these are not my first side hustles.
My first side hustle ever was when I would resell clothes at thrift stores, but didn't make much money from it.
It was actually in an attempt to overcompensate for my bad spending habits in high school and college and more of a form of "toxic side hustling". It was toxic as I always had it as an option on the backburner in my head when I would blow a whole paycheck form the movie theatre I worked at in one weekend. I knew I had my thrift store reselling skills to fall back on.
This wasn't a good look for me and took me awhile to actually move away from this way of thinking.
My first real side hustle where I did it for extra money that I saved (and was actually quite lucrative for a while) was painting.
I would "live paint" at concerts and festivals where I could attend for free and bring finished paintings with me to sell while I "live painted" pieces during sets. I ended up selling almost all the paintings I brought with me every time along with the ones I was painting while there.
The most I made during one of these shows with my paintings was $300.
How did the idea of starting a side hustle begin?
They almost always stemmed from a hobby I had at the time.
The thrift store reselling came from my reckless shopaholic hobby in high school, the "live painting" came from my hobby of painting almost every minute I wasn't at school or work and now the writing, designing and reselling guitars and other items with my wife are all a by product of our creative hobbies we have.
My wife loves guitars and collected them before we started turning that interest into reselling them. I had 0 interest and knowledge about guitars and now I know a little, but she is the real guitar genius. I just help with pictures, packaging and shipping.
I have always been very creative with drawing and painting for as long as I can remember. My grandparents would take my cousin and me in their RV with them during the summer and all I can remember is filling up drawing pads as we drove from state to state (we drove all 48 connected states). It just continued to become more of an obsession for me as I got older.
After college and life getting busier in general, my painting kind of died off. I still paint now when I have time but don't sell my paintings anymore. Instead, I transferred a lot of that creativity over into online media with my blog and freelance projects.
I first started my blog as a hobby also but then monetized it to build another stream of income outside of our full-time jobs. I wanted to pay off my student loan, some other debts, invest any extra money and start planning for a future of more freedom for our family.
How did you come up with the idea?
I started freelancing when I quit my first job out of college. It was a horrible soul-sucking startup and I just stopped going one day and started freelancing with one of their former clients that next week. And no, I didn't steal the client. They reached out to me.
I was freelancing before I was blogging and thought, well instead of working for these other blogs, I could create my own. I read how others were side hustling with blogging and thought, that could be something I could do. I saw I could monetize my creativity again and thought it was a perfect idea. But it was definitely not an easy idea.
With online reselling, my wife was getting burnt out with her collection of guitars and didn't want them to just sit around. She had the idea of selling some online to buy more to fix up and sell for a larger profit. Then one led to another and another and now we sell about 4 on average every month.
The other stuff we resell online like designer purses, collectibles like rare records and Funk Pop! Figurines is not as consistent.
What made you think this particular idea could be profitable?
The freelancing happened more by luck for me at first and then when I got another full-time job, I kept some of the freelance work on the side.
I never thought much about how much I could really make it work for me profit-wise until I starting thinking more about our money situation when we got married. I saw my wife starting her guitar flipping hustle and I wanted to help.
After I started helping, I started trying to flip other things online and dabbling until I created my blog where a lot of my focus is on now. But since it is a blog about literally side hustling, we still do all of the other side hustles and report on those through our different social media and on the blog.
I didn't do much research at first for the future profitability of my blog, I just wanted somewhere to start and see if I could actually go anywhere with it. Two and a half years later I make between $2,000 to a $4,000 a month with my blog. The highest I was able to make in one month from my blog so far was $3,800.
What were the early days like — getting your side hustle off the ground, making your first dollar, etc.?
The early days of blogging was shooting in the dark. I was just writing random articles about things going on in our lives. A few months later I finally narrowed down the intent of the blog to still be able to fit our life but also help others. Since we were also working on paying off debt with our side hustle money, I focused the blog around that. And as our life changes, so does the blog.
I made my first dollar I think with Google Adsense when I was able to place those ads on my blog. Later I switched to Mediavine and was able to increase those ad earnings. My blog is now monetized with a variety of affiliate partnerships, sponsored partnerships and ads.
I discussed the early days of freelancing and my wife's side hustle with the guitars above.
BUILDING STAGE
What did you do to grow your side hustle? Were there any specific actions that resulted in major breakthroughs?
So for the freelancing side hustle, my blogging actually helped me pivot from freelance development to more writing and design.
Before blogging, I only freelanced in development. And my day job was in tech so I had no outside experience in writing and design besides my own hobbies and the blog. Once I had that writing and design experience showcased on my blog and it is becoming somewhat established, I was able to get those certain freelance opportunities which was perfect for me because I am honestly burnt out on coding.
Building the blog is another story. Two and a half years after I purchased the domain, I can't believe how many different things I have done and tried with my blog to get it to where it is today. I knew the side of developing, designing and promoting a blog to build a following but I wasn't the best with SEO, marketing or thinking about building it into a sustainable business. The sustainable business part is something I am still working on.
Right now the biggest breakthroughs happening with my blog are those stemming from reflection I've been able to implement. I have a problem with working so much and blazing straight ahead without stopping to measure data to see what is actually working and what isn't.
I make time every week now to review how some of my affiliate strategies I am trying are doing, how certain SEO pages on my site I recently implemented are ranking, analytics in google and on social media, etc.
I have been reading so much on SEO this year and have been focusing on that heavily. I have also joined a small "mastermind" of a couple of bloggers that has actually been pretty useful to bounce ideas off of in a not judgmental online environment.
With the guitars, my wife had a stand still there for a second in September. She actually took a lot of guitars off of eBay, took all new pictures and reposted them. In October, she was able to pick back up speed again. She also reposted all of the same new pictures on Reverb (another guitar reselling platform).
What sort of time commitment did your side hustle require while becoming established?
Blogging is an extremely time-consuming side hustle. If we had kids, there is no way I could be able to blog or side hustle as much as we do. Honestly, I am starting to get pretty exhausted with it lately and am trying to outsource certain tasks that I just can't stand anymore.
Starting out, it was worse. I was writing and pushing out new content every day. Most of that content isn't even on the blog anymore it was so useless. I just wanted to get out as much as I could to progress as quickly as I could. I was working maybe an extra 30 hours of week on my blog and not really getting anywhere with it. That isn't the way to go.
I started making the most progress when I took a step back and talking more with my audience, doing things that fulfilled their identified needs more (stuff they literally told me they wanted), outsourcing my redesign and other items, and investing more of the money made from the blog back into it.
I still spend probably way too much time on it weekly but have been able to get it down closer to 10 – 20 hours a week.
My wife spends much less time with the guitars as most of them are a quick buy and resell where there is no work required on them. She basically just found awesome deals that she was able to make a profit from. Some sit around for longer until their prices go up and they get listed. The ones where she has to do some work on them maybe take 5 hours max.
The time it takes for us to take pictures of anything we resell, list them with descriptions, pack and ship maybe takes thirty minutes to an hour for each item.
Where did you find the time to work on it?
I found most of my time before during the weekends until I needed to start having days where I had absolutely no work from any of our side hustles. Now, those days are crucial. We try to do no work whatsoever on Saturdays – it is our rest day. Sunday is a big blog day for me.
But besides that I get up early most days to get certain things done and maybe 1 to 2 nights a week we put in a couple of hours of work in.
Were you the only one involved or did others help out?
My wife and I both resell online together and help each other out. She also helps out with some aspects of the blog and helps write certain sections about reselling online or in specific posts about our goals.
Other parts of the blog I have been able to outsource like the redesign, speed optimization, some of the writing on a couple of articles, and pay for tools that help me automate certain tasks. I am working on identifying more tasks to outsource.
For freelancing, it is all me with the help of a couple of tools.
RESULTS
Can you give us specifics on what you earn with your side hustle?
For my blog, I am on track to bring in $30,000 this year but that isn't profit. You can see a complete breakdown of the expenses, income and profit at my mid year check-in of the blog. At the beginning of August as you will see in that post, it was $13,750 for income and $4,617 for expenses with an actual profit of $8,982.
3 months later it is at a total of $22,250 for income and $7,312 for expenses, with an actual profit of $14,938. (As of today 10/28/2019) [Editor's note: This interview was conducted in October 2019.]
Freelancing is on track for $3,000 this year and I use no paid tools for this side hustle.
For reselling including the designer products, collectibles, and guitars, we are projecting at around $15,000 this year before expenses. But are currently at $12,138. Expenses include some hiccups with shipping that we didn't end up including in the initial listings, supplied for packing, the price of the items when we originally purchased them and any fees from the platforms we sell on.
Total expenses for reselling this year was $5,395 and include some items we hope to sell before the end of the year (we aren't planning on buying any more inventory for the year). After expenses, our profit is currently $6,743 and we project it to be around $10,000 by the end of the year.
The total profit across blogging, freelance and reselling is $24,681. Using the 30% rule for self employed income taxes on our side hustles, we paid $7,404.
What impact has this extra income had on your finances?
I was able to knock out my student loans this May which was awesome! Including those loans, we paid off $35,000 of debt since May 2017. That debt consisted of hospital bills I had, credit card debt my wife had, my student debt and our car loan. Now we have about $14,000 of our auto loan left.
With this extra income, we wanted to make sure nothing seeped through the cracks so we got much more diligent with managing our money (and we were kind of already doing that as we were working hard to pay off debt, before that we were absolutely horrible with our money). We really watch what goes in and comes out of our full time income now as well as the separate accounts for our side business.
That and the continued self education has taught us that we need to optimize the extra money as well as the extra money coming from our full time jobs. I was also able to increase my income this year by 10% at my full time job. We increased both of our retirement contributions to 20%, not including the matches and try to invest an extra $1,000 to $2,000 monthly in our separate investment portfolio with M1.
It's kind of been amazing what extra responsibility with money has given us. It really pushed us to really be in the weeds with our money.
It is also nice to not feel guilty about spending a little extra. If we want to go out to dinner with my family on the weekend, we don't have to think about every little penny being spent. Instead, we can enjoy ourselves.
What went well in this process?
The opportunities have been endless. I never thought my blog would have gotten to where it is today and I couldn't have done that without other bloggers. I am so grateful for the community and the people I have been able to meet and work with.
With reselling, predictions for how much we can resell something for has gone pretty well to plan. Only thing that sucks is a couple of Funko Pop!'s we just can't unload.
What could have gone better?
For the blog, I could have planned better in the beginning. I also should have stopped to measure results more often.
For the reselling, we overpaid for packing supplies because we didn't have any ordered and had to buy them that day at a much higher marked up price. We also undershot our shipping costs a couple of times and could have planned better in that aspect.
What do you wish you would have done differently?
I wish I would have focused on SEO and my niche of my blog much earlier. Actually I wish I did this from day one.
And once again, wish we planned better in all areas of our side hustles. But that is the magic of doing something new, you learn and course correct.
Has it been worth it? Why or why not?
Yes. Now we have been able to dip our toes into the entrepreneurial waters and get a sense about what we really need to do if we want to leave our full time jobs, or even go part time.
We have this insight and option that we didn't have before. We are also more confident about our future and don't feel so tied to a full time job in tech.
What are your future plans for your side hustle?
I am really working on ramping up the blog for 2020 to be the highest income year yet and looking to go part-time at my day job. I haven't worked out the specifics of this yet. It isn't that I hate my day job, I actually like it. I just like my blog more.
My wife is very invested in her day job and has no plans currently to go part time but is looking for a more remote job option with more flexibility. She also has no plans to quit her guitar flipping.
In 5 years I wish to be completely independent from any job and hope to work full time with my blogging and freelance business.
What advice do you have for ESI Money readers who may be thinking about creating their own side hustle?
Think about what you like and how you can monetize it.
Look for groups online doing the same thing on reddit, Facebook, etc. Network with others and find a mentor to help you through the process. That is something I wish I had starting out and think a mentor would have helped cut through all the confusion.
If your side hustle is a ride or die kind of situation where you want it to scale enough to quit your day job eventually, set a long timeline that you can reach smaller goals within and prevent burnout. Instead of trying to reach all your side hustle goals within 6 months, set a smaller goal for each 2 months with a longer overall timeline of maybe 2 years so you prevent overwhelm.
With side hustling there is a lot of pivoting (at least for me) and where you think you will be 6 months from now may be completely different than in your head.
Also, get familiar with the law of side hustling and paying taxes. If you are expected to owe at least $1,000 in taxes from your side hustles, you have to pay those quarterly to the IRS (unless you opt with your employer to take more taxes out on your behalf to avoid penalty).
File an LLC sooner than later (if that applies to you, it does for me) and separate out your full time income from your side hustle income using different bank accounts.
But have fun with it! Once it stops being fun, outsource it (or sell it).