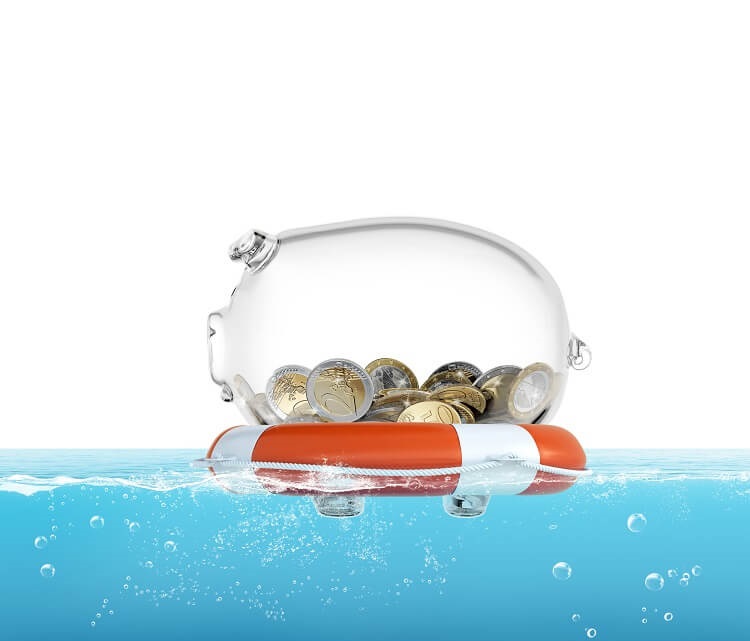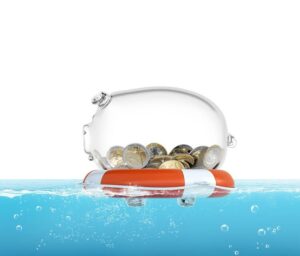 If there's one thing that's the forgotten step-child in personal finance, it's the emergency fund.
Those just starting out on their financial journey hate it because it's a killjoy — something they have to save for that has zero perceived value (at least in many people's minds).
Those of us further down the road don't really think much of it as it's simply "there" — it's not really a vital, active part of our money plans.
But then a global economic crisis comes along and all of a sudden the lowly emergency fund becomes the star of the show.
That is, if you've kept it safe and sound all these years.
I thought it would be interesting to take a step back (for most of us) in our financial journeys and have a little chat about emergency funds.
What is an Emergency Fund?
I can't imagine many ESI Money readers don't know what an emergency fund is, but just for grins, let's look around the web at a few definitions.
Let's begin with Investopedia:
An emergency fund is a readily available source of assets to help people navigate financial dilemmas, such as the loss of a job, a debilitating illness, a major repair to home or car—not to mention the kind of major national crisis the coronavirus pandemic has created.
The purpose of the fund is to improve financial security by creating a safety net of cash or other highly liquid assets that can be used to meet emergency expenses.
It also reduces the need to either draw from high-interest debt options—such as credit cards or unsecured loans—or undermine your future security by tapping retirement funds.
Here's how Vanguard defines it:
An emergency fund is a stash of money set aside to cover the financial surprises life throws your way. These unexpected events can be stressful and costly.
Here are some of the top emergencies people face: Job loss, medical or dental emergency, unexpected home repairs, car troubles, and unplanned travel expenses.
Dave Ramsey, king of the emergency fund, defines it as follows:
An emergency fund is simply money you've set aside for life's unexpected events. We're talking about true emergencies here, like a car wreck, a hospital visit or a leaky roof.
Bankrate keeps it short and sweet:
An emergency fund is an easily accessible savings account intended to help pay for unexpected expenses.
And NerdWallet does as well:
An emergency fund is a bank account with money set aside to cover large, unexpected expenses, such as unforeseen medical expenses, home-appliance repair or replacement, major car fixes, and, costliest of all, unemployment.
Ok, so it's pretty clear: an emergency fund is a stash of (usually) cash for unforeseen financial emergencies.
These "financial emergencies" are not in your budget and can be difficult for many to fund out of current earnings, especially if their budgets are tight.
This is exactly why most people need emergency funds, isn't it?
Why Do You Need an Emergency Fund?
If the above didn't answer why emergency funds are vital, the following quotes should do the trick.
Here's why you need an emergency fund according to Dave Ramsey:
The reason to have an emergency fund is simple: You don't know what's going to happen. And no one wants to live at the mercy of life's twists and turns. Your emergency fund will come in handy if you suddenly lose your job or your HVAC breaks in the dead of winter. Don't let yourself be caught off guard! You need that safety net between you and life.
Here's NerdWallet's take:
Emergency funds create a financial buffer that can keep you afloat in a time of need without having to rely on credit cards or take out high-interest loans. It can be especially important to have an emergency fund if you have debt, because it can help you avoid borrowing more.
Vanguard goes a bit deeper with the following:
Aside from financial stability, there are other pros to having an emergency reserve of cash.
1. It helps keep your stress level down.
2. It keeps you from spending on a whim.
3. It keeps you from making bad financial decisions.
In short, life happens. Unexpected financial emergencies come up all the time — it's part of life.
An emergency fund is simply preparing for these emergencies in advance by setting some money aside. You save money in the present knowing that when emergencies pop up (and they will) in the future, you will be able to cover them.
How Much Should an Emergency Fund Cover?
What size should your emergency fund be?
Lots of consensus here…
From Vanguard:
In a nutshell, you should have at least 3 to 6 months' worth of expenses—but the exact amount depends on a few variables.
NerdWallet's take:
The short answer: Up to half a year of expenses.
The long answer: The right amount for you depends on your financial circumstances, but a good rule of thumb is to have enough to cover three to six months' worth of living expenses. If you lose your job, for instance, you could use the money to pay for necessities while you find a new one, or the funds could supplement your unemployment benefits. Start small, Weston says, but start.
And from Investopedia:
Financial planners recommend that emergency funds should typically have three to six months' worth of expenses in the form of highly liquid assets.
Dave Ramsey gets a bit more specific:
If you have debt, I recommend saving a starter emergency fund of $1,000 first. Then, once you're out of debt, it's time to beef up those savings and build a fully funded emergency fund of three to six months of expenses.
A couple comments on these points:
I like that every definition focuses on expenses. Many times you'll see very general, income-focused advice given in money matters like "You can live on 80% of your income in retirement." Really? What if I live on 50% of my income now. Does that mean retirement will be more expensive? Why not focus on the expenses I have to gauge what I will need to live on? It's just a rule-of-thumb that's off a bit. So I like that every site is focused on expenses here.
Why three to six months? Why not just three? Or why not just six? Or why not four or five months? It seems like a range without any specific reason for it.
Personally, I like six months' worth of expenses because it has a buffer built in for an extra margin of safety. And you know how I like margins of safety. 😉
Where is this margin of safety? Let's say you have what's probably the worst-case scenario for an emergency fund, a prolonged period of unemployment. You could immediately lower or eliminate your non-discretionary expenses like eating out, entertainment, travel, and so on. This way, your six months' of normal expenses saved might last you seven, eight, nine months, or longer!
As you'll see below, our "conserve every penny you can" plan is half of what our regular spending is. So if we'd buckle down, our emergency fund would last twice as long as it would under normal spending levels.
How Important is an Emergency Fund?
Ok, let me finally get to the point. I'm writing this article because I wanted to emphasize the fact of how important an emergency fund is.
If we didn't believe it before, we certainly do now as we've seen the need for extra savings play out in front of our eyes.
The federal government had to send most Americans $1,200 because they didn't have adequate emergency funds (at least this is part of the reason). Otherwise, why would so many need a handout after a week or two of isolation/not working (When the checks were originally being called for. Oh, and BTW, many were still working then and yet received money — don't get me started on that)?
But don't take my speculation for it. Let's look at a couple posts addressing how much Americans have saved for an emergency.
Here's Vanguard's take:
56% of people in the United States don't have a rainy day fund that would cover 3 months of expenses.
Let's rephrase this:
A majority of Americans don't meet the bare minimum requirements for an emergency fund.
On the other hand, 44% do have enough to cover at least three months — or at least they did. More on that in a minute.
Here's some information from CNBC that gives another perspective:
Almost half (41%) of Americans can handle a $1,000 emergency, such as a medical bill or car repair, by dipping into savings.
Another 37% say they would use a credit card, take out a personal loan or ask family for financial help to handle unexpected expenses, according to a new poll from Bankrate of over 1,000 U.S. adults. Only about 3% of respondents say they don't know how they would handle a $1,000 emergency.
That's in line with other research. Last year, about 61% of American households said they would pay for an unexpected $400 expense with cash, savings or a credit card, the Federal Reserve found. About 12% said they would not be able to cover the expense at all.
But Americans' emergencies, on average, cost more than $1,000, Bankrate finds. The average unexpected expense for survey respondents was about $3,500. And these situations are not uncommon. Within the past year, 28% of people experienced a financial emergency.
These numbers actually make Vanguard's look good. The difference might be what's happened in eight years. Vanguard's numbers are from 2012 while CNBC's post was written in 2020.
If 41% can handle a $1,000 expense, how many can handle a $3,500 expense? Probably very few. 20% maybe?
Let's look at it another way. $3,500 is probably about a month's expenses for the average American (give or take a bit). That means very few — maybe 20% (or even less) — have enough to cover a month's worth of expenses.
Even if it's two months' worth, the point is still valid — Americans don't have much in their emergency funds, and this latest economic problem has highlighted this fact.
I wanted to see if I could find more specific information (or at least additional information) and Googled a bit more.
The first article I discovered was this by the NY Times:
Six weeks of take-home pay.
That's how much cash families should aim to set aside to ride out gyrations in their income and expenses, a new analysis from JPMorgan Chase's research arm finds.
The recommendation, based on an analysis of millions of Chase checking accounts, is considerably less than the traditional rule of thumb of three to six months of take-home pay.
But even so, most households fall short, the report found: About two-thirds lack the recommended buffer.
To cushion against a simultaneous spike in expenses and dip in income, a middle-income family needs about $5,000 in a rainy-day fund but has just $2,000 — a gap of $3,000. Lower-income families need about $2,500 but have just $700.
The AARP found that more than half of American households (53 percent) lacked an emergency savings account, including a majority of people over age 50.
Lots to comment on here:
Uh no. I hate "six weeks of take-home pay." First, it focuses on income, not expenses, just the sort of nonsense I was talking about above. And second, it seems way too low. I'm sure the study is sound mathematically but somewhere it went off the rails IMO.
Even with their lower amount, "about two-thirds lack the recommended buffer." In other words, about 67% don't even have six weeks of take-home pay. This is making my "20% don't have an adequate emergency fund" estimate sound pretty accurate.
The study's problem might be that it looked at emergencies that were mostly blips here and there. Sure, six weeks take-home pay might cover a small car accident or a washing machine breakdown, but what about unemployment (when income is ZERO and expenses still exist)? Six weeks of funds is not going to cut it then.
They are estimating the six weeks to be equal to $5k. That's $833.33 per week. If you put that in three and six month ranges, that means an emergency fund should have somewhere between $10.8k and $21.7k in it. That last number is so very close to my one-month estimate of $3,500. Am I good or what? 😉
From AARP we know that over half of Americans have no emergency fund at all. Tack on those who have an inadequate emergency fund and a large portion of the public are in for a world of hurt should an emergency arise.
Moving on, I found this Bankrate quote which got right to the point:
Just 18 percent of Americans say they could live off their savings for at least six months. That's the lowest percentage of people with an adequate savings cushion in nine years of conducting Bankrate's poll.
I promise you I wrote the top portion before I found this number. Turns out my 20% guess was right on! Haha!
So, it's bad.
Now, what should be done?
IMO not much more than what should have been done to begin with. I'd recommend Americans saving six months' of living expenses as soon as they can.
I understand it might be tough to do so right now, but once the clouds clear and things are back to at least somewhat normal, they should get to work on this right away.
A house is only as good as its foundation and the emergency fund is the foundation of every person's finances.
My History with Emergency Funds
I have a unique history with emergency funds.
I always had one, almost from the start of my career.
I saved up six months' worth of expenses and sat on it for many, many years because I didn't need it.
It wasn't because we never had emergencies but because the gap between our income and expenses was so large that we could cover emergencies out of cash flow. Thus we never needed emergency funds.
When I retired, things changed a bit. Since you have less room for error when you aren't working, I increased my emergency fund.
My cash account (of which my emergency fund is a subset) grew over time but that was mostly by accident. I made more than I spent and sold a business. And there weren't great investment options, so cash accumulated.
Then I allocated some to private loans and bought some dividend stocks.
Now my cash is "down" to $250k.
Here's how it breaks down:
$100k is my true emergency fund that I don't want to go below. This represents roughly a year of expenses at our current (rather free-flowing) level of spending. It's 2+ years' of expenses at what we could spend if we tightened our belts.
The rest of the money is set aside for two things — to seize extra investment opportunities that might pop up and to help my daughter and son-in-law buy a home when they move to Colorado later this year (how much we'll help them is TBD, but it will most certainly depend on how much they help themselves.)
The other issue we have is that we are still spending less than we earn. In my 2020 financial forecast I estimated we'd have income of $130,090 and expenses of $91,310, so that alone creates an extra $40k of cash each year.
Now with the economic issues the world has had, my guess is that both those will go down (we'll earn less but also spend less), but even in a worst-case scenario we'll likely have a significant gap between what we make and spend, thus helping us to pay for many emergencies (like me needing a crown) out of our cash flow.
So those are my thoughts on the ever-important emergency fund and how we handle ours.
How about you? How much do you have saved in your emergency fund?