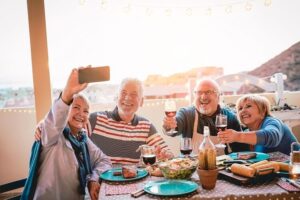 Today we continue our series on the book The Retirement Maze: What You Should Know Before and After You Retire.
So far we've covered several parts of this book. If you missed any and want to catch up, please start with the first post, The Problems with Retirement, and then click through to read the rest in order.
As I've noted, I have a love-hate relationship with this book. But do like it for discussing retirement issues that are generally glossed over by other books (even if this book does go a bit overboard with the negatives).
I'll be sharing key passages from the book as well as my thoughts on them.
Here we go…
Health and Wealth
The book dedicates an entire chapter to "health and wealth" and begins with this:
Without question, good health and sufficient finances are the most important foundation of a successful retirement. Over and over, research shows that retirees who enjoy good health and perceive their income to be adequate tend to be happier in their retirement.
We've covered this subject quite extensively on ESI Money, so there's not much more to be said other than to agree with this.
If you don't have your health, all the money in the world won't make a difference.
And if you're healthy but lack the money to enjoy retirement (or maybe not retire at all), then that's a bad situation too.
I'm not going to share much on this subject since we've discussed it previously, but I do want to include this:
Worries about health care coverage and future expenses are a big factor that inhibit plans to retire — 64% of those planning to stay in the workforce claim the uncertainties of future health care coverage makes them worried about retiring, far higher than the 39% seen among those planning to retire.
No surprise here. Covering health care expenses (and finding the right insurance) is a top problem for the millionaires I interview as well. It is BY FAR the top issue raised when I ask if they have any concerns about retiring.
So if millionaires are worried about paying for healthcare and insurance in retirement, where's that leave everyone else? Yikes!
The summary here is to do all you can to take care of yourself: exercise, eat right, get enough sleep, keep stress low, and so on.
And the good news is that once you retire, you'll have more time than ever to spend on these things — and get yourself in pretty good shape.
The Impact of Social Activities
Before we leave the section on health, I do want to share what the book says about social activities in retirement:
For starters, they need to acknowledge that a satisfying social life can have positive effects on how they feel about themselves and life in general — many people are just not aware of how important this is to their subjective well-being. They can make improvements here simply by increasing the amount of time they spend interacting with friends, and in this regard they should look to personal meetings, not phone or email conversations. Additionally, they should consider placing themselves in social situations, areas where people tend to congregate — just the act of being in the company of others, even strangers, can be stimulating and help improve one's connectivity to the outside world. In this way, they give themselves an opportunity to meet new people without having to feel the pressures of joining clubs or organizations.
Lots of thoughts here:
Book after book talks about the importance of maintaining social connections in retirement. The big challenge is that many people get a lot of their social connections through work, so when work is no more, there's a big void.
That said, there's a lot of gray area when it comes to the "right" level of social contact in retirement. For instance, how many friends is enough to keep people healthy socially? How long do you have to spend with people each week? Does the depth of the friend ship matter? And on and on. In short, what are the specific rules about social activities in retirement? Or looked at differently, what's the minimum effective dose of social contact to be sure it's covered in retirement?
I haven't seen any clear guidelines and my suspicion is that the answers are different for everyone. Some people need a lot of connections from all sorts of people and some need a few close friends and that's it. I tend to be on the low need side — a few friends will do me (plus my family, of course, who I spend most of my social time with.) FYI, online friends and chats by email and text are ok with me despite the book not recommending those.
One of my main social connections was my mom. We used to talk several times a week and I miss those times since she passed in April.
The pandemic has put a huge strain on this area of retirement. It has been a prolonged time where social interactions have been limited or discouraged which is why we are seeing some people having issues — they are lacking social contact that impacts their well-being.
Ok, that's it for thoughts on health in retirement, let's move on…
Retired and Working
The book now turns to one of its favorite subjects, working in retirement.
This chapter begins with the following quote that I just have to share:
Everyone who does not work has a scheme that does. — Munder's Law
Hahaha. Now that's funny! And, as my daughter says, "It's funny because it's true!"
Now that they've got us started off with a bang, the book gets into the subject of work and retirement with the following:
Earlier we pointed out that the definition of retirement is no longer restricted to just stopping work altogether. The fact is, lots of retirees go back to work in some capacity after they retire. Research shows a very interesting pairing of recent trends. On the one hand, people are tending to retire earlier in their lives; on the other, over half of retirees, especially younger ones, hold jobs at some point after leaving their full-time careers. This development, which shows no signs of slowing, may simply be the natural evolution of how we think about retirement. As a relatively new social phenomenon, it is not surprising that retirement may take on new looks as retirees find ways to maximize their comfort and fulfillment — and it seems as though work is becoming one of them.
Lots of thoughts here:
I love the fact that this book is ok with "working" in "retirement". I am ok with it as well, though the retirement police are probably having a fit. LOL. The fact that over half of retirees are working is a sure sign that the trends are shifting.
I think the cycle goes like this: people dislike their careers, they save enough to retire and leave those careers, and part of what they want to do with their retirement lives is work in something they enjoy. So they get a job or create a business to work in retirement.
In addition to the financial advantages of working in retirement, there are so many other benefits: connecting with people socially, challenging yourself mentally, and doing something you like — even something that fulfills a deep meaning in your life.
I know what this is like. I work on both ESI Money and the Millionaire Money Mentors because I enjoy them. I enjoy the people, the topic, the discussions, the writing, the marketing, the technology, and so on. These just have so many benefits. And yes, the money is nice too. Hahaha.
The book goes on with this discussion by sharing the following:
And as was also mentioned earlier, social scientists refer to working in retirement as "bridge employment." More formally, it is defined as a job held after leaving a full-time career, with the intention of gradually withdrawing over time from full labor force participation. The term derives from the way that these jobs smooth, or " bridge," the transition from the workforce into retirement. This is something of a psychological sleight of hand — retirees continue to see themselves as retired while at the same time reaping the rewards and benefits of working that we've covered in previous chapters.
A bridge job can take many forms. It can be part-time, self-employment or working for someone else, or a "temp job," as long as it starts after full-time employment ends and before permanent retirement begins. Bridge jobs generally entail shorter working hours, less emotional commitment to the job, the decision to work more out of choice than necessity (although sometimes financial considerations force people into bridge jobs), and some degree of control over the kinds of tasks involved. These characteristics distinguish bridge jobs from conventional jobs held before retirement, and they make this type of work more enjoyable and less stressful without completely eliminating the benefits associated with retirement. On the whole, bridge jobs can be healthy for some retirees and can contribute to their subjective well-being.
For retirees who have a particularly hard time making the adjustment to retirement, a bridge job is an especially good idea. Often, these retirees can not make the emotional break from their field or organization, are uncertain about their retirement plans, or have not developed enough nonwork interests. Because they do not have an acceptable replacement for work, a bridge job can minimize the stress that can result from feeling unconnected to the retirement lifestyle.
Very interesting, huh?
I had not heard the term "bridge job" until I read this book, but it makes perfect sense.
For now I enjoy what I'm doing, but I can imagine a time when I won't work at all. I'll likely decrease my time spent on my sites until it's so miniscule that I'll stop working altogether.
That's a long way off, but as I think about it I can see that what I'm working on is a set of bridge jobs.
Personally, I prefer a side hustle/business as they are often more interesting and flexible. That said, I know that's not an option for everyone and some simply want to work for someone for X hours a week and that's it. So to each his own.
For those who have issues in leaving work for retirement (like a lot of their self-worth is tied up in their job), a bridge job seems perfect.
Finally, as we leave this subject, the book shares the following:
We found that about a quarter of retirees currently hold a job, a relatively high percentage for a group that attempted to stop working.
Working retirees truly enjoy their work — 85% rate their jobs positively, and only about 5% regard them as stressful. The latter is an extremely low percentage, especially when compared to the 42% who felt stressed in their full-time careers.
I'm not sure how the "quarter of retirees currently hold a job" fits with the "over half of retirees, especially younger ones, hold jobs at some point after leaving their full-time careers" quote from above. Maybe 25% hold jobs at any time but there's a movement in and out of work that ultimately ends up with 50% working (just not all of them at the same time).
As for the enjoyment of their work, 85% is a huge number. Google around and see how many people in general rate their jobs positively and I guaranteed you it will be way lower than 85%.
The stress levels noted above are amazing as well. I think this is likely because retirees can set their own options — what work they do, when they do it, etc. This has a way of making everything about work much better and a lot less stressful.
Preparing for Retirement
The book next covers the topic of preparing for retirement. Here are some of their thoughts selected from the many pages they devote to this topic:
Our advice for men is to make a faster emotional break from the workforce. Their objective should be to become immersed in roles that are more appropriate for retirement. Since roles are linked to actions, this requires some searching to find things that are personally absorbing — not an easy task, as we've said, but one that can be best achieved through better retirement planning, including more docs on the details as well as the broader picture.
Typically, researchers have found that white-collar workers and those working in professional fields tend to be less enthusiastic about the idea of retiring than workers in other types of jobs. These men and women often regard their upcoming retirement with some anxiety because they have many reasons to truly enjoy or even love their jobs.
Since worker roles for professionals tend to be excellent sources for self-worth, it's not surprising that professionals tend to rely more heavily on worker roles as their primary means of defining themselves. Very often the bond between job and self can be so tight that professionals find their work lives and personal lives blending together, with the boundaries between them blurred or even indiscernible. For many of them, it can even be the basis of a social life. In the course of our conversations with retirees, we have come across many examples of how closely professionals and white-collar employees are tied to their jobs and how for some still in the workforce this blocks their interest in retiring.
With so much to lose, one might also suspect that retiring professionals and executives would have a much harder time adjusting to retirement. Surprisingly, though, this is not the case. Researchers have found that while there is some uneasiness before and immediately after the moment of retirement, white-collar professionals actually tend to adjust well and claim to enjoy their retirement over time.
How does this happen? How do these people manage to love their jobs and, afterward, their retirements? As we explored in the previous chapter, what appears to account for their ultimate success in retirement are the same qualities that are required and in some cases learned from their occupations. Professional and many white-collar employees have to apply a variety of skills to their jobs that we've mentioned already: problem solving, functioning in a fluctuating environment, flexibility, and autonomy of thought and action. These skills help individuals adapt to change — like the momentous one that occurs when moving from work to retirement. Furthermore, these employees tend to be very self-confident — and again, this can be partly their own personality but is also likely to be reinforced by the sense of accomplishment engendered by success in what are often challenging and competitive careers. Equipped with such personality traits, these retirees are likely to believe they can also be successful in retirement.
They also have another very important advantage: professionals and white-collar employees generally have higher salaries and pensions than other workers. The importance of the greater financial resources at their disposal cannot be overestimated. These resources can certainly improve the quality of their retirement by allowing these retirees more freedom to pursue interests and participate in a variety of activities that often require a lot of money, such as club membership or travel.
Lots to say here:
Before I get to the details, remember we're talking about a small percentage of retirees that even have issues in retirement, so an even smaller percentage have problems because of separating from their job.
I've said it previously, but no matter who you are, if you're so tied to your job that leaving it would derail your life, you really have to consider whether or not you should retire. If you decide to go ahead anyway, I'd suggest you try out semi-retirement first and slowly move into retirement. At any point if it seems like you aren't getting enough of whatever you need out of work, you could crank the work back up. Of course you could always separate yourself mentally from who you are and what you do, but apparently some people can't do that.
Now if you're forced into retirement, that's a different situation. But that again seems to be a great reason to reach FI asap, so you're as ready as you can be if forced to resign.
"These men and women often regard their upcoming retirement with some anxiety because they have many reasons to truly enjoy or even love their jobs." Ok, so if they love their jobs, why are they retiring? It's not clear. Maybe they are forced to leave work?
"Very often the bond between job and self can be so tight that professionals find their work lives and personal lives blending together, with the boundaries between them blurred or even indiscernible." A couple things here. First, my career/job certainly did bleed over into my personal life, but that was more along the lines of late hours, long trips (at times), and so on. Second, I never was so wrapped up in what I did that I couldn't separate it from who I was as a person. Work was just one facet of my life out of many.
"It can even be the basis of a social life." My best friends were always outside of work. Sure, I had friends at work, but those were more friendships of convenience than anything else. And I certainly didn't build my social life around coworkers, employees, etc. That means I would have seen these people for the majority of my life (work AND outside work) and I was not up for that.
"There is some uneasiness before and immediately after the moment of retirement, white-collar professionals actually tend to adjust well and claim to enjoy their retirement over time." This is what happened to me. The day after I retired was surreal. I had been doing one thing (going to work) for 28 years (longer if you count jobs in and before college) and now I wasn't doing that. It was an uneasy feeling. Was the world going to collapse on me? Then over the next few days I realized that the world was still turning and all was well. A week after retiring at most and I went from uneasiness to pure joy!
Yes, yes, yes! I've been saying that the skills many (maybe most) people develop in the working world would/should help them in retirement and here we have that finding. I know this is how it's been for me. Over 28 years I got fairly good at creating goals and then creating steps to achieve those goals. I applied the same principles to retirement and they have helped me have a great retirement.
And what they say about change is true as well. I have seen and managed through HUGE changes in the working world and the adjustment to retirement was relatively minor compared to those (and a lot less stressful as well).
Once again, the "E" in ESI shows it's importance, though it's not as clear as the book implies. It's not just people who earn more who have better finances, it's people who save from what they earn and then invest that amount to make it grow. It's the whole package. Without saving and investing, the high earner is in the same camp as everyone else.
That's it for this time.
For the next post in this series, see The Retirement Maze, Being Active in Retirement.