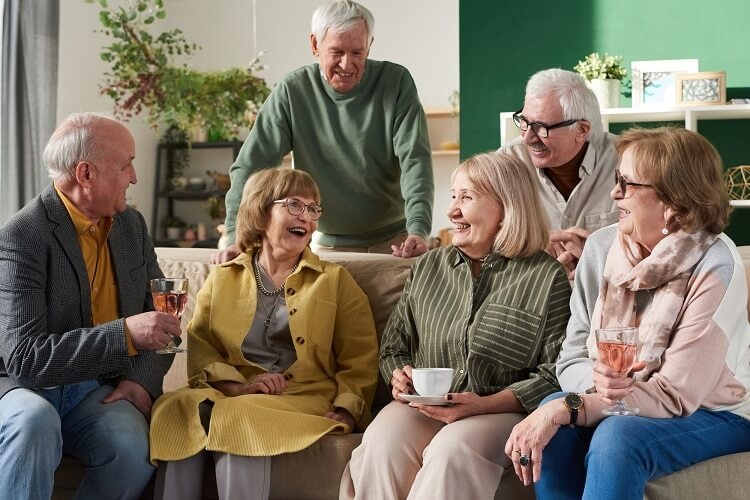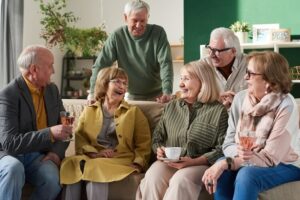 Today we continue our series on the book The Retirement Maze: What You Should Know Before and After You Retire.
So far we've covered several parts of this book. If you missed any and want to catch up, please start with the first post, The Problems with Retirement, and then click through to read the rest in order.
As I've noted, I have a love-hate relationship with this book. But do like it for discussing retirement issues that are generally glossed over by other books (even if this book does go a bit overboard with the negatives).
I'll be sharing key passages from the book as well as my thoughts on them.
Here we go…
Being Active in Retirement
We are now in chapter 11 of the book which is titled "How We Use Our Time."
It's a pretty clear summary of what we'll be discussing today, which is how people stay busy and active (but not too busy and active) in retirement. Like with most things, it's about balance (at least IMO, the book doesn't mention balance that much but I've lived it enough to know it's something to be maintained).
Let's get started with this:
Throughout the previous chapters, we have mentioned the generally accepted point of view that staying active and involved is a good thing for retirees. A fair amount of research has already been conducted on this topic, and the consensus is that being active can play an important role in retirees' emotional and psychological health. With the right types of activities, retirees can feel they are using time in a way that is personally meaningful, and that can add to their subjective well-being and make retirement more satisfying.
Fundamentally, the prevailing thinking on the significance of being active holds that a person who retires moves from the role of "producer" to that of "nonproducer." The resulting feeling of being unproductive can threaten one's sense of having purpose in the world. On the other hand, by staying active, that is, by participating in certain kinds of activities, retirees can feel productive and preserve that sense of purpose. In this vein, sociologists have developed activity theory, which claims that maintaining an active lifestyle is important to mental health, especially for older adults and retirees, because such a lifestyle provides a substitute for the benefits they previously obtained from their careers.
Ok, let's stop here for a minute and summarize.
The book is now getting into areas where I have more agreement with it, namely 1) you need to be active in retirement, 2) you need the right types of activities to meet your various needs, 3) the activities should be meaningful to you, and 4) if you have these activities they will replace the benefits you got from work (and really, so much more!) and you will have an awesome retirement.
After reading a gazillion retirement books (past 50 at this point) I have created a list of five categories that I believe retirees need to select their activities from.
I also have created a huge list of activities for those who are having trouble thinking of what they might do.
Both these categories and activity ideas can be found in my Huge List of Awesome Retirement Activities. If someone can't find a ton of things they like in that list, they're likely beyond hope. LOL.
The book goes on to discuss the relationship between activity and "subjective well-being" with a bit of blah, blah, blah, but they eventually get around to this:
Nevertheless, it's hard to discount the idea that there's at least some positive relationship, even if it's not causal, between involvement in activities and personal well-being. There's lots of evidence that adults who stay active and involved and participate in enjoyable activities are more likely to find their retirements satisfying and fulfilling. So while additional research may be needed to really understand the relationship, it would also seem reasonable to conclude that being active suggests a positive approach to living and at the minimum cannot hurt one's quality of life.
That's a very broad perspective–stay active and you'll be happier. But things are probably not that simple. It's not likely that all types of activities contribute equally to one's quality of life. Researchers have found that the activity itself must be personally meaningful in order to enhance subjective well-being. Activities that tend to be nonengaging or more like chores associated with day-to-day living do little in this regard. It is unlikely, for example, that many retirees get a real sense of fulfillment from housework or raking leaves. On the other hand, activities such as hobbies, writing, photography, or painting may be more psychologically beneficial and can be expected to enhance feelings of productivity and self-worth.
Working from this classification, we consider passive home-based activities, such as relaxing or watching television, and chores to be fairly low grade, while social and dynamic home-based activities are regarded as high quality since they are likely to be better at enhancing subjective well-being. Again, a job is a little more complicated and can be either high or low grade, depending on the reasons why the retiree is working.
This book was written before Wes Moss did the research for his book You Can Retire Sooner Than You Think (which is one of the top retirement books available today IMO).
What he found is that the happiest retirees have at least 3.5 "core pursuits", what he calls "hobbies on steroids". Basically these are interests that people love/enjoy and fill their lives with meaning.
If you have several of these, your retirement life is full of exciting things you love to do and you'll have a great retirement.
If you have one or two of these, your retirement is likely boring (or on the verge of it) and you may or may not be happy.
I have written about core pursuits in several articles. Here are a few of them if you want more information:
From what Moss has said as well as what I've read in other books, have discussed with other retirees, and lived myself, I came up with the five categories and list of activities noted above.
This book goes on to dig into the subject a bit more based on their research/findings that pre-date what Moss did.
Some highlights:
We did find important differences in the way well-adjusted and less adjusted retirees spend their time—those who report a higher quality of life and those who are better adjusted to retirement are more involved in higher-grade activities. And not only do they spend more of their time doing things of personal value, but they also seem to be more emotionally invested in what they are doing. To cite a few examples:
1. Well-adjusted retirees spend an average of almost 25 hours per week involved in dynamic home-based activities and about 14 hours per week in social activities as compared to about 20 and 10 hours, respectively, for less well adjusted retirees. When considered together, that means that well-adjusted retirees spend about nine hours more per week—15% of their activity time, or the equivalent of a full working day — engaged in higher-grade activities than their less adjusted counterparts.
2. In particular, well-adjusted retirees are much more likely to travel and to be involved in projects of personal interest, such as hobbies or projects around the home. Furthermore, about 30% of well-adjusted retirees say they are passionate about their activities compared to only about 20% for their less adjusted counterparts. The less well adjusted tend to do more of their activities just to fill time and seem to get less satisfaction from them.
3. We also looked at retirees in terms of the perceived quality of their lives, and here the differences are even more dramatic. Both spend about the same amount of time doing household chores, but retirees with a high quality of life use much more of their time to do active home-based projects and social activities—45 versus 31 hours per week—while those with a lower quality of life spend much more time in passive home activities, such as just relaxing or watching television — 44 versus 33 hours.
4. High-quality-of-life retirees are also much more emotionally involved in everything they do but seem to be particularly committed to their hobbies and personal projects and to activities outside the home, such as dining out and traveling. Again, for retirees reporting a less happy quality of life, their activities serve more to fill time — they don't have the same passionate commitment to the things they do as high-quality-of-life-retirees.
From all these findings, we can conclude that, while having things to occupy one's time is important, it's more important that activities have some personal value — that they fill psychological needs, such as the need to feel productive. Activities that retirees can feel passionate about work in that way — they help them feel good about themselves and let them feel as though they are using the time in a personally constructive manner.
Lots to comment on here:
I like that they list a time goal for social activities — 14 hours a week. Now they don't say what counts as a social activity, so I'll assume anything that involves other people. So for me, if I play pickleball four times a week for two hours each time, that's eight hours of both active and social time (I love how you can do two things at once!) Throw in some gym friends here, some online connections there, time with family every day (wife) and week (kids), and I am well over 14 hours. Which is way more than enough for an introvert like me.
As for the dynamic activities, they don't define these either — other than to say they are not chores and the like. So my guess on these is that they are the core pursuits Moss discussed and the activities I list. As such, I am well over the 25 hours a week with work on ESI Money and the Millionaire Money Mentors (writing and reading mostly), physical activities (exercise, pickleball, and walking), traveling/outings (whether it's a hike in Colorado or wintering in Florida — which is like 2.5 months of vacation), and a whole host of "a bit here and a bit there" things to keep me engaged and happy.
I can tell you, it's a balance for sure. You don't want too few activities with too little time or you're bored to death. But you also don't want so much stuff you "have to" do that you feel way too busy and it stresses you out. I've been on both sides of the equation in retirement and have had to adjust back the other way. It's a constant challenge but if you're diligent, it's fairly easily managed.
"Well-adjusted retirees are much more likely to travel and to be involved in projects of personal interest." I like to travel — or at least I did pre-pandemic. Now I prefer to take more, smaller trips. In the past year I've been to Vegas twice (though not for fun, my mom was in the hospital there), to Iowa where my family is twice, on a trip with college buddies, out with my wife/family on various day trips throughout Colorado, and now we're preparing for 2.5 months in Florida, which should be a lot of fun.
I'm not sure we'll ever get back to the cruises, trips to Grand Cayman, etc. until we get completely past the pandemic and I'm not sure we'll ever be COMPLETELY past it. We'll see. I'm pretty happy with life as it is now anyway, so if I don't travel much it's not a big loss. BTW, I hate TRAVELING. I like being in a nice place, but the flights, hotels, and so on are one big hassle that sometimes make the trip hardly worth it.
As for hobbies, I guess much of what I do could be considered a hobby: reading, writing, playing pickleball, etc. ESI Money is a hobby for sure IMO and yes, I am passionate about it. 😉
"Watching television — 44 versus 33 hours." Even at 33 hours a week, that's almost five hours a day! Yikes! Really? That's like two movies per day! It's way too much IMO. Now if you put video games in that category, I have had days when a new game comes out that I've played five hours in a day. But that's only when a game I like comes out (which is 2 or 3 games per year at most) and it's certainly not five hours per day every day forever. Ugh. It almost depresses me to even think about that much TV. My guess for us is somewhere between one and two hours per day, usually when we eat dinner and/or we have the kids over for a movie. But that's it. Even in football season, I have the game on in the background (on my computer) while I work in the foreground.
"From all these findings, we can conclude that, while having things to occupy one's time is important, it's more important that activities have some personal value — that they fill psychological needs, such as the need to feel productive." Of course. You need to have things you enjoy doing that meet a wide variety of needs. This, again, is where I came up with the categories and activities list.
Summing Up Retirement Activities
As we begin to wrap up the conversation on this topic, the book shares a few more thoughts worth mentioning:
As a final point, we looked at whether the number of activities matters. While this probably depends on one's drive and financial resources, it seems probable that a retiree must achieve critical mass in terms of hours spent per week in activities, as well as the number and variety of activities undertaken, to achieve the optimal psychological well-being. To answer this question, we focused specifically on the high-value activities, looking at the number participated in by each of our retirement segments. Again, we found a clear advantage going to well-adjusted and happy retirees — they have more things they do regularly and again show a better balance between their social and personal activities. Well-adjusted retirees have about 6.9 activities—3.8 solo and 3.1 social. In contrast, activities for less well adjusted retirees are 6.0 in total—3.5 done alone and 2.5 with a social context. High-quality of-life retirees have 7.3 activities on average—3.7 solo and 3.6 social. Lower quality-of-life retirees average only about 5.7 activities, of which 3.4 are solo and only 2.3 are social.
While the difference in the number of activities between successful retirees and their counterparts is modest, it is in fact meaningful. Keep in mind that each added activity can account for a few hours of time used valuably each week and a few hours less per week doing little or nothing.
When you get right down to it, the activity profiles of successful retirees essentially serve as empirical evidence for variety being the spice of life. This is not to trivialize our findings but rather to remind retirees that adding new and varied activities will likely allow them to feel better about themselves, achieve meaningfulness and fulfillment from their actions, have more fun in retirement, and as a result of all this raise their subjective well-being. And probably the most effective means of achieving a better activity portfolio lies in staying motivated and being willing to experiment. And since it takes some time to find activities that are enjoyable, the key here is to keep looking and be willing to try new things.
Some thoughts from me:
First of all, this is way different than what Wes Moss found. His numbers were 3.5 core pursuits for happy retirees and 1.9 for unhappy ones. So his numbers are way smaller and the difference between them a lot more than what this book found.
Second, I'm wondering if it's the number of activities or the time spent on them that matters (once you fill up enough time). For instance, let's say people need four hours per day of activities they find meaningful. Does it matter if this is made up of one activity that lasts four hours, two activities that last two hours each, or four activities that last one hour each? I'm not sure.
I like the balance of solo and social activities. My main solo activity is ESI Money while my main social one is pickleball. Walking can be either for me depending on whether I'm doing it alone or with my wife. Exercising is almost always solo, other than meeting with my trainer every third week or so. Traveling is always social (which may be another reason there's a finite amount of it I can take) while reading is solo. It's a good mix and works for me.
When people are preparing for retirement, they need to try out some meaningful activities. That way they can then enter retirement with several good ones they like. They also need to be consistently trying new things as they will become tired of some activities they used to love, so they will need new ones to replace those. For me, travel became restricted/not as much fun during the pandemic so I did less of that and more of pickleball.
Now that I write this, I think I need to add a few new activities to my future list in case I get bored with current ones or just want to add more. I have a few past/small interest activities that I could ramp up/add including: swimming (this was my main exercise for years and I wouldn't mind doing more of it in the future), chess (something I'm interested in but not that good at — could spend some more time getting better), volunteering (been looking for a board spot but maybe I should give that up and just dive in anywhere I can), gardening (I used to grow roses and loved it, just doesn't make the priority list these days), and working on business ideas (I have several I might want to try — as long as they aren't too demanding). I could probably find more by looking over my huge activity list. The Villages has a gazillion clubs so I might try some new stuff while down there.
Ok, let's wrap up the topic with the following. This is how they tie everything together at the end of this chapter:
As you strive to compile things to do in your uptime, keep in mind the need for balance between activities you engage in alone and those that have a social component. And within the context of balance, we need to add another albeit somewhat related recommendation — get off the couch and get out of the house. We found successful retirees spend more time in some form of physical activity, such as exercising, playing sports, or gardening. The physical and psychological benefits of these activities have already been discussed and are well documented and can go quite far in building subjective well-being.
Successful retirees are also more likely to travel, even if just on day trips by car. While financial resources can come into play here, they only limit the destinations or the type of transportation used. Day trips are available to all retirees who are mobile, and with just a little effort in planning, you might be surprised how enjoyable your immediate surroundings can be. And to make such trips pay out especially well in personal benefits and provide more balance between your social and personal activities, bring along some friends.
A few final thoughts from me:
Being social at least some of the time is a key to a great retirement and is why it's one of my five "must" categories.
As far as "balance" goes, I'd advocate a balance between the five categories I list, one of which is "fun" and can simply mean relaxing. You don't want to have activities from sun up to sun down every day or you'll tire yourself out. Believe me. There needs to be balance between active and passive pursuits.
That said, I do agree with at least some of those being off the couch and out of the house. Gone are our grandparent's retirements where watching TV all day was what they did. We need to be out, active, and living life.
FYI, we've been talking about activities in this section, but I'd add work and/or work-like (for example, volunteering) activities to the list (and I've included it as one of my five categories). As long as it's something you enjoy and like doing, it can certainly help you meet your quota of fun enjoyable and social activities.
Day trips are highly underrated IMO. Of course we live in Colorado where there are so many great things to do so close, but we've had lots of interesting things in every place we've lived, so I'm sure there are fun things in your area too.
We take day trips as well as longer trips with our family. All of our cruises have included our kids and all but one included my mom and dad. Both Grand Cayman trips included kids and parents. Our cruise to Hawaii included the kids. And now our trip to Florida this winter will include my dad (most likely full time) and the kids (part time visitors — they have to work after all).
Ok, I think you've got the picture by now. Find some retirement activities you love and you'll have a much better retirement — especially if they get you active, take you out of the house, and include other people.
For the next post in this series, see The Retirement Maze, Retirement Relationships.