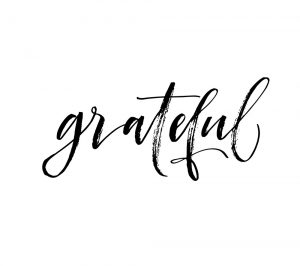 As we approach Thanksgiving here in the U.S., I thought it would be a nice change of pace to talk about thankfulness.
Specifically, I thought I'd list what I'm thankful for and you could do the same.
Now I have been so blessed that I could probably write 10,000 words on all the things I'm thankful for.
Assuming you don't want to read that much, I'll just share my top ten. 🙂
Here they are (in no particular order):
Health – I've talked a few times about my recent fitness journey. In fact, I'm now in the best shape of my life. It's taken a lot of hard work and dedication, but I'm so thankful that I met my trainer and that he was able to help me. I plan on getting even better through the years (though I am fighting time) and feeling even better. Good health allows me to really enjoy and be thankful for all the other things in life and I'm quite thankful for it.
Wife – I couldn't imagine where I'd be without my wife. In fact, it's kind of scary to even think about it. She's been the best part of my life and our family in many areas. I'm so thankful we've been together for all these years and I'm looking forward to many more.
Kids – I have two great kids who I couldn't love more. I'm so proud of them both and so excited to see where their lives go. I know they both have great things ahead of them!
Parents – The rest of my family is awesome too. In particular my mom and step-dad are great and a big part of our lives (we want them to move near us!) My dad is also relatively close to us and keeps in close touch.
Retirement – I never thought it would ever be this good. Seriously. Imagine waking up every day and doing whatever you want to (almost at least — there are still some things you HAVE to do.) When I retired I thought I might go back to work one day. Now I can't see myself ever doing that again (though people still are throwing job opportunities at me now and then).
Finances – Having good finances makes retirement possible. But beyond that, having more than enough and a lot of safety even if things turn south, makes money worries non-existent. That's an awesome feeling.
This site (and the readers) – I LOVE writing here. Yes, it's "work" and a challenge at times but it's something I really enjoy. One reason is there are so many great and interesting readers here who leave helpful and insightful comments. I hope I can get to meet some of you sometime soon (anyone for a financial meet-up/vacation combo in Colorado?) 😉
Colorado – Have I mentioned lately how awesome this state is? I absolutely love living here. Why didn't I move here sooner?
Interests – One of the reasons I love retirement is that there's so much to do: write, read, hike, travel, exercise, and on and on. I am never bored and if anything, I'm looking for ways to dial it back a bit sometimes.
Future – The future is so bright I can barely stand it. I get up at 5:30 am every day because each day is so awesome and full of promise.
So, that's my list. What's on yours?
And of course — Happy Thanksgiving!!!