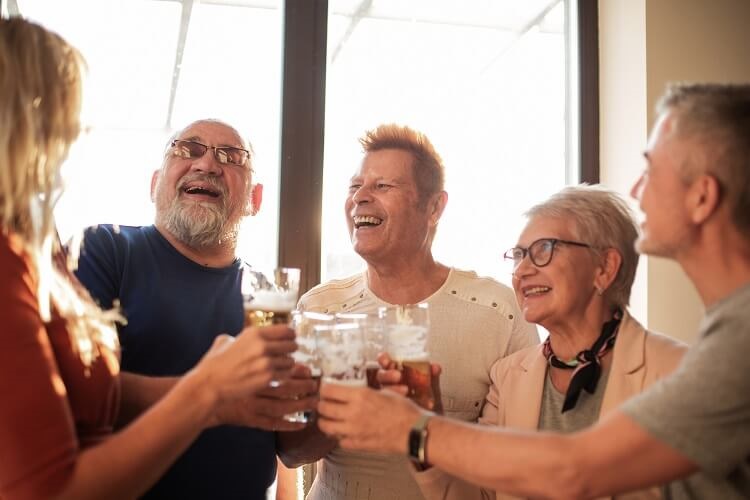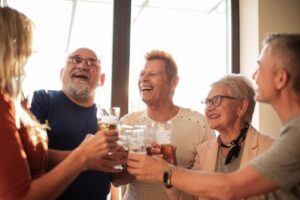 Today we continue our coverage of the great retirement book What the Happiest Retirees Know: 10 Habits for a Healthy, Secure, and Joyful Life. It is packed full of solid information and statistics about the state of retirement today.
If you've missed any posts in this series, there are two ways to catch up. You can begin with the first post, which is an introduction to the book, and click through to the next posts at the end of each one you read. Or you can check out my retirement category and scroll through the posts there.
Note, in this book the author frequently uses HROBs for "Happiest Retirees on the Block" and UROBs for "Unhappiest Retirees on the Block." So if you see these acronyms below, you'll now know what they mean. 😉
Like with other books I've reviewed on ESI Money, I will share some key passages from this one and give my thoughts on their conclusions.
Let's get started…
Social Habits
Chapter 8 begins with this short but clear statement:
Social connection is crucial to survival.
We've been over this time and time again, so this thought is not new to ESI Money readers.
So let's move on to the social habits of the happiest retirees. They are:
To be happy in retirement, you need at least three "CCs" (close connections), aka friendships. More is great, too, but three seems to be the magic number. Unhappy retirees have 2.6 CCs. Happy retirees have 3.6.
As we've seen with the Plateau Effect, more money early on leads to more happiness, but at a certain point, happiness plateaus. There is no plateau when it comes to close social connections. Quite simply, when it comes to close connections, more is better. Period.
Friends are a better happiness currency than money. You heard me correctly. Money can't buy friends — but friends can buy happiness.
Happy retirees make a concerted effort to see their group of close social connections on a regular basis. Once a year or even a few times a year doesn't cut it. Once you've got your three or more CCs, it's critical to make the effort to see them on average once a month.
Organized groups (and even semi- or loosely organized groups) create a powerful social epicenter to maintain social connectedness. HROBs report belonging to at least one group. This could be a group organized around any activity, hobby, or interest under the sun that you can enjoy with other people. The kind of group and level of organization doesn't matter, only that you participate.
Travel with friends is another secret sauce of the HROB. Respondents who reported that they "never" travel with friends are less likely to fall into the happy camp. However, just one trip per year — yes, only one — makes you twice as likely to land in the HROB camp. Start packing!
Many of the happiest retirees go to concerts. This was one of my favorite findings from the latest research. There's a high correlation between loving music and being happy. HROBs know how to move and groove.
Several thoughts here:
FYI, in other areas of this book the author refers to CCs as "people you would call to confide in about very good or bad personal news" if that helps you get a feel for how close a relationship needs to be to qualify as a CC.
I love this book as you can probably tell by now. But one thing I dislike is the habit of rounding down research results to try and make doing the tasks easier. Well, they may be easier, but they also put your happiness in question. For instance, happy retirees have 3.6 CCs and unhappy retirees have 2.6. If you were given this information, what would your recommendation be for those entering retirement? I think it would be to have 4 or more CCs, right? The recommendation to have three seems to put a retiree in the middle of happy and unhappy (and actually closer to unhappy). It just doesn't make sense.
I was worried about having four CCs as I don't have that many close friends…most of my close connections are with family. But in Wes Moss Interview on the Happiest Retirees I asked, "Do family members count in the numbers of close connections or are they just "extra" social connections?" The response: "Close connections are people that you trust, who love you unconditionally, and completely see you for who you are. This can absolutely include family members. It's less important about where people fall on the family or friend category, it's more important about the depth of relationship. This can be a brother, sister, college roommate, neighbor, or golf buddy." Great news for me!
My list of close connections includes my wife, daughter, son, son-in-law, step-dad, and dad for sure, so I'm already at six before I get to some old college buddies, a couple close pastor friends, and some of the people I've met in the Millionaire Money Mentors forums. With all those, I'm way over four. No wonder I'm a happy retiree! Hahahaha.
Money can't buy friends, but money can help with friendships/close connections. For example, later on it talks about traveling with friends. Money can help in this. For instance, we have paid for my parents to go with us on three cruises and three other trips to Caribbean islands. We've done even more with our kids. So money might not be as good as friendships, but it can sure help with them.
I don't see all of my CCs once a month. I do with my wife and kids, of course, but the others are less frequent. I do talk to my dads on a regular basis and communicate with the other CCs regularly…but not monthly.
At this point of my life I try to keep my involvement in "groups" to a minimum as I don't want to clog up my schedule with commitments. That said, I am involved with a few. In real life I have several pickleball groups I connect with weekly (and even more or less frequently). I would also consider the people at my gym to be a group as I see the same set of employees every day and chat with them all. Online, I have ESI Money readers as well (of course) as MMM members. And I have church friends as well.
Before Covid (and hopefully now again) we take a couple trips per year that usually include our close family members (kids and dad). For the foreseeable future I think our plan is to have our big trips in January-March (like somewhere warm to spend the winter) and one in September/October (thinking about Yellowstone this year). Then in and around those we'll have smaller trips like the one my wife and I took a couple years ago to Aspen, my wife's annual trip to see her sisters, and my hopefully now annual trip to see my college friends.
First, I LOVE music. I listen to music every day and have a wide range of styles that I like. I even worked in the music industry in Nashville for five years. But…second…I dislike large crowds…so I do not like concerts. I have been to tons of them (especially when I worked in music) and have had my fill of them. My one exception is musicals. I will pay for great tickets to see an awesome show (I have seen Les Miserables four or five times live and have been hoping it comes to Denver sometime soon).
From here, the book goes on and on into greater detail about each of the items listed above and how having great social connections is vital to being a happy retiree.
I won't share all of those or this post would be many pages long, but I will highlight a few things starting with this:
A recent study conducted by the health insurer Cigna confirmed an epidemic of widespread loneliness, with nearly half of Americans reporting they feel alone, isolated, or left out at least some of the time." Douglas Nemecek, MD, Cigna's chief medical officer for behavioral health, went so far as to say that "loneliness has the same impact on mortality as smoking fifteen cigarettes a day, making it even more dangerous than obesity."
Yikes!
I have never smoked and likewise try to avoid activities that are as bad as smoking.
Like…being lonely…especially in retirement.
Next, there's this interesting stat:
As a culture, we used to have more friends. According to my friend Dan Buettner, Americans had an average of three close friends in the 1980s. Today, with the prevalence of social media and digital "friends" (read: Facebook friends) and more people moving to the suburbs, Dan says that number has dropped to an average of 1.7.
They must mean pure "friends", right? Certainly they can't be including family members here, right?
So what they are saying is that people have half the friends they had a few decades ago. That's a big drop.
Also worth noting — if you are at 1.7 friends, you are setting yourself up for a possible unhappy retirement.
Finally, we'll wrap up the social habits section with this:
Even if you don't love your job — and if you're like four out of five Americans, you definitely don't — seeing coworkers every day can be an easy, low-stakes way to maintain friendships. Or at the very least to have acquaintances. There's a certain level of built-in social inertia that comes with the daily grind. As much as we may hate going to work, studies have shown that disconnecting from that office environment can lead to depression, anxiety, and other health problems.
It is my professional opinion, backed up by data, that after you retire, your network shrinks and you have fewer soft target opportunities to interact with people.
This is how retiring can impact your social life negatively more than almost anything. If all your "friends" (are they really friends or co-workers?) are from work and then you quit work…you are suddenly left without any friends.
It's the same issue people have with their activities and identities. If all your activities are work-related and your identity is tied to work, all those go away when you retire — and you're left in a very bad spot.
The answer to this potential problem is that before you retire you need to GET A LIFE. Yes, GET A LIFE!
If your friends, activities, identity, and everything else is tied up in work and work alone, you need to make some changes. Find friends outside work. Create some non-work activities. And begin to separate who you are (as a person) from what you do (as work). If you do these things in advance of retiring, your odds of having a great retirement improve dramatically.
Let' move on…
Health Habits of the Happiest Retirees
Next the book talks about what happy retirees do health-wise, summarizing their activities with the following:
Happy retirees are fans of the "ings." These are low-cost forms of exercise like walking, swimming, biking, and hiking. That doesn't mean HROBs are out running marathons every few months. But it does mean they don't succumb every night to those other treacherous ings: sitting and watching HBO.
Happy retirees gravitate toward a healthy diet. In fact, you are three times more likely to be a happy retiree if you follow the Mediterranean diet. Vegetarians, and even those who prefer a "meat and potatoes diet," don't fare too badly, either. Of course there's no perfect happy retiree diet, but HROBs take their food intake seriously, and generally stay away from fast food.
Happy retirees report white wine and gin as their favorite alcoholic choices. That's right: you don't have to be a teetotaler. Go grab a bottle of nice gin, Campari, and sweet vermouth, and make yourself a Negroni.
My thoughts on these:
We'll talk more about exercise in a moment, so I'll leave that out for now. But I do walk (average 20k steps a day) and hike occasionally. I also play TONS of pickleball. That said, I also watch TV almost every night for an hour or two. But I do make sure I've had an active day almost every day before I watch anything. We eat supper while watching and it's a nice way to create some relaxing time before bed.
My diet does contain meat, but is also low carb and done with intermittent fasting (I only eat during eight hours of the day). We also limit sweets and fast food, and have plenty of greens (mostly salads). Yes, we do indulge from time to time but those are mostly for special occasions like holidays and birthdays.
My wife and I don't drink, so this isn't an issue for me. In general, I do not like to drink calories anyway (water and coffee are calorie free).
I'll share a few more comments from this chapter but as you can imagine, it's a long (and important) one.
Let's begin with this:
Being active is vitally important and that's not an idle word choice, If you want to stay vital, a word that shares a Latin root with the word alive, you must incorporate some kind of exercise into your life.
The happiest retirees are active. They make exercise a staple of their weekly schedule, if not their daily routine. HROBs love the ings, high-impact activities such as: Walking, hiking, biking, jogging, running, and swimming.
Then there are the racquet sports, tennis and badminton. I'm not exaggerating when I say these sports might unlock the secrets of the death-defying Galapagos tortoise. A Danish study followed more than 8,000 people over a period of 25 years to determine which physical activities most affected longevity when compared to a sedentary lifestyle. What they found was remarkable: tennis added 9.7 years to life expectancy. Badminton tacked on 6.2 years. The runners-up were soccer (4.7 years), cycling (3.7), swimming (3.4), jogging (3.2), and calisthenics (3.1).
Why is tennis so good for you? The researchers aren't sure, but they have a couple of theories. First, tennis and other racquet sports are a form of interval training, which means they consist of short bursts of high-intensity activity as opposed to a protracted period of steady exertion.
Second—and perhaps more significant—racquet sports require two or more people. As a result, these games foster regular social interaction that, as we saw in the last chapter, is proven to support the mental and physical health of older people. A long solo bike ride is healthy. A shorter weekly bike ride with a group might be healthier.
Some thoughts from me:
I have a view on working out — I'd rather pay the trainer than the doctor. So I have a trainer. We meet every three weeks and he gives me a new routine (weights-based). I then do this routine and past ones he's given me three times a week for three weeks until our next meeting. On three other days each week I do cardio training he's recommended based on heartrate zones.
In addition to the above, I walk 20k steps per day. The first big walk is usually done after my workout and breakfast and involves listening to a book on tape or podcast. The second big walk of the day is with my wife and we catch up on what's happened that day, our plans for the next day, and so on.
And, of course, I play pickleball frequently, anywhere from two to six times a week (usually for 2 hours at a time) depending on the time of year and what else is going on in life. When I play, I like to play. In other words, I don't like to stand around. This is why I prefer private courts where I can book a court time and play that entire time (compared to a park where it's free but I play and then have to get off the court while others play, then back on, and so on.) Playing for two hours straight does give a low-level elevated heartrate for a long period of time which I think contributes to my relatively low resting heartrate (usually in the 50's).
As for the love of tennis in this book, I asked about it in Wes Moss Interview on the Happiest Retirees saying, "You list tennis and badminton as great sports to play in retirement. I'm wondering where pickleball lands in relation to them. Any idea? (Note: It may be too early in the life of pickleball growth to know this as it's a much newer sport)." To which the author replied, "I'm putting in a call to my editor right now to add in pickleball to that list! I love pickleball, and so do happy retirees. Pickleball is a great activity for retirees as is tennis and badminton. Basically, anything with a racquet and you can't go wrong." Hahahaha. LOVE IT!!!!
Pickleball is most definitely a social sport. It's also a fairly friendly sport where having a good/fun time is as important as winning. Not that tennis isn't, but it's hard to have conversations going back and forth when you're as far apart as you are on a tennis court. In pickleball you're much closer and there's generally an on-going chatter of "nice shot" and the like. Plus pickleball is dominated by doubles (much more doubles play than singles) which is the opposite of tennis.
Other than tennis, what sport is associated with retirement?
You got it — and here are the author's thoughts:
The catch-22 is that golf is one of those things that gets a lot more difficult to start the longer you wait. If you've never cooked a day in your life, you could still become a phenomenal chef starting at age 70, 80, or 90. When it comes to mastery in the kitchen, age is irrelevant. Golf, on the other hand, is different. It's a lot easier to pick up golf as a 10-year-old than as a 70-year-old.
Long story short: starting golf at an older age is not impossible. But if you're thinking of picking up a club, do it soon, because it gets more difficult the longer you wait. Golf checks multiple boxes at once: it's a core pursuit, a physical activity, and a way to be social.
Hahaha. This is my problem — I think it's too late to take up golf.
Besides, even in retirement, I'm not sure I want an activity that takes up 4+ hours to do.
Here's the summary of all this:
There's not really a wrong way to be active. In my mid-forties, I'm constantly coaching my kids in various sports or chasing them around the house. My wife and I try to ing whenever we can, even when all we have time for is walking the dogs. And I've always got my clubs in the back of my car.
Basically, get out there and move in your preferred way.
And if you select something that also adds in a bit of social activity — then all the better!
A Retiree's Best Friend
Here's a boost for dog lovers out there:
Anyone who has a dog can attest that they're good for you. A recent Time magazine article published the facts and figures to back it up. Studies have shown that dogs can lead to lower levels of stress; they've also been found to decrease the risk of asthma in children and have been linked to lower blood pressure.
Perhaps best of all, dog owners are more active than your average person. As opposed to sitting on the couch, trying to summon your better angels, and forcing yourself to take a walk, you suddenly have an urgent reminder in the form of a lovable furball staring up at you with his leash in his mouth. Who can say no to that?
If you want a surefire way to be more active, have more fun, and make a lifelong friend, consider getting a dog. Your local shelter is full of animals who are looking for their forever home.
Some thoughts from me:
So we had the dog versus cat debate before we got our cat. It came down to a few factors, namely we found the cutest baby in the world (on the positive side) and dogs are way more work (on the negative side). So we got a cat.
Getting a cat has been one of our best retirement decisions. Zeus brings so much love and life into the house that it's hard to imagine life without him.
Plus, we walk a lot on our own, so if having a dog to remind you to walk is a major reason for getting one, it's not one for us.
All this said, having a pet does put a damper on your travel a bit. You can't go off for a month at a time — not that we'd want to do that anyway. When we go on a longer trip, we pay someone to move in, stay at our house, and care for kitty. When we go somewhere for a longer period of time (like 2.5 winter months in Florida), we take our baby with us.
Being gone for most of the day is no issue at all when you have a cat…but can be when you have a dog. So in the end, cats are just a lot easier to care for. And if you get a good one, like we did (since we had him here to try him out when my daughter visited), you can get one that has many of the positive personality characteristics of a dog.
Well, that's it for this time. For the next post in this series, see What the Happiest Retirees Know: Home Habits.