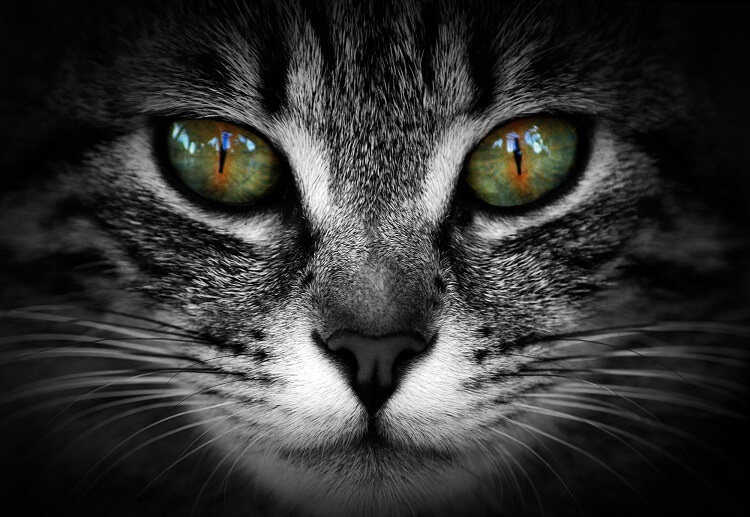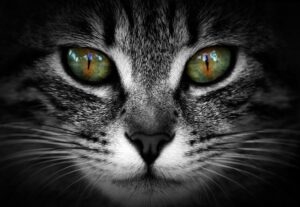 One of my favorite songs of all time is "The Long and Winding Road" by the Beatles.
This post is likely to resemble that song and could be named "The Long and Winding Post".
So if you're not into the backstory of my history with pets/cats, you can jump to the money stuff below where I "get to the point."
On the other hand, if you're interested in how we came to own a cat after 20 years as non-pet owners, stay tuned.
Pet Hater
Before I dive in, I want to note that I've written about pets for many years.
In particular, I've talked about how expensive they are (for example, see item #2 on Five Great Money Saving Tips People Hate) and have recommended that people who are strapped for money not get pets.
For this I was called a pet hater more than once.
It's not that I dislike pets. In fact, I love them. But if you can't afford ANYTHING, you shouldn't get it.
And since pets are way more expensive than most people think and a lot of pet-based spending is done emotionally, I have always urged caution for those who already have spending issues and are considering getting a pet.
Leave it to me to hit on the one thing even more controversial than cutting your coffee purchases. LOL!
One "funny" related story.
Early in our marriage we had a relative who was terrible with money and in a lot of financial trouble.
He couldn't afford food for his kids, so we gave him some money (I think it was around $200) to help him get by.
The next time my wife talked to him he thanked us for the money, noting that it had allowed him to get a cat.
UGH!
Anyway, I love pets and am 100% ok with people getting them — as long as they can afford to take proper care of their pets. That's it.
Growing up with Pets
We always had pets when I was a kid.
Our first was Sport, a collie/German shepherd mix who my parents got from a neighbor when I was a toddler.
Sport and I were inseparable and best buds throughout his life/my early life.
Later on, we got our first cat, Flora. She was a nightmare. No one liked her (except my mom) and she liked no one (except my mom).
Of course her hatred for me could have stemmed from a 6-year-old chasing her all over the house with a broom and then poking her with it when she fled under the bed. She didn't like that much.
When I was in fourth grade we got a second cat, Freda, who was the exact opposite of Flora. Freda was loving, friendly, and awesome in almost every way.
It stayed that way for many years: mom and me with Sport, Flora, and Freda.
Eventually Sport died when I was entering high school and the four of us then moved in with my step-dad when my mom remarried.
During my high school years we got another dog, but Freda was my love. She would sleep with me at night and play by day. She was the best.
Our dogs were great too, but I wasn't as connected to them because they lived outside (our cats were inside-only). Living in the country the dogs roamed free and were never on a chain. It was a good life for a dog.
Getting My Own Pets
When I finished grad school and finally bought my own place, one of the first things I did was go to the animal shelter for a cat or two.
I opted for cats over a dog simply because cats are so much easier to care for. I was working a lot and there was no way I could manage a dog.
My plan was to get one or two cats depending on what I could find. I found a brother and sister pair of kittens (Tigs and Darlin) and snatched them up.
As I was leaving there was an older, bigger kitten that meowed at me, begging me to take him.
He had a week or so left before he was scheduled to be put to sleep, so I told myself I would call back in five days and if he was still there, I'd come back for him.
I called, he was still there, and I went to get him. I'm so glad I did since Bandit became one of my three great cat loves (Freda was the other, and there's one coming below).
The three cats had a lot of room to roam as I owned a three-bedroom condo with almost no furniture (who needs furniture as long as you have a bed and a TV?) Haha!
We lived through a couple trials like a flea infestation and the cats using my 1970's shag carpet as their personal potty, forcing me to replace the carpet in the entire house.
But I loved them and we had an awesome time together.
A couple years later I got married and my wife had her own cat, an orange tabby named Pumpkin.
We became a blended family and after a rocky start, Pumpkin was accepted into the pack.
Shortly thereafter we moved and a few years later the kids started showing up.
Eventually our kids began having symptoms we couldn't explain. We took them to the doctor and found they were allergic to cats (dogs too).
As painful as it was, we found homes for all four of our cats and the kids' symptoms disappeared.
The Go/No-Go Decision
As the kids got older, it seemed as if they had outgrown their allergies.
They had no problems when we visited my mom and dad, who owned two cats and a dog.
So we considered whether or not to get a pet. My son wanted a dog and my daughter wanted a cat.
Eventually we decided not to for a few reasons:
The hassle factor. Our lives were busy enough without a pet and we didn't need any more complications.
We weren't home a lot. My son played various sports on traveling teams and there were many weeks we just weren't around much.
We weren't 100% positive that the kids' allergies were gone if they had long-term exposure to a pet.
By this time, the kids were at an age where if we did get a pet, my wife and I would probably end up owning the pets ourselves after the kids grew up and moved on. We weren't up for that.
My wife liked the ease of house-cleaning without a pet.
Therefore we decided not to get pets at that point, knowing the kids could always get a pet when they had their own homes.
Along Comes a Cat
That's how we ended up living 20 years with no pets.
Then my daughter got married this past July and her pent-up pet wishes ended with her getting 10 cats in just a few months.
Yes, ten. I only wish she had stopped there, but that's another tale.
Anyway, her husband was on some sort of maneuvers for a week (he's in the Army) and she decided to visit us at the end of September 2019.
She asked my wife if she could bring one of her cats with her. My wife and I decided "no" since our house has been pet free and we wanted to keep it that way.
But my daughter isn't easily swayed. And my wife can be worn down if one is persistent enough.
My daughter proceeded to ask, ask, and ask again until my wife said "yes". So when my daughter arrived she had a one-pound, four-month-old kitten.
He was the smallest thing I'd ever seen in a cat that old.
Here's his brief history:
My daughter had adopted him a couple months earlier.
He was the runt in his litter (which was why he was so small).
She named him Zeus (all her cats were named after Greek gods) which was ironic given his size.
It didn't take long for me to fall in love with him.
As you cat owners know (or really anyone who's been around cats), when you get a cat it's the luck of the draw. They might be sweet (Freda) or want to kill you (Flora). And most have an attitude of some sort. Just getting a cat is a big roll of the dice (which is yet another reason we hadn't ventured into cat ownership).
The best way I can describe Zeus is a dog in a cat's body. He is friendly, loving, sweet, and so very cute.
Since we knew he was awesome, it eliminated the possibility that if we got a cat we'd end up with a dud.
I saw my chance to have one last, amazing cat in my lifetime.
The $1,000 Cat
After a few days we were at the kitchen table with Zeus and my daughter asked if I wanted him. I blurted out, "I'll give you $1,000 for that cat."
I think both my wife and daughter choked a bit (for different reasons).
My daughter said that sounded good to her and we had a somewhat loose agreement (I still needed to get my wife's ok, of course.)
I gave such a large number because I wanted to be generous, make it happen quickly, and not go back and forth in negotiating. I wanted a number that would cut to the chase and $1,000 seemed like a round number that did so.
Then we hit a snag. My daughter talked to her husband. They decided that $1,000 wasn't enough — they needed more. Plus they had other restrictions, including (at one point) us taking a second cat (one we knew nothing about and I suspect was a Flora-like flop.)
These add-ons were non-starters for me, especially since I had tried to be so generous. Despite the fact that I already loved baby Zeus, my daughter went home with him a few days later. My wife was thankful since she didn't want a cat anyway.
But as they say, absence makes the heart grow fonder. As the days passed, I grew more fond of the kitty I let slip through my fingers. It didn't help that my daughter kept texting me pictures of him saying he missed me!
I started talking to my wife about us taking Zeus after all. Let's just say she was a firm "no".
But as I also told you, she can be worn down, so I started that process while negotiating with my daughter. Eventually we agreed on $1,000 plus a $5 per hour raise (she runs social media for me on ESI Money) as long as I could get my wife's buy in.
Eventually my wife relented and said ok. The deal was set.
BTW, my wife loved the cat too and has since fallen head over heels for him. Her main issue was that she didn't want the responsibility (I agreed to do the litter, feeding, etc.) She was also relieved that Zeus was much less responsibility than training the guide dog I had considered getting. Haha!
My wife, daughter, son, parents, and I then all gathered in Florida for our October trip to Ft. Myers Beach. My parents had driven from Iowa and were driving back. Their route just so happened to go by my daughter's house in Kentucky. Once the vacation was over, my wife and I flew back to Colorado while my parents headed out by car, stopping to pick up the cat on their way.
I spent one night at home, then drove to their house the next day. I picked up the cat in Iowa since it was an 11-hour drive one way versus 16 hours if I had to drive to my daughter's. Plus, since my parents were selling their home and hitting the road in an RV, this would probably be the last time for me to visit my hometown.
I got the cat on a Sunday night, stayed Monday, and drove him home on Tuesday. He's been at our house ever since and has both gained a lot of weight (still small for a cat but probably about seven pounds now) and become king of the castle.
Cat Finances
Along the way, we racked up several cat-related expenses.
Of course we had no supplies (other than a few things my daughter gave us) so we needed cat litter boxes, toys, food bowls, and on and on.
Then we needed consumable items like food and litter.
We needed a vet. The cat had been battling a cold/infection for a month or so when we got him (he had it when he visited here) so we had a couple vet appointments to handle that, including medicine he had to take.
And, of course, he came with fleas. We had a full-court press to kill them all before they took over the house.
In addition, Zeus had not been neutered, so that was scheduled. Then we debated whether or not to have him declawed.
Every cat our family (my mom and dad) ever owned (probably 10 to 12 in total) had been declawed. My cats and my wife's cat had been declawed. But somehow over time declawing became a "bad" thing to some — with people on both sides debating whether or not it was "right".
We tried training Zeus to scratch a post instead of everything else. We also treated the furniture to try and keep him from scratching. We did all we could to get him to scratch the post and not the furniture. He did love the post. But he also loved the couch, the chairs, and the new curtains.
When she agreed to take Zeus my wife had stipulated he had to be declawed. I was wavering on this and did all I could to get him to focus on the post.
The deciding factor was our vet. When we went in for the pre-neuter visit we asked about declawing. He told us the following:
He used laser declawing which was supposed to involve less pain after surgery as well as deliver better results long-term.
In addition, they gave six cold laser treatments as part of their declawing fees to speed healing.
If we wanted him declawed, the vet said we should do it when he was young and at the same time as the neutering to minimize trauma.
The clincher was that the vet said he had numerous clients who had left cats with their claws and all was fine until something happened — they had a kid, they got a $5,000 couch, etc. and the cat went crazy clawing everything. So they were faced with either declawing a seven-year-old cat or getting rid of him — both bad choices.
So we got him declawed. The healing process was quite an ordeal as we babied him for a month like he was a newborn child (including setting up a bed in his room to sleep with him to make sure he didn't pull the stitches). When I was growing up our cats would come home from declawing one day and the next we'd be running them through the house. I guess cat stock has gotten weaker through the years. 😉
Anyway, we made it through with no issues and he's completely fine now.
Breaking all the costs into categories, here's what we've spent on Zeus since we got him in November:
Purchase price: $1,000.00
Vet: $960.31
Vacation: $600
Food: $499.71
Supplies: $92.21
Tower: $92.50
Toys: $68.02
Total: $3,312.75
Some explanation:
The purchase price is the lump sum as noted above. The $5 extra per hour is not in this number. It's an expense for ESI Money.
The vet costs include everything — getting rid of the infection and fleas, neutering, annual shots, and declawing.
When we went to Hawaii we hired a friend to stay in our house and take care of Zeus. We paid $50 a night since we wanted to be generous (going rate was more like $40 per night). Having the sitter did provide house security as well, which I liked, but since we've traveled before and just left the house empty (and the neighbors watched it), the main reason for the expense was the cat.
Since he was so small, we have only fed him top-notch kitten food (and lots of it). His preference is for Blue Buffalo but he's also had Science Diet.
Supplies are things like litter pans, scoops, mats, can lids, scratching posts, bowls, etc.
I bought him a six-foot cat tower that he loves. It's his main vantage point (it faces a window) in his room (he has my daughter's room as his own — where he spends the night and many a day in the sun. The room includes a bedroom with en suite bathroom.) LOL!
I spent a lot on toys, especially a couple automated ones. His favorites ended up being basic — a mouse on a string and any box we get — so we don't buy cat toys any more. 😉
As you might imagine, 1) we don't skimp when it comes to our cat (and we don't need to) and 2) we have spent a bit more than average.
To highlight this, our house sitter told my wife, "I don't believe in reincarnation, but if I did, I'd want to come back as Zeus." Haha!
BTW, if you want to see pictures of Zeus now and then, I post them on my Instagram regularly.
Average Costs of Owning a Cat
Just to completely round out this post (and compare my costs to what others pay), I found the following ranges for the average annual cost of cat ownership:
Lifehacker says first-year costs for a cat should be $1,035, which is what Business Insider lists as well (because both used the ASPCA as their source).
All About Cats says, "In their oft-cited 'Pet Care Costs' publication, the ASPCA (American Society for the Prevention of Cruelty to Animals) estimates that a new cat will cost $1,174 in their first year. With the costs of bringing a new cat into the family aside, the ASPCA determines that each successive year will cost $809."
Petfinder lists first year costs as $405–$2,285 with each year after that ranging from $340–$1,825.
PetCoach says, "While the actual cost of owning a cat is highly variable, the average cost to own a cat is $809 per year, with the first year averaging $1,174. As most cats live an average of 9 to 15 years, this becomes an average lifetime cost of $7,646 to $12,500."
So we're a bit above average. But our cat deserves it. 😉
The Benefits of Pets
In addition to being a sweet baby that brings us joy, it appears Zeus offers several other perks I had not considered.
While surfing the web the other day I ran into this piece on the benefits of pets for older adults. The highlights:
Research shows that pet owners (primarily of dogs and cats) can decrease their risk of coronary heart disease, the most common cause of death of men and women 60 years and older.
According to the American Heart Association, studies have shown that pet owners have lower blood pressure, lower resting baseline heart rates and blood pressure, significantly smaller increases in heart rate and blood pressure in response to stress, and faster recovery from stress.
In one early study, Erika Friedmann, professor of organizational systems and adult health at the University of Maryland School of Nursing, even found higher survival rates of heart attack patients who owned pets.
Sally Morgan, a physical therapist for people and animals in West Hatfield, Mass., elaborates on the social and emotional benefits for people over 50. "They may find themselves living alone for the first time in years after a spouse dies, a divorce, or even simply after the children move out of the house," she says.
The healing power of pets has a scientific basis, too, with studies showing that this type of interaction releases the anti-stress, calming hormone oxytocin in animals and humans.
Pioneering South African researchers Johannes Odendaal and Roy Meintjes first demonstrated the reciprocal release of endorphins (oxytocin and dopamine) in studies they conducted with humans and dogs in 2003. Petting dogs also results in decreased levels of the primary stress hormone cortisol.
For older people unable to care for a dog, Caregiver Volunteers of Central Jersey matches therapy dogs with homebound older adults for weekly visits. Whiteman, the executive director, says the group partnered with a local university to measure blood pressure after the visits. They found that blood pressure in the older adults decreased, as described in a study in the Journal of Community Health Nursing in 2016.
Although research has focused on dogs, experts see some of the same benefits with owners of cats, rabbits, birds, fish and other pets.
"Cats get a bad rap," says Beverly Roberts, a 64-year-old registered nurse who lives in Somers, Conn. She and her husband George have a Maine coon mix, Anthony, and a regular tabby, Boots. "Cats are very independent, and sometimes you feel they're the boss of the house," Roberts says. "But they can sense feelings. They can be very aloof, but not to us. If we're sick and in bed, they watch over us. And when they sit on your lap, you feel like your stress is being released."
With all this in mind, many retirement communities have pet-friendly policies.
Reviewing these, I think pets could fill a couple important needs in retirement.
As noted in the book You Can Retire Sooner Than You Think
(I covered it in How to Have a Happy Retirement), the happiest retirees have social interaction and a good number of core pursuits. Pets could help fulfill these.
Now I'm not saying that pets replace human interaction and probably would not have even suggested they offer a "social" benefit except the comment above says they might. It appears people may derive at least some "social" interaction from pets. It might be a stretch to say that, but it's worth at least mentioning IMO.
Something that's probably more palatable for most is that having a pet could be a core pursuit. As noted in the happy retirement post above, "The happy folks have at least 3.5 core pursuits — the activities and interests they love to do." Having a pet could be one of these for sure, helping people get to a higher number of core pursuits and thus have a happier retirement.
As for all the other benefits of pet ownership, I'll take a "decreased chance of coronary heart disease, lower blood pressure, lower resting baseline heart rates and blood pressure, significantly smaller increases in heart rate and blood pressure in response to stress, faster recovery from stress, and higher survival rates of heart attack." What's not to love about those?
That said, having a pet is more responsibility and for a retiree who wants to travel a ton, it could put a crimp in your style.
As for us, we will probably take one vacation per year like the cruise around Hawaii or the past trips we've had to Grand Cayman where we can't take our cat. For those, we'll go with the pet/house sitter for him.
For our potential winter quarters in Florida (if we ever get that figured out), we'd probably drive and take him with us.
Anyway, that's my history with pets as well as an update.
What are your thoughts on pets, associated costs, and the retirement pros and cons to having an animal?