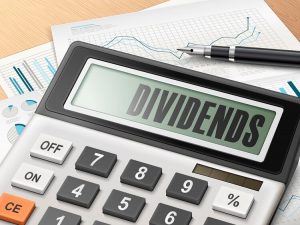 The following is a guest post by Millionaire Mob, a blog focused on ways to better your financial future through passive income, dividend investing and travel hacking.
As many of you know, I am a big fan of side hustles and have also talked a bit about dividend investing (including offering specifics on it from a friend of mine.)
Personally, I don't think it's a one-or-the-other decision, but I've always preferred a side hustle to dividend investing. So I was intrigued when the Millionaire Mob blogger offered an alternative view.
Let's see what you think of his reasoning…
————————————————-
What if I told you there is a way to make money without working and make progress towards your retirement goals? Does this sound too good to be true? Well, it isn't. With dividend investing you position yourself to increase your income AND get closer to your retirement goals.
Why Dividend Investing is Right for You
Historically, dividend investing has been viewed as a risk-averse way for retired investors to be involved in the stock market. Not anymore…With the speed of news and information, dividend investing is by far the easiest, most-efficient way to make additional income from the stock market.
I've been enamored with the number of cool online tools associated with investing whether that be zero-commission brokerages, real-time information, automated trading, etc. The list goes on. But, in the case of dividend investing, this couldn't be better suited for today's generation of millennials.
Building a dividend growth portfolio should be fun, simple and stress free. If you set up your goals the right way from the start, you should have a new side hustle income…without the hustle part.
How Dividend Investing Beats a Side Hustle
A number of personal finance enthusiasts like myself, strive for income appreciation. You should too! However, there are several reasons why dividend investing will always take priority over side hustles.
1. The ability to kill two birds with one stone.
Dividend investing is the only way (that I know of) to both earn income AND get closer to your retirement goals. If you know of another way, I'd love to hear it in the comments.
When I reference your retirement goals, I mean that for every dollar contributed to your dividend portfolio you should be that much closer to retirement. Dividend stocks will have a residual component outside of your income, so you can convert to cash value in a very liquid manner.
2. Unlimited residual value potential.
To expand on my first point, as you invest in a stock you are investing in the future value of earnings at a price discounted today. Hopefully, if you set out a specific plan upfront, you will be in great shape to recognize significant earnings appreciation. Thus, leading to an increase in the stock price…and dividends, too.
Let's look at one of my favorite examples. Nearly 70 years ago, Russ Gremel, of Chicago, invested $1,000 worth of stock in Walgreen's. He had a simple mantra. People will always need medicine and women would always buy makeup. Russ went into it knowing that he would own the stock for a very long time.
In 2017, Russ turned 98 years old and realized that his Walgreen's stock was now worth more than $2 million. He donated all of his stock to the Illinois Audubon Society. Be like Russ.
3. Side hustles take a lot of time…They aren't called 'hustles' for nothing.
With dividend investing, you really do not need to devote significant amount of time to monitoring your portfolio. Back to my point of technology capabilities in the information age. We have real-time information coming directly to our hands via our iPhones at any given moment. There is limited need to go scouring the web.
With a side hustle I've seen countless individuals think they are on the brink of achieving greatness with their new side hustle but end up achieving marginal return for maximum effort. Don't get me wrong. I love side hustles. I've even built a list of over 23 proven online jobs that you can use as side hustles. However, our time is precious. Spend it wisely. Just like your money.
Our single goal in achieving financial freedom is to increase our earnings on a per hour basis. And dividend investing has some of the best earnings per hour spent out there.
Based on my most recent dividend portfolio statement, I should earn $728 per year for doing absolutely nothing. I don't even need to invest more money to earn that income. I like to invest in dividend growth stocks, which means I should see that income increase over time.
What happens if I continue to recycle my income AND contribute to the dividend portfolio over time?
4. Compound interest is the 8th wonder of the world.
Oh, hey compound interest. As Albert Einstein once said, "Compound interest is the eighth wonder of the world."
Side hustles have limited ability to generate compound interest. Yes, you can increase your clients or sell more products over time. As an established business, you can make the argument that you can reinvest that profit into your own business and generate amazing compound interest. Holding that aside, dividend growth investing with reinvestment is the single best way to maximize your total return over the long-term.
5. A side hustle can go away.
If you are going to retire early, or for a matter of fact, just retire in general, you will need additional income beyond what is being inherently generated from your retirement accounts — even more so if you'd like to retire early. A side hustle should make up a substantial amount of your post-early retirement income, but it can't be the only income. You must diversify yourself with income that will go on forever. Dividends can do that.
I like to think of my retirement accounts as 'slush funds.' They are true assets, but I can't rely only on them. I must build my income and assets now with the utmost urgency possible.
Why Dividend Investing is Suitable for Anyone
Dividend growth investing can be done by anyone. In fact, you may be a lot better at it than you think. I'm a firm believer that investors that keep their strategy the simplest will eventually win the race.
Here are a few pointers I learned during my days as an investor, investment banker and finance monkey:
1. Stick with what you know.
Why would you invest in the next dog walking app when you can't get enough Coca-Cola?
2. Invest in businesses you understand.
If you don't know how it makes money, it's not worth being in your portfolio.
3. Avoid the herd.
Just because everyone loves Netflix doesn't mean you need to invest in it.
4. If it's too good to be true, it probably is.
Someone promising that a stock is guaranteed to return 123%? Or, the next cryptocurrency is about to take off? Pass on it.
5. Do the opposite of financial pundits on TV.
Remember people on TV are often not inclined to give the best advice.
6. Only you know your risk tolerance and your investment comforts.
Stick with your gut. Do your own homework. You will end up in great shape.
I love investing, so dividend investing gives me another hobby. It also helps me achieve a number of goals without being a significant time suck.
To build your first (and only) dividend portfolio, find 20-30 stocks that you'd like to invest in. Scale into your investments over time. You do not need to be invested in all 25 stocks from the get go.
Next, set aside money to automatically be contributed to your portfolio and continue to reinvest all income and contributions into your portfolio — preferably on small dips in the share price. Dividend growth investing is a marathon and not a sprint. Be patient and have a plan.
Finally, go out and enjoy your life. Learn something new. Travel the world. There's a lot to learn and a lot to explore.
Are you ready to start your dividend journey? Do you have any questions that I can help you with as you begin investing in dividend stocks? Let me know in the comments below. I'd love to hear from you!