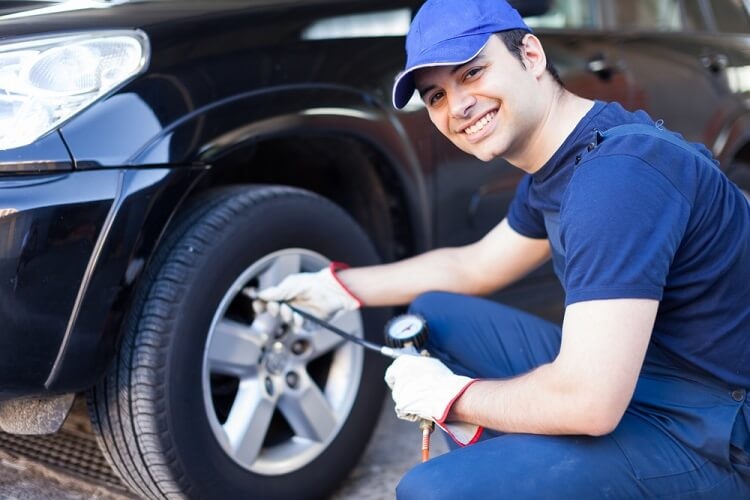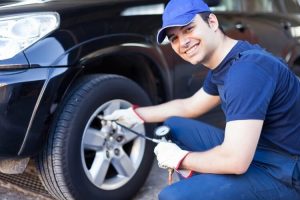 Here's a long, winding story that eventually pays off with a simple money saving tip.
It's a tale of how something I never thought was a thing is actually a thing.
And if you know about it, you could save yourself a bit of money.
Let's get the story started…
Freezing Weather
It all starts with very cold weather here in Colorado Springs.
We had just gotten back from Grand Cayman when we were hit with a cold streak.
By "cold" I mean our highs were about 10 degrees or so.
By "streak" I mean it was for 3-4 days, which is a long time for us to be that cold.
Early in that streak I drove my car and the low tire pressure light came on.
This is fairly common when the temps drop big-time. The cold makes the tire pressure decrease which in-turn trips the low pressure sensor. I have had this happen many times over the course of my life with this car (2011 Highlander).
Air and More Air
I noticed on the way home that there was a line at the air hose at a local gas station, so others were having the same issue.
I could have simply waited it out (for warmer temps to come back) but just in case I pulled in, waited my turn, and filled up the tires. And the light remained on.
A couple things worth mentioning here are 1) I have mis-placed my tire gauge so I had no idea which tire was the issue (so I put air in them all) and 2) the indicator does not tell you which tire has the issue.
The next day I saw the same line and put more air into my tires as well. The light remained on. This was my last trip though as I was afraid I was putting too much air in the tires. I figured the light would go off once it warmed up and the pressure adjusted.
The third day I left my car in the garage since the light was bothering me (though there was no noticeable low tire by looking at them) and instead took my $10 car.
Sure enough, its low tire pressure light went off a few miles from home. And there were still lines at the gas station when I went by. I did not stop this time.
One Light Goes Off
By the fourth day, it was beginning to warm up (40 degrees or so) and when I drove the $10 car the low tire pressure light turned off. The warmer temps helped the pressure get to the point where it was no longer below the minimum.
I moved my Highlander out into the driveway (the garage was still cold) hoping the same would happen to it.
No dice. The light remained on.
I tried it again the next day when it was even warmer. Nothing happened. I drove it around hoping to heat up the tires and turn the light off. But there it was, shining as bright as ever.
Off to Costco
Obviously we needed to escalate the issue to get it resolved. So I planned to stop by Costco (where we got the tires — BTW, they are only 15k miles old or so) to see what they could do.
After a movie one day my son and I stopped in to the nearby Costco. We told one of the garage guys our issue and he told us to pull up.
He had this handy hose to check tires. He set the machine to the correct tire pressure, then hooked the hose to each tire. It then automatically added or took out air to get each tire to the right pressure.
No surprise, each tire had too much air in it. Oops.
I didn't mention that I had made two stops to put air in, but the guy probably knew.
He reset the car using a button under the dash. He said sometimes when tires are rotated/aired this button is not reset and maybe that was the issue. If it was, the light should go off within a mile or so.
If it didn't go off, his best guess was that there was something wrong with the pressure sensor and I would need to take it to the dealer.
Now as we all know, you can't go into a dealer service area without dropping a ton of money. It costs at least $70 just to drive into their garage!
So I was dismayed when we were a mile down the road and the light remained on. Ugh.
A Dealer Appointment and My Wife's Determination
When I got home I asked my wife to make an appointment at our dealer that was convenient for her schedule (she works part-time and has some outside meetings so she's way busier than I am).
She set an appointment for the next week when we had time and they had an opening.
A couple days before that appointment my wife said she was going to take my car to Tire World (where we get our oil changes) and see if they could do anything.
I told her that was fine, but if the experts at Costco couldn't find it, my guess was that Tire World wouldn't either.
Well, as is often the case, I was wrong. She came home and the light was off.
What was the issue? The tire pressure in the SPARE TIRE was low.
Yes, the spare tire that's stored in the back of our car under the trunk area.
I didn't even know that the sensors worked for the spare tire (though I'm impressed someone thought of that). My wife said the guy at Tire World said most people don't know that.
I'm even more surprised that Costco doesn't train their people a bit better on this. Seems like a very easy fix that anyone in the tire business should know.
Anyway, there was no cost at Tire World and we saved whatever the dealership would have charged us.
So the cost saving tip here is to be sure to check your spare tire with other tires if your low tire pressure light is on. It just might save you a costly trip to the dealer.