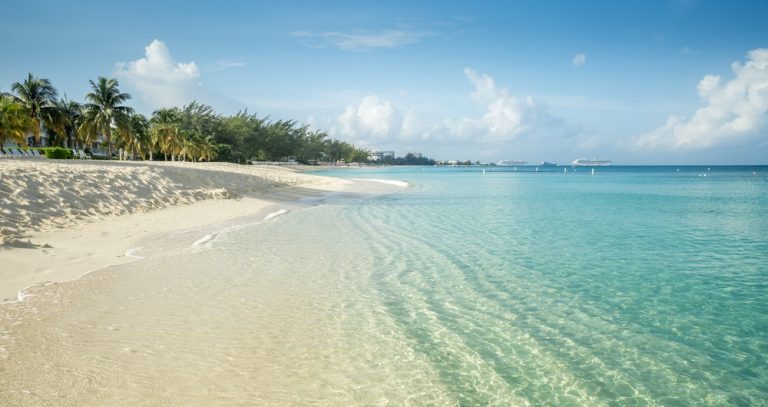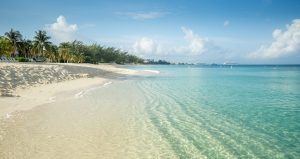 After we canceled our cruise, we began looking for Caribbean islands to visit.
I still hadn't given up my desire to go to the Caribbean in early 2018, though I was wondering what our options might be since we were starting to look in mid-October. I was thinking we might have slim pickings by scheduling at the "last minute".
As I said in the initial post, we wanted to consider islands that had not been impacted by the hurricanes. Not that we didn't love many of the islands that were hit, but we just weren't sure they would be fully ready for visitors — we needed to go in January before my daughter went back to college.
Also to set the scene, there were six of us going — the four in my family plus my parents. Just wanted to clear as that has an impact on what we ultimately decided to do.
The Contenders
My wife and I discussed options and narrowed the possibilities down to three islands:
Grand Cayman — On every cruise we've been on, we've asked people what were their favorite islands and why. Two answers seemed to come up time and time again: St. Martin and Grand Cayman. People love St. Martin because it's so beautiful and easy to be on the beach/near the action at the same time. We agree (we've been there twice and love it). In addition they name Grand Cayman because they say the snorkeling is the best in the Caribbean (the underwater life is more colorful). Since most of us love snorkeling and have never been to Grand Cayman, this made our list.
Aruba — My wife and I took my parents to Aruba 25 years ago or so. It was before we had kids and helped me fulfill a lifelong goal — to take my mom somewhere very nice. We were MUCH less experienced travelers then and I think we missed much of the island. But we loved it, so we thought going back would be somewhat familiar but also offer plenty of new things too (it had been a long time anyway). Plus our kids had never been here.
Hawaii — My parents have been to Hawaii several times and my wife has been once (when her brother was stationed there) but the kids and I have never been there. And now that our home is closer to Hawaii than ever before, the flight is shorter than ever before.
Once we decided on these, it was agreed that my wife would do some initial research, see what our options (hotel, flights, etc) were, and we'd decide from there.
Soon after we made those plans, I went to my college homecoming for a week (stopping to see my parents along the way). When I got home, my wife had done the most research on Grand Cayman. It just seemed to stand out from the other three. So we decided to focus on it and see if we could make it work.
Where to Stay on Grand Cayman
After we checked flights to be sure we could get there relatively inexpensively and without a two-day schedule (many of the flights from Colorado to the Caribbean require overnight travel), we needed to look for places to stay.
The first decision impacting location was 1) do we want to be in the heart of the action or 2) do we want to be more private?
The first option would mean we'd have easy access to places to eat, activities, and the like. We could walk to them with little effort. It also meant we'd likely be somewhere on Seven Mile Beach.
The latter would meant it would be quieter, but if we wanted any action we would need to arrange transportation there (which could increase both the cost and the hassle-factor).
As we debated pros and cons of each we also ran into another factor that was impacted by location — whether we wanted to stay in a hotel or a house/condo.
There were mostly hotels in the "heart of the action" while we could choose a larger place if we went out a bit.
Action Hotel Versus Privacy Condo
By the time we were looking (late) at hotels in the heart of the action, we had limited options. We had two main choices: 1) a high-end hotel that would be pricey but do-able or 2) more modest, affordable hotel.
We knew we wanted enough room to make us comfortable. Four of us in a hotel room with two beds was not going to work — it was simply too crowded.
So our choice was to buy a suite, which even in a "more affordable", nicer hotel costs a fortune.
That took option #1 off the list.
Option #2 looked promising though. We found the Comfort Suites.
I know, that was my first reaction too: "I'm not spending my nice vacation in a Comfort Suites!"
But my wife assured me it was nice (4.5 star rating on Trip Advisor), so I considered it.
They had some amenities that were actually pretty good, so we kept them in the hunt. More on this later.
As for the "off the beaten path" option, we found what we thought was a decent compromise: the Windsong Villas where we could all stay (including my parents) and that was at the very end of Seven Mile Beach. So it wasn't in the heart of the action but was relatively close. It also had some stores and restaurants close and the transportation from there to the action seemed easy.
The condo (there were four units in one building) had very high ratings on Homeaway/VRBO, so it seemed like a great option.
What Did My Parents Want to Do?
All along we had kept my parents in the loop and asked them for input. They were open to any island, but once we got to hotel rooms, we wanted to give them specifics since the decision was going to impact their costs.
For our cruise, we agreed that we would pay for all of the room except for $2,000, which they would pay. This meant we would be out about $8k for the room and they would make up the other $2k. (remember, we had an upgraded two-room, two-bath suite on the ship — that's why it was so pricey).
So here are the options we presented to them…
Comfort Suites Option 1:
Comfort Suites Option 2:
We could each have a room with two doubles plus a single sofa bed and each have one of the kids in our rooms.
This would be $3,121 per room. The total would be $6,242.
If we did this option, my parents could pay $2,000 for the room (for housing one of the kids) and we would pick up the other $4,242.
These rooms were a little bigger than the King room and had a kitchen sink.
Windsong Villas:
Condos 1, 2, and 4 were available when we looked.
Cost for one condo would be $5,438, so my parents could pay $2k here too or perhaps even a bit less. We could pick up the rest.
We would each have our own bedroom and the kids could share one (two twin beds, so they didn't have to sleep together which at their ages would be awkward).
Plus there was a kitchen, at least two bathrooms, living room, etc.
My parents liked either option that would keep their lodging cost to $2,000 (they had points, so their flights were free).
BTW, this entire discussion was later moot when we decided to pay for the entire condo as a Christmas present to my parents, but we didn't decide on that until into December.
Hotel or Condo? The Pros and Cons
So it was down to option #2 at the Comfort Suites or the Windsong Villas.
We broke down the pros and cons of each to make a decision.
The main pros and cons of the Comfort Inn were:
It's right in the middle of all the action.
The beach is much nicer (according to online reports).
We probably wouldn't have the extra expense of a car.
The hotel had a free breakfast (which meant we'd probably eat up in the morning, then have one large meal out in the late afternoon.)
It's a hotel and a bit cramped (three to a room would be better than four to a room, but not great).
We could cancel at the "last minute" (within 15 days of going).
The main pros and cons of a Windsong Villa were:
A bit out of the way. Pro: It's quieter. Con: Transportation cost and hassle.
The beach there is ok for snorkeling, but is kind of rocky just to "be on the beach." (FYI, there were conflicting reports on how nice the beach was — some said it was "ok" and others said it was nice).
MUCH more room. We would be able to be together more and spread out.
No free breakfast but we could make our own in the kitchen.
Cancelation policy wasn't as good (60 days before arrival date.)
Great reviews (and lots of them!)
Had snorkel gear ($10 per person for our stay) and paddle boards (free) for use.
After a bit of back and forth trying to decide which one was better, we went with the Windsong Villas. The deciding factor was that it gave us room (patio, living room, etc.) to sit and visit with each other which was why we were going together.
Then, of course, we had the whole other process of deciding which villa to go with. That was a process in and of itself, so I'll save you the debate and just tell you that we decided on Villa #2.
Flights and Cost Comparison
Flights were next. We booked a few days later for roughly $500 a flight. (BTW, the flight costs for the three islands we considered were all in the same neighborhood.)
We booked everything with our Costco Visa which gave us 3% cash back and travel insurance.
And since I'm a finance nerd and this blog is about money, here's how our expenses compared versus the cruise.
Cruise costs:
Ship Suite: $10,000
Ship fees ($15 per day per person): $900
Concierge and housekeeping tip (not required, but we like to do this): $150
Excursions (4 excursions for four people at $100 each): $1,600
Flights: $2,000
Hotel (couple days before departure): $300 (I'm assuming we could use points for one day)
Food around hotel: $150
Less what my parents were paying: ($2,000)
Grand total (not counting miscellaneous costs): $13,100
Grand Cayman Costs:
Windsong Villa: $5,438
Excursions (3 excursions for four people at $75 each): $900
Flights: $2,000
Food: $1,000
Car: $1,000
Less what my parents were paying: ($2,000)
Grand total (not counting miscellaneous costs): $8,338
Now to be fair, the cruise was 12 days while the Grand Cayman trip was 9 days, though there were only 10 ship days (the other two were in San Juan).
So the cost comparison is that the cruise was 18% more expensive on a cost per day basis, but 57% more on total cost (almost $5k).
If we had stayed more days on the island, the cost per day would have dropped as the flight costs would have been spread out over more days. But that's getting a bit geeky even for me.
Plus, these were ESTIMATED costs. We knew the cruise ship costs were close since we've been on three cruises previously. But were the island costs accurate?
Stay tuned for that and more. Over the next couple of weeks I'll share with you all the details of the trip, some great pictures, and a total cost breakdown.
Update: To see details on our trip, check out Grand Cayman Trip and Tips Part 1.