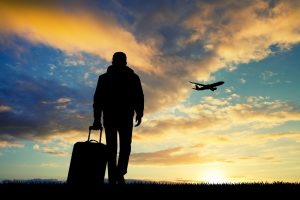 In August I asked whether or not travel hacking was worth the time and effort.
I got responses on both sides but I'd say most were in the "yes" camp.
Good thing since I had already started my travel hacking adventure. 🙂
More on that next week when I'll share my results so far and what I think of travel hacking in general.
Today I want to cover what I consider to be the keys to travel hacking — the steps needed to make the most of it.
I'll probably leave some things out since I'm still a newbie, but I'm sure those of you who are more advanced will fill in the details.
Making the Most of Travel Hacking
The way I see it, there are seven steps to making the most of travel hacking:
Set a goal
Develop a strategy
Apply for credit cards with big bonus points
Spend the minimum amount to get the bonus points
Move on to the next card
Accumulate enough points to take action
Redeem points to get the most possible from them
I'm going to cover these briefly and explain the general issues involved in each.
Step 1: Set a Goal
Your goal for travel hacking simply may be "save money when I travel." (This is mine, BTW. I didn't really have a focused goal.)
That said, the more specific a goal you have, the better your results.
What are some examples of specific goals? A few ideas:
Pay for a large portion of a trip to Disney
Fly my daughter back and forth from college
Save on hotels during an around-the-country car trip
These will give you better results since they will help define which steps you should take next and which ones are wastes of time.
Step 2: Develop a Strategy
Now that you know what you want to accomplish, it's time to map out a plan to get there.
As you might imagine, there are a large number of points programs, multiple partners within each (check out this chart if you don't believe me), and a variety of other factors that can get you off track if you're not very specific.
For instance, you'd hate to rack up a ton of points in program A if it turns out your savings would be best in program B.
So once you know what you want to achieve, take some time and list out your plan for getting there.
Step 3: Apply for Credit Cards with Big Bonus Points
There are entire sites dedicated to helping you select the best cards with the highest bonuses.
Of course what is "the best" is determined by what you're trying to accomplish. There's no one-size-fits-all solution for every plan.
My recommendation is to simply go to Google and search for "best points credit cards and bonuses for _________" where the blank is where you're trying to accumulate points (Disney trip, free flights, free hotel stays, etc.)
By the way, many of the cards with the highest point bonuses come with an annual fee. Some of these are waived for the first year and some aren't. If you pay an annual fee, you'll need to take this cost into account when determining whether or not a card is worth it.
Step 4: Spend the Minimum Amount to Get the Bonus Points
Each of the cards will have a minimum spend and a time frame to get the bonus.
For example: "Earn 50,000 bonus points when you spend $4,000 in the first 90 days."
Obviously, you'll need to hit these spending thresholds to get the bonuses.
It helps to have your potential spending in mind before you apply for a card. There's no use in getting a card that has a $4k requirement if you only have $1k of spending the next three months.
It goes without saying that you should NOT spend anything you wouldn't normally spend to get a bonus. It kind of defeats the purpose of saving money.
In addition, you'll want to pay off your cards every month or it's also a bad idea.
And this seems to be the place to address the credit score issue. According to the "experts" who do this, opening a new card hits you with a temporary 5 to 15 point drop in credit score.
Supposedly it rebounds after a short period of time.
I don't know if this is true or not (I didn't check) but if you are planning on borrowing soon or have a low score already, travel hacking probably isn't for you.
Step 5: Move on to the Next Card
Once you reach the minimum spend on card #1, it's time to move to card #2.
Then after card #2, go to card #3.
Churn those cards out as fast as possible to rack up the rewards.
One caveat: you are limited if you go with cards issued by Chase.
Chase has a 5/24 rule which in its most basic form means "You will not be approved for a new card if you have opened 5 or more bank cards in the past 24 months."
There are a whole lot of asterisks associated with this statement (like which cards are included in 5/24 and which ones aren't), so check the fine print before you get any specific card.
BTW, you can work around 5/24 and make it 10/24 if you have a spouse. You each get five cards in 24 months.
Step 6: Accumulate Enough Points to Take Action
If you need 80k points with a certain company (airline, hotel, etc.), work until you reach that, then that's all you need to do.
With a more-general "save money on travel" goal, it will be a bit harder to decide when to stop, but to do anything meaningful you're probably going to have to have at least 100k points.
If you're going for a more vague goal, my suggestion is to have some sort of point-related objective in mind. Something like "accumulate 200k Ultimate Rewards points."
Step 7: Redeem Points to Get the Most Possible from Them
This is where you can REALLY make some big money.
It's also the biggest headache of this entire process IMO.
The reason it's such a mess is that there are a gazillion ways to spend your points. It's often so complicated you need to consult a site like Award Hacker to help yourself out.
That said, here are some general guidelines for consideration:
You can redeem the points directly with the entity you wish to use (i.e. American Airlines). This is generally seen as the least-effective way to spend the points (in many cases, not all).
If you go with Chase, you can usually get a bonus for booking through their portal (not sure if other aggregators do the same). So a flight that would normally cost you 30,000 points might cost 25,000 or less.
You can find a partner company of the entity you wish to use and book through them. This is common for airlines. For example, you might see an American Airlines flight for 30,000 points but find out that British Airways (an American Airlines partner) has a flight that uses the EXACT SAME PLANE and it only costs you 15,000 points. Big, big savings here.
As for getting the most value out of your points, this seems to be the general consensus from what I've read:
If you get 1 cent in travel value for every point, this is considered weak.
If you get 1.5 cents in travel value for every point, this is considered decent/acceptable.
If you get 2 cents (or more) in travel value for every point, this is considered good.
Here's the above information with examples:
A flight costs $300 and you get it for 30,000 points (i.e. each point is worth 1 cent. Weak.)
A flight costs $300 and you get it for 20,000 points (i.e. each point is worth 1.5 cents. Decent.)
A flight costs $300 and you get it for 15,000 points (i.e. each point is worth 2 cents. Good!)
I see all sorts of points/values debates, but I believe these general guidelines are accurate.
So, that's what I see as the keys to travel hacking. Did I miss anything? Did I get anything wrong?
Submit your comments below to add some intelligence to this post. 🙂