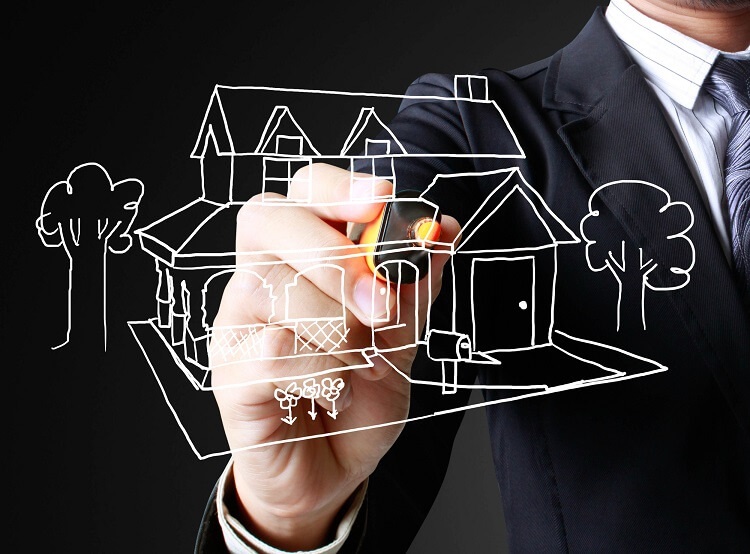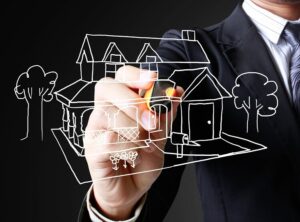 Here's our latest interview with a millionaire as we seek to learn from those who have grown their wealth to high heights.
If you'd like to be considered for an interview, drop me a note and we can chat about specifics.
This interview took place in July.
My questions are in bold italics and his responses follow in black.
Let's get started…
OVERVIEW
How old are you (and spouse if applicable, plus how long you've been married)?
I'm 42 and my wife is 41.
We've been married for 13 years
Do you have kids/family (if so, how old are they)?
We have a 10 year old boy and a 6 year old girl.
What area of the country do you live in (and urban or rural)?
We're in a large urban city in the US South.
What is your current net worth?
$3.7M
What are the main assets that make up your net worth (stocks, real estate, business, home, retirement accounts, etc.) and any debt that offsets part of these?
I have the following (approximately):
$4.7M in real estate assets including both our personal residence + 30 single family rentals
$150,000 in cash accounts (checking / savings)
$700,000 in retirement accounts
$400,000 in a cash value life insurance policy
$50,000 in "other assets" (vehicles, jewelry, etc).
Our debt is almost exclusively "good" debt. We have $2.2M in outstanding mortgage or mortgage equivalents against the equity in our real estate portfolio (again, including our primary residence).
The only other outstanding debt that we have is $35,000 in credit card debt (low-interest cash loans – this is by design, we are paying only 3% a year to "borrow" this money) and $21k in an auto loan on one of our 2 cars.
Debt breaks down like the following:

I live and die by this chart.
Right now my debt / equity ratio is at a near all-time high. I've heard some investors say they are comfortable up to a 60%, 70% or even an 80% debt / equity ratio. I don't envision a future where I'm comfortable above 50%.
My current plan is to reduce this to 25% or so over the next year and a half, before re-deploying capital again.
This wash-rinse-repeat process for deploying capital is a really powerful tool that I think most investors don't usually consider. I call it "recycling" or "recirculating" money and it can be a great accelerator when used prudently. If you invest correctly, the money is never really gone — simply re-deployed to highest and best use.
EARN
What is your job?
Advertising sales. Senior director.
My wife has a similar job.
What is your annual income?
We jointly earn approximately $700k per year – $400k for me, $300k for her.
Tell us about your income performance over time. What was the starting salary of your first job, how did it grow from there (and what you did to make it grow), and where are you now?
I made $23k my first year in sales out of college at age 22.
By luck and good fortune I found myself stumbling into the booming internet / digital advertising industry. I gradually increased my income from $70k/year to $150-200k/year for the bulk of my career.
The last 5 years, I've been at nearly the peak compensation for my skillset as an individual contributor. I've earned nearly $400k the past 4 years.
I've dabbled with management a bit but at this stage, I'm completely happy to end my "day job" career in a lower-stress, individual contributor role.
What tips do you have for others who want to grow their career-related income?
I've been in sales my whole career – again, not by design, more by happenstance.
That said, being able to sell with confidence is an incredibly powerful and flexible tool that has served me well during my career and in every aspect in life. Even if you are an introvert, even if your job couldn't be further from selling — having some basic sales skills is invaluable. You need to be able to sell yourself during job interviews, sell your ideas in a meeting, sell your spouse and family on your plans – doing this in a highly skilled manner yields amazing dividends.
The other thing I tell people is to ask themselves constantly: "am I adding value?". This is true regardless of your role, level, or title. I've worked jobs where my role felt marginal and I've worked jobs where I felt like I was mission critical to success. I can tell you that job safety and career longevity comes to people who approach things from a service-, value-oriented POV. These are the people that last longer, avoid layoffs, and ultimately make more money.
What's your work-life balance look like?
For all my desire to escape the 9-5 rat race, I've got it pretty good.
During normal times, I travel quite a bit. I'm on an airplane 3-4 times per month visiting clients around the country. The travel, while tiring, is my favorite part of the job. I love getting out on the road, visiting new places, meeting people, eating out, and going for a jog in a new city or neighborhood. I often get bored when I'm home for long stretches of a time (2-3 weeks) and get itchy to get back out on the road.
My wife also travels for work which can become troublesome from time to time. Juggling travel and trying to give our children our undivided attention is difficult. We've done a good job of balancing this and ensuring that both of us aren't simultaneously traveling. We've only had issues with this once or twice before.
We've designed our life such that our family comes first and career takes a back seat. This was not always the case when I was younger — this was something I have learned with age and wisdom.
Do you have any sources of income besides your career? If so, can you list them, give us a feel for how much you earn with each, and offer some insight into how you developed them?
Besides our W2 incomes, we gross about $300,000 from our real estate investments (netting $200,000 or so).
It's safe to say we are "all-in" on real estate. I started by buying a single family rental back in 2007. I've slowly and steadily grown my portfolio to where it is today – 30+ homes.
SAVE
What is your annual spending?
Outside of debt service, we spend roughly $9-10k/monthly or $120k/year.
We definitely enjoy a fat"ish" FIRE lifestyle.
What are the main categories (expenses) this spending breaks into?
Our expenses break down as outlined below.
Note that we DON'T include our debt service in here as we consider this to be a steady expense that we budget and plan for separately.
We are on a long-term debt reduction plan as discussed previously and our personal and business-related debts are considered part of that strategy.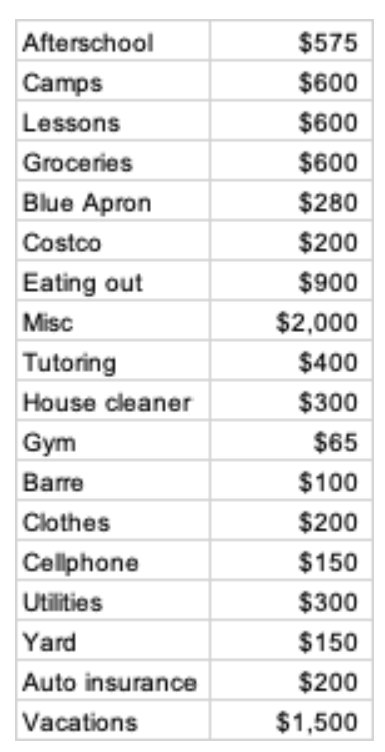 In terms of big categories, certainly our kids are a big ongoing expense. They are both in public schools but have a variety of lessons, tutors, and camps that they participate in.
Food is another big category and an area where fortunately, we don't have to budget for or cautiously check prices. We basically eat out as much as we want and simply back it into our spend expectations.
Then there are the ongoing subscriptions and "bills" – Netflix, water, electric, gas, cellphone, yard service, gym memberships, house cleaner, etc. We budget quite a bit for vacations — we like to travel frequently and while not lavishly, we also don't hold back.
We enjoy nice vacations and down-time. I've also marked a big bucket for miscellaneous — this might be car repairs, something the kids need for school, presents, or unexpected expenses that might pop up. Some months, this might be $500, some months it might be $4,000, but I think $2,000 is probably a reasonable average.
Do you have a budget? If so, how do you implement it?
We keep a "rough" budget. We know pretty much what we spend and do spot checks throughout the year.
That said, we're very fortunate and have never had much of an issue of "lifestyle inflation". We live well, but also well within our means.
If I wasn't married sans kids, my budget would be a fraction of what it is here. 😉
What percentage of your gross income do you save and how has that changed over time?
Easily 50%+ of our income goes into investing.
We don't live super-large and have always been committed to huge savings/investing from early in our careers.
As our salaries have grown so has our proportion of investing versus expenses
Again, while we live a nice lifestyle, we live within our (rather) substantial means.
What's your best tip for saving money?
Start somewhere. Even if it's $10 per paycheck or $40 per month, you've got to start somewhere.
Also, I can't emphasize the importance of an emergency fund. Saving $2,000 or $3,000 and then having it wiped out by a car repair or an emergency can be devastating. Always have a buffer.
What is your favorite thing to spend money on/your secret splurge?
Travel. We love going places and doing fun things with the fam. We don't think twice before we take a vacation.
Also – I love a nice meal every once in awhile though my wife could care less.
Also, my wife drives a nice car (foreign) but we did buy it used at a substantial discount.
INVEST
What is your investment philosophy/plan?
Live below your means and save at least 30% of your income.
As you advance in your career and your salary grows, save MORE of your income and keep lifestyle inflation in-check.
I have tons of friends that earn similar incomes to my wife and I, but they cannot keep their lifestyles under control — over-the-top vacations, luxury cars, new clothes at every turn, country club memberships, private school, etc.
Secondly, we believe whole-heartedly in cash-flowing real estate. I have 30 single family homes in blue collar, emerging areas that will be the foundation for us for the rest of our lives. I've done fix-and-flips (and made quite a bit of money) and I have done appreciation plays. The best strategy, by far, for building wealth is to buy-and-hold real estate that cash flows from day 1.
What has been your best investment?
I bought a few single-family homes at the absolute bottom of the 2008 financial crisis. Several of them were less than $30k apiece. One was $7,500, one was $9,900.
Those homes have cash-flowed steadily for 10 years *and* they are now worth $100k and $130k respectively. That's some killer ROI.
What has been your worst investment?
My very first house –on paper– was a terrible investment.
I bought it for $75k at the peak of the market in 2007. It proceeded to drop (on paper) in value to $15-20k.
I couldn't keep it rented at first until I figured out a system.
I stumbled and bumbled through my first house – but fast forward 13 years later and that same house is now worth $150k and produces $1100 / month in rent.
Enough time forgives almost all poor investments in real estate.
What's been your overall return?
Oh man – no idea.
It's been pretty wicked growth between value-add, a few flips along the way, some passive investments. I couldn't even venture to guess.
Real estate is so different than index or stock investing, it's really tough to speculate across dozens of deals and 13+ years.
How often do you monitor/review your portfolio?
I'm a pretty active manager. My "master doc" tab is open nearly all the time in my browser.
I'll do a deep dive once every quarter to ensure everything is on pace. I keep everything in my main excel spreadsheet – it's a list of all properties, taxes due + paid, date bought, current value, current cash flow (gross + net), debt repayment plans, outstanding debt, debt rate, etc. It also includes my current 5 year plan – both acquisitions and divestures, but also tracks net worth and debt to equity ratio.
This is financial bible. If I'm achieving the big things (retiring debt, acquiring properties, hitting 5 year plan targets), the little things simply matter less – month-to-month budgeting. It's a much more satisfying way to live once you achieve a certain level of income and net worth.
NET WORTH
How did you accumulate your net worth?
I've made a six-figure income for over 10 years. That's important. My wife has had a healthy six-figure income for the last 5-7 years as well. You can't invest money if you're not making money.
I then invested in smart, cash-flowing real estate deals that made sense on the day I purchased them. It was never speculation. Just simple buy-and-hold. No home runs, just singles and doubles.
I live pretty hardcore by the Warren Buffett quote: "Rule #1 – Don't Lose Money; Rule #2 – Don't Forget Rule #1."
What would you say is your greatest strength in the ESI wealth-building model (Earn, Save or Invest) and why would you say it's tops?
Invest.
Invest is a mindset – I operate my investing from a mindset of abundance, not scarcity.
We have a mentality of "don't make dumb mistakes" and "don't lose money".
'Earn' is tough because not everyone is willing to make sacrifices or change their career in order to achieve financial freedom. A nurse or teacher is certainly more admirable and worthwhile to society than a salesperson, but there are definitely relative sacrifices in terms of salary. I just so happened to find a job I was good at, enjoyed, and paid well.
'Save' is probably the second most important skill in ESI, saving a huge portion of your income can have dividends regardless of your income. Saving $25k of a $50k salary will yield independence faster for someone, than even saving $50k of a $300k salary.
What road bumps did you face along the way to becoming a millionaire and how did you handle them?
I've been laid off from jobs, I've had bad real estate deals, but I've ALWAYS stayed focused on the task at hand.
I'm a big picture guy — the little bumps along the way are minor.
What are you currently doing to maintain/grow your net worth?
I'm shifting from single family to multi-family investing. More scale, faster wealth accumulation, and it's about to be a great time in the economic cycle.
I'm also paying down debt. This will accelerate my net worth substantially over the next 5 years.
I should easily blow by $8M or $9M in the next 5 years.
Also — cash value whole life. Key growth pillar.
Do you have a target net worth you are trying to attain?
I always told myself $12M by 65 would be a really nice lifestyle in retirement.
Now that I'm so far ahead of where I thought, I'm thinking big. $50M? $75M? Why not?
Is it possible to create generational wealth and leave a legacy for my family and fund charities? That would be incredible.
How old were you when you made your first million and have you had any significant behavior shifts since then?
I had a goal to be a millionaire at 35 and I hit it 6 months late at 35 and a half.
I've changed nothing since.
It's true what they say – the first million is the hardest. Since that time I've nearly quadrupled my net worth in less than 6 years.
Power through, set your milestones and then you'll be amazed how you knock them out!
What money mistakes have you made along the way that others can learn from?
I cashed out my 401k. TWICE after being laid off early in my career. It wasn't much money, but it was just a dumb move.
What advice do you have for ESI Money readers on how to become wealthy?
Earn more money if you're willing to. If it's not your W2 job, find a good lucrative side hustle. That's key.
Then be methodical and relentless for a long time.
Time heals a lot of money mistakes if you are relentless and consistent.
FUTURE
What are your plans for the future regarding lifestyle?
I plan to leave my day job in the next 18-24 months. I then plan to invest in real estate full-time.
We'd also love a vacation home somewhere — Costa Rica? Jamaica?
I'm doing some freelance consulting around real estate. I'd love to help more people become financially free. I'd also love to consult small businesses on streamlining their operations.
What are your retirement plans?
I love to read. I'd love to have more time to read.
Spend more time with my kids.
Take up golf? Learn to scuba dive.
Live more in the present and be less focused on the future.
Are there any issues in retirement that concern you? If so, how are you planning to address them?
I don't want to lose my edge in retirement. I want to stay sharp.
Also – who am I going to engage with? Other early retirees? Elderly folks? Stay-at-home moms?
MISCELLANEOUS
How did you learn about finances and at what age did it "click"?
I've always been very motivated by money — even from an early age.
I think I watched my parents live paycheck to paycheck and not have much financial literacy. I told myself I would never be a 60, 70 year old man, working 5, 6, 7 days a week.
Who inspired you to excel in life? Who are your heroes?
I admire my parents' work ethic and honesty. They pushed me hard and I think it's rubbed off.
Do you have any favorite money books you like/recommend? If so, can you share with us your top three and why you like them?
The 4-Hour Workweek
by Tim Ferriss is a great mindset book. It set me on my way over 10 years ago and greatly changed the way I viewed the world. It shifted my mindset from a work-for-money mentality to maximum output for minimal effort.
Michael Masterson's Automatic Wealth
and Seven Years to Seven Figures
were also really influential early in my wealth building journey.
Do you give to charity? Why or why not? If you do, what percent of time/money do you give?
We have a handful of charities that we are close to that we regularly give to.
I'm also on the board of a nonprofit that we participate in heavily.
Our current percentage is low – maybe 2% of our income. But we have big plans to expand this over time.
We have a charitable foundation in our 10 year plan as well as scholarship opportunities at my college.
Do you plan to leave an inheritance for your heirs (how do you plan to distribute your wealth at your death)? What are your reasons behind this plan?
Yes. We're going to give something to our children but we don't know how much yet.
We're frankly just getting to the point where it is an issue. As we grow our wealth, we need to start some real estate planning.
We both feel strongly that we shouldn't give our kids too much money, nor too early. We just haven't thought through the finer points of this yet.