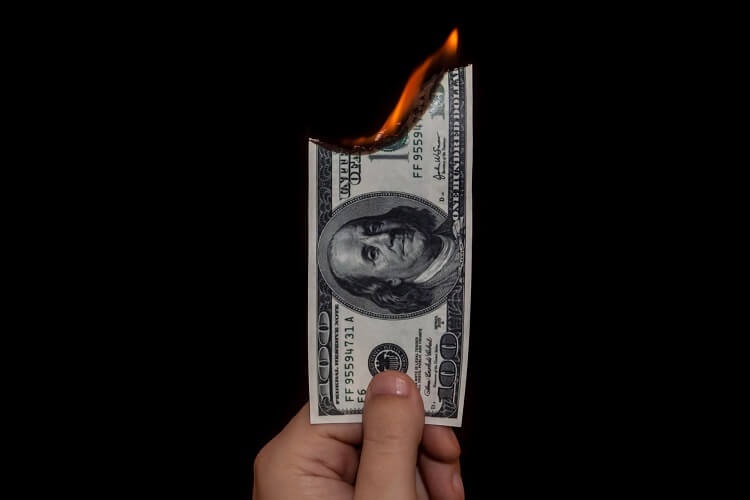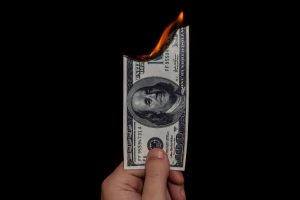 Now that we've detailed the money mistakes millionaires make, I thought it was time to share another round of my money mistakes.
I do this from time to time to 1) keep myself humble, 2) interrupt what can seem like a never-ending list of "I'm so great" posts, and 3) demonstrate that you don't have to be perfect to achieve financial independence (FI).
It's the last of these three that really gets to me. This is why I regularly write posts like Money Lessons from Failure.
I see people commenting time and time again that they can't grow their wealth because they made this or that mistake, that it's "easy" to become wealthy when you never make mistakes, and things like that.
No one is perfect and we all make mistakes.
I have made mistakes (and some big ones as we're about to see), millionaires make mistakes, retirees make mistakes, EVERYONE makes mistakes.
I don't want people to become discouraged by their missteps or use them as an excuse. We've all had them and have yet overcome. If you feel overwhelmed by your mistakes, just know that they don't have to be a deathblow to your finances. You can recover like the rest of us.
This is why I'm going to list ten big mistakes I made on the way to becoming financially independent. Not itty-bitty mistakes. BIG ones.
And to note, these do not include the even more numerous small mistakes I made along the way.
I'm listing them in the order that 1) I regret most and 2) had the largest impact on my finances.
Here we go…
1. I cost myself a decade of freedom.
Ugh. This is the worst of the lot and the one I regret most.
I've talked about this previously, but the short version is:
In my generation, we thought "retiring early" was around 60
Couple that with me setting an arbitrary "I need $4 million to retire" goal
These two things kept me from running my personal FI/retirement numbers.
That's why I missed it when I became FI at 42. It's also why I didn't really consider retirement much the next ten years even as I became even more solid financially (through index fund growth and buying rental real estate).
Eventually events conspired against me (or really for me) and work was so bad that I retired.
Still, I had a lost decade of retirement, which was the equivalent of 30+ retirement years.
Lesson to be learned from my mistake: Run your FI/retirement numbers for yourself, using your data, your goals, etc. If you need help, use my ESI Scale financial calculator.
2. I missed several years of saving and investing.
After I got my MBA at 24 I spent the next several years being financially sloppy.
I was making a ton of money (for me), was young, and knew virtually nothing about managing money.
I never spent more than I made, but I was pretty good at spending what I made.
It was like that for three years. Then I met my wife, we took a money coaching class, and we started advising people on how to manage their money (mostly budgeting help).
Part of our education centered on the value of saving and investing over time. Somewhere a couple years in I began to pay attention.
I started to save and invest knowing that my money would grow upon itself if I simply started socking it away.
That said, I missed five years of saving and investing.
Do you know what five years of compounding would have added to my net worth?
If you take my net worth now and add five years of growth at even a conservative rate, it's probably in the neighborhood of $1 million — and that's just the compounding effect (no additional saving/investing). If I had saved and invested more it would be substantially larger. Oops.
Lesson to be learned from my mistake: This is why I advise people to save as much as they can for as long as they can. It's also why I emphasize the power of time in investing.
3. I made numerous investing mistakes.
Even when I did begin investing, I went about it the wrong way because I thought I was the next Warren Buffett.
After all, I had an MBA, was a successful business person, and was smarter than 99.9% of the investors out there, right?
Uh, no.
Anyway, I wasted another couple of years buying my own stocks, under-performing the market, and losing my shirt in a couple instances.
Thankfully my 401k didn't offer stock-buying options so at least that money was safe and growing. Also, I only floundered for a couple years until I got my act together and boarded the index fund train.
Of course that didn't stop me from making a couple bad investing decisions after that, but thankfully these were few and far between.
Lesson to be learned from my mistake: When investing for growth over long periods of time, stick with index funds for their numerous advantages.
4. I didn't buy more real estate when the time was right.
I've detailed this in What I Did Well and Not-So-Well in Real Estate Investing, but the main mistake here was I was too focused on a given return rate.
When I met with my real estate mentor, I set a return rate of 10% (not counting appreciation) before I would make any purchases.
Do you know how many great places I passed on because the numbers said I would earn "only" 9.9%, 9.5%, or even 9%?
If I had just relaxed a bit, I would have at least twice the number of properties I have now, be generating almost twice the income, have seen several hundred thousands of dollars in appreciation, and likely be named the crown prince of real estate in Grand Rapids, Michigan.
And yet because I was so fixated on 10%, I lost a ton.
Of course it's good to have guidelines and mine might have saved me from several bad deals. But just a bit of flexibility would have given my net worth a very big lift.
Lesson to be learned from my mistake: Be willing to be flexible/adjust from plan when the situation warrants it, especially in the long term.
5. I didn't maximize my career.
You might be surprised to read this one since I write so often about making the most of your career.
But this is precisely why I talk about it — because I missed out.
The reason I struggled here is because I had absolutely no idea what I was doing career-wise.
I was a fresh-off-the-farm country bumpkin from Iowa who thought he knew what he was doing and really had no clue.
It took me YEARS to figure out my seven steps to growing a career and even then, I didn't apply these fully as I didn't understand them completely.
Despite this, I was able to average over 8% annual pay increases. Imagine what the numbers would have been if I had known how to maximize my career and had put in the effort it deserved from day one.
This is why I talk about it so much. I know the opportunity to earn is tremendous and I don't want to see others leave as much on the table as I did.
Lesson to be learned from my mistake: Work at growing your career immediately and put in the time and effort it deserves. The opportunity is great if you just take it.
6. I didn't take full advantage of my side hustles.
I've made a lot of money with side hustles.
My first big side hustle was writing for magazines (remember those?) in the late 90's. I built freelance writing into a sizable business then took the earnings and paid off my mortgage in less than a decade.
But once that was done I slacked off a bit, lost most of my contacts, and the business evaporated.
Later I became a soccer referee with my son. It was a nice time with him and we made some money, but we could have made a lot more. I just didn't take it seriously.
Then there was blogging. I started a site which did quite well, but again I didn't push it. Over time I've earned just around $1 million blogging (much of which I've given away), but it could have been much more if I applied myself a bit more.
Lesson to be learned from my mistake: A side hustle is way more than something fun you do to earn some pennies here and there. If done correctly and with the right attitude, a side hustle can help you reach financial independence within 10 years. Just run your FI numbers with and without a side hustle and you'll see what I'm talking about.
7. I spent too little.
You're probably surprised to see this one too, but in retrospect I think it was something I could have done much better.
In my post 2018 Financial Year in Review and 2019 Forecast Millionaire 22 left this comment:
In my case, Income was $109K and we for the most part spent it all, and then we spent another $127K on travel.
Trying to spend down the assets is difficult. Retired nearly 4 years ago, but now my Net Worth is $600K more.
To which another reader asked:
Just curious if you've ever wished you had spent a little more prior to this stage of your life?
As I thought about this a bit I found that I do wished I had spent a bit more.
But before I get into why, let me say that it's not an easy question to answer since there are several factors to consider.
In addition, there are a couple major assumptions that seem built into the question (if I'm reading it right):
More spending = more happiness. In other words, you spend more on this or that and your life is better in some way. The more you do it, the better it is.
Spending/buying stuff is the highest level of happiness.
Now as I said, maybe I'm reading more into this than there is here, but given that much of America has a spending problem (compared to a saving problem), it's worth recognizing these both exist and are untrue.
That said, I wish we had spent more on travel when the kids were younger.
The background was that we lived in Michigan where the winters are 14 months long each year. Ok, I could be exaggerating a bit, but not much.
As the kids got older (maybe 14 and 12 or so), we started breaking up the winter with a January cruise. These were great trips that we still remember fondly today.
We took more over time (roughly one per year), but I do wish it had been more. We have more than enough assets to last the rest of our lives and I wish we had started taking trips when the kids were much younger (we did get a Disney trip in there when they were much younger, but that's it.)
By the way, I don't want to suggest that our lives were miserable because we were misers. We made a high income and while we saved a ton, we also spent a ton (because our earnings allowed it). I just wish we had dialed back a bit on the savings, maybe freeing up $5k or so per year for family experiences.
Lesson to be learned from my mistake: Money isn't everything. Saving at a high rate is great and will get you to FI faster, but don't do it at the expense of enjoying life along the way. Stop and smell some roses too. 😉
8. I missed house hacking.
Where was house hacking when I was growing up? Did people do it and just call it something else?
Anyway, I would have LOVED to have started with a house hack right out of college.
Not only do I think it would have been fun and very educational (setting me up for a potential real estate investing empire) but house hacking is a great way to grow your wealth.
It's too late now as I don't think I'd like the lifestyle, but as a young person I would have thought I was living the dream!
Lesson to be learned from my mistake: Consider building wealth through house hacking, especially if you're younger. If you're older, think about helping your kids do it (something we're considering). They can build their wealth and perhaps you can make some too (as their investor/funder).
9. I bought too much house — several times.
I remember when we moved from Michigan to Oklahoma (also called the "dark days" by some in our family) we had trouble finding a house we liked.
But we had to buy something (or rent) soon as my company-provided housing was running out.
So we bought a house that was bigger than what we had in Michigan even though we were hoping to downsize.
This led my son to say what has now become a famous quote in our family:
My dad's idea of downsizing is buying a bigger house!
LOL!
When we moved to Colorado, we again bought a big house, much more than we needed. It was our only good option if we wanted to live in the location we liked. That has worked out well as the house has appreciated nicely, but still the house is a bit over-the-top.
In fact, we've had more house than we've needed throughout our entire married lives. Most of our homes have been 3,000+ square feet and we've never had more than four of us living in them.
Sure, the homes gave us plenty of room and made it super nice when we had visitors (they had their own bedroom and bathroom), but still it was too much.
The only redeeming factor was that we lived in markets like Grand Rapids where a 3,200 square foot house in a decent neighborhood would run about $180k.
Eat your heart out New York and California. 😉
That said, it's not only the cost of the house, but the extra costs associated with them: insurance, utilities, maintenance, etc. Way too much spent on housing.
Thankfully we paid very little in mortgage interest since we haven't had a mortgage in 25 years or so.
Lesson to be learned from my mistake: Buy a house based on what you need and not more. Or even rent. Spending too much on housing can be a budget breaker even for someone with a decent income.
10. I gave the wrong way.
Here's another mistake I made based in timing.
You see, back in the day donor advised funds weren't as popular or as sophisticated as they are today.
As a result, we gave most of our funds through income.
Instead we should have given appreciated assets out of our investments. Then we could have used our income to buy more investments, effectively raising the cost basis in our investments and reducing our future tax burden.
I'm not sure how much this is going to cost us in extra taxes, but probably a few hundred thousand dollars at least.
Lesson to be learned from my mistake: Give the right way. Use all the advantages (like a donor advised fund) that the government allows to minimize the tax implications of giving and investing.
We Survived!
There you have them. Several millions of dollars lost because I didn't know what I was doing.
It's a miracle that I got to where I am today! LOL!
But again, the point of this is I did make it through with a high net worth, even making all these mistakes.
I was not perfect — in fact I was far from it.
Hopefully this post saves some people from making the mistakes I made as well as encourages others that they too can become wealthy even if they've made money mistakes along the way.
How about you? Has anyone out there ever made a money mistake? What were your worst ones?