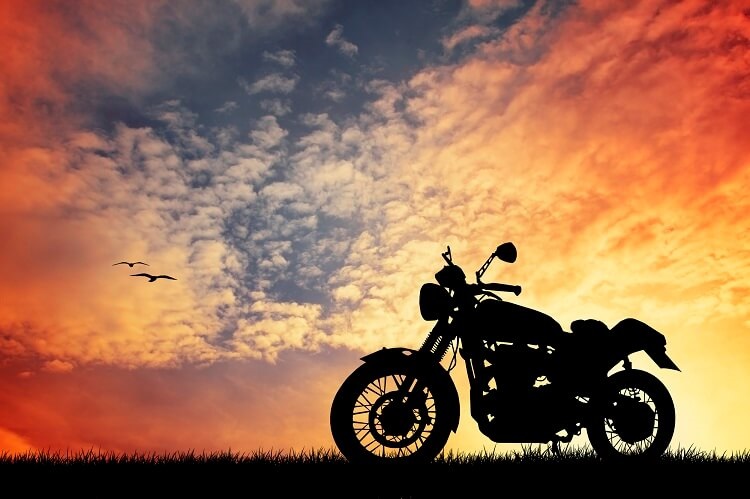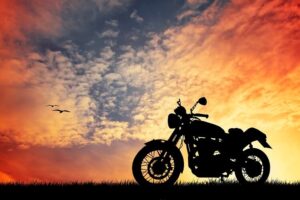 Here's our latest interview with a millionaire as we seek to learn from those who have grown their wealth to high heights.
If you'd like to be considered for an interview, drop me a note and we can chat about specifics.
This interview took place in January.
My questions are in bold italics and his responses follow in black.
Let's get started…
OVERVIEW
How old are you (and spouse if applicable, plus how long you've been married)?
I am 60, my wife is 65.
We have been married just under 25 years.
Dear Wife has been retired from the computer industry since shortly after we were married.
Do you have kids/family (if so, how old are they)?
We have four children between us, a boy and a girl from her prior marriage, a boy from my prior marriage, and a 10 year old boy that we adopted from birth.
The older children in their 30's are off on their own.
We have a couple of grandchildren courtesy of my older son and his wife.
Older children are spread up and down the west coast.
What area of the country do you live in (and urban or rural)?
Currently a suburban town next to a large southwestern city.
Have lived all over the country and a little bit abroad.
I grew up as white-trash in the mid-west.
What is your current net worth?
$2.68 million.
What are the main assets that make up your net worth (stocks, real estate, business, home, retirement accounts, etc.) and any debt that offsets part of these?
Net worth is broken out in the table below, straight out of Quicken: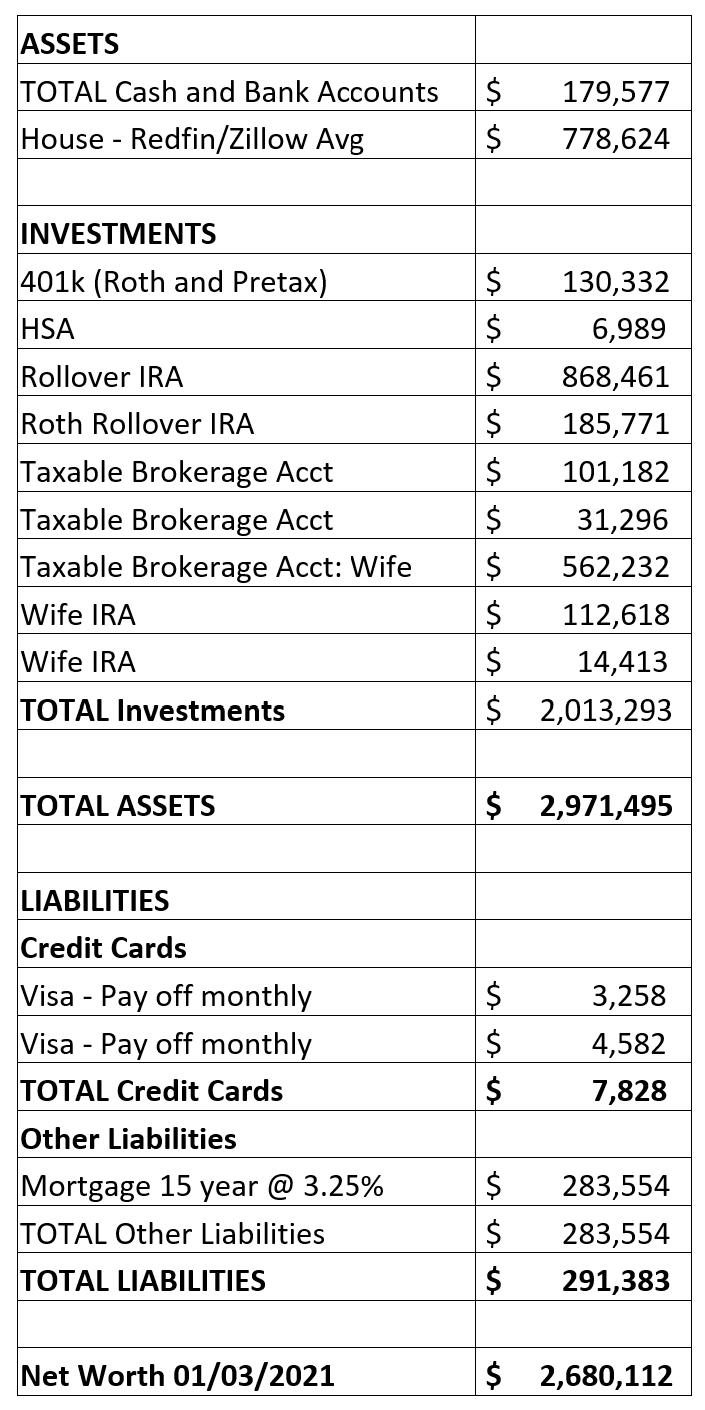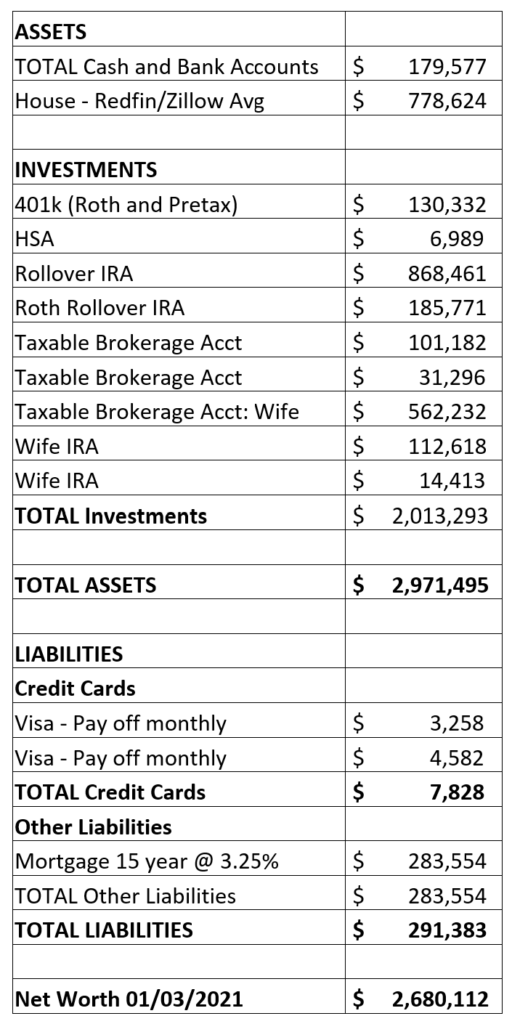 EARN
What is your job?
Executive level software architect; large tech company.
What is your annual income?
Somewhere north of $300k per year is reasonably certain, with a relatively complex mix of base, bonuses, stock grants, stock dividends and a little bit of trading/covered call option selling.
Base salary is $195k, couple of bonuses total $64k at target, but can double; stock grants can go up to $150k/year.
All in, it is possible to go over $500k in the course of a year, but $400k is a more likely scenario.
Tell us about your income performance over time. What was the starting salary of your first job, how did it grow from there (and what you did to make it grow), and where are you now?
I grew up on a farm, in the state just left of ESI's old home state.
I got to work on the farm, for free, but learned a few skills that let me start multiple small businesses in high-school, like buying, fixing, and selling appliances, cars, motorcycles, and other stuff for fun and profit. This brought in maybe 4-5k per year.
Did a variety of "mechanic type" jobs while in college, but settled in on running a mobile auto repair business for most of my time in school. This brought in something like $10k/yr while going to engineering school at a mid-western state university.
Graduated after six leisurely years with a BS in Ind. Engineering. Still had $13k in school loans.
My first "real job" out of college paid $22,500/year as an engineer with a large defense contractor in Texas.
I was married at the time of graduation and was amazed at how little $22.5k seemed to be worth in a city. Worked hard, made a move in the company for a promotion, and got to $28k after two years.
The opportunity to explore owning a German auto repair shop in an urban environment appealed to me, so I quit the large company and took a management job with a small business, with the goal of learning it, and eventually buying it out from the retiring owner. Spent about 6 months operating the business before I decided that I wanted nothing further to do with the owner, so I jumped ship and went back to engineering at another large defense contractor in the region, salary jumped as well.
This was my last real fling at entrepreneurship on a small scale. I got to build factories, run engineering groups, and eventually operate and turn around businesses with most of the rest of my career.
I alternated between very large corporations and the occasional foray into sub-$200 Million corporations that were in need of fixing. I stayed at one large corporation for a dozen years, got complacent, and quit advancing. When the division shut down, I got my one and only stint of unemployment.
I spent 14 months alternating between consulting gigs and sort of half-heartedly looking for jobs. My dear wife was not fond of the lumpiness of the consulting income, and suggested that a real job with benefits might be in order, as we had just adopted the boy now living with us.
I switched fields and ultimately took a President role at a small company in need of turnaround. Succeeded, and two years later, took another one. Succeeded in that one, as well, and three years in, I thought I might stick it out until retirement, even though I was bored to death. Then something interesting happened (see Future section for details.)
My current role can only be described as a dream job for an executive that lived in the pressure cooker for many years. I now work as a consultant for a large tech company, where I help their Fortune 100 level customers adapt to modern technology. I travel the world, make many new friends, and am what I consider well paid for what I do. My wife and son are always welcome to travel with me, at my expense.
Salary and bonuses progressed nicely; I think when I ran the calculations, last, I grew my income at close to 22% per year over the past 35 years.
What tips do you have for others who want to grow their career-related income?
Get good grades in whatever you are studying in school.
This won't make any difference after the first job, but it opens a lot of doors in the interview process for that first job.
Pick a field that pays well, and fits with your personality.
It is a lot easier to make money doing something that normally pays pretty well, than it is to try to make it work in something that does not. To get ahead, you will have to work harder than your peers; it might as well be doing something that you at least sort of like, since you will be doing a lot of it.
A corollary to this might include pick jobs with companies that have high profit margins. Raises will be much better. You can take a look at a company annual report and see what their gross profit margin looks like. If it is north of 30%, you will have more fun at raise time.
My dear wife has spent some time coaching me on this; it has paid off dramatically while riding the waves of industrial foolishness and corporate skullduggery. I only got laid off once in my career, towards the last day of a division's existence. It does not hurt to be liked and trusted.
This makes the difference between mediocre and great raises; it also makes for stellar recommendations from former bosses to new bosses.
Build a network of people that believe in you.
Stay in touch with old bosses (LinkedIn makes it easy), coworkers, customers, and others who have seen how you perform. This will make the difference in very competitive hiring situations, it will also expose opportunities that are not visible on hiring web pages. You get to be the only candidate under consideration when someone thinks of you while writing up a hiring requisition.
What's your work-life balance look like?
Has varied from pretty awful, early on, to pretty great, these days.
Since I generally enjoy what I do, I spend too much time doing it.
However, from a balance perspective, is chatting with friends on the other side of the planet work, life, or balance?
Do you have any sources of income besides your career? If so, can you list them, give us a feel for how much you earn with each, and offer some insight into how you developed them?
I used to work on cars and motorcycles for side income while working as a young engineer. This added maybe $10-15k per year in the early days. I finally abandoned it and focused the time on advancing my main career, as opportunities presented themselves.
Currently, the stocks part of the portfolio are heavily invested in a dividend producing mix. This is spinning off about $80k per year in dividend income that I reinvest into the same or other dividend stocks.
I have also just started selling covered call options on some of the larger positions. This brought in about $25k last month, with all options expiring worthless. I think I will continue to do this, since I spent less than 3 hours total writing the calls, and glancing at them occasionally.
I have a pension that just kicked in a few months ago from a prior employer. It is good for about $40k per year, with full survivor rights to stay at the same number for Dear Wife if she outlives me.
SAVE
What is your annual spending?
Short answer: too much! $190k, including taxes.
We have 25 years of Quicken data to look back on. Dear wife is fastidious about entering every cent off receipts, and categorizing the expenses.
The below table is rank ordered by size of expense.
Housing includes all expenses, including mortgage interest, property taxes, HOA, utilities, maintenance, etc. We live in a reasonably nice place, selected as a 4,000 sf. single floor residence with a 6 car garage (my insistence), in a warm, low tax climate. The current job was not particular about where we lived, as long as I can get to an airport reasonably quickly.
We decided to move to where we think we want to live in retirement, and get established with a social circle before full on retirement. We spent about 3 years researching locations and testing them with Air BnB trips. (Colorado Springs came in 2nd…mostly because of weather.)
Taxes are all income related taxes, including Social Security.
Automobiles includes all expenses (Maintenance, depreciation, gasoline, insurance, taxes, registration, etc.) associated with two luxury Japanese SUVs and a relatively new Japanese motorcycle. I tend to buy 3 year old, off-lease luxury Japanese cars, then run them until there is nothing left. My SUV is a 2002, with just shy of 300,000 miles on it, hers is a 2011 with about 75,000 miles.
I shopped for a used motorcycle, but surprisingly enough, pre-pandemic, I found a 2 year old motorcycle sitting brand new on a dealer showroom floor, that they were willing to take less than what everyone wanted for used ones of the same make and model in our area…So against my usual practice, I bought my first new vehicle in about 25 years.
One other interesting automobile side note: I recently tallied up the total cost per mile on my old SUV. Including everything, gasoline, maintenance, insurance, depreciation, etc., that thing has cost me $0.43 per mile to operate. Surprisingly, it still shows as worth $10k private party sale on Edmunds.com. I cannot think of something I would rather own (and pay for) than this thing, so will keep it a few more years, or until something catastrophic happens with the drivetrain. I still do most of my own maintenance, so I am not seeing much for future problems with any of the vehicles.
Charity is mostly church related, cash portion only; about 10% of net income after deductions.
Groceries could certainly be less, but we eat pretty good stuff. Most is organic; Dear Wife is a gourmet cook. Whole Foods sees way too much of this category…
Entertainment includes a lot of books; no TV subscriptions, and dining out once a week at more mom and pop type restaurants that serve good food at a reasonable price.
Insurance is mostly life insurance and what little my employer takes for health.
Yeah, Tools gets its own category. I do most car and home maintenance personally, so I buy the tools I like to do it. Dear Wife will tell you that I never met a tool that I didn't want three of. However, she will also tell you that she has not spent much on home maintenance or car maintenance since she has known me.
I suppose I should be ashamed of the vacation category. This is data from the past two years, averaged out. During the past two years, I started my new job, and have spent most vacation at home, around the house. I tend to travel about 80% of the time, so not really eager to go somewhere on vacation. We are still exploring the new region we moved to, so living here is like a vacation from the last place on the East Coast.
What are the main categories (expenses) this spending breaks into?
Here is the break down: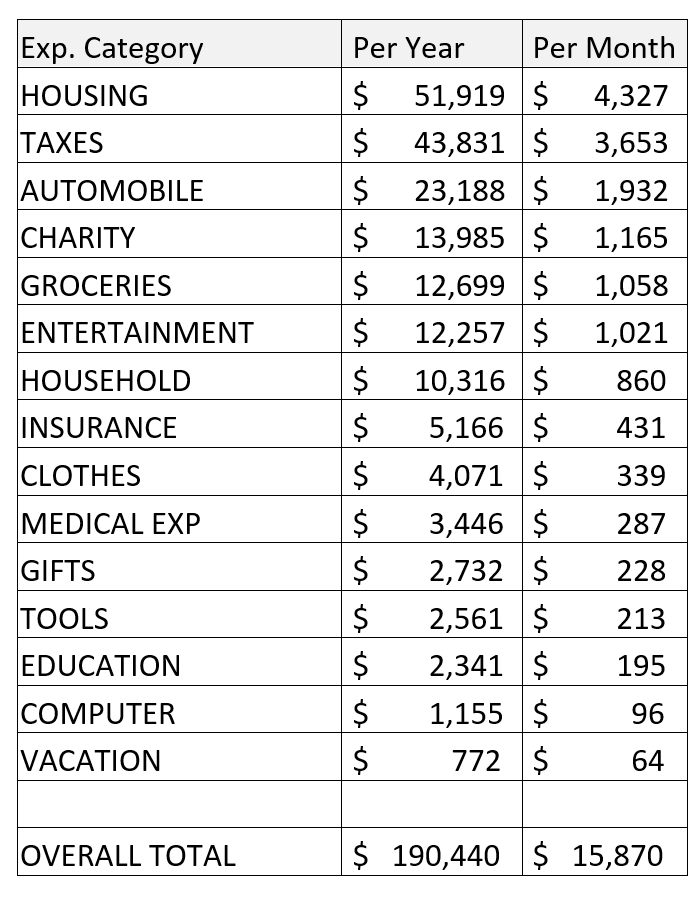 Do you have a budget? If so, how do you implement it?
No budget.
Have almost everything set up to auto route to 401k, stock program, mortgage, savings, etc. Whatever is left is fair game and needs to pay off the cash back credit cards each month.
I guess if there was a shortfall in that, I would hear about it, and we would make some adjustments.
I max out all the work savings/investing opportunities, with the exception of the employee stock purchase. I put about 4% into that, since it comes with a 10% discount to market price. I limit this a little, though, due to portfolio concentration issues.
Employer 401k has the option to put after tax dollars in, then convert them instantly to a Roth 401k. Managed to get $63,500 into the 401k with Pretax, Pretax catch up, and Roth conversion, this year. Sweet…
What percentage of your gross income do you save and how has that changed over time?
It seems like we are saving close to 40% of gross income, between company stuff and private investments in the brokerage accounts.
What's your best tip for saving (accumulating) money?
I like the autopilot approach from David Bach's Automatic Millionaire book.
Figure out what you need to dump into the checking account to just cover reasonable expenses, then automate all savings activity to happen prior to that number.
The number going into the checking account should be just enough to force you to think about whether a purchase is really necessary (i.e. do you want it so bad that you will move money out of a savings account to buy it.)
This has worked ok for us. We dialed in a fairly lush life-style, but still feel good about savings rates.
What's your best tip for spending less money?
Select where you live, carefully. It will dictate a lot of your expenses.
House size, expenses, commute, etc. all drive other expenses in furniture, automobile wear and tear, and other stuff like that.
What is your favorite thing to spend money on/your secret splurge?
I like motorcycle day trips; my wife enjoys a new pool that I would not have purchased.
We both like to eat pretty well.
INVEST
What is your investment philosophy/plan?
I lean towards value investing.
I have us in pretty close to 100% equities, about 80% US equity, mostly dividend stocks with yields north of 3%.
I use a few ETFs for specific sectors: VO, VONV, VYM, EWS, EWM, VXUS, VXO, ICVT, VNQ, FRT
When the career blip (layoff) happened in 2012, I moved most of the portfolio into short-term bonds, while I figured out if I was still employable at over age 52. As I took a couple of jobs over the next 5 years that I did not really like, I was slow to move out of bonds (yeah, left a lot of money on the table during the bull market.)
In 2016 I moved mostly back into equities, but did not have the research time available to own individual stocks, so mostly used Vanguard's S&P 500 index ETF, VOO, and their Mid Cap index ETF VO. Both are low expense and highly liquid.
I have more time to read, these days, and also feel like the S&P 500 is a little too concentrated around about six tech stocks. I began diversifying into more beaten down dividend stocks over the past year. This seems to have worked pretty well, post pandemic. The goal is to get the dividend income to cover our basic expenses, before I pull the plug on the career for good.
What has been your best investment?
Bachelors Degree in Engineering, marrying Wife 2.0.
Stock wise: Qualcomm, after walking through their factory and meeting their exec team in 1997, I was impressed with how smart they all were. $3,000 invested jumped to $80,000 in a couple of months; I sold close to the peak.
What has been your worst investment?
Probably owning two vacation homes simultaneously.
Neither appreciated much, but were great sinkholes for spare cash.
Worst stock investment, well Lucent and Enron come to mind…Probably lost $12k between the two of them.
What's been your overall return?
I see that most have a hard time answering this question. I am no exception.
Quicken does a lousy job of calculating this; brokerage accounts give a reasonable picture, but I have switched investment firms a couple of times to take advantage of their new member cash kickbacks of a couple of grand.
I usually am a couple of points ahead of the S&P 500, with the exception of the roughly 4 years I parked too much money in short-term bonds.
If I look back to about 1997, I believe it averages about 11%.
How often do you monitor/review your portfolio?
Well, I can't resist taking a look at it in the morning, about the time the market opens, if I happen to be sitting at a computer or have my phone handy.
Most adjustments are just figuring out where to put new money in from salary or dividends.
I do seem to enjoy the writing of covered calls, though. Maybe I will watch those daily, as well.
I also like to take a look after the market closes, just for fun.
NET WORTH
How did you accumulate your net worth?
Almost all came from my salary, then making investments. Dear wife brought about $87k into the marriage; I had about a -$8k net worth when I met her. (She married me anyway, go figure.)
From the time we met in 1995 or so, I had been in a personal "turnaround" mode, post divorce and taking on a substantial amount, to me at the time, of credit card and car loan debt from the prior marriage. I think at my low point, net worth was down to about -$38k.
I got spending under control, and focused on paying down debt. One regret, I liquidated a $13k 401k fund, and paid the tax hit, to knock out some 14% credit card debt. Psychologically, it was the right thing to do, but economically, it would have been better to cut expenses further and leave the 401k alone.
What would you say is your greatest strength in the ESI wealth-building model (Earn, Save or Invest) and why would you say it's tops?
Earn has been my strongest suit.
I have always felt like if worse came to worst, I could always make a living as a mechanic. Knowing that gave me a safety net to take more career risks, change roles, change fields, switch geography, etc.
What road bumps did you face along the way to becoming a millionaire and how did you handle them?
Early career days, I spent more than I earned, and married a woman that liked to spend, not save. (Wife 1.0)
Early on, I found out that if I tracked and forecast expenses in a spreadsheet, I could spend more without completely running out of money. Eventually, I figured out that if I modified the spreadsheet that I was using, to include direct transfers to savings, I could actually get ahead.
Eventually my earnings out paced my spending, and things started to progress.
The investing piece developed after marrying Wife 2.0. She had a little money in mutual funds and asked me to manage it. I was scared to death to do a bad job of managing her money, so I went on what has been a 25 year reading binge to understand investing, just a little. I read quite a few books (will mention some of them in the book question), and started to develop some investing skills, as a value investor.
I also chased growth, but mostly with index funds.
Maybe the Investing piece of ESI will end up being my strongest skill?
What are you currently doing to maintain/grow your net worth?
Keep working, over-performing on goals.
Investing in income generating stocks, that I hope will fund our living expenses indefinitely, with inflation taken into account.
Studying strategy for covered call writing.
Do you have a target net worth you are trying to attain?
Not really.
I think I would like it to be $5M, but I am more interested in what sort of income stream I can put in place, with dividends being a core piece.
How old were you when you made your first million and have you had any significant behavior shifts since then?
Net worth hit $1M at age 44. We went out to a nice dinner.
I feel kind of like a late bloomer when I read some of the other interviews. I think it should have been earlier, and it should be higher now, considering that I have been north of $200k income since about the year 2000.
On the other hand, we have never felt very deprived of anything, homes, cars, clothes, etc., but have still managed to get to a net worth of currently almost $2.7M. I guess there is something to be said for balance…
What money mistakes have you made along the way that others can learn from?
Well, spending more than I made for almost a dozen years did not help…
Marrying wrong…
Buying new cars, early on…
Multiple vacation homes…
Waiting until I was in my 30's to figure out investing…
I guess I made a few of the usual mistakes. The thing to learn from it is that it is all fixable with a little bit of focus and effort, but it gets harder to fix the longer you wait.
What advice do you have for ESI Money readers on how to become wealthy?
The whole ESI thing is the key.
If you can earn a little more, save a little more, and invest in stuff that goes up or makes an income, it will all go in the right direction.
Time is your friend, figure this out earlier, rather than later, and it will be much easier. You know the old saying, "the best time to plant a tree is 20 years ago, the second best time is now."
FUTURE
What are your plans for the future regarding lifestyle?
Well, when I run the calculations and Monte Carlo simulations on a couple of the investment planning sites, I think I could retire now. We might have to pay a little more attention to some of the expenses, but not much.
Three years ago, while working as the President of a division, in a company I hated, I came pretty close to calling it quits. However, a connection from my network reached out to me about a completely different sort of job, on his consulting team at a big tech company. I took the interviews that followed, took the job, and have been absolutely delighted with the role.
I am back to being a well paid individual contributor. My stress levels are way down, I like the company and people I work with, and actually enjoy the global travel (except of course this whole pandemic thing has put that on hold for a while, yet.) I consult in a field that forces me to stay current with technology, I work with young people that seem to respect my experience and opinions, and I get to benefit people working in customer owned factories by making their jobs easier.
With all that said, I may not retire for a few more years, while I figure out what ways I want to spend my time in post retirement. I have a number of hobbies, but am still looking for what I will do that will have a positive impact on people.
What are your retirement plans?
Keep expenses in check, fund retirement with Social Security, Pension, and Dividends.
Maybe a little freelance consulting in my specialty; maybe not. Demand is strong, I turn away offers on a weekly basis.
We have both traveled extensively with a couple of my prior jobs and my current one. I am particularly fond of New Zealand and Switzerland. We may decide to figure out how to spend some portion of the year in each country. The extensive travel we have both done with my work has greatly lessened the need to travel a lot in a post retirement scenario.
We have a 10 year old boy at home, that we are home-schooling (ok, that Dear Wife is home schooling, mostly.) As he progresses, I will likely be more involved in that activity in the science and math aspects. He is a unique individual, somewhere on the Autism spectrum. It is likely that he will be with us longer than usual, so will be a part of my "retirement" plan.
I would also like to spend a little more time with the two grandchildren, while they are growing up.
Are there any issues in retirement that concern you? If so, how are you planning to address them?
As many mention, healthcare.
Most of our ways of addressing them include having enough money to buy the best care, staying in good health, to begin with, and living in an area known for good care.
Who knows how it will all work out…Staying healthy is probably the best insurance we can get.
MISCELLANEOUS
How did you learn about finances and at what age did it "click"?
I really started to learn about finances when my Dear Wife turned her $87k portfolio over to me to manage, about 25 years ago.
She is very frugal, mostly, and I knew she would not be pleased if I either lost money, or failed to earn at least what she was getting from a high expense mutual fund that her prior advisor had her in.
I read about investing voraciously, with a focus on Buffet and value investing.
Net worth has been on a steady uptick, since that time period.
Who inspired you to excel in life? Who are your heroes?
Inspiration: My Dear Wife and her father. They are both quite frugal. He retired at about 50, after running a small store in a small town. His father taught him to read the Wall Street Journal, and invest in stocks. Both retired quite well off.
Heroes: Those are hard to find. I suppose scientists like Louis Pasteur that worked hard to discover things that improved quality of life on the planet. I always liked the passion that Nikola Tesla put into his work…
Do you have any favorite money books you like/recommend? If so, can you share with us your top three and why you like them?
I have read most of them… favorites are:
And for the Earn topic, I cannot think of a better book than: John Lucht's: Rites of Passage at $1M+.
I read his first edition on the mechanics of executive recruiting, and employed some of his strategies in 1993. They worked phenomenally well and my career took off like a rocket. I sent him a note, thanking him, and ended up making a friend that lasted until he passed away a few years ago.
Do you give to charity? Why or why not? If you do, what percent of time/money do you give?
Yes, about 10% of net cash, lots of clothes, household, furniture, tools, etc.
Will give time at some point towards retirement point, as well.
Do you plan to leave an inheritance for your heirs (how do you plan to distribute your wealth at your death)? What are your reasons behind this plan?
Four kids will split it; not necessarily equally.
Youngest will likely have a greater need for some sort of guaranteed income due to special needs.
Some portion will end up going to a charity, dear wife and I will continue to discuss this.