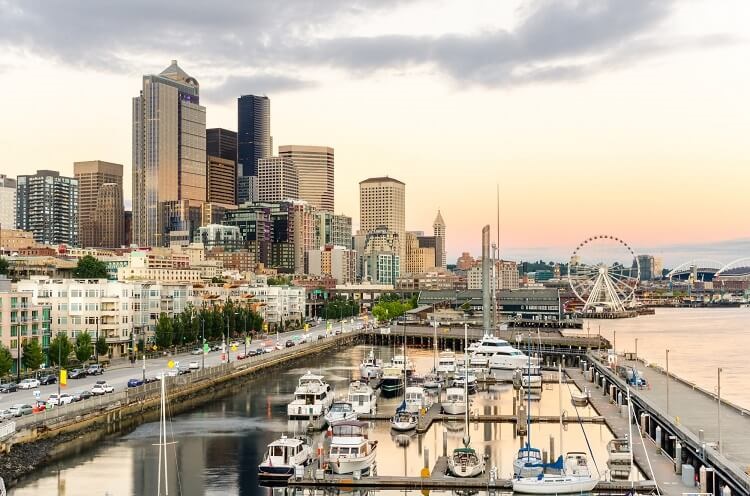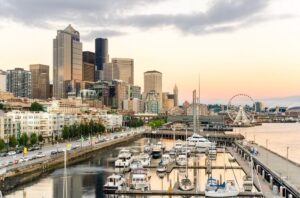 Here's our latest interview with a millionaire as we seek to learn from those who have grown their wealth to high heights.
If you'd like to be considered for an interview, drop me a note and we can chat about specifics.
This interview took place in March.
My questions are in bold italics and his responses follow in black.
Let's get started…
OVERVIEW
How old are you (and spouse if applicable, plus how long you've been married)?
I am 36 and my wife is 34.
We have been married for 12 years. We had been together but had separate finances for a couple years before that.
When we got married, we had nothing, but luckily, we had nothing instead of starting with a negative net worth.
Do you have kids/family (if so, how old are they)?
We have two girls in elementary school.
What area of the country do you live in (and urban or rural)?
We live about 30 miles outside of Seattle, WA in one of the suburban sprawl areas.
However, there are still some big parcels with animals in our greater neighborhood.
What is your current net worth?
As of the end of Feb 2021 it is $2.4M.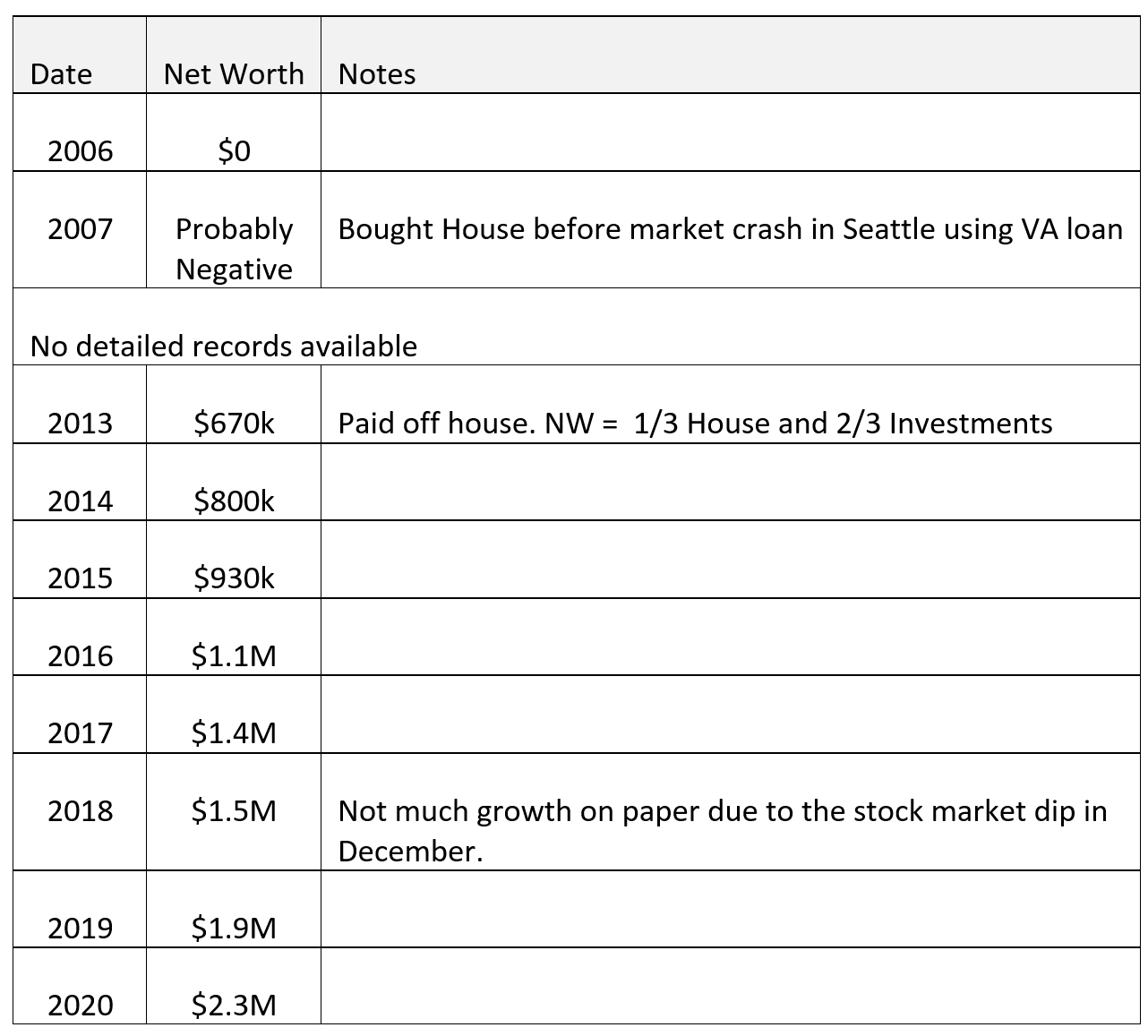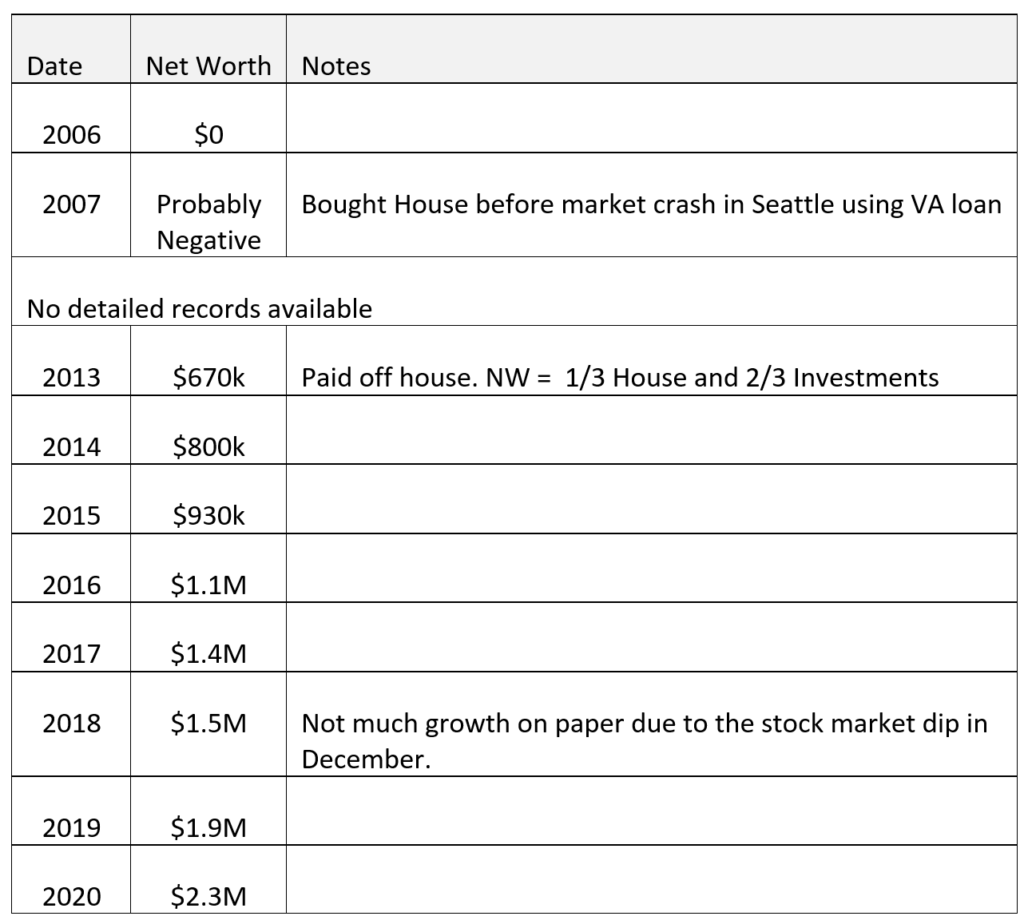 What are the main assets that make up your net worth (stocks, real estate, business, home, retirement accounts, etc.) and any debt that offsets part of these?
We are debt free. We never had a lot of debt, but at one point we had car loans and a home loan. We have not carried debt and paid interest since paying the house off in 2013.
The main components of our net worth are paper investments (stocks and bonds) which is about $1.8M. These investments are primarily in retirement accounts $1.3M+ with over 1/3 being in Roth.
The rest is a mixture of HSA, taxable and 529 plans.
Our Roth balances are substantial using the "Mega Back Door Roth" strategy. We invested this way instead of taxable for a long time.
On the topic of 529s, we plan to pay for our children's education, so we do not mind the fact that this money is earmarked. Worst case scenario, which is what I tell my children, I will take the money out of the account, pay the penalties and taxes, and go on a world cruise. Having the money earmarked helps me not double count it for multiple uses.
Our house is worth roughly $400k and we have some other minor assets (cash, etc.).
EARN
What is your job?
For most of my career I have been a Software Engineer by trade, first in the US Military and then for one MegaCorp until earlier in 2020. Before the exit from the MegaCorp, I was a senior level individual contributor. I did not work for the tech industry, so no stocks/RSU/etc for compensation.
I had a crazy plan to quit my job and become a "good" financial advisor, but that has not turned out the way I expected. I had earned an industry credential, founded my own business, started serving clients, but it has not been what I imagined it would be. So, using the art of the pivot, I am working towards my next thing. I consider this experience as an experiment in life.
I also learned that emotionally, I was not ready to not have a job. Also, I was not ready to have the responsibility of being the "rain maker" even though technically we do not need the income. I just could not unplug from earning consistent money (yet).
I started another software engineering type job in the public sector that pays less than my previous MegaCorp job, but it seems more fulfilling thus far. I am still open to the right opportunity coming along (pay and statement of work). This could be either in software engineer or finance or…? I am keeping an open mind.
What is your annual income?
I took a bit of down tick on income (roughly $130k) but prior to leaving the MegaCorp I was making about $160k a year plus a small bonus (3-8% based on company's financials).
Tell us about your income performance over time. What was the starting salary of your first job, how did it grow from there (and what you did to make it grow), and where are you now?
Back in high school, I worked a few odd jobs including fast food, assembling newspapers and some light construction, but did not build any wealth at that point. The money was spent as fast as it came in.
After high school, I was enlisted in the military, so while I made money, it was not substantial to my wealth building process. While enlisted in the military, I went to night school and received a bachelor's degree which is what unlocked my career at this MegaCorp. They have a requirement for a degree for employment in IT related disciplines.
Once at the MegaCorp, I took advantage of every opportunity that presented itself. This means early in my career I went to night school and received a master's degree. Furthermore, I continued to use their educational benefits to take many other continuing education classes that I could use to prove my development to my management chain. Furthermore, in the MegaCorp, there was multiple "leadership development" type programs that I fought to get in.
As for my annual raises, one thing that I consistently did, was to collaborate with my manager on what the criteria for exceeding expectation was, then I would document throughout the year, how I was doing that. This was invaluable to bring to our year end performance discussion to basically prove that I was doing the work they said was required to exceed expectations for my position. This enabled them to give me healthy sized raises, as well as me to ask for the out of sequence raise that I received.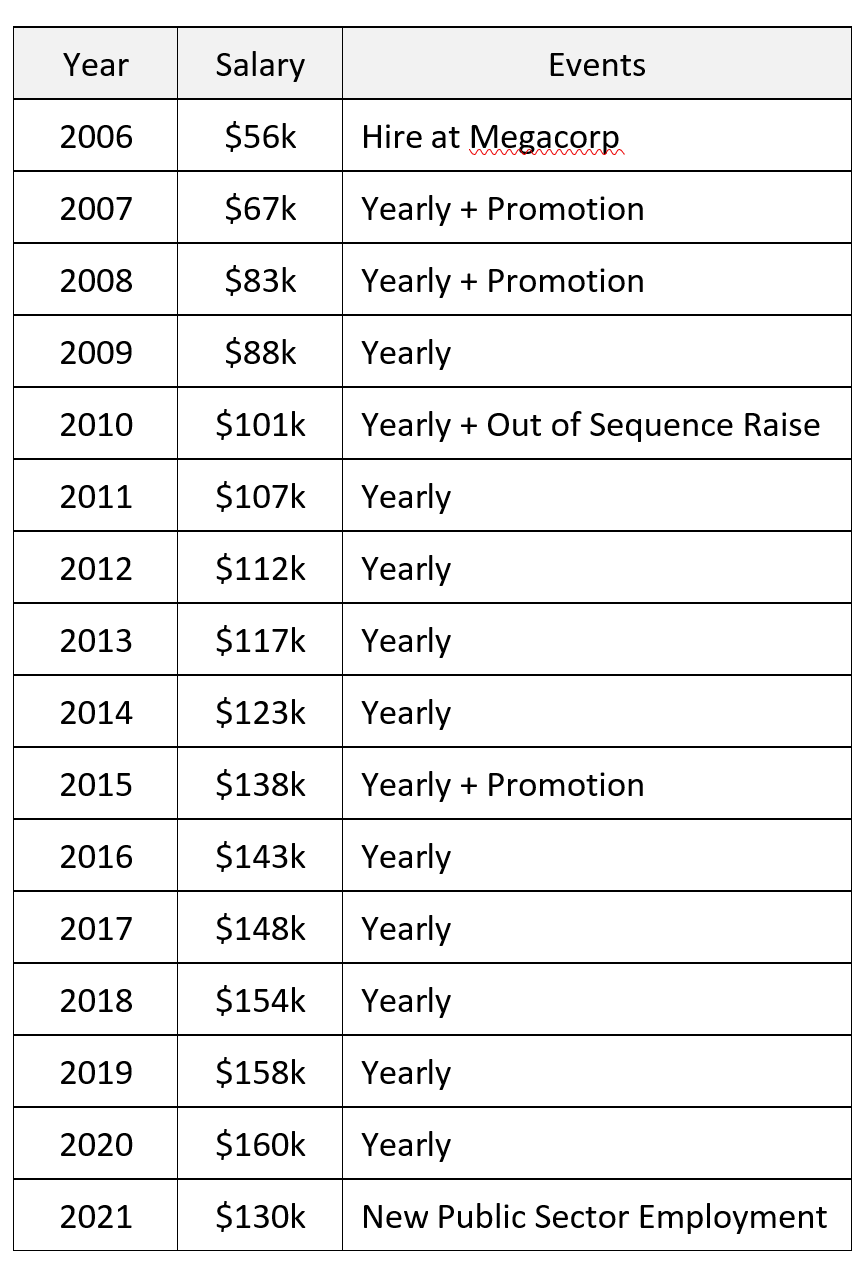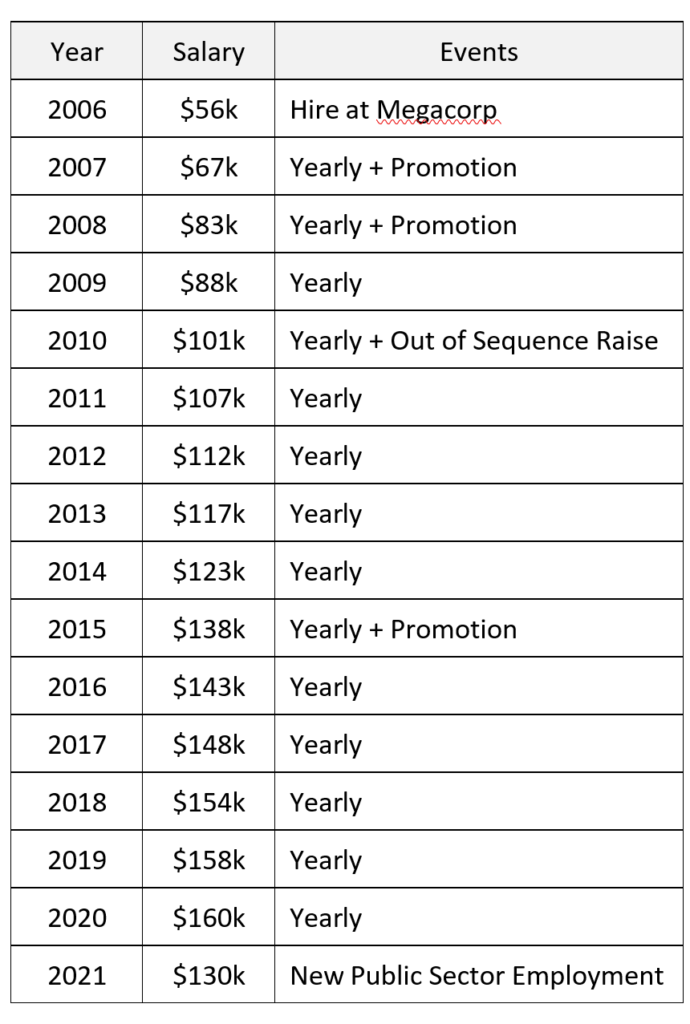 What tips do you have for others who want to grow their career-related income?
At least for skills that are in demand, there are two strategies that I have seen work.
The first is to shop your skills externally and get higher offers. Many of my mentees did this because they did not want to "put in the time" to get their salary adjusted internally. One needs to be at the top of their game and show future employers how you can bring value quickly.
The other is the one I outlined above which is to make sure you have it in writing how you "exceed expectations" so that you can control the dialog when it comes to review time.
What's your work-life balance look like?
Overall, it has been ok. Maybe too much work at times, and there were multiple years that I had a horrible commute. This is almost comical in the age of COVID-19 because I had to be in the office 4 days a week with a commute that cost me 3 hours a day. Those couple years really burned me out.
We talked about moving, but that was not aligned to our other goals, so I stuck it out.
As for all the time I spent for education (either technology related or my finance gig), I get recharged by knowledge growth, so while that might have taxed my family, it was recharging for me.
Do you have any sources of income besides your career? If so, can you list them, give us a feel for how much you earn with each, and offer some insight into how you developed them?
My spouse has not worked outside of the home in a meaningful way since our first child was born. Her lifetime earnings history per Social Security is less than $100k.
Due to a disability from my military service, I receive roughly $20k/year adjusted for inflation.
SAVE
What is your annual spending?
We currently spend about $40k-ish a year on "life".
This number could be misleading as we do not have any debts. We use two older paid off vehicles that we have owned 10+ years, that will eventually need to be replaced. Also, we have no house payments.
Also, not included in this spending total is healthcare deductibles. Those are what they are, and we just pay them, which historically just reduces our taxable savings.
What are the main categories (expenses) this spending breaks into?
The main two categories we spend money are on Housing and Food. It costs us about $10k to operate our house a year. We spend another $10k per year on food. Primarily we eat at home, but there is some eating out spending in this category.
The other half of our spend is everything else. This is vacations, minor repairs on vehicles, gifts, etc. It really is the "everything else" bucket. This strategy works for me, but my wife sometimes wishes we had a finer grained budget. The reason is she does not like the idea of not knowing what she is taking money away from when she spends out of the "everything" bucket.
I am considering having her own the budget in one of the next years.
At some point we will need to buy new vehicles, but we currently do not charge ourselves phantom expenses for replacement vehicles.
Do you have a budget? If so, how do you implement it?
For a long time, we basically ran an "antibudget" budget. Basically, we gave dollars a job before they came in, by sending it to my 401k or Roth IRA's. So, what was left was what we had been allowed to spend. This meant we ended up with a travel trailer, boat, and a 3rd vehicle (for a while).
My frame of reference is we are going to spend 0 until we decide to pay for it. Ok, yes, I do enjoy power & heat, so I do not fight the power bill, but I want every dollar to have a job. So, while we did not have a detailed budget, our budget was "don't spend unneeded money."
My wife on the other hand, she used to be a spender, but I've slowly corrupted her, but she still does enjoy a senseless splurge such as a $6 coffee. She has a budget "Husband doesn't complain" fund that she puts those splurges in. I try not to complain.
When talking with our friends this goes over a lot better than saying she has an allowance. Even though these are effectively the same thing. I do not technically have a "wife doesn't complain" fund, because I normally do not ever spend any money independently.
We do collaborate on what our big goals for the next year are, such as travel or vehicles.
What percentage of your gross income do you save and how has that changed over time?
When I bought our house, and had car payments, our household income vs expenses were tight. There was not a lot of room for splurges. I did take the 401k match in those early years, but we did not save a remarkably high percentage of income.
Then over time, that changed. As my income nearly tripled, we held our spending constant, and because we already had most of the "stuff" we need to operate a household, there was more spending available for fun instead of "stuff" from Target to run a household.
At the end before I left the MegaCorp, we had easily been savings 70% of our net income.
What's your best tip for saving money?
Covid-19 quarantine has substantially reduced our spending.
However, in all seriousness, the best thing to do is consistently ask if you are getting the value out of a spend. Or is there some way to get almost the same benefit for way less cost? A simple example is that I installed a TV antenna and bought an over the air DVR instead of paying for cable TV.
Another example is switching to a low-cost cell phone provider.
I wish I had better ideas, but if you stop buying stuff that you end up throwing away, or cluttering your life, then spending on "stuff" goes down.
What is your favorite thing to spend money on/your secret splurge?
My favorite thing to spend money on is time with friends/family.
My wife sometimes will shake her head at me about me not wanting to spend $2 on something worthless, but then I will turn around a spend $100 to have a meal with others. I keep trying to explain its about the value of the spend, not the dollar value.
Those valueless small spends just get to me.
INVEST
What is your investment philosophy/plan?
Our investment philosophy is quite simple. It is to hold all investable world stocks balanced with some bonds (or bond equivalents).
Currently we are 75% stocks and 25% bonds.
We do realize that this could be considered conservative given our age, income, expenses, etc., however, it helps me sleep well at night.
Our strategy is based off the Bogleheads methodology, which is where I primarily learned about investing.
What has been your best investment?
Our best investment has been the stocks we own. Sure, we could slice and dice our portfolio up and look to see what sectors or companies have performed the best, but I don't believe one can consistently pick what sectors, market caps, countries are going to outperform over a given time period.
For those that are curious about that, check out the Callan Periodic Table of Investment Returns and see how random it is.
The only way that I know to win is to not play the timing game.
What has been your worst investment?
Our worst investment has been our house. We had been upside down in our house after the bubble burst, and it has taken a long time for it to recover and start to grow.
In addition, it has needed quite a few repairs as well as other costs.
On the flip side, we had to live somewhere and have raised our family here. While from an investment perspective, it was a flop, it has not been all bad.
What has been your overall return?
On housing, our return over 13 years (not counting expenses such as interest, insurance, taxes, or repairs) has been about 2.2% / year.
In our paper (stock/bond) investments we have had approximately an 8%ish/year return. This is sort of a hard calculation to make due to account changes, and money entering and exiting the portfolio at different points in time.
How often do you monitor/review your portfolio?
Every month I update a net worth spreadsheet and review the current state. However, most months I do not actually do anything with my portfolio.
Typically, I use all my fund flows into my portfolio from saving to keep my accounts mostly in balance. I only typically need to rebalance once or twice yearly.
NET WORTH
How did you accumulate your net worth?
We made "good money" thus far and could be a reasonable income for others in high cost of living areas.
A main trade we made was our house location versus work location as this allowed us to capture the high cost of living salary, while having more of a medium cost of living.
Of course, we actively made decisions to control our cost of living. This sounds simple, but our net worth got to where it is under the boring adage of spending less then we earned and invested the difference.
What would you say is your greatest strength in the ESI wealth-building model (Earn, Save or Invest) and why would you say it's tops?
At the end of 2019, we had a "Lifetime Earned Income Adjusted for Inflation" of $2.4M. This is the sum all earned income for both my wife and me. In addition, this includes my disability check. The historical dollars are all adjusted to today's dollars and summed. I use this metric compared to my net worth.
At the end of 2019, our net worth divided by this number is almost 80%. To me this means we have done a particularly good job retaining the income we have received and then investing it.
There might be a day where this number is above 100%, implying we have more wealth than we actively earned because our investments have earned the money.
If you are trying to calculate this number, a good place to look is your "Medicare Earnings" on your Social Security statement for historical numbers. If you made HSA contributions, you would need to add those back.
The truth of the matter is that while investing has been important, we primarily have used the savings lever. Time has not actually had the opportunity to use the investing lever to generate a large percentage of our wealth.
What road bumps did you face along the way to becoming a millionaire and how did you handle them?
The main road bumps I face had been tied together, which created a scarcity mindset. I bought our house before the housing market collapsed in the 2008 recession, and then my employer started going through roughly 5 years of constant layoffs.
Some people ask me why did I pay off my house in about 7 years? It's because I did not like being upside down in the house and enslaved to that debt. I emotionally could not take it.
During this time while I was pushing hard at work to raise my income, every penny was going to paying on the house to attempt to deal with being upside down. At the worst point, the house was worth about 1/3 less then we bought it for. Plus, I had used a VA loan, so we had not put 20% down. It was a bad position.
My crazy plan was to have an emergency fund, but to continue to pay everything extra on our home loan, then periodically do a free refinance (since interest rates kept falling and it would re-amortize the loan over a new 30 years to change the minimum payment.) If I recall correctly, I think we refinanced almost 5 times in that 7 years. The plan was if my employer laid me off, I could go work at a fast-food restaurant and be able to take care of my family and stay in our home. This was not a healthy money viewpoint.
This also meant that I did not maximize all my retirement savings vehicles in this time. I took the match money but did not maximize. Of course, in retrospect, I could have had a bigger return, by investing the money, but there is not a day since paying the house off that I regret paying it off. There is a huge weight off my shoulders.
It does not matter that I have a large pool of investments, the idea of having debt and being enslaved to it, is something that still challenges me. I am not sure if I would ever have debt again long term. I might use debt, to temporarily deal with liquidity needs such as changing from one house to another.
What are you currently doing to maintain/grow your net worth?
We are staying invested in stock/bonds.
Since I have decided to continue to work, we will be slowly adding to our investments, but I am actively trying to commit myself to spending more of my income. It is hard for me to slow my savings rate and enjoy more of it.
Do you have a target net worth you are trying to attain?
No direct number. Ideally I will start to do things that are more fulfilling over time, and money is less of a focus.
I would like our expenses to stay lower then 4% of our investable assets, so I need to monitor over the next couple of years as I take the spending controls away, what sort of spending we do. That will sort of drive where I think our investible net worth needs to be over time.
How old were you when you made your first million and have you had any significant behavior shifts since then?
We broke the $1M barrier when I was 32. I am trying to change my money mindset from one of scarcity, however it is hard.
What money mistakes have you made along the way that others can learn from?
Going back to buying our house, while we had been in an ok financial position going into that decision, and it was the one time in recent history that the housing market went down, it makes me re-think telling people to buy housing. Owning a primarily residence is not always a good idea. It also stopped me from being able to take other opportunities because I could not relocate because the house was upside down.
The other thing is I bought stuff that I would look at later and just throw away. When throwing it away, I would just shake my head about the number of hours of my life I wasted. For a while I would not throw it away because I thought I would eventually use it, which meant I was storing junk that I did not even want.
I would tell people to really be thoughtful about what purchases you make. Not only did you have to earn the money to buy it, but then you must store that item. I know this sounds sort of minimalistic, but as I have had more means in life, I have realized I need/want less and less. All those things are a burden.
What advice do you have for ESI Money readers on how to become wealthy?
On the money front, spend less than you earn and invest the different.
On the life front, start investing your knowledge and experience in others.
It has been a wealth building experience for me.
FUTURE
What are your plans for the future regarding lifestyle?
We are going to slowly let our expenses slide up if it provides us value.
At the same time this will be balanced with my drive to feel productive. I want more flexibility with work, but I still feel the drive to be productive and gainfully employed.
I would still like to retire early, but I am not sure what that looks like yet. I think I was too focused on FIRE to know what I would want after I reached the metrics that community uses.
Now I just want to go through a series of experiments of life to help me decide where I want to be spending my time.
If those experiments generate income, then it allows us to have an experiment in what sort of spending makes us happy as well.
What are your retirement plans?
I am not sure what the date will be.
We are going to take it year by year and see what makes sense.
Are there any issues in retirement that concern you? If so, how are you planning to address them?
First off, I am concerned with healthcare and the ACA.
If the ACA were removed, we would need more money, to support us. This makes me pause not having any income ever again.
The idea of needing income again, makes me pause giving up a high-income job and potentially having to accept a low-income job in the future.
Pile on the idea potential stagflation or a period like Japan has experienced, all contribute to my anxiety.
For these reasons, I have decided I am going to continue to work (for now).
MISCELLANEOUS
How did you learn about finances and at what age did it "click"?
My father attempted to show me a news article in high school where if someone saved for a few years, they would have more money then someone who started late and saved a lot more due to compound interest and time. While I was a math geek, I was not ready for the message.
It finally clicked in my mid-20s how the game is played and how won can win at it.
Who inspired you to excel in life? Who are your heroes?
My mother was able to break through a lot of barriers in life including breaking gender stereotypes in the workplace.
I thank her for this as I have two girls and they will inherit a better workplace because of it. It also showed me that anything is possible if you work hard at it.
Do you have any favorite money books you like/recommend? If so, can you share with us your top three and why you like them?
The Richest Man in Babylon – I really like this book because it attempts to teach some basic principles through parables. That in combined with the fact it has stood the test of time has turned it into a classic.
Your Money or Your Life — The 2018 update of this book is powerful to help people transform their relationship with money.
The Bogleheads' Guide to the Three-Fund Portfolio – This is a short, easy to read book to help people who want to build a simple and easy portfolio.
Do you give to charity? Why or why not? If you do, what percent of time/money do you give?
We do give to charity, and our amount in both dollars and time has been growing over time.
This has been a struggle for me to give dollars. I am trying to be more and more open on this front, but it has been hard.
In dollars, we give more than 10% of what we spend, but not what we have made.
We also give a substantial number of hours of our time to various causes.
Do you plan to leave an inheritance for your heirs (how do you plan to distribute your wealth at your death)? What are your reasons behind this plan?
I am still working through an inheritance plan. We would plan to give our children the remaining wealth at our deaths, but we do not have any concrete goals currently.
If I continue to work and there are excess dollars, I would rather give them to our children sooner then later for them to get off on a good foot in life, then for them to get them when they are 70, assuming one of us parents live into our 90s.