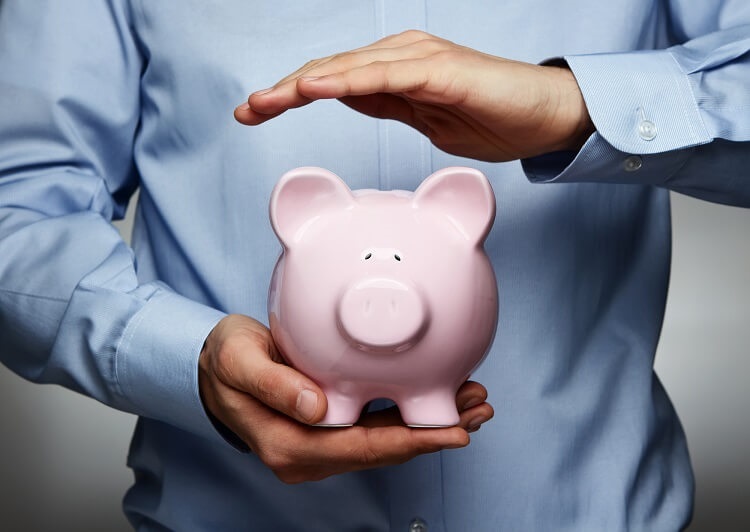 Here's our latest interview with a millionaire as we seek to learn from those who have grown their wealth to high heights.
If you'd like to be considered for an interview, drop me a note and we can chat about specifics.
This interview took place in April.
My questions are in bold italics and their responses follow in black.
Let's get started…
OVERVIEW
How old are you (and spouse if applicable, plus how long you've been married)?
Me: 61
Wife: 65
We've been blissfully married since 1988, so coming up on 34 years(!)
Do you have kids/family (if so, how old are they)?
No children.
What area of the country do you live in (and urban or rural)?
We divide our time between a suburb of a large Northeast city, and a coastal community in the Southeast.
What is your current net worth?
~$8.7 million
What are the main assets that make up your net worth (stocks, real estate, business, home, retirement accounts, etc.) and any debt that offsets part of these?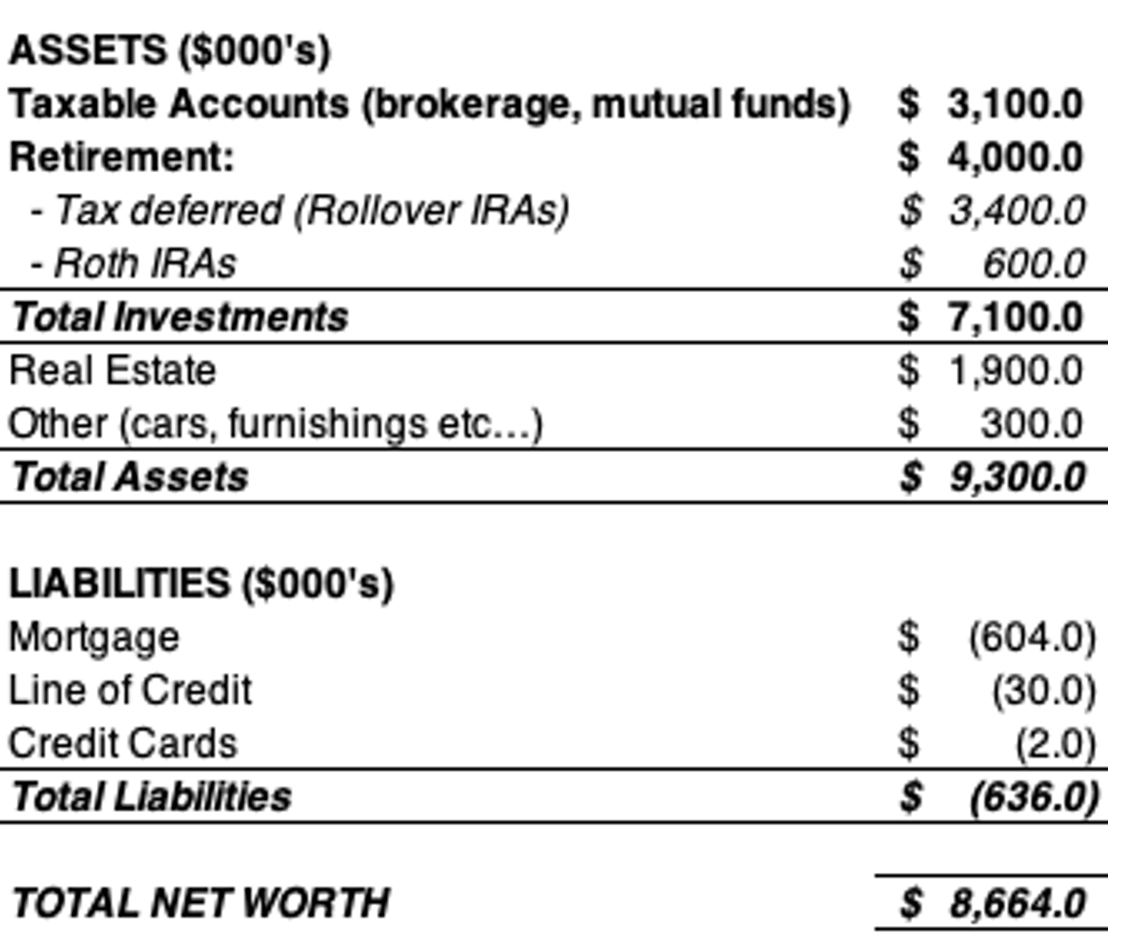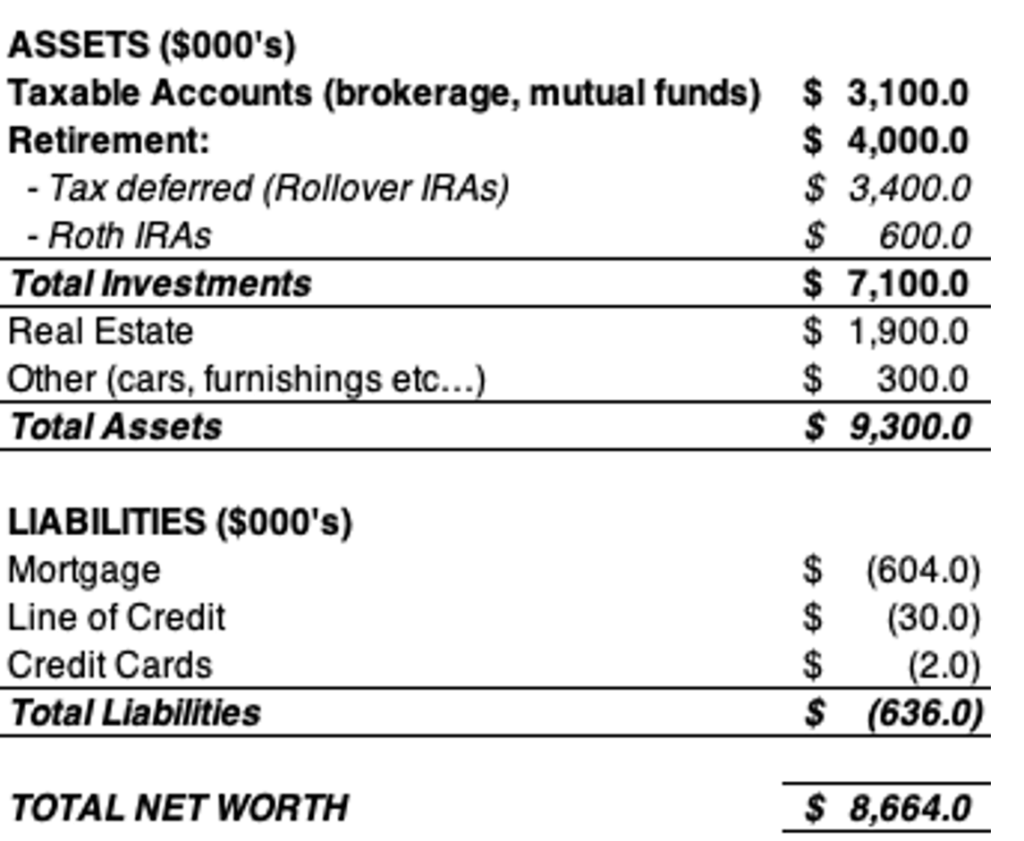 Investment Allocation (across both taxable and retirement accounts):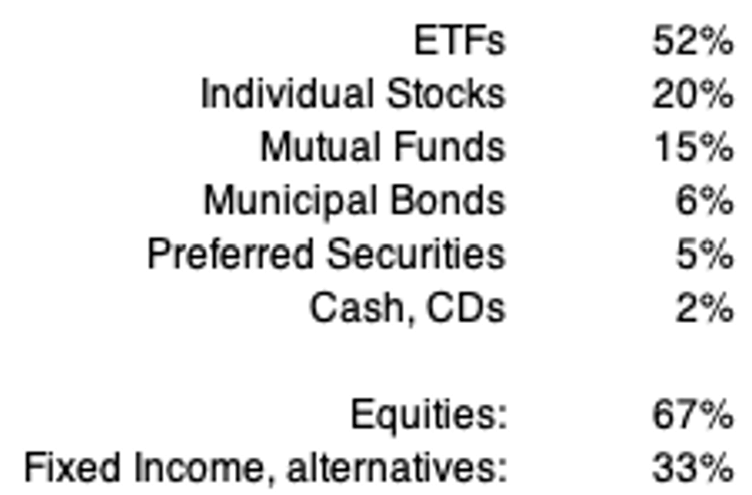 Some notes about above:
ETFs are mostly broad market, some sector
Individual stocks: most are well-known names – Pharma, Consumer Staples, Large Retail, Energy, Industrials, Utilities, Technology
Munis: tax-free income (yippee!)
Preferred securities: steady income
Cash, CDs: just in case.
We have a mortgage on our Southeast home. This is by design, as the interest is tax-deductible, and the interest rate is very low (2.75%). I thought it better to earn dividends in a market with average growth over time of ~7%.
Our Northeast home is fully paid off, since 2002. We never upsized our Northeast home (no kids, great location) and always planned to build our dream home in the future. We purchased property in 2002, and 4 years ago pulled the trigger and built the home we always wanted.
We have a Line of Credit against our investments that we tap into occasionally. This year, we purchased our leased vehicles. Given the current supply issues and high demand for used vehicles, much to the dealer's chagrin and a residual value far below market value we felt it was wise to own, then we're on our timeline for when we want to purchase or lease new vehicles, with 2 valuable assets. The interest is a deduction against our investment income, and the interest is very low, just above 2%.
EARN
What is was your job before retirement?
I spent most of my career in Market Research, first at a large Consumer Products Company, then several large multi-national companies. I ended my career as a department Director.
My wife spent most of her career in Information Technology, first for a manufacturing company, then in Financial Services.
We both stopped working about 6 years ago. I was essentially 'let go' – a combination of the company wanting to make a change, some ageism thrown in, a high visibility project that didn't go well.
While the end was not on my timeline nor my terms, it was for the best. As I look at the company today, I was right for the time, but not now. The next generation – more tech-savvy, with different 'hard skills' are what was needed to move the company forward and while I was disappointed that there was no longer a place for me, I understood their decision. More practically, the commute to the newly located headquarters was brutal, and the company I joined 15 years prior was not the company I left.
I thought I still had a 'song to sing', even though I was an elder statesman (dinosaur, in corporate years is more appropriate). I did a bit of consulting, but I had no desire to jump into a corporate role with many of the same burdens; it was not about the money.
Then the pandemic hit, and that was final straw. Even if I wanted to go back, I wouldn't know what to go back to.
My wife's circumstances were like mine; a boss she hardly knew told her she was no longer needed/wanted, given a severance and shown the door.
For both of us, an unceremonious end to a mostly fulfilling career. And for many, this isn't, or won't be a unique situation. More often than not, when careers end it won't be entirely by choice.
What is was your annual income?
Over the last 15 years of my career my total compensation rose steadily from $110k/year to approx. $240k/year, including stock options and stock grants but excluding company 401(k) match, profit-sharing.
Her salary trajectory, though more bonus-driven was similar — some years she would make close to $300k, other years a bit less. Having changed positions and companies several times her compensation varied but on average, she brought home ~$175k/year during her last 10 working years, averaging the good and bad years.
Currently, our income is derived entirely from our investments; we do not yet take our pensions, Social Security or annuity income. In 2021, our investment income was approximately $195k.
Tell us about your income performance over time. What was the starting salary of your first job, how did it grow from there (and what you did to make it grow), and where are you now?
I have been working since I was 14, doing everything from delivering newspapers, delivering milk in the middle of the night, construction laborer, supermarket worker, bartender. All of these jobs were great for gaining experience, humility and discipline.
The starting salary of my first job out of college was $19k. Over the next 30 years, between promotions, job changes, bonuses, my overall average (call it compound growth) was ~9% per year.
I started in Inside Sales at a manufacturing company. I also met my wife there so in addition to gaining experience I met the woman of my dreams. After approximately 2 years I moved to the division of a large pharma company, and my salary jumped roughly 25% to $26k, in the role of sales analyst. I started to get a feel for what I liked to do, and focused on gaining more experience in sales analysis, sales operations and market research.
Then, I did something silly and took a role at an investment bank. It was 1987 and I thought I'd take a chance. It was a miserable role, and I was laid off during the market crash. I was unemployed for about 3 months, then found a role in management consulting for a 'Big 8' firm and working for a rainmaker. It was a wonderful experience, and I developed a completely different set of skills as I was working closely with customers.
After the firm was absorbed by another, I moved to a large consumer products company, in the international division and was with the company for the next 10 years. I moved to the US division in market research and was able to grow my compensation steadily – a promotion here, a raise there, stock options. This was a terrific experience.
The department was a boot camp of sorts, with the best and worst of people but I became good at my job and it served me well in the future. I also earned my MBA, thanks to tuition reimbursement. It was an opportunity to pick up another credential and at the time, an MBA was key.
I moved to a large multi-national company for a couple of years in the role of department manager and that was my first experience managing people, which I found to be particularly gratifying. When an even larger multi-national company called, I answered and was there for the remainder of my career. I started as a manager, but thanks to my experience at the consumer products company I had skills that they needed and was asked to build a new set of capabilities. Over the years I was promoted a few times, with nice raises and into the larger bonus pool.
In all, my income always increased when I changed jobs, by about 10%; annual raises were in the range of 3-5%, closer to 8-9% when I was promoted.
In short, I changed jobs at the right time for more money. I was good at my job and brought a unique set of capabilities that were in need. Finally, I managed and built high-performing teams.
My wife's trajectory was closer to 12%, as she started working before me at a lower base salary. She started as a clerk at a manufacturing company, earned her degree and was promoted to department head. She hit a career wall at that company and moved to Financial Services.
It was in financial services that the compensation structure was very different, much more bonus-driven. Like me, she was very good at her job, had some great bosses that developed her and at bonus time rewarded her. She also managed progressively larger teams, some offshore, not uncommon in Technology. Not every year was as good as the prior year – that's the nature of the industry – but she made a very nice living and like me, with great benefits.
What tips do you have for others who want to grow their career-related income?
I don't have any magic formula, but my advice is this:
Be nice, be likeable and be genuine – to EVERYONE you interact with, from the janitor to the newbie to the junior underling. You will see them again, you may be working for them, or they be working for you. No one wants to work with or for an [email protected]@. And people can spot a faker.
If/when you manage people, it's about them. Get them to where they want to be. Make them so valuable that others want to steal them from you. I've had some terrible bosses that taught the best life lessons – that is, don't be like them. Stick up for your people and didn't hang them out to dry. Be the boss you always wanted to have.
Be the first to offer help, especially to people new to the company or group. See point #2 above. Be the tailwind, not the headwind. "How can I help" are 4 of the most valuable words they can hear. Everyone was new once; no one should have to go through 'trial by fire' or some form of hazing just to prove themselves.
Volunteer for the 'dangerous missions', even if it means taking a risk.
Make your boss's life easier and make them look good.
Don't gossip.
Make the people around you better; pass them the ball, give them credit and support them. By helping them you'll be helping the team. Cheer them on.
Most importantly, be good at your job.
I know this is 'blocking and tackling' but I've found that people that possess these qualities tend to not only do well but they're infectious enthusiasm makes them a joy to be around. Everyone wants to work with or for them and have them on the team. A senior manager once said, when a promotion is announced and people stand up and applaud, then that is the right person to be promoted. Strive to be that person.
I look at the folks I've worked with over time and the most successful ones possess most, if not all the above qualities. The days of having to be a jerk to get ahead are past.
What did your work-life balance look like?
Now that I'm retired, it's wonderful!
Prior to retirement, when work was fun and energizing, I was first one in, last one to leave, on email after dinner and throughout the weekend. Throw in a 3+ hour commute and it was probably in the 60+ hours/week range. But I didn't consider that work because I was doing what I loved in a place I enjoyed. I'd practically skip to work and couldn't wait to be there.
When the worm turned, those 60+ hours were filled with dread.
Do you have any sources of income besides your career? If so, can you list them, give us a feel for how much you earn with each, and offer some insight into how you developed them?
As mentioned above, our income today is ~$195k from our investments.
When we each turned 59½, we turned off dividend reinvestment in our retirement accounts and turned on taking the income. This mimics a paycheck and I can model our cashflow.
SAVE
What is your annual spending?
Our current operating expenses are approximately $190k/year, excluding one-time expenses (we did some work on our Northeast home, purchased our vehicles and are planning additional work on our Southeast home).
What are the main categories (expenses) this spending break into?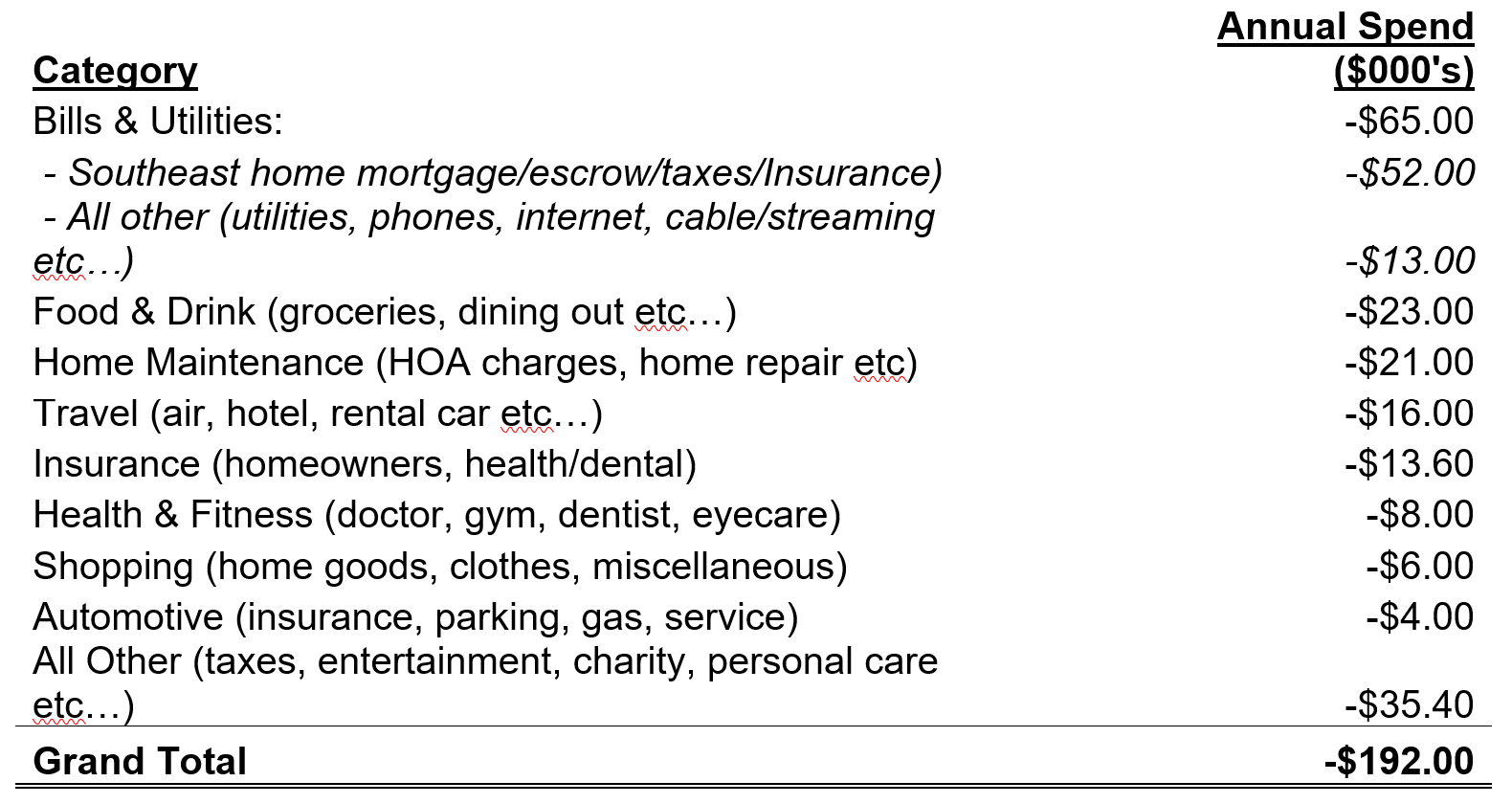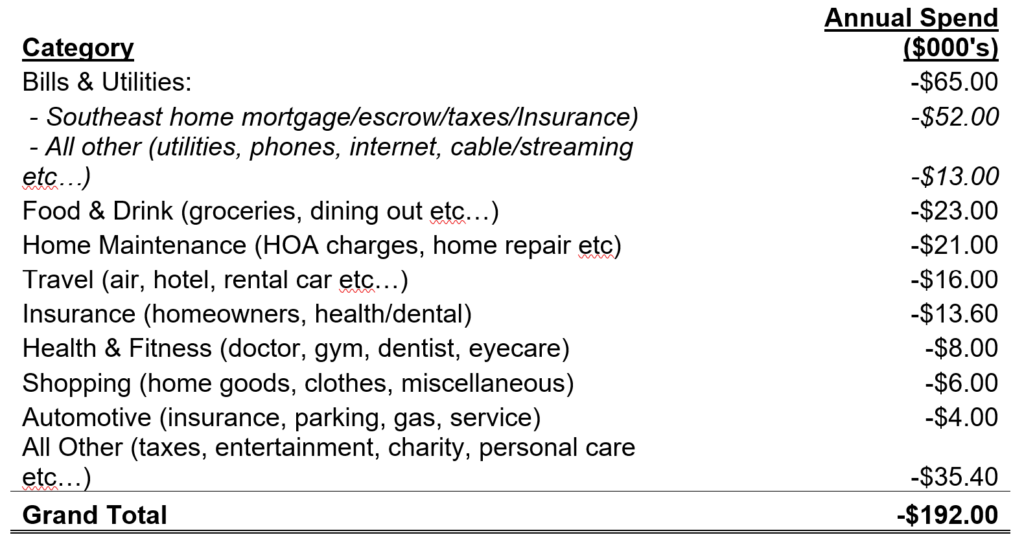 Do you have a budget? If so, how do you implement it?
We don't have a budget, per se but I track expenses closely. We spend what we spend. Fortunately, we've never had to adjust our spending to fit into a budget, as we're generally conservative.
I use 2 primary tools to monitor spending: Mint, which I live and die by, and a 'fancy-shmancy' spreadsheet that I developed several years ago that looks at spending, earning, investments, trends in every way imaginable.
Each month, I download details from Mint into this spreadsheet so I can update with custom categories and perform other analyses.
I can tell you, in March 2014 what we spent on our electric bill, and compare to subsequent years. I can also calculate income by account and by holding, do comparisons and identify anomalies. A bit OCD, but it keeps us on track and helps us understand where our money goes.
We don't make a major financial decision without each other on board, and we review each month. At the beginning of each year, we have a starting point (prior year) and recalibrate throughout the year with full year projections. For you finance/accounting folks out there, call that LE (latest estimate).
The spreadsheet, and some other tools through my brokerage allows me to project cash flow, and I'm mindful of how my investments pay dividends and interest. This enables me to plan as though I'm receiving a paycheck, and to project based on upcoming expenses.
What percentage of your gross income do you save and how has that changed over time?
When we were working, upwards of 40% of our earnings went to savings, between 401(k) contributions, saving our bonuses, automatic investing directed to our brokerage accounts and mutual funds.
As we're no longer working, our saving is much, much lower.
What's your best tip for saving (accumulating) money?
My wife and I have different philosophies when it comes to savings:
I'm a steady saver: payroll deductions, automatic withdrawals. Monies were deducted from my paycheck and directed to my 401(k), brokerage, select mutual funds and savings account for ongoing spending.
My wife tends to invest in chunks: she accumulates, then invests. This, of course is over/above what she directed into her 401(k).
Of course, max out on any and everything your company offers.
In short, treat investing like another bill that must be paid.
What's your best tip for spending less money?
The best tip is to know where every dollar goes.
I liken it to going on a diet, where the first thing you're told to do is write down everything you eat. You'll be surprised how the calories add up (those jelly donuts are a killer and yes, maybe that's why you're overweight)!
I look at our expenses and I see where I could cut if I had to (eat out less, watch spending on clothes, can we reduce the cable bill…). If I can't see how these line items impact the total, I don't know what to change if I need to.
Of course, there are more practical tips: I use apps for gas/fuel as they often offer a discount/gallon, which comes in handy when we drive to/from our Southeast home. I use credit cards to accumulate miles for travel and/or points for Amazon etc…
What is your favorite thing to spend money on/your secret splurge?
Pandemic years notwithstanding, we treat ourselves when we travel. We stay in nice hotels, occasionally upgrade to a suite, eat in nice restaurants, and don't scrimp on entertainment.
But, for the most part we're modest spenders. Not frugal, but there are some things that are not important to us. We can drive luxury cars, but we choose not to. We buy nice things and have occasionally splurged but mostly, we are conservative, and this speaks more to what matters most to us versus making a statement.
INVEST
What is your investment philosophy/plan?
I was always a saver. My DNA, for better or worse is that I was/am always afraid of running out (I tend to panic when I have ¼ tank of gas) so I always max'd out my 401(k) but I didn't have a plan. I had more of a messy desk. I had 'stuff' but it was disorganized – a stock here, a mutual fund there but it was not big-picture.
Fortunately, since my wife worked for an investment bank she was assigned, as a benefit, a financial consultant (FC), and we've been with him for 20+ years. He 'gets' us and we're very happy. Through him, I not only educated myself but was able to arrive at an approach we (my wife is in on every financial decision) are comfortable with. Nothing magical here but I abide by below:
Diversification: equities, fixed income, in key sectors.
Only take calculated risks – a 'flyer' or two is fine but don't bet the ranch, and don't follow fads or hot, of-the-moment trends. They soar high and flame out.
Invest in things you understand, and only invest as much as you are willing to lose if things go south. I won't invest, for example in Bitcoin/crypto: you can explain it as you would to a child, and I still don't understand it.
Invest in companies that do what you know; every stock I own, I can explain what the company does.
Be mindful of expenses, and tax implications. ETFs, for example tend to have very low expenses and since many are broad market, they may generate dividends, but turnover is low and thus, so are capital gains. Also, mutual funds, particularly those with high fees don't significantly outperform, and in many cases underperform the broader market.
Prior to retirement, I invested for growth. Now that we're retired, we're all about cost, yield, consistency, and safety. Just about every investment, with some notable exceptions are income-generating. Most of my stock holdings are Dividend Aristocrats.
To me, income is more important than growth. Many companies, despite losing value occasionally, still pay strong dividends. P&G or J&J, for example: when do people stop buying soap or band-aids?
Also, at this life stage we're in maintain mode: we adjust and recalibrate, but I don't foresee making drastic changes to overall portfolio composition.
I'll also add that our investments fly in the face of conventional wisdom, be it from John Bogle, Morningstar et al to only have a few investments, avoid individual stocks etc…We own individual stocks and have many holdings and I'll add that there is overlap, particularly with ETFs.
Some of my holdings:
Broad-market ETFs, and some sector ETFs: VTI, VYM, VPU
Quality individual stocks: CVX, PFE, PG, JNJ, KO, CSCO, GOOG, HD, WMT, O, BRK.B*
Consistent Mutual Funds: VWENX, PRWCX
High quality Municipal Bonds, corporate bond ETFs: VTIP, SPAB, VCSH
International exposure through ETFs: HEDG, VEA, VYMI
An annuity for additional, steady income – call this a pension replacement
*an exception to the income rule but…it's Berkshire Hathaway.
I know there are many readers that will offer feedback and/or critique. There is always a better way, but I am pleased, and comfortable with my approach.
What has been your best investment?
On a personal level, our education. We would not have worked for the companies we worked for without a degree. That said, I was seldom asked about where I went to college/grad school, so I don't think that was a factor in my career. As an aside, I was fortunate that my company offered tuition reimbursement for my MBA and my wife's undergraduate degree was fully paid for by her company.
From an investment standpoint, the broad-market ETFs, over the years I've held them have done well – they've had consistent returns, good yield and are foundational. Also, 2 company stocks I received through options/grants that I've held have done extremely well.
I have other holdings that have grown significantly over time but not enough to be life changing. I don't have any "I bought 100 shares of x at $5 and now they're worth $1M" stories.
What has been your worst investment?
I've had some losers in my portfolio, and I've hit the 'panic button' prematurely on some holdings (I had a small-cap ETF in 2020 that tanked so I sold it, and it subsequently took off like a rocket-ship last year).
Overall, I can't say I've had an investment that has crippled me.
What's been your overall return?
Over the last 10 years, my portfolio has yielded approximately 9%.
How often do you monitor/review your portfolio?
Monitor? Throughout the day!
Review, weekly.
In-depth review with my FC, once/year unless there is a sea-change then we regroup.
I use Personal Capital to monitor my investments, as well as Morningstar's portfolio manager. To monitor my investments throughout the day, I use SeekingAlpha.
NET WORTH
How did you accumulate your net worth?
Here are the main steps we took:
We both worked for terrific companies that paid well with excellent benefits. We didn't blow the doors off and didn't make the career moves that tend to drive ultra high-earners (overseas stint, roles in sales etc…). Quite honestly, we were good, hard workers – role players – and were compensated accordingly.
We saved and saved some more. We invested wisely if somewhat conservatively and while we didn't necessarily achieve the market highs, we also didn't suffer during market lows. If we lose in a given period, if it's less than the overall market then that's a win.
We also remained in the house we purchased when we married and didn't upsize. We aggressively paid down our mortgage, so we didn't have that debt.
We live within our means. We enjoy a nice lifestyle with glimpses of what some would call luxurious but by no means are we 'Lifestyles of the Rich and Famous'.
What would you say is your greatest strength in the ESI wealth-building model (Earn, Save or Invest) and why would you say it's tops?
Save.
I was/am obsessive about saving and found it both gratifying and rewarding to watch savings grow. I directed as much as I could bear toward saving/investing. Whether contributing the maximum to my 401(k) – before-tax, after-tax, supplemental savings plan and outside investments, we were able to accumulate (at least to us) significant savings over time.
As mentioned, my wife and I took different roads but like me, she is a believer in saving and anything excess (bonus, raise) was invested.
Fortunately for both of us, the investment choices in our 401(k)s were robust: money markets, quality stock, bond, balanced and sector mutual funds that were relatively low-cost. We could not have done much better had I invested outside of our plans. We also received and held our stock options and grants and didn't exercise until we left our companies.
What road bumps did you face along the way to becoming a millionaire and how did you handle them?
Fortunately, we have not had significant setbacks.
We worked steadily, made decent incomes, and saved consistently.
We would have liked to have worked a bit longer but I'm not sure our lifestyle would be much different if our net worth were higher.
What are you currently doing to maintain/grow your net worth?
We invest strategically and opportunistically.
When a Municipal Bond, Preferred security or CD comes due, we either invest in something comparable, add to an income-generating instrument or add to cash for operating expenses (OPEX).
We are also loathe to touch principal though I know we'll have to down the road for RMDs.
Do you have a target net worth you are trying to attain?
We don't have a target net worth. The total is less important to us than the income our portfolio generates.
My goal is to maintain our investment income at the current level.
How old were you when you made your first million and have you had any significant behavior shifts since then?
I was about 40 when we crossed the $1M threshold.
I've gotten wiser, more investment savvy and dedicate(d) much more time to educating myself on investing, and this is a lifelong learning journey.
What money mistakes have you made along the way that others can learn from?
I wrestled with the lump sum versus monthly pension dilemma with the larger of my two pensions and chose lump sum.
The good news: I invested wisely and have an asset.
The bad news: I likely would have come out ahead with the monthly pension.
Upon reflection, I would have chosen the pension with a survivor benefit.
The other 'mistake', which turned out to be a big plus was investing/maxxing out in an after-tax 401(k) versus investing in a taxable account with more investment options. Turns out, in 2014 the IRS implemented a rule where after-tax contributions can be rolled to a Roth IRA, while after-tax earnings are rolled to a regular IRA. Now, I have a well-funded Roth for when I choose to do Roth conversions to help reduce RMDs.
I also sold the stock in one company where I worked, and I wish I had held it. It is one of the highest-paying dividend stocks and has had consistent performance over the long-haul. I have the stock in my current portfolio, but it cost me. Lesson learned: don't bring emotion into investment decisions!
Finally, when I was in the 'messy desk' phase, I didn't even know expenses were a 'thing' and that cost me dearly. Now, it's the first metric I focus on.
What advice do you have for ESI Money readers on how to become wealthy?
Invest in your career
Treat saving like an expense
Keep learning about the market and about investing. Hear, but don't necessarily listen to the pundits.
Maintain focus on your goals: when you're younger, growth is key so take calculated risks. As you get older, some measure of safety, plus income generation becomes more important.
Know where you spend your money and spend within your means. Significant debt (outside of a mortgage, of course) that can't be paid off each month or so is a dark cloud that follows you!
FUTURE
What are your plans for the future regarding lifestyle?
We will maintain both Northeast and Southeast homes for the foreseeable future. We have roots, friends and activities in the Northeast so we're not quite ready to move permanently to the Southeast though our rough timeline is within the next 3-5 years. Fortunately, since our Northeast home is paid for, running the home is a manageable expense.
I should also note that we went 'against the grain' when we decided to build our home in the Southeast in that we UPSIZED and took on a mortgage, two things retirees are advised against doing!
What are your retirement plans?
Financially:
I have a smaller pension that I will take at 65, with a 100% survivor benefit.
I've modeled when to take Social Security for both of us, and the 'sweet spot' is my wife at 66½ and me at 62. I've analyzed our assets at key ages: 65, 70, 75 etc… and these claiming ages seem to provide the best scenario. The Personal Capital retirement planner feature enabled me to run the various scenarios with SS benefits at the key claiming ages (early, full, delayed).
We will continue to maximize our investment income though we may tactically do more Roth conversions. Taxes were brutal in 2021 as investment income from tax-deferred accounts is taxed as ordinary income, which was sobering.
We have an annuity that we purchased at the right time, and we will likely turn on the monthly benefit in the next year or so.
I'd like to do more Roth conversions, mindful of the tax implications so that more tax-free income is sourced from this account and RMDs are reduced.
Personally:
We hope to travel more now that COVID seems to be abating somewhat or at least becoming manageable.
As we spend more time at our Southeast home, we hope to be settling into a new lifestyle and do the typical retiree activities: golf, local travel, making new friends and entertaining old friends.
Are there any issues in retirement that concern you? If so, how are you planning to address them?
The usual: what if one of us gets sick, or worse?
Fortunately, we have excellent retiree medical benefits but the emotional toll that a potentially life-altering event will take is something we think about.
We had pondered purchasing a Long-Term Care insurance policy https://esimoney.com/long-term-care-insurance-overview/ but decided that we have the resources, if it comes to that to be able to make appropriate arrangements for care.
MISCELLANEOUS
How did you learn about finances and at what age did it "click"?
I had always believed that saving was important. As mentioned, I'm wired such that I have a fear of 'running out' so I like to always have something to fall back on. But I really didn't know what I was doing until I was about 39-40 and we got our FC, and our income started to grow. He educated me, I educated myself and I've dedicated myself to learning as much as possible through newsletters, magazines, podcasts and investment sites.
For me, few books stand the test of time and lack the immediacy though they are certainly useful for building a foundation and learning fundamentals, which are less time-bound.
Who inspired you to excel in life? Who are your heroes?
My mother was a great motivator and my biggest cheerleader. My wife is next; to adapt a line from the movie 'As Good as it Gets', she makes me want to be a better person. We are true partners and there is no decision I make, big or small without her.
Professionally I've encountered many folks I've worked with, or for that I admire for the qualities I discussed earlier and their ability to make it look easy. There was one leader I worked with that had the unique ability to make you feel like you were the most important person at that moment, with complete, unwavering focus on what you were saying. Most people are distracted by shiny objects.
Do you have any favorite money books you like/recommend? If so, can you share with us your top three and why you like them?
I'm somewhat ashamed that I don't have any money books to recommend, though I did read The Millionaire Next Door and enjoyed it. Several years ago, my wife and I attended a seminar by Ric Edelman and as a parting gift I received The Truth About Retirement Plans and IRAs and found it informative. I occasionally listen to his radio show and pick up some things to ponder. By no means is he a guiding light but he does offer some practical ideas.
Generally, I cherry-pick nuggets from the pundits but don't focus on any one. I know folks may adopt the philosophy of Dave Ramsey, for example but that's not me. I take bits of wisdom from a few – Bogle, Buffet, Christine Benz, Cramer and do some research on my own. Between Kiplinger, Money, Forbes, Morningstar plus key financial sites, I stay current and educated.
Often, I find too many sources contradict, and given the market gyrations I filter out the noise. I hate-listen to CNBC/Fox Business throughout the day but more often than not, the experts are wrong in their predictions. Despite what we hear, the next recession has not yet occurred, the world didn't end with the Pandemic and even in the worst of times we always recover and then some.
Do you give to charity? Why or why not? If you do, what percent of time/money do you give?
We give to charity, we donate weekly (or more often to our church) and especially when there is a disaster.
We've donated our stimulus checks to charity. There are those far more needy than us that can benefit.
Do you plan to leave an inheritance for your heirs (how do you plan to distribute your wealth at your death)? What are your reasons behind this plan?
We have 2 nephews with families of their own. They are our primary beneficiaries.
Our siblings are all older, but we have provisions should we both pass before they do.