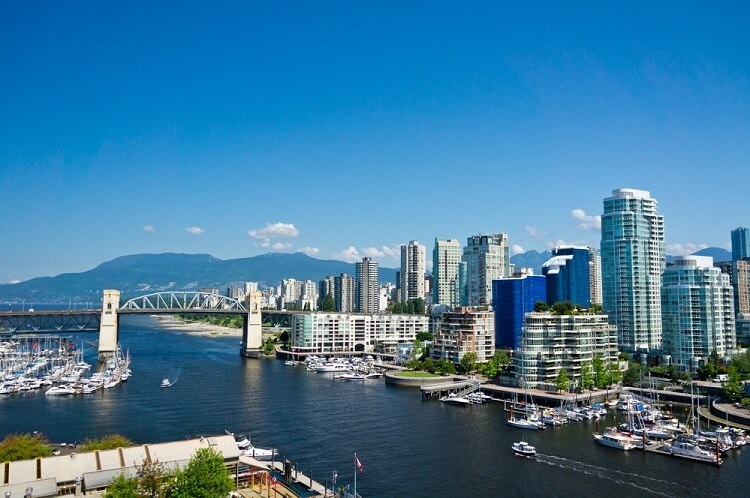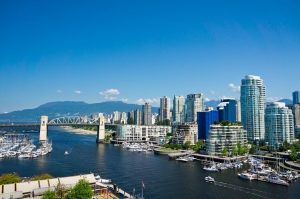 Here's our latest interview with a millionaire as we seek to learn from those who have grown their wealth to high heights.
If you'd like to be considered for an interview, drop me a note and we can chat about specifics.
Today's interview is with the Finance Stoic.
My questions are in bold italics and his responses follow in black.
Let's get started…
OVERVIEW
How old are you (and spouse if applicable, plus how long you've been married)?
My wife and I both turn 40 later this year and we've been together since 1995, which was the start of our last year of high school.
We've been married since 1994, choosing to graduate University, get through our professional designations and purchase our first home before getting married.
Do you have kids/family (if so, how old are they)?
We have two boys, who will be ten and seven within a month of writing this, with birthdays nine days apart. I attribute that to my wife's precision planning.
What area of the country do you live in (and urban or rural)?
We live in the city of Vancouver, a five to ten minute drive to the downtown core of the city, depending on traffic.
What is your current net worth?
Our current net worth is $2.1 million.
A breakdown of our net worth is: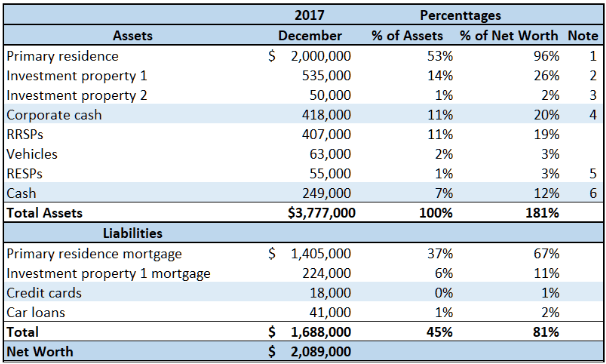 Note 1 – Primary residence
We purchased a single family home in 2016 with the intention of tearing down the house and building our dream home. This was likely the worst thing we've ever done from a net worth perspective. The house is behind schedule and over budget, significantly in both categories.
The current value is the costs that have been incurred to date for the purchase and build.
Note 2 – Investment property 1
We purchased this investment property in 2014 as a presale project and took possession in 2016. Over that time, the property more than doubled in value.
We are currently living in the investment property, while our house is being built.
Note 3 – Investment Property 2
We purchased this property in the fall of 2017 and are reflecting only the deposits paid to date.
Note 4 – Corporate cash
This cash is the development profits from a real estate project that are within my personal holding company. We are keeping them aside to fund the construction of our home, as needed.
Note 5 – RESPs
RESPs are a Canadian method for saving for your child's future tuition. The Government matches your contributions up to a certain amount and the investments grow tax free until the funds are removed for school. At that time, the funds removed are taxed in the hands of your children, which is at a low tax rate.
Note 6 – Cash
While we have our house under construction, we will be sitting on large cash balances to fund the construction.
We believe the total cost of construction will be $3 million, inclusive of land at $1.8 million, and we will have to fund a significant portion of the remaining construction costs.
EARN
What is your job?
I am the CFO of a local private company, which has ~ 150 employees.
My wife is a manager of internal audit for a local government entity. She currently is taking on a director level role on an interim basis. While I think she's likely the best candidate to fill the role on a permanent basis, it's not what she wants with life.
What is your annual income?
My annual income is $210k base salary with a bonus up to 100% of my base salary.
My wife's salary this year will be ~ $120,000.
Tell us about your income performance over time. What was the starting salary of your first job and how did it grow from there?
My starting salary was $36,000 out of University at a Big 4 accounting firm, as was my wife's.
Our salaries grew on average 20% per year for the first ten years.
Starting in 2011, our salaries have progressed as follows: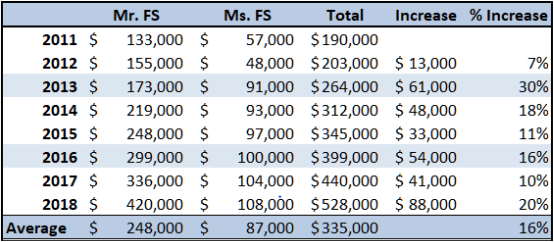 What tips do you have for others who want to grow their income?
Great question and my favorite subject to write about, talk about, coach others on.
I think that the average person is capable of so much more than they think they are! If I am able to help them realize their potential, then I feel fulfilled.
First, I would suggest that someone who wants to grow their income does a reconciliation exercise between what it is going to take and what they are willing to give.
When I've read most of your interview series, a common thread is people have worked quite hard over time, balanced with luck along the way, to achieve their dreams.
Once you recognize you're willing to do what it takes to get where you want to go, I suggest five steps to get to a 1%er's salary.
Step 1 – Figure out what you want do
There are lots of jobs that pay well. What jobs pay well that you are passionate enough to do them long-term? You often hear people describe it as the intersection between three things: What you love to do, what you're good at, and what people will pay for.
Step 2 – Learn what you need, to the level you need, to get the job you want
Understand what it takes to get to where you want in your career and work backwards to get there. Do you need a University Degree? A Masters Degree? Understand what it takes and make a plan to get it.
Step 3 – Work harder than anyone else is willing to do
This one has been quite common with most high performers that I've seen over time. They work relentlessly to get things done and to make the lives of the people they report to easier, which generally results in being given more opportunities.
Step 4 – Put yourself in as many sink or swim situations as possible and swim, baby, swim
The inflection points in my career have generally all come from inflection points that I'd characterize as sink or swim situations. As he said, in these situations my hours were long but I worked hard and learned.
Take it from Richard Branson: If somebody offers you an amazing opportunity but you are not sure you can do it, say yes – then learn how to do it later!
Step 5 – Never Stop Learning
I cannot stress the importance of continuous learning enough.
I'm turning forty in a few months, have reached the C-Suite level, and I've still asked our President if I can pursue a Master's degree in a topic I think will make me a better performer in my current role and longer term.
Aside from these five steps, something that is often overlooked is simply asking for a raise!
Before someone asks for a raise, I would suggest they understand whether they deserve a raise, understanding both market dynamics and their performance within their company.
After they've done their homework to understand whether they deserve the raise and whether it's the right time to ask for the raise, I would suggest that they consider how to structure the ask, as there are many financial and non-financial things you can ask for of your employer.
Finally, I would suggest that they understand what their alternatives are and how far they're willing to go in their ask – i.e. are they willing to leave if they don't receive a raise? If so, do they know what their alternatives are?
Hopefully if people have a chance to read above they'll have a better appreciation for how to get more money. 🙂
What's your work-life balance look like?
In the last six months, it's actually been the best it has ever been. In fact, for me, too balanced…
I have written in the past that I had episodes where I might not see my children for close to a month and spend very little time with my wife during that period.
What was relevant was that I was working towards something, such as a promotion.
Unfortunately, at my Company I have largely reached the level that I am going to top out at. There isn't a next gear, a promotion, etc.
Positively, I've hired a team that is nothing short of amazing. They're able to handle so much. Taking us to levels we've not been at in the past and taking us there without a requirement for me to be working seventy hour weeks. I am probably down to 50 hours at the moment.
Why do I say too balanced, then? Personally, I always want to be growing, taking on new challenges, new roles, etc. The idea that I've topped out in this role is dissatisfying and not something that is feasible long-term, which will tie into discussion later in your questions about next steps, early retirement, etc.
Do you have any sources of income besides your career? If so, can you list them, give us a feel for how much you earn with each, and offer some insight into how you developed them?
We don't at the moment have sources of income outside our regular income.
When we move into our house, in approximately one year, we will have rental income from a basement suite in our house, investment property 1 and investment property 2.
Long-term, I would like us to have five to ten investment properties generating income for us in early retirement.
SAVE
What is your annual spending? What are the main categories?
Our annual spending is horrible.
Last year, we spent $228,000: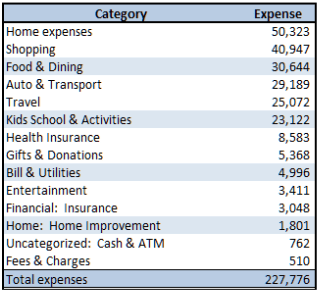 While our house is being built, our home expenses are quite high, as we're paying costs on two properties – mortgage, property taxes, etc. without the rental income from our investment property or basement suite.
In 2017 I lost 30 lbs with an increased focus on fitness, so there was more money spent on clothing than we would normally spend, as the suits and shirts I wear to work were all effectively replaced.
Finally, in the auto, there was a significant amount paid as a down-payment on a vehicle that I expect us to own for the next ten years, which I would treat as an expense over time versus a single year expense.
When I adjust for all of these factors and areas we say we will improve, then I expect our annual spending to be in the $125,000 – $150,000 per year.
Do you have a budget? If so, how do you implement it?
My wife creates our annual budget, with my input.
Unfortunately, we aren't proactive in managing it on a regular basis because so much time is going into simply managing life right now, especially with the home construction underway.
When our house is built and our finances are more set, then my wife anticipates being the first of us to decline in her work hours, going down to a reduced work schedule, if able. At that point, we will be much more proactive in managing to our budget, as she will have time to update monthly and discuss with me.
Interestingly, just blogging about financial independence is enough to have her, and me, be much more proactive in managing our spending that we were previously. I expect this year we will end much lower than prior years.
What percentage of your gross income do you save and how has that changed over time?
Our after-tax income in 2017 was $302,000 and we spent $228,000 for savings of $74,000 (25%).
What is your favorite thing to spend money on/your secret splurge?
I love buying new clothes, especially when they're driven by losing weight! Wearing a new suit to work with a new shirt and tie is exhilarating.
A secret splurge, or guilty pleasure, is Clash Royale for the iPhone / iPad. I have wasted way too much money on this video game, way too much.
INVEST
What is your investment philosophy/plan?
I'm pretty simple when it comes to an investment philosophy.
I would like us to purchase up to ten investment properties, with most of them coming through work.
I will pursue investments as much as possible at work, with a potential to invest up to $1 million to $2 million in opportunities that underwrite to a 20% annual return.
With our tax deferred savings account, we've invested with a third party money manager who invests across a diversified spectrum of investments.
What has been your best investment?
Our best investment is a split between a couple real estate investments.
We bought a townhouse in Vancouver in 2010, pre-construction, for $700,000 and took possession in late 2013. We sold the townhouse 2-1/2 years later for $1.6 million.
In 2014 we bought a condo, again pre-construction, for ~ $250,000. When we took possession in 2016 it was appraised at $500,000.
What has been your worst investment?
Our worst investment was our purchase of a single family home, for a number of reasons:
Two weeks after we purchased it, the BC Government introduced a foreign buyer tax that effectively decreased single home values by 15%
We experienced geotechnical issues on the project that have resulted in us being significantly behind schedule and behind budget
More importantly, prior to that foreign buyer tax, single family was accelerating in Vancouver much more than multi-family and we thought it was now or never. Post tax, the multi-family continued to accelerate and single family effectively flattened out.
All-in, I would estimate our net worth would be at $2.5 million if we'd not made the decision to move to single family housing, an approximately $400k difference.
What's been your overall return?
I don't know what our return has been, but it's been incredible.
When I started tracking our net worth in March 2015 we had a net worth of $588,000. Within one year we were at $1 million and one year later we were at $2 million.
Admittedly, some of that was savings; however, it was mostly drive by investment returns, specifically real estate.
Vancouver has had great real estate returns for almost two decades now, but the last 24 months have been incredible. Before we experienced such a great bull run in real estate, my wife and I owned the following:
A 3 bed and den townhouse in one of the best locations in the city
A 1 bedroom condo in a great location in the city
A 1 bedroom condo in a great location (we sold it before completion)
A $300k investment in a real estate project that returned an IRR of 70%
I attribute the return on these four investments to luck. I expected reasonable returns, even just landlord cashflows, and most of the investments doubled during the timelines we are talking about.
The $300k real estate investment was underwritten to a 20% IRR and returned close to 70%. Incredible luck.
Another important note on investment returns, which is material, is that often with the pre-construction condo purchases, we've only had at most 20% of the purchase price paid when we made the investment. For example with the one we are living in now we'd paid deposits of $50,000 and the home doubled in value for a return of $250,000 on a $50,000 investment.
How often do you monitor/review your portfolio?
I don't look at it very often.
My thought is that if I'm monitoring it too regularly, then I am not invested in the right asset classes.
What I monitor more regularly and discuss with my wife is if we have cash available for down payments when good pre-construction projects are becoming available for sales launch to build our investment portfolio.
NET WORTH
How did you accumulate your net worth? 
I've talked a fair bit about this above.
The greatest returns in our investment portfolio were driven by real estate returns on pre-construction projects, real estate lending investments, and our personal residence.
What road bumps did you face along the way to becoming a millionaire and how did you handle them?
Biggest road bumps I would say we have faced are the hours that I have had to work along the way.
I attribute it a lot to luck above, but what I ignore is the effort put into my day job to earn the money that we were able to invest in the pre-construction projects.
It was a lot, it was detrimental to my health and to my relationship with my wife and my children. I've worked very hard in the last year to repair those relationships and balance wealth with family.
What are you currently doing to maintain/grow your net worth?
I'm focusing on what you espouse, ESI:
I am continuing to push at work to earn as much as possible and expect I will max out in the next few years at $500,000 annually.
We are working on improving our savings rate to lower our spending to $125,000. If our after-tax income can get to $325,000 then we will save $200,000 per year.
We will continue to work on investing in pre-construction projects with a goal of five to ten investment properties. I am negotiating at work to have an ability to invest $1 million to $2 million in projects returning ~ 20% per annum, and we will continue to grow and diversify our registered accounts.
Do you have a target net worth you are trying to attain?
Our target net worth, inclusive of primary residence, is $6.75 million, which should allow us to pivot into any career of our choosing or retire early.
How old were you when you made your first million and have you had any significant behavior shifts since then?
We made our first $1 million in 2016 at 38 years old and we've had no change in behavior since then. Perhaps, I've worked harder to keep growing.
What money mistakes have you made along the way that others can learn from?
Definitely a few!
A few years ago I had $20,000 in disposable investment income in my registered accounts. I was managing it myself and made some silly mistakes with Blackberry and lost ½ of it. Since then, I've never managed any investments myself.
My worst mistake, discussed above, was selling our townhouse to purchase a single family home.
If you had to give advice to ESI Money readers about how to become wealthy, what would it be?
I am a big believer in the ESI mantra of increasing earnings, focusing on savings, and investing smartly and aggressively.
FUTURE
What are your plans for the future regarding lifestyle?
I'm turning 40 this year and at 45 I would like to be in a position to retire early; though for me early retirement would actually be a life / career pivot to something that I personally want to do.
What are your retirement plans?
The last question leads me to this one.
I never plan to fully retire. Instead, I would like to be in a position to choose what I want to do, when I want to do it. Ideally, I would start my own private equity group that would allow me to focus on multiple businesses and hiring and training an amazing team.
My greatest passions are learning and leadership. Having the ability to lead a team that is investing in other companies and growing their leadership would be amazing. I could do that until the day I die!
Are there any issues in retirement that concern you? If so, how are you planning to address them?
Given I plan to never fully retire, I don't anticipate any issues.
MISCELLANEOUS
How did you learn about finances and at what age did it 'click'? Was it from family, books, forced to learn as wealth grew, etc.?
I did my undergraduate degree in finance and studied for a CA designation after university. In addition, I've always read a lot. The combination of these things allowed me to always be aware of finances.
Where it clicked was a few years ago when I had some challenges at work and decided to read every single Mr. Money Mustache post from inception of his site to the day I started reading – roughly three to four years' worth of blog posts.
I branched out from Mr. Money Mustache to many other blogs and learned a lot from reading about personal finance.
Who inspired you to excel in life? Who are your heroes?
My wife has inspired me more than anyone I've ever known. I was talking to my son today about why I started dating her and told him it was because she was the smartest person I had ever met and I'd fallen in love with her intelligence slightly more than a year before she actually let me start dating her.
Until meeting my wife, I actually didn't know that I was intelligent. I maintained roughly a B average in high school, while she was tied with one other woman as the top student in our graduating class.
When I went to College, she taught me how to study, how to use my raw capabilities to be better, how to focus on school and work to be better than I thought I was capable of. Then, to make it even better, she said "I want you to focus on your career, I am going to focus on our family and kids". Her deciding to do that allowed me to make my career priority #1, which has catapulted our family net worth.
Do you give to charity? Why or why not? If you do, what percent of time/money do you give?
Yes, we give in a few ways.
My boys go to a religious school and we pay ~ $10,000 to the school / church each year for them to attend.
My wife is on the PTA and we contribute a certain amount of time each year towards the church / school.
As well, we contribute to causes that friends are invested in, through their fundraising.
As our children age, I would like us to increase our contribution of time as a family to charitable causes.
Do you plan to leave an inheritance for your heirs (how do you plan to distribute your wealth at your death)? What are your reasons behind this plan?
I'm not sure. Given I want to retire early at 45, I am not sure what nest egg I will have available to pass on to my children when we pass.
I know I want to do a few things for my boys. Specifically, I want to pay for their education and I want to contribute towards their first home.
Outside of that, I would like them to focus on making their own way in life. By the time our money is available for them, I would hope they don't need it.