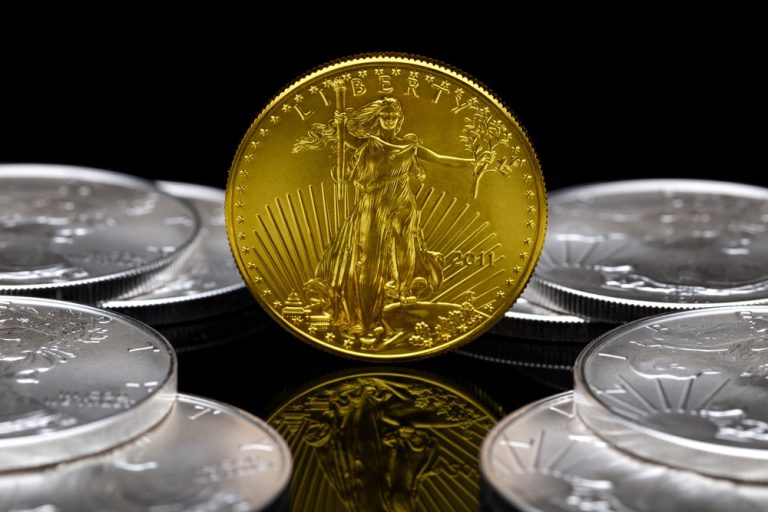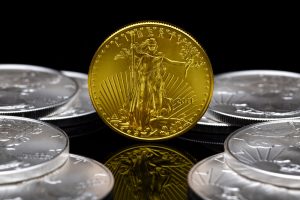 As you know by now, I'm a bit of a precious metal investor/collector.
I list both "investor" and "collector" as I'm not really sure what I'd call myself. I buy a few coins here and there, but don't have a large part of my net worth in metals.
At this point I buy mostly for my own enjoyment as well as for gifts (coins make fun and unique gifts, especially for kids, for holidays and birthdays.)
Here's a quick review of my history in this area:
Since my educational pursuits led to a lot of new questions, I contacted SD Bullion, the company where I buy my coins, and asked if they'd be open to answering my questions. (FWIW, I highly recommend them as they had the cheapest prices I could find on the web — as noted below.)
Not only were they willing, but the president of the company, Dr. Tyler Wall, answered the questions himself.
Below are my questions in bold italics followed by Tyler's responses. Enjoy!
Why do people buy physical precious metals? (I assume there are many reasons, but what do you see as the top 3-4)
From your bullion investors to your coin collectors, there are several reasons individuals purchase precious metals. However, the most common reason our customers invest in precious metals is to hedge against currency devaluation. Our customers understand what 99% of the rest of the population doesn't and that is this: the more dollars the US Government prints or the more money that is created out of thin air makes the dollars in your savings account worth less and less every year.
A lot of investors also consider precious metals as a safe haven investment against world-wide turmoil. When investors are "scared," they tend to turn to gold and silver because they understand gold and silver have always had value dating back thousands of years and will continue to have value.
Other investors simply invest just to get "out of the US Dollar." It's no secret the purchasing power of the US Dollar is under attack from inflation and it's also no secret the US Dollar is under attack from foreign countries as well. The BRICS bank is a classic example. The rest of the world is tired of all transactions being pegged to the US Dollar. A lot of investors understand this and invest in real money, which the constitution has declared long ago, as only gold and silver.
What are the advantages of buying PHYSICAL precious metals versus investing in precious metal companies or mining efforts?
Once someone decides to become a precious metals investor, there are a few options for the investor to choose from. The most popular are: physical, paper and mining stocks.
Our personal favorite is physical. The old saying "if you don't hold it, then you don't own it" is absolutely true. We live in a world where most everything is digital; especially investments. The common investor holds an IRA account in mutual funds. But what do they really own? They can't tell you. When you buy physical metals, there's something unique and special about holding gold and silver in your hands. It feels "real." When you invest in physical gold and silver, you're pulling your assets out of the digital world and protecting your wealth from risks such as rehypothecation and bank bail-ins to name a few.
Precious metal mining stocks are another investment to consider in the gold and silver space. We have friends of SilverDoctors.com that are experts in the field. We don't claim to be experts; nor give advice on mining stocks as it relates to any one stock. Precious metal mining stocks often offer leverage to an increasing or decreasing underlying base metal price. The benefit of leverage has to be weighed against the risks of business/regulatory challenges, base input prices (oil), and local community support.
Lastly, there's paper gold and silver; or GLD and SLV. This is not a type of investment we would recommend. There have been lots of stories coming out that the Comex doesn't have the metal to back all the paper trades. In some reports, there has been respected industry experts who claim there is 100 paper claims to every 1 ounce of physical gold and silver. Therefore, if you're holding a paper IOU certificate for an ounce of metal when it's time to sell, there's no guarantee there's really anything backing your gold or silver paper investment.
What are the "best" precious metals to invest in (in your opinion) and why?
SD Bullion originated due to a passion for bullion investing and we will always be a bullion dealer at our core. Our company started when we were looking to make a purchase ourselves. Instead of purchasing bullion from the high price online retailers available at the time, we instead posted an inquiry article on SilverDoctors.com to see if any of our readers were interested in joining together for a wholesale group buy to get lower prices. The interest from our reader base was incredible. We saved a lot of people a lot of money in the initial purchases and continue to do so today. It's funny, but this is how SD Bullion started out.
So we believe in "bullion." In the industry that would be described as products that have a low premium over the spot price of the metal.
However, this is not to say collectibles shouldn't be considered as well. There are plenty of numismatic coin investors out there that understand the collectors market and can make a good profit buying and selling rare gold and silver coins. But if you're not an expert or being mentored by an expert, then our advice would be to stick with bullion products.
Most people are interested in buying physical gold and silver. What are the best ways for people to invest in these and why? (Coins, bars, etc.)
If you are a beginner in precious metals investing, then you should likely start with diversification within bullion type items. These are going to be your US Mint Gold and Silver Eagles, Royal Canadian Mint Gold and Silver Maple Leafs, as well as gold and silver bars and rounds. Another product to consider in this category is 90% silver which is pre-1965 US currency.
A lot of newbie investors get stuck on which type of product to invest in. We try to focus on diversification not only between gold and silver products, but also within the products themselves. Quite often we find investors delaying purchases just because they are hung up on whether to select rounds versus bars versus coins….instead of just getting into the game. In our opinion, the fact that you are investing in physical metals and protecting a portion of your assets from currency devaluation is what's prudent.
Which is better to invest in (in your opinion) gold or silver and why?
We don't really like to take a stance against one or the other because we believe they are both great investments. Diversification is what we view as important as there are subtle differences between the two metals that may become more pronounced as time passes.
Gold is typically seen as the investment of large institutional investors like banks, governments, businesses, universities, etc. Therefore, most would consider gold to be less "risky" and more "stable." While its industrial uses continue to evolve, Gold is most often correlated with currency. If you are a conservative investor, then maybe gold is right for you.
Silver, on the other hand, is a lot less expensive on a per ounce basis and thus is widely considered the investment of the common man. Furthermore, Silver is currently trading at a 75 to 1 price ratio to gold. In other words, you can buy nearly 75 ounces of silver for every 1 ounce of gold. The historical ratio estimated by industry experts has been somewhere between 15 to 1 or 20 to 1. Therefore, a number of industry experts have called silver cheap on a historical ratio basis to gold. Additionally, silver has a very high industrial use. For these reasons and more, most metals investors would agree that silver is heavily undervalued and will lend a higher return on your investment on a long term horizon basis. However, most metal investors also agree the "swings" in silver could be greater than gold on a short term horizon basis. Therefore, if you are a more aggressive investor, silver rather than gold may be the better investment for you.
In summary, we recommend diversifying your investment into both gold and silver. In our opinion, let gold be the anchor of a portion of your investment portfolio while letting silver provide the possibility of a greater return.
Also, don't forget about platinum. Not many people discuss platinum. But platinum seems to be fairly undervalued as well. It has been less expensive than gold for quite some time now even though platinum is one of the rarest precious metals in the world and has high industry use.
How can people get the best price when buying physical precious metals?
Investors can get the best price by shopping at SD Bullion. We have built our business and reputation as being lowest priced precious metals dealer online. Each week we post our specials online.
How can people sell their physical precious metals if they want to?
When an investor wants to sell their precious metals, it's as easy as when they purchased the metal. All they have to do is call SD Bullion, lock in a price with one of our traders, and ship the metals to us. We will need to inspect the metals to make sure they are authentic and then remit payment to the investor. It's a simple process.
What are your best tips for storing precious metals (both for safety as well as preservation of the item)?
Storage is a very personal topic for each investment and each investor's situation is unique. But all investors should take storage seriously. If the investor is storing the metals at their residence, then we highly recommend getting an insurance rated safe or a built-in vault. The safe should be installed in a discrete location. It's best to keep the fact that you store precious metals at your house to a very close, tight-knit group of people.
If you don't feel storing your metals at home is right for you, then there is an array of affordable options on the market for consideration. The most common are precious metals depositories that look like something you'd see in a movie. These are highly secure and safe and your metals will be insured. You can visit the depository if you'd like to check on your metals.
At SD Bullion we offer depository options inside the US as well as right across the border in the Cayman Islands. The Cayman Islands option offers the benefit of being outside of US Jurisdiction, yet only a few hours flight from most major US cities. Several of our high net worth individuals with purchases well into the seven digits have chosen this option to mitigate risk of government confiscation. It's also an approved IRA storage depository.
If you do decide to store your metals in a depository, our advice is to make sure your metals will be segregated from other clients' metals. This makes sure the metals you purchased are the metals you will receive when you go to sell the items in the future.
How much of a person's wealth do you recommend be invested in precious metals?
We never claim to be financial advisors so it's a tricky question. Some investors are comfortable with only 10% of their portfolio in precious metals, while others are comfortable being "all-in" with 100% of their investment funds in precious metals. Investments, by nature, all carry a certain level of risk. Therefore we don't push individuals one way or the other. We want them to be confident and comfortable with their investment portfolio and risk allocation.
What makes you different than other precious metals dealers?
When you look at the landscape of major precious metals dealers out there, we believe the biggest separator is our belief in the metals and our low prices.
As mentioned earlier, we were precious metals investors long before SD Bullion started in 2012. While other major bullion dealers hedge against market movements in dollars (meaning they offset their physical metal with paper contracts), we actually hedge our inventory by simply re-purchasing more inventory when sold inventory goes out the door. In other words, we're in the same boat with our investors with market price fluctuations.
SD Bullion's focus on being the lowest price online bullion dealer has led us to be the fastest growing Inc 500 bullion company in the United States. Our low prices are a product of a focus on our automated backend technology systems and mostly free word of mouth advertising. When someone is looking to invest a sizeable amount of their life savings into bullion, they often turn to a friend or family member for guidance on a reputable company. Over 95% of our customers surveyed will refer us to their friend or family member. We are one of the most widely reviewed online bullion dealers in the market with nearly 10,000 customer reviews making SD Bullion one of the most trusted bullion dealers online.