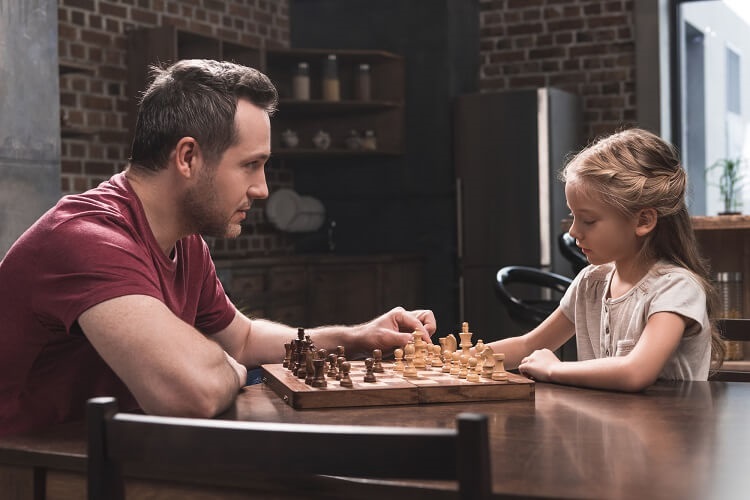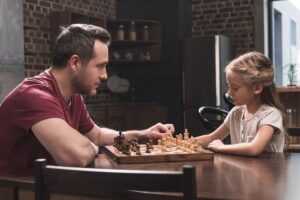 Here's our latest interview with a side hustler!
And this one is very special to me…more on that in a minute.
As you know, I love creating a side hustle as part of a fast-track path to financial independence because it can make a huge difference (see this financial calculator), enough to actually get you to FI in 10 years.
If you have a side hustle and would like to be interviewed, shoot me an email and we can talk over specifics.
If you've read ESI Money for more than 15 seconds you probably know I'm a big chess fan.
I have a chess-related logo for this site, I've written about money and chess (twice), I've noted that chess is a hobby of mine, and I've mentioned chess many times throughout various posts (especially how I do three chess puzzles a day to try and keep my mind sharp).
Just to be completely honest, I'm not that good at the game — at least when it comes to those who take it seriously. I play mostly blitz chess (fast moves) as I like the strategy but dislike the wait. This makes me terrible against most serious players.
That said, I can crush almost anyone else who simply plays from time to time. So I'm between the very casual player and the somewhat serious, beginning player.
Anyway, I never in a million years thought I'd ever have a side hustle interview that involved chess, but that's what we have for you today! Through a series of emails I met the interviewee, discovered he used chess as a side hustle, then asked if he would complete an interview. Thankfully he agreed before I had to beg! LOL!
So today's interview really warms my heart…I hope you enjoy reading it as much as I did when I first received it.
As usual, my questions are in bold italics and his responses follow in black.
Here we go…
GENERAL OVERVIEW
How old are you (and spouse if applicable, plus how long you've been married)?
I'm 33 years old, and my wife is 34 years old.
Do you have kids/family (if so, how old are they)?
We've been married for seven years and don't have any children.
We do have two pets that are spoiled as if they are kids.
What area of the country do you live in (and urban or rural)?
We live in a typical suburban neighborhood south of Minneapolis. Shoutout to the first side hustle interviewee who was also from Minnesota!
What is your side hustle?
My side hustles all involve chess and have transitioned over time.
I have played chess since I was five years old, and started dabbling in chess coaching while in middle school. Over the years the amount of time spent on chess has gone in streaks. There was a period during college and my early working years that weeks could go by without even thinking about the game.
In 2012 I started to become serious about getting back into playing chess. Around that time, a couple friends and members of the local chess club decided to revamp the local chess club. There was a large influx of players new to the game who were interested in improving their skills.
I had a chess title, candidate master, that put me in the top few percent of chess players. It wasn't necessary to have that title to coach kids, but it definitely helped me stand out as a potential coach. Some parents encouraged me to start coaching in town and asked if I could provide private lessons for their kids. Early 2013 was really the start of my chess side hustles.
The chess side hustle has involved:
Chess coaching
Directing chess tournaments
Chess consulting for websites or apps
There is also a small chess project that I'm working on with a hope to make an impact in the chess world. It's still in the early stages and I don't want to pump it up too much at this point! Maybe for a future post, ESI 😉
Is there anything else we should know about you?
My 9-5 job is a programmer at a company that has a great work atmosphere and co-workers. The job allows me to have the time and energy to pursue my passions outside of work, whether they make income or not. I try not to spend too much time on side hustles to make sure I keep balance in my life outside of work.
Often times when I read about side hustles they involve people grinding for years trying to get a product launched or to get their business going. Teaching as a side hustle is very low risk and you can start earning income right away.
A book that helped me was Freelance to Freedom
by Vincent Pugliese. It's a nice read about starting a freelance business and becoming profitable, through the eyes of a freelance photographer.
CREATION STAGE
Is this your first side hustle? If not, could you give us a bit of background on past efforts — both successes and failures?
My first real side hustles started in 2013. Prior to that I only did some odd jobs here and there, without any serious ambition to make extra money.
To help pay for college I worked at a couple different jobs that paid between six and ten dollars per hour. I also did some chess coaching during college and charged $15 per hour, but it didn't strike me at the time that I could grow my chess business into what it has become today.
For the $15 chess lessons I would prepare a lesson, drive to the student's home, teach for 60-75 minutes, and then drive back home. The dollars per hour was modest, but watching students improve over time was well worth it!
Currently, I am teaching almost all lessons online with little to no overhead costs. I'm not accepting any new students this year because the workload balance is right where I like to be. Rates for new students are $60 or more per hour depending on the type of coaching (individual, group, or camps).
Other chess activities that made some income included running chess tournaments and teaching at chess camps. A large benefit to running chess tournaments and teaching at chess camps is the large number of chess players that are affected by my work. Just writing this answer makes me wonder why I didn't do more teaching in my early 20's.
How did the idea of starting a side hustle begin?
Truthfully, I think part of my identity was missing when I wasn't playing chess for long stretches. When I was approached by parents of enthusiastic chess players I didn't have much hesitation getting back into teaching. I had taken many chess lessons from experienced coaches, attended chess camps, and competed in tournaments my whole life. At the time, there was a desire to teach in a way that would have resonated with a younger version of myself as a student.
I began to research different chess teaching resources as well as the necessary tools to improve my coaching services. My past experience was solely in teaching chess. From the financial side of things, I needed to learn how to efficiently track income/expenses and advertise my services.
How did you come up with the idea?
Teaching private chess lessons and leading chess camps was a natural progression as an experienced chess player looking for a side income. Many experienced chess players branch into coaching and some of them even make their careers as a chess professional. Quite often chess professionals write books or produce videos for various websites.
Becoming a chess consultant came a few years after I got back into teaching and made some connections. I made friends with a programmer, entrepreneur, and chess player named David in 2015. David took online lessons from me that year and eventually I did some chess consulting work for his chess app Learn Chess with Dr. Wolf. The app is one-of-a-kind, and includes an interactive coach that works with you in a student/coach relationship. As you improve your skills, the coach will give positive feedback and move on to more difficult lessons. An awesome idea, and the best app I've seen for new players!
One area that chess has exploded in popularity in the past few years is on Twitch.tv. At any given time there are dozens of chess players streaming their games live.
The largest chess website, chess.com, has been one of the big players in the field of expanding online chess. In late 2017 I started getting into online chess events held by chess.com and tracking player metrics in spreadsheets. After getting in touch with chess.com they loved the work and said they'd like to hire me as a consultant on some chess and programming tasks. I don't spend a lot of time with chess consulting, but I love the projects I do pick up and the chess.com team is amazing to work with.
What made you think this particular idea could be profitable?
Early on in the chess side hustle work I told myself I wanted to keep chess enjoyable and never take on too much work. Because I don't rely on the chess income to pay the bills, over time I have been able to consistently increase my rate for future students as long as I felt I could provide enough value.
In town the demand for chess coaches was much greater than the availability of coaches, so I always felt there were students out there willing to take lessons.
What were the early days like — getting your side hustle off the ground, making your first dollar, etc.?
Teaching in-person lessons in town kicked off at a fast rate and I realized that word-of-mouth is the best advertising. Attending the local chess club was the key to finding the initial group of students. I recommend finding local clubs or groups to help advertise your tutoring services.
Keeping a balanced workload meant I was only able to teach a few students on evenings and weekends. When I was looking for a coach to teach me around that same time, there were no coaches within reasonable driving distance that were available to coach me. I took a few lessons online, and instantly fell in love with the idea of coaching online. There are pros and cons to taking lessons online versus in-person, but the pros seem to outweigh the cons by quite a bit (except for new players).
The demand for online coaches also seems higher than the supply of coaches, but there is definitely more competition online. I offered free or discounted online chess services in the beginning to help build the online coaching business.
The most popular promotion I ran was a five dollar chess lesson, with the caveat that the student must pay in advance for the lesson. This ensured that the student was serious about taking the lesson, and they also received coaching at a great price. The free online lessons have quite a few no-shows in the beginning, which was solved by charging five dollars.
BUILDING STAGE
What did you do to grow your side hustle? Were there any specific actions that resulted in major breakthroughs?
The transition from the early stages to the point where I was at full capacity was mostly smooth sailing. Perhaps one exception was that growing the online coaching business in the beginning did take extra time at low rates to build some interest.
If you're interested in tutoring, find a specific niche, and build a reputation in the community and it can be a profitable side hustle right from the start. I have seen tutors for piano, tennis, golf, SAT exams, school subjects, languages, and online video games. Take something you're interested in, take a few lessons, become proficient at it, and there are likely people willing to hire a tutor or coach in that same discipline.
I never tried any business cards, but I think advertising locally is a good idea if you'd like to increase your side hustle hours quickly. The extent of my advertising came from a website for a local chess club, and my online chess profile.
What sort of time commitment did your side hustle require while becoming established?
In the beginning there was some research to figure out how to track income and file taxes. Once I had my tracking spreadsheet figured out, the biggest time commitment was probably driving to chess lessons to teach. I never taught in-person lessons at my house until I started teaching chess online and doing chess consulting.
Where did you find the time to work on it?
My day job is usually 8-5 Monday through Friday, with additional time if needed for project deadlines. Outside of work I have plenty of time and energy to pursue other hobbies and interests.
Every so often I reach the point where I lose the ambition to work on my own chess skills because I've been teaching chess that week. When this happens I try to cut back on chess 'work' so that I have more chess 'fun' time or chess study time.
Outside of chess I enjoy working outside, working out, going for walks, spending time with friends/family and reading. I don't spend much time watching movies or television, but I do enjoy live broadcasts of speed chess events that include the top players in the world.
Were you the only one involved or did others help out?
I feel very fortunate that most of my business comes from past and current students recommending me as a coach to other chess players.
David from Learn Chess with Dr. Wolf was instrumental in giving me life advice, coaching advice, and opening my eyes to the opportunity to be a chess consultant.
Danny from chess.com was the first person to really take to my stats spreadsheets and kick-off my consulting side job with their company. I'm very thankful to be able to work with them.
RESULTS
Can you give us specifics on what you earn with your side hustle?
In 2013 the chess income was mid four figures and expenses were close to half of my income with all of the extra miles put on my car.
Fast-forward to 2018, the income is low five figures with expenses accounting for only 5% of my income!
There is not much overhead cost for working online as a coach and consultant. There is potential to make more money, but I've always been very conservative when it comes to workload. After a few hours of side hustle work per week my free time is more valuable than socking away extra dollars.
What impact has this extra income had on your finances?
The extra income helped my wife and I pay down some debt more quickly in addition to socking money away for retirement.
We've never been huge spenders or extremely cheap either, so the chess income probably doesn't have much of an effect on our lifestyle.
What went well in this process?
The process of building the chess business went very smoothly. Meeting new parents and adult students was always enjoyable for me.
Sometimes going into a lesson I may feel tired or think to myself 'man I wish I didn't coach tonight', but once the lesson begins and I feel the adrenaline kick in and the time flies. Teaching chess requires energy and enthusiasm!
What could have gone better?
I'm not the type of person to have many regrets in life, and I don't think I would change anything over the course of building my chess side hustle business.
What do you wish you would have done differently?
If I had to pick one thing to do differently, and I'm not completely convinced it's a good idea, possibly being more strict with ground rules.
I'm a very timely person, and also very polite with my students. There have been some cases where students, probably unknowingly, take advantage of my politeness by not being present for lessons. Implementing a rule that a student should require advance notice may have been a good idea, but at the same time students pick a coach based on their personality…so this would go against my style.
Has it been worth it? Why or why not?
100% worth it! Being your own boss is fun, and being a coach is rewarding.
I am also very conservative in business, so the low risk nature of coaching was very appealing to me. Coaching chess has very low expenses and is profitable right from the onset.
What are your future plans for your side hustle?
I'm working on a chess website currently to track data on how players study chess and how those activities correlate to chess improvement. The user base is slowly building, but I haven't been putting too much time into building it since summers are the best time to be outdoors in Minnesota.
Currently I only teach two students online. They have been with me for years and are great to work with.
In addition to those lessons I'll hopefully be working on fun projects with chess.com going forward.
What advice do you have for ESI Money readers who may be thinking about creating their own side hustle?
Definitely try it!
Personally I like the idea of not sinking too much money into a side hustle in the beginning. Look for ways to get your feet wet in the beginning and see if you like it.
If it's a side hustle that has a lot of up front costs, perhaps try to serve as an assistant to someone who already works in the business. Learn the ropes, see what you think, and go from there.
Tutoring is a great side business that probably won't make you filthy rich, but it'll serve as a nice side hustle and you can be your own boss getting paid by the hour.