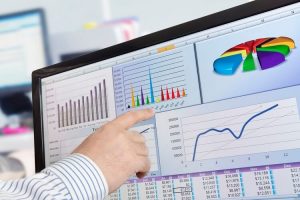 I think most ESI Money readers know I'm a big fan of The Millionaire Next Door
(it's on my list of the only five money books anyone needs to read).
In case this is new news to you, the reason I'm a fan was that I read it as a younger man, did what it advised, and became wealthy as a result. Pretty simple.
Some of you may know as well that the book's author, Dr. Thomas Stanley, was killed tragically by a drunk driver in 2015. (BTW, while looking up Dr. Stanley for this short intro I saw that he was a marketing professor. I spent my career in marketing, so we were kindred spirits in more than one way.) 😉
Since then, his daughter, Sarah Stanley Fallaw (Twitter), has continued his work as the president of Data Points. She is co-author (with her father who started the project) of the recently released The Next Millionaire Next Door
which I recently reviewed and loved.
Over time I communicated a bit with Sarah over Twitter and she was kind enough to send me an advance copy of her book to review.
More recently I contacted her and asked if I could run an excerpt from The Next Millionaire Next Door
and she gave me permission to post the section below.
So that's how we come to having an excerpt today.
As for the topic, there are several points I want to share before we get to it:
As someone who interviews millionaires, I'm always interested in what they do investing-wise. My findings are that millionaires are generally pretty simple investors but I'm obviously not conducting a professional study of them. That's why I like the excerpt below because Sarah has done her research.
People seem fascinated with millionaires in general but with their investing habits in particular. I think it's because people either expect some get-rich-quick investing secret or some exotic list that includes buying Caribbean islands or putting money in alt-investments that make Bitcoin look old. Of course they don't get that, but that's what I think many want/expect.
Investing is a simple subject that's been complicated way out of proportion. So anytime we can get down to a few facts that clarify the basics, I'm all for that.
I like bringing new thoughts to ESI Money readers and this is a different topic than what we've covered previously.
That's why I'm excited today to run this post. I think it will be new, interesting, and we'll all learn something from it.
Of course if you like it and want more, you should grab your own copy of The Next Millionaire Next Door
.
As for now, let me turn it over to the book itself to do the talking (BTW I've changed the formatting a bit to make it easier to read on the web, but the content is word for word from the book).
I'll come back at the end with some closing thoughts…
—————————————
Consider the following description of individual investors:
The investors who inhabit the real world and those who populate academic models are distant cousins.
In theory, investors hold well diversified portfolios and trade infrequently so as to minimize taxes and other investment costs. In practice, investors behave differently.
They trade frequently and have perverse stock selection ability, incurring unnecessary investment costs and return losses. They tend to sell their winners and hold their losers, generating unnecessary tax liabilities.
Many hold poorly diversified portfolios, resulting in unnecessarily high levels of diversifiable risk, and many are unduly influenced by media and past experience.
Individual investors who ignore the prescriptive advice to buy and hold low-fee, well-diversified portfolios, generally do so to their detriment.
[Editor's note: The preceding is a quote from a research study.]
Action bias, or the propensity to take action as opposed to taking no action, can lead investors of any level of experience to take action when no action is required. These extreme investing "doers" end up buying and selling at the wrong time because they have a propensity toward taking action.
The other side, of course, includes those who are averse to taking any action, taking their time instead to create investment strategies that may be obsolete before they are even ever implemented.
What makes a successful investor? One who is able to invest when the market is down and be comfortable with investments that have higher associated risks with them?
Like the behaviors that distinguish high-potential household CFOs from those who are less able to build wealth, there are a few characteristics and behaviors that separate successful investors from others regardless of the economic times or governmental factors.
We know that courage and a willingness to take risks are highly related to net worth. Millionaires throughout the past decades have shared that courage allowed them to weather storms not only in their own careers or businesses, but also in their investments. The courage to invest takes some level of confidence to make an investment-related decision as well as the personality to want to engage in investing in the first place.
And, we also know that financial knowledge and risk-tolerance are related. Knowledge, in particular, can be gained through self-study and research, and as has been the case over time, prodigious accumulators of wealth tend to spend more time researching and planning their investments than their under accumulating counterparts.
The data also tell us that those who are anxious and worried tend to engage in more short-term, potentially detrimental investing behaviors.
In our research in creating an experience- and behavioral-based psychological test of risk tolerance, we found five distinguishing components of "good investing"—good being defined as being generally comfortable with investing in the stock market and buying (versus selling) in a down market.
Personality for Risk
Successful investors tend to be able to make investment decisions even when the exact outcome is not yet known.
They tend to be comfortable making investments even without perfect certainty of what the future holds.
High-Risk Preference
Those who prefer investments with greater risk (e.g., stocks) that have a greater opportunity for return and tend to make better investment-related decisions.
Confidence in Investing
While overconfidence can trick investors into making ill-advised decisions, some level of self-confidence and self-efficacy differentiates successful from unsuccessful investors.
Without an effective dose of confidence, investing-related decisions may be second-guessed and ultimately changed, often with disadvantageous financial effects.
Judgment/Knowledge Regarding Investments and Investing
As quoted by Warren Buffett, "Risk comes from not knowing what you are doing."
Those who build knowledge in how investing works, the potential up and downsides of investments, and the cyclical nature of the stock market are more likely to make better investment decisions overall.
We know that prodigious accumulators of wealth spend time researching investments more so than their underaccumulating counterparts, and that investing knowledge relates to better investing decisions.
Composure
Composure typically refers to the ability to withstand changes (typically, downturns but also boom times) in the market.
Those investors who can remain calm and courageous in the face of a market crash tend to make better decisions than their anxious counterparts.
Characteristics of Millionaire Investors
The successful investor profile above pertains to a broad sample of investors, including those in the mass affluent. And as in the case of building wealth in general, it is a combination of these characteristics and behaviors that can impact our ability to obtain success in investing.
What, then, are the characteristics of millionaire investors? Are they similar to what we've found with broader samples of Americans?
Millionaire investors tend to be a confident group. In our latest study, just over 70% of them believe that they know more about investing than others. We know that confidence in investing can be a double-edged sword, as overconfidence in investing can have detrimental effects on investment-related decision-making (e.g., a belief that you can time the market).
In some ways, though, the investment-related decisions, and decisions about how to use resources in general, come back to the success factor of discipline. Nearly 60% of millionaires (or three out of five) have clear short- and long-term goals, and nearly 55% rarely get distracted when working on a project. Just over 60% say that they spend time planning for their future financial situation.
When it comes to how they invest, nearly 55% of millionaires believe that investing success is due more to their own efforts in studying and becoming educated than advice they receive from professionals.
Similarly, just under one-third of millionaires reports relying on a financial professional to make investment-related decisions.
We see, too, in research conducted with mass affluent investors, that those who have the best investing-related behaviors also tend to be more likely to fire an advisor or other professional they deem to be less than valuable. The take-away for financial professionals targeting millionaire investors is that they should be the best of the best and clearly convey that reality to their target audience.
Millionaire investors spend time building knowledge and expertise in managing investments.
They spend on average 10.5 hours per month studying and planning for future investments, and we see differences in prodigious accumulators of wealth versus under accumulators of wealth in those hours: specifically, 11.3 hours per month for prodigious accumulators compared to 8.7 hours per month for under accumulators.
They spend time researching investments and where to place their money, even if that means investing their money in their own businesses.
We know that their literacy in financial matters means that they are more tolerant of taking investment-related risks. Future outlook and financial knowledge typically relate to taking greater financial risk, so the time they spend in managing and researching investments helps in decision-making.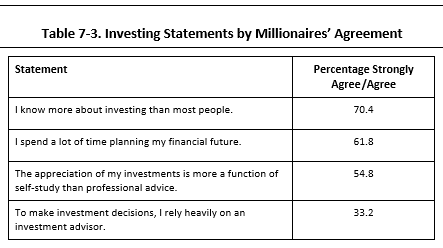 Investors who have a bias toward taking action, any action, in the face of new, seemingly relevant information, tend to perform worse over the long haul.
Millionaire investors do take some action in managing their investments. On average, in 2016, millionaires made 17 investment-related transactions throughout the year. About one in five millionaires holds his investments for less than three years.
The importance here is in whether the decision to take action was prudent and well-thought-out, or if it was rash (and the result of action bias).
Appropriate financial decision-making is a complex mix of knowledge (including financial literacy), future orientation, and remaining calm in the maelstrom of environmental factors. We tend to make better decisions about our finances when we have both a long-term and future-oriented outlook, when we have the knowledge required to make appropriate financial decisions, and when we're calm. These factors have been found both in the laboratory and in the field.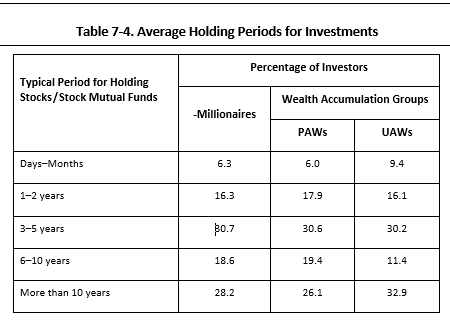 ——————————————–
A few things that stood out to me:
Traits make as much difference as anything. Discipline and composure really stood out to me here. These are very similar to traits found on my list of qualities needed to reach financial independence.
Knowledge is power. Millionaire investors are students. My guess is that they read a lot about personal finance in general. It's likely an interest for them (it is for many of the millionaires I interview as well as for myself) which gives it a double benefit — it's something enjoyable that also has a pretty big life benefit.
They don't use planners for investing. As we've seen, this is contrary to what's said in Everyday Millionaires. As I've noted, I'm not sure that book is quite truthful about the use of planners as Dave Ramsey actually refers people to them.
Anyway, lots of good stuff here. What did you learn or find interesting in this excerpt?