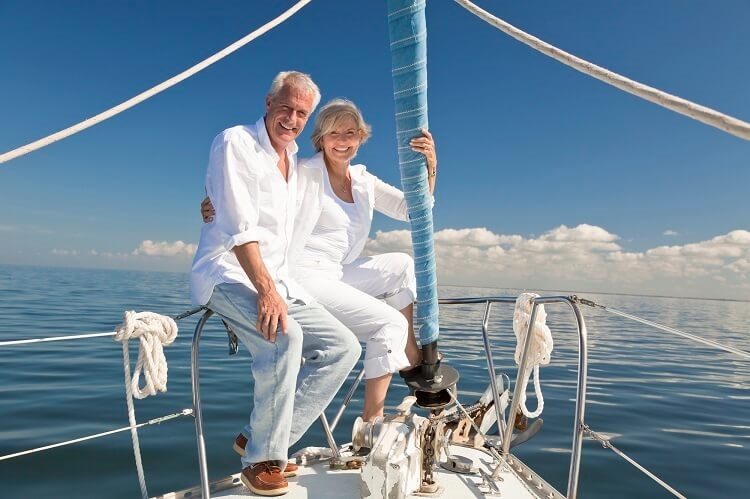 Today we're continuing my review of the book The New Retirementality: Planning Your Life and Living Your Dreams…at Any Age You Want.
I'm sharing sections of the book as well my thoughts on what it says.
We've already covered Retirement Failure and What Makes a Successful Retirement and More Retirement Failure, What You'll Do with Your Retirement Life, More on What to Do in Retirement Plus Thoughts on Working, and Working in Retirement in this series, so you may want to read those posts if you missed them and want to catch up on the book.
Today we get into more of what the New Retirementality is. Turns out it covers some great issues — things everyone needs to consider as they decide what their retirement will look like.
In today's post we'll cover age (and how old/young you feel), having balance in retirement, living a rich life, and a few other topics.
Lots of good stuff here, so let's get going…
Age and Retirement
We begin with some thoughts on age/aging in retirement as follows:
William Chopin, a professor of psychology at Michigan State University, conducted a study that surveyed over 500,000 Americans and found that as people got older, they nevertheless continued to feel younger than their chronological age.
Sixty-year-olds felt like three were 46, Chopnik said. Seventy-year-olds felt like they were 53. Eighty-year-olds felt like they were 65. It looks like this is pretty consistent across the age groups. People know that they are aging, but they are evaluating themselves and their lives and reporting feeling about 20 percent younger than their current age.
The study surveyed people between the ages of 10 and 89 and found that views of age and aging change as we grow older. The more years you have, the more favorable you tend to view those years. Consistently, people in their 70s and 80s reported feeling younger than their years, yet teens and younger adults think 50 is old.
Hahaha. I bet you're agreeing with this, right?
Some thoughts from me:
I'll be 60 in a few years and feel like I'm in the 45 range…so I guess I fit right into those numbers.
FWIW, I'm in better shape now than I was at 45 because I have the time to focus on my health. I workout more, eat better, sleep better, and generally enjoy life more. Wish I had spent more time on it when I was 45, though I did my share and more of cycling and swimming then.
Yes, I remember thinking 40 was old. Then 50 was old. Now I'd say 80 is old. I'll probably be updating that thinking when I get to 70. LOL.
I think it's useful in that the younger you think of yourself, the less likely you are to say things like "I'm too old for that!" — which I think helps keep many people young (not thinking of their age in a negative way — more on that in a minute).
In fact, what you think of your age can even impact how long you live.
The book continues:
Your attitude toward your age is the most important factor influencing your longevity, according to a study from the Yale School of Public Health. The study, led by Dr. Becca Levy, found that those who acquired positive beliefs about old age from their surrounding culture are less likely to develop dementia—even if they carried a gene that put them at risk!
This was the first study to examine the idea of how culture-based views and beliefs on aging influence risk of developing dementia. The researchers studied a group of 4,765 people with the average age of 72:
"We found that those who expressed more-positive age beliefs at baseline were less likely to develop dementia…than those who expressed more-negative age beliefs," Levy said. She also added, "this makes a case for implementing a public health campaign against ageism, which is a source of negative age beliefs."
So, it turns out that to remain healthy for longer periods, we need to insulate and inoculate ourselves from the age-negativity views and the crowds that disperse them. For many, that might mean spending less time with people your own age. Previous research has revealed that for many, age-group disassociation may be just what the doctor orders.
My take on this:
Pretty compelling stuff! It's another case of the mind being able to impact your physical well-being.
I would suggest being sure your self-talk didn't include things like, "I'm too old for that", "I'm losing it", and similar lines of thinking. Instead, replace those thoughts with thoughts of all you can do now and in the future — you're living the life!
I'd also surround myself with like-minded, POSITIVE people. No Debbie Downers allowed!
Just remember: As a person thinks in their heart, so are they. 😉
Balance in Retirement
Next we move on to a discussion of balance in retirement with the following:
Life is a delicate balancing act: between vacation and vocation, between connecting with others and doing something for yourself. —Mitch Anthony
Now we come to the specific balance desired in the retirement proposition. We have already established that a life of total ease will not satisfy. Neither will a life of "nose to the grindstone" without any respite. But the challenge, especially as couples retire, is that balance is a highly idiosyncratic proposition. What constitutes balance to you may be perceived as boredom to someone else.
What constitutes balance to one person may be perceived as "too much going on" to that person's partner in retirement. How we each define retirement is as unique as our fingerprints.
As people embark upon retirement lifestyles, there are four primary categories of focus (the four tires if you will): vacation, vocation, renewal, and relationships. The task ahead of you is to idiosyncratically design a plan for balance that suits your temperament, your goals, and your specific situation.
The book then takes the reader through a series of questions and exercises called "My Retirementality Profile" that is meant to help you find the right balance among these four.
It's a bit too constraining for me, personally, but I can see how it can help some people crystallize their thoughts.
As for me, I think there are five categories people need to address to have a great retirement life. They are:
Health and Fitness — Getting and keeping your body in good and healthy shape.
Fun — Entertainment and enjoyment and relaxing.
Work and Work-Like Activities — Work itself or activities that resemble work in form and function.
Social Interaction — Regular connection with others.
Mental Stimulation — keeping our minds engaged and sharp.
IMO, the mix of these will be up to the individual.
I recommend trying out a wide variety of activities in all the different categories, then seeing what you like, what you don't, and how you should balance among all of these.
If you need help thinking of some ideas, see my huge list of retirement activities.
I think the balance among these five will be different for each person and the only way you can find your balance is to try them and see how they work together. If something doesn't work, toss it out or adjust the plan until you get it right.
Once you have the balance, stick with it until you feel the balance is lost, then readjust as needed. Rinse and repeat throughout your retirement to have the balance you want (i.e. spend time in areas you want to).
FYI, some activities cover multiple categories. For instance, volunteering might cover the work, social, and mental categories in one activity. So it's not like you need 25 activities to cover all the categories I mention.
I personally have moved in and out of the categories over my 5+ years of retirement. Work and Fun are the two that I really try to balance and, at times, have had too much of one or the other (the balance for the other three seem pretty easy for me to manage most of the time).
So when I feel like I'm working too much, I pull back a bit and add more fun.
And when I'm having so much fun that my work suffers, I dial up the work a bit.
They go back and forth in a balancing act over time. But it's at my discretion and based on my plans and feelings, not because a survey told me what my proper mix should be.
With that said, I do think the book's exercise is valuable especially for someone not yet retired and thinking of how they'll spend time in retirement.
If anyone has done the exercises in the book, I'd be interested in your take on them.
Living a Rich Retirement
Next the book moves into a series of comments that I'll classify as thoughts on "living a rich retirement".
Here's the first I want to share:
We live in a world that is obsessed with increasing ROI (return on investment) when we should be more concerned with achieving ROL (return on life). "Return on life" is a phase I developed to define the ultimate purpose of gathering and investing materially. No one gathers only for the sake of gathering. Even the greedy and acrimonious have an extra-material purpose for gathering, whether it is conceit, power, or extreme insecurity.
I agree 100%.
We don't save up all our monies simply to sit back and marvel at the size of our bank accounts (I'll mention this again below as they really hammer this thought home).
We plan financially for retirement to have the life we've always wanted to live (or an extension of the great life we are already living).
Unfortunately, there is a cost to this, and sometimes it's pretty high.
The book goes on:
Another perspective we hear too little of is that the focus on building wealth is not without consequence. A study by U.S. Trust on Wealth and Worth asked the following question: "What would make life better?" Almost half (46%) responded with "more time," and more than half (58%) responded with "more connections with family and friends." Interestedly, less than 20% (19%) cited "more money."
Sixty percent agreed that the demands on their time have increased as their wealth has increased, and 51% agreed they were also dealing with more complicated issues and decisions. If someone happened to own a business, they were even more likely to feel being under pressure (72%). Clearly, we need to count the cost of chasing bigger numbers. For some, the bottom line is that they can ill afford the wealth they seek.
This is what the book Die with Zero was talking about when it said there are three areas that give us the ability to enjoy our lives: money, health, and time. And unfortunately these three are hardly ever in sync.
For instance, when you are young, you have health, but no money. So you use your time (often a LOT of it, as the book notes above) to get money. This takes years and years.
Eventually you work your way to where you have money, but you may be lacking time. So you eventually retire and now you have both money and time. But it's likely your health has suffered along the way to get that money and time.
At this point the book simply asks that you recognize the cost of getting that time and money. I would also suggest that you consider what's worth the cost and what isn't. If you can give up a minimum (or none) amount of health to get the time and money you want, that's where you can live a very rich retirement.
The book continues its thoughts on making the most of your retirement life with this:
The conversation around money matters should not exclude meaning, but rather meaning should be placed at the very center of the conversation: How can I get the most meaning from my means?
There are many aspects of our lives that give us a sense of fulfillment—family, achievement, exploration, freedom, and altruism are some of them. For the sake of clarity, I am going to define these as "the seven meaningful intangibles." Many times, people can have a personal epiphany when they understand these goals for what they are and stop looking for them in the wrong places.
The book then lists the seven meaningful intangibles (and details each of them) as follows: happiness, fulfillment, balance, satisfaction, security, significance, and success.
Along the way, when it talks about happiness, the book makes this statement worth sharing IMO:
Money won't make you happy, but neither will poverty. —Warren Buffett
Hahaha. True.
But money does allow you some things that could make you happy — or at least comfortable — so I'll opt for it. 😉
The book then ends this section of the discussion (chapter 12) with the following:
Ultimately, living "rich" is about aligning your life and money—by placing meaning at the center of each financial decision. It is what I call investing on purpose. Once you adopt this approach, you may find a new sense of wholeness and peace surrounding your financial and investment decisions because you are engaging in a unifying philosophy of life that defines purpose for your money and consequently, your life.
Of course. No one accumulates a huge amount of money simply to have it (or at least they shouldn't). It's meant to fund a lifestyle of the owner's choice.
What is the perfect lifestyle for me might be terrible for you and vice versa. But for both of us the money is about funding the life we want to live.
Believe it or not a lot of retirement books leave the life part out of the discussion, which isn't just a real shame, it's a travesty in some cases.
Yes, I know there are books simply devoted to the money side of retirement, but they should at least mention the life side. After all, that's what the money is for!
Creating Your Retirement Life and Then Funding It
As the book moves into chapter 13, it starts talking more about the idea of your money funding your life, and that the emphasis should be on the life part first and then the money, not the other way around.
Here's an interesting quote that starts it all off:
Teddy in years past also shared with me what I consider to be my absolute favorite thought on spending: "The only money that's really yours is the money you spend. Everything else goes to somebody else."
It's a compelling thought…what you truly "own" is what you have spent.
What you have not spent (or will never spend) is for someone else…an heir, a charity, or the government most likely.
Hmmmm. Gonna have to give this a bit more consideration.
Next, the book moves on with this:
I was recently on a speaking tour in Ireland and spent a half day with retirement planners learning about the issues they observed with their clients. At the top of their list were two items:
People wanting a real purpose in retirement; and
People being free to spend what they worked so hard to gain.
Ironic isn't it? We are all creatures of habit. It has been said that "the chains of habits are too light to be felt until they are too heavy to remove." This apparently applies to our spending habits as well. Some of you may be reading this and thinking, "I wish that was my problem," or "I wish I had enough so I could have that problem!" But this chapter is about finding a correlation between what matters most in life and how we disperse our assets. This is an alignment that is as good for the soul's purpose as it is for the purse.
We first need to figure out what we desire out of life and then how we are going to pay for it—find it first and then fund it. The idea is not to arrange our finances first and then see if we can find a life within that framework. In fact, it is the opposite: figure out the life you want and organize your financial situation to serve that purpose.
A few thoughts here:
As for "purpose", I think this means they want something in their lives they are excited about — something they can do to fulfill them. This could be volunteering or it could be playing golf. Most likely it's a combination of things that fill up their lives with joy. That's why I have my list of five categories above. Those are the areas mentioned the most for making a retirement great.
Why didn't people consider this (what to do with their time) before they retired? It seems crazy to me that people spend a ton of time and effort to fund retirement and give virtually zero thought as to how they'll spend their time. Maybe because they think it will be easy to fill their lives with fun, interesting, and fulfilling activities. News flash: it's much harder than most people realize.
"People being free to spend what they worked so hard to gain." This is actually a big issue. We talk about it often in the forums and it's what caused Millionaire 18 to write about the ISE phase of retirement. It's hard to turn off the "saving" switch and become a spender. That's why I ask about it in my retirement interviews too — to try and get as much wisdom as possible on how to make the transition.
I'm a work in progress on this issue. My main problem is that I'm content and love my life. I'm willing to spend more money, but what can I buy/spend on and make my life better? It's pretty good the way it is. So I spend more on eating breakfast at my gym each day and playing pickleball indoors, but it's going to take a lot of those two things to spend $6 million. LOL.
Our trip to The Villages this winter might be an opportunity to spend some bucks. Ideas include: 1) I want to see/try all they have to offer, including the restaurants, 2) we plan to go to Disney World and I could hire a private tour, and 3) we plan to check out some other areas (Sarasota, Naples, etc.) and will likely take side trips there.
I like the "life first and then the money" thinking. Of course many (most?) people can imagine a life that they'll never be able to afford, so there does need to be a big dose of reality introduced as people begin thinking of what their retirement lives should be. After all, spending a lifetime at the Ritz on Seven Mile Beach in Grand Cayman might be a bit too pricey for most. Hahaha.
Finally, we'll end today with the following thoughts:
Briggs and I had both independently observed that, too often, financial advice and financial planning are based on numbers and strategies outside of the very context they are intended to address: quality of life and a sense of emotional well-being. People cannot simply numbers-crunch their way to emotional well-being and quality of life, but neither can they achieve these ends without crunching the numbers and making the necessary adjustments. There is a need for a financial life planning approach amalgamating both realms into one conversation.
According to the 2017 Generation Ahead Study, more Americans are afraid of living than dying! Sixty-two percent of us are more afraid we'll run out of money in retirement than we are of facing death. People are mortally afraid of living to be 100 and being poor. This socioeconomic anxiety, "bag-lady/poor-old-man syndrome" is deeply rooted in the fear of outliving our money. With the confluence of an aging revolution, rising health care costs, and the erosive power of inflation on our money, it is easy to see how people may not be optimistic about their later years.
A few thoughts on this:
Yes, both the money and life sides of retirement need to be planned for. You can't have one without the other.
Three words: margin of safety. If you have enough of these and they are big enough, they take the worry out of outliving your money.
I think a lot of people worry because they are uneducated. They don't know much about money and when you're unsure about something, especially something so big as funding retirement, it can cause anxious feelings. I can't help but think that if more people had a fundamental knowledge of finances then there would be a lot less retirement worry — certainly so much less that dying would be a bigger issue than living! LOL.
Well, that's it for today. For the next post in this series see The New Retirementality, Retirement Income Phases and Advice from Retirementors.