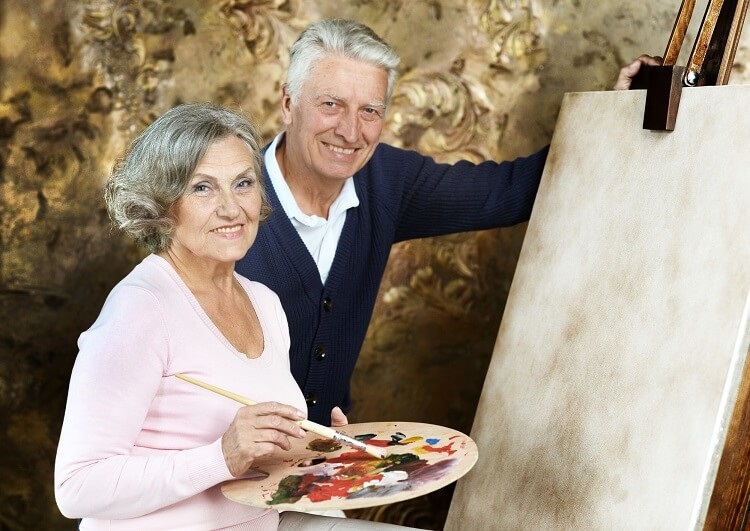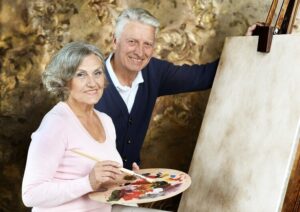 Today we're continuing my review of the book The New Retirementality: Planning Your Life and Living Your Dreams…at Any Age You Want.
I'm sharing sections of the book as well my thoughts on what it says.
We've already covered several sections of the book previously. If you've missed any of those, start at the post on Retirement Failure and What Makes a Successful Retirement and work your way through the others.
Today we'll finish some survey results and then get into the "Vitamin Cs of successful aging". This is a bit different than my list of categories for a great retirement, but I do compare and contrast their list to mine.
Here we go…
Retirement Survey Findings
In the last post we started reviewing some results from a survey taken from retirees.
Today we continue that…here's the next set of findings I want to share:
In the questions around vocation, we asked participants about the role work plays for those who have retired in the past decade or so. If current trends play out, a quarter of you who retire will return to work—and not just because you may need the money. Needing a sense of purpose—something to wake up and show up for—was twice as important as earning money:
Need a purpose/sense of accomplishment 67%
Wanted more social interaction 56%
Wanted to stay engaged/maintain mental acuity 44%
Underestimated financial needs 33%
Other 22%
It's interesting to note that more than half of the participants returned to work within a year (56%) while less than a quarter (22%) returned after being out of work between three and five years and 11% returned after being out of work one to three years. My interpretation of the data is that most people realized they missed working soon after retiring, or they got bored after a few years of nothing but leisure.
"Lack of companionship/difficulties meeting new friends" came up consistently as a problem with vacation (travel and leisure activities)—there were multiple comments about not being able to vacation because of a lack of money, health issues, and responsibility for a pet or house.
Wow. Lots to comment on here:
It's sad to me that so many people have nothing in their lives, nothing they get excited about enough to do for a long period, other than work. Where is the imagination? Where is the adventure? Where is the fun in life? Apparently, there isn't much. So people end up running back to work. Ugh.
Is work the only thing that provides a purpose and sense of accomplishment? Really? I don't get it.
It's also interesting that people have a hard time making friends except through work. What, are we all still third graders who find it tough to talk to people? What about social clubs, sports, houses of worship, and the like? And are work friends really "friends"? I would consider mine more like acquaintances who I saw every day and we worked on projects together. But my real/best friends were always outside of work.
I get the keeping the mind sharp goal. That's why focusing on brain health/mental stimulation is one of the five categories I recommend retirees cover (see the five detailed in my Huge List of Awesome Retirement Activities). I have work and work-like activities there as well as specific ideas for mental stimulation. And they say exercise and social interaction are pretty good for the mind too and you'll find those there as well.
Even though "underestimated financial needs" is low on the list, this still says a third of the people going back to work do so because they need the money. That's a lot. And it sounds like a lot of it was just being unprepared, which is a shame because it's something that could have easily been planned for.
"More than half of the participants returned to work within a year (56%)." This is a stunning statistic IMO. It just goes to show that if you don't plan for the life (time) side of retirement, you can fail at it. And when people fail at retirement, they often head back to work as their only option.
"Less than a quarter (22%) returned after being out of work between three and five years and 11% returned after being out of work one to three years." Add these to the 56% and it says 89% return to work within five years. First of all, really? That seems very high. Second, ugh, ugh, and double ugh. And third, after over five years of retirement, there is NO WAY I'd go back to work voluntarily. It would have to be a family or financial crisis of epic proportions to make that happen.
"Not being able to vacation because of a lack of money, health issues, and responsibility for a pet or house." Here's our situation on these: we have enough money to vacation how and when we want and our health is good. So we want to go while we can because someday we might not be able to. Pets (in our case a cat) do slow you down a bit. For trips where we can't take Zeus, we hire someone to stay at the house with him. For places we can take him, he comes along (like going with us to Florida in January). And our daughter lives in our city so she can watch our house for us (plus we have awesome neighbors) so we'll see how it does when we're gone for 2.5 months.
Financial Problems in Retirement
The survey continues with these responses:
A third of participants (33%) reported feeling guilty about spending money in retirement. Apparently, it's not easy to flip the switch from disciplined savings to enjoying the spoils of your labors.
When we asked, "What did not work for you financially?" Some reported that they had been victimized by what the financial profession calls Sequence of Return Risk, or what I call the S.O.R.R.Y. Factor—Sequence of Return Risk Y'all.
Very few people have the resources to withstand the correlation of their retirement nest-egg getting cut in half against inflating prices for living. It's the veritable two-edged fiscal sword. None of us has prophetic insight into what will happen next, so managing our investment risk is a major consideration going into retirement.
This doesn't mean all your money needs to be tied up in guaranteed annuities, but it does mean you need to know how much market correction you can tolerate with the lifestyle you're living. If you're working with a financial advisor, he or she should be able to walk you through this before you make the move into a place with no more paychecks. If you're managing on your own, you'll need to make sure you allow for as much margin as possible between your cost of living and the income that you're relying on from your investments. If you're in a position where a serious market protection causes a major disruption in your lifestyle, then you have to either recalibrate your lifestyle expenses of extend your time in the workplace.
Several comments here:
Moving from a saver to a spender is an issue that many grapple with. It's because they have been savers all their lives, which is a major reason they were able to retire in the first place. It's hard to reverse a habit built up over 30-40 years, which is why Millionaire 18 wrote about transitioning to the ISE phase of life.
Dealing with sequence of returns risk is something that should be planned for. Most who do it right IMO do two things: 1) they have a large amount of cash, usually enough to cover 2-3 years of expenses, ready when they retire. This way they can avoid sequence risk at the start of retirement when it is the biggest threat. 2) they have several margins of safety which can be deployed if things go poorly for some reason. If you don't have one of these (or both of them), you can certainly get thrashed by sequence risk.
"This doesn't mean all your money needs to be tied up in guaranteed annuities." Uh, if you plan correctly you don't need any of your money in guaranteed annuities IMO.
In general, these issues can be planned for and managed and as long as there are alternatives to fall back on if things go bad, most people can weather these sorts of events. But you need to know what you're doing and plan for them IN ADVANCE.
Thriving in Retirement Life
The book now moves on from the survey results into thoughts on how to thrive in retirement (from a life standpoint, not a money standpoint).
It begins with this:
The MacArthur Foundation study mirrors Dr. Castel's findings; both conclude that the three indicators of successful aging are:
Avoiding disease and disability.
Maintaining mental and physical function.
Continuing engagement with life.
There are things you can do to make the first two of these better (or at least increase your odds of success), but there are no guarantees.
That's why I usually say to do what you want as soon as you can — you never know if you'll be able to do it later. That's one reason I'm so glad I retired at 52 and already have over five years under my belt. It's also why I recommend people retire as soon as they can.
We'll get into the issues of physical and mental activity in a moment, so I'll save my comments on those for then.
The Vitamin Cs of Successful Aging
The book addresses these (and other) issues related to having a great retirement life by introducing what they call "the vitamin Cs of successful aging."
Note that their focus is on "successful aging" while I have my own list for "creating an awesome retirement." There is some overlap, but some differences as well. I'll point out both as we get into it.
Here's how they begin this section:
Gerontological studies from the past 40 years have turned up a number of factors that correlate with aging well. I've been taking notes as these studies have emerged. I was mildly entertained to see that five of the key factors correlating with aging successfully start with the letter C, and so I created the following self-assessment titled the Vitamin Cs of Successful Aging that you can use to rate yourself and your lifestyle. This profile features the following factors:
Vitamin C1: Connectivity
Vitamin C2: Challenge
Vitamin C3: Curiosity
Vitamin C4: Creativity
Vitamin C5: Charity
I'm going to share what the book says on all of these and then comment on each of them, so let's get started.
Here's a summary of Vitamin C1, which is connectivity:
Stay connected to people you love, people you enjoy, and people who appreciate you and see value in your presence. Longevity does not favor the Lone Ranger. Both long life and happiness are tied to the quality of your connections.
Yep. This is on my list of five. I call it "Social Interaction" and describe it as having "regular connection with others".
Everything I have read says that by being social your life is better, your mind is stronger, you are happier, you are healthier, and on and on.
Of course what is "being social" to one person is completely different for another person, so you need the social interaction that works for you.
I don't need a lot of social activity and get more than enough from family, gym friends, pickleball friends, church, online friends, and so on. Too much interaction in a week and I need some alone time. LOL.
Now let's move on to Vitamin C2, which is being challenged intellectually and physically:
The latest Alzheimer's research demonstrates that being intellectually challenged and having predictable taxation on our mental acuity can have the effect of a finger in the dike, holding back the degenerative processes leading to both Alzheimer's and dementia. This research also concluded that as we hit our 50s and beyond, there is an exigency on ensuring that we have riddles to ponder, problems to solve, and things to fix. The brain is a muscle that atrophies without use. One gentleman told me that after six months of retirement, he could sense the dulling in his cerebral muscle, along with signs of slowed thing and sluggish articulation.
According to various studies and the American Gerontological Association, exercise and physical activity is directly related to successful aging. Three hours of exercise a week can increase your lifespan by five years. In fact, physical inactivity is a predictor of things to come: increased falls, fractures, heart disease, respiratory disease, diabetes, and more! It's not a pretty picture. A more specific point to consider is that muscle mass declines by 1-2% a year past the age of 50 (if we're not addressing the matter) and this affects our strength, our endurance, and our balance. That fact alone should be enough to get all of us pumping some iron on a weekly basis. Not only will you feel better, this type of exercise has been shown to improve cognitive ability as well—so you'll not only know when someone is insulting you, you'll be able to flex your bicep to stop them.
Much of what we think of as aging is really just a by-product of inactivity and poor nutrition, and it's not hard to change that. —Mariam Nelson, physiologist, USDA Research Center on Aging
The Gerontological Society of America reported on a study that showed fitness training resulted in significant increases in brain volume for people aged 60-79. A cyclical relationship exists between body, mind, and spirit. It is difficult at times to explain, but, once experienced, it is well understood. One research study has shown that people who engaged in physical activities at least twice a week had a lower risk of dementia than those who were less active. In addition, starting to exercise more after midlife was shown to lower the risk of dementia. Another discovery of significance is the corporeal-cognitive spark—the fact that physically challenging exercise actually "sparks" mental acuity. So, challenging the mind helps the body and challenging the body helps the mind.
Many thoughts here:
I break these into two categories: 1) Health and Fitness — Getting and keeping your body in good and healthy shape and 2) Mental Stimulation — Keeping our minds engaged and sharp. I think they are both important enough to deserve their own categories and focus.
Retirement helps health and fitness because you now have more time to exercise and eat well. You probably also have dramatically less stress, so your body isn't regularly on full alert and if you're like me, you sleep better.
Retirement doesn't help mental stimulation as the key form of exercising your brain for most people is work. So you need to replace the mental stimulation your work used to provide. Options for this are included in my Huge List of Awesome Retirement Activities with the main ones being exercise (as noted above), work or work-like activities in retirement, and social connections (also noted above). In addition I have some suggested activities that can help as well.
I exercise six days a week — three cardio and three weight days (the weight workouts are designed by my trainer). I also play pickleball 3-4 days a week and walk 20k steps a day. I eat well, sleep well, and have almost no stress. So the physical side of retirement for me is good.
On the mental side I work (writing for ESI Money and the Millionaire Money Mentors, learning new technology for marketing, and creating new classes), read a ton (generally at least a book a week), play sudoku and chess puzzles, and, of course, exercise a lot.
For those of you who are retired, how do you address these two areas?
Next we move to Vitamin C3, curiosity:
Curiosity guarantees a pulse in the brain and a reason to keep our bodies healthy. The role of mental alertness cannot be overestimated, and neither can the benefits of a desire to grow. Once a person reaches a point where he no longer wants to learn or grow, it is time to order the tombstone. It need not be formal education that we pursue; it can be self-taught or experiential learning. The important thing is to have the curiosity and desire to grow.
Age is an uphill road. Learning and tasks that demand mental alertness keep us in gear. Those of us who stay neutral in this area will quickly find we are going backward. Rigorous mental function helps to both facilitate productivity in later years and strengthen our need and desire to be active.
I personally believe that curiosity is the foundation of youth. I've met those who are 40 years old who are lacking in curiosity and seem prematurely old. And I've met others who are 80 years old who are possessing curiosity and show up as eternally young.
I lump this in with "mental stimulation" above as I think they are so closely related as to be part of the same effort — to keep your mind sharp.
I'm not a big class taker, but I do get a lot of information from reading (books and online) as well as traveling.
Vitamin C4 is covered next and the book labels it as "Creativity".
Again, this is part of the mental stimulation section I list above.
It's interesting to me that they break all these out separately when they seem to me to be better suited under one objective/purpose: keeping your mind active and healthy.
Anyway, that's a wrap for today.
For the last post on this book, see The New Retirementality, Successful Aging, Hiring a Financial Planner, and Conclusion.