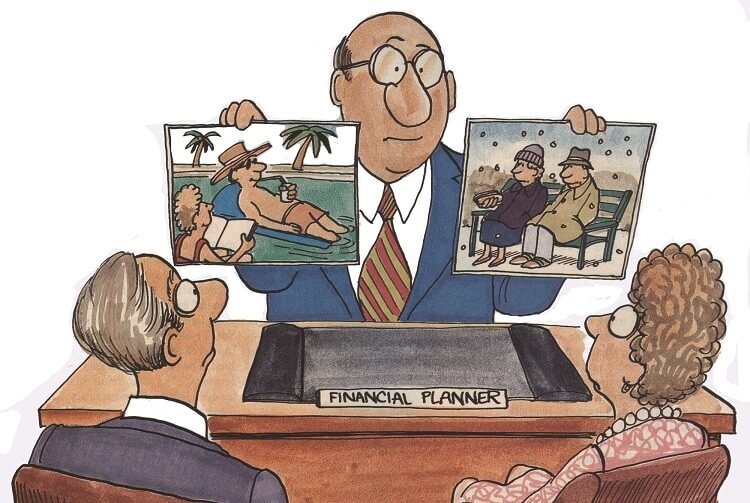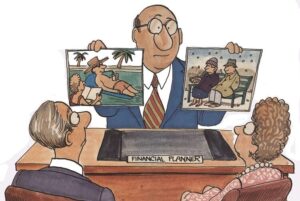 Today we're continuing my review of the book The New Retirementality: Planning Your Life and Living Your Dreams…at Any Age You Want.
I'm sharing sections of the book as well my thoughts on what it says.
We've already covered several sections of the book previously. If you've missed any of those, start at the post on Retirement Failure and What Makes a Successful Retirement and work your way through the others.
Today we'll be wrapping up coverage of this book. We'll finish with their thoughts on successfully aging, discuss recommendations for hiring a financial planner to help with retirement, and closing with some final thoughts about the book.
Here we go…
The Last Vitamin C
We covered the first four "Vitamin Cs" for successful aging in the last post of this series. Today we'll talk about the fifth "C", charity.
Here's what the book says on the subject:
Studies continue to surface around the ameliorative effects of charitable living on quality and longevity of life. Those who think about helping others often talk about how such charitable preoccupations lessen the degenerative effects of stress associated with worrying. Even if we didn't live a day longer because of charitable pursuits, we no doubt would live better.
Research from the Corporation for National and Community Service indicates that those who give of themselves boost their self esteem and also gain a sense of more control over their own life: "in particular, older volunteers report lower mortality rates, lower rates of depression, fewer physical limitations, and higher levels of well-being. Older Americans who volunteer frequently live longer and report less disability." There is an observable difference in the aging of the soul between the self-absorbed person and the selfless one. Giving to others, volunteering, and being a part of meaningful, significant activities seem to help promote healthier attitudes, which in turn improve one's health and contentment in life.
A few thoughts here:
I am a big believer in giving and helping others. I've written several posts on the topic, we gave a good amount while working our way to FI, and I have volunteered for many different charities with my biggest commitment being serving as president of a small non-profit for seven years when we lived in Michigan.
I wanted to say that because my next comment could make it seem like I'm anti-charity. Because I think having a charitable aspect of retirement is "fine". It's even commendable. But I don't think it's something that should be on the "must do" list.
That said, there are many benefits to volunteering with a charity. If you want to help others as well as get many of the benefits of work that so many miss when they retire, volunteering is a great work-like activity that fits the bill.
But if you don't want to volunteer, that's fine too. There are other ways to "lessen the degenerative effects of stress associated with worrying." In fact, retiring and leaving work alone is a way to get rid of a ton of stress and worry. That is as long as you plan well for retirement — having enough money to afford retirement and several life activities to keep you busy.
I don't volunteer much these days but I've been looking for a board position, so if one opened up I'd consider it. (FYI, I did do some remote consulting for a charity during the height of Covid — we met via Zoom.) We do still give a good amount each year and giving competes with taxes and travel for our top expense.
Most of our giving is with appreciated index funds through our donor-advised fund. We do give some cash locally as a couple charities have enterprise zones we contribute to (we have to give cash to get the tax breaks, so we do).
I do agree that when you volunteer you get as much out of the experience as you give. It's very rewarding in my experience so if you decide that you want to volunteer in retirement, I don't think you can go wrong. And even if you do "go wrong" in picking a charity/project you don't like, you can always change that. What are they going to do if you don't like it, fire you? Hahaha.
As we leave the five Vitamin Cs, I want to note a couple categories that they did not include which I do.
Those are:
Fun — Entertainment and enjoyment and relaxing.
Work and Work-Like Activities — Work itself or activities that resemble work in form and function.
Uh, what about having FUN? Isn't that part of aging successfully? It's certainly part of having a great retirement!
And maybe they didn't include work in this section because they've covered it previously, but it probably deserves at least a mention in the five groups.
Anyway, their list seems to be a subset of mine and both have their pros and cons.
If you're interested, my five categories and a ton of activities under each one can be found in my Huge List of Awesome Retirement Activities.
Next the book wraps up all their thoughts about wellness and aging well in the next section…
Challenge Your Body, Mind, and Spirit
Here's a summary of the book's thoughts on doing well in retirement:
Going forward, it will be more beneficial to choose a posture of proactive health rather than get caught up in the healthcare system. You need to decide that this will be a vigorous and involved stage of life as opposed to a withdrawing and "retiring" stage. You can make the preparations you feel are necessary (such as long-term care insurance), but the greatest impact to your health will be rendered by the New Retirementality decisions you make for holistic well-being, such as:
Work out your heart on a regular basis by walking, jogging, or some other aerobic exercise.
Engage in regular, light weightlifting.
Maintain physical intimacy.
Schedule charitable and altruistic activity into every week.
Don't join the "moan and groan" sorority or fraternity.
Engage in work or activities that utilize your talents and challenge your brain.
Drink a little coffee to start your engine and a little red wine to wind it down.
Examine your soul each day with reading, prayer, and self-check of motives in word and actions.
Your health habits will have a major impact on both your quality of life and the quantity of income available for that life. Think of health habits as an investment—in yourself. Physical discipline leaks over into mental focus, and mental focus and perspicacity leak over into introspection and a meaningful examination of your life. It is the body influencing the mind, which is influencing the spirit, and the cycle continues back through the mind now inspired and body now energized.
Lots of thoughts on this one:
I 100% agree with the statement "it will be more beneficial to choose a posture of proactive health rather than get caught up in the healthcare system." In fact, this is how I look at my spending on working out — I can give it to the gym or I can give it to my doctor. I prefer the former. So I go to a nice gym (I use it often — six days a week and am there a few times on some days — like working out in the morning and playing pickleball in the afternoon; my wife attends exercise classes there six days a week too), buy the right equipment that makes working out better/more productive (I track my heartrate and other metrics as well as have a good pickleball paddle, the right shoes, etc.), and have a trainer who makes my workouts way more effective than they would be if I just did them on my own.
I also agree with "vigorous and involved stage of life" in the sense that you need to be active and doing things you like to have a great retirement — you can't just sit around eating chips and watching Netflix all day every day. That said, the lifestyle doesn't need to be (and shouldn't be) so full that you have no time to relax. You need to be sure that you're active but that it's at a pace you prefer and you have plenty of downtime too.
I highly recommend both walking and aerobic exercise. I do both, with my aerobic exercise being the stairstepper at the gym and pickleball. I also like swimming but haven't done much of it for awhile so I'm out of swimming shape. Perhaps I'll pick it up again if/when I can't do the other things as much or when I need an alternative (for instance, I might do lap swimming again when we go to Florida this winter).
I also do weightlifting three times a week. My trainer gives me a new routine every 2-3 weeks and I add that into the rotation of what I do.
Having a great relationship with your spouse/partner is vital to a great retirement IMO. I feel sorry for those who retire and because they are with their spouse more, they have problems. We have had zero problems related to being together more in retirement. But we also have our own interests and aren't together 24/7/365.
As I said above, I don't think the "charitable and altruistic activity" is a must. I would say it's more important simply to treat other people kindly. When you do, life just seems better all the way around. But if you want to volunteer, do it for sure. And I still recommend giving financially if you have the means.
Having a positive outlook on life goes a long way in making your retirement great. And what can be so bad in retirement anyway? YOU'RE RETIRED!!!! Other people have to go to and deal with work. You can do whatever you want. What's there to be grumpy about? LOL.
Work and work-like activities as well as other activities can keep your brain active and engaged, something you want to be sure you make time for.
"Drink a little coffee." Have I mentioned lately how much I love this book? Hahahahaha.
I read and pray every day. Not sure I check my motives so perhaps that's something I need to add.
Anyway, this is a GREAT list IMO and if you do what they have listed here, you will have a great retirement life IMO.
The only things they missed were being sure you have activities that you find fun and enjoyable as well as enough social interaction to be sure your needs for people interaction are met. Add these two to the items above and you're set.
Hiring a Financial Planner
The last chapter of the book is titled "Don't Go It Alone" and is about hiring a financial planner to help you create your retirement plan.
I'm not going to cover the entire chapter (of course) but I do want to share a few highlights starting with this:
Some of the reasons I think it is worth considering hiring a competent professional include:
We don't always know what we don't know.
We are tempted to follow the crowd.
Individual investors historically underperform the indexes because they react emotionally to market events.
It is time consuming and stressful to manage money on a day-to-day or week-to-week basis.
Regular readers know what I think of financial planners (at least in general), but just to give you a refresher course, here are some posts to check out:
I also believe that the best financial advisor you can have is yourself. But that requires you to learn how to manage money and many people aren't willing to put in that effort.
So with that said, having a financial planner can be helpful for those who do not want to learn how to manage their money themselves IF they can find a good one.
How can you find a good one? Beats me. You're on your own with that.
Well, not completely on your own. The book has some thoughts on the subject:
After observing this wide range of integrity/competence, I have developed the following criteria for interviewing a financial professional. Use this assessment after talking to a professional, and you will greatly increase your odds of finding the wealth-building partner you need.
What was your first impression of the individual?
What kind of questions did the financial professional ask you?
Did the financial professional demonstrate good listening skills?
Did the financial professional explain the matters in a language you could understand, or did he use jargon and talk over your head?
Is the financial professional willing to disclose her own personal holdings?
Does the financial professional have a track record that can be documented?
Does the financial professional articulate a clear philosophy regular in investments and wealth building?
Ask the financial professional how and why he got into this business.
Here's the danger: "wide range of integrity/competence."
I would add that not only is there a wide range of planner honesty and knowledge, but the majority of planners are clustered around the low levels of both integrity and competence. Maybe 10% are good to great with both of those, but that leaves 90% who are lacking in one or both.
Which, as you might imagine, makes it much harder to find an honest one who knows what he's doing.
The book ends by trying to convince the reader to hire a planner with the following:
Even with the wealth of free online information available, when I travel to a faraway place, I like to get the advice of a trusted travel agent who has actually been there.
The book goes on to compare a financial planner to the travel agent and though they both add extra expense, the book says they are worth it.
Here's the problem with this argument IMO — this part: "who has actually been there."
That's the issue, most planners have not been there. They are not wealthy themselves and they are not retired. So where have they actually been? To sales school? Probably. To some sort of training on managing money. I'm sure of it. But have they actually done what you want to do — do they have practical experience and success in it? Most do not.
That's why I prefer good mentors — because they have been there and done that. Most planners have not been there or done that.
Having said that, if a person is unable or unwilling to manage their own finances, a planner who has a lot of book knowledge and some experience is better than nothing. It's a bit of a case of the semi-blind leading the blind, but it's better than nothing — as long as you can find an honest one who's not going to rip you off.
As we end this part of the discussion, let me say that even if you do get a planner, there's a lot of value in knowing at least the basics of money management so you can talk to the planner with some knowledge on your side. It's like how you get better results with a mechanic or home repairman when you can speak their lingo when describing what's wrong with your car or needs done to your house.
How do you get this knowledge? One way is to read these 12 books.
Thoughts on the Book
We now conclude our coverage of this book.
While I have not agreed with all of it, I do think it's a worthwhile read for its thoughts about working in retirement and planning for the life side of retirement.
If I ever expand my list of top retirement books, this one would certainly be a candidate (I have it on the honorable mention list now, but it may be better than that.)
Anyway, I'd be interested in hearing your thoughts on it — either from what I've written or your own opinions if you've read it yourself.
So let me hear your takeaways in the comments below!