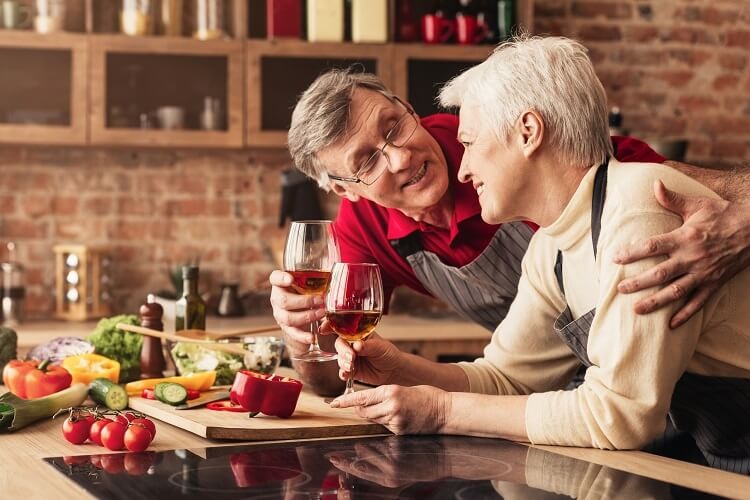 Today we conclude our coverage of the great retirement book What the Happiest Retirees Know: 10 Habits for a Healthy, Secure, and Joyful Life. It is packed full of solid information and statistics about the state of retirement today.
If you've missed any posts in this series, there are two ways to catch up. You can begin with the first post, which is an introduction to the book, and click through to the next posts at the end of each one you read. Or you can check out my retirement category and scroll through the posts there.
Note, in this book the author frequently uses HROBs for "Happiest Retirees on the Block" and UROBs for "Unhappiest Retirees on the Block." So if you see these acronyms below, you'll now know what they mean. 😉
Like with other books I've reviewed on ESI Money, I will share some key passages from this one and give my thoughts on their conclusions.
Let's get started…
Join the Happiest Retirees Club
As the book begins to wind down, it features a final chapter that invites readers to "join the happiest retirees club."
This section has some general, high-level advice and thoughts with this being the summary:
For the most part, these habits are not rules. They are meant to be guidelines. Think of them as variables in an all-important equation:
Money + health + connection = happiness
Remember those scary statistics I shared at the start of this book? Here's the scary recap: more than four out of five Americans either can't retire or won't be able to maintain their pre-retirement lifestyle when they do, meaning they will not have the financial security to support all the things they want to do in their golden years. That means fewer than one in five people get to have a safe and secure retirement in which they're not constantly worried about running out of money.
When you take all these happiness habits collectively — the money habits, the health habits, the social habits — they also lead to a higher probability that you will be able to retire sooner than most folks.
That's my great hope: that the habits in this book will make you happy and healthy in retirement, and get you there faster. It seems to be good to be true. But that's exactly what my studies have shown. The men and women already practicing these financial and lifestyle habits are not only happier, they're ones who can retire one, three, five years sooner than they thought they could…which means they'll be even happier.
Several thoughts from me on this:
Of course there are no guarantees. But I do think the more of these you put into practice and the sooner you apply them (i.e. not just at retirement but years or decades in advance) the better odds you'll have of having a great retirement.
I think the formula is a bit simplistic. It's not just about money, health, and social connections, but as I said in Huge List of Awesome Retirement Activities there are five areas that you need to address to have a happy retirement: 1) Health and Fitness, 2) Fun, 3) Work and Work-Like Activities, 4) Social Interaction, and 5) Mental Stimulation. If you cover all these in retirement you are almost assured of having a good one (though there are still no guarantees, you give yourself the best odds IMO).
On the financial stat he shares: "more than four out of five Americans either can't retire or won't be able to maintain their pre-retirement lifestyle when they do." That's a pretty staggering number. In other words, 80% of people either can't retire or will retire to a lower lifestyle than they had before retirement. There's nothing wrong per se with retiring at a lower level lifestyle — if they are prepared for that. But I think we all know that most aren't prepared for much about retirement, so taking the leap and actually retiring will likely result in a hard landing.
I never wanted retirement to be a time of lack or one of barely getting by. That's why I went for Fat Fire (high levels of spending) and for an income-focused retirement plan rather than an asset-focused one. You could even say our standard of living went UP in retirement as we're now much less focused on saving and more open to spending. On the other hand, you could argue that I went a bit overboard and retired later than I could have, which I would agree with, but for doing it the first time I did ok. If you gave me a second chance, I would be even better. 😉
Looked at the other way, the statistic above says only 20% of people can retire and maintain their standard of living. That's a pretty dismal success rate but it's not surprising given what we know about other ways Americans handle their money.
The situation described above (80% having a tough retirement) is one reason I think people need to plan for retirement. They need someone to help guide them so they have an awesome retirement. Unfortunately people think one of two things when it comes to retirement: 1) "We'll figure it out when we get there" or 2) "Who plans for leisure? No one!" As a result, they don't create a plan for retirement which often dooms them to less than stellar results. So how do you get people to take/seek advice/direction when they don't think they need it? That's a tough sell!
"That's my great hope: that the habits in this book will make you happy and healthy in retirement, and get you there faster." This is the reason I keep writing at ESI Money and have the Millionaire Money Mentors forums. I want all readers to be better with money and live the lives they want to live, free from financial concerns.
"They're ones who can retire one, three, five years sooner than they thought they could…which means they'll be even happier." You know what I think of retiring early and hope that all of you who want to can retire as soon as you like. For me, the sooner, the better! Nothing in life is guaranteed, so retire ASAP!
Now let's wrap things up…
30 Habits of the Happiest Retirees
The book ends with an appendix list of "30 Habits of the Happiest Retirees."
I know. The list of 30 habits seems to fly in the face of the book's title, which focuses on 10 habits.
In Wes Moss Interview on the Happiest Retirees I asked about this as follows:
Me: The book is about 10 habits of the happiest retirees and the appendix expands these to 30. Any idea how many of either of these someone must have to be happy (other than "the more they have the better chance they have of being happy")? Do you need 7 of the 10 or 20 of the 30?
Wes: All retirees have financial and social situations that are unique to them. There really is no "one size fits all" for the happiest retirees on the block. Of course, we think the more of the 10 or the more of the 30 you have the better chance you will have of finding happiness in retirement.
Ok, that's as clear as mud. Hahahaha.
The way I look at these, the 10 habits are fairly general and broad. The 30 habits are more detailed and specific and each falls under one of the 10 broad habits.
So to end this series I'll list the 30 habits. In the book they all come with a paragraph or more explaining them, but you'll have to get the book to read those. 😉
Before we get to those, here are some final words of advice from the author:
No one can observe every single one of these habits. I sure don't! The idea is to incorporate as many as you can into your daily, weekly, monthly, and yearly routines. The more of these habits you adopt, the better your chances of becoming the happiest retiree on the block.
Now here are the 30:
HROBS have a minimum of $500,000 in liquid retirement savings.
Happy retirees have either paid off their mortgage or will soon.
The happiest retirees have multiple streams of retirement income.
Core pursuits are your hobbies on steroids-and the happiest retirees have at least 3.6 of them.
Among the top core pursuits are travel, volunteering, spending time with kids and grandkids, and a variety of exercise-oriented pursuits-including playing golf or tennis.
On average, happy retirees have 2.5 kids.
HROBs live near at least half of their kids — and are less likely to support them financially.
Overeducating your kids is overrated.
Kids should get married and get out.
Retirees are 4.5 times more likely to be unhappy if they're not married.
You can still be a happy retiree if you've gotten a divorce.
Happy retirees discuss money, but they don't obsess over it.
HROBs don't shy away from the bedroom.
Retirees who attend a place of worship an average of once a week are 1.5 times more likely to be happy.
HROBs both believe and give.
The happiest retirees have at least three "CCs" (close connections,) aka friends.
Happy retirees make a conscious effort to see their close friends on a regular basis.
The happiest retirees belong to at least one social group.
Many of the happiest retirees go to concerts.
HROBs stay active, and they love what I call the ings.
The happiest retirees care about what they eat.
HROBs aren't teetotalers; they love a good glass of white wine or a tumbler of gin.
Happy retirees live in nice houses but not McMansions.
HROBs don't downsize.
Dividend investing is one of the most powerful tools in the HROB's toolkit.
The happiest retirees know that investing is less about perfection and more about participation.
HROBs are tomorrow investors, not today investors.
The happiest retirees have unlocked the power of the 4 Percent Plus Rule.
HROBs know how to use the Rich Ratio.
The happiest retirees are masters of the middle.
I was going to go through each of these and comment on where we stand on every one of them.
But after reading through the list, most of it would simply be, "Yep, we do that one" over and over again. That would make for some exciting reading, huh? Hahahaha.
So instead I'll simply comment on the ones we DON'T do (or at least don't do exactly):
We have both kids out of the house but only one is married. So I guess we need to get the other married off. LOL.
We don't go to concerts. I do love music and listen to it every day (while working out or writing — BTW, I'm listening to Spotify as I write this) but I am not a big fan of crowds (too much hassle, waiting, and frustration for me). That said, I do like to go and see a good musical when one comes to town.
We do not drink alcohol. I opt for lots of water (about 160 ounces a day) and some coffee, Gatorade (a habit I picked up when I had my colonoscopy — I usually just drink this when I play pickleball), and diet soda (a very small amount). I don't like what alcohol does to my body and I have a general policy about not drinking calories (I prefer to eat my calories).
We have not "unlocked the power of the 4 Percent Plus Rule." That's because we have enough income to cover retirement expenses and don't need to withdraw from assets to pay for retirement. I prefer this option BTW.
I think you know by now what I think of the "Rich Ratio." Hahahahaha. It's better named the "Getting By Ratio" IMO.
I'm interested: how many of these describe you? Let your "score" in the comments below and/or list the ones you think you need to work on.
And that's it. We have covered the highlights of the book, but there's so much more in it and I highly recommend you get your own copy (I have read mine three times already).
Anyone out there read this book? If so, what do you think of it? What did you learn?