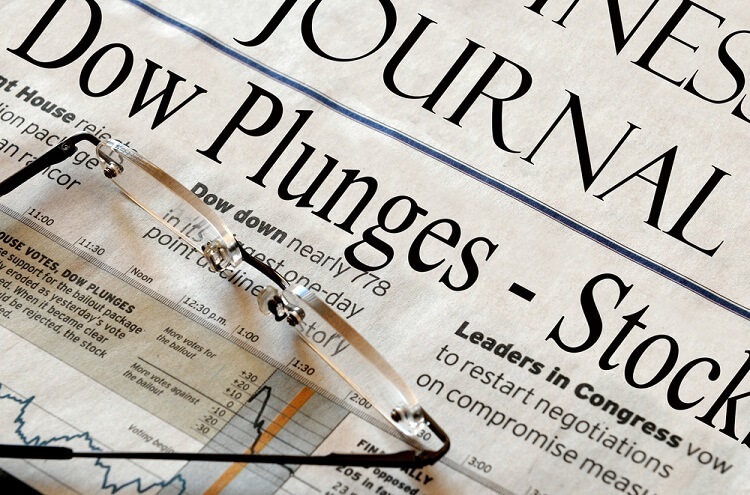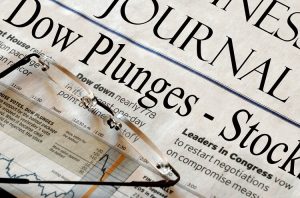 I have seen numerous articles on the recent stock market decline.
The news media is in a frenzy claiming the end of the world is near, and that we're all going to lose everything by the time it's over.
It's what much of the media does best: take an issue and sensationalize it to the point of terror. Or at least that's what they like to do.
As you have probably guessed, I'm not a fan of theirs.
2008
I have a pretty steady hand when it comes to stock market declines. I rode out the collapse of 2008, investing cash into stocks all the way down.
I must admit that it was a pretty wild ride and even I questioned myself many times, wondering whether I was doing the right thing or not — buying when everyone else was selling. It was worsened by the fact that even when I thought the market could go no lower, it often did.
But doing making those moves ended up being a great move for me. Over the next several years, those investments skyrocketed and have done quite well. If you believe in the overall worth of US stocks (which I do), why panic when they drop a bit?
My Panic
This time was a bit different for me though. It wasn't because my portfolio was down BIG TIME and my net worth had taken a huge hit (both of which were true). That's what most people are afraid of (spurred by the media), but not me. I was panicked for an entirely different reason.
My problem was that I did not have any cash in my brokerage account! How could I buy when prices are falling (something I love to do) when I didn't have cash? Ugh!
So I had to move money from a savings account to my checking account to Vanguard. Then it could be invested. But those moves took days — and I was panicked that I would miss my buying opportunity.
I did get some money to Vanguard and bought more of my favorite index fund. But as the market has started to go down more, I'm moving more money there as I write this. I hope I get it there in time to invest.
Good Thoughts
This whole set of issues like "what do I do?" and "where is the market going?" was put into great perspective by a couple pieces I've read recently. They are certainly worth sharing with you all. Let's start with these quotes from The Simple Dollar:
The truth is that I see these kinds of short downturns as an opportunity. Right now, I can buy a share of Vanguard Total Stock Market Index for 9% less than what I would have paid for it three weeks ago. Since my focus isn't on the return I'll get this year or next year or even 10 years from now, all that I can really be confident about is the price at which I'm buying right now.
To sum it all up, for most people who aren't on Wall Street or involved in day trading, the stock market should be a long-term investment, period.
My thoughts:
I see downturns as a buying opportunity as well.
My focus isn't what happens in the next few years either, though perhaps it is within the next 10 years. I will need to adjust my investments in a few years or so as I glide into my financial freedom plan.
The stock market is a LONG-TERM INVESTMENT. It goes up and it goes down on a day-in, day-out basis. Over the long term it goes up more than it goes down, but it's not a straight uphill climb. Never has been.
The other set of thoughts comes from Jonathan Clements:
Currently, the S&P 500's Shiller P/E is at 23.6, versus a 50-year average of 19.7. What would it take to get back to average historical valuations? We would need the S&P 500, which closed today at 1859, to fall to around 1550. That would put the index 17% below today's level and 27% below its May 2015 peak. I'm not predicting we'll get that sort of decline. But it does tell you that U.S. stocks aren't exactly cheap.
Let's start with the obvious: None of us has any control over the direction of stock prices or any real insight into where shares are headed next. The market will do as it pleases.
My advice: Calculate your current mix of stocks, bonds, cash investments and alternative investments, and compare it to your target portfolio weights. If you discover you're taking more risk than you intended, this isn't a good time to be selling stocks. Still, you might take that step if you're truly uncomfortable with your portfolio's risk level. For the rest of us, this is a time to carry on as usual. If you regularly invest part of your paycheck in the stock market, you should keep making those investments, and feel mildly pleased that you're buying at slightly lower prices.
My thoughts:
Though the market has gone down, it looks like it has more room to drop. Interesting.
That said, NO ONE knows what the market is going to do. Especially the hyped-up mainstream media. So stop listening to them!
Carry on. Sounds like good advice.
What I'm Doing
I do make regular stock investments into my 401k that will buy at the lower prices, but I will be supplementing these a bit with cash I had on the sidelines. I won't get crazy though as I do need to maintain my emergency fund. Plus I'd like some available cash in case real estate drops again. I may want to pick up another rental or two.
Also, it may be a good time to pick up some high-yielding dividend stocks. I probably would but I haven't yet sorted out my strategy on that subject yet.
How about you? What's been your reaction to the market drop? What steps (if any) do you plan to take?