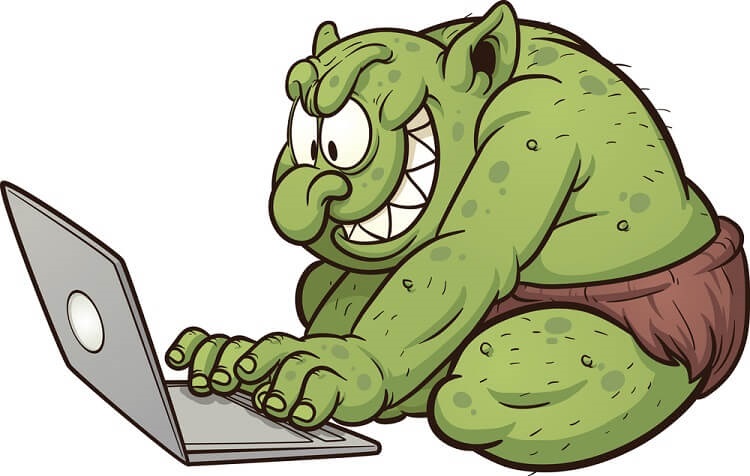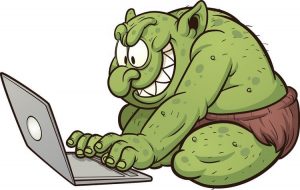 Here's another Saturday rant for your amusement. I know how much you like these. 😉
BTW I didn't go with my now-standard dragon photo since I found a perfect one for this subject. But don't worry, the dragons will return!
If you've been writing or reading blogs for more than 15 seconds you are likely aware of Internet trolls.
These are people who like to put others down, think they know everything, and are the rulers of the digital world (at least in their minds).
If you've ever had any sort of widespread publicity, you REALLY know about trolls. Personal finance blog readers are pretty cool overall. But when you get a wave of average Americans to your site, brace yourself for impact.
Boy, Do I Know Trolls
I've been blogging for over 13 years now and I've seen a wide variety of trolls. The first time I had one I was shocked that anyone would act that way. But over time as my site grew and got more publicity, I was visited by trolls more frequently (that's just part of the deal) and got used to them.
That said, I know some newer bloggers who have almost been reduced to tears by trolls.
For me trolling became such commonplace that I included a link on my homepage titled "troll bait." It linked to this post, the gist of which is the following equation:
Normal Person + Anonymity + Audience = Total D*#kwad
BTW, I've found people don't really need the audience these days. They are ok with being jerks one-on-one.
At my former site when someone would make a troll-like comment, I'd often just leave a link to that equation as my response. Nothing upsets a troll more than being called a troll so it was great fun.
Let me clarify that I do not consider someone who simply disagrees with me as being a troll. Disagreement and different points of view are good IMO. I have learned more from sincere people leaving well-thought-out disagreeing opinions on my sites than I probably did in college.
No, a troll will disagree for sure, but they also add to it by:
Questioning your integrity (something I do NOT take lightly at all)
Making up facts to suit their points of view
Going on a tirade (ever seen a 1,000-word comment?)
Being abusive to me or other readers/comments
It goes on, but you get the idea. I think the common theme is that trolls make themselves feel better by putting others down and justifying their own (often poor) decisions.
If you want an "official" definition, here's one from Wikipedia:
In Internet slang, a troll is a person who starts quarrels or upsets people on the Internet to distract and sow discord by posting inflammatory and digressive, extraneous, or off-topic messages in an online community (such as a newsgroup, forum, chat room, or blog) with the intent of provoking readers into displaying emotional responses and normalizing tangential discussion, whether for the troll's amusement or a specific gain.
This sense of both the noun and the verb "troll" is associated with Internet discourse, but also has been used more widely. Media attention in recent years has equated trolling with online harassment. For example, the mass media have used "troll" to mean "a person who defaces Internet tribute sites with the aim of causing grief to families". In addition, depictions of trolling have been included in popular fictional works, such as the HBO television program The Newsroom, in which a main character encounters harassing persons online and tries to infiltrate their circles by posting negative sexual comments.
Yep. Trolls = Total D*#kwad.
Trolls on the Prowl
In July I had a post on Business Insider (BI) that listed my spending for a week. As they like to do, BI splashed my net worth in the title (it does grab the attention). As a result, the post went viral.
Not only did it appear on BI but on Apple News, MSN, Google News, several major papers, and on and on. It got several million views at BI alone and drove tens of thousands of new people to ESI Money. I had to monitor the site closely and increase my hosting plan twice just to keep the site running.
Here's my favorite screen capture from that time. It's from the San Francisco Gate homepage. Notice the top story: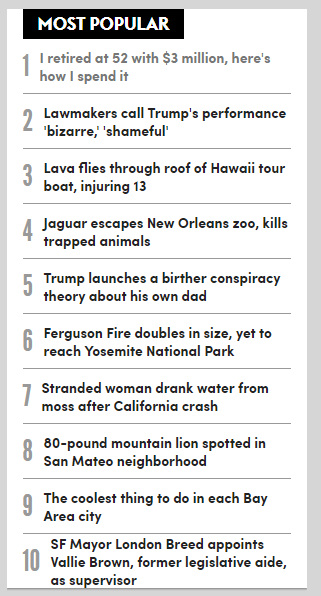 I heard from family and friends who saw the article one way or another. It was fun when they contacted me as we chatted by text or email, but was also awkward in some ways as my finances were now being seen by people I knew. But that's what you accept when you agree to be covered by the mainstream media.
And of course the trolls were out in full force. Because of them I realized how Frankenstein felt when all those villagers showed up at the castle with torches and demanding his head. 🙂
But a couple factors helped me weather the storm:
It wasn't really that bad. For every troll-like comment I received, there were at least 20 positive ones, probably more.
I'm an experience troll killer, so I know how to take a shot and return fire.
Types of Trolls
Of course, not all trolls are the same.
Like their mythical namesakes, they come in a wide range of varieties, all meant to terrify and destroy.
Here are a few of the more common ones:
Liar Trolls
These are the kind of trolls that know you're lying and they aren't afraid to tell you so.
Forget that they know nothing about you except maybe a highly-edited article they just read, that doesn't matter. Facts are not relevant as they prefer to make up their own anyway to suit their purposes.
And do not count on them to review prior pieces you've written that address their issues. Trolls have people to destroy — they can't be bothered with facts, doing research, and the like. That stuff takes time and might lead them to a different opinion than the one they have. And trolls hate to change their minds, especially when presented with contrary facts.
An example of a Liar Troll sent me an email after reading the BI post. Here it is:
I read with great interest an article in Business Insider about how you were able to retire at age 52. Your monthly spending chart was interesting. Taxes and medical costs at $1428 per month seem unbelievable to me. You left out the cost of health insurance. What do you pay for health insurance? You did mention that your wife works 15 hours a week. Most employers do not provide health benefits unless you work more than that.
With an $8257 monthly average income I think your federal taxes would be roughly $2000 a month at a 25% tax rate.
You're upbeat article rings false with me if you leave out a major expense that most who retire before age 65 have and if you leave out paying Uncle Sam.
Just Looking For The Truth
Oh, and she copied the people at BI just for a nice touch. Little did she know she used a wrong email address and they never received it. LOL! Trolls are so stupid!
This troll actually left her name and sent this from a personal email address. Trolls are so bold these days!! In days of old they would have simply signed it as "Just Looking For The Truth" and sent it from [email protected] to maintain anonymity (one of their main strengths — trolls like the dark).
Trolls are getting so bold today! It's just like in Lord of the Rings when the orcs started to get aggressive — you knew trouble was coming. Scary!!!
Now there are various ways to handle trolls. Sam at Financial Samurai is a troll master. He gets them all the time and I think he actually likes it that way.
Sam uses some sort of comment-judo reply to put them off guard. He would respond to the above with a pseudo-positive comment that asked for their opinion (or something similar). If read at face value it would seem like he's almost agreeing with them. But if you read it as most normal, non-troll people would read it, you'd see he was disagreeing. It puts them off balance and they don't know what to do.
You can always ignore them as well. This often does not work as trolls see no response as an insult in most cases and as fear in others. With either of these, they get more aggressive in my experience. That said, some will take non-response as a sign that you agree with them and they'll just go away, which is what you want. This can be an effective option if you just don't want to take the time to respond.
And, of course, you can attack. If you choose this option you have to go full-force to totally destroy the troll. Otherwise he will attack back with more force and you're in a back-and-forth war of words.
After dealing with trolls for 13 years, I've had it with them and I mostly go on the attack, especially when someone who knows nothing about me calls me a liar.
In other cases I ignore and only engage if they persist, to which I generally respond fairly aggressively.
Here's how I responded to the above:
I'm sure you know way more about my finances than I do despite the fact that I've tracked every penny for 20+ years via Quicken.
As for health insurance: $500 a month for a family of four. Details are here and easily found on the homepage of my site if you had taken the time to look for them.
As for taxes, I think you need to learn about marginal versus effective tax rates, the advantages of owning real estate, paying estimated taxes in a year where income is increasing, the differences between how income versus capital gains are taxed, and the like before you start accusing people of not being truthful.
If it makes you feel better about your own situation to be cynical, then be that way, but leave me out of it.
Not my best response, but it was written within a few minutes of receiving the email, so it was quick (a key in responding to trolls). And I never heard from her again, so mission accomplished.
Know-it-All Trolls
These trolls know way more about everything than you do and they want to tell you about it. Obviously you are an uneducated pagan who needs to be set straight and they are just the ones to do it!
Again facts, past articles, and the like are not relevant to them. It's clear they are smarter than you are so just sit back and learn.
Here's a comment I received via Facebook messenger:
Hello, I read your interview on business insider about what you spend in a week and what really caught my attention is that you purchased K Cups and bottled water; both of which are wasteful and expensive. Further, the damage you do to your body by eating fast food will offset any savings you see and it also makes me question why you would purchase bottled water? If it's a safety factor you written all that off in your purchase of fast food.
You didn't mention anything about gardening or affordable landscaping; I hope you're not paying to water a yard full of Kentucky bluegrass. I was intrigued with your article until I hit "K Cups" and I deduced that your financial well-being probably has more to do with having been an executive than with your choices. Not everyone can go out and purchase 14 real estate units unless they have a good salary leverage.
I was impressed with your ultra cheap car, though, I myself recently purchased a vehicle for $500 and I am putting into savings what I would put towards a car payment and will one day purchase another nice, used vehicle. I think more people need to understand that a car is not an investment and having the biggest, shiniest one only makes you the brokest.
Uh, ok. She clearly knows more than I do about saving, the environment, my life choices, gardening, the English language and much more.
I ignored this one because 1) who cares, it was from Facebook and 2) I was busy trying to keep my site from imploding from the crush of traffic I was getting.
Besides I was busy drinking 10 k-cups of coffee (which I threw in the yard for some bird to try to eat and choke to death on), eating several cheeseburgers, washing it all down with a case of bottled water (disposing of the empty bottles in a nearby lake), watering my lush, green grass for three hours, while binge shopping on Amazon because I can't control my spending. Sheesh!
And "brokest"? Is that a word? Maybe, if you count the urban dictionary, which I generally avoid.
Passive Aggressive Trolls
These trolls seem like they are your friend but then launch into a zinger or suggested change they would like you to make because, obviously, they know better than you.
Here's an example that I may or may not have completely made up to illustrate what these are like — along with my commentary in parentheses:
Hey, man! I just found your site on the Wall Street Journal (trolls often get the facts wrong — even about where they found you). It's awesome that you've saved so much and retired at an early age.
I've been reading your past posts (usually a lie) and love that you want to retire on a cruise ship (they usually pick a post that recently went live and is still on the front page since they don't want to read deep). How cool would that be?
I noticed that you know nothing about _______________ (it can be anything from something the site is actually about (like money) or something completely unrelated (like training circus animals)). You may want to change what you say about it because the current content makes you look stupid. Also, I think instead of doing ___________ (fill in something popular, like millionaire interviews) you should do ____________ (fill in with something no one would want to read — like interviewing cats on their financial habits). I think that would be much better than the current junk you're putting out.
Love the site! Consider me a regular reader! (like I believe or want that)
This sort either gets the attack or ignore from me. If I'm feeling especially feisty I'll do a Sam-like sarcastic response that has the tone of "thanks for your comment, I hate it, now get lost" just under the surface.
Sometimes I'll simply respond with the theme, "Hey, I'm retired and you're not. Consider that next time you want to decide who's the dummy." It's all in good fun, right? 😉
You Are Wrong and/or Stupid Trolls
Closely related to the Passive Aggressive Trolls are the You Are Stupid Trolls. The main difference between the two is the Passive Aggressive Trolls at least try to add a spoonful of sugar to help the medicine go down. The You Are Stupid Trolls forget that as it's just a waste of time. They go for the kill right away:
Here's an example:
Chick-fil-A
MacDonald's
Potbelly's
King Soopers fried chix
1. Good thing you hit the gym every morning.
2. Better plan on higher medical expenses later if you're regularly ingesting these kinds of foods. Filled with additives and saturated and trans fats, unnecessary and unhealthy amounts of sugar and sodium. Let alone the downside of meat consumption. I just found it odd that you pay so much attention to your financial numbers, and so little attention to your nutrition. Not that it's any of my business, but I thought maybe someone who has many years ahead of him to enjoy with this family should adopt a healthier diet.
3. I live just outside DC and I have to admit, Pi's is one of the few restaurants I'll go to downtown. Even so! I wouldn't eat there more than 2x in a year.
The BI post was done during a week when 1) my daughter was home and 2) I was traveling with her later that week to take her to DC. Both of those are causes for eating out (not to mention drinking bottled water and other heinous acts), so it did appear that I was a fast food junkie.
So I did respond to this one with the following:
I only eat like that when my wife isn't around. 90% of the time she has me eating grilled chicken and salads.
That seemed to satisfy her. She didn't seem like a full-fledged troll anyway or perhaps she was off to stalk the McDonald's blog.
I did get this sort of food-related comment more than once by the way. One blogger friend said he shared it with his audience and had to defend my eating habits. I asked him if he mentioned that I don't smoke, I don't drink, I don't drink soda, and other than the few days I spent in Grand Cayman earlier this year I haven't had sweets in almost two years now.
He laughed and said I was probably doing way better than most people. Yes, but trolls don't want to hear that!!!
Gangsta Trolls
This is a new type of troll if you can even call him that. I think someone may have been pulling my leg, but I got an email with the subject line of "Yous Erly Retirments @ Age 52".
The email read as follows:
Hays, bro, I's read bout ur erly retirments on SF Gate. You gots $3 million, bros?? WOW, bros that a lot!
You should vest in cryptos, dude! You know, like Bitcoin and thangs like that. My homies call me Crypto Blood and I do a rap goes like "Crypto Blood in the mud aint no thud she shor got jugs."
You like?
Hey let me knows, bros, we get together for coffee and pretzels and I show you my "Crypto Blood Invest Bomb" plan. All you needs we put yous all $3 million in my special strategy and it be worth least $300 million next years or two.
Deals, bros???
So sincere from,
Crypto Blood
So of course I sent him everything I had. It seemed like a wise move, right?
Seriously, I had no idea what to do with this so I ignored.
My Message to Trolls
Now that I've blabbed on for a while we get to the heart of this post: what I want to say to trolls.
If you're reading this post more than a week after it went live and you got to it by a link I left elsewhere (on another post, on social media, etc.), it's likely this part is for you.
So for all the trolls out there, here are a few things I want to say to you:
1. Go away.
As my daughter would say, "This is why no one likes you." You're a pest. You're nasty. Obviously you make yourself feel better by justifying your actions and bringing others down. Do that somewhere else if you must as I and my readers don't want you here.
2. I don't care.
Something about having a boatload of money and living on less than what you earn in retirement makes you care less about what others think of you. That's my reaction to you — I don't care. I don't care about your opinions, your made-up facts, your perceptions, your suggestions, your anything — I just don't care. And yet another reason to move on.
3. Get a life.
Do you really have nothing better in your life than to criticize others, put them down, and leave bad feelings wherever you go? That's sad. So get a life.
4. Learn to read.
Your facts are wrong and your ignorance shows. On the outside chance that you really do want to learn something or make a valuable comment, I suggest you read my past posts before you do. They will help you get your facts straight and in 99.9% of the cases address any issue you may have.
And that's it, folks. Way more than you wanted to know or care to have read about web trolls. I hope you enjoyed the rant!