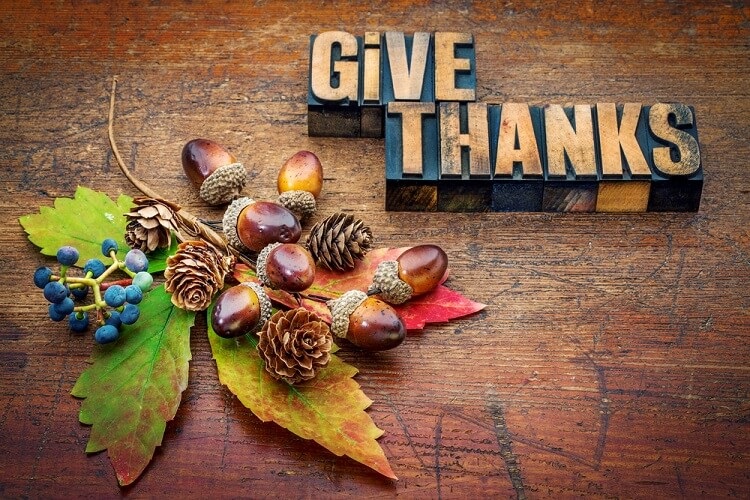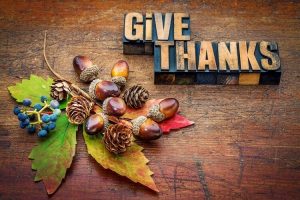 Well, it's the day after Thanksgiving and if you're like me, you ate too much yesterday.
But that's ok, right? At least once in a while it's ok to overdo it a bit.
It was a great Thanksgiving for us and I hope yours was the same.
We are all back together (including my daughter who has been home from college for over a week now) which made the holiday extra special.
Since most people are either out shopping as this posts or sleeping in and then taking in a day of family, entertainment, relaxation, and, of course, more food, I thought I'd have a simple chat with those of you who do show up. I'll catch you up on what's going on with me, the family, retirement, and so on.
BTW, I'm not writing this on the Friday after Thanksgiving, though some of it sounds like that. I'm writing the first draft a few days before, updating it on Thanksgiving (if needed), and sending it out early Friday. That said, I wanted to write this as if it's a conversation we're having in real time.
I'm Thankful
I want to start out by saying how thankful I am. I feel like the luckiest man in the world.
I have a great family, good health, interests that keep me excited about life, and the money and time to enjoy all of these.
It's hard to imagine that life could be better, so for that I am very thankful, not only today, but every day.
None of us knows how long we have to live, so I am blessed to have this life for as long as it lasts.
I'm sure many of you are thankful too. I'd LOVE to hear what you're thankful for if you'd leave your thoughts in the comments below.
Black Friday
I have never been a Black Friday shopper — at least not in stores.
Today I'll send out a few Amazon e-cards to those people who have helped me this year (my property manager, a manager at the gym who gets my guests in for free, my pastors, my CPA, and so on) but that's all the shopping I'll do.
No, today is a fairly normal day. I was up early, at the gym (no one was there — awesome!), then out for a walk.
Today I'll take another walk or two, do some work, and watch some TV with my family. It will be a relaxed day and will certainly not involve going anywhere there may be crowds.
What are your plans for today?
Life
I told one friend the other day that retirement seems busier than when I was working. How can that be? And how did I do all the things I did when I was working? The answer is I couldn't do them all if I was working.
Of course I'm now running three websites, two of which are fairly large, so that takes a lot of effort. But I really enjoy the time spent on them and it's not really "work" at all. This is yet another reason that I should have retired long ago — I wouldn't really have to sacrifice much on the income side as I could almost make my salary working only 20 hours a week. Ugh. I'm sure I missed at least 10 years of retirement, but it's too late now. Anyway, this is why I advise people to retire as soon as possible given their spending needs and net worth levels.
I'm still an early riser, getting up between 5:30 am and 6 am every day. That's a bit later than I had been getting up but my son often stays out later and I hate to go to bed before he gets home, so I stay up later. Thankfully, I have that flexibility. 🙂
Of course my Christmas tree is up and lit when I come down in the morning. I always find it so cheery. It's been up all year (two years now) and it's on a Wemo timer I set to turn on/off automatically in the morning. I can also turn it on from my phone anytime I want. I have six of the Wemos (Costco had a GREAT deal on them) and now turn lights on and off at will all over the house. They also have this great "away from home" setting that randomly turns lights on and off when you are gone so it looks like someone is home (they are on/off a half hour at a time, not a short amount of time, so it doesn't look like a laser light show with all the ons/offs.)
Anyway, it's amazing how it's the little things that can make you smile.
Colorado has been unusually cold/snowy so far this winter (snowing a few times with the first one before Halloween) after a summer that seemed hotter than normal. I'm hoping the early cold/snow means we have an early spring! 😉
Family and Friends
My wife still loves her part-time job at the church — maybe more now than before. It gives her something enjoyable to do and she's awesome at it. They would hire her full-time if she wanted, but she doesn't want to spend that much time working and I don't want it to cramp our lifestyle (daily walks, travel plans, etc.)
My son got promoted at his last job (Great Wolf Lodge), then they hit the slow, after-summer season and promptly cut everyone's hours. So we went back out on the job hunt and he now works at Costco selling phones. He loves the industry as he has a natural interest in phones. Plus he's pretty outgoing so he's a decent natural salesman. Not sure what the future holds for him but we'll let this one ride at least through the holidays before we begin looking to upgrade.
He got his car from my parents in August and now owns the nicest car in our family. He enjoys the freedom of having his own car but not so much the expenses associated with it (who knew you had to spend so much on gas?!) LOL! Just wait until he has to have it serviced — another "shock" expense!
My daughter was home in August after her DC internship. Then, because she wanted a car at school, she and I made the drive from Colorado to Virginia. Look that up on a map — it's a looooooong drive. It's especially long when she drives 85 mph most of the time. Let's just say I got 23 hours of praying time in. 🙂
She was home again in early October for fall break and is now home for Thanksgiving. She goes back on Monday, then on December 5 I fly to Louisville and she picks me up at the airport (she'll leave after her last final and drive there). We'll drive some more that day, spend the night at a hotel, then drive 13 hours the next day to get home. At that time she will be home for good (hopefully with a job following soon thereafter) and I can leave the Colorado to Virginia cross country treks behind me.
My mom and dad decided to retire, bought an RV, took it out a few times, and loved it. They had planned to get into it full time by the fall, but they were taking it slow and ultimately postponed the RV life until the spring. We'll see if that happens. My bet is still on the summer if then.
They visited us in August while my daughter was home (they wanted to see her plus deliver my son's car). We had a great time including a trip to Breckenridge where I scored some awesome summer deals on Spyder shirts (50% off!)
We found out a good friend of ours has brain cancer. It's not clear what will happen, but it's another reminder that life is short. It makes me glad I retired when I did. I would not have wanted to work all my life and then die.
On the house front, we had a whole house fan installed in late August and it REALLY cooled down the house at night. Even in the short time we had it, our AC bill dropped big-time. It did cost us $2k but it's so great for a cool night's sleep that it was totally worth it.
Health
I had a physical earlier this month and the doctor said 1) I'm in great shape and 2) he wants me to be in even better shape. So I'm eating fewer carbs, more veggies and fish, and even some treats he says are good for me (like 1 oz. of dark chocolate and 4 oz. of cranberry juice a day). Not too bad overall.
I'm still exercising six days a week — weights three days and cardio three days. I also get in over 16k steps a day (that's my goal for the year — to average 16k or over).
I didn't get to climb Pikes Peak because I couldn't find anyone to do it with me. Any takers out there?
My latest appointment with the dermatologist assistant resulted in a discussion about a mole she found and didn't like. I told her I had it for 54 years but she wanted to take a biopsy. So she did and it was nothing but a mole. Now I'm wondering how to balance diligence and reason in looking out for my skin. At this rate I'm going to look like a sad pincushion after a few years of seeing her.
Entertainment
The movies have dropped off a bit the past few months since there hasn't been much to see. My daughter and I did go to Bohemian Rhapsody this past week and the family has a few more planned over the next month.
One of the places our movie time has gone is into TV. We're now into "Countdown to Christmas" on the Hallmark Channel and have something like 25 new movies to watch between now and Christmas. I even downloaded their app to make sure we see them all. Once those are over, "When Calls the Heart" begins and we're off on another season. Yes, they are sappy movies and you know what's going to happen. But they are like potato chips — so feel-good that you want more.
The other place my time has gone is with video games. The fall had two GREAT releases in Spider-Man
and Assassin's Creed Odyssey
. Since I'm a nut at tracking how much I played them both (to see if I get my money's worth) I know I played Spiderman for 56 hours (I finished the game once, then started another one that I didn't finish because AC came along). For Assassin's Creed I ended the game at 114 hours (yes, that's right) as I maxed out and couldn't level up any more. As you can tell I 1) LOVED these games (and thus put them on my holiday gifts idea list), 2) could never had spent this much time on games while I was working (thank God for retirement!), and 3) got my money's worth. 🙂
I traveled some since my last update. Of course there was the drive to Virginia (and flight home) noted above. And you know about our trip to DC. In between those two I worked in five days in Orlando for FinCon, the financial media conference. It was so great to meet so many people I "know" from online. Coming up I have the flight to Louisville and drive home. Then early next year we are going back to Grand Cayman. Can't wait for that one!
Finances
Like everyone else, we took a drubbing in the stock market this fall, but our finances are pretty solid. One funny story. I knew the market had been down for several days and I updated my investments on Quicken. We were down something like $250k. I told my wife and all she said was, "Oh."
Things are still going well with ESI Money. It will make $40k or so in revenue this year which is very nice for an unexpected retirement income. I have some great millionaire stuff coming up as well since we've now passed the 100th interview.
One question I have for those of you who have made it this far: What do you think of the ESI Scale interviews? Are they interesting or not? If not, could they be made better (maybe with better questions — if so, what questions) or are they simply not your cup of tea? I'm asking because they are the lowest traffic days on my site and, of course, I'm always looking to improve. I have them scheduled into January, but if interest doesn't pick up I'll be moving them to less-frequent appearances.
Rockstar Finance is doing well too. We're going to change things around a bit to better serve our readers, websites, and staff, so look for those coming soon if you're a reader there. If you aren't and want to be, you can get an email every day with the best personal finance posts by subscribing to the Rockstar Finance newsletter.
I'm still on Facebook and Twitter and have ramped up my Pinterest game as well. You can follow me on any of these if you like.
I still update our retirement budget every month and I'm still pulling money out of Lending Club and Prosper. I'm down to about $20k with Lending Club and $10k with Prosper. I will keep withdrawing until nothing's left.
We have dropped the idea of buying a rental place that my daughter could use. If she stays in the area she has a friend who she wants to live with. Besides real estate is so sky-high here I'm not sure I can find a place I would like price-wise.
So, that's my chat for today. Nothing earth shattering but I felt like I just wanted to catch up with my friends.
I hope you're having a great day and have an awesome weekend!