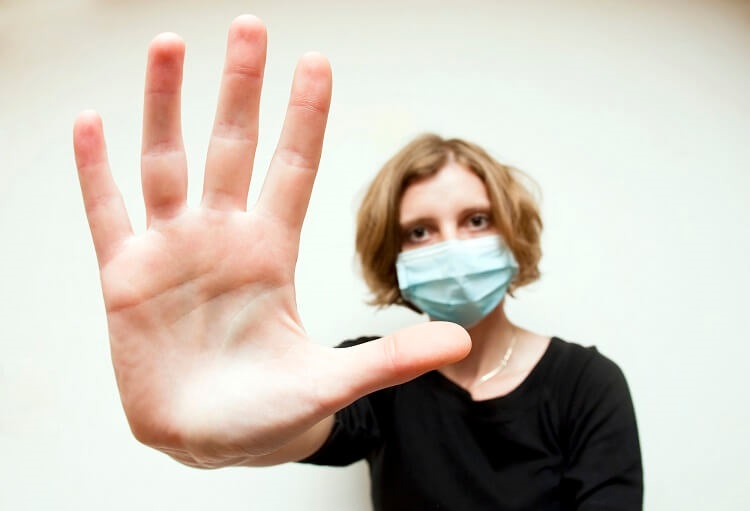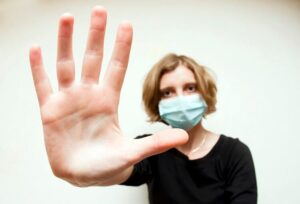 It was a few weeks ago when I thought about one of my friends…I hadn't talked to him in some time.
I messaged him via Facebook to see what was going on.
I asked if we could chat sometime soon and catch up.
He responded that he was swamped at work and really didn't have any time to talk right now.
Then he sent me the following words:
"Coronavirus is killing me in a different way."
I immediately knew what he meant…
Panic is in the Air
You see, my friend works for an investment company, handling customer calls.
I knew he had been living through the ups and downs of the stock market (mostly downs) and that things were CRAZY.
I knew this for two reasons:
I could see how crazy the market had been to my own portfolio (I've been down $800k at the worst so far).
I know the American public's general financial intelligence (or lack thereof) and thus their tendency to over-react when things get even a bit dicey.
The difference between the two is that I'm a seasoned investor and not prone to panic. In fact, I'm the opposite — trying to see what opportunities there might be in the panic.
That's not the way the average American rolls, though. I've been writing too long not to know he's currently in full panic mode. The coronavirus and resulting dropping stock market is giving him the right opportunity to do so.
And when he's panicking, he's prone to make some terrible investment decisions…like selling at the wrong time and/or for the wrong reasons.
Before we get back to my friend, let's take a look at what panic-induced selling does to/for an investor…
One of the Worst Investing Mistakes
Wanting to share the wealth of lamenting the average American investor's habits, I checked in with some top money sites to see what they had to say.
We begin with a couple of the "worst investing decisions" examples cited by CNBC's panel:
"Individuals who believe 'this' stock market correction will be different and try to market time. It's easy to jump out of the equity market but extremely difficult to have the discipline to get back in."
"You have clients react emotionally to current market sentiment and make mistakes in terms of getting fearful … or too excited at the wrong times … instead of focusing on what the long-term investment plan for them, their best plan would be. … You counteract [emotion] with facts and history."
This is exactly what's happening now. People are forgetting any sort of long-term plan (which is why they would be invested in stocks in the first place) and panic-selling to "protect" themselves from losses.
Good luck trying to pick the exact date when things turn around — which could be at a moment's notice.
For instance, one little peep from the CDC or WHO that says they think the virus is contained, one announcement that a viable vaccine has been created, or anything close to these examples and we'll probably see the largest stock market daily gain in history.
And those who pulled out will miss it. There will be no time to get in.
Worse yet, their panic will last for some time since they will be convinced that another drop is right around the corner. So they'll stay out, all the while the market rises.
Don't think this could happen? Look back on the 2008/2009 drops and the subsequent run up. Think anyone sold and then stayed out for an extended period, missing much of the run-up? I KNOW they did. I've talked to them and even have one I know quite well. More on that later.
Let's move on. The Motley Fool lists reasons not to sell now including:
Selling after a big drop move has historically been a bad move. It's hard to weather a big down day in the market, but it happens.
Here's one consolation: History gives us many examples of nice rebounds that have followed tough days. That happened during the major market crashes in 1929 and 1987, and there were several occasions during the financial crisis in 2008 and 2009 when huge bounces immediately followed massive downward moves.
Panic-selling after the big drop means you'll miss out on any bounce that comes after, and that can leave you in a very difficult position when trying to decide how to get back into the market.
Here's how The Simple Dollar addresses it:
In almost every single case, the best thing you can do when the stock market is falling is nothing.
Selling out and waiting until it's "safe" to get back in is one of the great destroyers of wealth. It may feel like the right decision at the time, but it will almost certainly lead to you having much less money in the end.
And in another post:
If you time things perfectly and hit both the "top" and the "bottom" at the right moment, you might come out ahead – but you won't come out as ahead as you thought. If you miss either the "top" (for selling) or the "bottom" (for buying), you're running a healthy risk of losing money on the move.
But the chances of this are very slim:
You're probably missing the "top" of the market. That's because you're not psychic. No one is. If you sell right now, you already missed out on a hefty chunk of the drop.
You'll probably miss the "bottom" of the market when you buy back in. Again, that's because you're not psychic. No one is. Unless you guess perfectly, you'll probably miss at least some of the rebound from the true bottom.
Next we get the following from Forbes' list of the seven most common investing mistakes:
Mistake #1: Making Emotional Decisions
It's true that investing is part science and part art. Because of this, generally speaking, successful investing should contain elements of each. Decisions made purely by emotion can bring disastrous results, just as decisions made only from a computer program can also pose a problem. Emotional decisions are often tainted with biases.
Many of the mistakes made lately are based on an emotion (panic/fear).
Forbes also tells us that investors are often their own worst enemies:
The most recent annual report from DALBAR shows the big, unfortunate trend: We investors collectively tend to buy high and sell low. If that sounds backwards, it is. But it's reality.
That itchy trigger finger is what gets us in trouble. When markets get shaky, we can't but help feel the urge to bolt. It's only natural–literally, our brains are wired this way. But perhaps awareness of this behavior gap phenomenon can inspire discipline.
And a final word from A Wealth of Common Sense:
The Behavior Gap
by Carl Richards is one of the best personal finance books I have read. And there is not a single specific investment idea in the entire book. No secret stock picking formula or perfect asset allocation by age and net worth. Instead, this book gives you the proper perspective on your money and financial decisions. What few of us seem to realize is that having the correct perspective on our finances is a prerequisite to being able to implement specific ideas correctly.
When Carl talks about the behavior gap what he is referring to is the difference between investment returns and investor returns. The difference between these two is where our actions and emotions come into play.
In fact, according to Vanguard founder John Bogle, the average equity mutual fund investment gained 173% from 1997 to 2011, but the average equity mutual fund investor earned only 110%. This is because we let our emotions control our investment decisions. This is our behavior gap.
On average, investors shoot themselves in the foot with the moves they make. And the panic-selling caused by the coronavirus is just the latest example of that.
A Real-Life Example
Here's a painful example from my own family.
I have a close family member who is older than I am. Somewhere in 2011 or so he was "sure" that the market was going to drop again.
He had weathered the drops in 2008 and early 2009 and had seen nice gains since then.
He wanted to "lock in his gains" and told me he was going to sell all his holdings.
I told him I was holding firm and planned to for at least a decade and a half.
Undaunted, he sold them all and went to cash.
Then the market started to rise. This only solidified his belief that it was "getting too high" and now was even more prone to a crash.
Anyone know what the market has done since 2011? He missed out on all that growth.
Today he admits it was a bad mistake and he wishes he'd stayed invested. But he fell into the trap many Americans fall into — they think they know what the market is going to do and they make exactly the wrong move at exactly the wrong time.
Killing My Friend
In case you haven't guessed it by now, the reason the coronavirus is killing my friend is because he's spent the past weeks talking to panicked investors and helping them (at their insistence) make bad investment decisions.
Many of the people he's helping pull out of the market are in their 30's. So when they should be having a loooooooooong-term investment horizon they are most certainly acting short-term.
My friend is also having to answer non-sensical questions about the possible financial collapse of the stock market, the potential of money being worth nothing, and the like. People are letting their imaginations run wild with what could happen.
I blame Hollywood. They have made disasters seem all too real. After all, shouldn't we all be concerned that someone like Thanos really exists and half of us will be wiped out? 😉
Come on, people! Pull yourselves together!!!
Maybe This is an Advisor's Time
When I asked if the cost of a financial advisor was worth it, my answer was generally "no" — at least for the person who educated herself and managed her own finances.
However, for the less-inclined masses, perhaps this is the time when planners are really worth their fees.
In that post I noted how Vanguard had assigned a pretty high value to advisors keeping their clients on the straight path. Their exact words were:
Keeping clients focused on the long term and urging them to stick to a regular investing plan can add up to 1.5%, the report says.
This sort of "stay focused" direction could be especially valuable now when people are panicking. And 1.5% over a long period is pretty substantial.
So perhaps this sort of event is really where advisors are worth more than their cost for those who can't control themselves.
What We Are Doing
The drop of the stock market has had the opposite effect on me. I've been wondering if I should invest more on the dips.
This has caused me to step back and think about what I really want to do from an investing standpoint for the next couple of decades.
After doing that, I've come to the following conclusions:
I already own enough of the market. In fact I might own too much. The vast majority of my wealth is in the market and I don't see much sense in adding to it. I'm not selling either, but I have more than enough to simply let it ride — which I can afford to do because our income is higher than our expenses even in retirement, so there's no asset drawdown.
That said, I have considered a different entry into the market. I generally buy index funds, but lately I've been wondering if it's time to pick up some dividend-focused stocks and start a dividend portfolio. My guess is that with stock values down, dividends are looking pretty good. Anyone have thoughts on this?
I'd like to invest more in real estate. If only we could see a drop in real estate prices like we've seen in the market. Then I'd be ready to pounce.
Buying a business is a possibility. My son-in-law/daughter and/or my son might be interested in running something and I could participate as the money man. I like the idea of buying/owning a small business like I did with Rockstar Finance, though I don't want to run it, of course. That would cramp my retirement style.
Private loans are also an option. I could put more money into them. The ones I have are earning 10%, so why not?
Anyway, those are the reasons we're not buying more (at least not index funds). However, I did put $10k into my SEP IRA as part of completing my taxes this year, but that's it.
That said, if the market drops even more, I might reconsider buying more index funds. I just can't resist a bargain! 😉
What Others Should Do
Your life and your investments are yours. I don't know your goals or financial situation. And I'm not an investment advisor. So I really can't tell you what you should do.
But I can tell you what I have done and would do.
When I've had a very long horizon, I've always invested more, even during a market drop. I might even say especially during a market drop. That's what I did in 2009 and it's worked out well. And that's what I'd do today if I was in my 30s or 40s.
Besides wondering about investments, there are a couple practical things you can do to really protect yourself:
Wash your hands. It's funny how something we all should have learned as toddlers can help us in this situation. And yet, we didn't learn it. This is why the cruise we were recently on had to have the staff serve us — the guest couldn't be counted on to wash their hands (this has happened on past cruises too). Separately, I can't tell you the times I've been in a rest room, seen someone come out of a stall, and head out the door without washing his hands. And we know that when guys are in stalls, they are doing some serious business. Come on, men, wash those hands.
Cover your mouth (with something besides your hands). Experts recommend sneezing/coughing into a tissue or your arm/elbow area so you don't transmit germs touching things. And yet I see people all over (gym, grocery store, church, etc.) coughing and sneezing without any sort of covering at all. People! This is another skill we all should have learned when we were 5. Are you really so inconsiderate of others that you can't cover your mouth and instead choose to spread whatever disease you have?
For more info on these two suggestions, check out what the CDC recommends.
And while you're washing your hands and covering your mouth, repeat the line, "I'm in the market for the long-term, I'm in the market for the long-term, I'm in the market for the long-term…" Maybe that will help you resist pulling the plug when you should stand firm.
BTW, before I close I just HAVE to note that incidences like the recent stock market crash are why you need margins of safety in retirement. All those who retired with assets barely meeting expenses and counting on an ever-increasing market are in a world of hurt if they have to make withdrawals for living expenses.
Anyway, that's my take on the current situation with a unique perspective from a friend in the trenches.
What are you doing investment-wise during these turbulent times?