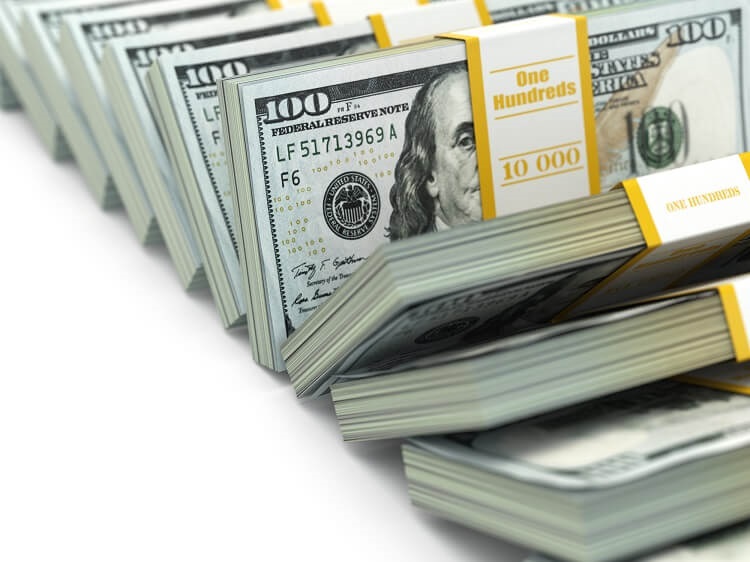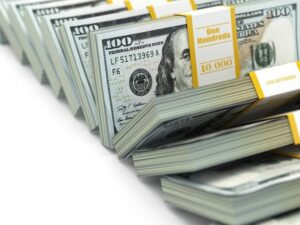 Here's our latest interview with a millionaire as we seek to learn from those who have grown their wealth to high heights.
If you'd like to be considered for an interview, drop me a note and we can chat about specifics.
My questions are in bold italics and his responses follow in black.
Let's get started…
OVERVIEW
How old are you (and spouse if applicable, plus how long you've been married)?
I am 61 and currently unattached.
I was married for 10 years and divorced in 1990.
Do you have kids/family (if so, how old are they)?
My only daughter is 35 and has been off economic outpatient care for almost 10 years.
What area of the country do you live in (and urban or rural)?
I live in an urban environment in California.
What is your current net worth?
I track several versions of net worth.
Investments add up to $5,239K, house is worth $835K according to Zillow, pension is worth $556K per Immediate Annuities website, and future Social Security income should be worth around $575K if I start taking it next year at 62, or $644K if I wait until I am 70 (assuming my life expectancy of 84).
So anywhere between $5.2M and $7.3M depending on what's included. Let's say $6.1M which includes investments and home to be compatible with majority of other millionaire interviewees.
What are the main assets that make up your net worth (stocks, real estate, business, home, retirement accounts, etc.) and any debt that offsets part of these?


All of the IRA, HSA and 96% of brokerage account funds are in a variety of index equities ETFs, the rest is in a money market fund.
I am allergic to cash and only keep enough in a checking account to cover expenses for a month or so; $1.5K as I write this. I like to know that all of my "green workers" are earning for me.
I have no mortgage or other debt besides credit card balances, which I pay off every month. I don't ever recall paying any credit card interest charges.
In 1983 we bought the house I currently live in. We bought a nicer bigger house in 1986, but kept the first house as a rental.
After my separation I moved back into the first house and kept it as part of the divorce settlement, while my ex kept the bigger house which had about the same equity due to a larger mortgage. I've made it a goal to enter the 21st century mortgage free and succeeded — made my last mortgage payment on 10/1/99.
EARN
What is your job?
I retired last year from a supply chain management position at a major aerospace company. I was a senior manager when I retired.
What is your annual income?
This year I will receive $34K from a pension and an estimated $150K in dividends and interest from my investments.
Tell us about your income performance over time. What was the starting salary of your first job, how did it grow from there (and what you did to make it grow), and where are you now?
During high school and college, I had several summer jobs at factory assembly floors and as a chemical lab technician. These jobs paid between $2.25 and $3.50 per hour.
My salary history starting with graduate school is as follows: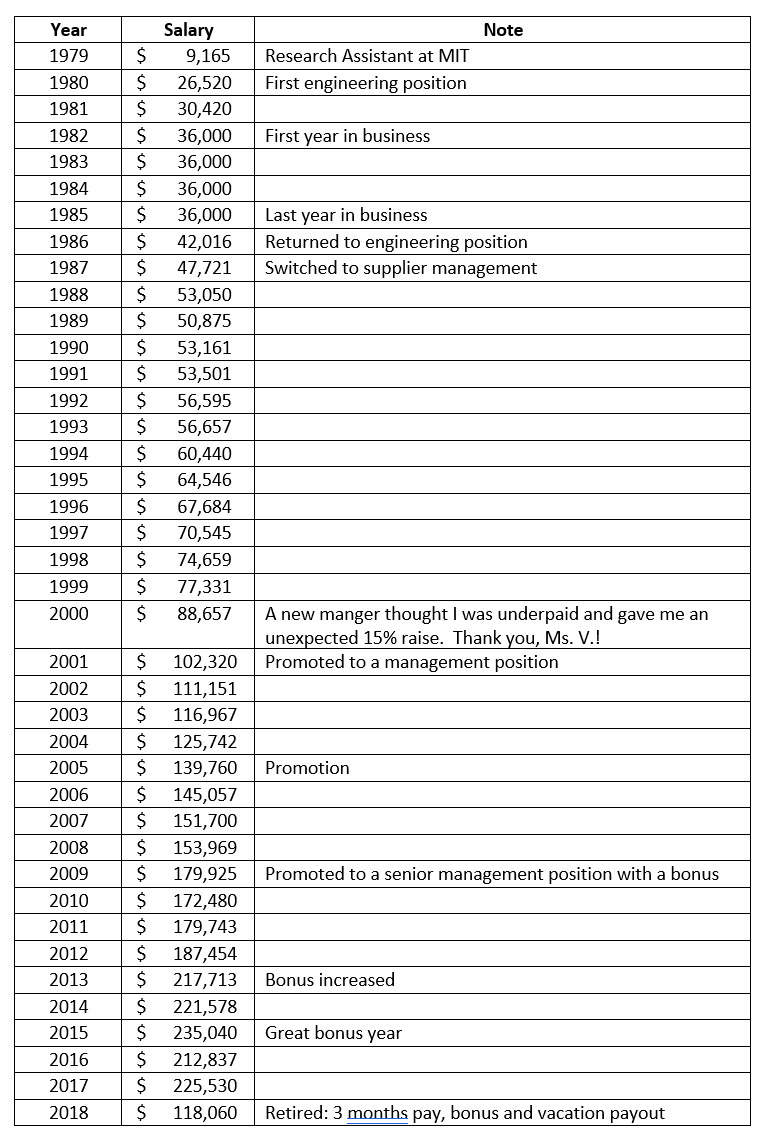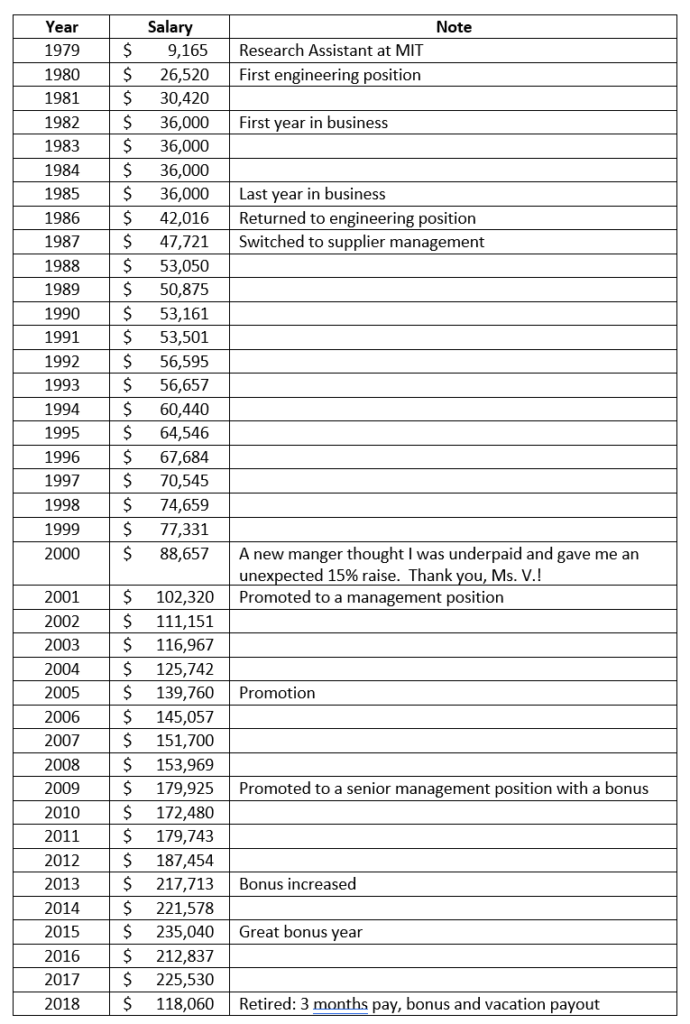 This is strictly job income. Dividend income and most interest income is reinvested and I have not touched my equity investments to date.
I graduated with a bachelor's engineering degree from USC in 1979 and could not find a job in my field due to a very bad economy or maybe it was poor interviewing skills. I decided to continue my education by pursuing a graduate degree, hoping that economy, and my interviewing skills, will improve. Thankfully, my undergraduate grades and professor recommendations were great and I had my choice of top engineering graduate schools.
My first professional job in 1979 was as a research assistant while earning my engineering master's degree at MIT. The pay was enough to cover tuition and basic living expenses. I estimate that tuition has increased about tenfold since then and a graduate student would need over $75K to afford the "luxury" lifestyle of my youth.
Upon graduation in 1980, I had offers from a dozen companies and accepted a job as an engineer at a major aerospace company in California at a salary of $26,520 per year. I got married three weeks before stating the job, and we were making about $50K between us. Life was good!
In 1982 a couple of friends asked me to join them in opening a computer accessory company. We each drew a salary of $36K per year and split the profits. Unfortunately, I don't have an accounting of the profits, but they were not very significant. After 4 years in business, the stress and disagreements between partners became too much and I left to make my fortune elsewhere.
In 1986 I rejoined the same company I left 4 years earlier as an engineer (never burn your bridges!) During my first stint with the company I started a part-time MBA program at a major private university, and completed half of their curriculum. I resumed the MBA program and graduated in 1987. The company fully paid for tuition and books. After graduation, I decided to switch careers and accepted a position in supplier management with the same company at about a 10% raise in salary.
My first day on the new job was October 19th, 1987, also known as "Black Monday", when the DJIA lost almost 22% in a single day! I haven't seen my colleagues this upset since the Challenger disaster a couple of years earlier. Since I didn't have any money in the stock market, I just observed their behavior. Some of the older folks liquidated their entire equities portfolios the same day.
I stayed at the company until retirement last year. Between 1987 and 2001 I had numerous grade promotions and raises, but remained an individual contributor. In 2001 came a promotion to management and another significant raise. In 2008 came another promotion with an incentive bonus. Bonuses varied between 6.3% and 24.3% depending on my and company's annual performances. In my last year of employment, the salary was $200K with a 10% target bonus.
What tips do you have for others who want to grow their career-related income?
As you can see from my employment history, I started and ended my employment at the same company, with a break of about 4 years to pursue an entrepreneurial opportunity. This is definitely "old school" thinking and may not be for everyone.
However, I had several different occupations with the company and worked several different programs. Most of the programs were in the space field and lasted from 6 months to 8 years. Most programs required co-location of personnel and had their own unique cultures. When joining a new program, it felt like going to work in a new company, in a new building with new colleagues, thus I rarely felt bored or not challenged.
Benefits, especially seniority-based benefits, continued to accumulate throughout my time with the company. I greatly enjoyed the college-like R&D environment at this aerospace company and had the privilege to contribute to several major important national programs, some public and some not.
A degree from a prestigious university greatly helps to get your first job, but becomes less relevant later on when you are judged more on your work performance, teamwork, management skills and personality. A sense of humor doesn't hurt either.
In graduate school my thesis advisor once told me: "It's not how hard you work, it's how hard you appear to work that counts." I have been a very poor self-promoter and had to make an extra effort to assure that management knew about my achievements. This can be difficult in a matrix organization, where your functional manager (who decides on raises and promotions) is usually in a different location, sometimes clear across the country, who you only see occasionally. In the meantime, your program manager, who actually directs your day-to-day work and with whom you interact daily, has very little input into your performance assessment.
Writing weekly status reports helps to keep everyone informed. Performance review periods were some of the most stressful and anxious times for me, but were well worth the effort.
I have been outspoken with my managers, especially later in my carrier, especially after accumulating F-you money. Most managers appreciated the candor and suggestions, a few did not. The key is not to just criticize and complain but suggest solutions and improvements.
Many of my managers where promoted from different specialties and appreciated my input in areas where I had more expertise than them. I also did my best to mentor, promote and sponsor my employees. Occasionally they got promoted out of my organization, but resulted in good networking opportunities and many kind words at my retirement.
I took full advantage of company sponsored educational opportunities: earning an MBA degree part time, getting certified in my field through an on-campus program led by a major university, Dale Carnegie classes, negotiation classes, attending conferences, etc. I even taught a few classes; a great way to learn and become an expert in your field.
I also took advantage of other benefits, such as a full 401K company match and occasionally cashing out some of my vacation time when money was more important than time off, especially shortly after my divorce.
I could probably have earned a higher salary if I strategically changed companies, especially during periods of high demand, but would not have accumulated 216 hours of paid time off per year, a substantial pension and retiree medical benefits by the time I retired.
In summary I recommend making strategic moves within a company, if not between companies to broaden your experience and take advantage of opportunities. A bit of self-promotion doesn't hurt, but too much will make you look like a jerk. Make your boss look good.
What's your work-life balance look like?
Right now, in my second year in retirement, it's no work and all life. During my working times I probably put in more hours than average, maybe 50 to 60 hours per week.
Starting in '90s I traveled for work extensively, domestically and internationally, a lot of this travel on my own time.
The last couple of decades I was always on-call with Blackberries and company phones. Having to manage oversea suppliers for most of my career made for some interesting working hours. Several times during prevailing crises, I worked every day for up to several months.
Do you have any sources of income besides your career? If so, can you list them, give us a feel for how much you earn with each, and offer some insight into how you developed them?
As a retiree, I have no more career income. Last year I earned about $3K consulting and may continue doing that on a very limited basis.
At retirement last year, I had a choice to take a partial lump sum distribution from my pension plan of $882K or an annual payment of $54K. After much deliberation, I took the lump sum and rolled it over into my 401K account to avoid immediate taxation.
Pension payments have no cost of living adjustments, and I didn't feel safe in case inflation spikes in the future. I feel that prudently investing the lump sum, I have a fair chance to keep up with inflation; time will tell if this was a good decision. I still get a partial annual pension of $34K through the end of this year, but starting next year the pension drops to $32K per year due to a Social Security offset at age 62, regardless if I collect Social Security or not.
My investments will generate around $150K in dividends and interest this year. My investment portfolio yielded just under 3% in dividends over the past several years. I am not chasing dividends; I subscribe to a total return philosophy.
Previously I had rental income, business income and interest income from a few private loans. Also had a brief side hustle as a translator. None of these substantially contributed to my net worth.
SAVE
What is your annual spending?
I started tracking detailed spending a few years ago, here are the results: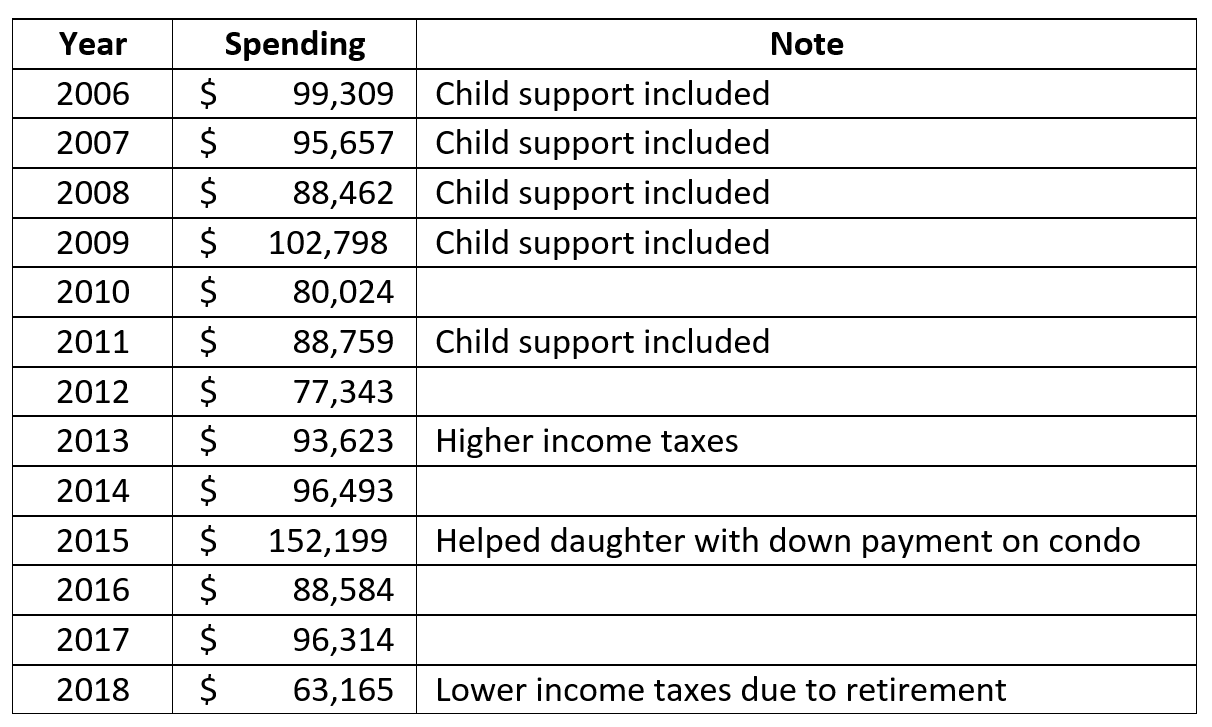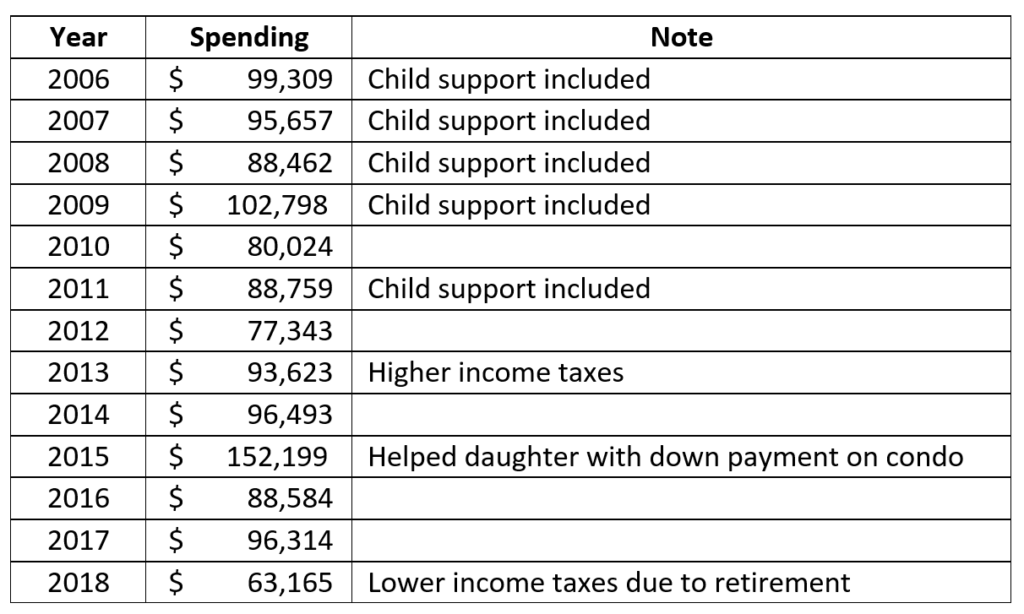 What are the main categories (expenses) this spending breaks into?
Last year my spending was as follows: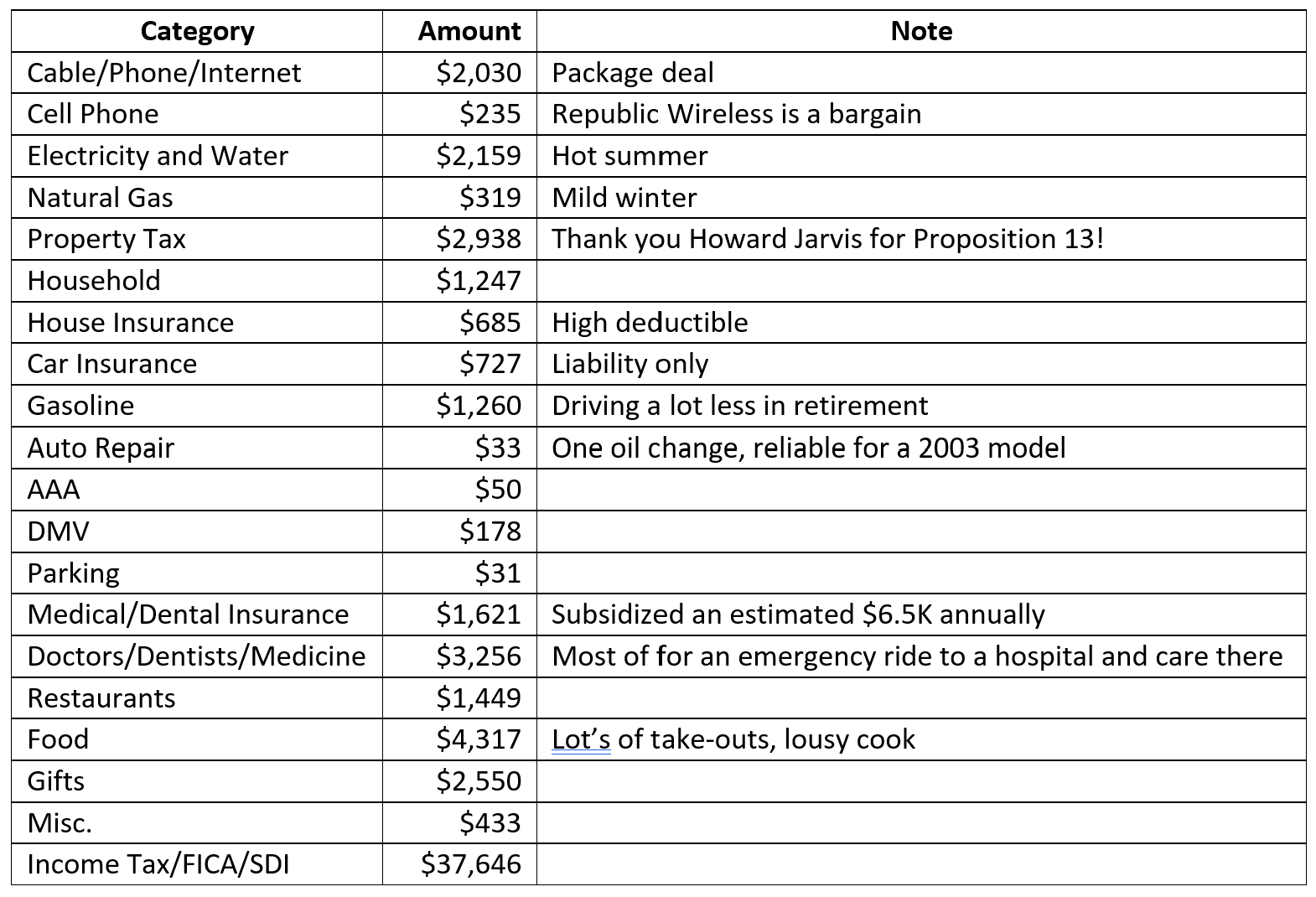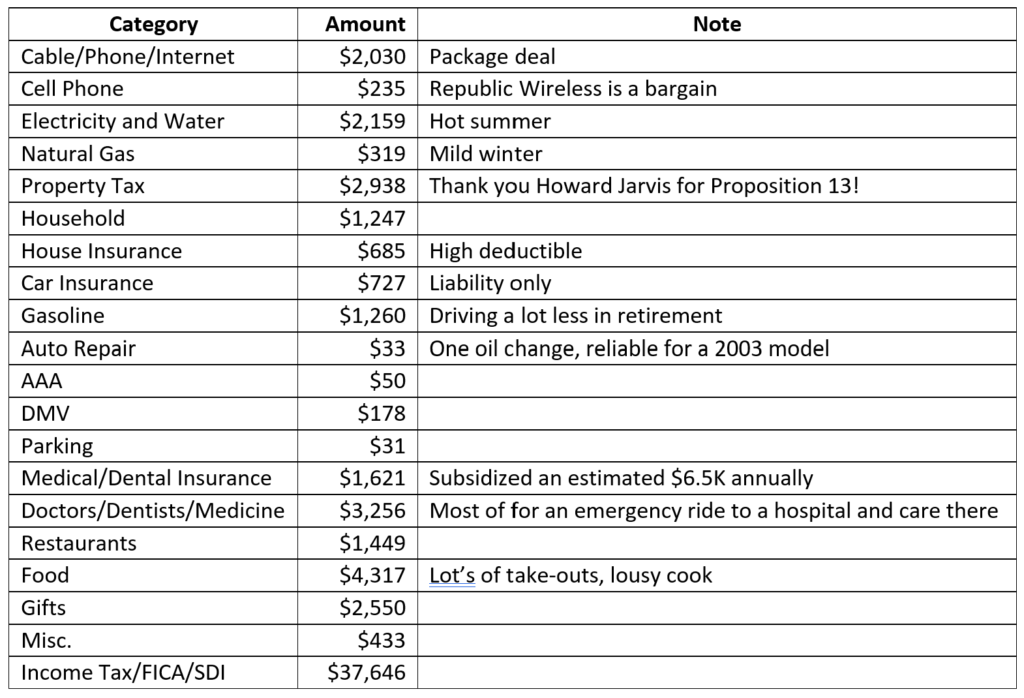 Not a big spender. Note: no mortgage payment, no car payment, low property tax due Proposition 13 (we bought the house in 1983 for $125K and property tax base increases are restricted to 2% per year in California).
Medical insurance is a retirement benefit, heavily subsidized by my former employer at an estimated $6.5K annually.
Didn't travel last year, I still worked part of the year and had to handle some family issues for a major portion of the year.
Payroll taxes were lower than previous years since I only drew about half the salary due to retirement.
In previous years spending was higher due to full-time income taxes, child support, gifts or major purchases.
Do you have a budget? If so, how do you implement it?
I do not budget, and never had, but I do track spending.
I am naturally frugal and only spend on what I value or what's necessary.
In previous years I've spent substantial funds on new cars, a Rolex watch, electronics, help with down payment on my daughter's condo, as well as sharing with my ex-wife daughter's college and law school expenses, so she could start her new life with no student loans or any other debts.
I usually save first and buy with cash. The only loans I've taken out were two mortgages and one car loan early in my marriage. My credit score is now suffering due to lack of recent installment loan information.
What percentage of your gross income do you save and how has that changed over time?
Along with spending I also tracked savings: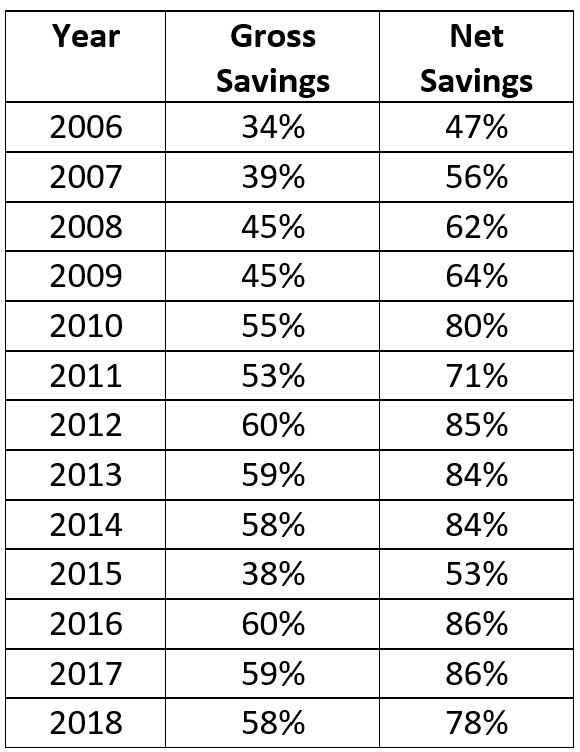 Gross income includes company match. Net income is basically take-home pay plus my 401K contribution.
As my salary grew, I didn't inflate my spending much, so saving rate increased accordingly. As a retiree, I have no savings goals anymore.
What is your favorite thing to spend money on/your secret splurge?
I do like to travel.
In the last few years the majority of my travels were in conjunction with work trips. I was lucky enough to travel all over the United States, to Canada, England, France, Germany and Israel to visit suppliers or customers. I would often extend these trips and do sightseeing with my colleagues. Solo travel doesn't appeal to me, so this arrangement worked for me.
I am also not much of a resort/cruise connoisseur, and would rather spend my time in museums, historic attractions and ethnic restaurants. I love London, Paris and medieval German towns.
We are also blessed with having an ocean, national parks, mountains, deserts and Las Vegas within a few of driving hours from my home, so travelling long distance to similar places is less appealing.
I do like cars, especially sporty ones. Since I was 18 years old, I always bought new cars and drove them for many years. I bought my current car 17 years ago, and it's only my 4th primary car in the last 43 years. When I was married, we splurged on two new luxury sedans for her.
I also am a bit of an audiophile and a home theater buff. Over the years I've spent tens of thousands of dollars on audio and video equipment.
I enjoy a nice restaurant, but usually on special occasions.
INVEST
What is your investment philosophy/plan?
My investment philosophy has changed over the years.
In the '80s we made some disastrous investments in an oil exploration venture and a business loan, loosing almost all of our money and incurring substantial legal costs (more on this below). After these bad experiences and the divorce, I was shell shocked and only invested in very safe instruments such as CDs, money market funds and a stable value fund in my 401K. My small IRA was in a Government bond fund.
The only stock I owned was company stock from company match in 401K plan, the only choice available at the time. My primary focus prior to 2000 was to pay off the home mortgage and I had almost no money outside 401K and IRA.
Starting in mid '90 I allocated half of my 401K to a stock fund which was benchmarking the S&P 500 index. From what I remember, a stock fund, a bond fund, a stable value fund and company stock (matching only) were the only investments available in the 401K plan through the '80s and much of the '90s.
After paying off the mortgage, and the pain of earlier losses subsided somewhat, my risk tolerance increased and I invested heavier in equities. The company expended 401K options to include a small company fund, a foreign company fund and eventually an emerging markets fund.
By mid '00 my contributed 401K allocation was 40% large company stock fund, 30% small company fund, 20% international fund and 10% emerging markets fund. All index funds with low fees. Company match remained in company stocks.
It was around this time that I decided to work towards early retirement at 55 and investing in 100% equities in my 401K plan seemed the quickest way to grow net worth. My IRA adviser at a major full-service brokerage put me into some equipment leasing scheme, which barely paid back the initial investment over many years.
Thankfully, the IRA was only about 5% the size of the 401K. The money outside retirement plans was in CDs and money market funds.
In 2010 I opened a brokerage account and most of after-tax money, $330K, was invested in the Vanguard S&P 500 index fund and the Vanguard small equity index fund.
I also said goodbye to the IRA adviser and bought another $50K of Vanguard S&P 500 index fund. I could smell my retirement coming soon and needed to turbocharge my investment returns, especially after heavy losses during the Great Financial Crises (GFC), when my 401K plan lost half its value.
About 10 years ago I started to get better educated about investing by reading books, magazines, blogs and forums.
In 2013 I came across factor investing and restructured my entire portfolio in a slice-and-dice fashion. I didn't divest the Vanguard funds to avoid capital gains. The company moved our 401K plan to a provider offering a brokerage window at a minimal annual fee, so I gained access to all the mutual funds and ETFs available in the industry, this is where I did most of my slicing-and-dicing without any tax consequences.
At retirement last year I took a partial lump sum distribution from my pension plan of $882K and invested it all in a Dual Momentum strategy, which switches monthly between a S&P 500 index fund, an international equity index fund and a T-bill fund depending on previous 12 months return. So far, I have been invested in the S&P 500 index fund (IVV).
Earlier this year I rolled over my 401K into an IRA in kind to avoid the brokerage window fee.
Currently my equity portfolio across IRAs, HSA and brokerage accounts, about 98% of the total investment portfolio, looks as follows: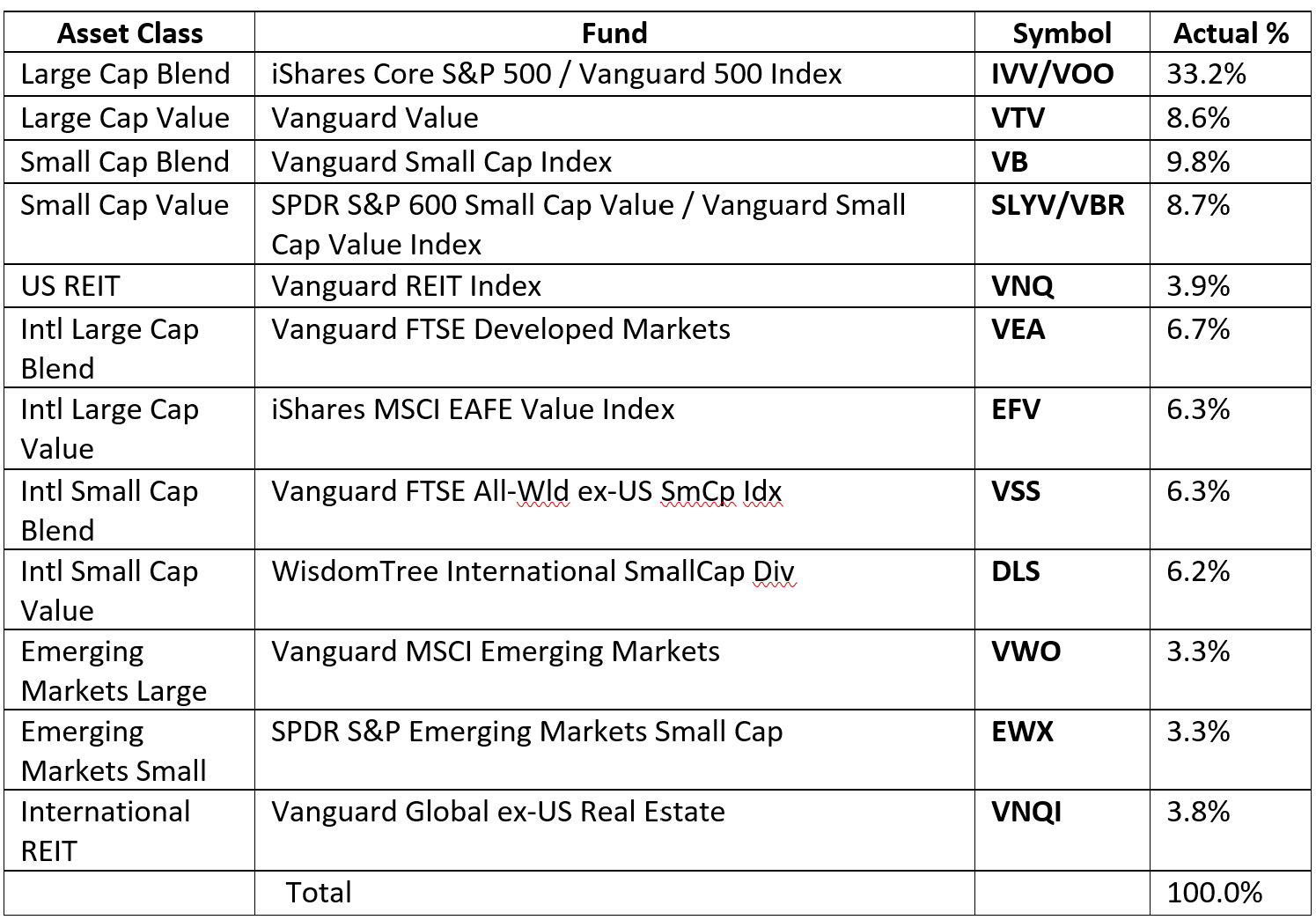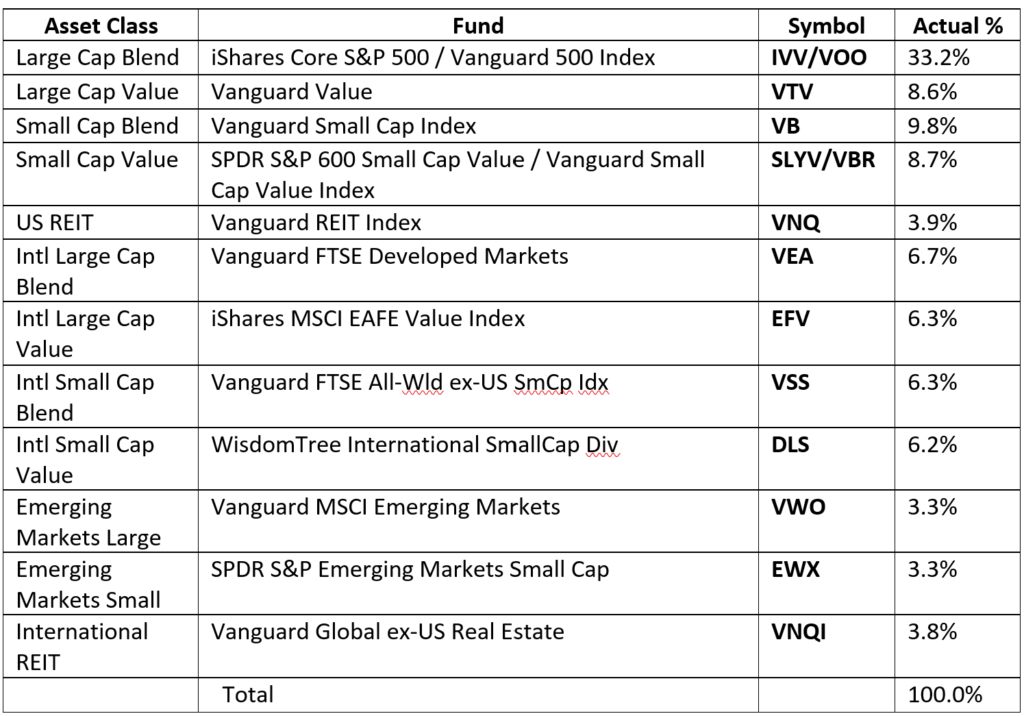 The remaining 2% is in the Vanguard Prime Money Market Fund (VMMXX). This is a very aggressive portfolio, and I will have to do something more conservative when I grow up…maybe.
At this point I am interested in developing multi-generational wealth and look beyond my lifetime as an investment horizon.
What has been your best investment?
Paying for my daughter's education has to be up there. She graduated from a highly ranked university and a top law school and as a Vice-President of legal affairs at a megafirm is now making a higher salary than daddy ever dreamed of.
I keep joking that she will have to repay my investment in her education by supporting me in old age, she has no idea what my net worth is.
The other is equity funds, especially in the last decade.
What has been your worst investment?
There have been a couple where I lost everything invested.
The first was an investment in an oil drilling venture in Texas. This was in 1982, oil prices spiked to $100 a barrel and oil business was booming. I did some due diligence by reading the prospectus, visiting the site and meeting with the principal, land owner and some investors.
Initial progress looked good, neighboring wells were producing, but eventually all they struck was water and I stopped receiving any correspondence from the investment company within a few months. This unfortunate investment cost us $35K, which was most of the money we saved since getting married.
The second fiasco involved an old family friend who was also our accountant. This was shortly after I left the partnership flush with recently acquired business profits.
He recommended for us to invest in a business loan to a friend of his at a high interest rate. The loan was supposed be collateralized with some equipment, but the paperwork was never completed and monthly payments lasted only two months.
We sued the accountant and eventually settled with his insurance company to cover our legal fees. This was a classic Ponzi scheme with millions of dollars involved, so insurance coverage was very limited. We lost $75K, which again was all the money we had, and the ordeal contributed to damaging our marriage.
You would think I would learn after the first investment disaster, but no – the lure of easy money… Avoid all get rich quick schemes!
We also bought several small land lots in the mountains, next to a national forest. Due to lack of utilities nearby and only an unmaintained dirt road, their value went nowhere for years. I eventually lost them in divorce.
What's been your overall return?
I have been tracking most of my investment returns for several decades now:


*through end of second quarter 2019
The returns through 2009 include only 401K and IRA, and not after-tax accounts, which were relatively minor. After 2010 the full investment portfolio is included.
The average return is 9.8% and Compound Annual Growth Rate (CAGR) is 8.5%.
The '90s were very good, as well as the last dozen years or so. 2000 through 2002 and 2008 were no fun. Quite a rollercoaster ride, a feature of a mostly equity portfolio.
Last year's portfolio losses were higher than S&P index due to underperformance of foreign and value equities. During the last decade factor investing has not paid off, but as a long-term investor I am counting on reversion to the mean. Historically factors such as small company size, value and momentum have earned a couple of percent more than S&P 500 index. Also, foreign equities may be a value play since they are trading at substantially lower price to earnings ratios than domestic equities.
How often do you monitor/review your portfolio?
Several times a day, including afterhours equities futures, I need help! Oo, S&P is up 27 points!
My portfolio more often than not moves 5 figures in a day, sometimes more than what I spend in a year, occasionally 6 figures in a day.
I rarely trade, mostly am a buy-and-hold index funds investor, except for the momentum piece, which has no trades so far either. The other trades happened when I switched my investment strategies, the last one in 2013, and rebalanced my portfolio. When I was working and contributed heavily into the retirement and brokerage accounts, I did most of portfolio rebalancing with new money. Now that I have no more contributions, I will rebalance annually. Down a point, darn!
NET WORTH
How did you accumulate your net worth?
Cryptocurrency mining and cannabis stocks…yea, right…
Never received any inheritance money. The only substantial gifts were: my parents paid for half of my first new car in 1976 and wedding gifts from both sets of parents worth a couple of thousand dollars in 1980.
Vast majority of net worth came from salary and investment returns.
Here is my net worth over the years: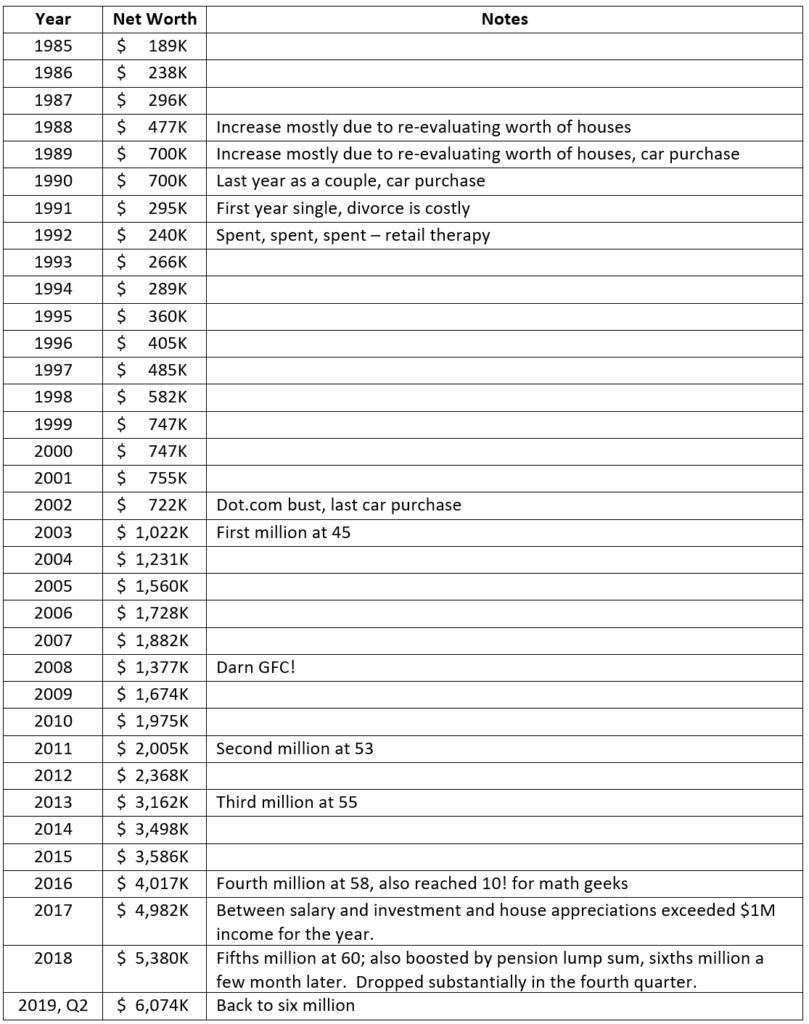 Can you tell that I love spreadsheets?
The above include investments and houses. No cars, jewelry, electronics, pensions, or exotic pets.
Isn't compounding the eighth wonder, whether Einstein said it or not? Out of the $5.2M total in current investments, $2.7M are contributions (including company match and pension lump sum), and $2.5M are investment returns.
What would you say is your greatest strength in the ESI wealth-building model (Earn, Save or Invest) and why would you say it's tops?
Save is my greatest strength. My net worth wouldn't be anywhere near of what it is if I didn't save prodigiously, especially as my income grew.
When we first married, I was the spender in the family, my wife was the saver. I was always pushing for a bigger house, a fancier car, nice watches and stereos, expensive vacations. She taught me well, to the point that I am probably over saving now.
I find that, as I get older, material things and status symbols don't seem to matter as much. I get much enjoyment from items and activities that don't cost much if at all, so all those pesky dollars keep accumulating.
I am fairly proud of my lifetime earnings, $3.7M according to the Social Security statement, which should get me close to the maximum payout. I would have probably earned more if I switched companies over the years, but would have lost out on benefits.
These days companies are cutting benefits and eliminating pension plans, thus switching employers is less painful. Having been grandfathered into a higher level of benefits made jumping companies less compelling for me.
I consider myself to be a prudent investor. Long-term investment in index funds has proven to be historically profitable and is approved by many investment gurus. Factor investing is more controversial, but has positive historic basis. My aggressive stance may not be everyone's cup of tea, time will tell.
What road bumps did you face along the way to becoming a millionaire and how did you handle them?
I was born a poor Soviet child. My family immigrated from Soviet Union when I was 15. When we came to United States, we were allowed to take with us used household items, clothes, communist ideology, one piece of jewelry per person and $100.00 per person. So, the six of us started our new lives in California with less than $600.00 (some was spent in Italy).
My first taste of western culture and way of life was in Rome. We lived there for about a month in 1973, undergoing immigration processing for the USA. Stepping into an Italian deli on our first day and seeing the abundance of produce there blew our minds, museums and ancient monuments were amazing and the friendliest people I've ever met. When I asked for directions in the few English words I knew, since I knew no Italian words, they often walked me to the destination.
In Soviet Union at the time you were lucky for find a soup bone in a food store, museums of communist propaganda were miserable and people on the streets never smiled.
Upon arriving in the States, my father, educated as teacher, found various minimum wage jobs since his English was nonexistent. Much later he picked up enough English to became a small business owner.
My mother, educated as a chemist, was lucky to find a lab technician position in the cosmetics industry. She spent the rest of her carrier in cosmetics industry, eventually reaching a senior chemist position. Many of you, your wives, girlfriends and daughters are using products my mother developed. Even my grandfather in his '70s was doing factory assembly work.
Needless to say, we didn't have much money when I was growing up. I financed my college education through scholarships, student loans and summer jobs. I was also clueless about investing.
Another road block was my divorce. Although the divorce settlement was fair and amicable, the divorce affected me emotionally for many years. Initially I went on a spending spree; some to replace stuff lost to me in the settlement, but mostly to dampen the pain. Thankfully we remained good friends, especially for my daughter's sake.
For many years after the divorce I didn't fund my IRA and only contributed enough to the 401K plan to get the company match.
Of course, the oil drilling and business loan fiascos did a lot of damage to our net worth. This damage persisted for many years through my investment conservatism. My net worth would have been substantially higher if I was investing in equities earlier.
What are you currently doing to maintain/grow your net worth?
Mostly maintaining the current portfolio. I have no interest to be a landlord again. I may move closer to my family and downsize the house to a smaller condo.
One thing I started doing last year and plan to do for the next 9 years is Roth conversions.
My income tax rate will be relatively low starting in retirement until age 70; when Required Minimum Distributions (RMD) start and so do Social Security payments (I plan to wait collect SS at 70). I expect my income tax rates to be high after age 70, so this presents a window of opportunity to use tax arbitrage by doing partial Roth conversions.
Do you have a target net worth you are trying to attain?
My original goal was $1.5M, when prevailing bond rates were around 10% and $150K in investment income sounded perfectly adequate.
When I got there, I wanted $2M, then $3M, then $5M, which is what I have now in investments.
Funny enough, this year my portfolio should yield the $150K in dividends I wanted initially, and hopefully a lot more in appreciation.
Eventually, eight figures net worth would be nice, but not a priority.
When I immigrated in 1973, becoming a millionaire seemed like an impossible dream. A million dollars in 1973 is equivalent to $5.8M today, so I am now a millionaire in 1973 dollars! I will need around $9M to be a millionaire in 1958 dollars, my birth year.
How old were you when you made your first million and have you had any significant behavior shifts since then?
I reached the first million at 45 sometime in 2003, I don't recall being particularly excited about it or going through significant behavior shifts.
A major portion of my net worth at the time was in house equity, which was difficult to pinpoint, and I had to live somewhere.
I vividly remember the day my financial assets reached a million and I immediately bought my first Ferrari…just kidding. This was on November 17th, 2006 and I took the following snapshot: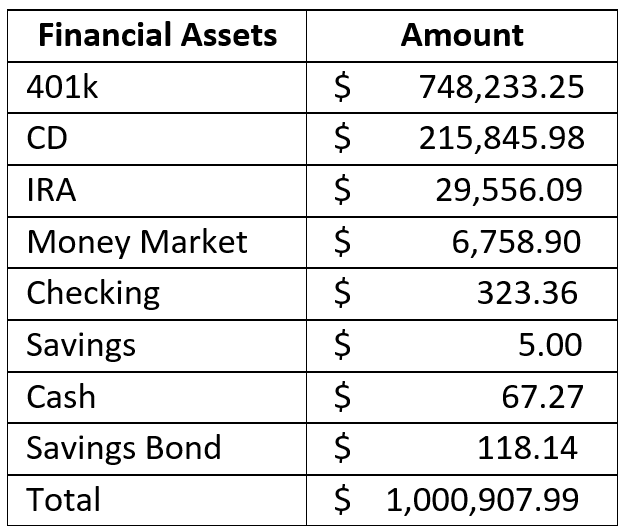 Even then I didn't carry much cash. I remember breathing a bit easier by having enough F-you money to weather a job loss.
What money mistakes have you made along the way that others can learn from?
Of course, the biggest mistake has been losing over $110K in the '80s on oil drilling and business loan schemes.
Another mistake was investing too conservatively in my 30s and 40s, when most of my money was in CDs, money market funds and stable value fund. These instruments did have substantially higher interest rates than they do today, but I missed much of the equities run-up of late '80s and the '90s.
When I left the company in 1982, I cashed out several thousand dollars from the 401K plan rather than rolling over to an IRA. I didn't maximize my pre-tax 401K contributions until 1990 and didn't take advantage of after-tax 401K contributions until 2005. Not all 401K plans allow additional after-tax contributions (and I don't mean Roth), but mine did.
The after-tax contributions were later rolled over to a Roth IRA with no tax consequences, also known as a Mega-Backdoor-Roth-Conversion. If I maximized after-tax contribution, my Roth IRA balance would have been a lot healthier, never to be taxed again…I hope…
After my third year of college I briefly switched to a pre-med major at an urging from a family friend doctor. I did well academically, but didn't like the field, oh what could have been…
What advice do you have for ESI Money readers on how to become wealthy?
There's more than one way to skin a cat.
In my case continuous education, long-term commitment to one employer, prodigious savings and prudent investment strategy did the trick.
If one has entrepreneurial spirit and opportunity, having your own small (or large) business is a good way to build wealth.
Above all, invest early and often.
FUTURE
What are your plans for the future regarding lifestyle?
My net worth already allowed me to retire earlyish. Hey, 60s is the new 40s!
What are your retirement plans?
My original plan was to retire at 55 in 2013. At 55 I could have started receiving a reduced early retirement pension benefit, which was 80% of full benefit reached at age 60. But my net worth was somewhat smaller than projected due to GFC, so I decided to work one more year, and then another, and another, and another, and another. The dreaded One-More-Year (OMY) Syndrome.
Not all considerations were financial. I happened to be working on an interesting program, with great people, reporting directly to two vice-presidents, who were looking out for me. All that changed about a year before I retired; a corporate reorganization caused a retirement epidemic to sweep through the ranks. I lost my mentors, inherited a pile of new responsibilities without a corresponding increase in compensation, and my major program was wrapping up.
Today, I am still in detoxification stage of retirement and love all the free time. Catching up on all those TV shows everyone always talked about and I didn't have time to follow (Breaking Bad, The Game of Thrones, The Americans, The Wire, Westworld, Top Gear, lots of good stuff). Reading a book a week is nice also. Later, I may look into getting involved in a small business or doing more consulting.
I also manage investments for my daughter, sister and mother, and do their taxes. They have no interest in managing money themselves, can you believe such blasphemy!
I could get my daughter to do a millionaire interview — she reached that status last year. It would read something like this: "I make good money. I only save when my dad makes me do it. My dad does stuff with my 401K and brokerage accounts, and he makes me do something he calls Backdoor Roth (he assures me it's not shady). I like to invest in Birkin bags, Jimmy Choo shoes and Cartier watches. My dad is weird; he mostly wears shorts and t-shirts lately, talks about some mustached guy in Colorado and drives a car with 192K miles on it."
Or I could get my sister to write a millionaire interview, she reached that status a few years ago. It would read something like this: "I make good money. I used to save in my checking accounts at 0.01%. My brother does stuff with my IRA and brokerage accounts, and he made me open something called a Solo 401K (I saved a bunch on taxes, but he assures me it's not shady). I like to invest in newest Apple products, Teacup Yorkies and a vintage Mercedes. My brother is weird; he walks everywhere, uses coupons and reads ESI blogs."
My mother is a saint.
I need to decide when to start taking my Social Security payments. According to the latest statement, the monthly payment will be $2,180 at age 62, or $3,830 at 70. I am strongly leaning towards delaying starting the payments until age 70.
I started to evaluate volunteering opportunities. A local museum is looking for volunteers. I would also like to help the immigrant community to navigate various bureaucracies and to adjust to our way of life.
Are there any issues in retirement that concern you? If so, how are you planning to address them?
I am an introvert by nature, INTJ I believe (Hi to Elon Musk, Michelle Obama, Vladimir Putin and Walter White (Heisenberg)). I don't make friends easily, but am devoted to those I have. A big part of my social network was at work, and although I try to keep in touch with some people through social media and occasional lunches, it's not the same as stepping into the next office and chatting at your whim. Also, people I was closest to have retired and many moved away.
I am concerned with social isolation as I get older. The solution is to find social groups to join, volunteer and maybe date again. I hate the dating scene — don't get divorced if you can help it!
I've been blessed with fairly good health most of my life, but lately parts of me hurt that never hurt before. Declining health is definitely of concern. I am losing weight, limiting intake of white carbs and sugars, walking more and may rejoin a gym.
I have a spending problem, as in – it hurts to spend. I have been a saver the latter half of my life and am now struggling with loosening up those purse strings. I always had that warm and cozy feeling from drawing a good salary; now my guaranteed income is down to $34K. The transition from being a saver to a spender proves to be difficult for me — I am open for suggestions. And no, I am not going to invest in your hair growth miracle drug, pay for space tourism or buy you a boat. Actually, space tourism could be cool.
MISCELLANEOUS
How did you learn about finances and at what age did it "click"?
When I was growing up my family's idea of investing was opening a savings account at a Savings & Loan. We didn't know the first thing about real estate, mutual funds, stocks or bonds. Most of our friends and relatives were from the same financially ignorant community. In the Soviet Union investing meant purchasing Lenin's portrait, canning fruit for the winter or sturdy winter shoes.
This lack of financial sophistication partially explains my early investment mistakes. Finance started "clicking" when I was completing my MBA in the late '80s and took some finance courses, then some more in the late '90s, as I started accumulating a sizable nest egg.
I didn't start the next level financial education until about 10 years ago, when I started reading investment and personal finance books, magazine articles, blogs, podcasts and forums (Bogleheads rule!).
I am jealous of the ESI readers who are taking investment education seriously in their 20s and 30s, oh what bright futures await you!
Who inspired you to excel in life? Who are your heroes?
Mostly family, including my ex-wife. My parents took major risks, uprooting their lives in their 40s and moving half-way across the world to a strange and wonderful country, so that their two kids could have brighter futures. They always emphasized the value of education and encouraged us to excel in school. We have 5 degrees between my sister and me.
My ex-wife, who had a very similar background to mine, put up with me when I was trying to grow a new business, while raising an infant, and never blamed me for the terrible investments.
I am grateful to a several of my high school and university teachers, who helped a shy student with a horrible Russian accent to succeed by tutoring me after class, mentoring and caring. Ironically, my high school adviser did not have much confidence in me and strongly suggested that I find a job after school, or maybe apply to a junior college or trade school. This negative feedback motivated me to work harder and resulted in college acceptances to USC and UCLA, and later graduate school acceptances to MIT, Stanford and Caltech. Take that, Mr. S.!
Growing up in a country that specialized in hero-worship of its leaders, past and present, left a sour taste in my mouth, thus I have very few public heroes, except perhaps John Bogle, Albert Einstein and Yakov Smirnoff (What a Country!).
Politically incorrect note – I am grateful to American television for helping me learn the English language.
Do you have any favorite money books you like/recommend? If so, can you share with us your top three and why you like them?
The Millionaire Next Door: The Surprising Secrets of America's Wealthy
by Thomas J. Stanley and William D. Danko. Discussed here many times. Demonstrates that most millionaires are not what general public expects. Very inspirational to me, since I consider myself to be the ultimate millionaire next door??
Financial Fitness Forever
by Paul Merriman. An investment guidance book that discusses the most important choices all investors make, along with extensive tools for planning and assessing your financial fitness. This book and Paul Merriman's website led me to current investment strategy.
The Four Pillars of Investing
by William J. Bernstein. Another great book that teaches one how to build a rational portfolio. He also wrote several other good books on investing and is often quoted all over the internet, such as: "If you've won the game, stop playing." But I feel I haven't won yet, Bill!
Do you give to charity? Why or why not? If you do, what percent of time/money do you give?
Last year I donated close $8K to several charities, some cash, but mostly items valued at thrift shop prices. In the past I donated a car, and plan to do the same with my current car.
When I was growing up, charity wasn't practiced much. In Soviet Union charity meant not informing on your neighbor, or letting an elderly person in line for bread ahead of you. Volunteering meant mandatory Sunday cleaning of school buildings and grounds every month, and marching in endless parades on your day off. Religion was opium of the masses.
When we arrived in the United States, we received very little charity outside of family. I can definitely improve my charitable giving and volunteering.
Do you plan to leave an inheritance for your heirs (how do you plan to distribute your wealth at your death)? What are your reasons behind this plan?
With my current net worth and frugal ways, I expect to leave a sizable inheritance. Unless I spend it all on booze, drugs and rock 'n roll. This would be hard since I rarely drink, never did drugs, and have no idea of how to spend a fortune on rock 'n roll. Maybe a cute gold digger would persuade me to blow it all on her…Or, space tourism…
Currently I plan to leave almost everything to my daughter, hoping to build generational wealth.
How do you compare to The Millionaire Next Door?
Since the Millionaire Interview series was obviously inspired by the book The Millionaire Next Door, I thought that it would be a fun bonus question to compare myself to the characteristics shown in some of the tables in the book. Here it goes: