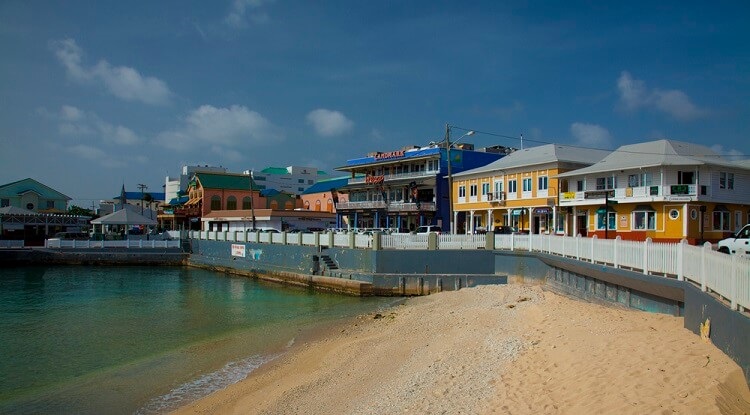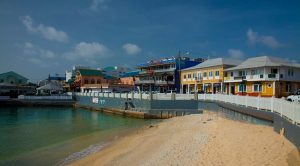 Oops, we did it again.
Yep, we went to Grand Cayman earlier this month. And it was a BLAST!
I won't drag out the details into a multi-post series like I did last year, but I do want to share them with you since trips like this are a big part of 1) being retired and 2) retiring with enough income/assets to take a nice trip.
If you want an overview of last year's trip read Our Trip to Grand Cayman. I'll be writing this post as if you've read that series — many of the comments below will assume you're familiar with the background (otherwise, I'd be covering a lot of the same stuff as last year, and there's no need for that.)
At the end of this post I'll share some pictures, though we took far fewer this year. I think it's like having a child — the first gets a gazillion photos, the second about half that, and by the third or fourth you only have a handful. 😉
I'll post in bullet point format breaking the trip down into various parts.
Here we go…
Travel to Grand Cayman
Quick summary: This was the nightmare part of the vacation, followed closely by the trip home.
When you live in the western United States and are traveling to the east (or in our case, even worst, the far south east part of an island in the Eastern time zone and far south of the U.S.), your travel options are generally limited. Translation: Your flights will not be at the best times and the trips will be long and/or expensive.
Prior to our trip we searched for decent flights (cost and time combination). We couldn't find any great ones. We then somehow lost our minds for long enough to book the flights we selected.
We left our house at 10 p.m. on Monday, January 8, soon after we watched Clemson beat Alabama for the national championship.
We drove to Denver, parked our car at offsite parking, took a shuttle to the airport, went through security, and made it to our gate. I was surprised at how many people were in the airport, going to places all over the U.S. at this terrible hour.
Our flight left at 1:30 a.m. Yes, you can see where this is going. It was totally packed. I had taken a short nap Monday afternoon and am usually a great sleeper on planes, so I planned to rest during the flight.
What I had not counted on was the coughing/hacking lady that sat behind us with a 30-second on, 30-second off cough. I know she probably didn't feel well and she wanted to cough about as much as I wanted to hear it, but that didn't help when everyone was trying to rest. Needless to say, there was almost no napping on that flight.
We arrived in Charlotte at 6:30 a.m. feeling the jet lag. We found a Chick-fil-a, grabbed some grub, then went to our gate.
At the gate we waited for FOUR HOURS. Yes, four hours. My wife actually stretched out and went to sleep but the rest of us simply endured the time.
I had initially considered joining the American Airlines lounge so that this layover could be more comfortable. But they wanted an arm and a leg to join, so I decided that we'd simply purchase day passes. We'd spend a bit over $200 instead of $800 (or whatever it was) for something we wouldn't use much. As we landed, I searched to find lounge locations and discovered that Charlotte did not sell day passes for their American lounges. Tip to the wise: do your searching for options at a better time than when you land.
At 10:30 a.m. my mom and dad arrived on their flight from KC. We visited a bit, then boarded another plane that took off at 11:30 a.m. Since my mom was in a wheelchair (she can walk, but not far distances), we got on the plane first.
We arrived in Grand Cayman around 3 p.m. We waited for everyone to disembark since my mom needed help. This put us at the very end of the customs line…but the lady who drove the wheelchair had connections. We got off the plane and she whisked us to a special customs lane ahead of the pack. We were through in a breeze, got our checked bag (more on that later), and were outside ahead of almost everyone.
We took a taxi to our place at the Windsong condo, arriving by 4 pm. We stayed in unit 1 this time. Last year we were in unit 2 but they remodeled it from a 3 bedroom to a two bedroom place PLUS a separate one bedroom place. Either way, we wanted to be on the ground floor (and we were) as it had easy access to the pool. Plus we used the back door as much as the front since it was nearest the beach. If you were on the second floor you could not do this — you had to use your front door only.
We were dead tired, but we unpacked a bit, then hit the beach for a short walk. Afterwards we walked to Foster's Market (about a 10-minute walk from our place), got some supplies, came home, fixed dinner, ate, and went to bed exhausted (at 8 pm). At that time we had been up for most of 35 hours and there was no way I could have made it longer.
Our Stay: The Basics
As an overview, our average day was something like this: up at 9 a.m., eat breakfast, check my sites to be sure all was well, chat (usually outside on the patio by the pool), hit the beach by noon or 1, come home by 4, sit by the pool and chat some more, walk to the store (though sometimes we went in the morning), eat, chat/watch TV, and go to bed.
The day after arriving we finished unpacking including the large suitcase we brought. We had put 50 pounds of dry goods (cereal, spaghetti, mac and cheese, chips, candy, spices, condiments, etc.) in an old suitcase and checked it. For a $35 fee we ended up saving what I would guess was $200 to $300 in food costs. Food is very pricey when 1) you have to fly it to an island and 2) the exchange rate works against you (something selling for $1 Cayman costs $1.20 U.S.)
Most of the days were spent at the condo and on the beach. If you recall from last year, the condo was not directly on the beach, but we had to walk less than a block (a normal block — not a NYC block) through a gated, locked path to get to the beach. It was easy access and was probably fewer steps than some places on the beach.
When at the condo we would mostly either snorkel or paddle board as our beach activities. We were very close to Cemetery Beach (which is on 7 Mile Beach), one of the best places on the island to snorkel. Last year I did more snorkeling and this year I did more paddle boarding. Both are great and I would often jump off the board for some snorkeling and then back on. It was tons of fun. BTW, the condo had paddle boards free for guests, which was very nice.
We went to Fosters every day but Sunday (it and much of the island is closed Sundays) as my dad always "needed" something (like a cake). They have a new rule about their carts — they can't be taken out of their lot. Last year the rule was you could drive the carts all the way home as long as you left them on the main drag to be picked up. You can't do that any longer, which we found out when we tried to drive the cart out of the lot and ran into a red line that made the cart seize up. It was then we recognized the red boot on one wheel, asked what was up, and was told of the new policy. It wasn't that big of a deal except when we bought a lot.
My daughter and dad played a lot of Aggravation, our family's board game of choice. They always play for money. She won $9 from him during the stay and was quite happy with the haul.
The weather was good. There wasn't a day we were hampered by clouds or rain. On many days it would start by raining or being cloudy but would then blow over and be amazing.
On Thursday, the chickens showed up — a hen and five chicks. There are chickens all over the island (I was awakened almost every day by a rooster) and these seemed to like us. They liked us even better when we fed them, which we did once or twice every day.
During the Cayman vacations I allow myself to eat sweets, the only time of the year I do this. So I filled myself with cake, cookies, candy, etc., though not as much as I had in past years.
Our Stay: Outings
It wasn't all lounging around the condo/beach. We like vacations with a mix of relaxation and some activity, so this section will highlight some off-beach activities.
On Friday January 11 we went into George Town (the main city). We took the bus (we did not rent a car again this year, see last year's post for details why) which was still $2.50 a person each way and stopped for passengers like a cab does (very nice). We did a bit of souvenir shopping (the kids each got something) and had ice cream (the Dairy Queen downtown actually has very reasonable prices) before returning home.
On Sunday, January 13 we again (like last year) chartered a boat with the Cayman Snorkel Company. It started out rainy and we were afraid our day would be washed out but once we got into the North Sound water, the sun came out. Our captain, Jason, said that's just how the weather is. "It can be raining in my front yard and sunny in my back yard" were his exact words.
On the way out we fished/trolled and got something on the line. My son reeled in a good-sized (and gruesome looking) barracuda. We got a picture with it then release him back into the water.
We went to Stingray City last year, so this year the boat took us to Starfish Point. We had seen mixed reviews on it but wanted to go anyway — just to say we'd done it. Then we found out why the reviews were mixed. We saw three or four starfish. But we didn't stay long as…
Then we went snorkeling at the same place we did last year (awesome) and where the eel lived in the coral. But this time he came out and swam towards us, something that was pretty freaky. He turned away quickly though and then went back into hiding. After that we went to another snorkeling spot and fished too. We then headed home and were back by 6 pm. It was once again a great time and one of our favorite parts of the trip. We will do it again if we go back next year. And Jason will be offering tubing by then, so we'll probably do that too.
On Wednesday, January 16, four of us (son, daughter, dad, and me) took the bus to Red Sail Sports near the Kimpton. We made plans to ride Waverunners but since they needed two more for all of us to go together, we had to wait an hour. We went to the bar right beside Red Sail (it was on the beach and open to the air) and had some drinks (no alcohol) to wait out the delay. We then got on the Waverunners and proceeded to have a BLAST for 30 minutes, riding all over the ocean. When we were done we ate at the Kimpton's outside restaurant on the beach (very good) then headed home by bus.
We hit a couple other restaurants during our time there. One night three of us went to Heritage Kitchen, got food for the whole group, and brought it back to eat. They had a chicken meal on the menu but were out of it, so three of us ate fish from Heritage Kitchen and the three that wanted the chicken dish ate sandwiches from the Subway nearby. The ones who had the fish loved it, but I could tell I would not have liked it. My fish needs to be fried, breaded, seasoned, or sauced, and this didn't seem to fit the bill.
The "big" restaurant find was Chicken Chicken. We went there (by bus) on Tuesday, January 15 and had roasted chicken (amazing spices), cornbread, and garlic mashed potatoes. It was so good that the next night my dad wanted it again. So he and my daughter took the bus, picked it up, and brought the food back to the condo. It was not only great but very affordable — costing something like $60 for six of us.
Travel Back Home
Of course the vacation was over way too soon and we had to head back home. We left our condo at 1:15 p.m. on the 17th, taking a taxi to the airport. The airport was under construction/remodeling last year and now is very nice and modern. That said, it was packed to the gills which didn't make for a great waiting experience.
Our plane left at 4 p.m. We got on early again as my mom needed help. We arrived in Charlotte at 7 p.m. and customs was so much better than in Miami (last year). We had special treatment as we were with my mom, but even if we had not, the lines were so much shorter than they were last year.
We made it to our gates (our flights had joining gates and left within 30 minutes of each other), then got some fast food to tide us over. My mom and dad left for KC at 10 p.m. and at 10:30 p.m. we were on a flight to Denver.
We arrived in Denver at 12:15 a.m. our time (2:15 a.m. Cayman time). We caught a shuttle to our car and drove home. We were in bed by 2:30 a.m. our time, 4:30 a.m. Cayman time. Not as bad as the flights there but we had still been up for 19 hours.
General Thoughts
WE LOVED IT! I wish we had stayed longer. I'm still hoping to figure out a way to make a trip tax deductible as a business expense. Anyone up for an ESI Money reader trip or a blogger meet-up? 😉
I found out after we got back that Millionaire 18 had been in Grand Cayman several of the days we were there (the end of his trip overlapped with the beginning of ours). He stayed a couple blocks away and we probably walked/swam right by each other at the store, on the beach, or in the water. What a small world!
This year one nice thing about the trip was that we were familiar with the island, where we were staying, how things worked, etc. It took out a lot of the anxiousness that you can sometimes have with the unknown.
This might be the last trip all six of us take together. My mom and dad are hitting the road in their RV next year and the kids are starting their careers soon, so who knows what will happen. It may be just me and my wife going next time, which would be great in a different way.
We aren't sure what we're going to do next year but ideas we've discussed are: 1) go back to Grand Cayman (Cayman Airlines opens up a new Denver to Grand Cayman direct route this March which takes 4.5 hours to get there — sooooooooo much better than the flights we had this year), 2) visit Hawaii (we haven't been as a couple — my wife went once with her mom), 3) take a cruise (we've been on three), maybe over Christmas and/or New Years, or 4) hit a different Caribbean island (probably a U.S. Virgin island, a British Virgin Island, or St. Martin).
Pictures
As I said, we took far fewer pictures this year and since we don't publish photos of the family, that limits my choices. But the pics below do give a good sense of the various places I've talked about above.