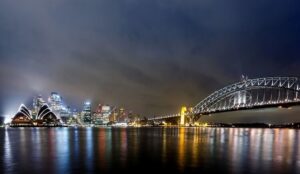 Here's our latest interview with a millionaire as we seek to learn from those who have grown their wealth to high heights.
If you'd like to be considered for an interview, drop me a note and we can chat about specifics.
This interview took place in February.
My questions are in bold italics and his responses follow in black.
Let's get started…
OVERVIEW
How old are you (and spouse if applicable, plus how long you've been married)?
I'm 40 and my wife is 35.
We've been happily married for 10 years. Time flies!
Do you have kids/family (if so, how old are they)?
We've got two young boys, 4 and 2.
They are fun, crazy, frustrating, infuriating, cheeky, loving and beautiful. We are truly blessed to have them in our lives.
What's it like having two toddlers?
Like raising two heavily caffeinated chimpanzees who are allergic to sleep.
Communicating with toddlers is constantly being asked to explain what colour the number 4 smells like. What colour? The number 4. Smells like. Yes, really.
What area of the country do you live in (and urban or rural)?
We live in beautiful Sydney, Australia – population 5.3 million and growing.
We're located about 20 minutes from the Central Business District (downtown), 25 minutes from the world famous Opera House, and 30 minutes from Bondi Beach.
We do live in a working-class area of the city full of "Aussie Battlers". According to the latest census, we're multiples above the median income and net worth levels of our suburb. So, I guess you could say we're your prototypical stealth wealth, millionaires next door.
What is your current net worth?
USD $1.15M
What are the main assets that make up your net worth (stocks, real estate, business, home, retirement accounts, etc.) and any debt that offsets part of these?
Superannuation (retirement account) = $340K
Stock Market Index Investments (taxable) = $250K
Home Equity = $360K (900K value, 540K mortgage)
Business Equity = $150K
Cash = $50K
All numbers USD. We have no other debt besides our mortgage.
Superannuation is a government mandated retirement savings program, similar in structure to a 401K, but with a few key differences:
Employers are required to pay 9.5% of an employee's salary into a super investment account, up to a maximum of 25K per annum, which is not accessible to the individual until their preservation age, which for me will be 60 years old.
The account is taxed at 15% on entry, and any dividends/income within the account is also taxed at 15%.
Once preservation age is hit, and the account turns into a pension, then up to AUD $1.6M per person can be withdrawn absolutely tax free.
The cash is in our emergency fund and is sitting in an offset account, which is a financial product unique to Australia (to my knowledge). Essentially the $50K sits in a bank account, but instead of earning interest, it offsets the amount of interest accrued on my mortgage. An extreme example would be if I had a $500K mortgage and $500K cash sitting in my offset account, then I would be charged zero dollars interest.
The advantage being that you can access your own money at anytime at your low mortgage interest rate. I suppose it'd be similar to a home equity line of credit, except I'd be borrowing from myself and don't need any approvals.
EARN
What is your job?
I'm a Principal Consultant and Partner in a boutique software services company.
What is your annual income?
It's variable depending on how the business is performing.
Last year it was USD $150K, but this was lower than normal due to a COVID-related business slowdown.
In the past five years its typically varied between $180K and $210K. This includes a base salary, commission and profit share.
Tell us about your income performance over time. What was the starting salary of your first job, how did it grow from there (and what you did to make it grow), and where are you now?
My first job was when I was 15 years old, working at a summer fair as a customer services host making $7/hour. I thought that was amazing. I loved meeting and talking to different people, and I couldn't believe I was getting paid to do that! A few of the old-timers told me to calm down and stop smiling so much. I laughed. You couldn't have wiped that smile off my face if you tried.
My first office job was when I was 19 years old, working at a paid internship during a break in my university studies. I was making $2000 per month as an Engineering Intern. I thought they were crazy for paying me so much money! After living as a starving student for years, I was now rich! I was also approved for my first credit card around this time, and that ensured that none of these riches lasted.
Luckily I had 2 more internships in subsequent years, earning slightly higher each time, and becoming slightly smarter with my money. By my last university internship, I managed to pay off most of my debts, graduating with an Engineering degree and a small amount remaining on my student loans.
My career after university:
2002-2003: $40K (entry-level software developer)
2004-2005: $45K
2006-2010: $65K-$75K (changed companies a couple times)
2011-2013: $90K (individual contributor role to management role)
2014-2015: $100K
2016: $195K (moved from higher guaranteed salary, to lower salary with high commission potential)
2017: $190K
2018: $210K (bought into business , so pay now includes profit share)
2019: $180K
2020: $150K (Covid-related dip in revenues)
So, how did I make my salary grow? I worked hard, took some risks, made a bunch of mistakes, got lucky by meeting great people and great mentors, listened, learned and experimented. A bunch of things didn't work, a few things did.
My top actionable tips for growing your salary:
Be Awesome – If people like you, and they think you're great, they will want to work with you now and into the future. All things being equal, people want to work with people they like. All things not being equal, they still do.
Compensation Negotiation – Know your value. Learn about BATNA (best alternative to a negotiated agreement) and ZOPA (zone of possible agreement). No idea what I'm talking about? Google them now! If asking for a compensation increase terrifies you, that's good. Feel the fear, and do it anyway.
Take Calculated Risks – How this looks will differ per person. For me it took the form of changing roles, changing companies, taking on challenging projects, shifting to a commission-heavy role, buying into a business. If it doesn't work out, then you've learned and can move forward to something else that might work.
What tips do you have for others who want to grow their career-related income?
ESI has some great articles here. I've read most of them, and they're fantastic! Nobody knows your exact circumstances like you do though.
My simple advice is to find a mentor, or a close role model who has already achieved the income and career level you'd like. Ask them what they did, then adapt those techniques and strategies to your own circumstances.
What's your work-life balance look like?
It's fantastic. I work 4 days per week to maximise time with my young family. I'm definitely forgoing more earnings, especially during these years where my salary is highest, but I'm making that choice to work less consciously and fully aware of the trade-offs.
Not everyone would agree I'm sure, but it's the right choice for me and my family. I credit the journey my wife and I have made towards minimalism, identifying and focusing on what's truly important in life, and being more comfortable with making intentional, hard choices that often times buck the usual trend.
Wait But Why had a great article about time spent between parents and their children. By the time kids finish high school, they've already spent more than 90% of their face-to-face time with their parents, including for the rest of their life. Really sobering stat!
Do you have any sources of income besides your career? If so, can you list them, give us a feel for how much you earn with each, and offer some insight into how you developed them?
Not really. Only other source of income is from stock dividends, though these get reinvested regularly.
I've read a few books and a number of blogs on side hustles and creating multiple passive income streams. Everything from real estate flipping, to investment properties generating rental income, to drop shipping and Fulfilled By Amazon, driving Uber, having a second job delivery pizzas, and starting a franchise business.
They seem interesting, and I'm inspired by the stories of people that work hard and achieve incredible second and third sources of income, but it's not what I want to do with my spare team, especially during this season of my life with a young family. Again, for me it's about making intentional, hard choices that work best for me and my family.
SAVE
What is your annual spending?
It was 80K last year and has consistently reduced each year for the past four years.
What are the main categories (expenses) this spending breaks into?
Mortgage = 22K
Groceries = 12K
Strata (HOA) + Home Maintenance + Utilities = 10K
Childcare + Other Kid costs = 9K
Shopping + Gifts = 8K
Travel + Holidays = 6K
Cafes + Coffees + Takeaways = 4K
Car + Petrol + Registration + Public Transport = 4K
Misc (Donations, Entertainment, Health & Beauty, Other insurances) = 5K
Do you have a budget? If so, how do you implement it?
We follow the "bucket" method and allocate certain percentages of our income to spending/savings buckets automatically. We're constantly optimising our reoccurring bills.
10% = Splurge (short-term discretionary spending – clothes, electronic gadgets, eating out, etc)
10% = Smile (longer term discretionary spending – holidays, renovations, Xmas gifts, donations)
40% = Everyday expenses (mortgage, strata/HOA, utilities, internet, food, daycare, insurances)
40% = Savings/Investments
To monitor our spending we use a mobile app called Pocketbook, similar to Mint in the USA. This connects to our visa debit cards and bank accounts and tracks all incomings and outgoings. We have no personal credit cards.
My wife and I have monthly date nights, where we discuss our plans, hopes, dreams, and finances. This is taken directly from Step 1 of the Barefoot Investor's Barefoot steps. For those who've never heard of Scott Pape the Barefoot Investor, he's essentially the Australian version of Dave Ramsey, but with a bit of Crocodile Dundee charm.
What percentage of your gross income do you save and how has that changed over time?
We save about 40% of our after-tax income. The percentage of gross income saved would look tiny in comparison, as I'm in the top taxable rate in Australia, which is 47%.
I'm not complaining, as with this tax rate we receive fantastic benefits like universal healthcare, a relatively generous social safety net, maintained roads, highways, public schools, transportation, beautiful state and national parks, and the best beaches in the world. The system isn't perfect of course (what country's is?), but I'm happy to pay my fair share for these services, which we use extensively.
What's your best tip for saving (accumulating) money?
Optimise the big 4 expenses – housing, transportation, food, holidays.
In terms of an actionable tip, for most people their mortgage is their biggest recurring expense. If that's the case, stop reading this article, pick up the phone and call your home loan provider. Ask to speak to their "retention department".
Wondering what to say next? I used the Barefoot investor script. Have a Google of "barefoot investor home loan script". Even if you can negotiate 0.1% off from your home loan rate this will literally save you thousands of dollars over the lifetime of the loan. This way you can have as many lattes as you want. 😉
What's your best tip for spending less money?
Don't try to spend less money. Instead, seek to spend lavishly on things you value, and then ruthlessly cut costs or eliminate spending on things you don't.
For example, we value books, travel, sports, organic food, and we spend unapologetically in these areas.
However, we've eliminated and cut costs ruthlessly on things we don't value – luxury cars, expensive brand shoes, luxury brand clothes, expensive home furnishings, flashy jewelry, satellite television.
My inspirations here are The Minimalists and Marie Kondo's Joyful Art of Tidying. Ask yourself, does this item or expenditure spark joy? Truly, does it make you smile? Will it add to your level of life content now and into the future? If not, don't spend the money.
What is your favorite thing to spend money on/your secret splurge?
My favourite thing to spend money on is sharing experiences with family and friends – this could be as family holidays, traveling with friends, meals out, or hosting a classis Aussie BBQ or get together at home.
INVEST
What is your investment philosophy/plan?
Simplicity.
I love simplicity. My favourite investment philosophies are unashamedly stolen from folks much smarter than me. My biggest influences in the investing space are JL Collins, David Bach, Jack Bogle, the BogleHeads, Scott Pape the Barefoot Investor, and the ChooseFI podcast.
David Bach: Pay yourself first. Make it automatic. Live rich now.
JL Collins: Spend less than you earn. Invest the difference. Avoid debt.
ChooseFI: Reduce your expenses. Increase your income. Build a Perpetual Money Machine.
Barefoot Investor: 9 steps to Freedom, from scheduling a monthly date night to leaving a legacy and making a difference in the world.
I honestly don't understand why people try to reinvent the wheel. People have been winning at the investing game for a long time, why not just study them, learn what they know, and do what they do. As Tony Robbins so eloquently puts it, "No matter what field you're in or what you want to do with your life, someone else has done it before. As you learn how to become successful, study their strategies and modify them for your own purposes."
In terms of the investment plan, it's to continue to invest regularly and often in broad based whole market index funds, whether the market goes up, down or sideways. If the market goes up, "Yay, our portfolio is worth more today than yesterday!". If it goes down, "Yay stocks are on sale today and I can buy more than units I could buy before". If it goes sideways, "Yay, those dividends are so sweet, and keep rolling in and adding to my net worth."
Our stock asset allocation mirrors the global markets, and loosely follows the Bogleheads 3-fund portfolio.
50% – USA total market index fund
40% – International total market index fund
10% – Bond index fund
What has been your best investment?
My marriage. Seriously, invest your time, energy and resources into the most important relationship in your life. It will pay back in spades.
We've been married for 10 years and our bond has never been stronger. Who knows what the future will bring, but I hope we can continue to evolve and I can continue to be the husband and life partner my wife needs, loves and wants to be with for the rest of her days.
What has been your worst investment?
Jumping on the tech stocks craze in early 2000. I put $5000 of my hard earned university internship money into high tech stocks. This might seem like a laughably small amount, but it was a huge amount of my net worth at the time.
I continued to buy into 2001 as the stocks were dropping thinking they were "great value". We all know what happened! I finally waved the white flag in 2002 and sold close to the bottom. Buy high and sell low, right?!? I perfectly timed the market, but in the opposite direction. Face palm.
What's been your overall return?
For the past 11 years, for as far back as our investment records go, our compounded annual growth rate (CAGR), which includes all growth from contributions, unrealised and realised capital gains and reinvested dividends, is 24.5%.
How often do you monitor/review your portfolio?
I update a detailed Google spreadsheet and review monthly with my wife. It includes our investments, net worth, earnings vs spendings, and contributions tracking. To update the spreadsheet I login to all our financial products, retirement accounts, bank accounts, and investment accounts.
I check our stock portfolio daily via my broker's mobile app – SelfWealth – a discount brokerage here in Australia.
As a side note, I wish we had free trading here in Australia like with Robinhood in the USA. I still pay AU$9.50 per trade, and most Aussie investors are with one of the big four banks which charge AU$20 per trade!
NET WORTH
How did you accumulate your net worth?
One dollar at a time.
As ESI mentions, earning, saving and investing were all key in my wealth building journey.
My father helped us with our home purchase, gifting us 75K towards our down payment. Other than that, there was no inheritance or other financial help. I even paid for my own rent, living expenses and university tuition (via scholarships, internships and student loans) from the time I was 18 onwards.
It's only in the past few years that I started earning some decent money from my career. Though from my very first job, I took advantage of tax advantaged retirement accounts and company-sponsored stock purchase plans when they were available.
Up until four years ago, most of my retirement accounts were invested in high fee managed funds, but because I continued saving year after year, the balances were still slowly growing.
Once I went on my financial independence and investing reading binge, I quickly reviewed all of my accounts and my wife's accounts and switched them over to ultra low-fee, broad based index funds, choosing Vanguard products where possible.
What would you say is your greatest strength in the ESI wealth-building model (Earn, Save or Invest) and why would you say it's tops?
I'd say we do all three relatively well.
Earn a decent income (150K+), save a decent percentage (40%), and invest regularly in broad based, low cost index funds https://esimoney.com/why-i-invest-with-index-funds/, getting a compounded annual growth rate (CAGR) of 24.5%.
I'm a big fan of the Pareto Principle, also known as the 80/20 rule. We've put in the 20 percent effort to get the 80 percent results across earnings, savings and investing. We could do more, but I see it as being an inefficient use of my time and energy honestly. Why continue to put in the remaining 80 percent effort just to get the 20 percent further results?
What road bumps did you face along the way to becoming a millionaire and how did you handle them?
We've had many bumps along the way, but we were very blessed to get back on track and end up becoming even stronger and more determined when we got back on the path.
One of my favourite quotes is from Adam Savage of Mythbusters, "Failure is always an option". Instead of fearing failure, we've really tried to embrace the experience, learn from the stumbles and if at all possible, fail forward. A couple interesting bumps worth noting and what we did about them…
Keeping up with the Joneses
Early in our relationship, my wife and I simply lived and spent how the people around us did. We certainly had some fun and accumulated some nice stuff, but we realised it wasn't what we wanted out of our lives. We weren't necessarily empty or exasperated, but we did want more out of life and were seeking some fulfillment and contentment that wasn't in the life we were leading.
Luckily, we decided to travel before getting married. It's amazing how little stuff you need to effectively and efficiently travel, whilst still fully experiencing life. Seeing the world through this lens of minimalism and simplicity opened our eyes to the different and still successful ways people live and we absolutely fell in love with the path less travelled.
Lesson learned. Spend on things you love, cut ruthlessly or eliminate entirely things you don't. Keeping up appearances is a waste of time, effort and money. Spend money on actually trying to be happy, and not appearing to be happy.
Living in a High Cost of Living Area
We ended up permanently relocating to Sydney from our smaller hometown, away from our friends and families and having to build friendship groups and professional networks from scratch. Whilst Sydney is a very expensive and cosmopolitan city, the friendships we developed and cultivated were mostly with people who valued experiences, travel, eating good food, playing sports, doing board game nights, and raising kids. So, whilst everyday living expenses can be quite pricey, our discretionary spending is actually lower than it was before.
Our tastes and preferences are simpler and more inexpensive, but still just as fun and rich, from a value and experiential perspective. Our housing is expensive, but we chose to live in a modest, working class part of the city, with easy and inexpensive public transport options, and shorter than average commutes to our workplaces. As previously mentioned our incomes and net worth are multiples above the area average.
As such, we have access to incredible multi-cultural restaurants, cafe and grocers that are diverse, tasty, fresh and inexpensive, relative to other areas of Sydney.
What are you currently doing to maintain/grow your net worth?
Staying the course. Continuing to earn decent money in our careers, continuing to optimise and review our spending to ensure it aligns with our values, and continuing to invest automatically and regularly in ultra low cost broad based index funds.
Both my wife and I are also investing time and energy into our continuing education, avidly reading blogs and library books, listening to podcasts, and watching documentaries and YouTube videos. We consider ourselves lifelong learners.
Do you have a target net worth you are trying to attain?
No. I'm a bit of a contrarian here. I subscribe to the Scott Adams method of creating systems, and not setting goals. He's the creator of the Dilbert Comics, and an accomplished investor and businessman. I'm paraphrasing, but his controversial statement is, "Goals are for Losers". If you haven't yet reached your goal then you're a loser, if you just slightly missed your goal then you're a loser, and even if you hit your goal, you're a winner for a very short amount of time, before your goals are reset or stretched further, at which point you're a loser again. Instead, he argues, create a system whereby so long as you're following your system, you're a winner and the results will take care of themselves.
We've already reached Coast Fire and are about half way to our 4% safe withdrawal FIRE number. Our spending also continues to go down year after year. We've got all the money we need, and our emergency fund and investments will cover us for nearly two full years, if by some extreme bad luck both my wife and I find ourselves without jobs suddenly. This worst case scenario also assumes we wouldn't change our current spending, or be needing to dip into any government social safety net programs, which are further backup plans.
How old were you when you made your first million and have you had any significant behavior shifts since then?
39 years old, only about a year ago.
Then we swiftly dropped below the seven figure mark due to the Covid correction.
Luckily, and because of our system of automated investments, we continued to invest aggressively through the downturn, and our investments and net worth recovered with the rising market.
What money mistakes have you made along the way that others can learn from?
Honestly, I wouldn't do anything different. All the mistakes I made have led me exactly to this point in my life.
In terms of money mistakes, I haven't made any huge ones luckily.
I do plan on teaching my kids about money as early as possible, hopefully with positive and fun money lessons and instilling the right values and behaviours from the beginning. I'm sure there will be lots of mistakes here, but I have faith we'll succeed in the long run.
What advice do you have for ESI Money readers on how to become wealthy?
What is true wealth? Is it money? Or is it time? Or choice? Or relationships?
Figure out what wealth means to you and then align your efforts, time, money and resources to building that wealth.
If we're talking strictly about money, I reckon JL Collins has the best and simplest advice here. Simple. But not easy mind you, "Spend less than you earn. Invest the difference. Avoid debt."
FUTURE
What are your plans for the future regarding lifestyle?
Our lifestyle is great at the moment. We're blessed to be financially stable, have growing assets, steady and fulfilling employment at 4 days per week, a healthy emergency fund and multiple back-up plans in case sh*t hits the fan.
I'm sure we'll change our lifestyle in the future as our priorities change. We'll have enough assets soon (within 6 to 8 years) to satisfy the early retirement safe withdrawal rate. Whether we decide to entirely leave paid jobs or not, I'm not sure. But it'd be nice to have the option.
What are your retirement plans?
Not sure. We've optimised our lives for happiness for right now. We continue to reassess, and I'm sure we'll do the same as we reach early retirement. According to our rough calculations, this will happen in about 6 to 8 years time.
We'll probably do a bit more volunteering, get more involved in our kids' school activities, donate our time and money to worthy causes, and do some slow travelling.
I'd also enjoy learning new skills, and have a particular desire to new languages, so we can combine this with some worldly travels.
Are there any issues in retirement that concern you? If so, how are you planning to address them?
Not really no. I'm still a few years off from early retirement, but I'm sure once I reach less than 5 years or so, I'll start to ramp up my reading of early retirement preparation books, blogs and podcasts.
Of note, I'm not concerned at all about healthcare. As mentioned before, Australia has universal healthcare, and so my health costs have simply never been a concern for me.
It's sad that the cost of healthcare is such a huge concern for Americans, even for fellow millionaire interviewees. I don't mean to make a political statement, only an empathetic and truthful one. I sincerely hope things get better for people in the USA and other places around the world that don't have universal healthcare.
MISCELLANEOUS
How did you learn about finances and at what age did it "click"?
I hope this is where people can find inspiration in my story. I was a late bloomer to finances. I only really learned about investing, ultra low cost broad based index funds, and the concept of Financial Independence about 4 years ago when we had our first child, when I was 36!
We sorted out a bunch of our financial lives, including wills, life insurance, retirement accounts, tracking spending, optimising recurring bills, automating investments, and setting up recurring date nights with the wife. Once we started making some changes and exercising our financial muscles, it actually became quite fun and I went down the rabbit hole of financial books, blogs and podcasts, in order to learn more and implement even further changes and improvements.
I've read 45+ books now on finance over the past four years, so averaging about one book per month. My current interest is to read finance books about raising money savvy children, or as the financial independence community calls it, "next generation FI".
Happy to hear the MI community's recommendations on books specifically geared at teaching kids, and instructing parents on how to positively influence kids about money and finances.
Who inspired you to excel in life? Who are your heroes?
My two sons. They truly inspire me to be better. I hope to be a better father, a better husband, a better business person, a better Australian, a better Sydneysider, a better neighbour, a better advocate for the for those who need advocating, and a better human being. I truly hope I can be a positive influence in my sons' lives, and in the lives of others.
I have many heroes. I love reading biographies, listening to long form podcasts and interviews, and watching documentaries on successful people and prominent figures. I look to a bunch of them for hope and inspiration.
In particular I've drawn inspiration from Tony Robbins for mindset, Winston Churchill for resilience, Mother Theresa for love, Nelson Mandela for forgiveness, Bill Gates for philanthropy, JL Collins for investing, Mr Money Mustache for badassity, and Hugh Jackman for washboard abs. 😉
Do you have any favorite money books you like/recommend? If so, can you share with us your top three and why you like them?
As mentioned, I've read 45+ finance books in the past four years. A bunch of those that have been mentioned in previous millionaire interviews and have had a profound impact on me, but since they are mentioned often, I'll take a bit of a different path here. Because I'm a follower of the Financial Independence movement, three fantastic books in this space I'd recommend are:
Playing with FIRE — Also a documentary of the same name (note: not the John Cena comedy flick). This book follows Scott's personal journey as he discovers the concept of financial independence on his commute to work, by listening to a Tim Ferriss podcast with Mr Money Mustache. It chronicles his journey from initial discovery, to further research, buying into the concept, convincing his wife to jump on the bandwagon, and the resulting rollercoaster of emotions, hilarity, lessons, tears and laughter that follow. An entertaining story with some actionable tips for Financial Independence newbies and veterans alike. My favourite quote, "What does it feel like to give up the "normal" trappings of a middle-class life? And if I had access to so many more luxuries and experiences than these people did in my everyday life, why wasn't I happier? Or better yet, why did they seem so happy?"
Choose FI – My favourite finance podcast, is also a book of the same name. It's essentially a highlight reel of the best advice and stories from the 200+ podcast episodes they recorded before writing the book. What I love about their style is the practicality of the message, and their unique perspectives. Brad has long since achieved FI and Jonathan is on the path to FI. Stories, philosophies, and frameworks are nice and all, but how do I actually do this financial independence stuff, you may be asking? Well, their book is full of actionable tips and concrete examples of what people have actually done. My favourite quote, "FI is not about retiring early or retiring at all really. It's all about having the freedom and flexibility to design your life in alignment with your values. You can work on things important to you. You can work at your own pace. Or you can choose not to work at all. FI gives you the power to decide."
Quit Like a Millionaire — The writers behind the Millennial Revolution blog wrote this fantastic biopic and introduction to Financial Independence and retiring early. They have a no nonsense style, mixed in with a vocabulary that would make any sailor proud. Not everyone's style I'm sure, but I find them to be hilarious, authentic and refreshing. Famously, they believe that home ownership and property investing is a sham! Blasphemy!! Or… Do they possibly have a point? Though provoking and inspirational, I enjoyed the read, even if I didn't agree with absolutely everything. My favourite quote, "The more stuff people owned, the unhappier and more stressed they tended to be. Conversely, the less stuff people owned and the more they spent on experiences like travel or learning new skills, the happier and more content they were."
Do you give to charity? Why or why not? If you do, what percent of time/money do you give?
Yes.
Once we got our financial house in order over four years ago we started to slowly give to charities. Its not as much as we'd like to give, but we have been able to increase our monetary giving consistently each year.
We also volunteer our time to worthy causes and charities. We plan to retire early (within 6 to 8 years), and give most of our time, profits and energy to charity.
We're not focusing on a specific percentage, but rather, we simply aim to increase our charitable giving, volunteer hours, and personal focus to philanthropy every year we are alive.
Will we succeed? Who knows, but we'll certainly have fun trying!
My favourite book on this topic is by William MacAskill, Doing Good Better: How Effective Altruism Can Help You Help Others, Do Work that Matters, and Make Smarter Choices about Giving Back. It should come as no surprise that an optimiser such as myself would like his charitable donations to have the greatest possible return-on-investment impact as possible to the world.
Do you plan to leave an inheritance for your heirs (how do you plan to distribute your wealth at your death)? What are your reasons behind this plan?
We don't have a definitive plan here. I do subscribe to Warren Buffet's advice on the subject. "You should leave your children enough so they can do anything, but not enough so they can do nothing."
What exactly those numbers are, I'm not quite sure.
As mentioned, I do have a current interest in reading books and blogs on how to raise money savvy children. More important than the inheritance we leave our heirs, we'd like to instill the right values, skills and healthy attitudes towards money.