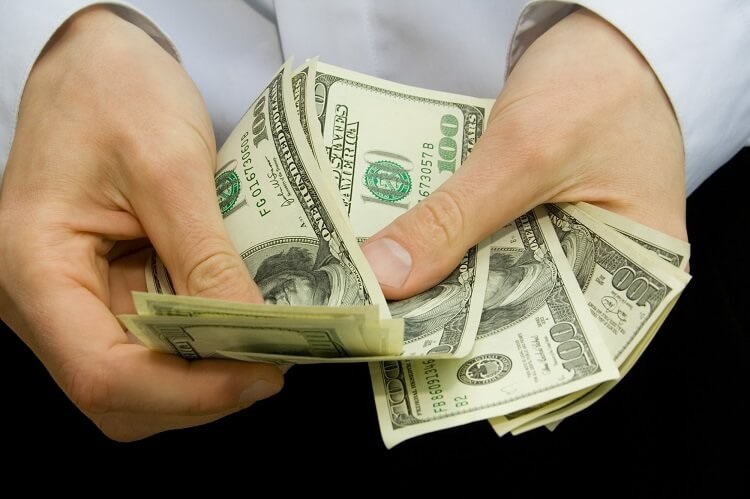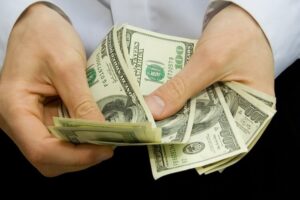 Here's our latest interview with a side hustler!
As you know, I love creating a side hustle as part of a fast-track path to financial independence because it can make a huge difference (see this financial calculator), enough to actually get you to FI in 10 years.
If you have a side hustle and would like to be interviewed, shoot me an email and we can talk over specifics.
This interview was submitted in April.
As usual, my questions are in bold italics and their responses follow in black.
Here we go…
GENERAL OVERVIEW
How old are you (and spouse if applicable, plus how long you've been married)?
I am 40 years old, and my wife will turn 40 in a few months.
We have been married almost 16years!
Do you have kids/family (if so, how old are they)?
We have one rambunctious two-year-old.
They keep us on our toes and have made us ruthlessly prioritize our time and money.
What area of the country do you live in (and urban or rural)?
We live in a suburban city of a large Midwestern city…although our house is right next to a corn field, complete with coyotes, cranes, and combines. So, it's kind of like the best of both worlds?
We are only 45 minutes from the downtown area, so we don't feel we are missing out on anything currently.
What is your side hustle?
My side hustle primarily consists of serving as a consultant on scientific and medical documents.
Unlike some other hustles, mine isn't one that is a "set-it-and-forget-it" and relies on putting in the time.
Is there anything else we should know about you?
I am also Millionaire Interview 317.
CREATION STAGE
Is this your first side hustle? If not, could you give us a bit of background on past efforts — both successes and failures?
Absolutely not! Always gotta hustle. 🙂
I have been doing the side hustle in some shape or form for about 15 years. It has taken different iterations depending on my circumstances, different connections, and my skillset.
So really, a series of hustles??!?!
Please see below in the Building Stage, where I'll detail my hustles from 2008 to 2022.
How did the idea of starting a side hustle begin?
My first side hustle, in 2008, was complete happenstance. I had a colleague while I was in graduate school introduce me to working sporadically as a fake patient for medical students as they did practice examinations and practice interacting with patients.
At the time, we were looking to pay down a lot of debt, so it lit a fire under me to the possibilities.
How did you come up with the idea?
At first, I could only take whatever could come my way. But as I gathered more skills, I started looking for more opportunities.
As I acquired more skills and experiences throughout my career, I've honed and targeted my hustle opportunities towards the most lucrative for me.
At this point, I am turning down opportunities because they don't pay enough or they don't seem interesting.
What made you think this particular idea could be profitable?
Well, because these hustles are essentially extra hours, it is almost always profitable. The true question is how profitable.
This is detailed a little further down, so keep reading!
What were the early days like — getting your side hustle off the ground, making your first dollar, etc.?
Making my first dollar was easy—I just showed up, ha!
BUILDING STAGE
What did you do to grow your side hustle? Were there any specific actions that resulted in major breakthroughs?
As my hustles have been varied across the years, I want to walk you through, year by year, what has happened as well as how much I've been able to charge.
Buckle-up for the deep dive!
2008: As I mentioned, this first hustle was as a fake patient for medical students at the local medical school. It paid $10/hour—big money at the time. This first year, I made less than $600, so it was not reported on a 1099.
2009 and 2010: As a continuation of the work in 2008, I kept at it, and tried to sign up for as much time as I could. Most of this was in the evenings and quite sporadic.
2011: This year was quite low. I was finishing up my graduate degree, coordinating a cross-country move, and getting established in a new job. What little work I was able to pick up, was as a tutor at around $15/hour.
2012: I really started to pick up the pace! Well, in actuality, I was hired as an adjunct faculty at a local community college (on top on of my day job) for 2 quarters. This was a fixed amount per quarter (see below in the Results for the total for this year), but I had to be there 4 days week.
2013: I saw a filer on a bulletin board (I know, I know…what, was this 1850?) about a company needing editors for certain areas of scientific expertise to help with documents written by non-native English speakers. At the time, I was steeped in academia, and it was very difficult to break out into the private sector without the right "experience". I knew I wanted out, so I took the opportunity. This was pure contract work for a flat fee based on turnaround time and length, so it really was important to become quick and accurate to make it worthwhile. Depending on the project, I would make about $8-20/hour.
2014: I continued with a lot of the same editing work that I had in 2012, but with experience under my belt, I was able to leverage this plus my 9 to 5 to break out into the private sector. This would prove to be a watershed moment. I continued with this editing work and began to branch out into other types of documents with other companies, mostly for flat fees, which would end up netting me around $20-25/hour. Major expenses here were buying a dedicated computer and software to help with the work.
2015: Now equipped with the "right experience", I was able to start charging an hourly rate of $100/hour, rather than a fixed fee. This allowed me to work less but increase my earnings. Expenses in 2015 were mostly from maintenance of business assets, like computers, software, fees, etc. Importantly, I was forced to change 9 to 5 jobs in 2015 (market forces).
2016: Inflation, amiright? I began some side hustle for a different client and raised my rates to $110/hour. Again, minimal expenses this year, similar to 2015.
2017: Due to restrictive covenants at my 9 to 5, I was not able carryout any side hustle in my area of expertise.
2018: I changed 9 to 5 jobs midyear, and my former employer immediately asked me if I would consider consulting for them. I wanted to make it worth my while, so I bumped my rate to $150/hour, and they, for some reason, said yes. Additionally, another former employer (from 2014) reached out to me to see if I would help them out as a consultant. I initially tried to persuade them to find someone else, as the area they were asking me to cover was outside my expertise. In the end, I "caved" and agreed to help for $125/hour. I used this discounted rate because I would need to do significant learning to get up to speed. Expenses this year included a small bit of out sourcing to get some expertise on things that I could not do myself.
2019: Talk about a bumper crop! I continued work for both of the same clients as in 2018. However, for the lower charged one, I upped my rate to $130/hour and expanded my scope to some additional flat rate projects that I knew would be super lucrative (for example, charging $6,000 but only putting around $1,500 of "time" into it. The rate of $6,000 was still undercutting known competition). I also had a former skip-level boss connect with a former colleague of theirs that needed some consulting help (where I charged $150/hour). For expenses, as part of some of flat rate projects, I pulled in additional folks (which brings additional costs). Higher costs, but extremely worth it. I could not have pulled off everything without that extra help. Very interestingly, in 2019, my side hustles came very close to overtaking my 9 to 5 in terms of what I was bringing in.
2020: As in 2017, I changed 9 to 5 jobs that resulted in restrictive covenants preventing side hustle work. Revenue in 2020 was derived from December 2019 invoices. The same goes for the expenses. I had several outstanding invoices from November and December 2019 that I strategically waited to pay until 2020 to have the "business" take a net loss in an effort to reduce taxable income.
2021: Midyear, I changed 9 to 5 jobs. A contact from one of my side hustles in 2018 gave me an intro at their current company, where I charged $150/hour, and it was off to the races. This only began in May 2021, so I consider it pretty good in terms of overall revenue. In the Fall, a different previous employer reached out to me asking if I would come back and do some consulting with them. At this point, there were some negotiations on rate (as I left them for a reason!), and we landed on $200/hour. $$$$$, right? Major expenses included business upkeep and some outsource expenses to keep up with the overflow.
2022 (through April): For my own sanity, I decided to cease work with the client (at $150/hour). They were disappointed and asked me to stay (essentially name my price) and/or offer me a full-time job. I declined both because of the stress of how they operated (everything was a fire drill). I continue with my $200/hour client (who has coincidentally also asked me to come on full time, which I declined) at this point. Expenses so far include business upkeep (computer, software, bit of outsourced help, etc.) but nothing major.
Where did you find the time to work on it?
Mornings, nights, and weekends. Any extra time outside of the 9 to 5.
I'm an early riser anyhow, so doing some work while everyone else is sleeping lets me still see my family during the day!
Were you the only one involved or did others help out?
There were certain projects here or there that I took on, where others needed to be brought in for their particular expertise to create the highest quality work.
This did make those kinds of project less profitable, but quality and timeliness are the currencies of the day and essential to maintaining good business relationships.
So, I consider these types of projects to be more "investment" or "building" type of projects from a business standpoint.
RESULTS
Can you give us specifics on what you earn with your side hustle?
Below is a table summarizing the revenue/income, expenses, and profit from 2008 to 2022. All the nitty-gritty is above!
For simplification, I'm not including federal taxes as that is something that has to be paid. While it is an expense, since it gets passed onto my personal tax returns, I focus on saving some back in case there are taxes due but then work to maximize deductions. Some of the early years I had to find old tax returns.
For simplification, I have not broken out what's been paid as a W2 vs a 1099, but know that it has been a mixture throughout.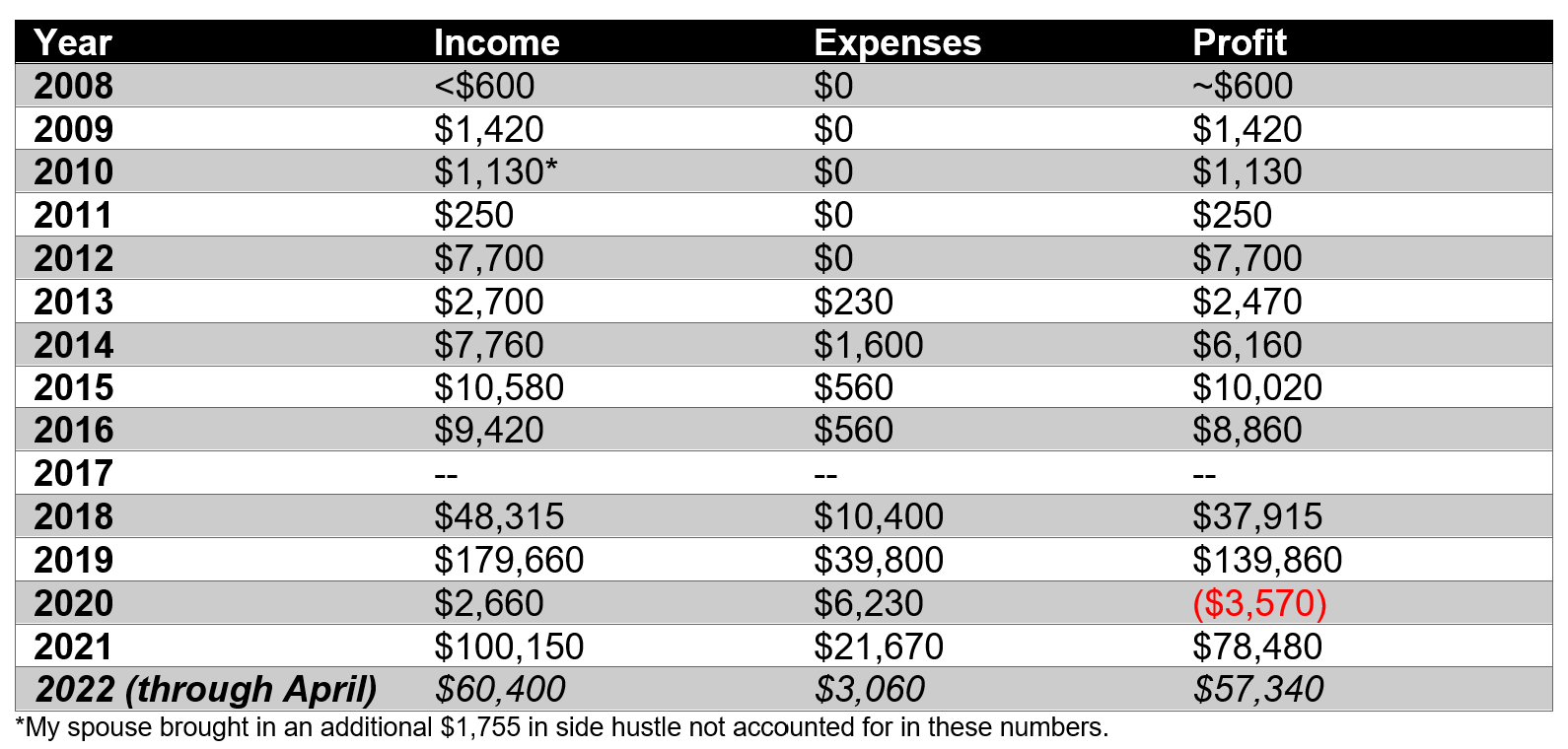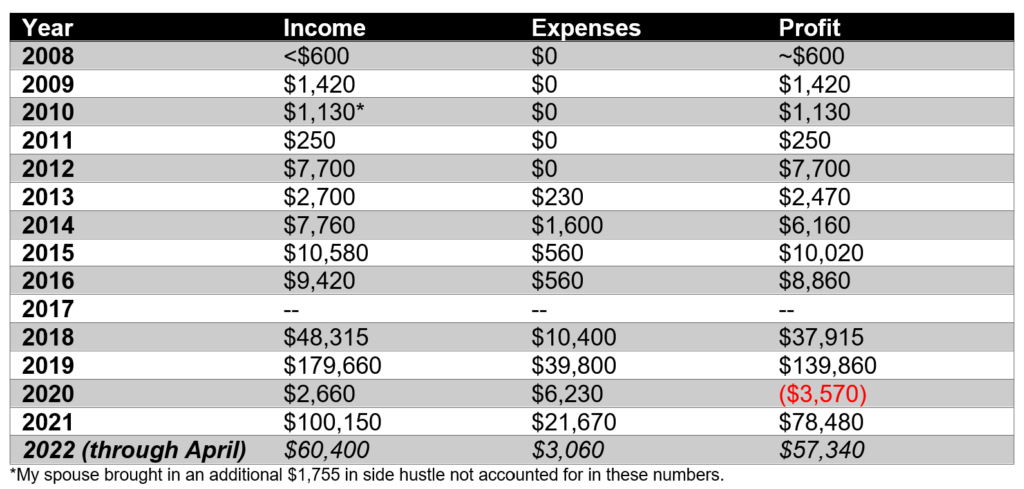 What impact has this extra income had on your finances?
It helped us pay down debt!!!
Also, we've increased our giving amounts and shared the "spoils" with family by taking them with us on vacations, etc.
What went well in this process?
I tried to treat every hustle as a learning experience. Take from it what I can and then apply to go bigger and better in all 9 to 5s and other side hustles.
Breaking into the private sector, along with not being afraid to raise my rates, has proven instrumental for increasing the revenue of my side hustles.
Work smarter, not harder!
What could have gone better? What do you wish you would have done differently?
Honestly, out of fear, I held on to some of the less lucrative, lower-paying side hustle opportunities way longer than I should have.
It took me quite some time to realize what I have to offer could be worth on the open market.
If I had to do it over again, I would have started charging a whole lot more, a whole lot sooner.
Has it been worth it? Why or why not?
100% worth it.
My side hustles have enhanced my 9 to 5s and vice versa.
What are your future plans for your side hustle?
Current plans are to keep pursuing the most lucrative side hustles (in terms of hourly rate).
Soon-ish, there are plans to investigate other side hustles, in real estate perhaps, that could be a bit more of a "hands-off" proposition.
What advice do you have for ESI Money readers who may be thinking about creating their own side hustle?
Never underestimate the power of relationships and connections. My most lucrative hustles have come from former employers or former clients.
Also, continually develop multiple streams, if possible.
Critically, my consulting/side hustle has been asynchronous work (so does not need to be completed during typical business hours).
Figure out what you know how to do that people will pay for. Quality over quantity is the way to go! The best clients are those that understand the premium they need to pay to get the best quality and will do so willingly.