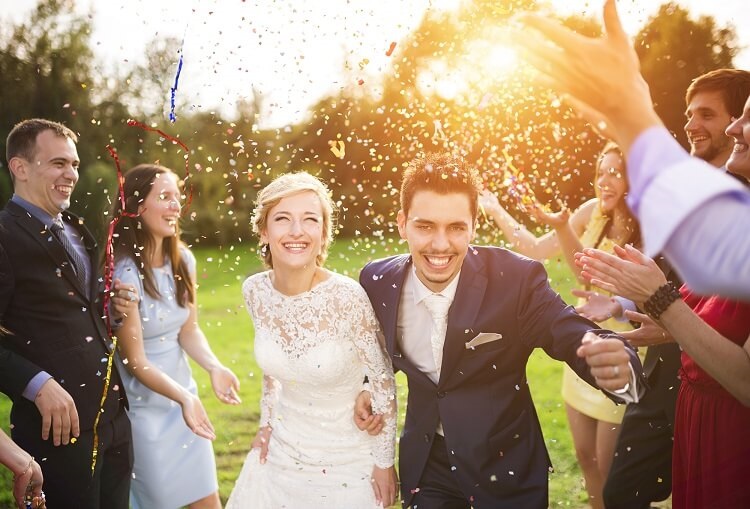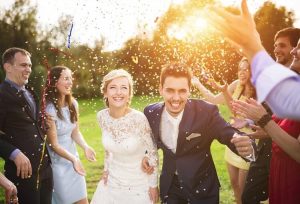 Here's our latest interview with a side hustler!
As you know, I love creating a side hustle as part of a fast-track path to financial independence because it can make a huge difference (see this calculator for details), enough to actually get you to FI in 10 years.
If you have a side hustle and would like to be interviewed, shoot me an email and we can talk over specifics.
Today we have an interview with Brian from the Ride Your Money Wave podcast.
As usual, my questions are in bold italics and his responses follow in black.
Here we go…
GENERAL OVERVIEW
How old are you (and spouse if applicable, plus how long you've been married)?
Both my wife and I are 36 years old.
We have been married just over one year and have no kids.
Luckily, I have known my wife for the past 18 years and as I started to learn and read about money, I taught her as well. Numbers always fascinated me and once I understood the basics of the stock market and compound interest, I convinced her to start saving and investing too.
I figured the worst-case scenario was if nothing ended up happening between me and my then-girlfriend, she would end up one day with a nice nest egg and some lucky guy could thank me for getting the ball rolling. The best-case scenario is what actually happened: she grew to respect money and become disciplined around investing and I married her!
Seeing eye-to-eye around finances and having similar or mutual financial goals is one of the puzzle pieces in creating a solid foundation for a marriage.
What area of the country do you live in (and urban or rural)?
We live in USA in a suburb of Detroit (urban).
What is your side hustle?
I have three side hustles.
My first side hustle was investing in real estate. I have two rental properties, one of which is paid off in full.
Before my wife and I moved into our dream house, the rental properties paid for our mortgage and living expenses. Life was good!
Right before we got married, we bought a beautiful home in a downtown area. It was priced more than we initially agreed upon, but has turned out to be a great investment in terms of appreciation (30%+ in 1.5 years.) Now, the rentals pay for about half of our mortgage.
The second and third side hustles are photography related.
Eleven years ago, after graduating from grad school with a MA in Economics, I wanted to do something creative again so I bought a camera and started a photography business. That business has grown to eclipse my 9-5 income by about 2x. The business largely focuses on wedding photography.
The third side hustle is an off-shoot from the photography business. After photographing my own proposal, I decided to launch a proposal planning and photography business as a lead generator for my main business. They are operated under two different names.
Is there anything else we should know about you?
I teach high school Economics as my 9-5, which takes care of my health care, provides me a pension, and offers me two retirement accounts 403(b) and a 457, both of which I max out at $19,000/year.
In addition to that, I max out my Roth IRA and SEP (through the business) every year. I based my standard of living around maxing out my retirement accounts.
I hit a net worth of $1 million sometime at the age of 35. I truly believe that wealth is accessible to everyone and that everyone should have a side hustle if they want to get there faster.
CREATION STAGE
Is this your first side hustle? If not, could you give us a bit of background on past efforts — both successes and failures?
I had several other side hustles growing up, but they were so small and failed so quickly, that I don't even remember them.
Photography was really the first side hustle I stuck with because I was always interested, even fascinated, by photography. Even then though, it took years before the side hustle started to generate enough money that it was noticeable in the financial decisions in my life.
For example, my first wedding I got paid with a $20 gas card as a "thank you." My first senior photo session was $100. My first wedding where I didn't know the couple (this, I would argue was my first true client), I made $400 for an 8-hour day.
In short, every penny I made for the first three years went back into the business. I even picked up other side hustles, like coaching tennis (a sport I never played) just to help pay for camera gear to build the business faster.
Here is a failure I had: after my fourth or fifth year of photography, I had approximately $15,000 in profit (remember I was buying cameras, lighting, lenses, an editing computer, etc. while I was building the business and I wasn't charging much for each gig) and poured the profits from the business into a 1937 Dodge D5 Sedan.
It was a beauty. Black, bulbous, clean lines – a classic!
I wasn't very busy with weddings, only averaging 12 weddings a year, and figured I could supplement my wedding income by creating a classic car chauffeur business on the side. No one was doing it and it would look great in photos!
Three problems:
One, it is a very expensive business to run with insurance and upkeep of a classic car.
Two, because no one was doing it, there was also no market for it. People weren't thinking about it. Not only did I need to create the business, I needed to create the market for it, which is very difficult to do.
Third, I am not very handy and know nothing about fixing cars.
My brother suggested before I buy the car to throw up a web page, buy some Google Ad Words and do some A-B testing to see if there is any interest. I didn't listen. Instead, I bought the car, drove it twice before it sat in my garage and I ended up selling it for a $300 profit years later. Had I not bought the car and invested that money, I would have been so much better off.
Lesson: stay in your lane and repeat profitable actions that you know work.
How did the idea of starting a side hustle begin?
I was always interested in photography.
Growing up, I never enjoyed reading. I felt like it took too long. I liked how I could look at a photo, play detective, and create a story around what I saw. Not only that, but the photo made me feel something.
I took a b/w film class in high school, where I learned how to shoot and develop my own film. This experience was great because there was no Photoshop. You either got the shot or your didn't, and it was pretty obvious. (This would later play a role in my success and customer satisfaction because I return an edited portfolio to my clients in about two weeks, which had brides doing all of the marketing for me.)
Fast forward ten or so years. I took photos during that time, but always as a hobby and felt like people who became photographers were the lucky ones. I didn't know, nor did I believe, you could make a living at it.
I graduated college with a BA in Economics and went into teaching. While teaching, I got a MA in Economics and was so burnt out that I felt dead inside. I wanted to do something for myself, something that gave me an identity and fed my soul.
I decided to buy a camera, a Nikon d200 with 18-200mm lens for $2800, after I graduated as a gift to myself. I almost died buying it since it I never spent that kind of money on myself before. I was always saving it and investing it for the future.
I had two Economics degrees and no economic/business experience. I almost felt like a fraud. I decided to start the photography business to a.) prove it to myself that I could run a business, b.) put my degrees to use, and c.) pay off the camera.
Never in my wildest dreams did I think it would shape my life the way it has.
How did you come up with the idea?
The idea originated from the fact that I wanted to do something creative again, but that isn't too helpful for the reader.
Instead, I think the real value of the question comes from these four questions:
Every person who is looking to start a business should ask himself or herself the question, "What skill set do I have that I can market?"
Secondly, "What am I so passionate about or interested in that I wouldn't mind pursuing this interest the rest of my life regardless if I got paid?" You need to really be honest with yourself on that last question because "passion" is an overused word and wanes very quickly when you are stressed.
Next ask yourself, "With this skill, what problem can I solve?"
Lastly, "How can I add value to my customer beyond what others are doing?"
Those four questions will guide anyone to their answer on what business to start.
I want to draw attention to the final question because this is what will allow you to make more money, charge more for your product or service, weather economic downturns, and literally have a $0 marketing budget because your customers will do all of the marketing for you.
If you don't differentiate yourself from your competition, the only thing you can compete on is price, which is a losing battle. Make your business different than everyone else's and you can charge what they can't.
What made you think this particular idea could be profitable?
First, some background: when I started the photography business, I would shoot anything for which people would pay me: pets, family portraits, senior photos, etc. Because these are relatively low-stress, low-value shoots, I couldn't charge much. People would scoff at $500 for a family session. Plus, I wasn't having fun with it.
I had the chance in college to photograph a friend's wedding, which I did for a $20 gas card and some experience, and I was both proud of the photos and had a lot of fun doing it. I started to think more about the business and wedding photography seemed right.
People are always getting married, even during a recession. It is a big event that people are willing to spend money on. Your next clients are standing next to the bride and groom (i.e. the bridal party). It seemed like a no brainer.
Most importantly though, I was having fun shooting the weddings.
Three things made me think the idea of running a photograph business would be profitable:
My first solo wedding once I started the business, I charged $2100, which was almost how much I was making in 3 weeks. If I could make 3 weeks worth of income in a weekend, I knew something was there.
I volunteered to photograph a wedding through Wish Upon A Wedding, where I met other vendors and wedding planners. After the wedding, they asked to see my work with the potential of sending me clients. Upon seeing my work, they asked what I charged. They looked at my price sheet and told me to double my prices. That taught me two lessons: volunteering introduces you to great people and supports great causes and secondly, seek information and feedback from veterans in your industry. That advice changed the way I saw my business and lead to a 3x increase in my revenue within two years.
I became a student again and studied the best of the best in the world. Jerry Ghionis charges $7,000 for an engagement session with 30 prints. If he is finding clients who are paying that, then there is money in this industry.
What were the early days like — getting your side hustle off the ground, making your first dollar, etc.?
The early days of getting the side hustle off the ground were rough. A lot of hoping, trial and error, and expensive mistakes.
When you hear people talk about bootstrapping and how you should for as long as you can, it is real. Buying more equipment or paying for services won't guarantee you success. There is a time when yes, it makes sense to outsource or pay for something if the opportunity cost of doing said project is high enough (i.e. you can make more money focusing on what you do and paying someone else to do the other task) but that situation doesn't happen until you are established, successful, and viewed as an expert that can charge top dollar.
I probably wasted $30,000+ dollars on things that I didn't need, simply feeding my ego or thinking that it would make me more successful.
In reality, the equation for success is hard work + sacrifice + patience + persistence + networking = a chance at financial success.
Now, instead of feeding my ego and getting into online debates about what is the best widget, I feed my mind by reading books and learning about new aspects of business. It is much healthier, useful, and cheaper.
BUILDING STAGE
What did you do to grow your side hustle? Were there any specific actions that resulted in major breakthroughs?
It didn't necessarily help me grow my side hustle, but it is good advice that I would give: find a mentor.
I assisted a photographer to learn the ropes of the business. The problem was, he wasn't a very good photographer and was at the end of his career. He didn't change his business model as the market changed. (There is a lesson to be learned there too.)
A few things that helped me grow the business were:
Reading industry specific books, articles, websites.
Learning more about taxes and tax code to maximize deductions.
Invest in personal growth or skill-based education.
Attending workshops to further my skills.
Volunteer with organizations whose cause you support. It is a great way to meet like-minded people.
What sort of time commitment did your side hustle require while becoming established?
It consumed my life.
Many, many mornings, I would be awake at 4:00 a.m. and put in two hours of work before going to my 9-5, then when I got home, I would put in another 6 hours a day.
On the weekend, I would log another 16 – 24 hours of work.
I maintained that pace for about 8 years until I finally realized that I deserve a life too.
Now, instead of 100-hour weeks, I work a more manageable 60 – 80-hour weeks.
Starting and even running the business is very tough. Unless you have a large pile of cash to burn through, you have to do it all – website design, marketing, accounting, SEO, social media, legal and tax research, vendor and client relations, etc.
Where did you find the time to work on it?
In high school, I read the quote "The key to success is found under the alarm clock" – Ben Franklin.
I believed this to be true as I saw my mom and dad wake up every day at 4:30 a.m. and start their day. I adopted this mentality to get up and get a jumpstart on the world.
While the average Joe is sleeping in until 7:00 a.m., I have already answered all my emails, had breakfast, and read for an hour. When my client checks their email at 8:30 or 9:00 a.m., I am at the top of the list and they see that time stamp of when it was sent. You would be surprised at how many people show appreciation and respect for the early bird.
I now work on my business from 5:00 a.m. – 6:00 a.m., then again from 3:30 p.m. – 9:30 p.m. As I get older, I value and am protective of my sleep. As soon as I feel my productivity slowing, I shut down for the night and go to bed. No Netflix, no Instagram, just bed.
My work is seasonal with more weddings happening from May – December. Those months are my busiest and require multiple straight evenings of work.
In my off-season, I can take evenings off if I don't want to work ON the business.
One last bit of advice: about twice a month, I will naturally wake up around 3:00 a.m. I use those mornings for either editing sessions, getting caught up on emails or non-time sensitive emails, or reading. Those are my most productive and cherished hours.
Were you the only one involved or did others help out?
I was the only one involved in the creation of my business.
After about 5 years, I hired an assistant to help me on the wedding day. That made the day easier but wasn't exactly necessary.
I also expanded into video but found it to be less profitable so I shrunk the business back to its core, which taught me another valuable lesson: stay in your lane and specialize. You can charge more money as an expert rather than a jack-of-all-trades.
RESULTS
Can you give us specifics on what you earn with your side hustle?
Sure. I am approaching my eleventh year running this business.
The first four years were slow and learning the ropes. It wasn't until the fifth year that I started making enough money that I actually noticed a difference in my savings. Still, with each year I would buy some sort of asset while maintaining my standard of living.
For example, I mentioned earlier that I bought an antique car. Another year, I used my profits to buy my house, which I carried a mortgage on. A few years after that, took my profits and bought a rental property and aggressively paid it off within 4 years.
It wasn't until the last two or three years that the numbers really started looking good.
In 2018, my revenue was $196,860. My costs were $20,886, leaving me with a profit of $175,974.
What impact has this extra income had on your finances?
The money from the side hustle has changed my life financially.
Strategically, I knew I wanted to build a system were all of my investments were maxed out and automated, forcing me to live below my means and keep my standard of living in check for as long as possible.
In other words, even though I made more money, I always saved and invested it. This has allowed me to max out all four retirement accounts: Roth 403(b) and 457 at $19,000 each per year, Roth IRA at $6,000 per year, and my SEP, which changes year to year.
Any additional money goes towards either a brokerage account, which currently has $71,000 in it and was started two years ago, or paying off my mortgage, which is around $436,000 at 4%.
I plan on focusing funding my brokerage account so I can either use it to a.) retire at 50 and hold me over until I can access my other funds at 59.5 b.) use it to earn more interest and pay off the house or c.) generate enough interest per year to pay for the mortgage on a monthly basis. We will see what route I take.
My wife also maxes out her Roth IRA and 401(k). Together we save a minimum of $80,000/year in our retirement accounts, not including what I set aside in my brokerage account. We have been saving at this level for about three years now and have amassed invested assets of $1,036,000 and have a net worth of around $1,500,000.
To put this in perspective, I started out making $28,000/year with no side hustle and a net worth of approximately $25,000 15 years ago, straight out of college.
There has been some lifestyle creep, but not much. My wife and I are still frugal about some things, but we do eat out more often.
We had a good laugh last weekend; on our way home from the Pottery Barn outlet, where we bought over $2000 worth of rugs for under $600, we stopped at McDonald's, bought two McChickens and a drink. The sun was shining, our windows were rolled down, and her favorite country station was playing on the radio. She emotionally told me, "I love our life" to which I said "Cheers!" and touched our McChickens together in celebration of the deal we got. We laughed and talked about it afterwards, how even though money has come into our lives, we are still the same people.
I am honestly happier eating a low-key meal than I am a $200 5-star feast because I don't value the feast. We normally eat out 3x a week at around $20 per meal ($60 total for both of us per week, still reasonably cheap.)
The biggest purchase and lifestyle change the business has afforded us is the house we bought. It is a beautiful house in a very desirable neighborhood. The taxes suck, but the appreciation has been strong and the house itself brings us a lot of joy, pride, and memories.
What went well in this process?
What has gone well in the process has been my relationship with my clients. The Golden Rule is really the only rule you need in business, "Treat others the way you want to be treated." Be kind. Delight your customers. Listen with intention. Go out of your way to do the little things and show you care. It makes a big difference and a lasting impression.
If your customers love you, they will take care of you and your bottom line. Remember what Steve Martin said, "Be so good they can't ignore you."
What could have gone better?
Marketing. Sadly, not all customers are well-informed shoppers. Sometimes, your competition will be marketing or branding experts even though their product or service is sub-par. Doesn't matter. Something they are doing in their marketing resonates with the customer and they attract them like white on rice.
I have been "successful" by trying to create real relationships with my customers; relationships that I invest in. It has worked for me and is truly a more authentic extension of the values of my business. Still, if I were to just measure success based on the bottom line, strategic marketing would have seen a positive ROI.
The good news is, in eleven years and probably 200+ weddings, I have only heard two complaints. One was from a couple because I didn't photograph the buffet food (I didn't know that was a thing) and the other was from a bride who got drunk on her day and was 40 minutes late to her own ceremony. Does that second complaint even have merit?
What do you wish you would have done differently?
This is a tough question but a good one because it makes you acknowledge your mistakes and learn from them.
In the long run, I am projected to retire a multi-millionaire and have a very, very comfortable lifestyle.
In the short run, I could have taken more risks.
I could have not bought this house, lived off of my passive rental income, paid off my old house with money I had in the bank, only be a photographer making an estimated $150,000/year working 7 months and go tour the country or the world.
Who knows what photos I would have captured and what opportunities that could have created?
That lifestyle has its drawbacks as well – no health care, smaller pension, lack of connection to a community, etc. That has been the main fork in the road. I chose to build a more stable life with my wife. I don't regret it, but she does know that a camper van and adventures are waiting for us in our mid 40s and 50s.
Has it been worth it? Why or why not?
Yes, it has been worth it.
The only piece of advice outside of career, business, or financial I would offer is to make sure you carve out time for relationships and your body/well being.
I have done a good job on the relationships part. I am very present and attentive when I am with people. I use time in my car to call and connect with friends. I am old school and write thank you notes. I also will text or email people out of the blue when I see something that reminds me of them.
It is crazy how a 30 second effort makes people feel special for a day.
Taking care of my body has been a struggle. I don't eat as well as I should or used to. I don't work out as often as I used to. My shoulders are damaged and I weigh 10 lbs more than I did 10 years ago.
It could be much worse, but it could be better too. I feel into the trap of sacrificing myself to get ahead and now have to work twice as hard to play catch up.
What are your future plans for your side hustle?
My future plans for the side hustle would be to one day, when the mortgage is paid off, buy a beautiful estate on 10+ acres and turn it into a wedding and event venue.
I missed an opportunity to do this locally with a 6000 sq ft Victorian house built in the 1800s on ten acres with a dairy barn, guest house, pastures, and even a vineyard. It sold the day before I was scheduled to see it on an all cash offer.
Anyway, I think it would be fun to use the grounds as a place to shoot senior and family portraits and then offer it up for more intimate weddings. I never plan on stopping, just shifting gears and maybe slowing down.
What advice do you have for ESI Money readers who may be thinking about creating their own side hustle?
Do it. Don't let fear, lack of experience, or the success of someone else in your market deter you from trying.
Focus on progress, not the goal line. As you make progress and grow your business, the goal line will keep moving back and turn into bigger and bigger goals.
Accept feedback graciously but analyze it against your beliefs and what you know is true. Like having children, there is never a good time for it and you will never be ready; you just have to jump in and learn as you go.
As your business grows, make sure you make friends with others in the market. Collaborate. Specialize.
Always tell the truth to your customer, even when they don't want to hear it. You will build your reputation on integrity when you do and that will carry you farther than any short cut.
Always be of service. Not only do I take their wedding photos, I introduce my clients to other vendors who can help, and have even introduced them to realtors, baby photographers, and provided financial advice or introduced them to trustworthy financial planners.
Lastly, make sure you give back whether to your community, your customers, or your employees. It truly is a team effort.