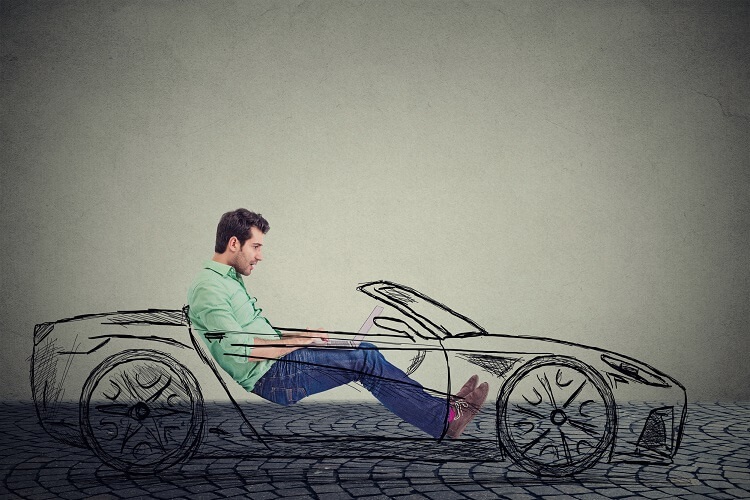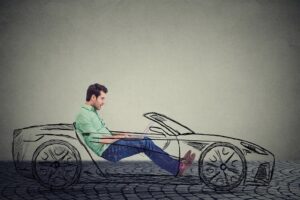 Today we have our latest interview with a reader who has grown their income to at least $100,000 annually.
If you're interested in participating in this series, please drop me a note.
This interview took place in November.
My questions are in bold italics and their responses follow in black.
Let's get started…
Tell us a bit about yourself (age, marital status, kids, where you live, etc.)
I'm 31 and have been married for 7 years, together for 11.
No kids, and we plan to remain that way. 🙂
I've moved around quite a bit in the last decade and am presently living in Silicon Valley, approximately San Francisco, CA.
What do you do for a living?
By title, I'm a software engineer at a self driving car company.
I like to think of myself as a problem solver who knows how to use software. About half the time the problem I run into can be solved with software.
The rest of the time it's either a people, process, or political problem.
How much do you earn annually?
My cash compensation is around $220,000 a year.
How does this amount break down (salary, bonuses, etc.)?
Salary: $175,000
Bonus: Varies, usually $25,000
Misc side work: $20,000
Do you receive any additional compensation/benefits from your employer (401k match, stock options, etc)?
The benefits of my job are kind of insane:
401(k) with ~$10,000 a year match
100% employer sponsored health, dental, vision, and life insurance
Gym membership
Free food in the office
Too many others to describe. I honestly cannot keep track of them all.
I also receive equity in my company. It's a bit tougher to estimate the value of this as it's private and there is no marketplace for the equity. Based on the 401(c) valuation, the value of this is $50,000 a year.
I suspect many readers of this blog are better suited for this type of analysis than I am, but based on my own calculations I think the 401(c) valuation undershoots the present day value by about 4x. My personal strategy here is to go all-or-nothing on the equity. I don't plan to sell my equity for any amount of money that's not life changing. I'll wait for that to happen, or for the value to go to zero. This strategy is not right for everyone, but works well with my personal financial situation.
How long have you been working?
I spent 6 years in college, and have been working for another 6 after that.
How long have you earned at least six figures?
I'll get into the details below, but not very long. I first earned $100,000 a year in 2018.
What have been the key steps you have taken that have allowed you to earn this level of income?
My wife and I have known from day 1 that financial independence was very important to us. Growing up, we each watched friends and family members struggle financially. That left a lot of willpower in us to not make the same mistakes.
My parents funded 3 semesters of my college education. I worked my butt off to earn scholarships to fund the rest. I graduated in 2014 with no debt and a bachelors and masters in mechanical engineering. I had just enough money saved to move cross country to my first job.
My wife received no assistance through college and worked full time to fund her schooling (yes, it's still possible these days but certainly not easy!) She was also able to graduate with no debt.
After college we "leap frogged" each other through growth opportunities.
2012-2014: Wife worked while I earned a master's
2014-2016: I worked while my wife gained an additional certificate
2016-2017: My wife worked while I started (and destroyed!) a business
2018: First year we both had paying jobs
We have also been very flexible with our location to advance our careers. In the past 7 years I have done 5 moves that were further than 1,000 miles, including 2 that were coast-to-coast. I have twice moved to a city I've never visited before.
I feel like we're finally reaching a point where this is beginning to pay off. Our 2019 household income was pretty spectacular, and I expect it to get even better with time.
Which of the following career advancing strategies did you employ (if any) and which were most effective: A. Doing well within your current company and being promoted. B. Jumping around from company to company always seeking a higher salary & responsibility. C. Entirely changing your career path from a lower earning field to a higher earning field (going back to school, etc)?
B and C.
My first job in high school was working back of the house in a restaurant and paid minimum wage. After a few months at the job I realized I was performing much better than most of my coworkers and asked for a modest raise. My boss said no, and a few days later I put in my notice to go work at a different restaurant that paid better. Suddenly he was able to give me the raise I asked for! This is probably the most valuable learning experience I ever had; hard work is important, but leverage is necessary.
Since then I've changed jobs very often. As soon as a better opportunity is available I pursue it. In the 6 years I've been in the workforce my average tenure in a role is 5 quarters. My longest is 7.
There are two things that I think are crucial for the strategy above:
I work harder than any colleague I've ever met. This applies to both solving problems for my employer, and growing my own profession capabilities. As a result, I'm very valuable to my employer. Dollar-for-dollar, they get more results out of me than anyone else.
I keep a very close professional network of "movers and shakers". Every week I try to reach out to someone I haven't talked to in a while, just to say 'hi'. As I write this, I realize every job offer I've ever accepted has come through my professional network.
Every year, around February, I apply to 7-10 open roles that look interesting to me. I use this to help determine my own fair market value. One time I realized that my present role was paying fairly. Every other time I was underpaid I used this information to either help my employer correct or transition to a new opportunity.
Another thing worth mentioning; my education and first job out of school were both in mechanical engineering. I realized pretty quickly that earnings potential and career growth were limited; the job I was doing on day 1 was very similar to the job that folks with 20 years of experience were doing.
Fortunately, a mentor recommended I bend my career towards software. It took about 4 years and a few mis-steps along the way but I'm now working as a software engineer at a leading tech company. Here I feel like there is limitless opportunity for professional and salary growth.
When my friends complain about low pay I describe this strategy to them and they always have an excuse why it won't work for them. Their boss is a friend and they can't bear to put in notice, a cross country move would be too stressful for their dog (seriously!), their industry doesn't support high pay, and the list goes on. It's no accident that I'm able to do this; I worked very hard for many years to end up in a high demand field with lots of mobility.
One of my favorite posts on this blog is "If you want what I have, you must do as I have done". Very applicable here.
What are you doing now to keep your income growing?
For the next few years I plan to stay at my present employer. I'm fortunate that this employer has pathways for strong career growth. I feel that I'm finally at a company that truly pays for performance and it's nice to see the progress I've made already in a relatively short tenure.
They have very clearly defined pay bands and publish what it takes to advance level. I find this very valuable. My supervisor and I have regular check-ins to see what skills I should sharpen, and what the reward is once I've demonstrated increased capability.
Some find this stressful; I find it invigorating. Not very many employers do things this way and this is one of the reasons I plan to stay at this employer for a while.
What are your future career plans?
I see a few different paths from this point:
A: Learn to be content with what I have, and focus my free time on doing what makes me happy.
B: Continue to climb the ladder aggressively while working for someone else. I think I can increase my compensation another 2x in the next 5-10 years if I work hard at it.
C: Start another business and shoot for the stars.
They each have their pros and cons, and I could probably spend the rest of my life debating which path to take. Part of me wishes I could do (A) but I think I would always regret leaving money on the table so early in my career. (B) is a good balance of low risk and decent pay. (C) is without a doubt the most work and stress but has the most upside.
Have you been able to turn your income into a decent net worth?
(I'll speak in household values here, as this is the number I track)
Here are our numbers, to the best of my recollection / note taking.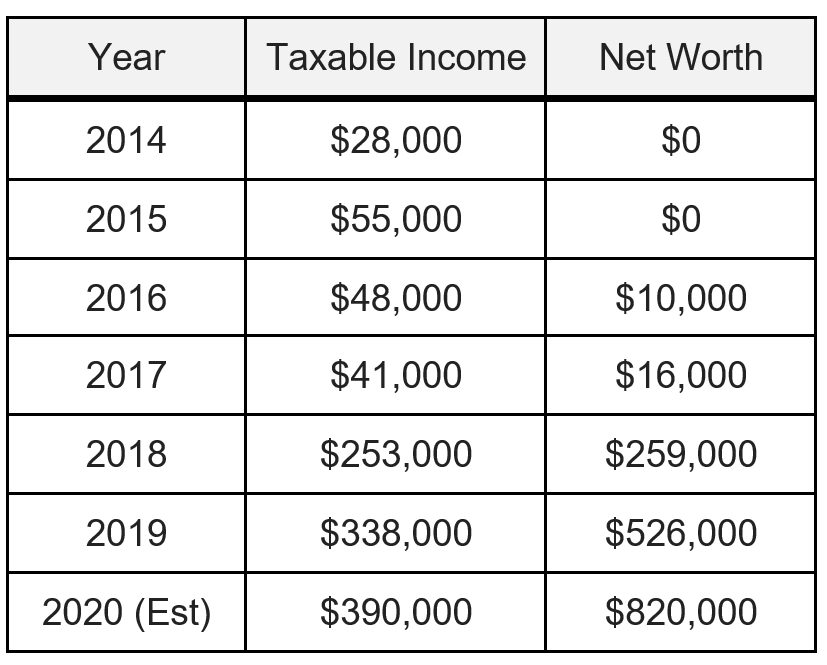 The astute may notice that our net worth is increasing at about the rate of our taxable income in later years. This is because taxable income does not include HSA contributions, 401(k) + match, and stock options. These things are included in our net worth.
About half of our net worth is in an after-tax brokerage account with zero strings attached. The rest is in 401(k), private equity, whole life policies, and the like. We do not own real estate.
Our household expenses are around $60,000 a year, not including taxes. It's a lot of money for sure, but we do live in an incredibly high cost of living area. I'm pleased with our expenses and don't focus too much energy on minimizing it. We've found this spending point is pretty natural for us.
Why or why not?
My wife and I spent a lot of time getting to our high income stage. We earn and save a lot now but it has not been that way for long. We are still in our early days of being "super savers".
While our net worth is not presently significant, I do expect it to increase around $300,000 a year from here on.
A brief aside…
We earn a lot of money and spend relatively little. We have some friends who earn a lot of money, and manage to spend even more. I often wonder if it's possible to switch from one to the other and if we would actually be happier by spending more money.
At some point, probably next year, we're planning to have a "spend everything we earn" month just to see what it's like on the other side. I'm interested to see if this increased spending has any changes in our happiness.
My suspicion is that it feels good to spend money, but the longer term stress of paycheck-to-paycheck living is not worth it. Personally, I enjoy knowing I can walk away from my job at any time and have a decade or two before I'll run out of money. This brings more happiness and peace of mind than any possessions ever could.
What advice do you have for people wanting to grow their incomes?
Do you want it bad enough?
For the vast majority of people I've found the answer is 'no'. A lot of my friends say they want to earn more and I try to help them. To date, not a single one of them has been willing to make a lifestyle change to earn more.
To be clear, I have nothing against this. Some of my friends who are the happiest are content with where they are and what they have. In some ways I wish I could be like this too.
What bugs me is when folks complain, but don't want to do anything to improve the situation.
If you do actually want it bad enough to do something about it, here's what I would recommend:
Find the right industry for you. It should be the union of what you're good at, and what makes money. For me it's computers.
Figure out how to get into that industry. It will take a lot of learning. Your first job probably will not be a good one. My first job in software was, to put it politely, unpleasant. But it was a necessary entry point into the industry.
Figure out what you do that adds value, and do it very well. After some time in a role you should be able to figure out where the money comes from, and how employers track and rank employees. Do everything in your power to maximize this to your own advantage.
Invest in yourself! I have two bookshelves full of books that help increase my technical and soft skills. I invest heavily in career coaches, maintain a great professional network, and have mentors I can trust to help me with difficult decisions.
Trade up early and often. I have never ever regretted leaving a role. At the same time, never burn a bridge. I stay in contact with many former supervisors and co-workers.
Questions for Commenters
How do you handle people who say things like "you're so lucky"? I've never successfully convinced someone they could be where I am if only they tried harder. It seems like most folks are looking for excuses why their earnings are out of their own control, presumably so that they don't have to feel bad about not doing anything about it.
When is it enough? Should I keep improving myself with all my energy, or is there a point when coasting is the right thing to do?
I plan on leaving the workforce earlier than most. Part of me worries that it is an irreversible decision. Who will hire a software engineer who has been out of work for a decade? Has anyone experienced this directly?