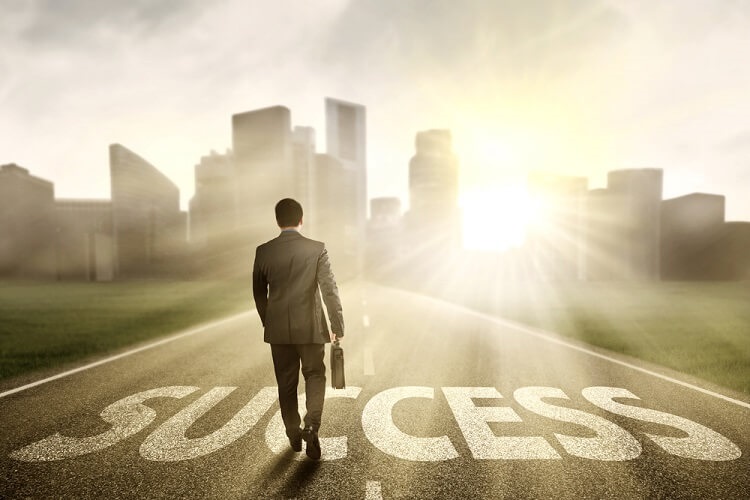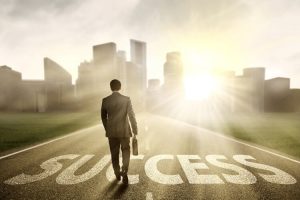 The following is a guest post from Erik, a 26 year old blogger, living in the Midwest, who writes at The Mastermind Within. He writes about personal finance, entrepreneurship and self-improvement and is passionate about sharing his tips for building wealth as a millennial and helping people unlock their full potential in life.
I know Erik personally, having met him at FinCon last year. He is an impressive young man and is destined for great things. I'm thankful I could get him as a guest poster before he hits the big time and I'm small potatoes to him. 😉
Anyway, he suggested this great topic on the interaction between a side hustle and a career that I think is quite fascinating. I won't spoil it by giving you the punchline, but read on as he brings up several points worthy of consideration.
I also really like the way he starts this piece… 😉
———————————————————-
The steps to becoming wealthy are simple: earn, save and invest. [Editor's note: we even have an interview series and calculator built around these. 😉 ]
To become very wealthy, or decrease the time you spend becoming wealthy, earning more and increasing your income should be the focus.
Recently, side hustling has become a very popular strategy for increasing wealth. For reasons I'm going to ignore for the sake of this post, the prospect of working up the ladder (and getting raises) at work has been diminished. To earn additional income, starting a side business is seemingly more favorable.
What's interesting is through pursuing these side businesses and hustles, you acquire the necessary skills and attitude towards work which invite promotions and more responsibility at a day job.
I call it The Paradox of Side Hustling.
The Paradox of Side Hustling
What is the paradox of side hustling?
Put simply, what I'm calling the paradox of side hustling is the following:
Many people pursue a side hustle to get ahead in life financially through side income and/or to build something outside of their day job to potentially pivot to in the future. What the paradox is, through this hustle, those people end up acquiring the skills necessary to advance at their day job (the thing they were trying to escape!)
I've noticed this first hand through my hustles, and have since increased my income by nearly 50% in the last 3 years.
In this post, I will share with you my side hustles, how these side businesses have impacted my career, the skills you can gain through skill hustling, and why working on yourself on the side of your job will result in increased pay in the future.
The Anatomy of $10,000 Side Hustles
I just turned 26, and over the past few years, I've focused on increasing my income through side hustling.
After finishing my Master's, I started my first side hustle at age 23: house hacking. I bought a 3 bedroom house and would have 3 of my friends paying me rent.
My first side hustle involved learning about contracts, taxes, and taking on the responsibility of multiple thousand dollar appliances and projects.
Leasing agreements, having to wake up early before my day job to run to Home Depot for parts, and dealing with a leaky pipe during the Super Bowl were not fun experiences, but necessary because I was the landlord and responsible.
House hacking allowed me to increase my income $15,000+ a year in my early twenties, but also forced me to become more mature and responsible for my actions, money, and time.
Fast forward to 2017, I start helping out a friend with his statistical consulting business for $85 an hour on the side of my day job. Being a gig where I was exchanging my time for pay, there were some late nights and stressful times, but it was worth it. By the end of 2017, I'd made over $5,000 and this year, I'm on pace for roughly $8,000.
Over the past year, I've learned more about statistics, time management, and how to deal with clients and how to improve my communication skills both through my results and spreadsheets, but also emails and phone calls.
In addition to these hustles I've listed, in 2018, I'm focused on growing my blog, The Mastermind Within, and a subscription box business. With these side hustles, it's completely different since they are businesses with a product (vs. a service) and many more potential consumers.
With creating a blog and looking to build traffic and a following, the product is written content. Writing skills, communication, and good story telling all are incredibly key for the written content to stand out in the noise of the internet.
Secondary to content, it's important to have a nicely laid out website, some marketing tools (think email list), and consistency in posting and interacting with readers.
With the subscription box business, it's a slightly different ball game. My product and website need to be spot on for growth and trust. I've learned a ton about design and marketing in the past few months during a recent rebrand, and now I am positioned to grow this business in 2018.
While these businesses are not wildly successful (roughly $1,000 in revenue monthly combined between the two), I've learned a ton about management, marketing, communication, contracts, accounting, operations (and the list probably could keep going on and on).
It should be no surprise that these hustles have impacted the growth of my career. With a few promotions and more responsibility, I'm positioned for higher pay and bigger projects – what I was hoping for when I started side hustling!
How Side Hustling Impacted the Growth of My Career
When I started side hustling and side business, I was in a job I wasn't too thrilled about.
Maybe it was a little bit of my millennial entitlement coming out, but I was frustrated by having to do the grunt work instead being able to help with grand plans for the team and department.
My thought was, if being a manager at a corporation involves making tough decisions and managing 6 and 7 figure budgets, then what better way to get experience doing that than doing it for my personal life.
How was I going to do this? My side businesses.
I'm not one to wait around for the world to give me what I want: I'd get it myself by speeding up my progress. Taking risks, failing, and making things happen was the necessary path for success in my opinion.
In Corporate America, regardless of your position or status, the skills of communication, high level thinking, time management, and the ability to strategize and ask targeted questions are all critical for advancement.
At the end of the day, providing VALUE above and beyond your pay grade and salary WILL result in a higher income.
How do you provide more value? Providing value can come from learning and applying new skills, honing old skills, and identifying projects which can impact many people in your organization.
In the last 4 years, I've increased my pay from $63,000 to over $91,000. Currently, I'm the leader of a project and initiative which will impact the entire department and enable over 30 people to work more efficiently.
Over the last 4 years, through my new skills and higher level thinking:
I became more mature and disciplined in the way I approached work
Was able to move into a different, more strategic role
Succeeded in tough situations while helping other members of the team complete their work
Showed my new managers and teammates I was capable of communicating effectively and producing results
As a result of these actions, I was able to increase my income and salary.
It all started as a simple push to grow my income on the side, and it lead to more responsibilities and duties in my day job.
I truly believe that without my push to earn more money through side hustling, my path at my day job would have been much more different.
Six Skills Gained from Side Hustling
I touched on this a little bit earlier in this post, but there are many skills I've gained from side hustling.
Below are six skills which I believe everyone can learn, from a side hustle or side business, which will benefit their day jobs.
Communication
Communication is arguably the most important skill to have and focus on growing in a person's life and career.
Written and verbal communication is so critical in a career. Being able to listen to instructions and ideas, and then go out and execute or instruct others effectively is part of almost every job out there.
When I was 24, I found myself in front of 50 people around a conference room table presenting because I knew the material, was confident in my understanding of the material, and could clearly express what was necessary.
Even though there were more senior members in my department around the table who knew the material as well as I did, I was chosen because I was confident and clear in my verbal communication.
How was I able to practice my communication in such a short time?
My blogging side business
Focusing on clear communication with my clients, tenants and customers
Looking to be concise and clear in my writing and verbal language in meetings and discussions
Communication is so critical, and through side hustling, you can improve this skill.
Big Picture Thinking
A rare skill is being able to take in many different pieces of information and understand how all of the pieces of information should work together to produce a favorable outcome.
Maybe you have a strategic role that requires big picture thinking and you are fine in this area.
But many people are still in the lower levels of an organization. It's a difficult place to practice big picture thinking on a daily basis if your primary job functions are relatively static or routine.
With a side hustle or a side business, you can practice big picture thinking through a number of ways:
Planning a big project for a customer or client
Refereeing a softball game and keeping in the game while taking in screaming parents' comments
Coming up with a name, tagline, and products for a new business
Implementing a marketing campaign for your new website
Big thinking brings big results. Side hustling can help with this.
Sales and Marketing
Simply put, without sales, you have NO business.
Even if you don't work on the revenue side of a business, learning some sales and marketing strategies can benefit you in a few ways:
Getting buy in on an idea or project from your managers and co-workers
Raising awareness effectively of a new project or feature
If you aren't in sales and marketing already, you can learn it by trying to sell something yourself – all it takes is a viable product and you can test the market!
Customer Service
At work, your customers could literally be the customers of the business, but they also could include your managers, regulators, auditors, other members of the organization, or anyone you come into contact with on a regular basis.
If you walk into a store, how would you expect like to be treated?
I'm guessing you'd like to be treated with respect, to have your questions answered in a clear and concise manner, and get on with your day stress-free.
Again, this isn't rocket science, but if you don't have much experience, a side hustle dealing with customers (even if it's your neighbor and you mow their lawn), can benefit you for future interactions at work.
Time Management and Planning
Meeting deadlines and expectations is almost an unspoken necessity in the world – but some people still don't do it well.
Growing up, time management was stressed to me as important, but my parents seemed to dictate what I did and when around their schedule.
With a side hustle, all of a sudden your life becomes a balancing act between your day job, your family, your friends, exercising, and relaxation time.
Being able to balance these things require higher level thinking (something we just talked about) as well as the ability to prioritize and execute on your plans.
Creativity, Design and Problem Solving
A skill listed on many job listings is problem solving.
In jobs which are straightforward and grunt-ish, it's very difficult to work on problem solving on the job.
As a business owner, you have to think outside the box on a daily basis. If someone can help solve a problem, they are instantly more valuable to you.
A few pieces of problem solving include creativity and designing a solution for the situation at hand.
In all of my side hustles, I've had to problem solve and be creative at different times:
Fixing a stuck faucet handle required problem solving
New website front pages required creativity and learning how to be a web designer
Coming up with written content and physical products takes creativity and consistent effort to try to make it better.
Not all jobs nurture a problem solver, but side hustling will.
Side Hustling will Result in a Higher Income
Do you have a side hustle currently?
If so, that's awesome! I hope you are crushing your money goals and putting this extra income towards savings, debt pay-off, and investments for the future.
If not, there are many ways you can earn extra income and grow your side hustle and business.
Your level of success is rarely exceeded by your level of personal development. Working on yourself will increase your value over time, and from value comes increased compensation.
Side hustling has helped me increase my income, both at home and at work. What could hustling do for your finances?
Readers: What are your thoughts about side hustling? What is your side hustle? Have you noticed it affecting your performance at work for the better?