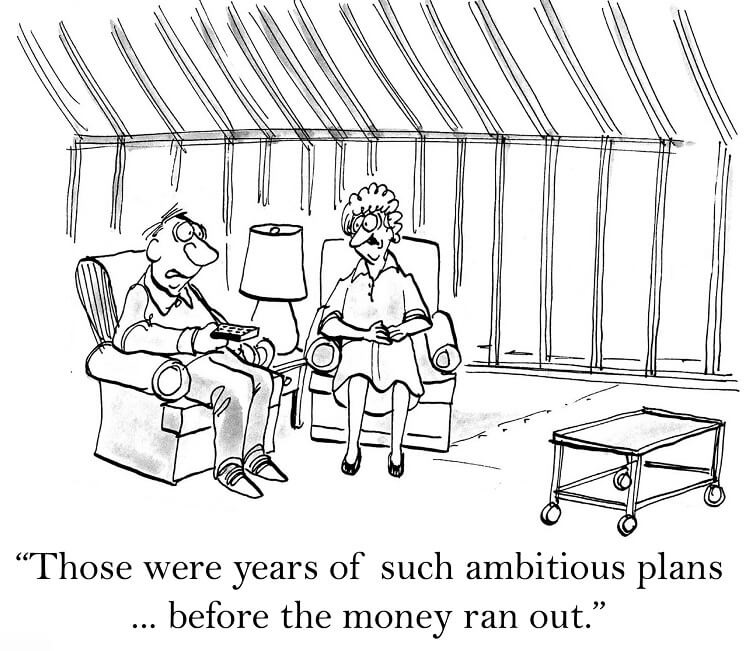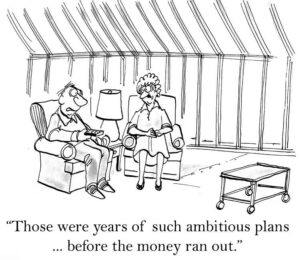 My top-recommended retirement book is How Much Money Do I Need to Retire?
. It's written by my friend, Todd Tresidder, who blogs at Financial Mentor, and it's simply excellent!
In fact, it's good enough to make my list of the only five money books anyone needs to read as well as be one of the 12 books that can make you a financial expert in a year.
The book was fabulous the way it's been for years, but Todd recently updated it plus added additional content. The new version is now available for sale.
I thought that we'd celebrate the update by running an except so you can see the book for yourself.
Todd let me select what portion I wanted to post and I selected this one on inflation and why it's the biggest retirement threat.
I picked it because the topic doesn't get that much coverage from the mainstream media and blogs (including mine), and yet it's a vital issue that needs to be considered and planned for.
This is especially true for early retirees. For those who retire at a more-traditional 65+, the inflation issue still exists but isn't that profound. But when you retire and still have 30 to 40 years of life left, planning for inflation is a HUGE issue that must be addressed.
And there's no one better to cover it than Todd. His highly analytical, get-to-the-point, no-nonsense style is perfect to get us thinking about the key issues surrounding this topic.
So with that said, here's Todd…
—————————————–
"I believe that banking institutions are more dangerous to our liberties than standing armies. If the American people ever allow private banks to control the issue of their currency, first by inflation, then by deflation, the banks and corporations that will grow up around (the banks) will deprive the people of all property until their children wake up homeless on the continent their fathers conquered. The issuing power should be taken from the banks and restored to the people, to whom it properly belongs." – Thomas Jefferson, 3rd US president and Founding Father
Inflation is an insidious cancer that consumes the purchasing power of your wealth over time.
When my grandmother retired, she could have bought a new Ford Mustang for about $2,700. By the time she passed, a comparable new Ford Mustang cost more than $30,000.
Inflation is a reliable problem because it's intentionally created by government policy. Since the advent of the Federal Reserve, the government has destroyed the purchasing power of the dollar by almost 90 percent…twice!
Traditional retirement planning typically assumes a 3 percent inflation rate. At that rate, the amount of money you need to spend to maintain your current standard of living roughly doubles every 24 years. In other words, if you spend $100,000 per year right now, then you should expect to spend $200,000 per year in 24 years to support the same lifestyle. Since most people can expect to live 24 years (or longer) in retirement, this obviously is an important issue.
But where did that 3 percent assumption come from, and can you rely on it for your retirement plan? Like most everything else in retirement planning, the answer isn't as straightforward as it seems.
The 3 percent assumption is based on historical evidence. Since the late 1980s, inflation has been relatively mild, averaging 3 percent or lower. In addition, very long-term history has averaged similar.
However, during the 1970s and 1980s, inflation spent more than a decade in the 5-10 percent range. A decade is a long time. It has also spiked to the 20 percent level during wars and oil shocks, and it has been negative for isolated periods during recessions. In short, the 3 percent inflation assumption is based on such a broad interpretation of history that it overlooks details that could significantly impact your retirement plan.
What matters is the inflation you can expect in the future, not the past. And nobody knows with any confidence what future inflation will be because the past is not necessarily indicative of the future. Knowing the next 15 years of inflation would require either a crystal ball or a direct connection to a higher power. I don't have either and neither does your financial planner.
What we do know is the rate of inflation fluctuates, so it's not realistic to simply extrapolate the recent past forward, as is common practice. This is important because a small change in the inflation assumption will make a dramatic difference in the amount of savings required to retire.
The Single Biggest Threat to Your Retirement Security – Revealed!
For example, a 6 percent inflation rate means your income requirements roughly double every 12 years. At a 6 percent inflation rate, a 65-year-old spending $100,000 per year today will be spending $400,000 per year at age 89 and $800,000 per year if he lives to 101. That is significant, to put it mildly. In fact, inflation is probably the single biggest threat to financial security that retirees face. It's a really big deal.
Unfortunately, the importance of this threat is not intuitive to most people because small 1 to 2 percent changes in the annual inflation rate compound into unexpectedly large differences in purchasing power over time. Worse yet, to fully understand the impact of inflation, you have to net out its effect on both your purchasing power and your portfolio growth at the same time, which few people do.
In other words, you first have to look at how much your investments grow and then subtract the loss of purchasing power due to inflation over the same time to determine if you gained or lost net value. This is important, and eye-opening, because both stock and bond markets tend to underperform during periods of rising inflation. Your investment portfolio grows less than expected at the very time that your purchasing power for those same assets declines faster than expected. The net effect of both can be devastating to your retirement plan.
To illustrate how this works in practice, let's look at a few time periods using inflation statistics based on the US Consumer Price Index. We'll relate them to stock market performance using the S&P 500 Index as measured by Professor Robert Shiller's data from Yale University.
An item purchased for $100 in 1965 would cost $234 in 1980 (just 15 years later). That is 5.83 percent average annual inflation for a total inflation rate over the entire period of 133.95 percent.
Using the same time period (January 1965 to January 1980), the total S&P 500 return without dividends was a mere 28.77 percent (or 1.7 percent annualized growth). With dividends reinvested, it was 125.1 percent (or 5.56 percent annualized).
That means this popular stock index actually gained less over the 15-year period than that same portfolio lost in purchasing power due to the erosive effects of inflation. (Note: The majority of investor portfolios perform worse than this index.) In other words, you were a net loser after 15 years of investment performance that more than doubled your portfolio, simply because of inflation.
In fact, if you adjust the S&P's performance for inflation, the index return lost a total of 48.36 percent in purchasing power over the 15 years. The total return, including dividends reinvested, lost 9.73 percent (net of inflation). Yes, you read that right. Your investments doubled, but you lost purchasing power because of inflation. That's a serious problem if you're retired and trying to live off your assets.
Maybe you'd argue that the time period was too narrow or I was handpicking a brief period of high US inflation. Not a problem, because according to Charles Ellis in Winning The Loser's Game: Timeless Strategies for Successful Investing, the 1993 Dow Jones Industrial Average was equal to its inflation-adjusted level in 1928. That means investors endured a full 65 years with no gain net of inflation.
Inflation is the single biggest threat to your retirement because it can't be accurately estimated, you have no control over its occurrence, and the effect compounds over time, magnifying small errors into big problems. It works like a savings account in reverse, compounding in the wrong direction, so that a mere 2 percent change in your inflation assumption could single-handedly double the amount of money you need to save for retirement. That's a life-changing difference.
Your Personal Inflation Rate Might Be Different
Before you throw in the towel, thinking that inflation will eat you alive in retirement, it is important to note that not everyone experiences inflation the same way. Your spending patterns and where you live could mean you experience a totally different rate of inflation than national statistics.
Even the Bureau of Labor Statistics recognizes that senior citizen spending is different than the average consumer, so they created a special index called the CPI-E (for Elderly) which varies the weighting of the various components to better reflect retiree spending patterns. It reduces the weight for items like food, beverages, and transportation while increasing the weight for medical care.
In other words, the senior citizen "basket of goods" contains a lot less food than a family with hungry teenagers, but the seniors also spend more time getting medical care. This means an increase in medical costs will more dramatically impact their overall spending versus an increase in the cost of milk, bread, and eggs.
The same can be said for where you live. A 2 percent increase in the cost of housing is likely to have a much bigger impact on someone in New York City or San Francisco than in Kansas City or Buffalo.
Darrow Kirkpatrick, author of Can I Retire Yet, has tracked nearly every dollar he's spent since 1989. His personal inflation rate doesn't mirror government data—it's not even close. He's found a few expenses are higher, many are roughly the same, and some are lower. Overall, his spending has not risen as indicated by general consumer inflation data.
This leaves you with a wide range of choices for choosing an inflation rate when calculating how much money you need to retire:
At one extreme, you could assume future inflation will be higher than long-term history would indicate because the financial future of the country is uncertain.
The middle road would be to assume long-term historical inflation rates figuring you have a little leeway, since senior spending should be less compared to the average consumer.
Finally, the opposite extreme would be to assume low inflation because you're in control of your spending, so you can manage your personal level of inflation through spending choices.
The best approach is to stress test your savings requirements by using a variety of expected inflation rates rather than picking a single number. The only thing you know for sure about future inflation rates is that you don't know. And the one thing you know for sure about retirement planning is you don't want to run out of money before you run out of life.
That means the prudent step when planning is to test a range of inflation assumptions so you know what inflation level your assets can support. How high you want to estimate depends on how conservative you want your calculations to be and the level of security you require in retirement. Declaring any number for inflation 20 to 30 years into the future is only a guess. There are simply too many unknowns and variables. But that doesn't mean all is lost.
Reduce the Impact of Inflation Risk
Even if your estimate is wrong, the problem can be contained to a manageable level by iterating your plan, including your inflation assumption, by recalculating your number every few years. That way, you replace assumed data with actual experience.
You'll revisit your retirement calculation every few years to check your assumptions and see what you've spent. If your estimate for inflation is wrong, it's not wrong for long. You'll know for certain if your spending is rising faster or slower than your inflation estimate, and you'll know if your portfolio is performing better or worse than your investment return estimate. In other words, you reduce risk by replacing assumptions with actual data.
Each time you update your plan, you have an opportunity to adjust your lifestyle or other assumptions in the plan to balance everything and make the numbers work.
And if you don't really like this approach to making the traditional model work, then I have another planning model to help you. It's simpler, more robust, and completely tames the inflation monster without requiring any assumptions at all. But for this phase of the analysis, we need to work with an inflation estimate. Pick a range for inflation with which you're comfortable between 2 and 8 percent (e.g. 2 to 8 percent), then write the range in your exercise workbook so you're ready to build your confidence interval when we start calculating your number.
—————————————–
Good food for thought, right?
And as someone who likes to have a margin of safety (or more really) for all retirement threats, here are some thoughts on how I plan to deal with inflation (or am already dealing with it):
1. I own my house.
I own it outright. No debt. No payments. No need to move if I don't want to.
While this doesn't completely eliminate a housing inflation threat (there's still insurance, taxes, etc.), it does help to minimize it in what is generally a very high-cost budget item for most people (which means it can impact your personal inflation rate more).
2. I could move.
I live in Colorado Springs, not the most expensive market in the world but not the cheapest either. Best Places lists it as almost 13% more expensive that the U.S. average including a whopping 45.5% higher on housing cost than the U.S. average.
So if things got dicey, I could move to a much lower cost of living city or even back to my hometown in Iowa. This would save me tons on all sorts of costs, including housing.
3. I could downsize.
We don't need a 3,500 square foot house any longer, so as I was moving to a lower cost of living city we could go for a more reasonable 1,500 square foot house, making things even more affordable.
4. We could cut spending dramatically.
As evidenced in How to Become Financially Independent in Five Years, we could massively lower our expenses if we had to.
5. Real estate helps.
If inflation does raise its ugly head, it's likely that monthly rents will increase as well. That means my rental units will become more profitable and help dampen the impact of rising inflation.
6. We could move into one of our rental units.
We have 14 units at the current moment, so if worse came to worse, we could sell our home and move into one of the rental places. They are in Grand Rapids, Michigan, a generally affordable city, so that helps too.
7. We could re-deploy assets.
If inflation kicked in there could be a corresponding (at least partially) increase in returns for some asset classes. We could move assets from where we have them now (like our big pile of cash) to options that would perform better, again limiting inflation's impact on us.
Anyway, those are my thoughts. What's your take on inflation in retirement and how are you planning for it?