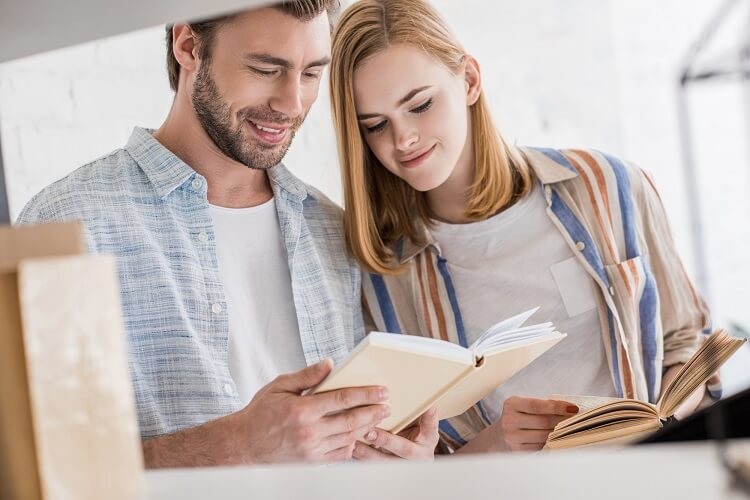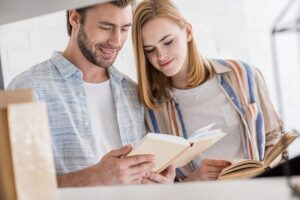 I've written New Year's resolution posts for almost 15 years now.
I like the process of setting goals and then taking steps to achieve them (something I've used with great success throughout my life). The start of a new year is perfect for this sort of activity.
But there are only so many possible angles when writing those types of posts…and apparently I've hit the max. Ha!
I still want to offer a beginning-of-the-year article with some ideas for improving your finances, but I wanted a different spin on it.
As I thought about possibilities, I became interested in the idea of helping people become financially educated in a year.
You see, many of American's problems with money are that they just don't know the basics. As such, they make the wrong moves, do nothing at all (which is a killer because it wastes time, a valuable financial asset), or trust others with their money who often don't have their best interests at heart.
So I wanted to develop an easy and fun way to teach people the basics of managing money so they could avoid all these pitfalls.
That's when I came up with the idea of reading your way to a financial education in a year. BTW, you can also listen if you like. Most of my "reading" these days is done by audio.
Here's how it works:
I developed a list of what I think are the top 12 money books someone needs to read to have a broad financial education
I selected 12 so people can read one book a month (which is fairly easy). If someone does this, they will end the year with a solid financial education and thus have enough knowledge to manage their finances (for the most part) on their own. (Ok, I realize it's really 11 books, but 12 sounds better. Stay tuned for why one month doesn't have a book.) 😉
I have listed the books in the order I think they should be read. This wasn't a clean process since there are various ideas in each book (and they sometimes overlap, jump ahead, etc.), so the order (and even the list) are open to debate. That said, I think this is a very strong line up.
For each book I give a summary, highlight key concepts the reader should pay attention to, list any negatives, include supplemental reading options in case the reader wants more, and link to some of my posts for extra support.
I didn't label the months below by name (i.e. January, February, etc.) as some will begin this journey in January but others may in later months. The program is designed so you can begin in any month.
My goal is to give the reader a strong, general, money education. I think I've achieved that.
With that said, let's get to the books…
Month 1
Recommended Book
Your Money or Your Life
Book Summary
Here's a summary from Book Rags:
Your Money or Your Life is a systematic guide to achieving financial independence. In this book, the authors present a nine-step process for achieving financial independence. Although the book is over 300 pages long, the actual steps in the process of achieving financial dependence are very simple. Indeed, they are summarized in the epilogue in fewer than nine pages. The rest of the book is necessary, however, because it places the nine steps in context. Much of the book is simply about convincing the reader that the steps will work and explaining why it is important for the reader to complete each and every step without skipping any of them.
According to the book, there are nine steps to achieve financial independence. First, the program participant figures out how much money they have earned during their lifetime and how much their current net worth is. Then they figure out how much time and money they are really spending right now on their job in order to figure out their real current hourly wage and keep track of every bit of money down to the penny that comes into their life or goes out of their life. After that, they create a table of income and expenses and convert the money they spend into hours of life energy spent to figure out where their money is really going and how much it is really costing them.
Using this information, they ask three questions about everything they spend money on. First, they ask whether it was worth the amount of life energy they spent. Then they question whether the expenditure is in alignment with their goals and the purpose of their life. Finally, they determine if this expense could change if they did not have to work for a living, and if so, how much.
After that, they make a wall chart that shows their total monthly income and expenses, and post it where they will see it often. Now that they have an accurate system for keeping track of their finances, they are ready to minimize their spending and maximize their income. After a few months of keeping track of their finances this way, their expenses will probably go down far below their income and they will have extra money left at the end of the month.
They can use this money as capital and invest it. They can keep track of the income from their investments on the same wall chart. Using the wall chart, they can figure out when they will have enough capital invested to be able to live off from the interest. They can then invest their capital in a safe, systematic way until they have enough income from it to pay their expenses. At that point, they are financially independent.
Key Concepts to Take Away
There's lots of good information in this book — foundational sort of stuff for any personal finance student. That's why I've listed it first.
Here are some ideas the reader will want to take away from this book:
The process for achieving financial freedom. This book is ground zero for the financial independence movement and while some of the steps/advice seem clunky in today's world, the thinking is solid.
The book offers a great perspective on what your actual job hourly rate is. Once you add in all the prep, commuting, detox, etc. time as well as extra costs associated with working, you're not really earning what you think you are. This is a vital concept, especially for two-income households where one partner makes a lot more than the other.
The crossover point. This is the original measure of financial independence. It's the point where you become financially free. This is the goal of the book — to help you get here and beyond.
Perspective. Overall, the book has a good outlook on the trade off between your money and your life (your time), hence the name. 😉
Questionable Portions
Here are a few question marks I see in the book:
Some assumptions for earning income are overstated or too simplistic. I think the reader will need to do more research on ways to grow income (which is why we have other books in this series) to create a solid post-retirement income stream.
The book is short on details of how to create a replacement/retirement income. The suggestions are simply generalities and don't have much meat.
The costs of working are over-stated IMO. There are clearly costs with being employed, but some of the ones highlighted are a bit exaggerated.
None of these is a deal breaker of course, just things to watch out for. The rest of the book still makes this a superior way to kick off a financial education.
Supplemental Reading for Additional Learning
ESI Money Posts Relating to Topic
Month 2
Recommended Book
The Richest Man in Babylon
Book Summary
Here's a summary from Wikipedia:
The Richest Man in Babylon dispenses financial advice through a collection of parables set 8,000 years ago in ancient Babylon. The book remains in print almost a century after the parables were originally published, and is regarded as a classic of personal financial advice.
The parables are told by a fictional Babylonian character called Arkad, a poor scribe who became the "richest man in Babylon". Included in Arkad's advice are the "Seven Cures" (or how to generate money and wealth), and the "Five Laws of Gold" (or how to protect and invest wealth). A core part of Arkad's advice is around "paying yourself first", "living within your means", "investing in what you know", the importance of "long-term saving", and "home ownership".
The content is from a series of pamphlets distributed by U.S. banks and insurance companies in 1920–24; the pamphlets were bound together and published as a book in 1926. The book is often referred to as a classic of personal financial advice, and appears in modern recommended reading lists on personal financial advice and wealth management, which has kept the book in print almost 90 years after its first edition with over 2 million copies sold.
Key Concepts to Take Away
This book builds upon the foundation of Your Money or Your Life with a list of practical steps anyone can take to become wealthy.
In particular, the reader will want to pay attention to:
Seven cures for a lean purse. The core of the book. If you only did these, you would become wealthy. Interestingly, they include sections on earning, saving, and investing. 😉
The five laws of gold. A general overview of how money works. If the reader understands these, he can make money work for him.
In general, the book is a very interesting read since it's written as a parable. It's also relatively short, making it easy for even a novice to digest quickly.
Questionable Portions
My only warning here is to be sure you get a version written in today's English. Don't get one in old English or it's difficult to understand an makes enjoying it harder as well.
Supplemental Reading for Additional Learning
This book is one of a kind. If you want more, simply read it again.
ESI Money Posts Relating to Topic
Month 3
Recommended Book
The Total Money Makeover
Book Summary
Here's the overview from Amazon:
Ramsey debunks the many myths of money (exposing the dangers of cash advance, rent-to-own, debt consolidation) and attacks the illusions and downright deceptions of the American dream, which encourages nothing but overspending and massive amounts of debt. "Don't even consider keeping up with the Joneses," Ramsey declares in his typically candid style. "They're broke!"
The Total Money Makeover isn't theory. It works every single time. It works because it is simple. It works because it gets to the heart of the money problems: you.
Key Concepts to Take Away
There's lots to love about this book:
The basics. It covers a lot of foundational money principles that are practical as well.
Money myths. Many people believe false teachings about money and this book corrects those.
Danger of debt. Could also be called "debt myths". Basically the advice is "stay out of it" and "how to get out of debt", two key points for those early in their financial journey.
Baby steps. Ramsey's famous steps to financial health. Not necessarily the ones I'd recommend, but they are pretty solid. And who am I to argue with his results?
Budgeting. Everyone needs an entry into budgeting and this is it for my series. It's not a budgeting-only book (that would be a sleeper) but helps you set up a budget (which is a vital money skill IMO).
Dave's rules for college. Couldn't agree more.
Questionable Portions
Ha! Just two main ones, which I covered in Dave Ramsey's Two Questionable Numbers.
The summary: He uses a 12% return for investments and an 8% withdrawal rate in retirement.
I use an 8% return for investments and a 4% withdrawal rate at most in retirement (I'd actually prefer 3.5% or even 3%).
Supplemental Reading for Additional Learning
Your Money: The Missing Manual
ESI Money Posts Relating to Topic
Month 4
Recommended Book
The Millionaire Next Door
Book Summary
Here's an overview:
The general premise of The Millionaire Next Door is that the pop culture concept of a millionaire is quite false and that most actual millionaires live a very simple lifestyle. The authors, Stanley and Danko, did extensive profiling of people whose net worth defined them as millionaires along with those whose salaries and age defined them as likely millionaires and, using this data, created a detailed profile of who exactly a typical millionaire is. From there, extensive interviews with these typical millionaires created a much more detailed picture of what it actually means to be a millionaire in today's society.
Many people who earn high incomes are not rich, the authors warn. Most people with high incomes fail to accumulate any lasting wealth. They live hyperconsumer lifestyles, spending their money as fast as they earn it. In order to accumulate wealth, in order to become rich, one must not only earn a lot (play good offense, according to Stanley and Danko), but also develop frugal habits (play good defense).
Most books focus on only one side of the wealth equation: spending less or earning more. It's refreshing to read a book that makes it clear that both are required to succeed.
Key Concepts to Take Away
My personal favorite money book. Here's what any reader should take away from it:
The seven steps to become wealthy. I tell people I read this book, did what it said (in these steps), and became wealthy. That's about the highest endorsement I can give.
People who look wealthy are often not wealthy. They might have high incomes, but they likely have high spending as well, so they do not build wealth. In other words, the typical image we get when we think of "rich" is wrong.
Questionable Portions
Over time the book's research has been called into question.
I'm not sure one way or the other on this, but I do know if you apply its steps (especially numbers 1, 2, 3, and 7), they will work.
Supplemental Reading for Additional Learning
ESI Money Posts Relating to Topic
Month 5
Recommended Book
No book this month, simply some select posts to read.
Book Summary
I haven't been able to find a great book on career development.
There were many on one aspect or another of careers but not much on how to grow your career to increase income.
Regular readers of ESI Money know that I write on this subject all the time. So instead of recommending a book that only does a so-so job or only covers part of what I'd like it to, I'll list some of my top career posts below and you can spend the month reading and applying those.
That said, I am listing some books which will give you part of the picture and supplement my thoughts.
Supplemental Reading for Additional Learning
ESI Money Posts Relating to Topic
Here are the posts you should read this month. I've broken them down into sections to make them flow well:
The Importance of a Career
Two Huge Reasons Why Your Career Matters — This one is for the naysayers. It details why your career is your most important financial asset and how you can work it to make it worth much more than it would be without any action on your part.
The Value of Growing Your Career: A Real-Life Example — This is for those who say large salary increases can't be achieved. I've had many on my site comment they've done this well or better. The good news: only do half as well as this example and you'll still be handsomely rewarded.
Impact of Career Growth Calculator — If you don't want to take my word for it, use this calculator and your own salary numbers to see what a huge impact growing your career can have on your income.
Growing Your Career
Tips to Super-Charge Your Career
Career Transitions
Three Top Resume Tips — Some times you'll need to switch companies/jobs and doing so the right way can grow your income dramatically. The process begins with crafting an awesome resume. Once that's set, you'll need to know…
How to Ace an Interview — The resume gets you an interview, which you can ace if you plan for in advance. Once you get the job offer you'll want to be sure you start with the highest salary possible…
The Difference a High Starting Salary Can Make — Use the tips here and in How to Ask for a Raise to get the highest possible starting salary. Doing so can make a huge impact in your lifetime earnings.
Advice from Experts
Month 6
Recommended Book
Side Hustle: From Idea to Income in 27 Days
Book Summary
Here's a summary from Good Reads:
Designed for the busy and impatient, this detailed roadmap will show you how to select, launch, refine, and make money from your side hustle in under a month.
A side hustle is more than just another stream of income, it's also the new job security. When you receive paychecks from different sources, it allows you to take more chances in your "regular" career. More income means more options. More options equals freedom. You don't need entrepreneurial experience to launch a profitable side hustle. You don't have to have an MBA, or know how to code, or be an expert marketer. You don't need employees or investors. With Chris as a guide, anyone can make more money, pursue a passion, and enjoy greater security – without quitting their day job.
Key Concepts to Take Away
Ugh, well, all of it…from coming up with an idea to making it happen to reaping the benefits.
This book is more of a how-to, which makes it awesome for this topic IMO.
Questionable Portions
It's going to take you more than 27 days to set up your side hustle, so don't get discouraged when you haven't developed the next Apple in less than a month.
Just read the book and implement what it suggests. You have my personal permission to take up to six months. 😉
Supplemental Reading for Additional Learning
None that I know of.
ESI Money Posts Relating to Topic
Month 7
Recommended Book
Meet the Frugalwoods
Book Summary
Here's Amazon's take on the book:
The deeply personal story of how personal finance blogger Elizabeth Willard Thames abandoned a successful career in the city and embraced frugality to create a more meaningful, purpose-driven life, and retire to a homestead in the Vermont woods at age thirty-two with her husband and daughter.
In 2014, Elizabeth and Nate Thames were conventional 9-5 young urban professionals. But the couple had a dream to become modern-day homesteaders in rural Vermont. Determined to retire as early as possible in order to start living each day—as opposed to wishing time away working for the weekends—they enacted a plan to save an enormous amount of money: well over seventy percent of their joint take home pay.
In less than three years, Elizabeth and Nate reached their goal. Today, they are financially independent and living out their dream on a sixty-six-acre homestead in the woods of rural Vermont with their young daughter. While frugality makes their lifestyle possible, it's also what brings them peace and genuine happiness. They don't stress out about impressing people with their material possessions, buying the latest gadgets, or keeping up with any Joneses. In the process, Elizabeth discovered the self-confidence and liberation that stems from disavowing our culture's promise that we can buy our way to "the good life." Elizabeth unlocked the freedom of a life no longer beholden to the clarion call to consume ever-more products at ever-higher sums.
Meet the Frugalwoods is the intriguing story of how Elizabeth and Nate realized that the mainstream path wasn't for them, crafted a lifestyle of sustainable frugality, and reached financial independence at age thirty-two. While not everyone wants to live in the woods, or quit their jobs, many of us want to have more control over our time and money and lead more meaningful, simplified lives. Following their advice, you too can live your best life.
Key Concepts to Take Away
If you're going to become wealthy you're going to need to know how to save money. And IMO, this is the best book to get you started on the right foot.
I loved the book's philosophy!
It highlights how frugality can be used as a key element in becoming financially independent, but doesn't have to be the crazy make-your-own-toothpaste version many advocate.
Instead, saving money can be creative and even fun.
Plus the book is very entertaining — the author has a great sense of humor.
Questionable Portions
I doubt that many (most?) people would even want to consider some of the extremes they employed to save money.
That said, the book doesn't judge and offers suggestions that can be used in moderation or in an all-out saving attempt. How far you take it is up to you.
Supplemental Reading for Additional Learning
10,001 Ways to Live Large on a Small Budget
ESI Money Posts Relating to Topic
Month 8
Recommended Book
The Automatic Millionaire
Book Summary
Here's a short summary from The Simple Dollar:
Basically, Bach focuses on two major concepts throughout the book. First, one should pay themselves first by automating contributions to retirement accounts and other investments before even thinking about living expenses. Once this is done, Bach uses the power of compound interest to show how even a small amount of paying yourself first can grow into, well, millions of dollars over the years.
Key Concepts to Take Away
There are two concepts that make the entire book worth it:
Make your investing automatic. Have money sent automatically to your investment accounts. Doing so will help you invest more for a longer period of time which will make you wealthy.
Small spending can kill you. Little expenses can grow over time and eat away at your financial well-being, so you need to control them.
Questionable Portions
The big controversy in this book is "the latte factor", where the author shows how skipping lattes can result in big money savings down the road.
Millions of Starbucks-rabid coffee fans have hated him ever since. But he wasn't really talking about coffee, just that small spending can add up and we need to watch it. It could be coffee but could also be the snack machine at work, the $1 newspaper every day, or the "only 50 cents per day" TV subscription.
That said, the book really can be summarized in the two concepts above, and there's not much additional meat. But those thoughts are so powerful that this book makes the list.
Supplemental Reading for Additional Learning
ESI Money Posts Relating to Topic
Month 9
Recommended Book
The Simple Path to Wealth
Book Summary
Here's a summary from Good Reads:
Here's an important truth: Complex investments exist only to profit those who create and sell them. Not only are they more costly to the investor, they are less effective.
The simple approach I created for my daughter and present now to you, is not only easy to understand and implement, it is more powerful than any other.
Key Concepts to Take Away
Why and how index funds can make you wealthy.
Yes, that's it.
It seems so simple but this concept, if applied, can make almost anyone extremely wealthy given enough time.
BTW, if I had a nickel for every time I've recommended this book to someone, I think I'd have an extra million in the bank. Ha!
Questionable Portions
There's not much to dislike in this book.
If anything it could be shorter and still get the main points across, but you could say that about almost any book.
Supplemental Reading for Additional Learning
The Bogleheads' Guide to Investing
ESI Money Posts Relating to Topic
Month 10
Recommended Book
Rich Dad Poor Dad
Book Summary
From Wikipedia:
Rich Dad Poor Dad is a 1997 book written by Robert Kiyosaki and Sharon Lechter. It advocates the importance of financial literacy (financial education), financial independence and building wealth through investing in assets, real estate investing, starting and owning businesses, as well as increasing one's financial intelligence (financial IQ) to improve one's business and financial aptitude. Rich Dad Poor Dad is written in the style of a set of parables, ostensibly based on Kiyosaki's life.
Key Concepts to Take Away
Though controversy has surrounded this book (and the author) since the day it was published, there are some valuable concepts worth considering:
Having a contrarian view. Kiyosaki offers alternative perspectives to traditional financial advice. While many of these are valid, some are not (and they seem to get all the attention). That said, simply looking at money issues from a contrarian viewpoint is a useful skill to develop.
Hold assets over liabilities. The emphasis on income-producing assets over debt is hard to argue with.
The basics of financial independence. The whole book is about creating enough income that you are financially free and can do whatever you want with your time.
Questionable Portions
I think much of the controversy around this book (and his others) can be attributed to 1) quotes taken out of context and 2) him saying something in a specific way to create controversy (because it gets media attention) but upon closer examination he's espousing solid financial principles.
An example of this is when he says "savers are losers." At first blush, this is crazy since saving is a key part of creating wealth. But what he means is that "people who take their savings, put it into a savings account, and think they are doing well financially are losers." I think most money savvy people would agree that no one is going to get rich putting their funds into accounts earning 2% or less.
The one thing I dislike is that he often downplays other ways to become wealthy (like a more career-focused strategy). He admits there are many paths to wealth, but often poo-poos them in favor of "my way is much better."
Supplemental Reading for Additional Learning
ESI Money Posts Relating to Topic
Month 11
Recommended Book
How to Invest in Real Estate
Book Summary
Amazon's summary:
Unlike most traditional real estate books, this book won't tell you there is "one secret path" to real estate success. Instead, it dives into dozens of unique and life-changing paths and is packed with more than forty real-life stories of how real estate investors are finding success in today's economy. This book will help you carve your own path and give you all the tools needed to begin your journey.
Key Concepts to Take Away
I think everyone needs to at least know enough about real estate to consider it as an investment option.
This book is recommended because:
It's the single-best overview of the wide range of real estate investing options.
It's from the top expert in real estate investing, the guys at BiggerPockets.
Questionable Portions
If anything you could blame this book for being a mile wide and an inch deep.
But it makes my list for just that reason: it gives a great overview from which you can then dig deeper into whatever part of real estate investing appeals to you.
Supplemental Reading for Additional Learning
ESI Money Posts Relating to Topic
Month 12
Recommended Book
How Much Money Do I Need to Retire?
Book Summary
Here's a summary from Amazon:
"This book is the best I've seen on how to navigate the retirement savings question." (Forbes)
Most so-called "experts" plug your numbers into a retirement formula to tell you how much money you need to retire. Unfortunately, the conventional approach is fundamentally flawed. If you fail to learn how retirement savings truly works, then you'll either underspend and be miserable or overspend and run out of money.
Read this book to know more about your retirement planning than your financial adviser. Tresidder's book contains refreshingly straightforward, easy-to-understand, and concise advice on how to retire wealthy. This missing link of personal finance books will make you sleep easier. No retirement is secure without it.
Key Concepts to Take Away
Six questions. The book begins with six questions that are essential in determining your retirement number.
Practical application. The book actually helps you set an initial retirement number.
Great direction. Once you set your number, the book then offers thoughts on how to achieve it.
Questionable Portions
Remember I said that most books are too long? This book is not. It's small and concise, so each page is packed with valuable information.
My only problem is that the author didn't come to my house to complete a retirement plan for me. But he did do the next best thing. 😉
Supplemental Reading for Additional Learning
ESI Money Posts Relating to Topic
Conclusion
Of course, this is not a complete course on being a money expert. There are topics like insurance, estate planning, taxes, giving, etc. that will require additional education.
But IMO this list gives you a very solid financial education. And if you apply the key principles in these books, you will become wealthy over time.
Ok, now it's your turn. What do you think of my list? If you would have added a different book, what is it and which one would you replace?