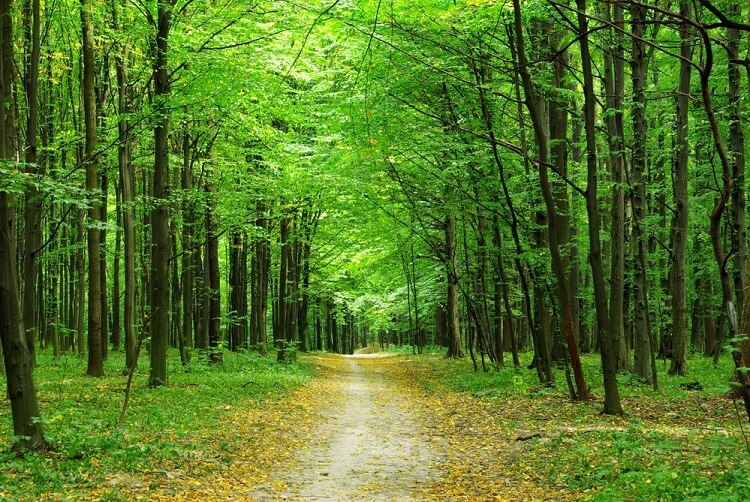 I have shared several times that I walk a lot every day (it's one of the perks of retirement!).
Last year I averaged just under 17k steps a day.
I want to do the same (or better) this year.
To get this many steps I usually walk several times a day including:
After my workout, I take the long way home. By the time I reach our house I have about 10k steps for the day.
If my wife is not doing something, we'll go for a couple walks each day, one after she gets home from her workout (about an hour after I get home) and one in the afternoon.
If my wife has plans, we then take a single, long walk, usually in the afternoon.
If it's very cold and/or snowy out, I make laps around our living room/kitchen/foyer to get the steps in.
Of course there's always hiking in Colorado as well, but that's a more now and then occurrence.
When I'm with my wife, we chat, of course. But a lot of my walking is alone, and when I 'm alone I usually listen to books from Audible
.
Audible is a Blessing and a Curse
Back in the day (before the internet, Amazon, mobile phones, etc.), I was a reader. You know, when books were printed on paper, you held them in your hands, and you actually turned the pages as you read. Anyone remember those?
Anyway, in those days I always had a stack of unread books on my desk. I would see several books I liked at the store, buy them all with the honest intention of reading each one, come home, finish one and maybe start the second, then go buy some more before I got to the rest. I think you can see how this would lead to accumulating unread books.
Then along came the audio book on cassette (and then CD) and I found I could listen to books while doing something else (mowing the lawn, shoveling snow (we did live in Michigan), driving, etc.) So I switched to mostly listening, turning my car (my main time to listen) into a mobile educational and entertainment center (I listened to both fiction and non-fiction).
Shortly thereafter times and technology changed. You were then able to listen on your phone. I loved podcasts since they were informative, mobile, and best of all, FREE! I subscribed to a ton and always had plenty to choose from.
But many of the podcasts started sounding the same. They featured the same guests, told me things I already knew, and spent as much time rambling during an episode as they did sharing content. I needed a change.
That's when I found Audible (owned by Amazon, of course). They gave me an intro deal and I needed something new. I also had a backlog of books I wanted to "read" (I use "read" and "listen" interchangeably) so I knew I could get value out of a membership.
Little did I know I was about to be inundated with more content than I could consume.
Here's what I get from Audible in an average month:
One book credit. Since I pay $14.95 for this, I always pick a book whose price is over $14.95.
Two Audible Original books. They select five books or so, usually shorter in length (4-6 hours), and allow you to pick two of them. So I get those since they are free. (Of course!) Plus they are generally pretty good.
Deal of the Day. I get an email every day offering a book at a great deal. Then I can decide if I want it or not. Two or three times a month I see a book I'm interested in.
Access to other Audible content. They have a whole host of additional content that I have no time to even explore.
You can probably guess where this is leading.
I have now replicated my former habit of collecting a ton of unread books. Yes, I buy new Audible books when I have many waiting on my phone.
Now my stack is electronic instead of paper. 🙂
I'm going to deal with it sometime soon. I'm thinking of letting books build up so I have a year's worth of listening, then canceling my subscription. I'll then catch up and re-join if I want to.
Anyone else done this? Any suggestions? They do allow you to pause your subscription for three months, but I'm not sure that's enough time for me to catch up — unless I want to begin walking 27,000 steps a day! LOL!
An Offer I Couldn't Refuse
It was through one of the Deals of the Day where I got an offer for Meet the Frugalwoods: Achieving Financial Independence Through Simple Living
.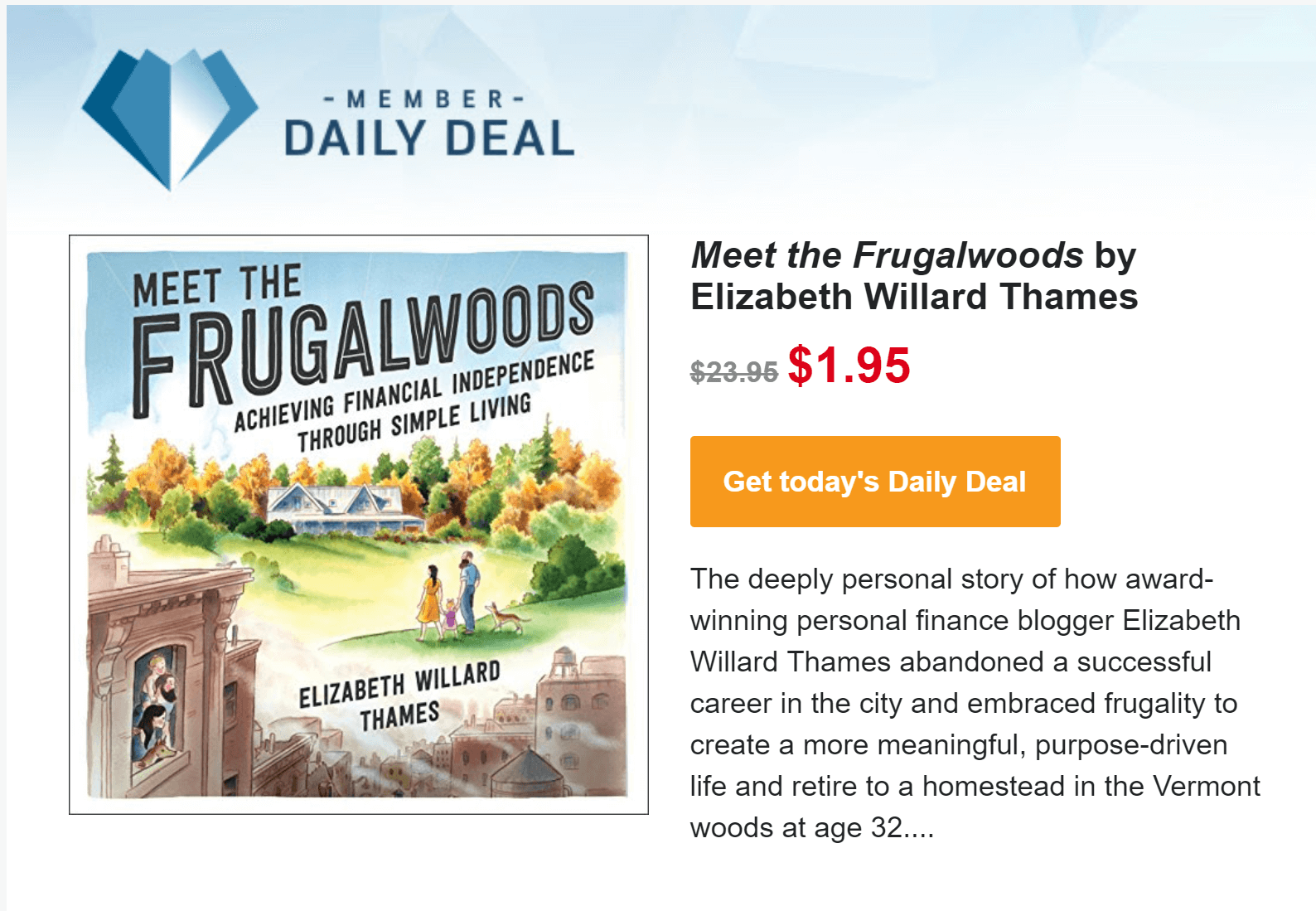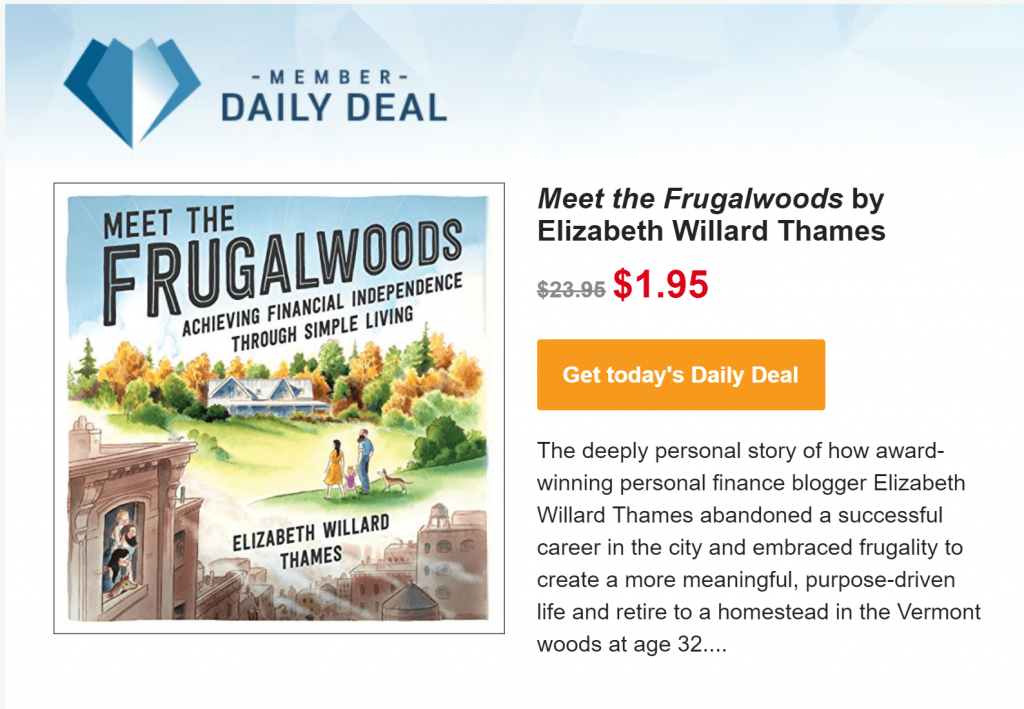 I had heard of this book (of course) because the author was a well-known money blogger. I like to get books by bloggers because it makes them more personal — you're reading a book by someone you're at least remotely connected to.
That said, I didn't think the book was really for me. I imagined it to be something like Dave Ramsey meets Little House on the Prairie — a total snooze-fest.
But for $1.95, I thought I could afford to take the risk.
And I am so glad I did! This was one of the best personal finance books I have read in the last decade! I LOVED it!
Let me tell you why…
Why I'm Glad I Met the Frugalwoods
There are several reasons I loved this book, but here are the highlights:
1. The book was written as a story.
Much of the book is how Elizabeth and Nate Thames went from a rural background, to successful professionals (with lots of twists and turns along the way), to saving up a bundle of money to purchase 66 acres on a homestead in Vermont. (You can read their story here).
It's a very fascinating tale in and of itself and often reads more like a novel/biography than a money book.
In other words, they sucked money lessons into a book that was entertaining, interesting, and compelling.
If you can't tell, I really enjoyed it. The story alone is worth the read.
2. It was hilarious.
The book was very, very funny — something you don't expect in a money book.
I don't know if it's Elizabeth's strange sense of humor (which I totally get) or the narrator's way of reading it that brought the book to life, but I found myself laughing out loud on several occasions (Elizabeth had several Lucille Ball sorts of life moments).
People who walked by me probably thought I was strange, but I couldn't help laughing and smiling throughout the book.
When was the last time you could say that about a money book? Probably never.
3. I identified with Elizabeth's background.
Here are the things I had in common with Elizabeth which sucked me in early:
From a rural area — She's from Kansas, I'm from Iowa.
Over-achievers — Worked hard to do well in college.
Found ourselves in a large city in a sketchy neighborhood — She in NYC with her first job and me in the red-light district of DC for an internship.
Imposter syndrome — Small-town people who did well in the big city and wondered if we really "deserved" it.
In the end, I identified with the author, liked her, and wanted her to succeed. I'm sure many of you would identify with her in other ways as she's very relatable.
4. It told me something I didn't know.
This is my biggest challenge with most money books these days — they don't give me any new information. When you know more about a subject than the author, it makes for boring reading.
In this case I got a fresh insight into "extreme frugality" and saw it in a different light. (More on this below.)
Elizabeth and Nate didn't live in a cave somewhere, but they worked toward their money goals while also finding ways to enjoy life, which was a new perspective compared to many money-saving books.
That wasn't all I learned, as I'll cover in a moment.
5. Focused on the value of time more than the value of money.
Just like Your Money or Your Life
, this books does a great job of focusing on the relationship between money and time — how we all give up our lives to get money and as a result need to make conscious decisions to be sure we don't waste our lives.
My only regret is that this book wasn't around 20 years ago. Just think of all that time I wasted (I could have retired easily 10 years before I did), though I'm making up for it now.
That said, if a young person can get this concept in their heads and structure their lives around it, it can make a dramatic, positive impact.
Key Learnings
Here's a bit more on what I learned from the book.
Much of it is not revolutionary, but simply great reminders or ideas that build on established concepts to make them better.
Some that stood out to me include…
1. Having a plan works.
Like I said, not revolutionary. But the level they went to in making a plan (the research, thought, etc.) and then the intention and willpower to make it work, were very impressive.
It's one of those simple concepts that we all know is true and yet many people don't do it. Why is this? The book offers the following:
Nearly anyone with a decent job could do what we've done. Yet very few do. Why? Because it takes short-term sacrifice, long-term planning, and a conviction that what we want out of life isn't sold in a store.
And Americans tend to run short on sacrifice, planning, and determination when it comes to money.
2. Creativity combined with a DIY spirit saves money.
Once they decided to buy a place in the woods and leave the urban environment, they made a list of what they could live with and couldn't live without.
They did this because they wanted the things in life that made them happy still in their lives — they didn't want to be miserable while saving for their dream.
One of these was seltzer water. They were spending something like $45 a month on it. Then Nate found a way to buy tanks for $20 each and carbonate water. Each tank lasted 6 months. So with some ingenuity and DIY skills, he rigged up a system that got them their much-wanted water for $40 a year versus over $500.
By combining these methods (deciding what to give up and what to keep, and making the stuff you keep much more affordable), they actually made "extreme frugality" much more palatable. It seemed more like a no-brainer than a prison sentence.
Here's how they described it:
While I'm pretty sure the phrase "extreme frugality" sounds like a penance, it's actually the exact opposite. It's a deliverance. Nate and I consider our lives to be luxurious. We live where we want, as we want, on our own terms, and we're not beholding to anyone else. If that's not luxury, I don't know what is.
Good stuff, right?
3. Buy used. Or better yet, get it free.
Again, not a new concept.
But they take it to a new level.
Example: I think they said they may have spent $20 on their new nursery. Everything else was donated from people who wouldn't be caught dead using old items for their next child.
Their furniture was mostly purchased at dramatic discounts (pro tip: When buying something from a seller always ask if they have anything else. They often do and you can usually get a better price with a combo deal.)
4. Having cash gives you many advantages.
Cash is almost magical in certain situations.
Examples of how cash gives you a leg up:
It allows you to buy a house WITH CASH which gives you an advantage in a hot real estate market.
It allows you to negotiate with sellers of all sorts — you have the cash RIGHT THERE! (It's hard to resist.)
It gives you a margin of safety in tough times.
It allows you to seize opportunities others might not be able to.
They noted that sometimes to make the most of cash you need a dose of bravery with it. I can verify this with life experience.
When I was buying my rental properties (and especially the first ones), it was terrifying. It was a lot of money and I had a ton of doubts, even with my mentor's guidance.
But I mustered up the 15 seconds of bravery to complete the transaction and it worked out very well.
And because I had cash I got deals I would have missed since I was able to move faster and didn't need financing.
5. Just because you are financially independent doesn't mean you don't work.
If you're retired/financially independent and yet you somehow earn more than a dime, the internet retirement police are going to call you out.
For example, look at this comment I received on Big Tax Savings due to Early Retirement:
Interesting articles, but this person is not retired. Managing web sites and writing, owning rental property is also work unless totally hands off. Seem like he is working part time.
Because my "retirement" doesn't fit into someone's preconceived notion of the word, then it's not retirement.
That's what the retirement police do on the web — they protect it from people using an incorrect (in their view) definition of the word.
The Frugalwoods offer some great perspective on financial freedom and work as follows:
I don't work because we need the money. Our frugality allowed me to quit that lifestyle. I work because I enjoy it. Because it enriches me and brings deeper fulfillment to my days.
Well said IMO!
6. At some point you just have to arrive.
Here's a quote that really hit home for me:
At a certain point you have to stop striving and start living. You have to arrive.
UGH!!! Where were these people 20 years ago!!!!
Much of my work life involved striving. Striving to get ahead, striving to earn more, striving, striving, striving.
Now don't get me wrong, that striving had some nice financial benefits and I did get to a place where I dialed it back, but still I wasted too much time on striving. I wish I had started living much sooner than I did.
Hopefully, that's part of my gift to ESI Money readers. I can offer both tips to being successful as well as perspective on what I wish I had done better. Anyone reading can combine these two and hopefully end up even better off than I did. (Or at least more balanced.)
Wrap Up
There's a lot more I could cover, but let me end with this summary:
Great book!
Funny and entertaining.
Told me things I didn't know — I learned something.
I would recommend this 100% to any ESI Money reader.
I'd especially recommend it for younger readers who might want an alternative to our consumer-driven culture but don't know how to make it happen.
Is there anyone else out there who read this book? What did you think of it?