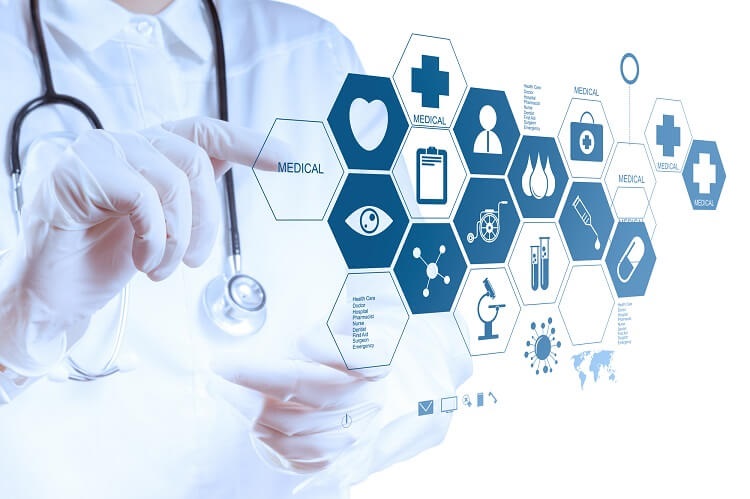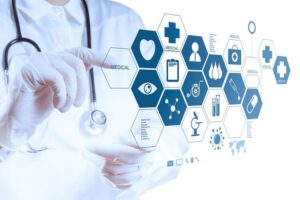 The number one question I get BY FAR about retirement after "How did you do it so young?" is "What do you do about health insurance/medical expenses?"
It's a big issue for many in America because our medical system is so messed up.
Look at it this way: millionaires are worried about health care costs in retirement. If it's an issue for them with all their assets, how does the average person stand a chance of dealing with it?
So to help out ESI Money readers and those who might stumble upon this post from our lovely friends at Google, I decided to do a piece on how to save on medical costs. Plus it should be timely as open enrollment season for medical insurance is right around the corner.
And who better to do the post than a doctor? After all, he has the inside scoop to tell the rest of us how to beat the system, right?
That's how I ended up with this guest post from Dr. Jeff Anzalone. Jeff is a periodontist (Anzalone Periodontics) who also runs Debt Free Doctor, helping doctors and high-income professionals reach financial freedom using passive real estate investments.
Normally for a guest post I add my comments at the end, but since I have so many thoughts on this topic, I'll add them within the content. After Jeff presents a topic, I'll chime in with my take using the heading "ESI's Thoughts". (I know, very original.) 😉
I know a bit about managing health care costs as our family has done a lot of that in early retirement. So I have some real-world experience that I think can be helpful.
I'll also preface this piece by saying that the issue of paying for health care can get political, with heated arguments from both sides. As you know, I abhor political discussions on ESI Money, so I will try to keep any issues that can even slightly be seen as political at a minimum. And when I do have to cover them out of necessity I will try and give a balanced perspective so even my most insightful reader wouldn't know which side of the argument I favor.
With that said, let's turn it over to Dr. Jeff…
———————————————-
Do you want to save money on medical costs? If so, you're not alone. Even if you have health insurance, one of the major expenditures that must be considered for those either nearing retirement or wanting to retire early is the cost of healthcare.
The United States spends close to $4 trillion dollars a year on healthcare, which is more than any other country in the world. And these costs continue to skyrocket.
Medical expenses cover a wide variety of costs with the main ones being:
Doctor visits
Medications
Lab tests
Surgical procedures
Unfortunately, these costs are unaffordable for many. For others, they must delay or even abandon early retirement because the threat of expensive medical costs is enough to scare the retirement right out of them.
Fortunately there are steps each of us can take to cut many of these expenses dramatically. I'll be sharing ten of the best today.
But before we get started, let's address what is often the largest medical cost of all…
How Much Is Health Insurance Costing You?
Of all the medical costs, health insurance is going to be at the top of the list.
According to CreditDonkey.com:
The average person pays:
$464/mo for individual coverage with an annual deductible of $2,903
$1,266/mo for family coverage with an annual deductible of $5,739
For someone on an HMO plan:
$548/mo for individual coverage with an annual deductible of $2,903
$1,498/mo for family coverage with an annual deductible of $5,739
For someone on a PPO plan:
$567/mo for individual coverage with an annual deductible of $2,903
$1,584 for family coverage with an annual deductible of $5,739
Just look at those numbers! And this is for insurance alone — you'll be paying these even if you have zero additional health-related costs for the year! Yikes!
ESI's Thoughts
I remember when the Affordable Care Act (ACA) was in the process of being debated. Things were quite heated politically in our nation. One of my co-workers summed up the situation in a way I thought was pretty eloquent. Towards the end of the debate when it appeared the ACA would pass, he said:
"My guess is that the Affordable Care Act won't be the panacea that Nancy Pelosi says it will be or the disaster the Republicans think it will be."
No matter which side of the argument you fall on, I think if you look at the ACA objectively you can likely find both good and bad in it. I won't get into what the good and bad might be as I'm already past my political comfort zone.
But I will say one thing: In general, the Affordable Care Act is not affordable. It's especially not very affordable for higher income individuals (which differ from high net worth individuals in many cases). So while it offers a solution in principle for early retirees (the focus for many ESI Money readers), it's not a practical solution because it's too expensive.
As such, saving on health insurance is a vital topic for many, and Dr. Jeff has some great suggestions in this area.
How Much Do We Spend on Medical Costs?
So what's the price tag for health insurance plus annual out-of-pocket medical expenses?
According to Dave Ramsey, total medical costs—including premiums paid by employer, employee, and out-of-pocket costs—come to a nearly $27,000 for the typical American family of four on an average employer-sponsored plan.
Government numbers show the problem to be even worse, reporting that the average American spends $10,739 on healthcare each year.
Whichever number is accurate, you can see how medical costs can be a HUGE budget killer for anyone — whether you retire early or not. As such a key part of becoming financially fit requires us to consider how we can reduce these costs.
So let's dig into how we can do that to keep more money where it belongs…in our pockets!
ESI's Thoughts
Before we get into money saving ideas, let's do a bit of fact-sharing.
Here are some general stats from The Balance that will give us some perspective as well as set the stage for later discussions:
In 2017, U.S. health care costs were $3.5 trillion. It equals 17.9 percent of gross domestic product.
A Princeton University study found that Americans use the same amount of health care as residents of other nations. They just pay more for them. For example, U.S. hospital prices are 60 percent higher than those in Europe. Government efforts to reform health care and cut costs raised them instead.
Chronic illnesses, such as diabetes and heart disease, have increased. They are responsible for 85 percent of health care costs. Almost half of all Americans have at least one of them. They are expensive and difficult to treat. As a result, the sickest 5 percent of the population consume 50 percent of total health care costs. The healthiest 50 percent only consume 3 percent of the nation's health care costs.
So the summary is:
Health care is expensive. And it's a big part of total U.S. spending.
It's not that Americans are getting more medical work done, it's just that it's more pricey. No surprise that government intervention made it worse. (If you want details on why this is, read the entire article linked above.)
A few, big diseases are responsible for the lion's share of the costs and a very small group of sick people account for half the costs. It's the 80/20 principle in action.
Overall, it's a bleak picture, though not as bleak as it feels much of the time. More on that later.
10 Ways To Save Money On Medical Costs
1. Negotiate your bills.
Even people that commonly negotiate expenses with businesses/retailers sometimes might not know that their medical bills are one of the most negotiable debts they owe.
Maybe the reason is that they feel intimidated by being in a doctor's office or hospital. If that's the case, don't let that deter you. In my office, there's not a week that goes by without at least one of my patients trying to negotiate their costs with my staff and sometimes me!
Both doctors and hospitals realize that the majority of insurance companies will NOT pay 100% of the bill. Because of this, they're used to having to write off a large chunk of the bill.
If you can negotiate with them so they don't have to involve an insurance company, you can save big time.
An example of someone that asked for a discount came into the office just this week.
After discussing her treatment options with her, she chose the more expensive option which was multiple dental implants. But she asked if she could get a discount because of the number of implants she was getting (five).
I told her that we typically offer a 5% discount to patients if they pay in full. But in her case (and because she asked), I offered her 10% off of the total price.
When you ask for a discount, here are some tips to increase your odds of success:
Ask BOTH the doctor and financial person in the office. Sometimes if you only ask one, you may NOT get a discount.
Always be polite and nice when asking for a discount. Whenever someone frowns & asks, "I guess ALL of this work is going to be expensive, can you at least give me some type of discount?" then I typically tell them no simply because they weren't NICE.
Be appreciative about whatever discount is offered (no matter how small).
And the negotiation doesn't have to even be negotiated in advance. If you find yourself staring at a large doctor/hospital bill, the good news is that you probably don't have to pay as much as the total amount. Many times you can get an impressive discount if you pay your costs out of pocket.
ESI's Thoughts
In general I would say the same tactics that work when asking for a discount with other types of businesses works for doctors as well — asking for a cash discount, asking for a quantity discount, being polite, asking "what can I do to lower this cost?", and so forth.
We've had the most success asking for a cash-pay discount prior to any work being done. As Jeff notes, insurance companies don't pay 100% of the costs. Plus they take a long time to get resolved, require lots of paperwork, and cost a ton in expended employee hours before the doctor finally gets paid.
Doctors are starting to realize that having cash now, even if it's a lower amount, will be better (more profitable) for them in the long run as they will save time and effort compared to tracking down insurance money. That's why more and more are willing to offer cash-pay discounts.
One example: I was told for a routine colonoscopy it would cost me $3,000 if I used insurance, but only $1,000 if I paid myself. Now how much I would pay of that insurance amount is up for debate. But even if it was lower, I'm sure the insurance coverage plus my cost would be more expensive than what I'd pay with my healthshare (see below).
I'd also suggest asking your doctor for help with prices. My doctor recommended I go to a specific lab for tests simply because that's the one he routinely uses. I asked if he could write the lab request and I could take it to a lab I know my wife had used that was much less expensive. He was happy to do this, we saved some money, and we got the needed work done.
2. Lower prescription costs.
Prescriptions can account for as much as 15% of your medical costs. As a doctor myself, it's hard to keep up with not only the new drugs that hit the market but also their costs.
Even if your doctor prescribes you certain medications, consider asking for a cheaper alternative. Again, it's up to you to try to save money on medical costs.
Before you take your prescription(s) to the pharmacy, call ahead to inquire about the price. Also ask if there's a generic option for the same drug. Generic drugs are the same drug (brand-name drug copy) that compared to their original drug, have exactly the same:
Dosage
Intended use
Effects
Side effects
Route of administration
Risks
Safety
Strength
Sometimes you can pick up generics as much as 70% cheaper than the original brand-name drug.
Other drugs savings include:
Online ordering. Don't be afraid to check if your prescription is available for online ordering. Significant discounts are sometimes available.
Buy in bulk. If you know you're going to have to take certain medications for an extended period of time, consider ordering a 90-day supply which usually can save you at least 10%. Occasionally you'll have to have your MD write the prescription in a certain way to reflect the larger amount in order to have it filled.
Consider over-the-counter (OTC) alternatives. Ask your MD if there's a potential OTC alternative for each of the prescription that you're prescribed. You never know what's available unless you ask.
ESI's Thoughts
Great advice all the way around here!
I've posted previously that my cholesterol is high and thus my doctor prescribed Lipitor. I asked him if there was a generic version and he said there was, so I got a prescription for atorvastatin.
When we called around for prices of atorvastatin (20 mg) we got prices ranging from $6 to $20 per month (yes, for the same exact thing!). So we went with the $6 option (of course), but asked if we could purchase it in bulk. They said yes, so we buy 90 days at a time for $14.
These costs are relatively mild compared to many, but we've seen the same thing when having to deal with more expensive medications. I remember my wife calling around one time for some sort of medicine for the kids and getting costs ranging from $50 to $200.
3. Leverage tax breaks.
Another way to save money on medical costs is to use a flexible spending account (FSA) or a health savings account (HSA).
I know what you're thinking, these types of accounts aren't technically going to get your medical expenses discounted. I get that.
But what it will do is help you save money in the long run.
Both HSAs and FSAs allow you to set aside tax-free money in order to cover medical costs in the coming year. You can only get an HSA if you have a high-deductible health plan.
An HSA is the ONLY account that allows you to have a triple tax advantage in that:
Contributions are tax-deductible
Money put in grows tax-free
Withdrawals are NOT taxed
You can't beat that!
In a nutshell, an HSA allows you to contribute pre-tax dollars and then turn around and pay medical bills out of the account (unless you're like me and let it grow to use it later in retirement).
For instance, a married couple with two dependents earning $100,000 a year and incurring $3,000 in medical bills can save $750 by using pre-tax dollars in a health savings account. If you want to see how much money you'll save by using one, then input your own numbers into an HSA calculator.
ESI's Thoughts
I still have money in my HSA from a couple of employers who allowed us to contribute to them.
Unfortunately I can't use this option any longer (see #5 below.)
4. Shop around for better insurance.
Have you ever heard the phrase, "you get what you pay for"? Don't be so quick to buy the cheapest health insurance even though it may initially seem like the smartest way to keep your costs at a minimum.
When my wife and I were shopping for insurance early in our relationship, we went with a cheap plan and found out the hard way that actually cost us in the long run.
With a low-cost plan, some of the tests and procedures we thought were covered actually weren't. Also, some of the doctors that we wanted to use were not a provider with our new insurance. Come to find out that on cheaper plans, you're restricted to a smaller group of in-network providers which can make it more difficult to get the care you need.
Something else to consider is the overall health of your family. If you have known medical issues that are going to cause you to frequent the doctor on a regular basis, then it may make more sense to go with a plan with a higher premium in which both your deductible and copay would be lower.
As an example, let's say that you've narrowed down your choices to two separate plans:
Plan A has a $2,000 premium and a $6,000 deductible
Plan B has a $4,000 premium and a $3,000 deductible
If a sickness or accident causing you to pay $6,000 in out of pocket costs before your coverage starts then with:
Plan A: You'll pay $8,000 total which breaks down to $2,000 for the premium + the $6,000 deductible.
Plan B: You'll pay $7,000 total which breaks down to $4,000 for the premium + the $3,000 deductible.
I realize that this is a very basic example but it does show you that sometimes a higher premium is worth paying.
Here's a chart from Nerd Wallet to compare plans that will help determine your out-of-pocket costs and which doctors you can see: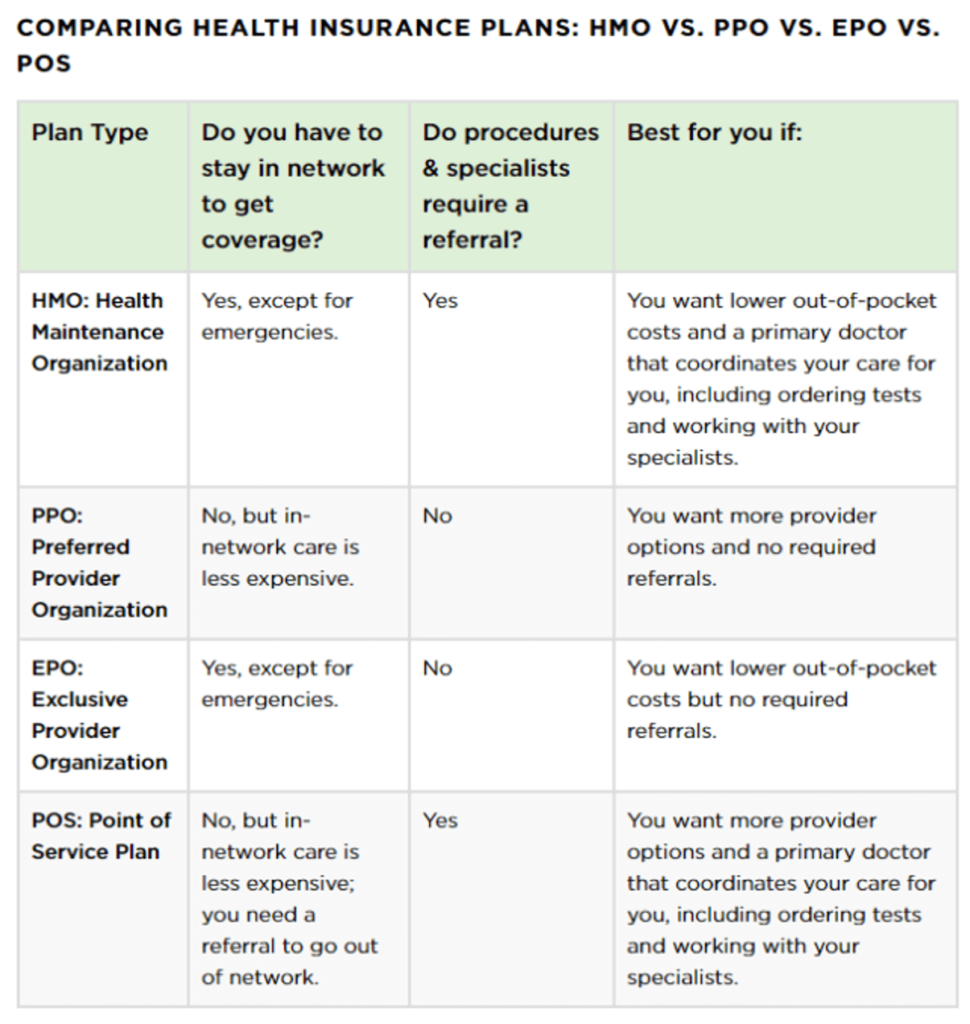 ESI's Thoughts
It's amazing to me the number of people who put medical costs into some special category when deciding what to purchase.
While they may shop around for the best price/benefits/value on everything from ketchup to a new car, somehow the thought of price shopping insurance coverage just never enters their minds.
And as Jeff said, it's TOTAL costs that matter. What use is a low price in one area of health insurance if they gouge you in another area?
In short, again, use the same principles that save you money in other areas of life and you can save money on medical costs as well.
5. Consider dropping health insurance.
I know what you're probably thinking, "Get rid of my health insurance?" Before you get too worked up, let me explain my case.
A few years ago we received a notice that our health insurance premium for a family of four was going to jump from $480/month to $1596/month. Now that our kids were older and rarely had to see a doctor, it didn't make much sense to keep paying if other options existed.
At the time I'd learned that there were different options available and decided to do a little research and eventually signed up with Medi-Share.
Medi-Share is NOT health insurance. It's a healthcare sharing ministry membership program in which Christians share their financial resources to help pay for other members' medical expenses. Other popular ministries are Samaritan and Liberty HealthShare.
In order to grasp how they work, simply think of your local neighborhood. If one of your neighbors was sick and couldn't mow their yard, more than likely some of the neighbors would pitch in and help out with their yard work. These organizations work in a similar fashion.
It is based on the biblical principles of Christians helping other Christians and applied to healthcare expenses.
Here's a brief video of how Medi-Share works:
I realize that this isn't for everyone but it could be something to look into if you're in the same situation as we used to be, paying huge premiums for something we rarely used throughout the year.
ESI's Thoughts
This is what we've done. You can read all about our journey in Picking the Right Early Retirement Health Insurance: Reviewing the Options where we decided to go with Samaritan Ministries.
That said, I recommend Medi-Share as well and had a friend write a review on them.
So far, three years in, we are 100% satisfied with Samaritan Ministries and don't see changing anytime soon.
6. Practice preventative care.
I'm frequently asked, "Doc, why does this treatment cost so much?" For many of my patients, most of their issues could be prevented.
For instance, expensive gum disease treatment/surgery can be avoided simply by seeing their dentist twice a year for check ups.
I typically use the analogy of getting an oil change. I tell them that getting the recommended car maintenance (oil change every 5K miles) helps to prevent major issues from happening. The same is true with their oral health. Regular maintenance visits will help prevent big problems from occurring.
Now, I realize that everyone is busy these days and going to the doctor for check ups or seemingly minor health issues can become a hassle. Who wants to take off work for something like this?
But consider what could happen if that gum disease that could have been treated with a cleaning and turns into a surgery that could costs thousands of dollars? What about a cough that turns into pneumonia and puts you in the hospital? Not only are you putting your health at risk but also paying more money that needed for something that may could have been prevented.
ESI's Thoughts
Ok, allow me to go off on a tangent for a bit. This is a HUGE tip relating to the total cost of medical care and what the vast majority of people can do to cut costs.
As noted at the beginning of this article, a large percentage of total health care costs can be traced to a few diseases. And do you know that for many people these diseases are preventable (or at least can be minimized dramatically)?
Before I get into my specific thoughts, let's look at a few outside sources.
We begin with this one since it's short and sweet:
Nearly half the U.S. population has one or more chronic conditions such as asthma, heart disease or diabetes, which drive up costs. Two-thirds of adults are either overweight or obese, which also leads to chronic illness and inflated medical spending.
Buckle up, there's more where this came from.
Let's go to CNN for the following:
Five things kill more people in the United States than anything else: heart disease, cancer, lung disease such as emphysema and chronic bronchitis, stroke and unintentional injuries such as those on roads or caused by medication overdoses.
Together, these five conditions cause almost two-thirds of all deaths in the country — nearly 900,000 each year.
On Thursday, the Centers for Disease Control and Prevention is releasing its first report on potentially preventable deaths from those causes in each one of the 50 states. The data suggest we could prevent at least a third of those deaths.
The greatest impact comes when we make the default choice the healthy choice — for example, making heart-healthy actions part of the normal course of everyday life.
Yes, I'm getting all up in your business. And I'm not done yet.
Let's move on to some thoughts from Wikipedia:
The World Health Organization has traditionally classified death according to the primary type of disease or injury. However, causes of death may also be classified in terms of preventable risk factors—such as smoking, unhealthy diet, sexual behavior, and reckless driving—which contribute to a number of different diseases. Such risk factors are usually not recorded directly on death certificates, although they are acknowledged in medical reports.
Wikipedia then goes on to list the causes of preventable deaths as follows:
Preventable medical errors in hospitals: 23.1% of preventable deaths
Smoking tobacco: 18.1%
Being overweight and obesity: 4.6%
Alcohol: 3.5%
Infectious diseases: 3.1%
Toxic agents including toxins, particulates and radon: 2.3%
Traffic collisions: 1.8%
Preventable colorectal cancers: 1.7%
Firearms deaths: 1.3% (2/3 from suicide)
Sexually transmitted infections: 0.8%
Drug abuse: 0.7%
Ok, now you see why grandpa "never went to the doctor" and still lived to be 140. It's because he avoided the 23.1% of medical error deaths. Ha!
Seriously, there are some MAJOR, AVOIDABLE things on this list that lead to untimely deaths (and costs associated with trying to prevent the people with them from dying).
We'll get to those in a moment, I'm on a roll for now.
If you want to hear from the Centers for Disease Control (CDC) directly and really want to dig into the data, here's their National Health Report.
If you want the highlights, I'd recommend looking at this infographic.
In it the CDC lists "The Key Lifestyle Risks for Chronic Disease" as follows:
Tobacco use
Poor nutrition
Lack of physical activity
Excessive use of alcohol
Ok, that's it for facts. Brace yourself for a mini-rant.
Here's my problem: A large portion of the things that kill Americans (and thus cost us a fortune to treat them) have major risk factors that are completely avoidable.
Even if you argue with "completely avoidable" you have to agree with "almost entirely avoidable." I'll accept that if you insist.
Said another way, Americans are killing themselves because of a lack of self control. And on their way to doing it they are costing themselves and the rest of us a king's ransom.
Here are the completely avoidable ways Americans are contributing to their own health issues (and thus expensive health care costs):
Smoking
Eating like pigs
Being lazy
Abusing alcohol
What this information means for you and me is that we can reduce the probable causes of most of the major diseases (and many others) by doing what Dr. Jeff calls "practicing preventative care".
And what this entails is pretty simple:
Don't smoke
Eat a healthy, balanced diet
Exercise regularly
Only drink alcohol in moderation (or give it up completely if you can't do that)
Now let me say a few other things before I hear it from the peanut gallery:
These comments apply to the majority of people. You don't have to take my word for it, ask the CDC. Most people, most of the time.
That said, there are exceptions to everything. But don't argue a principle based on exceptions. You can find a handful of cases that will counter almost anything. But that doesn't mean the main conclusions aren't true most of the time. So don't give me that.
One of these exceptions is heredity. Some people simply have lost the gene lottery. I know about this as diabetes runs in my family. My grandmother had it, most of her kids have it, and many of her grandchildren have it. One of my cousins is on massive doses of insulin to stay alive. But he's also 200 pounds overweight. Think that contributes to the problem? Of course it does. My dad had issues, then lost a ton of weight and has no indications of diabetes. So far, I have none either, but I also exercise, eat right most of the time, and maintain a healthy weight. So even if you roll snake eyes when it comes to good genes, you can minimize the negative impact by your choices.
I'm not really surprised that many health problems (and thus their costs) are avoidable because Americans lack self control. I see this issue every day in how Americans handle their money. Why would handling their health be any different?
The point is that many of the diseases and the costs associated with them are avoidable or at least can be minimized by making the right choices. And thankfully early retirement can help with two of them (exercising and eating right).
I'd also add a couple other tips to this section:
Do what your doctor says. I know. This should go without saying, but you'd be surprised at the number of people I meet who say, "Yeah, my doctor said not to do this but I'm doing it anyway" (and similar statements). I know our doctor told my mom to quit smoking for 30+ years and she never did — until she got cancer. At my last physical, my doctor told me to lose 10 pounds, so I did. At my follow-up appointment he was surprised. I said, "You told me to lose it so I did!" he then lamented that so many don't follow his advice. I'm not saying to follow someone's advice blindly, but if your doctor tells you to do something (or stop doing something), you should seriously consider her suggestion.
Be proactive with issues. If there's a problem it's almost always better to treat it now rather than later. Most things don't get better on their own, so try to nip them in the bud before they get worse.
Whew! I'm exhausted after all that! 😉
7. Consider using telehealth.
In my opinion, I think we're going to see telehealth used more to access health care providers in the future as this technology continues to evolve.
What is telehealth? It's a way that consumers can access health care services remotely via electronic devices such as cell phones, computers, etc. A simple way to describe it is when technology meets health care.
Here's one example of how someone can use telehealth that needs help with hypertension. They could:
Use a mobile phone or other device to upload a food log for review by a nurse who responds electronically to see if any of them could be contributing to the hypertension
Watch a video on salt intake and download an app for it to a phone.
Use an online patient portal to view test results, schedule appointments, request prescription refills or email your doctor.
Order medications online.
Get email, text or phone reminders when you need a flu shot, foot exam or other preventive care.
Not only could this save you time, but also money if you decide on taking advantage of this service. With Medi-Share, we have FREE access to telehealth via MDLIVE which gives our family access to board-certified doctors for non-emergency consultations.
Some of the conditions that they can treat are:
Acne
Allergies
Ear infections
Fever
Headaches
Joint aches
Sinus infection
ESI's Thoughts
Quick question: how many of you have ever Googled to ask about some medical issue?
I know. Everyone has.
This is just the first step in technology helping to make medical care more accessible and affordable IMO.
So I'm personally 100% in favor of telehealth and anything related.
8. Check for billing errors.
We all make mistakes — just ask my wife about me!
Humans are the ones that input insurance codes into computers and humans are prone to errors. When coding mistakes are made, it could cost you thousands of dollars so it's extremely important to do your part to review both bills and explanation of benefits (EOBs) which is a statement from insurance companies that summarize what they'll cover and your out-of-pocket costs.
Our office is used to calling insurance companies on a daily basis. We are usually passed to multiple people during a single call so make sure that you keep a record of whom you talked to and when, because the calls are often recorded. By doing this, you have proof of making the call and what they are promising to do about the incorrect charges.
ESI's Thoughts
Don't even get me started. I'm just cooling down from the preventable diseases discussion!
Doctor's and insurance bills are right up there with IRS instructions and directions you get when calling Comcast's customer service line — they are almost impossible to decipher.
The only solution is that someone has to watch these bills like a hawk, then be tenacious as all get-out when an issue comes up.
Thankfully, my wife handles this stuff for our family and she will take you to the mat to get things right.
She's probably saved us thousands of dollars through the years simply by paying attention to bills and getting errors corrected when they occur (which has been frequent — far more than you would expect).
9. Stay in-network.
When selecting your doctors, consider staying within your insurance's network to save across the board. You could pay up to 30% more along with a higher co-pay if you decide not to.
What should you do if your doctor recommends a specialist who isn't covered by your health plan?
Consider calling and asking your insurance company what you can do to avoid any out-of-network charges BEFORE you go.
Sometimes they can assist you in finding an in-network provider with similar expertise, or you may be able to work with the doctor to make the case that you need to use a particular specialist.
ESI's Thoughts
I put this in the "save money by following the rules" category.
You buy a product, it has rules, and you follow the rules to keep your costs lower.
If you don't follow the rules, you get penalized.
Pretty simple to comprehend.
10. Ask about your options.
Nobody is going to care about your health more than YOU.
Make sure that you ask questions when your doctor is discussing your treatment options and tests (if prescribed).
Also, consider asking about alternative treatment or medications that could possibly help too.
ESI's Thoughts
Here's a news flash for some people: doctors are human.
And as humans, they do things humans do — like make mistakes, get tired, forget, etc.
In addition, they deal with hundreds (or thousands) of patients and diseases. How can anyone expect them to be on top of every situation in every instance?
When I go into see my doctor, I try to help him out to the best of my ability.
A week before I go in I write up a short document detailing any issues I have and pertinent information I think he needs to know. I also list questions that I'll be asking him at our appointment.
I deliver the document to his office a few days before our meeting, telling the receptionist that I have an upcoming appointment and saying the doctor needs to review this before our meeting.
This gives my doctor a chance to review the situation in advance and prepare for our meeting. He can look at options and consider what I may need to hear. He can also do some research if he needs to.
Then when I arrive, my doctor pulls out his copy of my document and I pull out mine. We then have a discussion of issues, options, etc. We can cover a lot of ground in a short amount of time, all because we both prepared in advance.
I would suggest doing the same with your doctor so he or she can help you in the process of developing options for any medical issues.
Final Words
As you can see, there are multiple ways to save money on medical costs as these expenses can completely destroy your budget no matter your age.
By using these ten steps, you should easily be able to save hundreds if not thousands of dollars each year that you could use for other things such as family vacations!
Either way, it's a good idea to know what options are out there to lower your medical costs not only for the actual money to be saved but also to give you a peace of mind that you're taking the necessary steps knowing your healthcare needs won't drive you deep into debt.
For those of you who would like to see a summary of these tips in video format, here you go:
ESI's Thoughts
Here are a couple final thoughts from me:
Ultimately you can become mostly self-insured. IMO it's always best to have some kind of medical insurance (even if it's just for catastrophic events), but as your net worth increases you become more and more self-insured, even to the point where you may elect to spend less on medical insurance and bear a bit more risk in case something goes wrong.
Be proactive and manage your health care. Just like you should be proactive with your money if you want to become wealthy, you should also be proactive at managing your physical well-being. No one cares more about your money than you, which is why I recommend becoming knowledgeable about managing money. In the same way, no one has more to lose or gain from managing your health than you. If you're on top of things health-wise you'll benefit greatly from it — so make it a priority.
Hopefully this post has presented some solid ideas that will allow you to save money on medical costs. But Dr. Jeff and I have may have missed a few great ideas, and we'd love to hear from you.
What are your best tips for saving on medical costs?