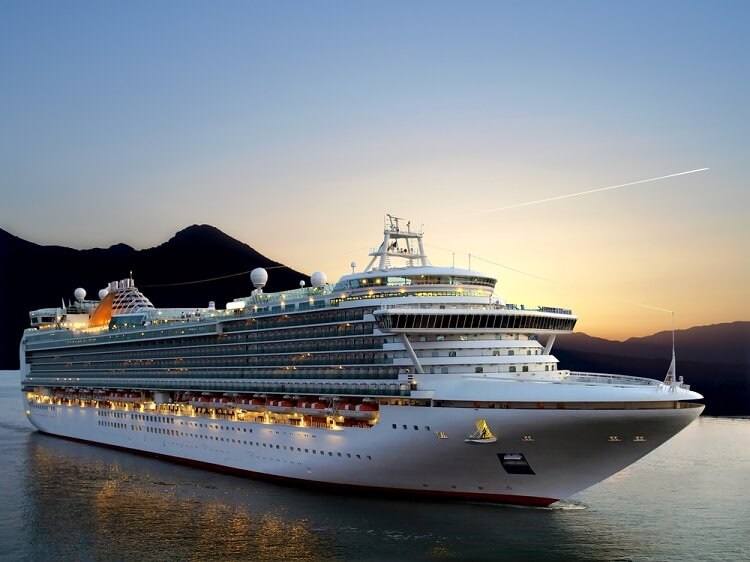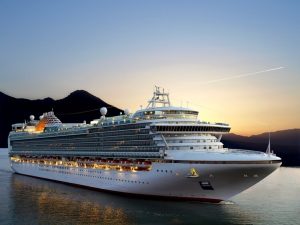 As many of you know, we lived in Michigan for 14 years.
Overall, I liked Michigan (after all I grew up in Iowa, so my expectations of life were low) except for one thing: the weather was the worst!
Now some people might chime in with "but the summers are great". Last I checked, summer was three months.
Yes, summers there are nice. But the other nine months, not so much.
Anywhere from November 1 until sometime in April was when the weather was at its worst (on average). We had several years where snowfall was over 100 inches. And don't even get me started on the percent of sunshine — I think it was like 3% in winter.
The first winter there our son asked my wife, "Mommy, where did the sun go?"
Our Cruising Experiences
After we had lived there several years, the winters started to wear on us. That's when I got the brilliant idea of breaking up each winter by taking a cruise.
It took some work getting the idea through the approval process with my wife since 1) we had never been on a cruise so she didn't know if she'd like it and 2) it was fairly expensive (and she doesn't do expensive).
Eventually I wore her down and we decided to try one out. We took our first cruise in January 2012 on Norwegian Cruise Lines (NCL). I believe it was nine days. We left out of Miami (we flew in a couple days early to enjoy the sun) and hit some of what are now our favorite Caribbean islands. It was an amazing trip and gave us the strength we needed to make it through the rest of the winter.
Since that trip was such a success, we took another one the next January. It was on NCL as well but this time the cruise was 12 days out of New York City. It was awesome — the best trip we've ever taken. We spent a couple days sightseeing in NYC, then got on the ship (it was so cool pulling out to sea — we sailed by the Statue of Liberty while it was starting to snow — so pretty!). We sailed three days down to the Caribbean (BTW, it was warm when we woke up the day after leaving), hit six islands in the eastern Caribbean, and sailed back three days. We hit rough seas one day on the way home and had 20-30 foot waves (it was kind of dicey), but for 11 of the 12 days it was the best. My parents went with us which made the trip extra special.
We took a couple years off from cruising as I went through a job change and we moved to Oklahoma. But in 2015 we took another NCL cruise with my parents. This time it was a week cruise on the western side of the Caribbean (Mexico, Belize, Honduras/Roatan). It was fine, but I didn't like the islands as much. We did get a day in New Orleans before the cruise which was nice.
Finally, as you know, we had another cruise booked for this year that was placed in doubt because of the hurricane damage last summer. We canceled that trip and instead ended up going to Grand Cayman. BTW, there's probably a 75% chance that we'll go back there next winter, this time for longer than nine days.
I love cruising for a variety of reasons. My wife is not as thrilled about it (basically the cost and the fear that we'll see 20-30 foot waves again makes it less than ideal for her). But I've always wondered what living on a cruise ship would be like.
People Who Live on Cruise Ships
From time-to-time I see articles about people doing just that.
Not long ago someone shared this story on Twitter. It details the life of a guy who's lived on a cruise ship for 20 years. There's also a 10-minute video about him.
Then here's one about a lady who does the same which I recall reading some time ago.
Here's a short video on her life aboard ship:
And finally, here's a third article which
covers the two people above and some more
.
So there are people doing it. But what are the financial implications of doing so? I had to find out!
Costs of Living on a Cruise Ship
The articles above did include some cost information, so I could work out if living on a cruise ship is a realistic option.
The first piece covered a gentleman cruiser known as "Super Mario" and gave the following cost details:
On a typical day, Salcedo works from 7 a.m. to 2 p.m. and then closes shop to take a dip in the pool or spend time with friends — ship-based friends, because he's lost touch with most friends on land.
Salcedo spends about $65,000 a year sailing on a mix of Caribbean cruises and transatlantic crossings, always booking lower-priced interior cabins to keep his budget in check.
Ok, that gets us the "low end" on costs. It also shows that just because you live on a cruise ship you don't have to stop working. As long as you have internet access you can do almost and location-independent job.
Next let's go to USA Today for the high-cost option. This article highlights the story of a lady (also listed above) who lives on the Crystal Serenity and includes the following:
She estimates living the good life on the Serenity this year will cost her $164,000. That'll cover costs of her single-occupancy seventh deck stateroom, regular and specialty restaurant meals with available lunch and dinner beverages, gratuities, nightly ballroom dancing with dance hosts and Broadway-caliber entertainment — as well as the captain's frequent cocktail parties, movies, lectures, plus other scheduled daily activities.
Ok, so cost-wise we're talking somewhere between $65k and $164k to live on a cruise ship for a year. Much of that difference could be the cruise line (Royal Caribbean versus Crystal) as well as the cabin type (inside versus outside). But the articles don't give much info on the type of cabin she has, so it's only speculation.
What we do know from this NY Times article is that living on a cruise ship is not a crazy idea and at least some people can afford it. Crystal is creating three ships with live-on passengers:
Eyeing a wealthy portion within that demographic, Crystal Cruises will introduce the first of three planned vessels in 2022 that will include 48 privately-leased "Crystal Residence" apartments, including a 10,000-square-foot, upper-deck luxury accommodation with a 270 degree view, the largest "interior living area for a luxury vessel on the high seas," according to the cruise line.
The new residences, said Edie Rodriguez, the chief executive officer of Crystal Cruises, will be sold under a 40-year lease and will be aimed at people who want to live in quarters similar to those on the residential floors of some hotels.
It doesn't say how much those would run, but I'm sure they are not cheap, which was not what I was looking for. I'm more interested in cost-effective options for the "regular" person like me.
More on Living on a Ship
I was loving all the cost information about living on a cruise ship, so I Googled around and found even more articles.
Here's one from CNBC with the following thoughts:
Depending on their home city and income level, retirees may find living aboard a cruise ship makes financial sense when compared to other retirement living options, especially in expensive locales.
A study published in the Journal of the American Geriatrics Society found that when considered over a 20-year span, "cruises were comparably priced to assisted living centers and offered a better quality of life, "though land-based assisted living can vary greatly by facility, location and needs."
Fox News chimed in with this:
Cruise experts say while costs vary widely, it's reasonable to figure on average $100 a day to cruise including lodging, transportation from port to port, food and entertainment. Think $3,000 a month total, which isn't too bad considering a lot of people pay larger mortgages or rent.
A genuine bargain would be between $50-75 a day, says Carolyn Spencer Brown, editor in chief of CruiseCritic.com. That's equal or less than what senior independent living would cost, suggests Financial Planner Richard Kahler, president of the Kahler Financial Group.
The piece goes on to say that there are ways to make living on a cruise ship more affordable:
The more someone cruises on the same line, the more loyalty programs will reward him or her with upgrades or free perks, like a meal in a specialty restaurant, free laundry or transfers. But for those who cruise often – or those taking longer journeys like a round-the-world cruise – the rewards could be worth hundreds or thousands of dollars saved on things like free cruise days, Spencer Brown says.
One of the guys above gets free internet service from being a frequent sailor. It allows him to do business from the ship.
Next, here's a post from Investopedia that digs into the numbers more than the other articles:
Spending a chunk of your savings on permanent quarters aboard a residential cruise ship may seem like a good option, but it won't come cheap. The World, for example, is a private residential ship that launched in 2002. The ship offers studio, one-, two- and three-bedroom residences, starting at $600,000. That doesn't include annual ship fees, which can run into the thousands.
If you've got less than $1 million set aside for retirement, booking individual cruises is, needless to say, the cheaper (and more realistic) way to go. That could mean jumping ship once a month or even more often, if you can't find a way to book lots of long cruises. But if you're only traveling with the necessities, you may get good at these transfers. It does, however, take extraordinarily careful planning. And you'll likely need some kind of land-based permanent address.
In terms of what you'll spend, it all comes down to how you book and which lines you're cruising with. Princess Cruise Lines, for example, offers last-minute deals from $79 a day per person. For a 15-day cruise, that works out to a base rate of $1,185. Book back-to-back cruises at that rate and you'd pay $2,370 for the month. If you can keep your fares that low on a consistent basis, you're looking at spending less than $30,000 a year – and, of course, that means food as well as housing and no need for your own furniture or car.
I'm thinking there are ways of cutting costs if you have the right mind-set. My guess is that the lady above is paying full retail price (or close to it). Sounds like she has the money, so why not spend it? For me, I'd have to get a deal simply on principle. 🙂 But more on that later.
Cruise Ship Versus Retirement Home
Before we get to working out the numbers, I wanted to include a line of thinking that I ran into along the way.
The Times article above took an interesting slant and compared the cost of living on a cruise ship to living in a retirement home:
A 2004 study in the Journal of the American Geriatrics Society concluded that 20 years in a retirement home for someone entering at age 65 would cost an average of $228,075, as opposed to $230,497 for the same amount of time aboard a cruise ship.
Naturally, the costs of assisted-living facilities and cruising have risen since 2004, yet cruising may still be affordable for some. Depending on the location, annual fees for assisted living can range from $36,000 to $72,000, according to 2013 data compiled at LongTermCare.gov. For about a hundred dollars a day more than the top end of that range, seniors can spend their retirement years in pampered comfort while visiting ports of call across the globe.
"You can go on a world cruise for under $300 a day, per person, double-occupancy" said Mara Hargarther, a travel agent and cruise vacation specialist at Dream Vacations in Ponte Vedra, Fla. That fare, she said, isn't a huge premium over the costs of some high-end assisted living facilities.
This line of thinking is also supported by this article which states:
A reservation on Princess Cruises averages $135 per day, while the average cost of a private room in a nursing home averages $229 per day.
Investopedia compares cruising to care facilities as well:
To live on a cruise ship, you'll need to be reasonably healthy and not in need of the kind of assistance you get in assisted living. But it does offer a useful financial comparison. When you have limited financial resources, assisted living could drain your savings much faster than you'd like – and much faster than living on cruise ships. The national monthly median cost of assisted living is $3,628 or $43,536 annually. That's approximately $119 and change on a daily basis.
Living on a cruise ship could let you hang on to more of your savings. To keep the cost of cruising lower than the cost of assisted living, you'd just need your average daily spending to be below that $119 cutoff.
How much money would you need to make that work? Let's say you've reached full retirement age and you're receiving Social Security benefits. As of August 2017, the average monthly benefit was $1,360, according to the Social Security Administration. That's $16,320 for the year, so you still need another $27,216 to make up the difference.
That means you need a big-enough portfolio to be able to withdraw at least $2,300 a month. If you anticipate spending 20 years in retirement and adhere to a conservative investment strategy, you could make cruise-ship living work with savings of $600,000. You'd be able to withdraw $2,400 a month the first year in retirement, with subsequent withdrawals adjusted for inflation. That income, together with your Social Security benefits, could be enough to keep you afloat. In fact, you're unlikely to spend that whole 20 years at sea. In advanced old age, you will likely need to make other plans.
My financial plans include zero reliance on Social Security, but this piece makes a great point about how it can be used to afford living at sea.
Of course there's a big difference in one retirement home versus another — both in terms of costs and services. The option to live on a ship instead of going into a home are valid for people in generally good health and able to take care of themselves. Those who can't get around and need special medical care don't have the option.
These points are detailed in this post which also argues that the comparison is not valid. And Money magazine echoes much of this in listing 12 reasons you shouldn't retire on a cruise ship.
I'm not really that interested in the "cruise versus long-term care home" debate at this point in my life. Hopefully that trade-off is far down the road for me. But it's an interesting concept that some might want to consider.
To round out this section, I ran into a post at Snopes, the site that tells fact from fiction. They quote much of the information above and say whether it's a good or bad idea (or even a cost trade-off) depends on a lot of circumstances. Their response was interesting to me because they are the first ones to pooh-pooh an idea if it's even close to unworkable. Their thoughts:
Although Lindquist's findings would seem to support the premise of it being cheaper to live on a luxury liner than in a retirement home, we'd want to examine her research vis-a-vis the types of care facilities she looked at and the cruise-ship costs she factored in before we'd feel comfortable about offering an opinion on her assessment. (She might have compared only very expensive retirement homes against the cheapest accommodations offered on ships that are less than well thought of, for example.)
So it appears the idea could have merit. This made me even more curious.
Cruise-Living Financials
Now it's time to do some number crunching.
It's worth noting that I'm not really concerned about the "is it a good idea?" question — people can decide that for themselves.
My main focus is simply "Is retiring on a cruise ship an affordable option for me and others?" I'll run through my numbers and thinking to provide an example. Others can then use this info to run their numbers and inform their decisions.
I'm going to start with assuming it would cost me $100k to live on a cruise ship for a year. That's an all-in number — including all living expenses. I pick it because I do not want to live in an inside cabin ($65k), but I also don't need a luxury room on a luxury liner ($164k).
If you've been reading this blog for more than 15 seconds you know that I could afford $100k per year. I have more than enough income and assets to cover this amount (I'll spell out the details specifically later in this post).
But instead of leaving it there, I want to explore the process in detail. What should I consider financially if I was really serious about living on a cruise ship? What should I do if I wanted to get a "good deal" and make sure I was making prudent financial moves along the way? Or what if I didn't have excess funds and needed to be a bit more practical? I want to address these questions for me as well as the benefit of others.
What are the Costs of Living on a Cruise Ship?
If the ship costs are $100k all-in, what are your total living costs?
Because, you know there are going to be other, non-ship-related costs, right?
To get the answer for my family, I started with the obvious: reviewing my spending numbers from last year.
Turns out I get rid of far more of my costs than I keep, so let's look at them.
Here are the costs from last year that would go away (or at least be severely limited) if I lived on a ship:
Travel: $14,427
Food: $7,766
Utilities: $5,653
Car Repairs: $2,688
Entertainment: $2,444
Car Insurance: $2,404
House Insurance: $2,301
Eating Out: $2,237
Property Taxes: $2,060
Clothes: $1,704
Gas: $1,327
Home Repair: $743
Total: $45,754
In addition, we would probably lose half of our miscellaneous costs, which would be $2k. So the final cost-savings tally is $47,754.
So my actual annual costs of living on a ship are $124,588. This breaks down into the $100k for the ship costs plus the $24,588 in spending I can't get rid of. Of course we'd also have income similar to last year in addition to the expenses, but we'll get to that momentarily.
Ways to Cut Costs and Grow Income on a Ship
We're at a cost of $125k, but let's see if we can get it lower.
There are likely ways to cut costs to make cruising more attractive. For instance:
Pick the right cruise line. It's well-known that sailing on some lines is cheaper than sailing on others. Look for the more affordable lines and you could save some big bucks.
Pick the right ship. I'm guessing that some ships within the same cruise line are less expensive than others (probably the older ones are less expensive). Go with the ones that cost less.
Pick the right itineraries. Sailing to a more exotic place is going to be pricier than one that's more common. Also sailing on re-positioning cruises is much more cost-effective.
Pick the right room type. If you can live with an inside room, that's going to cost a whole lot less than a balcony suite.
Be willing to switch ships. It would be a hassle, but you could book your arrangements to switch ships at each return, going where the deals are.
Ask for a quantity discount. Couldn't you negotiate a room rate if you committed to booking a room for an entire year? I would think so.
Take full advantage of frequent customer rewards. I'd be looking for ways to milk these for all they are worth.
Ask for a discount for paying in cash. If they won't give one, use credit cards to earn some decent cash back.
Any other ideas out there for cutting costs?
If these ideas could add up to save 20% of costs or so, that could go a long way to making living on a cruise ship much more affordable.
The Really Big Opportunity
In addition to saving the costs above, we'd have one less very big asset if we were at sea — our house. If we could move the money we have invested in our home to becoming income-producing, it could change the entire outcome.
Our house is in the ballpark of $400k after selling expenses. Let's run through some scenarios of what $400k could do for us:
If we put it in a "high yield" account and earned 2% a year, that would be an extra $8,000 in income.
If we put it in dividend funds/stocks and earned 4% a year (or simply withdrew it at 4%), that would be an extra $16,000.
If we put it in real estate and earned 8% to 10% a year, that would be an extra $32,000 to $40,000.
If we used it to buy a web business and earned 20% to 50% a year, that would be an extra $80,000 to $200,000.
In addition to the house, there are several other items we would not need that could be sold and converted to income-producing assets — cars, personal belongings, home furnishings, etc. It's small compared to the house, but could be another $50k easily.
How to Make it Worth It
Let's summarize what I think we've learned, first in a general sense, then more specific.
If the question is how to make cruising "worth it" versus living on land, here are some guidelines:
Get costs of the cruise(s) as low as possible.
Eliminate as many current costs as possible (if you own a home, these can be some big ones).
Look for ways to add income (through investing home proceeds or other ways).
Any other suggestions?
If we're looking at specifics, here's what we know:
The high end of a decent cruise-living existence (to me) is about $125k annually.
With some cost saving measures we might be able to get this down to $100k to $110k.
Now it's just a question if we have or can create the income we need to cover these costs.
Let's get into my numbers to find out the answer.
Could We Afford to Live on a Cruise Ship?
I'm going to start with high costs just in case there's someone out there who wants to complain that I've low-balled them.
If we think actual costs would be in the $100k range, let's double them for argument's sake to $200k per year. It's a bit high, but you know I like to go for the gusto where vacations are concerned and living on a cruise ship is as much of a vacation as a living location.
Where would we get our income to cover these costs?
Here's my list:
$60k per year from real estate investments.
$85k per year from my current web businesses. This could be higher, but let's be conservative.
$100k per year from the $450k house/possessions money invested into web businesses. Since most websites sell for two times annual profits, this number could be as high as $225k (50% of $450k) but again, let's be conservative.
$106k per year from asset withdrawal at 4% (just from current, liquid assets)
In addition to this, I think I could actually earn more if I lived on a cruise ship. Would someone pay me to blog about my adventures, even if that was a big discount on a room? Perhaps. NCL, want to make me an offer I can't refuse? 🙂
That gives us an income of $351k+.
Should I book now? Maybe even just try it out for a year? It would make for some great posts! 🙂
Consider the Differences
As we wrap up, it's worth noting the obvious lifestyle differences between living on land and on a cruise ship.
For instance, residing in a 3,700 square foot house versus a 350 square foot cabin is about as different as you can get.
And, of course, there's the "land life" versus "ship life" with pros and cons on each side.
One major consideration of moving to a ship would be the time you'd get back. Living on a cruise ship eliminates time spent:
Cooking and doing dishes
Cleaning
Maintenance
Yard work
Snow removal
Shopping
And probably much more…
I'll leave the dreaming from here on to you. But I am interested in what you think — of the idea overall as well as my thinking around it.
Let's chat in the comments below!