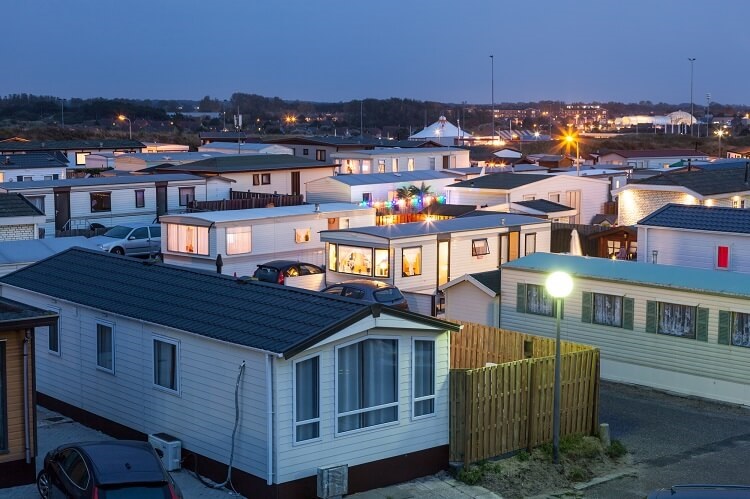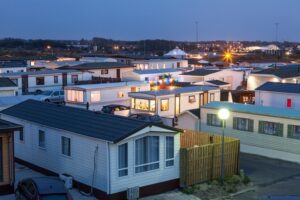 Here's our latest interview with a millionaire as we seek to learn from those who have grown their wealth to high heights.
If you'd like to be considered for an interview, drop me a note and we can chat about specifics.
My questions are in bold italics and his responses follow in black.
Let's get started…
OVERVIEW
How old are you (and spouse if applicable, plus how long you've been married)?
I'm 45 and my wife is 41.
We have been married since 2003.
Do you have kids/family (if so, how old are they)?
3 kids, 13, 11, and 9.
What area of the country do you live in (and urban or rural)?
I live in San Diego County. Suburban.
What is your current net worth?
$16MM approx.
What are the main assets that make up your net worth (stocks, real estate, business, home, retirement accounts, etc.) and any debt that offsets part of these?
I own five mobile home parks:
My first park is worth about $9.0 Million. I bought it in 1999 for $1.85MM and I owe $3.9MM on it.
My second park I bought in 2008 for $1.8MM. I bought it right before the big recession and I over paid by about $400k. It is now worth about $2.8MM. I owe $1.2MM on it.
My third park I bought in 2016 for $3.6MM. When I bought the property, it had about 26 vacancies. I filled all the vacancies in 13 months. I refinanced it and pulled out $1.1MM cash. It is worth about $6.5MM. I owe $3.1MM on it.
My fourth park, I have with a partner. We bought it for $375K. I put up $50K and so did my partner. We have put in 3 homes and the park is now worth about $550K. We stole it from the previous owner. He was having all kinds of trouble with the local Code Enforcement Office. We fixed all the problems and raised the rent.
My fifth park is a nice turn around deal. I closed on Feb 2020 for $900K all cash. It has permits for 81 Units. The previous owner only had 10 spots occupied. The place needs about $1.0MM in rehab and upgrades, but once full (I need 1-2 years to complete), it will be worth about $6.0MM. 81 units at $650.00 per unit. Once I get it full, I will refinance it and pull out $2-3MM cash and buy another park.
I have about $1.2MM in Stock, bonds, IRA's, 401K's and 529 plans.
My house is worth about $1.3MM and we owe about $320K on it.
My wife's business is worth about $1.5MM.
I have other miscellaneous business and personal property that adds up to another $1.0MM or so. Four cars, motorhome, dune buggies, two Bobcat tractors, fine art, jewelry etc. You know all the fun stuff!! My wife loves diamonds and I like to keep her happy.
EARN
What is your job?
I am a Licensed Real Estate Broker. My main job is to drive around in my big Ford truck, honk the horn and say "Where's the Rent???".
Ok so seriously, I stopped doing that a while back. Now I manage all the employees; I have about 20. Most of my time is spend looking for more property to buy and making sure everything under management is going as planned.
I spend about 1 hour per week speaking with on-site staff. I spend about 4 hours per week doing the overall management of each park. I have one employee helping me do the back-end management.
What is your annual income?
I take home about $30,000 per month. My wife takes home about the same.
Tell us about your income performance over time. What was the starting salary of your first job, how did it grow from there (and what you did to make it grow), and where are you now?
I started working at McDonald's when I was in high school. I remember, equating each hour I worked to pay for a trip to the beach and back. Gas was $0.99 per gallon and I made about $3.50 an hour.
After college, I started working at a Consumer Finance Company. I was selling $500 loans to customers at 46% APR. I remember doing one deal, it was a first mortgage for a guy with bad credit. He paid 9.9% APR and 10 Points for a $220,000 refinance of his house. That's when I knew I had to quit. I made the company a $22,000 profit and I saw ZERO of that. Back then this was a good deal for the guy. I was making $28,000 a year in 1999.
I moved on to another Sub-Prime lender by mid-1999. I was making about $60,000 a year. Part of that was a $30k base salary the other part was commissions. We were doing 1st, 2nd, and 3rd mortgages. The commission were a lot better and product was a lot better. A lot of the guys I worked with were making $10-20K per month. I was low man on the totem pole.
In late 1999 and early 2000 I got into the mobile home park business. My father got me started. He had purchased a park that was a bad investment for him. We made a deal where I was able to buy him out over 7 years and then I would own it. He really just gave me the park, but I had to turn it around to keep it. This amounted to $250K in seed money.
When I first started out on my own, I was making $1500.00 a month. My rent was $700. I remember having to raid the soda machine for lunch money.
My income has steadily risen over the years. As the rents have gone up the value of the parks have gone up. My real big jump in income came in 2016 when I bought the park with 26 vacancies. The rent is $650 at that park. The math is really simple: $650 x 26 – 35% expense = $11k per month extra.
My goal is to increase my monthly income by $1,000.00 per month every month. This amount translates to just about $1.0MM a year in increase net worth.
What tips do you have for others who want to grow their career-related income?
"Work harder on improving yourself then you do at working for someone else." Jim Rohn
No matter where you work, you are actually self-employed.
JOB stands for Just Over Broke…JOB. If you want to become part of the 1% start your own business.
What's your work-life balance look like?
This is a huge part of my life. Many people think that they need to work more and harder to become successful. That's not true.
My daily routine:
Monday. Get up a 5-6 am (no alarm), fix the kids lunch and breakfast. Read my bible, meditate for 10-20 minutes. If the surf is good, I'll head to the beach to catch some waves. Get to the office by 10 or 11 am. Leave the office by 3 pm to pick up the kids from school. Take my daughter to dance and I hit the gym.
Tuesday: Same beginning, but at 7:30 I leave for the gym. I get a solid 1 to 2-hour workout in. I head back home to shower, then I head to the office. I leave the office by 3 to pick up the kids.
Wednesday. Wake up at 5 am. I leave for the beach. I surf for 1-2 hours with a few friends. Go out to breakfast and then back home. I get to the office between 10-11 am. I leave by 3 pm to pick up the kids.
Thursday same schedule as Tuesday.
Friday. I like to take Friday's off. I either leave at 5 am to go surf or I leave at 8 am to go surf. If the surf is good, I surf a long time. Friday's are a flex day for me, so I work if I need to get caught up otherwise I find something fun to do.
Miscellaneous: I do jump on the computer at home and work. It depends on what time of the month it is and/or what I'm working on. On average I work 3-5 hours a week from home.
My goals are to make as much money as possible and own as much real estate as possible so long as I am able to surf 2-3 times a week and be able to pick up my kids from school at 3 o'clock.
Do you have any sources of income besides your career? If so, can you list them, give us a feel for how much you earn with each, and offer some insight into how you developed them?
I have a few private money loans outstanding. They pay me about 10% interest and I make about $1500 a month from the payments.
SAVE
What is your annual spending?
I budget $20-30,000 year for travel.
$10,000 a year for parties and entertainment.
Kids tuition is $30K a year.
$2,000 a month for groceries. We eat organic. We also buy pasture raised beef, lamb, pork, chicken, and eggs.
Health Care is $30k a year plus out of pocket for visits.
Cars are all paid for.
House payment is $4500 a month. We plan on paying this off within the next few years.
Maids $300/week.
Gas and Electric bills were $800 a month, but we just went solar. So now it's a lot cheaper.
Gym Memberships $200/month. Both YMCA and 24-hour fitness.
I put $2000 a month into an annuity.
$500/month HSA account.
$3000/month into the Kids 529 plan.
$1000/month into my simple IRA.
$5,000/month into my wife's 401K.
$5,000/month into regular savings account.
$4,000/month into business savings
$1,000/month extra mortgage payment.
What are the main categories (expenses) this spending breaks into?
Our main expense is the house. We are working on paying that off.
Then the kids' school and health care.
Do you have a budget? If so, how do you implement it?
No budget. Honestly, we make a lot more money than we like to spend. Since we both have high incomes, we just run anything over $1,000 by each other.
I tell my wife she can have whatever she wants so long as she pays for it.
What percentage of your gross income do you save and how has that changed over time?
I save about $9,000 a month out of the $30k. 30%.
My wife saves a lot more. She is probably at 40% savings.
When I first started working I was only able to max out my regular IRA.
What is your favorite thing to spend money on/your secret splurge?
Vacations. Life is all about experiences. Our ski trips are always amazing. Ski in, ski out.
We go to Mammoth, Utah, Lake Tahoe, etc. We also go to Hawaii and we travel in our motorhome.
I really like to drink good Scotch. One of my favorites is Glenfiddich 21.
We also like fine dining. My wife and I can easily drop $500-700 for one meal.
INVEST
What is your investment philosophy/plan?
Only invest in what you can control. A home is not an investment.
I consider stocks, bonds, IRA's etc. savings. Not investments.
Save 10% or more of your income. Donate 10% of your income. Use 10% of your income to create a side business.
What has been your best investment?
My education and self-improvement. I gave Tony Robbins $10-12k a few years ago and that investment in myself has paid me back in millions of dollars!!!!
Real estate investments: The 1st Mobile Home Park. I basically put ZERO dollars down on it. I had to earn it. Sweat equity!!! The park is worth about $9.0MM now. I have refinanced it to acquire my other 4 parks.
What has been your worst investment?
A land deal we did. I lost $60K trying to develop a 3-parcel deal into 3 homes.
Luckily, I didn't lose more. We were just about to sign a $900K construction loan. I backed out, then the recession hit.
What's been your overall return?
I started with a $250K seed money gift from my Dad and am now worth over $16MM. Plus annual income.
How often do you monitor/review your portfolio?
I check in with my values for the parks monthly. I have a neat spreadsheet set up that calculates the approximate values based on the average expenses, rents, and a 7% cap rate.
My stocks etc. I only check those when I need to run a Personal Financial statement for one of my lenders.
NET WORTH
How did you accumulate your net worth?
My new worth was created by a lot of hard work and a $250k head start given to me by my Dad. I spent a long time working and improving the parks. This allowed me to raise the rents. I refinanced the parks a few times and pulled out cash to buy additional parks.
The real trick is to put as little down as possible. Buy a property that is in the path of progress. Make sure the loan's interest rate is lower than the cap rate you are buying the property at. Buy as many units per property as you can afford.
What would you say is your greatest strength in the ESI wealth-building model (Earn, Save or Invest) and why would you say it's tops?
Earn. The higher the rents on my properties the more they are worth.
What road bumps did you face along the way to becoming a millionaire and how did you handle them?
I got sued, right away after I took over the parks. We lost about $1.0MM in the settlement.
Luckily, we had insurance. However, our policy premiums went from $10,000 a year to $50,000 a year. In those early days I had to scrape by to make it.
What are you currently doing to maintain/grow your net worth?
I'm looking to buy more real estate. Interest rates are low. I want to borrow as much as possible.
Leverage out my cash to acquire as much real estate as possible.
Do you have a target net worth you are trying to attain?
My next goal is $20MM. I expect to hit that goal in the next 2-3 years.
After I hit $20MM then I want to hit $30MM. Being considered "Ultra High Net Worth" would be GREAT.
I also want to make it on the list of top 100 park owner's in the country. The threshold as of 2020 is 500 spaces. One or two more parks and I'll be there.
How old were you when you made your first million and have you had any significant behavior shifts since then?
I was a millionaire at 28 years old. Yes. I spend a lot more now.
Being a millionaire is far from being rich. I'd say you need $10 million before you start living a good lifestyle. You know cars, first class plane tickets, jewelry, etc.
What money mistakes have you made along the way that others can learn from?
I sold myself short. I set my goals way too low. I remember thinking I wanted to own 3 parks and 300 spaces then I'd be done. How silly that seems now.
I'd like to end up with 1000's of spaces and $30-100 million net worth.
What advice do you have for ESI Money readers on how to become wealthy?
Improve yourself. Mindset is important. Get great mentoring. Hire a business/life coach.
Turn off the TV and get to work. Dream BIG dreams and set goals to get there.
Don't wish for smaller problems wish to get better at what you do.
Don't work for money, create value and money will come. Do more than what you are expected to do.
The best time to make money is while you are asleep. If you are clocking in to get paid then you are never going to get rich.
You need to leverage your time, money, and expertise.
I do not measure my hourly wage based on a 40-hour work week. I measure my income based on a 24 hour a day 30-day month. As of today, I only make $41.66/hour, but it's 24 hours 365 days a year.
If you can switch your mindset to a 24-hour time clock you will be acutely aware of your earnings versus your spending.
Inspirations:
Tony Robbins, Jim Rohn, Earl Nightingale, The Bible, MJ DeMarco, The Go-giver, Think and Grow Rich
, How to Win Friends and Influence People
, Robert Kiyosaki, Zig Zigglar, and Art Williams. Plus many more!!!
FUTURE
What are your plans for the future regarding lifestyle?
I only work like 20-30 hours a week already. I plan on growing until my already amazing lifestyle gets affected.
What are your retirement plans?
No plans. I probably will never retire. Why would I? I haven't worked for years as it is.
My "Job" is a pleasure. I get to provide quality, affordable housing to low income people. They love my services and it pays me a ton of money.
Are there any issues in retirement that concern you? If so, how are you planning to address them?
My only concern is health care. I plan on retiring with a HUGE net worth.
I'm also considering paying myself a small salary for Social Security benefits.
MISCELLANEOUS
How did you learn about finances and at what age did it "click"?
My Dad taught me at a young age to never work for an hourly wage. He said work at a job that pays you for the value you create not the time you enter on your time card.
He also taught me about leverage. Time leverage, money leverage, and people leverage.
I have over 300 families working every day so they can pay me 25% of their salary to live in my park. That's people leverage!!
I also have a BS in Finance.
Who inspired you to excel in life? Who are your heroes?
My Dad inspired me. I want to beat him. He is worth about $20 million and is in his 70's. I should overtake him in the next few years. By the time I'm his age I'd like to be worth $50+ million.
Arnold Schwarzenegger is one of my heroes. Donald Trump is another.
Do you have any favorite money books you like/recommend? If so, can you share with us your top three and why you like them?
The Millionaire Fastlane
by MJ DeMarco.
The Millionaire Next Door
by Thomas Stanley.
Secrets of the Millionaire Mind
by T. Harv Eker.
Do you give to charity? Why or why not? If you do, what percent of time/money do you give?
Yes. I give to the Local Church and the YMCA. I give about $10,000 a year.
We also give to the local homeless shelter.
I am also very generous with my good tenants. I often pay for water heaters, windows, paint, etc.
I believe that God has blessed me with these blessings so I can use his money for good things.
Do you plan to leave an inheritance for your heirs (how do you plan to distribute your wealth at your death)? What are your reasons behind this plan?
They can have what's left over. I plan on helping them get through college debt free and giving them a chance to earn some seed money from me. My hope is that they will not need my money.
If they get caught up in drugs then they are cut off.
We have a living trust so if I die unexpectedly, they will get the whole enchilada.