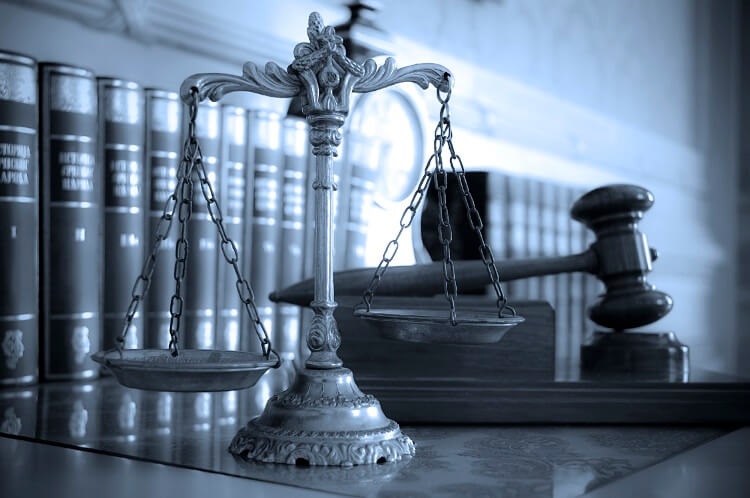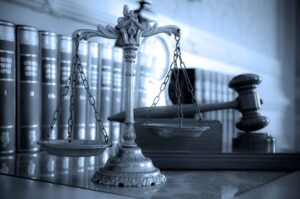 Here's our latest interview with a millionaire as we seek to learn from those who have grown their wealth to high heights.
If you'd like to be considered for an interview, drop me a note and we can chat about specifics.
This interview took place in September.
A few weeks ago, I had my longest Millionaire Interview ever. It was Millionaire Interview 283 and was so long that I had to break it into two parts.
This one is longer. 😉
So I'll break this one into two parts as well.
My questions are in bold italics and their responses follow in black.
Let's get started…
OVERVIEW
How old are you (and spouse if applicable, plus how long you've been married)?
I am 55 years old and my wife is 50 years old.
We have been together since 1998 and married in 2001. We have been married for 20.5 years as of the writing this post.
We met when I was getting my JD and she in Veterinary school.
Please understand that while I am writing this interview it is really about the both of us as we conquered this journey as a team.
Do you have kids/family (if so, how old are they)?
We have two boys, one turning 14 next month (currently an 8th grader) and the other turning 17 in three months (currently an 11th grader).
They are great kids and quite independent. They cook their own meals, do their own laundry, and are overall menschen (This is a Yiddish term for a person who can be relied on to act with honor and integrity and someone who is kind and considerate).
What area of the country do you live in (and urban or rural)?
We have been living in a suburb in the southeastern part of the USA. I would classify it as suburban.
We are close enough to get downtown in about 20 minutes but far enough to never realize the city is just down the road.
It's an area with low crime, high net income residents, and good schools.
What is your current net worth?
Our current net worth is about $4,830,000 not including the value of our cars.
We first became a millionaire back about 2013.
We reached multimillionaire status in 2019 and reached our current net worth in June 2021 when we sold my wife's veterinary practice (more on this later).
What are the main assets that make up your net worth (stocks, real estate, business, home, retirement accounts, etc.) and any debt that offsets part of these?
The following is a breakdown of our assets and are approximations: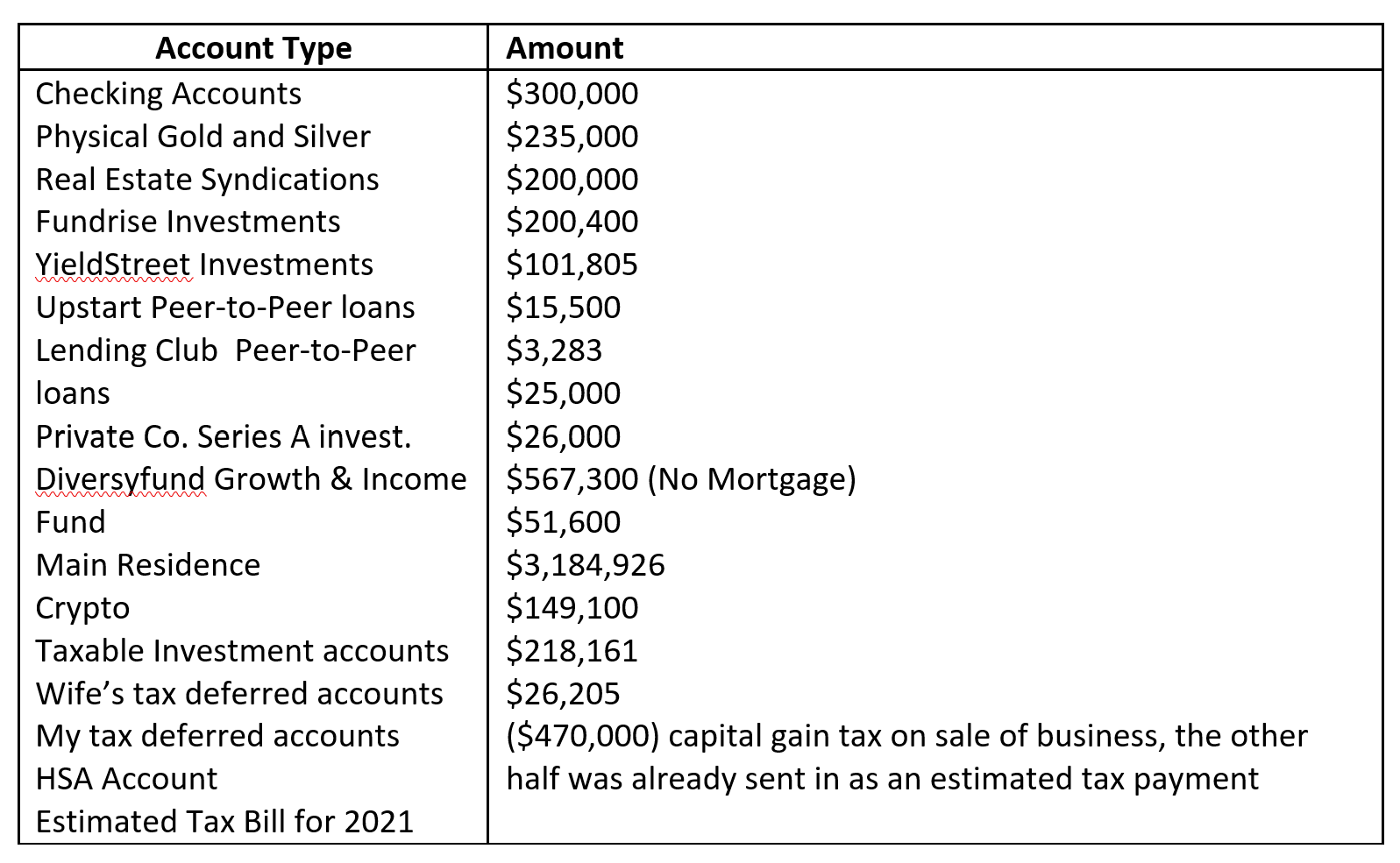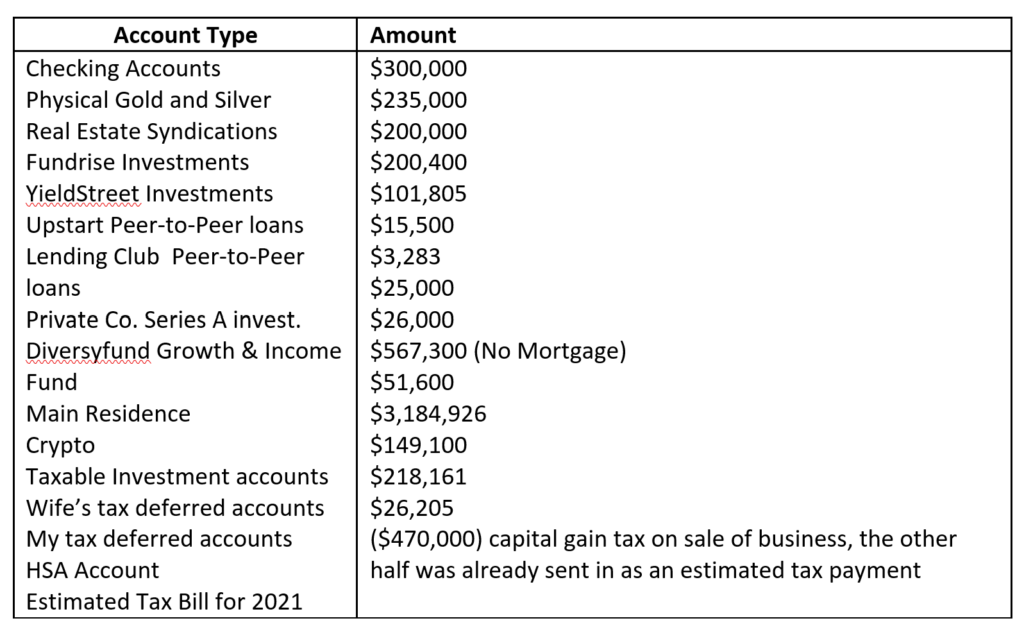 I do not count our cars in our new worth as they are a depreciating asset but they will be paid off in about 1.5 – 2 years.
We generally use credit cards to pay monthly expenses and pay off the balance completely at the end of the month. Thus, there is no debt other than our current estimated tax payment to cover the rest of the federal and state taxes due to the sale of my wife's practice.
EARN
What is your job?
I am a patent attorney that worked in three different law firms for 18 years before going in house as a corporate counsel. I am currently a cog in the machine, which chose by design. I really wanted no responsibility and just be relied upon to get work done.
My wife is a veterinarian who owned her own practice for almost 15 years, which was sold in 2021. She has a three-year commitment to work for the new owners. I will discuss more about this throughout.
What is your annual income? Tell us about your income performance over time. What was the starting salary of your first job, how did it grow from there (and what you did to make it grow), and where are you now?
In short, I am a corporate counsel for an Ed Tech Company making $200,000 base plus a discretionary bonus of 30%, which I have received every year since joining my company.
My wife up until June 2021 was a veterinarian and practice owner making about $250,000 per year.
We just sold the practice to a corporate management company and now she is the medical director of the practice with a three-year commitment. She makes $134,000 plus Prosal, which should come to about $2700 a month so a total comp of about $150,000 per year or a combined yearly income of between $350,000 – $420,000 per year depending on the size of my bonus.
Like most millionaire interviewees, I started working my first job at about 15 to pay for my first car, gas, etc. Before that I would walk around neighborhoods knocking on doors asking if people needed their cars washed/waxed. I was a hustler.
I grew up in a blue-collar family with parents that graduated high school and then worked for a living. My mother was a stay at home mom who raised 4 kids (I am the youngest) until I was about 14 and then she started to work.
My dad worked three jobs to put food on the table and a roof over our head. What my father lacked in book smarts he made up with common sense, a strong work ethic and a drive to provide for his family. My sisters and I grew up hearing the same thing from my father, either go to college or join the military – oh and by the way, if you go to college you have to pay for it yourself. He did not want us to work as hard as he did, and we did not want to end up working three jobs to just barely make ends meet.
I would not change how I grew up, but I knew I wanted more for myself. Basically, I did not grow up with white privilege or any privilege other than having two parents that loved us and a father that had a strong work ethic. Times were different back then compared to today.
My father taught me at a very young age to live by the 4 rules of shit: (1) don't think your shit doesn't stink, (2) don't shit where you eat, (3) no matter how book smart you are you're not worth a shit without common sense, and (4) the most important rule of them all – shit or get off the pot.
It's been 40 years since I first heard those rules and I have lived by them my entire school and work career. I have now passed those rules on to my kids. Let's hope they stick.
It's funny, I went off to college with no idea of what I wanted to do for a living when I grew up. Someone asked me what I am good at and I said math and science. They told me I should be an engineer. So, I took their advice and went through electrical engineering school with very little idea what an electrical engineer did for a living. I graduated from a state school in Florida with a bachelors in electrical engineering with an emphasis in fields and waves.
Looking back, it was by far the most difficult thing I have ever done in my life. I was a decent student, book smart but I did not have a lot of drive to excel. Basically, I was a Ferrari with a Volkswagen transmission. It's funny because my oldest son is the same way and I get on him all the time for skating by. I guess the apple did not fall far from the tree. My youngest is a self-starter who wants to know the rules and is extremely self-driven to excel.
I started off as an electrical engineer doing airborne and spaceborne antenna systems in 1989 working for a military contractor in Melbourne, Florida making about $32,000 a year. I did this for about three years and decided it was not for me. I was good at it, but I was not great. I lacked the passion to excel at the work. To be successful, I realized that you had to love the work and unfortunately, I did not love the work, even though the things I worked on were really cool.
I thought that I would likely do better in the business end of things so I decided I would go back to school and get a degree in business administration. So, I returned to school around 1993 and obtained a bachelors in business administration with an emphasis in accounting and a masters in taxation. I came out of school around 1994 (not the best economy) and ended up getting recruited by a big 6 accounting firm as a CPA doing auditing and tax work.
Unfortunately, because I was doing both tax and audit work, my work season lasted all year. I was making an average of $36,000 a year for about three years when I realized that I was working too hard for the money I was earning. Plus, doing mind numbing work was not conducive for someone with ADHD.
That's when I got the bright idea to go back to law school in 1997 at the same state school I attended for my engineering degree. I spoke to a few attorneys and the best advice I was given was to go to the best state school you can get into in the geographic region where you want to practice. I also figured this was my last shot to get my Mr. degree as well. In my second year of law school I met the woman who would eventually become my wife.
On a side note, if you want to become a millionaire at an early age, you need to find a spouse who is on the same page as you with similar goals and values. My wife was an only child from divorced parents when she was 3. She was raised by her mother who had to hustle to make a living while raising a child. So, similar to me, my wife did not grow up with a lot of money. However, she unlike me knew what she wanted to do for a living since she was young and before she went off to college. She also knew this was going to be her passion in life.
I got out of law school in 1999 and took a job as a patent attorney. It was a good time to get out of law school as a patent attorney as patent attorneys were in high demand, and the dot com era was in full swing.
My first offer before graduation from the law firm I joined was $75,000 a year. Before I started working, the offer was bumped up to $87,000 per year. I started working for the firm in August of 1999 and within a month or so my salary was bumped to $115,000 per year. By the end of my first year I was at $135,000 per year.
I lasted at my first firm for about 2 years. It was one of the largest firms in the city and the fit was not right for me. This firm was true white collar and I merely powder blue collar.
I left that firm for my second law firm in 2001. I was hired on as a patent attorney making $150,000 per year. I stayed with this firm for about 10 years working my way to Income Partner.
One of the nice things about being a patent attorney is that you must learn an area of technology on the fly and become an expert in the area quickly so that you can understand your client's invention. You have to be able to think on your feet quickly, extrapolate from other areas of technology that you worked on and realize quickly what you do not know. You then had to do research to make sure you understood the ins and outs of the technology area you were working on.
The hard part is that you can only represent one client in a particular technology area otherwise you could and would likely end up in a conflict of interest because one of the patents of one client could end up being cited against a patent of another client, and you can not make statements about one clients patents for the benefit of another client. Thus, you were constantly learning new technology.
Working as an attorney for a law firm requires long hours. When I left the firm for my first in-house stint, I was making $300,000 per year. Law firms are strange entities. You excel by doing good work and billing hours. They are very political and they do not want you to build your own book of business because they want you to bill hours.
I realized that to be truly successful at the firm and to make equity partner, I needed to build my own book of business, which meant I needed to bill my normal 1900 billable hours which took about 2100 hours of effort since not all hours are billable, and then I needed to go out on my own time and make connections to bring in my own work. As an associate, your clients are the partners you are doing work for and they need you to do the work they bring in. By 2007 I had two small kids, a wife with her own business and career that I was helping to run in the background.
So, in 2011 I made the decision to leave the firm I was working at for 10 years and take an in-house position. I just could not keep working the hours I was working. It was like ground hog day. You start on January 1 of a given year with zero billable hours and work your ass off to bill the necessary hours throughout the year so you keep your job and earn a bonus only to wake up on the following January 1 standing at the bottom of the hill that you just climbed the prior year.
And you do this year in and year out. Moreover, you are only as good as your performance in the current year. All of the prior years are in the past – history. And, similar to the military, it's basically up or out. This was one of those shit or get off the pot moments in life and I decided to get off the pot.
I left the firm in 2011 just after the wake of the Great Financial Crisis (GFC) and went to work for a company that basically thrived on loan servicing, home foreclosures, property renovation and management, and foreclosure and resale of the foreclosures. I took a pay cut, or as some would say two steps back to take five forward.
This place was absolutely crazy so we will refer to it as the crazy company. I liken working there to dog years. I started about the same time that five other attorneys started and I made it at the crazy company for about 1.5 years, but I learned about 7 years of in-house counsel skills.
The crazy company basically chewed employees up and spit them out. Out of five other attorneys I started with at about the same time, I was the second to last to leave the crazy company.
I was the assistant general counsel of IP and technology transactions. In layman terms, I managed the company's IP portfolio and worked closely with the CTO and all of the technology folks drafting, reviewing and entering technology related contracts. It was a great opportunity to build a network of smart people that were top of their field.
This was a crucial turning point in my career because the turnover at the crazy company was about 50% per year so all of these contacts that I established moved on to other technology companies and I continued to maintain a relationship with them after they left. I learned a lot from the crazy company, meet a lot of smart people, built a great network of technology friends and learned how not to treat employees.
In 2013 I left the crazy company and started working at a small patent boutique firm as outside patent counsel once again. This time, I now had a network of technology contacts that I built working at the crazy company. One day in late 2013, the CTO from the crazy company who had joined an Ed Tech company reached out to me and introduced me to the company's general counsel. Within a few weeks they were a new client.
I became an equity partner at this boutique firm at the end of 2013 with the attorney that started the firm, and we had two associates that worked for us. All in all, we had 4 attorneys and 3 support staff and we were generating several million dollars in revenue. Our overhead was low and we were not like the big firms that had many employees, administrative staff, expensive downtown offices, and expensive art work hanging on the walls. We were lean and mean, did good work for our clients and were able to charge an hourly rate that was 20-30 percent less than a large firm. We eventually bought a building that my partner and I jointly owned and rented the building to the firm.
The building was 7200 square feet across three floors – a terrace level, the main floor and an upstairs. We bought the building out of foreclosure. In 2013, it was the height of the foreclosure period of residential and commercial property and banks were looking to dump property for pennies on the dollar. The building had a $999,999 foreclosed mortgage on it and we were able to buy it with a $36,000 down payment for $370,000. The bank just wanted to get it off its books and they accepted our low-ball offer.
Our firm rented the main level from us, we rented out the terrace level to an engineering firm and the upstairs to a technology start-up. It was one of the best investments I have ever made. The lesson here is that it's better to be lucky than good, and timing is everything. In times when everything is falling apart, it's great to have good credit and cash.
My wife after graduation did an internship for one year and then began working for a veterinary practice for about 5 years during which we had our first child. We explored buying the practice but the owner wanted too much money for the practice and the building. Unfortunately, both were a hot mess and needed work. The building was a historical house that was at least 90 years old that needed a lot of work. We tried negotiating with the owner but we could never get anywhere. So, we decided to just start a practice from scratch.
We opened my wife's practice at the end of 2006 when our first child was about 2 years old. All in all, we took out a business loan for $370,000 and built the practice from the ground up. One thing I learned by this time is that most doctors, lawyers and veterinarians have little to no business skills. Note I said most, as there are some that do, but for the most part these professional schools fail to teach their students how to own, build and operate a business.
My wife is an amazing vet who is passionate about her work. She truly loves what she does and her clients are loyal. Remember, we opened the practice up in 2006 just before the GFC. At about the same time, her old boss sold her practice and the new doctor who bought the old practice ran the business into the ground within a year.
Things started out slow for my wife but within a year, things took off and the clients from her old place of employment started to come over to her practice in droves. From 2007 on our practice grew at high single digits to low double digits per year.
In 2007, my wife gave birth to our second child. Being a single doctor practice owner, we did not have options for my wife to stay home from work, and we have no family living near us, so she carried our second son in a sling while she saw patients for his first 8 weeks of life. After which he went to the daycare where our older son went.
My wife was taking home around $70,000 – $100,000 per year in w-2 income from our practice while we were building up the practice and paying off the business loan. Once the business loan was paid off and the practice really started to get traction, she was earning around $250,000 – $300,000 year.
We ran the practice lean by only being open M, T, Th, F and every other Saturday. This allowed us to run the practice with a limited full-time staff. We knew at some point we would want to sell the practice, and the sales price for a veterinary practice is based off a multiple of net income. Had we opened the practice on Wednesdays and every Saturday (i.e., 6 days a week) we would have either had to pay overtime to the staff or hire additional staff. After careful consideration, we determined it was more efficient to only be opened 4 days a week and every other Saturday.
We did this for over 14 years. During this time, I kept in touch with the business broker that was representing her old boss in the sale of her practice to keep up to date on understanding the market for veterinary practice sales and how they were being valued for sale. We always knew that you needed to have a 4-5-year exit plan when you wanted to sell a practice so in 2020 we hired a second doctor at the practice to provide some relief for my wife and to start preparing for the sale of the practice – more on this shortly.
Fading back to 2013, I was basically running two business (law and vet clinic), my wife was working long hours as the sole practitioner in her practice and we had two growing boys that were now 9 and 6. My wife and I were at our wits end because we could no longer run two business, get home at 6 – 7 pm each night and raise two boys. Plus, we had two dogs and a bunch (13) of cats. The train was starting to fall off the tracks.
After some marriage counseling at the advice of a friend, we came to realize that we could not do it all. The best advice we received from this counselor was to hire an "Alice". We interviewed multiple candidates and found our "Alice". She helped us do the things we could not do if we wanted to continue growing our businesses and earning. Our "Alice" was with us for 8 years and helped us to co-parent our kids and raise them into the men they are now.
The lesson to learn from this is that it's OK to seek and get help. Sometimes no matter how smart you are, the solution to a problem can be right there in front of your eyes and you are just too stretched to see the answer right there in front of you.
It was also during this time that I found the FIRE community and realized that this is what I want for us. My wife and I were high income earners and we were not big spenders so FIRE was appealing to us.
I started my final career when I was 33 and my wife's first career when she was 28. After four degrees I had student loan debt even though I worked in each prior career since I paid for all of my college myself. Remember, blue collar parents and three sisters. My wife only had a small amount of student loans.
So, we focused on getting our student loans paid off. Then we focused on paying off my wife's business loan by paying it personally, and loaning the money to the business ourselves. The business then paid us back with interest. Once that was done, we worked on paying off our house, which we bought in 2002.
I figured sitting with money in the bank that was not earning us a return, I was gun shy from the market, was better used paying off the house. At least this basically saved (earned) us the interest we were going to pay over the next seven years. I realize that there is an opportunity cost in paying off the mortgage when rates were so low and the market was only going up. But my butt was still healing from the Dot Com boom and the GFC and I was convinced that the market could not keep climbing at an exponential rate. I now know it can and I underestimated the power of the FED, but more on that later.
In 2018, one of my clients, the Ed Tech company, was looking to fill an in-house counsel position to work with the general counsel. I was close with the general counsel because I worked directly with her and expressed an interest in the position.
At this point in my career we already had a net worth of over $2,000,000 including our house, no debt and still owned my wife's practice. I was burned out from running two businesses, I did not love the work I was doing any more, with clients always complaining about fees, and my business partner was starting to become a bit crazy. After talking with the general counsel at the EdTech company I was offered the job and I decided to accept the position (another shit or get off the pot moment). Once again it was a step down in pay, but also a step down in hours and stress. I looked at this as my first step toward early retirement.
I remember the head of HR asking me during the interview whether it would be hard for me to not be the man in charge. I sat there for a minute and responded that I would be happy to be a cog in the machine and had no desire to be the person in charge.
I have been with the EdTech company now for 3.5 years and plan to be with them until I retire. I have received pay raises that range from 5-6% per year and my bonus has risen from 20% of salary to 30% of salary over the last 3.5 years, although we did not get raises in 2020 because of the pandemic, more on the pandemic in a bit. I will say that although the work is mind numbing, I love the people I work with and I get to do a variety of work. So all in all the Ed Tech company is a great place to work.
At the end of 2020, we decided to sell my wife's practice with the winds of change blowing from a political perspective and the likelihood that capital gains taxes were going up. We engaged the broker that I stayed in touch with since 2006 and we started to get things ready for sale. Back in 2006, most buyers of vet practices were individual doctors that would pay 5 times net income. So, over the last 14 years, we always focused on keeping things at the practice lean ensuring we kept costs low and net income high.
Over the years since 2006, I learned from the broker that corporate entities were getting involved in buying vet practices since there was all kinds of stupid private equity money out there looking for returns because of the FED and their ridiculous interest rate policy. At one point in early 2015, the broker told me that corporate entities were paying 8 times net income for vet practices. At the time, I thought that three extra turns on net income was awesome.
When we talked in late 2020 with the broker, the corporate entities were now paying 10 times net income. In early 2021, we decided to put the practice into one of the pools that the broker was putting together to put out to bid. Apparently, there are 20-30 corporate entities that bid on the pools of vet practices being sold.
The pool was supposed to be put out for bid in April 2021. In late April, I received a call from our broker that one of the usual bidders wanted to buy the entire pool before it was put out for bid and made an offer on each practice that they thought would be accepted by each practice. If one practice did not take the offer, then the pool of practices would go out for bid. The broker conveyed the price they were willing to pay for our practice, which was north of 13 times net income.
As you could imagine, we were on board accepting the offer without the pool going out for bid. Two months later, we closed on the sale, which then began a new stressful journey of transitioning from being a practice owner to my wife working for a corporate entity. The good – this company is more of a management company that does not seek to change the culture of the practice, rebrand, or dictate the medical protocol. The bad – they are growing fast, operate in silos, and have lots of rules on how they do things. Typical of most large companies. For us, the sale was a necessity to allow us to retire completely in 3 years once my wife's commitment to the purchaser ends.
In summary, it has been a wild ride for me over the last 37 years and for my wife and I over the last 22 years. But looking back, I would not change a thing. I have learned how to problem solve and think critically about obstacles, sold two business, and have two great kids and a wonderful supportive wife.
What tips do you have for others who want to grow their career-related income?
I have had three major careers during my 55 trips around the sun. I think there are two paths you can take in your career. You can pick a career you are not thrilled about but where you can make a lot of money. Or, you can pick a career where you love what you do and you plan to do it for many years to come.
If you choose the former, you need to commit to the fact that you do not love what you do but you're going to put in the effort and save and invest until you have enough money put away to go off and find a new career that you truly enjoy doing regardless of what it pays.
On the other hand, if you choose the latter, you may not make as much money at the beginning but over time you can grow your income and you just need to be committed to saving and investing for the long haul and let compounding do the work for you.
I cannot say that either is the right or wrong path. I think it depends on the person and their discipline. I myself never loved what I did for a living but I always made a lot of money doing it. Moreover, the work was challenging and that is what kept me going. Plus, once I found FIRE, my drive to the end goal was highly focused and I knew what I needed to do to get there.
When I went to college in the later 80s tuition was cheap and you could get a four-year education for about $20,000 for all four years. Basically, it was $25 a credit hour. When I went back to law school seven years after undergrad, it was now over $18,000 per year. That's almost 300% inflation.
Honestly, I am not sure that a college degree is the best way to go anymore unless you plan on getting a professional degree that almost guarantees you employment after college and in most cases a high paying job. Most of the bloat that has occurred in universities is due to the government's intervention in the student loan market. Schools know that if they keep raising the cost of school the government will keep raising the guaranteed student loan borrowing limits. It's a vicious cycle that feeds on itself and until the cycle is broken it will not likely change.
I would be perfectly fine if my kids want to go to a vocational school and learn a trade like plumbing, electrical and/or HVAC. These careers will always be in need and if you own your own business you can do as well or better than most college graduates without the high cost of college.
All of that being said, I think the most important way to grow your career is to find a good mentor, build a network of people inside and outside your company, and do good work so that people want to work with you.
Under promise, and over deliver every time. I find that I never over commit to anyone in my current role. I always under promise by telling them I can get what they are asking for by the end of the week and then I get it to them a day or two early. First, it gives you breathing room you need when someone does drop something on your desk that needs to get done immediately so you don't have to go back to the other person and tell them you need to push out their project, and it always will make you look good when you get their project completed early.
People are always leaving companies and if they come to like you and your work ethic, they will always think of you at their new place of employment when opportunities arise. The days of taking a job at a company and staying there until retirement is over. Does it happen – sure. Is it likely to happen to you – probably not.
Don't be afraid to make changes. But don't always assume the grass is greener somewhere else. Because once you get out and have to mow the lawn at the new place, you may start to realize it was not as green as you thought.
Don't make hasty decisions. Instead, think through the options and talk with others. Hearing many opinions will help you overcome confirmation bias.
Finally, most of the time hard work and being personable will pay off.
What's your work-life balance look like?
When I was an engineer, my work life balance was great.
As a CPA for a big 6 accounting firm, it was nonexistent.
As a new lawyer working for a large national firm, it was once again nonexistent at the beginning.
Working as an in-house lawyer, the bar to succeed and keep people happy is set much lower than it is in a law firm so the work life balance is much better.
Owning my own law practice provided much more flexibility but the hours were long.
My wife's work life balance owning her own practice was flexible as well but when you take off and are not working you're not earning money. Furthermore, while you may not be in the office working, there is always work to be done and it all falls on you as the owner.
But at the back end of our careers we have a much better work life balance since we are just employees and we don't have to worry about running a business.
The pandemic has been a crazy time. I know that a lot of people have been hurt by the economic shut down, by the virus itself and by the uncertainty of the markets. However, for our family it has been a blessing.
My wife's practice only got busier because people were home with their pets and saw problems much quicker and had time to bring their animals into the vet. I was able to work from home so we had very little negative economic impact. We also stay home much more and cook meals at home so we are able to save more money. It also allows me to eliminate my 40-minute commute to work each way so I am now able to go to the gym with my boys every morning before work and school.
So, while the pandemic has become a highly politicalized issue, we embraced the uncertainty and used it to our advantage. So now, my work life balance has gotten even better and I hope to never go back to the office before I retire.
Do you have any sources of income besides your career? If so, can you list them, give us a feel for how much you earn with each, and offer some insight into how you developed them?
We have no side hustles. We only earn passive income from our investments.
We considered buying rental properties but my wife put the kibosh on that because she did not want me to be involved in fixing stuff and managing the properties. Plus, I already do this at home since I am very handy and I had to do it at my wife's practice before the sale. I realize you can get a management company to do this for you but it cuts into profits and you still have to be involved to some extent.
Thus, we started investing in real estate syndications and Fundrise. I also recently started to invest in Yieldstreet. Between those investments and about half of our investible assets in ETFs and dividend paying mutual funds, we earn about $91,000 in passive income per year. This does not include capital appreciation.
I am hesitant to invest all of our investible assets in the market at this point in the economic cycle because of how far stock prices are extended from fundamentals. I realize that I am leaving money on the table as the market goes up but I prefer to keep dry powder ready for the next downturn.
In the meantime, I keep investing in real estate syndications that are directed to multifamily housing, medical facilities, and logistics related assets. I believe that these will be growth areas over the next 10-20 years as boomers retire, millennials and Gen Z are priced out of the housing market, and amazon and other companies continue to grow compared to brick and mortar businesses.
————————————-
Wow! Isn't this a fascinating story? I think so!!!
That's it for today. If you want more, check out part 2 of this interview.